DOLE RO-8 conducts payout to TUPAD #BKBK beneficiaries in Samar
By NORMA RAE S. COSTIMIANO
July 16, 2020
TACLOBAN CITY – The Department of Labor and Employment Regional Office No. 8 through its Samar Field Office conducted payout of wages amounting to Php1,615,250.00 to 497 beneficiaries of Tulong Panghanapbuhay sa Ating Disadvantaged/Displaced Workers #Barangay Ko/Bahay Ko (TUPAD #BKBK) in the four municipalities of Samar province.
In two separate schedules, payouts were conducted by the team of DOLE-SFO headed by Engr. Aleksei Ceasar D. Abellar in Catbalogan City and Sta. Margarita on June 11, 2020 and in the municipalities of San Jorge and Pagsanghan on June 17, 2020.
Mayor Leoncio U. De Guia of San Jorge, Samar expressed gratitude and support to the department for the assistance extended to his constituents. He said that in this time of pandemic where many workers have been displaced, the government is really a big source of relief.
Beneficiaries happily received their wages which is the fruit of their services rendered during the ten-day period of employment.
In all the payouts conducted, Engr. Abellar thanked all the LGUs for their active support to the DOLE program intended to provide relief to the displaced informal workers. He encourages all the beneficiaries and likewise reminded them to spend the money wisely.
"In behalf of my Regional Director, Sir Yahya A. Centi, I would like to extend my heartfelt thanks to our supportive local chief executives and PESO Managers for all the assistance especially in the implementation of the program. You are indeed our great partners in deliveriing services to our clients", said Abellar.
US Congresswoman Jan Schakowsky, 49 US Legislators call to rescind Anti-Terror Law
Press Release
July 16, 2020
WASHINGTON, DC – On Wednesday morning, U.S. Representative Jan Schakowsky (D-IL), a Senior Chief Deputy Whip in the U.S. House of Representatives, urged the Philippine government under President Rodrigo Duterte to rescind the newly-signed Anti-Terror Law (ATL), which goes into effect in the Philippines on July 18.
"We stand with people of the Philippines, Filipino Americans, and grassroots orgs like Malaya Movement and ICHRP-US in demanding a genuine democracy where dissent is accepted and encouraged instead of criminalized," said Rep. Schakowsky.
"In the past four years, Duterte has unleashed state perpetrated terror against poor Fililpinos, farmers, workers, Indigenous peoples, people of faith, trade unionists, and human rights defenders. Only through an organized mass movement can we defeat Duterte's dictatorship," said Nicanora Montenegro, Malaya Movement spokesperson.
Rep. Schakowsky, along with 49 additional members of the U.S. Congress, sent a letter to Philippine Ambassador to the U.S. Jose Manuel Romualdez to convey these concerns, raising the documented numerous cases of human rights violations and extrajudicial killings that have occurred in the four years of the Duterte administration.
"With a long track record of using drug laws and martial law in parts of the country to target innocent activists who did nothing other than speak out against government policies, we clearly are left with no option but to view this as just the latest and most egregious effort to silence those fighting for basic and fundamental human rights in the Philippines," said the letter.
The U.S. Members of Congress who signed onto the letter include the Chair and Ranking Members of the House Foreign Affairs Committee Eliot Engel (D-NY) and Chris Smith (R-NJ), as well as the Chair of the Congressional Asian Pacific Caucus, Judy Chu (D-CA).
"We see the targeted killing of labor rights and human rights activists, silencing of Rappler media outlets, ongoing attacks against any who dare to speak out against Duterte's violence and trampling of rights. We are telling them these egregious attacks cannot stand," said Rep. Judy Chu, the first Congressional Representative to speak out against the attempted assassination of U.S. citizen and activist Brandon Lee in front of his home in the Cordillera region of the Philippines last year.
Lawyer and former Philippine Congressman Neri Colmenares thanked the U.S. representatives for showing concern for the worsening human rights situation in the Philippines and encouraged U.S. Congress to support the Philippine Human Rights Act (PHRA), a bill that would put restrictions on US military aid to the Philippines due to human rights violations being linked to Philippine state security forces.
"I'm sure not a single American taxpayer would like to spend American dollars to buy bullets or guns to kill the Filipino people. It is important for us to pass the Philippine Human Rights Act because it will put pressure on the Filipino government to tone down its human rights attacks. This bill will save lives in the Philippines," said Colmenares.
The International Coalition for Human Rights in the Philippines- US chapter thanked the 50 representatives for their action and encouraged the international community to continue to support the Filipino people's fight against the ATL and to defend their basic democratic rights.
Over P7-M TUPAD funds to benefit Ormoc City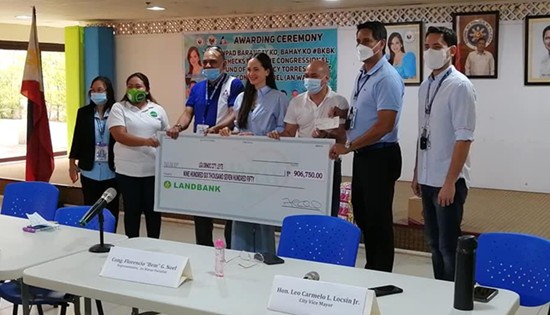 By NORMA RAE S. COSTIMIANO
July 16, 2020
TACLOBAN CITY – A total of P7,897,500.00 funds under the Tulong Panghanapbuhay para sa Ating Disadvantaged/Displaced Workers (TUPAD) program of the Department of Labor and Employment will benefit some 2,430 displaced informal sector workers of Ormoc City.
In a simple turnover ceremony held last 26 June 2020, Mayor Richard Gomez personally received the said assistance for the people of Ormoc City. Congressman Florencio "Bem" Noel of An Waray Partylist awarded P906,750.00 worth of TUPAD assistance to benefit 279 workers while Congresswoman Lucy Torres Gomez of the 4th District of Leyte turned over TUPAD checks amounting to P6,262,750.00 good for 1,927 Ormoceños. Also, Mr. Edgar B. Tabuyan, Chief of DOLE West Leyte Field Office (WLFO) representing Regional Director Yahya A. Centi, handed over P728,000.00 worth of TUPAD (Post-COVID) funds to benefit 224 displaced workers of the city.
Mayor Gomez expressed his gratitude for the assistance received for his constituents who are experiencing the adverse effects of the COVID-19 pandemic. He said that these financial aids will really boost the morale of the affected informal sector workers in the city.
Likewise, both Cong. Gomez and Cong. Noel extended their sincere thanks and appreciation to RD Centi and Assistant Director Amable C. Roa for the continued support to the Leyteños particularly to the people of the 4th District of Leyte.
Mr. Tabuyan in response gladly committed that DOLE will continue to deliver its programs and services to the people of Region VIII especially in this time of crisis. He likewise recognized the active support from the local chief executives.
"In behalf of my Regional Director, I would like to assure you that DOLE will always be of help to the people of Eastern Visayas. We are also thankful because we have active leaders who support the cause and intentions of our TUPAD program", said Mr, Tabuyan.
Also during the ceremony, TUPAD check amounting to P325,000.00 was handed over to Mayor Rolando VIllasencio of LGU Merida, Leyte. 100 informal workers from the said municipality will likewise benefit from the grant. (with reports from Edgar B. Tabuyan)
DAR Samar honors PARCCOM chair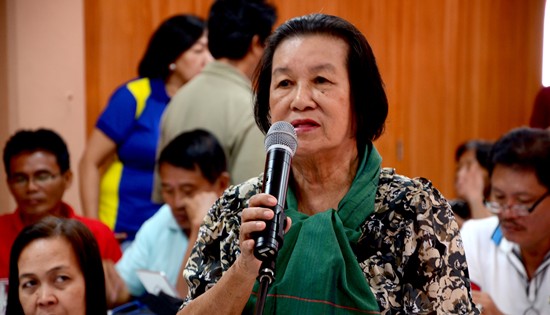 By GABRIEL MARK OCENAR and TERESA TIJOL
July 15, 2020
TACLOBAN CITY – It does not matter where one came from, but the pureness of the heart to serve.
Olongapo City-born Albina Palaminiano Alvarez-Valles has contributed so much in the implementation of the Comprehensive Agrarian Reform Program (CARP) in the province of Samar in her capacity as the chairperson of the Provincial Agrarian Reform Coordinating Committee (PARCCOM).
She was instrumental in improving the quality of life of many agrarian reform beneficiaries (ARBs) throughout the province.
Mana Nene, as she is fondly called, was a teacher in her hometown when she took a vacation in Catbalogan in the 50s. During her stay here, she met Ponciano Valles, Sr., then a town councilor who later on became the vice-mayor. Romance bloomed and the two got married, which made Mana Nene decide to permanently settle here.
While in Catbalogan, she got employed at the Commission on Audit. After her retirement from government service, Mana Nene continued serving the public with her involvement in numerous organizations.
Her membership in the Samar People's Economic Council Foundation, Inc. (SPECFI), led her to PARCCOM in 2009 as the sectoral representative of non-government organizations (NGOs). In 2011, she was appointed by President Benigno Aquino III as chairperson of the PARCCOM of Samar, which is tasked to coordinate and monitor the implementation of CARP throughout the province.
Samar Provincial Agrarian Reform Program Officer II (PARPO II) Celsa Mabutin shared that with Chairman Valles' diverse involvement in the provincial government's administration affairs, especially in the agri-development programs and projects, the agrarian reform beneficiaries organizations (ARBOs) easily became recipients of the province's agri-development programs.
She was able to convince the provincial administration to include the ARBOs in their Annual Investment Plans.
Further, Mabutin added, Mana Nene's strong representation in the Provincial Development Council as the PARCCOM chair served as link to strengthen the relationship between the Department of Agrarian Reform (DAR) and the provincial government, wherein the latter donated a 408 square-meter lot where DAR could construct its own provincial office.
At 87, this adopted woman from Luzon who wore the heart of a Samarnon deserves a payback. Mana Nene deserves the highest form of accolade from the DAR Samar family for hers is living a life with a purpose, not a mere legacy.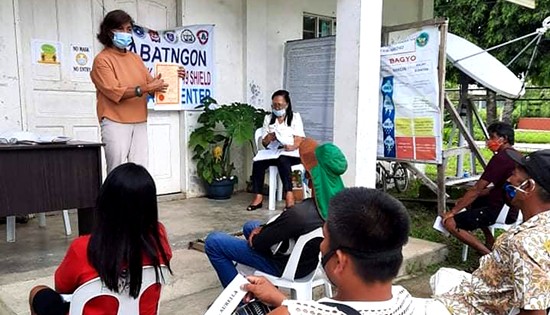 Babatngon Municipal Agrarian Reform Program Officer (MARPO) Leonora Asaldo emphasizes to the agrarian reform beneficiaries (ARBs) the obligation to pay real property tax as landowners now. (photo by MARPO Leonora Asaldo)
14 Babatngon farmers receive land titles from DAR
By JOSE ALSMITH L. SORIA
July 13, 2020
BABATNGON, Leyte – A total of 14 landless farmers from this town received their Certificates of Land Ownership Award (CLOAs) from the Department of Agrarian Reform (DAR) during the past two weeks amid the coronavirus disease 2019 (COVID-19) pandemic.
Municipal Agrarian Reform Program Officer (MARPO) Leonora Asaldo disclosed that her office distributed 22 CLOAs under the government's Comprehensive Agrarian Reform Program (CARP) to 14 agrarian reform beneficiaries (ARBs) last week and this week.
According to her, the 22 CLOAs covered an aggregate area of 28.9 hectares of agricultural lands situated in the Barangays of Lukay, Gov. Jaro and Bagong Silang.
Asaldo further disclosed that there are still 73 CLOAs for distribution. "But because of the current situation, we have to schedule the distribution every week to control the crowd," she added.
"We have to make sure that social distancing is strictly observed to prevent the spread of the dreaded COVID-19," Asaldo stressed.
During distribution, Asaldo emphasized to the CLOA-recipients the obligations attached to being a beneficiary including the payment of the real property tax as landowners now.
CARD Bank, continues to serve in the new normal
Press Release
July 13, 2020
SAN PABLO CITY – The new normal calls for a different approach on the delivery of services for various organizations. CARD Bank, the largest microfinance-oriented rural bank in the Philippines, held its mid-year business review and planning on July 8-10, 2020 with the theme "Moving forward to the new normal fueled by the same mission of poverty eradication" to re-imagine and re-configure its services for its more than 3.3 Million clients nationwide.
Attended by the bank's executive and management committee members from all over the Philippines through an online conference, workshops were organized to discuss how digitization can be integrated in the existing methodologies and processes of CARD Bank. By the end of the business review and planning, CARD Bank vows to increase its total clients served to 3.5 Million and to disburse loans amounting to P13.9 Billion by the end of the year.
"We are optimistic that we will continue to bring positive impact to Filipino families despite the new challenges we are facing due to the COVID-19 pandemic. Through our digital efforts, we will continue to deliver our services to our clients," CARD Bank President and CEO Marivic M. Austria said. She further explained that aside from its mobile banking application called konek2CARD, CARD Bank has partnered with Paymaya, Panalo Express, and ECPay to provide clients with alternative payment channels for payments of loans, savings and insurance premiums.
A beacon of hope
Throughout the years, microfinance institutions have provided socio-economically challenged families with access to financial services and community development programs. This is further highlighted as MFIs like CARD Bank continues to become beacons of hope for the poor during the pandemic. In accordance to the Bayanihan We Head As One Act, MFIs like CARD Bank implemented a moratorium so that clients can allot their budget for necessities during the community quarantines. To support microfinance clients in bouncing back after the drastic economic effect of COVID-19, CARD Bank disbursed loans to 221,000 clients amounting to PHP1.5 Billion from May until July 3, 2020.
Meanwhile, CARD MRI Microinsurance group never faltered in its mission of providing insurance to its clients. While the group also declared moratorium in its weekly insurance premium payment, its clients remained insured during lockdowns. Fast disbursement of insurance claims of CARD clients continues even there were lockdowns. The group was paying an average of 5 to 6 million pesos daily for insurance claims in the midst of quarantines.
Currently, 99% of all CARD Bank branches, unit offices, and branch-lite units are open and continuing its services under the requirements and protocols required by the new normal. An average of 60% of its workforce reports physically to these offices, while the remaining 40% are being retooled in preparation for a "branchless banking". Austria explains that by the end of the year, CARD MRI is expecting that 800,000 of its total clients will be konek2CARD users. As the number of these digital clients increases, CARD MRI will also transform its workforce into becoming more equipped in digital banking.
"We understand that the shift to digitization may be challenging, but we also consider this to be transformational for our clients. Our workforce is ready in assisting and supporting our clients in making this shift," Austria stated.
Embracing the new normal
CARD Bank re-imagined its plans and came up with new strategies to better serve the community amidst the COVID-19 pandemic. The rural bank already embraced the new normal and is ready to move forward and achieve its mission of zero poverty incidence in the country.
"We admit that there are setbacks and barriers as we move forward our digitization journey, like meeting our clients face-to-face. But the trademark of CARD MRI to give relevant and tailored-fit services will always remain as we re-configure our plans and strategies to adapt to the new normal," said Austria.
"We see this crisis not as a problem, but an opportunity to reach more Filipinos in the country. We will continue to keep our eyes fixed on our main goal – a poverty-free Philippines. We embrace the changes brought by our current challenges on our health and economy while continuing to transform lives as we have always done in the past three decades," shared CARD Bank Chairman Dr. Jaime Aristotle B. Alip.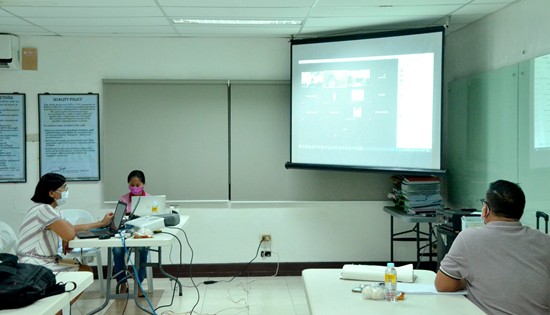 DAR Eastern Visayas holds virtual regional pre-midyear assessment.
DAR-EV prepares distribution of production inputs and livelihood support to ARBs
By JOSE ALSMITH L. SORIA
July 10, 2020
TACLOBAN CITY – After distributing relief packs of supplemental food, vitamins and hygiene kits, the different provincial offices of the Department of Agrarian Reform (DAR) in Eastern Visayas are now preparing for the distribution of starter kits for crop production to agrarian reform beneficiaries (ARBs) later this month.
DAR provincial officials in Region-8 disclosed during last week's virtual pre-midyear assessment that procurement of seeds, fertilizers, pesticides, and farm tools, which will comprise the crop production inputs starter kit, is now being undertaken to catch-up the distribution scheduled on the last week of July.
Likewise, the provincial officials further disclosed that procurement of hogs and poultry for the livelihood support for rural women affected by the current crisis is also underway, and be distributed simultaneously with the crop production inputs starter kits.
These activities are implemented under the PaSSOver: ARBold Mover for Deliverance of our Farmers from COVID-19 Pandemic project, which is DAR's response to Republic Act No. 11469, otherwise known as the Bayanihan to Heal as One Act.
DAR-8 OIC-Regional Director Ismael Aya-ay, explained that the ARBold Move project is divided into four components: 1. Support to ARB Organizations (ARBOs) as Frontliners in the Food Supply Chain; 2. Farm Productivity Assistance to ARBs; 3. Livelihood Support for Women in Crisis Situation; and 4. Distribution of Relief Packs of Supplemental Food and Hygiene Kits.
For the first component, Aya-ay further explained that 65 ARBOs throughout the region were assisted in the marketing of their products and provided with quarantine accreditation passes to have access at checkpoints for the continuous delivery of food supply during the lockdown.
These ARBOs were able to generate a combined sale of more than P23M during this period, Aya-ay added.
Under the fourth component, Aya-ay shared that 9,532 ARBs throughout the region received relief packs of supplemental food, vitamins and hygiene kits in May as immediate assistance to ease the burden caused by the COVID-19 pandemic.
For the second component, according to Aya-ay, 4,087 ARBs will receive crop production inputs starter kits this month to help them meet the nutritional requirements of their household and generate income from surplus production.
Meanwhile, 15 female-ARB members of ARBOs in every province will receive also this month a livelihood package, based on their preferences and capabilities, under the third component.
Aya-ay clarified that in component-3, priority will be given to women with special circumstances such as single parents, widows, senior citizens, head of households, group of indigenous peoples, and persons with disabilities who undertake farming activities but lost their source of income due to community quarantine.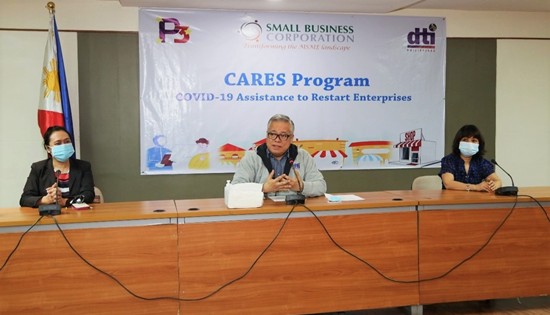 P3 CARES Loan Signing. Trade Secretary Ramon Lopez (center) on July 3, 2020 witnessed the loan signing of the initial 15 borrowers from NCR and 26 borrowers from the Cordillera Administrative Region of the P3 CARES Loan Program. Also in photo are Trade Undersecretary for Regional Operations and SB Corporation Acting Chairman Blesila Lantayona and SB Corporation President and CEO Ma. Luna Cacanando.
SB Corporation starts P3 CARES loan release
By DTI-Regional Operations Group-SB Corp.
July 10, 2020
MAKATI CITY – The Small Business Corporation has started releasing loans under its COVID-19 Assistance to Restart Enterprises (CARES) program to micro and small enterprises to help affected enterprises recover from losses due to unprecedented setbacks that their businesses faced during the pandemic.
As of July 8, 2020, a total of P22 million was released to 286 P3 CARES loan beneficiaries. Of this total, 71 are from Cavite, Laguna, Batangas, Rizal, and Quezon (CALABARZON), 52 from National Capital Region (NCR), 46 from Cordillera Administrative Region (CAR), 25 from Bicol Region, 22 from Central Visayas, 26 from Eastern Visayas, 18 from Mindoro, Marinduque, Romblon and Palawan (MIMAROPA Region), 12 from Cagayan Valley Region, 7 from Western Visayas, 6 from Ilocos Region and 1 from CARAGA Region.
Last July 3, Department of Trade and Industry (DTI) Secretary Ramon M. Lopez witnessed the loan signing of the initial 15 borrowers from NCR and 26 borrowers from the Cordillera Administrative Region.
The total number of approved loans to date is 2,419 accounts with a loan value amounting to P178.2 million. The SB Corporation looks to complete the disbursement of the P1-billion fund earmarked for this program by the end of August.
The CARES Program is part of the administration's economic relief program for micro and small enterprises affected by the COVID-19 pandemic. The SB Corporation, an attached agency under the DTI, supervises the CARES Program.
Under the CARES program, micro and small enterprises operating for at least a year prior to March 16 and with an asset size not exceeding P15 million can tap the program.
Micro enterprises with asset size of not more than P3 million may borrow from P10,000 to P200,000 while small enterprises with asset size of not more than P15 million may borrow as much as P500,000. Interest rate on the loan is pegged at 0% payable for 18 to 30 months.
The loan shall be used to help the enterprise stabilize or recover from its losses. Micro and small enterprises may use the loan for the following purposes: Updating of loan amortizations for vehicle loans or other fixed asset loans of the business; Inventory replacement for perishable stocks damaged; and Working capital replacement to restart the business.
Philippine IT-BPM sector to expand delivery of services to US clients post COVID-19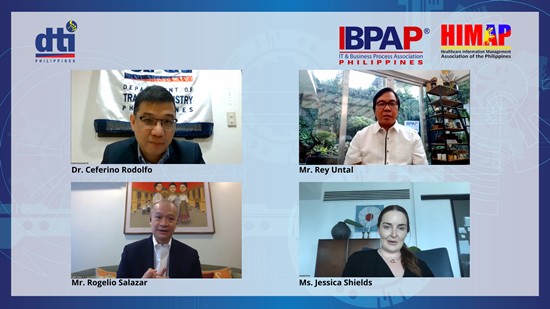 By DTI-Foreign Trade Service Corps
July 7, 2020
MANILA – DTI Undersecretary and Board of Investments (BOI) Managing Head, Dr. Ceferino Rodolfo, and key officials of the Philippine IT and Business Process Management (IT-BPM) industry reached out Wednesday, 01 July 2020, to stakeholders in the Americas region, highlighting projected growth and expanded opportunities, and citing the industry's resilience during the COVID-19 pandemic.
During the webinar organized by the Philippine Trade and Investment Centers in Washington DC, New York, San Francisco, Los Angeles, Toronto and Mexico City, jointly with the Manila-based Foreign Trade Service Corps, the Export Marketing Bureau and the Board of Investments, Undersecretary Rodolfo and the private sector representatives tackled how the Philippine IT-BPM industry, capably continued supporting the IT-enabled back-office requirements of overseas businesses in North America. During the imposition of the Enhanced Community Quarantine (ECQ) in the country, the IT-BPM sector provided virtually uninterrupted support to global clients, especially those in the healthcare sector, which operated at a 90% capacity.
Undersecretary Rodolfo credited the Philippines' solid economic fundamentals for cushioning the impact of the pandemic on the country's recovery efforts. He shared that the Philippines recorded strong pre-Covid economic growth performance averaging at 6.6 percent and posted a relatively low average inflation rate of 3 percent from 2016 to 2019, and a strong fiscal position with a highest revenue-to-GDP ratio revenue (16.1 percent) and lowest debt-to-GDP ratio of (39.6 percent) since 1997 for 2019. The prospects for Philippine growth show a sharp V-shaped recovery by 2021, with a growth range of 7.1 to 8.1 percent and expanded opportunities for the IT-BPM sector.
"Our registered approved investments have actually risen. In the first half of 2020, our record shows that we are 112% higher in terms of approved investments compared to the same period last year. Most of these investments have gone to infrastructure, energy, and transport – very important sectors when you look at the modernization of the Philippine economy," Undersecretary Rodolfo said.
Undersecretary Rodolfo cited the 60,000-kilometer nationwide fiber optic network nationwide, manufacturing support facilities, a third a telecom player, and satellite-based connectivity solutions with high-degree local manufactured content as strategic projects that will support the projected rebound in 2021.
IT & Business Process Association of the Philippines (IBPAP) President and CEO Rey Untal highlighted that 2019 was a strong year for the IT-BPM industry, growing by 5.8 percent in Full-time Equivalent (FTE) headcount and 7.1 percent in revenues, despite the challenges brought about by geo-political developments and disruptive technologies such as Artificial Intelligence/Intelligent Automation.
"Growth in 2019 was driven, in part, by incumbent third-party operators that continued to expand. We saw a bit of expansion in healthcare," he added. "Likewise, we saw a number of multinational global in-house centers (GICs) investing and/or expanding in the Philippines. Lastly, if we look at the creative sectors, specifically animation and gaming, they've had their fair share of growth as well."
Mr. Untal credited the government, including the DTI, BOI, and Philippine Economic Zone Authority (PEZA), for including the BPO sector as among those recognized by the government's COVID-19 Inter-Agency Task Force as essential businesses that were allowed exemptions during the ECQ period. "That allowed us to operationalize two work streams: the on-site skeletal model, as well as the work-from-home capability," he said.
Healthcare Information Management Association of the Philippines (HIMAP) President Rogelio Salazar Jr. shared that 80 percent of HIMS businesses achieved on-site productivity levels, with GICs achieving 80-90 percent productivity and quality levels within three to four weeks from the start of the ECQ period.
Mr. Salazar also said that the HIMS (health information management services) segment of the IT-BPM industry is expected to post the highest revenue and FTE headcount growth range for 2019 to 2022, showing its strength as a high-value contributor to the national economy. "Over the next few years, we foresee the HIMS sector in the Philippines continuing to grow at a much faster rate than the IT-BPM industry as a whole. That growth will primarily be led not only by third-party players but also more GICs looking at the Philippines for redundancy, scalability and adaptability in their operations," he added.
Jessica Shields, head of International Business Operations of Dexcom Philippines, Inc., cited talent availability, labor arbitrage, and cultural fit as factors in Dexcoms's decision to establish operations in the Philippines. She also highlighted the strategic partnership between industry and the government, enabling the sector to thrive even during the pandemic. Dexcom, headquartered in Silicon Valley, California, invested in GIC operations in Taguig in January 2019, and is one of the world leaders in diabetes care technology.
Ninety-five participants from North America and other parts of the world attended the webinar, while the Facebook Live video garnered almost 5,000 views as of this writing.