Women, rights NGOs welcome Bachelet's report on the Philippines, call for an independent investigation on PH rights situation
By KARAPATAN
June 30, 2020
QUEZON CITY – As UN High Commissioner for Human Rights Michelle Bachelet delivers her report to the 44th session of the UN Human Rights Council today, June 30, at around 4pm (Manila time), Karapatan, Tanggol Bayi and the Asia Pacific Forum on Women, Law and Development (APWLD), through a written statement to the UN HRC, called on the Council to adopt a resolution providing for the independent investigation on the human rights situation in the Philippines.
"It is increasingly more imperative for the UN Human Rights Council to take a decisive and immediate step towards a mechanism to conduct an independent investigation on the human rights situation in the Philippines, with the fast-spiralling climate of impunity in the country. With the heavy-handed restrictions on civil liberties during the COVID-19 lockdown, looming enactment of the Anti-Terrorism Act of 2020, and the relentless assault on democratic rights in the Philippines," said Cristina Palabay, Karapatan Secretary General.
The three organisations welcomed the report of High Commissioner Bachelet and sought the attention of the HRC "to the worsening human rights situation in the Philippines amid the impacts of the COVID-19 pandemic."
"This situation described in the report has been aggravated, amid the COVID-19 pandemic. A new Anti-Terrorism Act of 2020 was recently passed in Congress, after President Rodrigo Duterte certified the proposed measure as urgent...The act contains provisions that dangerously infringe on people's democratic rights and civil liberties such as the rights of human rights defenders, freedom of expression, assembly, and association; right to due process and to privacy; as well as the right against illegal and arbitrary detention, torture, to cruel and degrading treatment. Civil society organisations and freedom of expression advocates view its enactment as one that will seal the de facto martial law situation in the country," the three organisations additionally stated in their written statement.
They cited reports on gender-based violence during the government-imposed lockdown, on "overcrowded hospitals, shortage of medical personnel and equipment, and exorbitant hospital fees driven by privatisation, reproductive and basic health care services" which, they said, are "becoming less accessible to women and their families," they added.
Misun Woo, APWLD Regional Coordinator, said that workers, including women workers in the informal sectors, are most affected by the crisis. "Workers in economic zones in the Philippines are forced to work, without paid leaves or day-offs, risking workers' health and disregarding labor rights," she stated. Thousands of migrant workers are also displaced during the crisis, but are given inadequate cash subsidies.
"Thus, we welcome the report of Ms. Bachelet on the widespread human rights violations in the Philippines as well as her observations on the failure of domestic mechanisms to ensure accountability. Her report amplifies the call for justice and accountability, with the shrinking democratic and civic space in the Philippines," they said.
Karapatan is a convening organisation of the Ecumenical Voice for Human Rights and Peace in the Philippines, a network of faith-based and human rights groups engaging in the UN and other international rights mechanisms.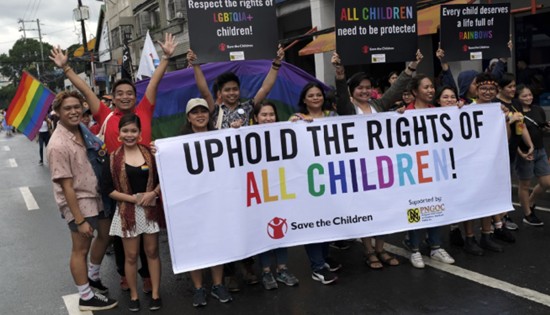 Save the Children Philippines staff take part in the annual Pride March held on June 29, 2019 in Marikina City, Philippines. A record-breaking crowd of around 70,000 braved the rains to show their support for the LGBT+ community.
LGBT+ rights are children's rights
By Save the Children Philippines
June 29, 2020
QUEZON CITY – Save the Children Philippines unites with the LGBT+ community and calls on parents, guardians, the general public, and the national and local government to defend and protect the children, regardless of their sexual orientation, gender identity and expression.
"There is nothing wrong with being LGBT+. Just like everyone else, these children have the right to be loved, protected, and respected" said Mark, a 17-year-old gender equality advocate.
Mark is one of the adolescents trained by Save the Children Philippines on Adolescent Health who now teaches fellow youth and children about puberty, adolescence, reproductive health, and gender equality.
Atty. Alberto Muyot, Chief Executive Officer of Save the Children Philippines, said LGBT+ children and youth are deprived of their rights because of their sexual orientation and gender identity such as access to health services, education, and work opportunities.
"These vulnerabilities are even exacerbated by the COVID-19 pandemic as they face higher risks of physical and sexual violence, bullying, ridicule, stigma and social exclusion," said Muyot.
The 2016 Philippine National Baseline Study on Violence against Children (NBS-VAC) revealed that LGBT+ children are more at risk of suffering physical violence (75%); psychological violence (78.5%); and sexual violence (33.8%).
In a consultation with LGBT+ children in the Association of Southeast Asian Nations (Asean) countries in 2016, the child participants "admitted suffering from psychological abuse and discrimination from their own families as well as schools and communities."
"Society, especially the youth, should really be aware of sexual orientation and gender identity expression (SOGIE) so that we won't hurt and misjudge others," said Mark.
Wilma Banaga, Child Protection Advisor of Save the Children Philippines said that as adults, it is our duty to respect, protect and fulfill children's rights, including the rights of LGBT+ children. Hence, Save the Children Philippines actively campaigns for LGBT+ children's right to be protected from all forms of violence and discrimination, and have access to education, health, and well-being.
Children should primarily feel accepted, supported and protected within their families.
"As adults, we have to challenge ourselves to get over our discomfort over children not conforming with the gender norms that we grew up with. Parents and other family members in particular should be able to love, accept and support their children no matter what," Banaga said.
Save the Children Philippines supports the enactment of the Anti- Discrimination Act that seeks to institutionalize programs against any form of discrimination on the basis of SOGIE.
Muyot emphasized that children and young people have the right to freely express their views, and adults have the obligation to listen and consider them, and to facilitate their participation in all matters affecting them.
The child rights organization also collaborates with the Department of Education (DepEd), Department of Social Welfare and Development (DSWD), and all other government agencies to sustain their efforts to promote and protect the rights of all children by reinforcing gender-responsive policies.
Save the Children Philippines is committed to relentlessly work with parents, caregivers, communities, civil society organizations and policy-makers to ensure that the rights of all children, especially the most vulnerable are recognized, protected, respected, and able to achieve their full potential.
DPWH concretes Cacaransan to Saputan FMR in Calbayog City, Samar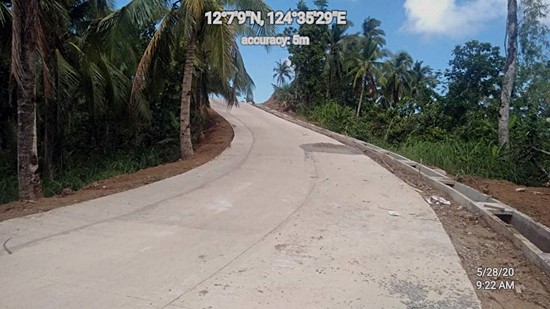 By CHENZI MAY UY
June 29, 2020
CALBAYOG CITY – The Department of Public Works and Highways Samar First District Engineering Office has completed the concreting of the farm-to-market road (FMR) going to barangays Cacaransan and Saputan, this city.
The project covers the construction of 947 meters Portland Cement Concrete Pavement (PCCP) with slope protection. Also included is an open drainage system designed to discharge heavy volumes of stormwater run-off. This prevents flooding or ponding that may eventually weaken the pavement.
The project has a contract amount of more than P22 million in convergence with the Department of Agriculture.
DTI credits DOTr orders to address high shipping costs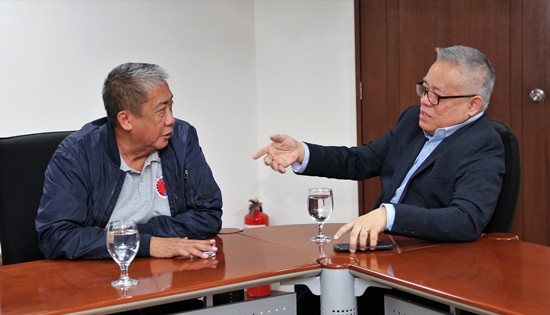 By DTI-Office of the Secretary
June 28, 2020
MAKATI CITY – Department of Trade and Industry (DTI) Secretary Ramon Lopez credited and supported the initiatives taken by Department of Transportation (DOTr) Secretary Arthur Tugade to address mounting complaints against unreasonable shipping charges. This, following the transportation department's issuance of multiple Department Orders to bring down the cost of shipping and provide redress on complaints against shipping lines.
Sec. Tugade issued an order creating the Shippers Protection Office (SPO) to assist shippers that have been assessed unreasonable fees and charges by shipping lines. Under Department Order 2020-008, the SPO is authorized to accept complaints pertaining to rates, charges, practices, and operations of international and domestic shipping lines.
"The creation of such an office is very important as importers, exporters, forwarders, and brokers will now have a venue to ventilate complaints against shipping lines charging exorbitant and unreasonable fees," said DTI Secretary Lopez.
"The intervention of DOTr in addressing this issue could not have come at a better time, considering that this has been a recurring problem for shippers, which affects the general cost of goods and has further aggravated the economic difficulties that all businesses have been experiencing due to the pandemic," Sec. Lopez said.
"At the end of the day, it's consumers who will bear the burden of these high costs in terms of higher prices of final products. Shippers may file their complaints directly at the SPO," the trade chief added.
Further, Sec. Lopez cited Executive Secretary Salvador Medialdea for his leadership in finding all possible solutions to the high shipping charges. Other agencies cited were the departments of Finance (DOF), Agriculture (DA), as well as the Philippine Ports Authority (PPA), Bureau of Customs (BOC), and the Maritime Industry Authority (MARINA) for helping to address issues to make logistics in the country more efficient and to reduce logistics cost, especially during the pandemic.
Sec. Tugade also issued Department Order 2020-009 prescribing a minimum free time period of eight (8) days for cargoes unloaded by international shipping lines. The eight-day period extends the period of five (5) days currently granted by shipping lines before collecting demurrage charges on containers. This again is a very welcome intervention in lowering the overall charges applied to shippers and consignees.
Studies have shown that the five-day free time period granted by shipping lines to Filipino importers is one of the shortest free time periods in Asia. The eight-day free time period aligns the free time period granted by many shipping lines to importers in other countries.
Moreover, under the government's policy of ensuring adequate supply of food at affordable prices, Sec. Tugade also issued Department Order 2020-007 directing all domestic shipping lines to allocate cargo space and provide preferential rates for agricultural and food products.
The order enjoins all domestic shipping lines to allocate no less than 12% of a vessel's cargo capacity per voyage exclusively for agriculture and food products and provide a discount of 40% of published rates for cargoes of said products. The said order is also expected to benefit farmers by way of boosting demand for locally produced agricultural products. It will likewise help ensure the unhampered movement of said products across the country.
"The longer free time of minimum of eight days prescribed under DO 2020-009 is expected to minimize, if not eliminate, demurrage charges to be incurred by consignees on imported products," Sec. Lopez explained.
He also pointed out that importers that are able to release their shipments within eight days no longer have to pay demurrage charges.
For locally-produced agriculture and food products, the allocation of a vessel's cargo capacity and provision of discounted rates as provided under DOTr's order can lead to increased competitiveness and demand for such products. This will contribute to the viability of domestic food production, as well as help sustain the government's efforts to attain food security for the country.
"These initiatives are expected to help stabilize prices of many basic commodities, which will ultimately redound to the benefit of Filipino consumers. Secretary Tugade deserves to be commended for taking concrete actions to resolve the issue of high shipping costs," added Sec. Lopez.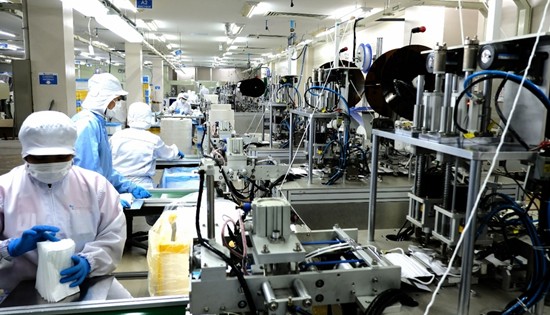 Yokoisada (Phils.) Corporation manufacturing facilities in Clark.
Japanese face mask company Yokoisada to expand in the Philippines
By DTI-Foreign Trade Service Corps
June 26, 2020
MAKATI CITY – Japanese company Yokoisada (Phils.) Corporation recently announced plans to expand their Philippine operations and double their current production capacity for face masks. They are also set to begin manufacturing nonwoven fabric and earloop raw materials for their masks to lessen reliance on raw materials from China. Their operations in Clark Freeport Zone will be the main factory for the Yokoisada group.
Yokoisada President Mr. Yuki Yokoi shared that their decision to expand was driven by strong support from the government during the height of the COVID-19 pandemic. As world demand for Yokosaida's face masks during the pandemic skyrocketed in March 2020, Yokoisada faced operational issues including worker availability, raw material logistics, and personnel movement due to the government's emergency quarantine measures. With the help of the Department of Trade and Industry, the Board of Investments, Clark Development Corporation, and the Philippine Consulate General in Osaka, Yokoisada managed to quickly get their production facilities back on track to meet Philippine and international requirements.
Mr. Yokoi also cited successful operations in the Philippines for the past years and the goal to contribute to Philippine society as a reason for expanding. Yokoisada is currently applying for subsidy under the Japanese government's overseas supply chain diversification project.
"We appreciate Yokoisada's vote of confidence in the Philippine business environment. The Philippine government stands ready to assist and facilitate their investments in our country. This investment will plug a big hole in our country's current mask production supply chain, and help ensure a more reliable supply of masks during pandemics," Mr. Emmanuel Ang, Commercial Counsellor in the Philippine Consulate General in Osaka, said.
Based in Nagoya, Japan, the parent company is a pioneer in mask manufacturing, having been in the business for more than 60 years. Yokoisada (Phils.) started their manufacturing operations in the Clark Freeport Zone in 2013 and was one of only two export-quality surgical face mask manufacturers in the Philippines prior to the COVID-19 pandemic. The Philippine factory previously exported most of its production and imported non-woven fabric raw material from overseas because there is no local source.
Eastern Visayas registers 14.3% unemployment rate in April 2020
By PSA-8
June 26, 2020
TACLOBAN CITY – Amidst the COVID-19 pandemic scare, about 251 thousand persons in Eastern Visayas labor force were unemployed in April 2020. This translates to a double-digit unemployment rate of 14.3 percent, or 10.3 percentage points higher than the 4.0 percent rate recorded in April 2019. The region ranked fifth among 17 regions with low unemployment rate in the country.
Meanwhile, employment rate (ER) in April 2020 was estimated at 85.7 percent, making it the fifth among regions with high employment rate in the country (Table 1). This figure is 10.3 percentage points lower than the 96.0 percent ER recorded in April 2019. Employment rate is the proportion of employed persons to the total labor force.
The underemployed or those employed persons who express the desire to have additional hours of work in their present job or to have additional job, or to have a new job with longer working hours was estimated at 328 thousand in April 2020. This figure translates to an underemployment rate of 21.8 percent, higher than the 18.6 percent recorded in the same period last year. The region recorded the eighth highest underemployment rate in the country.
Out of the estimated 3.1 million population 15 years old and over in April 2020, about 1.7 million were economically active or in the labor force. This number translates to a Labor Force Participation Rate (LFPR) of 56.2 percent. This figure is 5.2 percentage points lower compared with the 61.4 percent LFPR in the same period a year ago. Eastern Visayas registered the eighth highest LFPR among regions.
Data were based on the preliminary estimates released by the Philippine Statistics Authority from the April 2020 LFS round.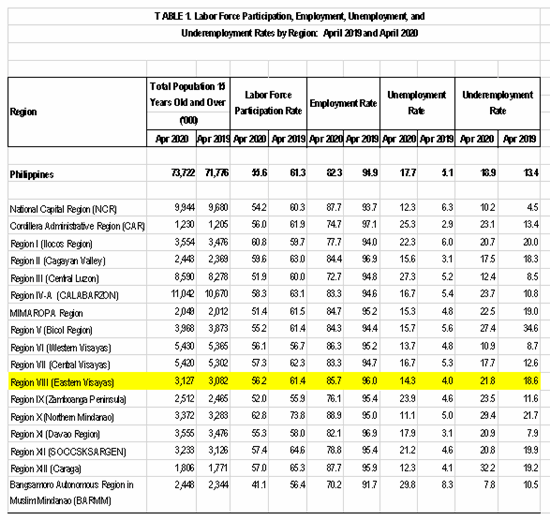 PITC not pursuing 300,000 MT rice importation plan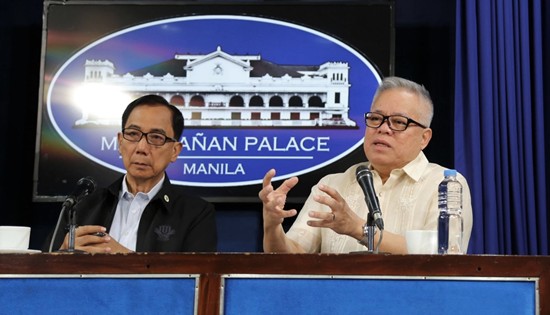 By DTI-OSEC-Public Relations Unit
June 26, 2020
MANILA – Following the official communication from Department of Agriculture (DA) Secretary William Dar, the Philippine International Trading Center (PITC), which is an attached agency of the Department of Trade and Industry (DTI), is no longer proceeding with the planned government-to-government (G2G) importation of 300,000 metric ton (MT) of rice that was initially targeted to arrive during the lean months of July and August.
DTI Secretary Ramon M. Lopez clarified, "Under the Rice Tariffication Law (RTL), PITC is the agency tasked to merely implement any directive from DA to import rice under a G2G arrangement. The provisions of the RTL basically opens up rice importation to any private group."
He added: "It will be recalled that the initial decision for the G2G importation plan was a result of the potential threat to maintaining a good buffer supply of rice for the country. Earlier computations from DA showed a threat to the targeted level of buffer stock following the imposed ban of rice exportation of Vietnam in April."
Historically, Vietnam serves as a major import source of the Philippines, accounting for over 90% of our country's rice imports. The Philippines imports around 7-14% of total rice requirement.
Upon intervention of President Duterte, the Vietnamese government, through Prime Minister Nguyen Xuan Phuc, agreed to lift its rice export ban policy making a commitment to the Philippine President that Vietnam will contribute to securing a stable supply of food in the country.
"With the lifting of the rice export ban of Vietnam, we can expect more comfortable buffer stock levels moving forward," the trade chief said.
Agriculture Secretary Dar noted: "Also, with the rice imports handled by the private sector traders as stipulated by the RTL, their purchase of rice imports will mean generating greater tariff revenues for the government which, under the RTL, will be used to fund the Rice Competitiveness Enhancement Fund (RCEF). RCEF is meant to boost productivity and income of the country's rice farmers."
The Chemicals In Burned Toast And Crispy Fries Won't Kill You, But The Calories Might
A new campaign to promote awareness about not burning food like toast and potatoes were launched. Doing so generates a chemical called acrylamide, which the International Agency for Research on Cancer categorised as "probably carcinogenic to humans. There's just one problem: there's no compelling proof that acrylamide causes cancer in humans. Cancer Research UK notes that acrylamide could produce mutations linked to cancer when they interact with DNA but human studies have yet to find such a connection.
There's no evidence that acrylamide consumption increases the risk of getting any cancer says the American Cancer Society but the Chief Cancer Control Officer at the American Cancer Society Richard Wender, note that fried potatoes and other crispy carbs have one link to cancer. They are the second leading cause of preventable cancer in the US, just behind tobacco and are full of unnecessary calories and obesity.
Many articles on cancer hazards cite the IARC's list of possible cancer causes. Despite the fact that court cases reveal IARC designations as confirmation on whether something is or is not carcinogenic.
The Group 2A list is just one level below Group 1 where acrylamide resides, which lists known cancer causes and includes things such as human papillomavirus (HPV), insecticides, malaria, and working as a petroleum refiner. When you understand that Group 2A also includes being a shiftwork hairdresser, that involves disrupting your circadian rhythm, and very hot beverages, it sounds scary.
It doesn't mean that everything on the list all causes cancer in humans because of some evidence that might increase a person's risk for cancer. The IARC's greatest misunderstanding is this: the IARC classifies possible carcinogens by how likely it is that they cause cancer but doesn't classify known carcinogens by how much cancer they cause.
Animal studies reveal the acrylamide's place on the IARC list shows very high doses of acrylamide to raise the risk of certain kinds of cancer in non-human animals. Those studies recommend that acrylamide can cause cancer through some strange mechanism, cause changes in DNA that result in cancer but researchers have yet to discover what that mechanism might be.
To test carcinogenic; rats and mice were given acrylamide; they're given higher doses of 1,000 to 10,000 times greater than what humans are commonly exposed to in food. This method allows researchers to see even the tiniest effects and is the common way of testing carcinogenicity. A Professor and statistician of the Public Understanding of Risk at University of Cambridge, David Spiegelhalter and Dr Alastair Brown from DearJane Medical says Adults with the enormous consumption of acrylamide could consume 160 times more and still only be at a stage that toxicologists think unlikely to cause elevated tumors in mice."
Human studies haven't found any increased risk to cite, so none of the articles discussing burnt toast and potatoes cited statistics. The numbers are likely to be minuscule even if they had, which means the risk had to be reported in a measured way.
For example, Brian Zikmund-Fisher illustrates a problem that the FDA put out a warning that people shouldn't eat cookie dough because some flour is infected with E. coli, but the chances that you are getting such an infection are tiny. It would be easy to say that the FDA shouldn't be frightening people about such a small risk.
Zikmund-Fisher opposes and says the FDA is not wrong for saying that consuming raw flour has an incremental risk, but if we're not discussing recalled flour, the absolute risk is minimal. People will need to estimate how much they value burnt potatoes and toast if acrylamide does increase our risk of having cancer by some tiny amount.
Scientists, government agencies, and journalists have to communicate the risks precisely for folks to make an informed choice. A Director of the Behavioral Decision Making Initiative at The Ohio State University, Ellen Peters says people overestimate that they will to benefit from a medication if you don't give them the numeric chances of benefit. Providing the number or not is the biggest difference she says. There were no numbers to give in the case of burnt potatoes, but the fact that a risk is involved makes a difference. Peters says this is not a neutral way to present information.
You're likely to ignore hundreds of articles for years on various things that may or may not increase your cancer risk. Zikmund-Fisher says we can only bother so much at any given point in time, and when we bombard people with messages, they turn it all off. All this bombardment makes people focus on the wrong things. This means that cumulative experience is not optimal.
You can dramatically reduce your risk of getting or dying from cancer by Avoiding all tobacco, trying to achieve a healthy weight as possible, exercising, protecting yourself from the sun. Getting cancer-preventing vaccines like HPV vaccines a Hepatitis B, being screened for Hepatitis C, and getting all recommended cancer screens. Follow these steps and cancer risk would be cut in half if you eat the occasional fried potato and burnt toast.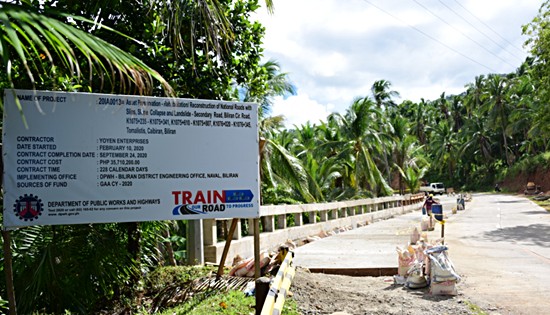 The asset preservation – rehabilitation/reconstruction of national roads with slips, slope collapse and landslide – secondary road along Biliran Circumferential Road, Tomalistis, Caibiran, Biliran is on-going with 32.46% accomplishment as of May 31, 2020. The completion of this project will provide a structure that will prevent further road slips and landslides on the said area.
DPWH-Biliran DEO posts 47.64% accomplishment of CY 2020 projects
By DPWH-Biliran
June 26, 2020
NAVAL, Biliran – The Department of Public Works and Highways (DPWH) Biliran District Engineering Office achieved 47.64% accomplishment of its CY 2020 implementation as of May 31, 2020.
David P. Adongay Jr., District Engineer (DE) reported that out of the 35 projects under CY 2020 General Appropriations Act (GAA) comprehensive release, Biliran DEO has completed eight while 28 are on-going.
DPWH-Biliran DEO has been allotted P1.08B under 2020 GAA for the implementation of 75 infrastructure projects. However, DE Adongay said that 40 of these were categorized as "For Later Release" (FLR) by the department, which means that the release of fund for the said projects are withheld.
"Because of COVID-19 situation, these FLR projects will not be released in full," revealed DE Adongay.
The DE said that the office is already programming those FLR projects which can be completed this year and only the funds for that projects will be released.
"FLR projects which will not be funded this year will be included and prioritized in our CY 2021 listing," DE Adongay said.
As of May 31, 2020, the district office has completed the P20M rehabilitation of Mapula Flood Control; P5M construction of multipurpose building, Brgy.Villa Vicenta; P2M construction of barangay road, Brgy. Victory; P1.17M construction of road, Ibanez St., Brgy. Palanay; P2.6M construction of road, Santiago St., Brgy. Palenque and Palana; and P1.2M construction of road, Mocorro St., Brgy. Palenque, all in the town of Caibiran.
Biliran DEO has also completed the P10M construction of Cabadiangan Flood Control in Naval town and P3M construction of seawall, Brgy. Baso, in the town of Cabucgayan.
According to DE Adongay, construction of infrastructure projects in Biliran is continuous following DPWH construction safety guidelines amidst COVID-19 health crisis.
DPWH-Biliran DEO targets to finish all CY 2020 projects within the year as mandated under the new cash-based budgeting system of the department.
DILG suspends return of LSIs to region 8 from June 26 - July 9
Press Release
June 26, 2020
TACLOBAN CITY – The Department of the Interior and Local Government (DILG) has stopped the travel of Locally Stranded Individuals (LSIs) starting today, June 26 until July 9, 2020 based on a joint resolution submitted by the Regional Inter Agency Task Force for the Management of Emerging Infectious Diseases (RIATF-MEID) and the Regional Task Force for Coronavirus Disease 2019 (RTF COVID 19) to give time for local government units to vacate and disinfect quarantine facilities for returning residents.
According to DILG-8 Regional Director Karl Caesar R. Rimando, this came about after DILG Secretary Eduardo M. Año and Task Force COVID-19 Chief Implementer Carlito G. Galvez Jr. attended the Joint Meeting last June 24, 2020 in Palo, Leyte to investigate the sudden spike of the number of confirmed positive patients.
During the meeting, Provincial Governors and the invited mayors voiced their appeal for a moratorium, citing that their facilities have been "overwhelmed" with quarantined returning residents.
The DILG Secretary was supportive of the sentiments of the top officials in Eastern Visayas, and congratulated the regional and local officials for properly managing COVID cases. They likewise turned over 4,000 PPEs and 8,000 N95 masks for distribution to health workers and front liners in the region.