DOLE-RO8 congratulates EDC for historic virtual CBA signing
By NORMA RAE S. COSTIMIANO
June 4, 2020
TACLOBAN CITY – The Department of Labor and Employment Regional Office VIII congratulates the Energy Development Corporation (EDC) for the successful conduct of its 2020 Unified Rank and File (RF) and Professional Technical (PT) Online Conclusion/Signing Ceremony last 02 June 2020 via the zoom online application, a first in the region and in the country.
The EDC, having three labor unions namely, Leyte Geothermal Professional Technical Employees Union (LEGPTEU), Tonongan Workers Union - Rank and File (TWU) and Leyte "A" Geothermal Project Employees Union – Rank and File (LAGPEU), has started their Collective Bargaining Agreement (CBA) negotiations last April 30, 2020. After four (4) separate sessions conducted virtually, the negotiations were concluded on May 12, 2020.
Regional Director Yahya A. Centi gave his inspirational message to the management and union panel members of EDC during the significant occasion. He also congratulated EDC for the initiative in pursuing the CBA negotiations using online platform during this global health crisis and even cited it as one historic event.
"In this time of pandemic, and the means by which you concluded your CBA negotiation, is a first for the entire country, since it was done through virtual platform. I must congratulate EDC and its unions for this initiative. Indeed, you are one of the big brothers that continuously maintains peaceful industrial relations within the region," Centi said.
During the online conclusion ceremony, Director Centi also briefly shared about the importance of collective bargaining.
"The right to bargain collectively with an employer enhances the human dignity, liberty and autonomy of workers by giving them the opportunity to influence the establishment of workplace rules and thereby gain some control over a major aspect of their lives. Collective bargaining is not simply an instrument for pursuing external ends, rather it is intrinsically valuable as an experience in self-government", Centi added.
Finally, Director Centi gave the panel members some useful reminders and words of encouragement to inspire them as they ink their renewed CBA.
"Labor Management Relations is like marriage. There are times that parties do not agree on certain issues but still maintains to live and work with each other for the common good of the family. Today is like your renewal of vows/commitments to each other. As you ink your CBA and even amidst this pandemic, allow me to convey my heartfelt congratulations to all of you for this historic and memorable event," Centi ended.
Ms. Lisa Teresita F. Daigan, Head of HR Operations for VisMin Cluster of EDC, expressed her sincerest gratitude and respect to Director Centi for being a supportive leader. She likewise committed to continue partnership with the DOLE team.
"On behalf of EDC, I would like to thank You, Director. You are such an amazing leader. You added life to the ceremony. The experience was different with you around. We can not thank you enough sir for the support! We are here to continue the healthy partnership with you and the rest of the DOLE team. More Power!", said Ms. Daigan.

Municipal Agrarian Reform Program Officer (MARPO), Hilaria Callera together with her staff, Caroline Sumayod and Marc Johann Omega, and driver Manolito Estil, distribute relief packs of supplemental food, vitamins and hygiene kits to the 70 agrarian reform beneficiaries (ARBs) in Barangay Wague, a remote village in Leyte, Leyte. (Jose Alsmith L. Soria)
Farmers from Leyte's remote village thank DAR over relief packs
By JOSE ALSMITH L. SORIA
June 3, 2020
LEYTE, Leyte – Some 70 agrarian reform beneficiaries (ARBs) from a far-flung farming village in this town were so thankful to receive relief packs of supplemental food, vitamins and hygiene kits from the Department of Agrarian Reform (DAR).
"Ako, nagpasalamat ko nga dunay tabang sa gobyerno. Pasalamaton ko kay gipangga pa diay mi'ng mag-uuma." (Thank you that there is assistance from the government. I am grateful because the government still love us, the farmer.)
These were the words of Rondino Villamor, a 66 years old ARB from Barangay Wague, after receiving his relief pack.
Villamor and the 69 other farmers were among the 448 ARB-recipients of the relief packs in the entire municipality.
On Thursday afternoon last week, ignoring the risk posed by the coronavirus disease 2019 (COVID-19) though observing the minimum health protocols, Municipal Agrarian Reform Program Officer (MARPO) Hilaria Callera assisted by her staff, Senior Agrarian Reform Program Technologist Caroline Sumayod and Agrarian Reform Program Technologist Marc Johann Omega, delivered the 70 relief packs and distributed to the awaiting ARBs outside of the barangay's multi-purpose center.
Many of them came straight from their farms.
Some packs we're delivered to the house of the vulnerable ones.
Each pack contains four kilos of milled-rice, canned goods, noodles, vitamins, bath soaps and face masks.
According to Callera, she didn't want these less-privilege members of the community to spend P200 for fare alone just to claim the relief packs in the office.
Callera took advantage of the DAR Provincial Office service vehicle driven by Manolito Estil, which was among the vehicles used to transport the relief packs from Tacloban City to the different DAR Municipal Offices throughout the province.
She requested to bring the 70 packs, intended for the ARBs in Barangay Wague, directly to the area, a remote village 14 kilometers away from the town proper.
Another recipient of the relief pack, Estrella Septimo, 62, said "Pasalamat ko nga nakadawat mi, nga nahatagan mi ug hinabang sa DAR. Nga ang among gikinahanglan, naa." (We are thankful that we are able to receive assistance from DAR. These are what we need.)
OIC-Regional Director Ismael Aya-ay explained that the said distribution is just one of the four components of the PaSSOver: ARBold Move for Deliverance of our Farmers from COVID-19 Pandemic project. This is DAR's response to Republic Act No. 11469, or the Bayanihan to Heal As One Act, he said.
According to him, the distribution rolled out on May 14 this year at the national level. In Region-8, we started the distribution on May 21 in the Municipality of Palo, he added.
Aya-ay also disclosed that 9,532 ARBs all over Eastern Visayas are expected to receive the said relief assistance to help ease their burden brought by the current situation.
Meanwhile, Leyte-Biliran Provincial Agrarian Reform Program Officer II Renato Badilla shared that 4,941 ARBs in the Province of Leyte, and 140 ARBs in the Province of Biliran will be benefited.
DOLE RO8 provides sewing machines to women, senior citizens in Kawayan, Biliran
By NORMA RAE S. COSTIMIANO
June 3, 2020
TACLOBAN CITY – Some fifty (50) women and senior citizens from Kawayan, Biliran received one (1) sewing machine each from the Department of Labor and Employment and the local government unit of Kawayan during the turnover ceremony held last May 27, 2020 at the municipal grounds of said municipality.
Present to grace the simple turnover ceremony were Kawayan Mayor Rogelio Espina, DOLE Biliran Field Office Chief Fe Norma Valuis and Senior Labor and Employment Officer, Ms. Imelda Codilan.
Mayor Espina just gave his brief message to the beneficiaries during the event. He reminded them to be grateful of the assistance and exercise proper care in using the equipment. He likewise thanked DOLE for the usual assistance and support to his constituents.
Chief Valuis, representing Director Yahya A. Centi, extends her greetings to the good mayor and the excited beneficiaries. She assured them that DOLE will continue to be of service to the people of Region 8 even in the midst of the global health crisis.
"We would like to assure you that DOLE will continue to deliver our programs and services amid this COVID crisis. Let us help one another and do our part for all of us to survive. I know the equipment you have now will help you cope with the difficult situation we are in now", said Ms. Valuis.
The said livelihood assistance was granted by DOLE RO VIII and charged against its 2019 DOLE Integrated Livelihood Program (DILP) funds. The grants, amounting to P600,000.00 were awarded by Director Centi to Mayor Espina during the collaborative meeting of DOLE and the Province of Biliran held last September 2019 in Naval.
It was ensured that social distancing and other COVID-19 health protocols were strictly observed during the release of livelihood aid. (with reports from Imelda M. Codilan)
SELDA: Anti-Terror Bill "a dangerous ingredient to Duterte's recipe for dictatorship"
By SELDA
June 2, 2020
QUEZON CITY – The Samahan ng Ex-detainees Laban sa Detensyon at Arresto (SELDA), a group of ex-political detainees mostly during the Martial Law regime, strongly denounces the railroading of the administration's so-called "Anti-Terror Bill", calling it "a dangerous ingredient to Duterte's recipe for fascism and dictatorship."
"Obviously, this is becoming a cooking show and the president is hungry for more power. Now that he has certified the Anti-Terror Bill as urgent, his allies in the legislature are now brewing this law as an add-on to his already tyrannical rule. But this is nothing new. We had seen this before with the late dictator Ferdinand Marcos. Clearly, the president is desperate to fulfill his Marcosian fantasy. But this has to stop," said Danilo Dela Fuente, the group's spokesperson.
Under the Anti-Terror Bill, law enforcement agents will be given the power to arrest anyone without warrant based only on suspicion as authorized by the Anti-Terror Council - a panel made up of top cabinet officials which will be given functions otherwise reserved for courts. Furthermore, the bill exempts law enforcement agents from liability. It even allows prolonged detention without charges of "suspected terrorists" for up to 24 days.
"It's extremely callous and inhumane of this administration to prioritize the enactment of this bill amid the spread of the COVID-19 pandemic and its negative socioeconomic effects, but it is not surprising. While everyone is trying to keep themselves safe from the virus, the spate of political killings and harassment continued. Even ordinary citizens who expressed their dissatisfaction towards the administration's anti-people schemes have been served subpoenas or were put under surveillance, harassed, and arrested. This bill will serve as the stamp of approval from this administration to continue its witch hunt against activists and its quest to tone down the public's growing unrest," said Dela Fuente.
"Similar to how Marcos suspended the writ of habeas corpus at the dawn of his bloody regime, this law is cleverly designed to arrest this administration's critics and silence the growing dissent and discontent of the masses. It further emboldens state security to amplify the culture of impunity and bastardizes our inherent rights to freely express ourselves, including our discontentment and grievances. More importantly, it formalizes Duterte's dictatorship and allows him to concoct more ways on how to maintain his control and power over the land through fascist and militarist means, exposing ordinary citizens to heightened state terrorism, abuse of power, and intensified human rights violations. This is outrageous," he further stressed.
"Expressing dissent and calling the government's attention to address the root causes of poverty, inequality, and injustice should never be considered as a crime. Enacting this bill will jeopardize the lives of many activists, human rights workers, and even ordinary citizens who are thirsty for genuine social change. We in SELDA are one with the nation in opposing Duterte's draconian measures and desperate attempts to cling to power. Junk Duterte's Terror Bill!", the SELDA spokesperson ended.
DPWH Biliran DEO identifies priority projects for calendar year 2021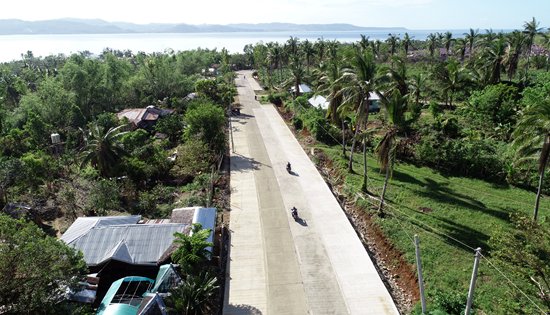 By DPWH-Biliran
June 2, 2020
NAVAL, Biliran – The Department of Public Works and Highways (DPWH) Biliran District Engineering Office (DEO) has started prioritizing projects for implementation in CY 2021.
District Engineer David Adongay Jr. in an interview with a local reporter here said that more or less P2.4B has been proposed to the Department of Budget and Management (DBM) for implementation of various infrastructure projects next year.
Adongay revealed that they have prioritized the continuation of Farm-Market Road (FMR) projects, road concreting in convergence with the Department of Tourism (DOT) and Department of Trade and Industry (DTI), flood control projects to protect lives and properties and some road widening projects to complement the fast growing economy in Biliran.
"Kailangan malapad yung' ating mga roads para ma-accommodate yung' volume of traffic na papasok dito sa atin na ina-anticipate natin in five to ten years from now," said Adongay.
Adongay added that they have also included in their priority the rehabilitation of the entire Maripipi Circumferential Road (MCR), an island town of this province.
Moreover, multi-purpose buildings, FMRs and multi-purpose pavement roads have also been prioritized under Local Infrastructure Program (LIP).
According to Adongay, said priority projects for 2021 has already been submitted to the DBM in coordination with the Local Government Units (LGUs), Biliran Congressman and the Governor in this province.
"By October, mag-iissue sila (DBM) under National Expenditure Program (NEP) na pwede na kami magstart ng Preliminary Detailed Engineering (PDE) activities, para pagdating ng pera, madali na tayong maka-implement agad," said Adongay.
DTI-assisted transportation service provider launches PUVs for Cavite commuters

By DTI-ROG
June 2, 2020
MAKATI CITY – Addressing the dilemma caused by the community quarantine in the public transportation in Cavite, the Department of Trade and Industry-assisted transportation service provider launched their eco-friendly public utility vehicles (PUVs) for the commuters in the province.
The Silang Transport Service and Development Cooperative, a beneficiary of the DTI's Shared Servcie Facility (SSF) program, introduced their 23 new and modernized units of PUV to provide service in Imus City and Silang, Cavite.
Through the financial assistance of the Department of Budget and Management and the effort of Silang Transport's Manager, Mr. Sulpicio Arellano, the Cooperative has successfully paved the way to offer and run the first ecological and conducive PUV in the province. They demonstrated their readiness to serve the public by observing social distancing and other health protocols with their passengers.
According to Arellano, this is their answer to the government's call for a nature-friendly transportation system and the LGUs' call to service commuters plying from Silang to Imus and Silang to Tagaytay and vice-versa. Routes will be stretched once the new normal is in place in the province.
Established in 1991, fifteen individuals from different transport associations in Silang joined and worked for the registration of the Silang Transport. They started their business and services to members by applying passenger utilities jeepney franchise from the Land Transportation Franchising and Regulatory Board.
In 2013, the DTI 4-A through its SSF program awarded the Silang Transport Service and Development Cooperative with equipment such as a hydraulic pipe bender, universal sheet bender, sheet metal cutter, acetylene torch, and welding machine for body fabrication and repair. Thus, Cooperative was able to increase its services to the members on repairs up to 15%, assemble additional cooperative owned unit, and increase motor shop income to 10%, greatly improving their production and capacity to address the needs of its members.
Through the SSF, members and member-drivers continue to use the equipment to their modernized PUVs in terms of maintenance and repair. Presently, the Cooperative has 174 member operators.
"We would like to congratulate the Silang Transport Service and Development Cooperative for this achievement! You have proven that there are, indeed, many ways to thrive amidst this pandemic through a sheer amount of perseverance, optimism, and determination. We really believe that through the relentless effort and convergence of the government and the private sector, we will be able to survive in this crisis," said DTI CALABARZON Director Marilou Q. Toledo.
The Department's SSF is a national program that aims to improve the competitiveness of the micro, small, and medium (MSMEs) by providing them with machinery, equipment, tools, systems, skills and knowledge under a shared system.
The SSF program is being implemented nationwide by the DTI-Regional Operations Group headed by Undersecretary Blesila Lantayona.
NPA terrorists abduct 3 peacebuilders in Samar
By DPAO, 8ID PA
May 29, 2020
CAMP LUKBAN, Catbalogan City, Samar – Three peacebuilders were abducted by Communist NPA Terrorists (CNTs) in Brgy. Canvais, Motiong, Samar about 4:30AM, May 27, 2020.
The CNTs abducted Cosme Cabangunay and his two sons Jevie and Jason; all former rebels who surrendered to the authorities and were embracing and working for peace as members of Motiong Peacebuilders, an organization of former rebels who are working for peace and development.
According to barangay officials headed by Brgy Chairperson Vilma Gabane who reported the incident to the authorities, about five bonnet-clad suspects armed with long firearms barged inside the victims' house and forcibly took them at gunpoint.
The victims' family and the whole community are appealing for the safe release of the trio.
"They have been living in peace and just wanted to have normal lives away from violence. We will hold them (NPA) responsible if our relatives will be harmed", one of the kins said in vernacular.
Lieutenant Colonel Reynaldo B. Balido Jr., Battalion Commander of 87th Infantry Battalion, Philippine Army, condemned the abduction as it is a heinous crime and is against the International Humanitarian Law. "We vehemently condemn this barbaric act of the NPA terrorists. They have victimized non-combatants. They abducted people who are working for peace in the locality", Balido said.
Colonel Camilo Z. Ligayo, Commander of the 801st Infantry Brigade, Philippine Army demanded the unconditional and safe release of the victims.
"It is with deep regret that the NPA terrorists have once again showed their evil ways by oppressing the ordinary people who want to live in peace. We assure the relatives that our soldiers will do everything necessary to pursue the perpetrators and bring them to justice", Ligayo remarked.
"To the CNTs, the people of Motiong demand that you release the victims unharmed. You can embrace peace with us or face the fury and condemnation of the community as the government forces will relentlessly pursue you", Ligayo stated.
It is high time to challenge the self-declared human rights groups Karapatan, Katungod Sinirangan Bisayas and other left leaning organizations to strongly condemn the abduction of the three peacebuilders being human rights advocates, a concluding statement by Ligayo.

On-going construction of Kaulangohan Flood Control along Biliran Circumferential Road, Caibiran, Biliran. This project is under contract with Roving Premier Contractors Inc. worth P18.6M.
Construction of DPWH infra projects in Biliran resumes
By DPWH-Biliran
May 28, 2020
NAVAL, Biliran – The Department of Public Works and Highways (DPWH) Biliran District Engineering Office resumes construction works of DPWH infrastructure projects under strict safety guidelines, this after the province is placed under General Community Quarantine (GCQ).
In an interview with David Adongay Jr., District Engineer by a local reporter here, he said that they are strictly following the May 19, 2020 Department Order No. 39 signed by Sec. Mark Villar, "Revised Construction Safety Guidelines for the Implementation of DPWH Infrastructure Projects during the COVID-19 Public Health Crisis" to avoid contagion.
"Nagresume na tayo pero meron tayong patnubay na sinusunod prior to deployment of workers on the field based on the aforesaid DO on Construction Safety Guidelines as well as the minimum health standards ng DOH like social distancing, proper hygiene, wearing of facemasks at kailangan yung' mga workers physically fit," said Adongay.
He also added that DPWH engineers assigned at the site are strictly guided by DOLE D.O.13, series of 1998 and implementation of wearing Personal Protective Equipment (PPE) required such as but not limited to facemasks, face shields and long sleeve T-shirts and physical distancing at least 2-meters.
According to Adongay, all of their 2020 projects are now on-going.
For 2020, Biliran DEO is implementing a total of 35 projects. Out of this number, 33 are already on-going while two are completed posting 28.89% accomplishment as of April 30, 2020.
Adongay said that there are still 40 projects whose funding is "For Later Release" (FLR) by the Department under 2020 implementation.
"In case funds for FLR projects are released, we will immediately start the projects," said Adongay.
However, Adongay added that if reduction of funds for FLR projects is needed because of COVID-19 crisis, the district office will coordinate with the Local Government Unit (LGU), Biliran Congressman, and the Governor to identify priorities that are most in need by the Biliranons.
Moreover, Adongay said that they will also consider the technical aspect of projects to be prioritized like Road-Right-Of-Way (RROW) problem to make sure that all projects will be completed by the end of 2020.
With just only months away before the year ends, the district office is committed to fast-track all infrastructures without compromising the quality of its projects and without compromising the health and safety of the workers during this COVID-19.
FLETC focus with Astor Lim, Jr.: Spotlighting Asian-American Pacific Islander Heritage Month and FLETC's 50th Year
By JENNIFER SCALES
May 26, 2020
[The Federal Law Enforcement Training Centers (FLETC) salutes Asian-American and Pacific Islander Heritage Month (AAPIHM) through a series of articles recognizing FLETC staff of Asian and Pacific Island descent. The AAPIHM national campaign theme "Unite Our Nation by Empowering Equality" reminds us that we are stronger together; united by our common ties and better collectively because of our distinct experiences.]
GLYNCO, GA. – For eight years, Astor Lim, Jr. has proudly served in the Chief Financial Officer (CFO) Directorate at the Federal Law Enforcement Training Centers. Lim works with accounts receivable in the Billing and Central Accounting Reporting System (CARS) Branch in Glynco, Georgia.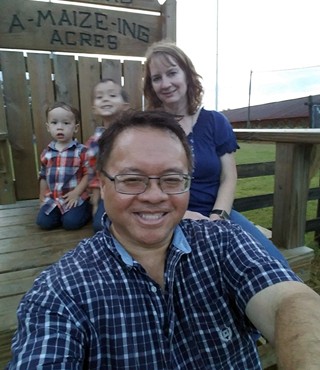 It's always time for family as Astor Lim, Jr., shares time with wife Lisa and sons, five-year-old Jacob and two-year-old Elias, during a recent safe outing.
Born in Cebu City, The Philippines, Lim now claims Brunswick as his home. "I was raised in the Lincoln Park area of Chicago, but my family settled down in Brunswick, and I attended and graduated from Brunswick High School," Lim said. "After high school, I then attended Kennesaw State University where I got my dual degree in Marketing and Professional Sales and Chemistry."
Lim credits his father, Astor Sr., his late mother, Leonila, and his stepmother, Christita, with instilling in him the work ethic he has today. "They were hard-working parents and continued to push honestly and with dedication for everything they got," Lim said. "This is something that Maria, my sister; Al, my brother, and I will never, ever forget."
Lim became the first member of his family to become a naturalized citizen when he joined the U.S. Army as a 76Y, Unit Supply Specialist. "During my time in service, I was able to broaden my knowledge in such places as Washington, New Jersey, Virginia, Germany, Italy and Afghanistan." Using a military term to describe his trajectory into the field, Lim says finance was not always in his "line of sight." However, he states, "I am always looking for ways to improve either myself or the methodology in what I contribute to my organization."
Throughout his career at FLETC, Lim has witnessed many advancements. "Technology has come into play for just about every aspect of what we do now," Lim said. "For instance, just about everything was 'pen and paper' based. Now thanks to information technology and computerizations, we can get so many tasks and products done faster and in turn share them with others either across the room or across the globe without having to leave our desks."
He gives technology the credit for FLETC's ability to carry out its reconstitution efforts during the COVID-19 pandemic. "It's a big factor in what we all do now that we are teleworking," Lim continued. "We find ourselves in a situation where we have to lean on technology from the time we turn on our systems until we shut it down."
As FLETC approaches its 50th Anniversary, Lim reflects on the agency's history as well as what is to come. "It's amazing to make it to 50 years," Lim began. "We, meaning FLETC in all aspects, are here to stay. FLETC is integral to this country and we will continue to grow with great people and those wanting to come here to get the best training in this country, even worldwide."