DTI trains Surigao Norte IPs in handicraft making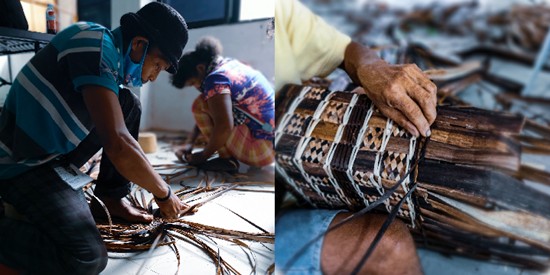 By DTI-Regional Operations Group
June 24, 2020
MAKATI CITY – Twenty members of the Mamanwa tribe in Brgy. Camp Edward, Alegria, Surigao del Norte were trained in handicraft making through the partnership of the Department of Trade and Industry (DTI) and the National Commission for Indigenous Peoples (NCIP).
The indigenous people (IP) were trained to produce mats, bags, baskets and other handcrafted products using indigenous materials growing prominently in the area such as abaca, rattan strips (lagus), and golden sika (sayabay).
The training aimed to equip selected participants with necessary skills as preparation to potential bulk orders since only few from the community has enough knowledge on handicrafts products as seen through the validation conducted by DTI-Surigao del Norte.
Manny Venus and Felix Abatayo, skilled weavers in Brgy. Camp Edward, served as the trainers who supervised the three-day activity.
To help the Mamanwas meet their assigned tasks during the workshops, starter kits and tools were given for their processing activities.
Participants were expected to execute and produce at least five designs for product enhancement and mass production.
The outputs of this activity will be market matched in the local and regional market and will also be showcased in trade fairs.
"Gusto namo nga pag mahisgotan ang Mamanwa sa Alegria, ang produkto ang malambigit sa amo, dili lang ang among royalty (We want that the Mamanwa in Alegria will also be known because of our products, not just because of our royalty," one of the participants said.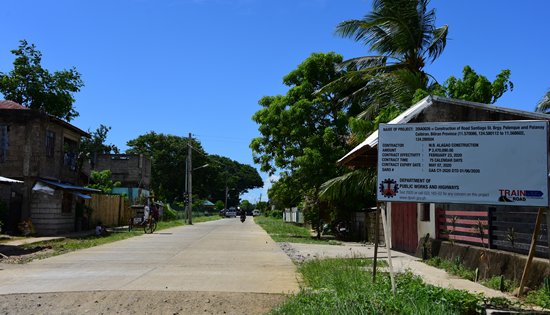 Completed P2.5M construction of road situated in Santiago St, Brgy. Palenque in Caibiran town.
2 access road projects in Brgy. Palenque, Caibiran, Biliran completed
By DPWH-Biliran
June 22, 2020
NAVAL, Biliran – Two road concreting projects leading to essential establishments in Caibiran town have been completed by the Department of Public Works and Highways (DPWH) Biliran District Engineering Office (DEO).
The said projects are located at Santiago Street and Mocorro St., both in Brgy. Palenque with a total length of 0.284-kilometer two lane road.
David Adongay Jr., District Engineer said that these roads were prioritized because the existing concrete road already shows deterioration and may cause accidents to motorists.
"The newly completed projects are deemed important as these roads both lead to essential establishments of the town," said Adongay.
Situated along this road projects are Caibiran Elementary School and Palenque Rural Health Unit (RHU). These roads also lead to the Municipal Hall Building and Gymnasium of the town.
According to Adongay, residents, students, health workers, patients and motorists traveling along these roads are the beneficiaries of these projects. They can now enjoy a convenient travel and a safer transport of goods and other services.
Both projects have a total amount of P3.7M under contract with W.B. Alagao Construction. The projects were both implemented under 2020 Local Infrastructure Program (LIP).
Moreover, Biliran DEO has also completed the P1.1M road construction at Rizal St. in Brgy. Palanay and the P2M road construction at Brgy. Victory both in Caibiran town.
Notorious communist NPA extortionist neutralized in Northern Samar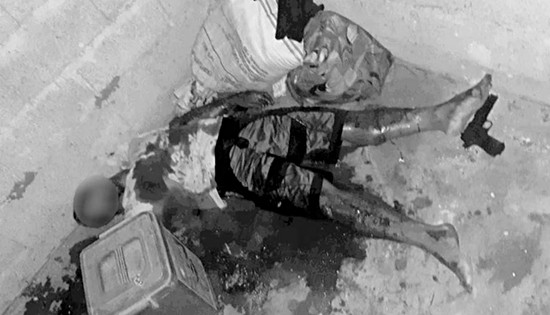 By DPAO, 8ID PA
June 21, 2020
CAMP LUKBAN, Catbalogan City – A notorious Communist NPA Terrorist (CNT) who is responsible in various extortion activities targeting the government infrastructure projects and business establishments in the pacific towns of Northern Samar and his aide were neutralized by the combined elements of 803rd Infantry Brigade's Team Peacemaker and Northern Samar Police Mobile Force Company while conducting an interagency law enforcement operation on June 20, 2020 at the vicinity of Brgy. Bagacay, Palapag, Northern Samar.
The fatalities were identified as Zaldy Meraya alias Podyot/Bato, Finance Officer of Squad 1, Front Committee (FC) 15, Sub-Regional Committee (SRC) Arctic and his aide Bebe Tobino alias Kidlat/Lawin, member of Squad 1, Sandatahang Unit Pampropaganda (SYP) Platoon, FC15, SRC Arctic.
A brief arm engagement ensued when the CNTs fired upon the government troops who were about to serve a warrant of arrest issued by Judge Decoroso M Turla dated May 11, 2020 with Criminal Case Number 5712 for multiple attempted murder.
The said law enforcement operation was launched as an offshoot to the encounter between 20IB and NPA at the vicinity of Sitio Cag-anibong of same barangay on June 14, 2020 where a combat tracking conducted by the pursuing troops led them towards the safe house of alias Podyot.
Seized from the encounter site were two (2) Cal.45 pistols, one (1) Acer laptop, twelve (12) assorted cellular phones, three (3) flashdrives (USB) and subversive documents.
Colonel Lowell Tan, Commander of the Army's 803rd Infantry (PEACEMAKER) Brigade, said that the neutralization of alias Podyot will lessen if not totally stop the extortion activities and resource generation of CNTs in the pacific towns.
Labor group affirms Philippines among top 10 dangerous place for workers
By ALU-TUCP
June 20, 2020
QUEZON CITY – The Philippines is among the top ten worst countries for workers in 2020 based on the 2020 Global Rights Index issued by the International Trade Union Confederation (ITUC). The other countries include Bangladesh, Brazil, Colombia, Egypt, Honduras, India, Kazakhstan, Turkey and Zimbabwe.
With this, the Associated Labor Unions-Trade Union Congress of the Philippines (ALU-TUCP) are fully in accord with the findings of the International Trade Union Confederation (ITUC) and stand by their listing of the Philippines as one of the top 10 most dangerous countries in the world for workers.
"When we consider the actual circumstances on the ground, the current state of labor relations policy during the quarantine allowing wage reductions and suspending labor rights inspections, the anti-labor and the anti-consumer program of our economic managers to raise anew excise taxes and opposing security of tenure, as well as the dangerous political slide towards authoritarianism evidenced by passage of the Anti-Terror Bill, we see the handwriting clearly on the wall: workers rights and workers are and will be victims in the current political environment, the labor federation in a statement said.
"There remains unresolved assassinations, allegedly labor-related disappearances, various repressions, red-tagging and wanton attacks on workers and workers' fundamental rights that makes the current environment dangerous and difficult for workers.
We foresee the conditions to get even worse in the days ahead. With the current full operationalization of police and military offices in ecozones to combat what they describe as "radical trade unions", the inevitable enactment and enforcement of anti-terror bill and the current aggressive push by business owners in cahoots with the economic managers for increased labor flexibilization, wage reduction and the lowering of labor standards – using the COVID19 and the growing great global depression as the justification to justify and peddle their wrong-headed prescriptions to keep private profits high and social spending low, is now making the country more dangerous and more difficult place for workers to live and to work and are promoting unproductive and very dangerous class warfare.
We urge our national government to listen to us and to remember the lessons to history. In the midst of the last great depression in the 1930's, there were two paths taken by different models of government, those who followed the totalitarian temptation and those who followed the path of worker protection and social protection. The former's repression collapsed their countries and governments around them in bitterness, sorrow and World War defeat. The latter model led to collective prosperity and increased grassroots democracy.
We plead to our national leadership to step back from the brink of this totalitarian temptation and accept the path of building back better by upholding our individual civil and political liberties, respecting our collective economic rights, and by putting our workers interests first. This is the path to saving jobs and saving lives." they said.
The ITUC Global Rights Index depicts the world's worst countries for workers based on the degree of respect for workers' rights by rating 139 countries on a scale from 1 to 5. Workers' rights are absent in countries with the rating 5 and violations occur on an irregular basis in countries with the rating 1.
The index was developed to increase the visibility and transparency of each country's record on workers' rights. The ITUC affiliates in the Philippines are the Trade Union Congress of the Philippines (TUCP), Federation of Free Workers (FFW), Sentro, and Kilusang Mayo Uno (KMU).
The ITUC is the world's largest trade union federation with 200 million workers in 163 countries through the 332-member national labor federations around the world. It is the global voice of the world's working people. It's mission is to promote and defend workers' rights and interests through international cooperation between trade unions, global campaigning and advocacy within the major global institutions.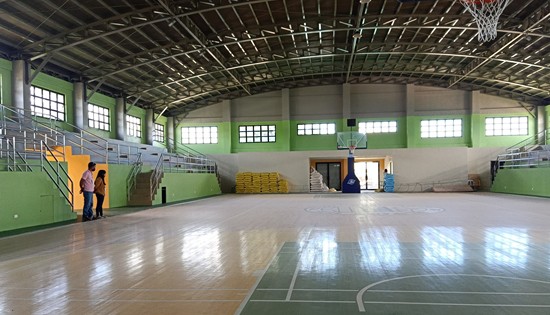 The completed construction (improvement) of Multi-Purpose Building, Barangay San Isidro, Biliran, Biliran. The project is under contract with Titanya Construction & Development Corp. with an allocation amount of P10M. The completed project will provide the community a space to hold variety of activities and services.
P10M improvement of multipurpose building (gymnasium) in Biliran town completed
By DPWH-Biliran
June 18, 2020
NAVAL, Biliran – The Department of Public Works and Highways (DPWH) Biliran District Engineering Office (BDEO) has completed the P10M improvement of multipurpose building (gymnasium) in Biliran town situated in Brgy. San Isidro.
David Adogay Jr., District Engineer said that completed facility is now ready to cater different sports activities and other services needs of the community.
"The improved gymnasium features basketball court flooring, digital scoreboards and court bleachers and is also equipped with parking spaces," Adongay revealed.
Adongay said that the new gymnasium is designed to provide comfort during sports events and other activities that cannot be done outdoors or on the field.
Aside from sports activities, he also added that the facility can also be used as a venue for seminars, meetings, medical missions, rallies and event competitions. This can also be used as an evacuation center to residents in times of calamities.
According to Adongay, all residents in Biliran town can benefit this new facility. The said town has a total inhabitants of 16,882 based on the 2015 census of population.
The completed project which started construction in August 2019 was implemented under 2019 Local Infrastructure Program (LIP) under contract with Titanya Construction & Development Corp. This project was completed on February 28, 2020.
PH game developers explore opportunities with Malaysia
By DTI-TPG-Export Marketing Bureau
June 11, 2020
MAKATI CITY – The global gaming industry was estimated to be valued at US$152.1 billion in 2019 which shows that there's a huge chunk of the market that is open to be served and explored by the Philippines given the current share and capability of the game development industry.
To boost the local game development industry, the DTI-Export Marketing Bureau (EMB) hosted a webinar on 8 June 2020 with the Malaysia Digital Economy Corporation Sdn Bhd (MDEC), Philippine Trade and Investment Center-Kuala Lumpur and the Game Developers Association of the Philippines (GDAP) for Philippine game developers to explore opportunities and widen network with Malaysia.
"The young generation of today in the Philippines and Malaysia have been exposed heavily to digital media entertainment. The digital industry is said to be one of the major propellers driving the ASEAN economy along with the richest countries in the world, whereby online gaming has come to greater heights as compared from the last decade," said DTI Undersecretary for Trade Promotions Group (TPG) and Special Concerns Abdulgani M. Macatoman.
MDEC Vice President Hasnul Hadi Samsudin said that Malaysia's gaming industry is one of the fastest growing exports, with 57 companies in the country. He also said that Malaysia is the regional gaming hub because of highly skilled talent, strategic location, high market growth, a vibrant game ecosystem, good internet infrastructure, and strong government support.
Meanwhile, GDAP President Alvin Juban shared the Philippine roadmap and the challenges faced by Filipino game developers. The roadmap was created in 2014 and involved three steps: gain a new flagship client, gain a flagship studio, and create a Triple-A game – a game with big production and marketing budgets. The industry already achieved the first two milestones with Gears of War 4 signing with Synergy88 in 2015 and Ubisoft locating in Laguna in 2016.
In terms of nurturing talent, the number of higher education institutions offering game development increased from 2 in 2014 to 8 at present. The number of graduates more than doubled from 300 in 2014 to an expected 1,000 this year.
Juban cited the need for more original content, attractive incentives, and Manila-centric development to address the weaknesses hampering the local growth.
Meanwhile, DTI Undersecretary for Competitiveness and Innovation Group (CIG) Rafaelita M. Aldaba welcomed closer collaboration with the gaming industry, saying that the DTI's main strategy is to move more industries outside of NCR.
"I also believe that the opportunities are tremendous, given the talent. With the proper support, the proper business, the proper operating environment, I think we could really grow the sector here in the country. One that could provide high-paying jobs. A sector that could provide export earnings. At the same time, a sector that could provide services to the domestic market. There's so much that we can do together," she said.
DepEd has funds for teachers' monthly internet allowance, ACT bares
ACT Press Release
June 11, 2020
QUEZON CITY – The Alliance of Concerned Teachers (ACT) revealed that the Department of Education (DepEd) has 'more than enough' budget to provide for the group's demand to provide the almost one million public school teachers with P1,500 per month internet allowance. The group estimates that the said stipend will only amount to P1.5 billion a month and a total of P16.5 billion for the months of June 2020 to April 2021.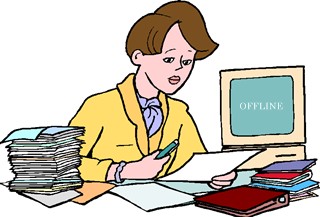 "Internet connection is basic and vital for DepEd's work-from-home arrangements and distance learning. Without it, teachers won't be able to conduct meetings, enroll learners, submit forms and reports, hold classes, and monitor and assess students. Hence, DepEd must fund this necessity that now plays key to its mandate to deliver education," pressed ACT Secretary General Raymond Basilio.
Basilio stressed that the provision of sufficient technological and logistical support will be decisive in enabling DepEd's Basic Education-Learning Continuity Plan (BE-LCP) and Oplan Balik Eskwela (OBE). ACT said that the agency's 2020 allocation for maintenance and other operating expenses (MOOE) is P95 billion, with P30.6 billion going to school operations. This means that the funding requirement for vital internet allowance will only be 17.4% of DepEd's total MOOE and 54% of school operations budget.
"These figures prove that the granting of an internet allowance is completely doable as DepEd is sure to gain much from the savings in the utilities and supplies expenditures of schools and offices since the lockdown and the whole period when face-to-face reporting and classes will remain prohibited," argued Basilio.
Basilio hit DepEd for 'magnifying the meager P3,500 per year teaching supplies allowance to cover up its failure to provide for the necessities of distance learning.' He said that the amount could only cover up to two months of internet expenses, while teachers are still beset with concerns of laptops that need repair and upgrading, cellphone load to contact students and other expenses for the development of their teaching materials.
"DepEd is making it appear like teachers are getting a new allowance when in fact it is an old benefit that teachers gained through years of struggle and is now sorely insufficient given the great financial demands of distance learning on teachers," explained Basilio.
Basilio further pointed to other DepEd funds from where the internet allowance may be sourced.
"It will further save on hefty training funds as only a P200–P300 cellphone load credits is allowed for disbursement to teacher-participants in webinars while the pre-pandemic allotment amounts to P1,500 per participant for venue and food. Budget for officials' travels abroad should also be tapped as travel restrictions remain in place due to the pandemic. DepEd may also use its generated income from revolving funds like the service charges from private lending institutions that make use of the agency's APDS (Automatic Payroll Deduction System)," cited Basilio.
ACT added revenue sources at the school level such as penalties for lost DepEd-issued materials, fees for venue rentals, income generating projects, and donations from private stakeholders.
The teachers' group echoed to the agency the consistent call of DepEd officials to teachers: 'find ways and means, be creative and resourceful.' Educators and learners deserve nothing less from the government, ACT concluded.
DTI-Export Marketing Bureau hails exporter-turned-PPE maker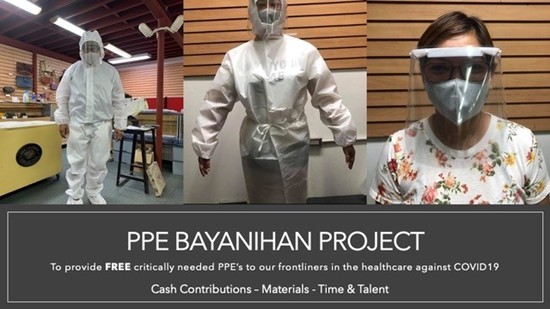 By DTI-TPG
June 9, 2020
MAKATI CITY – The Department of Trade and Industry-Export Marketing Bureau (DTI-EMB) hailed local Personal Protective Equipment (PPE) maker for spearheading the PPE Bayanihan Project for healthcare frontliners.
Since the country has been under quarantine, all but essential businesses are closed, including Leather goods manufacturer The Leather Collection (TLC).
The company, availing business matching services from the DTI-Export Marketing Bureau, was already exporting their products. But they had to shut down operations due to the covid-19 pandemic. Instead of being discouraged, TLC Chairman Federico Sevilla, Jr., and CEO Yolanda Sevilla used the time to spearhead the PPE Bayanihan Project for healthcare frontliners.
To date, they have donated over 15,000 PPE (face shields, isolation gowns, and jumpsuits) to 82 hospitals, rural health units, and health centers in Metro Manila, Laguna, Batangas, Bulacan, Nueva Ecija, Antique, Quezon, Leyte, Bataan.
The PPE Bayanihan Project began when the Fashion Design and Merchandising School of the College of St. Benilde (St. Benilde FDM) asked for materials to make Personal Protective Equipment (PPE). TLC gave water-resistant lining material and Benilde FDM acknowledged their donations in a Facebook post.
A friend of the Sevillas heard of their donation and donated P100,000 seed money to fund the project. Another donated rolls of water-resistant material. A third called to say he had a network of home-based sewers in Bulacan who could make the PPEs.
With all these elements in place, the PPE Bayanihan Project was launched. Its objective was and still is to provide our health care workers with PPEs since the demand for these was high and the supply scarce and were very important for protecting the health of the medical workers as well as prevent the transmission of COVID-19.
More friends and friends of friends got into the bandwagon – donating and soliciting donations, vetting requests for donations from hospitals, rural health units, health centers, and health care workers.
TLC functioned as the operations center: receiving and accounting for donations of money and materials; sourcing, qualifying and repurposing materials; product research and design; prototyping and approval of prototypes by anesthesiologists; coordinating production; receiving and dispatching finished goods which included face shields, isolation gowns, and coveralls or jumpsuits.
The PPE Bayanihan Project not only helped protect the front-liners but also allowed the Sevillas to leverage their experience in manufacturing; allowed volunteers to help stem the tide of contagion; and provided livelihood to home-based sewers in Guiguinto and Baliuag, Bulacan.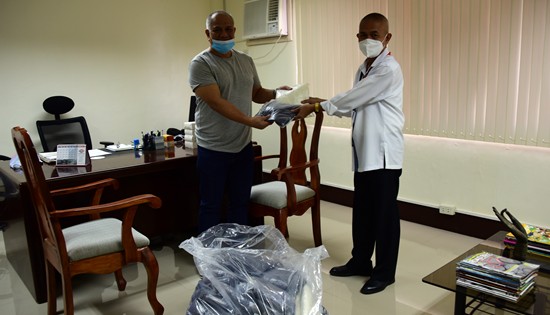 Assistant District Engineer Alfredo L. Bollido (right) handed a total of 60 pcs. washable Personal Protective Equipment (PPE) to the Biliran Provincial Hospital (BPH) in Naval Biliran through Dr. Edgar Veloso (left) , Biliran Provincial Health Officer on June 02, 2020.
DPWH-Biliran DEO donates protective equipment to frontliners
By DPWH-Biliran
June 8, 2020
NAVAL, Biliran – In an effort to mitigate the spread of Coronavirus Disease 2019 (COVID-19), the Department of Public Works and Highways (DPWH) Biliran District Engineering Office (DEO) donates Personal Protective Equipment (PPE) to front liners in this province.
David P. Adongay Jr., District Engineer said that a total of 120 pcs. washable PPE has been donated to selected health facilities and response units as a simple way of showing support to the front liners in the battle against COVID-19 pandemic.
"Our front liners are considered new heroes today, protecting us from the unseen enemies, so it is just right that we armed them with the equipment during this war against COVID-19 pandemic," said Adongay.
Meanwhile, Alfredo L. Bollido, Assistant District Engineer who spearheaded the distribution of PPE to front liners expressed his strong support and respect to all workers in the frontline.
"This is just a simple way to thank our front liner workers in their heroic acts. In this time of crisis, I wish them to stay healthy and safe to continue serving and helping our people in need.," Bollido said.
On June 02, 2020, a total of 60 pcs. PPE was delivered to Biliran Provincial Hospital, 10 pcs. to Bureau of Fire Protection (BFP)-Naval, and 20 pcs. PPE to Rural Health Unit (RHU) -Naval.
On June 04, 2020, RHU-Almeria also received a total of 10 pcs. PPE and BFP Provincial Office got 20 pcs.
Biliran Province recorded its 1st confirmed case of COVID-19 on Wednesday, June 03, 2020 as announced by Naval Town Mayor Gerard Espina.
Meanwhile, DPWH-Biliran DEO continues to observe strict safety precautionary measures to protect employees and prevent the transmission of COVID-19 in the workplace following DPWH guidelines on basic personal hygiene, workplace sanitation and social distancing measures under Department Order (D.O.) No. 34 series of 2020.
Policy on rent has not changed, MSMEs still covered under ECQ, MECQ, GCQ – DTI Chief
By DTI-OSEC-PRU
June 7, 2020
MAKATI CITY – Department of Trade and Industry (DTI) Secretary Ramon Lopez corrected an article that came out in one newspaper and reiterated that the 30-day grace period in the payments for residential and commercial rents still has not changed, and still applies to micro, small, and medium enterprises (MSMEs) not permitted to operate during the Enhanced Community Quarantine (ECQ).
This was followed by the issuance of DTI Memorandum Circular (MC) No. 20-31, s. 2020 on 4 June 2020, which clarified certain provisions in the earlier released supplemental guidelines of MC 20-12, particularly that the grace period on rents are covered under the ECQ, the Modified ECQ (MECQ), and the General Community Quarantine (GCQ).
"As we slowly transition to the new normal, we need to ensure the survival of businesses during these difficult times and in the months beyond the lifting of the quarantine," Sec. Lopez said.
In the spirit of goodwill, generosity, and fair play, lessors of commercial spaces are also enjoined in the new MC to adopt any of the following: totally or partially waive the commercial rents that are falling due during the ECQ, MECQ, and GCQ; grant reprieve or a reduction in the amount of rent due in the months following the ECQ, MECQ, and GCQ; open for renegotiation the Lease Term Agreements with the lessees; and use other recourse to mitigate the impact of the ECQ, MECQ, and GCQ to the MSMEs.
The trade chief reiterated his call to all lessors to continue to support and provide relief to MSMEs in anticipation of the slow restarting of the economy. He added that MSMEs currently employ 70% of the workforce and emphasized the need to ensure the survival of these businesses during the crisis, as well as protect the jobs it has created for millions of Filipinos.
"These guidelines will help our countrymen in the wake of the restrictions imposed during the Community Quarantines (CQ) that have severely affected businesses, especially MSMEs," Sec. Lopez said.
According to the guidelines, the grant by the lessor of a minimum 30-day grace period for residential rent shall commence from the last due date or from the lifting of the ECQ, MECQ, and GCQ, whichever is longer.
For commercial rents falling due upon MSMEs and sectors not permitted to operate during the ECQ, MECQ, and GCQ, the minimum 30-day grace period shall likewise be from the last due date or from the lifting of the ECQ, MECQ, and GCQ, whichever is longer.
Tenants also have the option to pay the cumulative amount of residential and commercial rents stated above – that fall due within ECQ, MECQ, and GCQ – in installments equally amortized in six (6) months following the end of the 30-day minimum grace period.
All unpaid rents during the CQs shall not incur interests, penalties, fees, and other charges.
No eviction for failure to pay the residential or commercial rent may be enforced during the quarantine period. However, lessors are not obliged to refund residential and commercial rents paid by the lessees before or during the period of the community quarantine.
The complete amended supplemental guidelines on the concession of residential and commercial rents can be accessed thru: https://bit.ly/DTI_MC2031