Congress withdraws Bill converting NMP into PMMA Visayas Extension Campus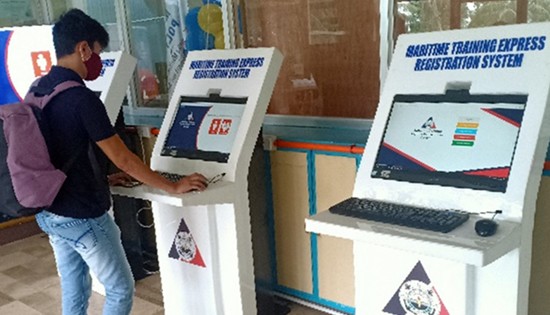 By National Maritime Polytechnic
August 12, 2020
TACLOBAN CITY – Cagayan de Oro Representative, Atty. Rufus B. Rodriguez withdrew his authored House Bill No. 6367, an Act Converting the National Maritime Polytechnic (NMP) in Tacloban City into the Philippine Merchant Marine Academy (PMMA) Visayas Extension Campus during the eighteenth meeting of the Committee on Higher and Technical Education (CHTE) on 07 August 2020, 1:30 pm via Zoom.
It can be recalled that NMP has time and again been plagued with propositions to be merged with or to be under other departments and offices outside of its mother agency, the Department of Labor and Employment (DOLE).
With the aim of making quality maritime education free and accessible to people with less opportunity, Rep. Rodriguez introduced House Bill No. 6367, transforming NMP into PMMA's Visayas Extension Campus knowing that the latter offers free tuition and other school fees as per Republic Act No. 10931 otherwise known as the Universal Access to Quality tertiary Education Act.
NMP clearly pointed out on its position paper that converting NMP into another maritime education will not solve the dearth of qualified merchant marine officers, especially management level officers (both deck and engine) and shifting its core service from offering of upgrading training and specialization courses to offering the basic education requirement to becoming a seafarer, Bachelor of Science in Marine Transportation (BSMT) and Bachelor of Science in Marine Engineering (BSMarE). It will leave solely to the private sector the provision of training interventions which will prove unfavorable to the interests of the seafarers in particular and the maritime industry in general. NMP, therefore, is a stabilizer in the maritime training sector.
Moreover, the training simulators and other equipment procured by NMP and some others that were donated to NMP to support the training activities will no longer serve its purpose and can be considered as an investment going to waste. Collaborative and partnership initiatives by both the government and private sectors is now a must to maximize the resources of both institutions to ensure that the Philippines is not only the major provider of seafarers, but a seafarer workforce who are the "choice seafarers" and are globally-competent and qualified. Thus, human capital development cannot be solely the responsibility of the private sector, even if such is regulated by the government.
"We have no objection to the vision of Congress of expanding PMMA to the Visayas and Mindanao. However, we would like to reinforce our stand that NMP as a learning institution that provides world-class education and training to Filipinos, which purpose is aligned with the mandate of DOLE to promote gainful opportunities and develop human resources, consistent with its mandate as stipulated in Presidential Decree No. 1369", said NMP Executive Director Joel B. Maglunsod during the CHTE online meeting.
ED Maglunsod also added, "NMP is also planning to establish a satellite office in Cebu and Mindanao to provide an alternative maritime training center that provides accessible, affordable yet quality maritime trainings."
"After they have given the position paper, I see the light that the PMMA should not anymore convert NMP to be part of them. I see their vision of being able to also open other satellite schools that they will manage. So I am now withdrawing practically my bill because in due deference and in respect to NMP who has given their position paper objecting to my bill. So, I therefore reiterate my motion to table this, meaning that it will not be discussed anymore, it's a dead bill", Rep. Rodriguez disclosed.
Based on the above premises, NMP strongly maintain its stance that it should remain as a maritime training institution under DOLE by virtue of Executive Order No. 126 ("Reorganizing the Ministry of Labor and Employment and for Other Purposes) promulgated on 30 January 1987, for policy and program coordination and administrative supervision as an attached agency. It shall continue to pursue its mandate under PD 1369 and continue to be a strategic partner of the maritime administration in the pursuit of maritime training, assessment and research.
Meanwhile, in its effort to sustain its mandate in providing quality service through upgrading and specialized training programs, NMP continues to maintain and upgrade its facilities and its pool of competent instructors. Those Interested to take the training courses may visit the NMP website @ www.nmp.gov.ph or visit the agency's Facebook page (www.facebook.com/ nmptrainingcenter) where all updates and relevant information on NMP programs are available.
Interested stakeholders who wish to validate the authenticity of their seafarers-employed with NMP issued certificates may visit www.verify.nmp.gov.ph. Likewise, those interested in NMP research undertakings may visit the NMP website and access the e-Research Information System Portal which is designed to disseminate NMP completed researches, present the Research Agenda, and engage the industry stakeholders to collaborate in the research activities.
Further, NMP encourages OWWA registered seafarers to avail of the NMP-OWWA (Overseas Workers Welfare Administration) Seafarers' Upgrading Program (SUP) and Skills for Employment Scholarship Program (SESP) which entitles the beneficiary to receive financial assistance for training costs from the OWWA.
Global rights group condemns state murder of Filipino peace consultant
Assassination of land reform activist Randall Echanis designed to destroy peace dialogue
Press Release
August 11, 2020
MANILA – The International Coalition for Human Rights in the Philippines protests in the very strongest terms the murder of Mr Randall Echanis, 71, in the country's capital region last Monday. In a letter to the United Nations High Commissioner for Human Rights Michelle Bachelet, ICHRP reports the crime of state terrorism in the killing of veteran activist and peace consultant Echanis.
At about 1:20am Manila time, August 10, 2020, five men were seen leaving the rented home of Mr Randall Echanis, in Novaliches, Quezon City, Philippines. Inside the bodies of Mr Echanis and an unnamed neighbour were found, with stab and gunshot wounds. Mr Echanis was at home receiving medical attention.
"This murder is almost certainly a calibrated operation of the Duterte counter-insurgency program, Oplan Kapanatagan. It is designed to destroy any dialogue that may resolve the five-decade long armed conflict in the Philippines, and instead pursue all out political violence against civilians," says ICHRP Chairperson Mr Peter Murphy in a letter to the UN High Commissioner.
Mr Echanis was a Peace Consultant for the National Democratic Front of the Philippines, a member of the 2016-17 Reciprocal Working Committee on Social and Economic Reforms in the formal peace talks sponsored by the Royal Norwegian Government. He advocated for the mass of poor peasant farmers, for he was the Deputy Secretary-General of the Peasant Movement of the Philippines (KMP) and Chairperson of the Anakpawis Party-List, a political party for peasants, fisherfolk and workers.
On the same day, Ms Erlinda Echanis, wife of the slain peace consultant, reported that police officers forcibly took the body of her husband which is now being guarded by state authorities. "I have positively identified his lifeless body which bore torture marks, multiple stab and gunshot wounds," says Ms Echanis.
ICHRP urged the UN High Commissioner's office and the United Nations Security Council to lead international condemnation of the murder of Mr Echanis, and to urge the Philippines government to bring the perpetrators to justice. In the same letter, it also appeals to the government to abandon its war on all political opposition, and instead to release all political prisoners and resume the stalled peace talks.
"We call on all member states of the UN Human Rights Council to be seized of the seriousness of the human rights situation in the Philippines and to adopt all the recommendations in your June 30 report on the human rights situation in the Philippines," says ICHRP.
Lastly, Mr Murphy addresses the international community, calling on it "to unequivocally condemn the state killing of Mr Echanis."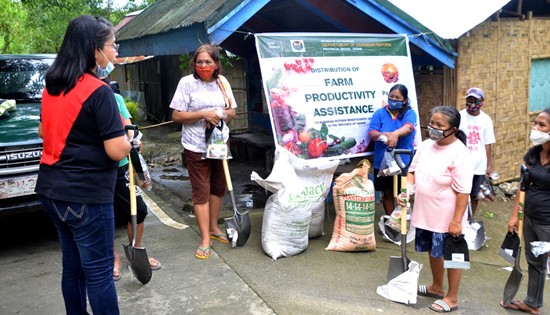 Some 44 agrarian reform beneficiaries (ARBs) from 11 farming villages in Jiabong, Samar received garden tools, fertilizers and vegetable seeds from the Department of Agrarian Reform (DAR) under the second component of its ARBold Move project as the nation experiences health crisis.
Unassisted farmer happy to receive aid from DAR
By JOSE ALSMITH L. SORIA
August 10, 2020
JIABONG, Samar – After failing to receive assistance distributed by other organizations in their barangay, Rosalina Gabahin was happy to know she was among the 44 agrarian reform beneficiaries (ARBs) from 11 farming villages in this town who were included in the list of recipients of farm production inputs given away by the Department of Agrarian Reform (DAR).
"Nagpapasalamat gud kami nga nahi-api kami hini nga bulig han DAR, kay didto han pinanhatag ha iskwelahan, waray man kami mahi-api." ("We are very thankful that we were included by the DAR in their distribution of assistance, because we were not included in the distribution that was held in the school.")
Gabahin, 45 years old and a mother of four, rushed out of their house when she learned of the arrival of DAR personnel in Barangay Macabetas.
Municipal Agrarian Reform Program Officer (MARPO) Thelma Alfaro, assisted by Naome Rojas, Janeth Lapara, Kim Dasig and Nikko Banjo Llano, went from one barangay to another on Wednesday and Thursday last week to distribute farm tools, fertilizers and seeds under the farm production assistance component of the ARBold Move project, which is DAR's immediate response to Bayanihan to Heal as One Act.
Each ARB-recipient received a shovel, a hoe, 10 kilos of complete fertilizer, 10 kilos of vermicast, urea, organic pesticide and two varieties of vegetable seeds.
Alfaro explained to the recipients that DAR is giving these items to help them generate additional income by planting vegetables during this time of crisis caused by the coronavirus disease 2019 (COVID-19) pandemic.
Thus, she encouraged them to plant the seeds to earn more. According to her, not all were given the same opportunity.
Meanwhile, Dasig taught the recipients how to apply the organic pesticide for best results.
For Yolanda Lagbo, 55, a widow, and also from Barangay Macabetas, the said assistance would certainly help her earn additional income, especially that she is now a single parent with four children to support.
In Barangay Parina, Clemente Gallegar, 66, shared how greatly they were affected during the lockdown. He reminisced that they could not sell their copra. Now, price of copra is very low, he added.
Moreover, the three recipients in Barangay Hinaga, an upland village about 17 kilometers away from the town proper, were surprised to receive the said assistance. Monico Villar, 79, said they have no idea about this distribution, while Tirso Cabanjen, 49, thanked DAR for the seeds. According to him, these would be additional source of food for his family.
New flood control structure built along Gandara River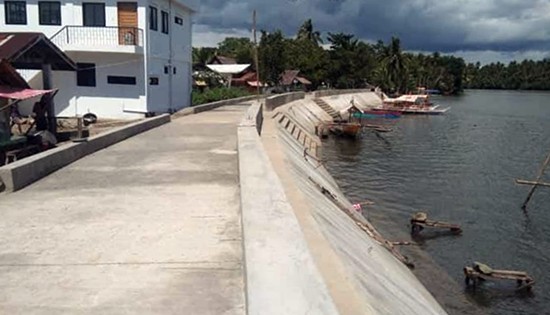 By CHENZI MAY D. UY
August 9, 2020
CALBAYOG CITY – The Department of Public Works and Highways Samar First District Engineering Office has completed the construction of a flood control structure along Gandara River in barangay Tambongan, Gandara, Samar.
Said structure covers a 284-meter-long section of the river and stands at a height of 2.7 meters. The project is part of the regular infrastructure program of SFDEO under General Appropriations Act (GAA) of 2019 with a P52.35 million contract.
Gandara River is one of two major river systems in the 1st District of Samar. While it is a source of livelihood and water for nearby villages, it is also usually the source of flooding. Hence, SFDEO is undertaking more flood control projects along said river under its GAA 2020 infrastructure program.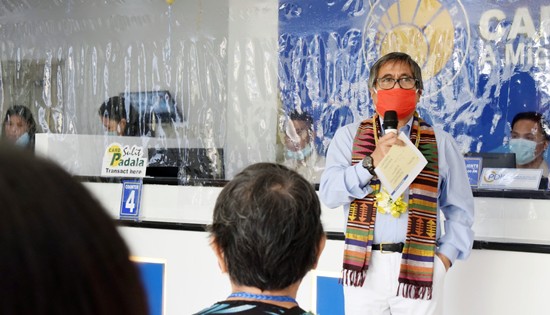 Dr. Jaime Aristotle B. Alip, CARD MRI Founder and Chairman Emeritus, welcomes the clients during the opening of CARD RBI Siniloan Branch on July 27, 2020.
CARD RBI opens its first branch under the new normal
By JEFFREY C. TANDINGAN
August 7, 2020
SAN PABLO CITY – As we fight the COVID-19 pandemic, easy access to financial services is one of the most needed assistance of the people. To bring its banking products and services closer, CARD MRI Rizal Bank (CARD RBI) opened its 32nd branch in Siniloan, Laguna on July 27, 2020.
"We are already present in various municipalities with our BLUs branch-lite units. Even during community quarantine, our bank branches continue to operate to serve our clients, even though, our BLUs were not allowed to operate," said CARD RBI President and CEO Elma B. Valenzuela.
Valenzuela also shared that the situation has limited the access of the people to banking services. "As part of our thrust and despite the crisis, we will continue to expand our bank branches and provide the public with services in response to their banking needs."
The new branch is also in line with the bank's direction in promoting financial inclusion in the country. The Siniloan Branch has an initial 17,626 clients from its Sta. Cruz branch.
To reach more communities, the bank also implements digital innovations as it recently launched its konek2CARD mobile banking app. "Despite the physical barriers, we constantly create ways to better serve our clients. Aside from the financial services, we will continually provide community-based development programs to respond to the various needs of our clients," underscored Valenzuela.
"Before 2020 ends, CARD RBI will be opening four more branches and 18 additional BLUs in the country, to provide access to better financial services to the community," said Valenzuela.
The Bank
CARD RBI, a member institution of CARD MRI, caters to various financial needs of its clients as it offers a wide range of banking products and services. To ensure that all socioeconomically challenged families in the country have access to affordable and quality financial service, it offers micro and SME loans, savings accounts, and remittance services.
The branch is located in Gualberto Building, L. de Leon St., Barangay Wawa, Siniloan, Laguna.
The opening was attended by CARD MRI Founder and Chairman Emeritus Dr. Jaime Artistotle B. Alip, CARD RBI's Senior Vice President for Operation Juliana B. de Leon, and CARD RBI clients and staff.
Since its establishment in 1996, CARD RBI has grown significantly with P5.1 billion assets and 493,757 clients nationwide.
DPWH rehabs 1.26-kilometer section of Calbayog-Migara Road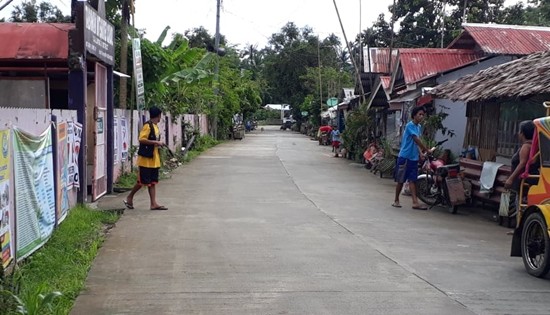 By CHENZI MAY D. UY
August 6, 2020
CALBAYOG CITY – Rehabilitation of 1,260 linear meters of concrete road with six meters width in Barangay Tabawan is now finished, says the Department of Public Works and Highways Samar First District Engineering Office.
Also included in the works are the rehabilitation and improvement of the drainage and slope protection structures.
The project is allocated with P30 million based on General Appropriations Act (GAA) of 2019, as part of the SFDEO's program to upgrade the road infrastructure of Samar 1st District.
Coping with Covid through microinsurance
By Microinsurance MBA Association of the Philippines, Inc. (MiMAP)
August 5, 2020
SAN PABLO CITY – Since March 2020 when the Philippines was placed on lockdown associated with the COVID-19 pandemic, food-based microentrepreneurs have been hard at work as frontliners, without much fanfare or support, to provide Filipino communities with access to food and other essential household supplies.
Celia was one of these microentrepreneurs who woke up at dawn, opened her store daily to be of service to her community in Caloocan. But while the sales for her business increased, she was also weakened by the long hours of work and constant interaction with buyers.
She got sick back in May from COVID-like symptoms and died at 55 years of age. Celia, a member of a Microinsurance Mutual Benefit Association (Mi-MBA), had microinsurance. When informed of her passing, the Mi-MBA staff promptly processed her insurance claim. Despite operational challenges during the lockdown, the Mi-MBA was able to settle Celia's family's claim within a week.
Celia's case is one of 428 other COVID-related deaths among members and beneficiaries that was promptly settled from 16 March - 15 July 2020 by Mi-MBAs connected with the Microinsurance MBA Association of the Philippines Inc. (MiMAP). These claims under MiMAP account for 2% of the total 20,540 microinsurance claims involving P462.81 million that Mi-MBAs settled and paid for within the 4-month lockdown period.

Microinsurance Just Around the Corner
MiMAP, also known as RIMANSI, is composed of 18 Mi-MBAs and institutional partners spread all over the country. This network is united by a shared vision to bring microinsurance access and benefits to 48 million poor and low-income Filipinos by 2024. MiMAP has a collective outreach of 7 million individual members majority of whom are microentrepreneurs, small farmers and fishermen. As microinsurance coverage is likewise extended to members' families, insurance coverage is given to nearly 25 million Filipinos. MiMAP Mi-MBA members account for a substantial 62% share in the country's total microinsurance coverage of 40 million individuals in 2019.
The Mi-MBAs provide basic life microinsurance plans and a range of optional life plans that include coverage for health and retirement. For example, one Mi-MBA extends a microinsurance coverage of Fifty Thousand Pesos (P50,000) for basic life insurance for only Sixty Pesos (P60) a month. More than having access to an affordable and good set of risk-protection products, the MBA is structured to be owned and governed by its members drawing on the power of mutual care and support.
During the first month of the lockdown, Mi-MBAs extended the grace period of 45 days to add 30 more days on premium collections while managing to sustain the processing and settlement of microinsurance claims. This move has helped ease the financial burden of members and their families.
MiMAP has successfully lobbied with the Insurance Commission (IC) for MBA operations to be categorized as a frontline essential health service. This has paved the way for mobilization of staff to validate claims and to arrange for money transfer of approved claims. To further support members, MiMAP has also filed a proposal to allow Mi-MBAs to draw on the accumulated refundable equity value of members for premium payment when the prescribed grace period expires. If this proposal gets the nod of IC, members will be given more time to generate income and save up for the next premium payment.
Microinsurance at your Fingertips
With a growing membership base, Mi-MBAs have turned to technology to increase efficiency. This enabled Mi-MBAs to settle claims and release the insurance benefits within a day. The submission of claim documents has been made easy through electronic copies shared via email or other mobile phone applications such as FB messenger. MBA staff resorted to teaching members or their beneficiaries on use of phone camera or relevant software applications to ensure the timely submission of documents. A strong culture of mutual support keeps Mi-MBA staff flexible and committed to deliver responsible and efficient services.
Amidst the challenges brought about by the Covid-19 pandemic to the operations of the Mi-MBAs, Citi Foundation continues to support the growth of the microinsurance industry through a grant partnership with MiMAP (RIMANSI). The program aims to build capacities of Mi-MBAs by developing innovative mobile technology solutions and a member-education strategy that will help them adapt with the new normal conditions. Citi Foundation works to promote economic progress and improve the lives of people in low-income communities around the world.
In 2019, MiMAP Mi-MBAs mobilized a total of P4.81 billion in contributions and premiums, paid P1.43 billion in claims benefits, and reserved P956.10 million in refundable equity value to members. Also positioned as a regional microinsurance resource center through RIMANSI, MiMAP has provided technical support to promote, build and strengthen microinsurance in Cambodia, Fiji, Indonesia and Vietnam involving eight (8) microfinance institution partners. These efforts have helped establish the Philippines the reputation of being the microinsurance capital of the world.
Karapatan hits regulation of social media under terror law, continuing online attacks vs. public and rights defenders
By KARAPATAN
August 4, 2020
QUEZON CITY – Instead of using the draconian Anti-Terrorism Act to "regulate" social media, human rights watchdog Karapatan strongly retorted that the Armed Forces of the Philippines (AFP) should "instead regulate and police the social media platforms of their own ranks and other law enforcement agencies, which have been known for spreading malicious lies and violent, terroristic threats against the public without letup and with rampant impunity."
"The government, its military and police do not have any moral authority to 'regulate' the use of social media under the guise of counterterrorism when they have repeatedly weaponized social media to proliferate blatant and dangerous fabrications against activists and critics through red-tagging, or when local officials post violent 'shoot-to-kill' threats against the public – violent threats hewn directly from the president's own violent and terroristic threats," Karapatan Secretary General Cristina Palabay said.
Yesterday, August 3, new AFP Chief of Staff Gilbert Gapay said that they would "capitalize" on the new law and that it should have "specific provisions… pertaining to the use of social media" in its implementing rules and regulations to supposedly combat terrorist activities on social media.
Palabay averred that "if the military really wants to 'regulate' social media use against terrorism, they should start by sanctioning their own men who, through their own social media accounts, have publicly and rabidly accused journalists of being linked to 'terrorists' for reporting on human rights groups and civil society organizations, or the accounts of police stations inciting violence against activists through red-tagging, or the 'shoot-to-kill' threats posted on the social media accounts of officials like Quezon City Task Force Disiplina's Rannie Ludovica."
Ludovica, who heads the task force, publicly posted on his Facebook account that those who would violate the quarantine measures in Quezon City are now "shoot-to-kill," following the imposition of the two-week "modified enhanced community quarantine" in Metro Manila. Ludovica and members of the Quezon City task force had previously drawn flak for mauling fish vendor Michael Rubuia, for allegedly failing to wear a face mask in public.
The Karapatan official asserted that any proposal to "regulate" the use of social media under the Anti-Terrorism Act "is very much tantamount to Marcosian censorship, which is already sending a chilling effect to the public given the track record of the military and police in tagging government critics as 'terrorists' or 'terrorists sympathizers,' while officials like Ludovica who actually publish terroristic threats on their social media accounts can get away unpunished or unsanctioned – if not for the loud outcry and condemnation of the public."
"This fascist regime is desperately seeking all means to silence dissent while coddling officials who incite State violence and terrorism against critics, activists, and the larger public. We assert that the government's terror law is unconstitutional, it cannot be used to regulate any exercise of our rights – and we will continue to fight back against any and all efforts to stifle and muffle the people's resistance to this regime's terrorist and tyrannical rule," she ended.
151 new 'Matikas' privates reinforce E. Visayas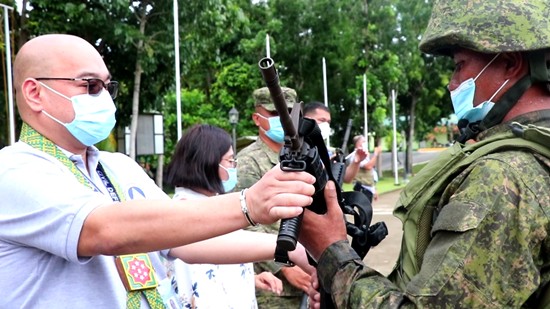 By DPAO, 8ID PA
August 4, 2020
CAMP LUKBAN, Catbalogan City – The 8th Infantry (Stormtroopers) Division, Philippine Army produced another 151 new soldiers during the closing ceremony of Candidate Soldier Course 'Matikas' Class 633-2020 at the 8ID Grandstand on August 4, 2020.
The ceremony was graced by Lord Byron P. Torrecacion, Regional Director, Office of the Civil Defense, Regional Office VIII, as the Guest of Honor and Speaker who also led the ceremonial entrustment of firearms together with senior military officers and partner stakeholders.
Out of the 190 original strength of the class, only 151 successfully hurdled the six months rigorous training.
Graduating from the course is not a piece of cake as new soldiers were properly nurtured with the basic skills and knowledge of soldiery in order to develop their character worthy to become members of the Armed Forces.
Among them, 102 were from Samar, 37 from Leyte, six from Mindanao, two from Luzon, two from Cebu, one from Iloilo, and one from Negros Occidental. Sixty of them were college graduates, 40 were college undergraduates and 51 were high school graduates with skills training from Technical Education and Skills Development Authority (TESDA).
The newly enlisted privates will provide a much-needed boost in the fight against the CPP-NPA Terrorists (CNTs) in Eastern Visayas who have been disturbing the peace and development of the region.
Director Torrecacion said that the hardships experienced by the soldiers while training have molded them to become responsible and professional soldiers of the people.
"You are now Stormtroopers, as such more people will look to you for strength, support, and solution to their problems. And those behind you are the ones who cannot defend themselves. They are your families, they are the weak and the oppressed. They are your neighbors and your friends, they are the Filipino people."
Major General Pio Q. Diñoso III PA, Commander, 8ID, extended his profound congratulations to the proud parents who have given their all-out support and entrusted their sons to 8ID.
"Sa mga magulang, kapamilya at mga kaibigan na nanunuod ngayon sa kani-kaniyang bahay, hindi niyo man masasaksihan ng personal ang ating mga bagong sundalo, sinisigurado ko sa inyo na ang inyong anak o kapatid ay isa nang malakas, matikas at magiting na lalaki na may direksyon sa buhay. Maraming salamat at ipinagkatiwala ninyo sila sa amin at nawa'y patuloy ninyo silang gabayan at suportahan dito sa pinili nilang propesyon at makapagsilbi sa bayan. Kayo mismo bilang kanilang kapamilya ang katuwang namin sa pagsusulong ng mga programa ng Hukbong Katihan para sa pagkamit ng ating minimithing kapayapaan tungo sa matiwasay at maunlad na komunidad."
He also stressed to the new soldiers that their enlistment in the AFP is now the beginning of their true service to the government.
"Remember to always strive to become stronger, smarter and better Stormtroopers. Mabuhay ang Candidate Soldier Course 'Matikas' Class 633-2020! Mabuhay ang Team 8ID! Mabuhay tayong lahat!"