DPWH opens circumferential road in Sto. Niño, Samar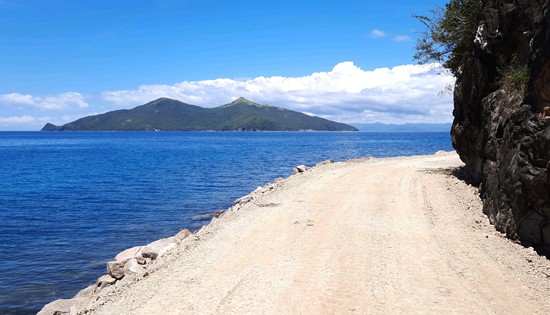 By CHENZI MAY D. UY
August 1, 2020
CALBAYOG CITY – An important road segment of the circumferential road in Sto. Niño, Samar was recently opened, enhancing the transport and logistics infrastructure in the island municipality.
The existing island road is limited to the town proper, so the goal of the project is to open up a new road that will connect other barangays around the island, thereby creating a circumferential road.
Said road project starts at Cabunga-an and ends at Mactang, cutting through eight other barangays, namely: Calong, Salvasion, Ilijan, Mag-abo, San Vicente, Baras, Langoyon, and Mahudag.
With a revised contract amount of P95,746,406, included in the scope of work is a road opening of 6.8 kilometers long with an additional one (1) kilometer PCCP, riprap, pipe culverts, and box culverts across a creek. The road has a width of 8 meters.
By strengthening connectivity within the island municipality, the circumferential road will allow for the smooth flow of trade and facilitate socioeconomic progress among the community.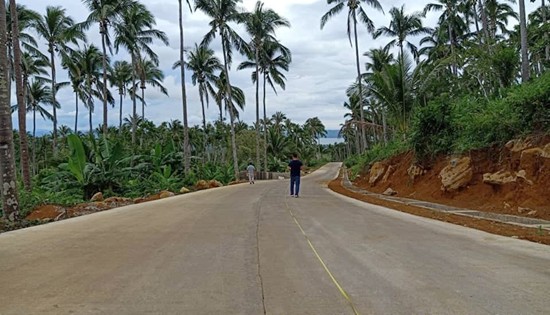 P29M road concreting project at P.S. Eamiguel - Imelda road in support of food and resource-based processing in Naval town completed.
P29M Imelda road concreting project in Biliran completed
By DPWH-Biliran
July 30, 2020
NAVAL, Biliran – The Department of Public Works and Highways (DPWH)- Biliran District Engineering Office (BDEO) recently completes the P29M road concreting project in Naval town in support of food and resource-based processing.
The completed project located in Imelda village in Naval town is seen to ease the burden of farmers in transporting their goods and agricultural products to the market centers.
Found along this newly constructed road are several agricultural crops such as coconuts, corns, rice grains, cassavas and bananas.
According to David P. Adongay Jr., before the realization of this project, the said site can only be accessed by foot and products are transported through carabao, even motorcycles can hardly pass.
"Due to absence of road, supply of farm products to market centers are limited which in return less opportunity for the farmers to earn more," said Adongay.
Constructed with a two lane road with a total length of 1.170-kilometer, Adongay said that the completed road concreting project will provide a wider, safer and fast mobility of the farmers' harvest, thereby increasing their production and income.
Adongay also revealed that the said project leads to an undeveloped waterfall in Imelda village called Matin-aw Falls. From the old route taking almost an hour, travelling time is reduced to only 10-20 minutes walking time.
DPWH-Biliran DEO continues to implement high impact priority projects under the Duterte Administration with the goal to make roads passable, bridges long lasting, and shorter travel time.
NMP calls to strengthen resiliency and synergy within the maritime industry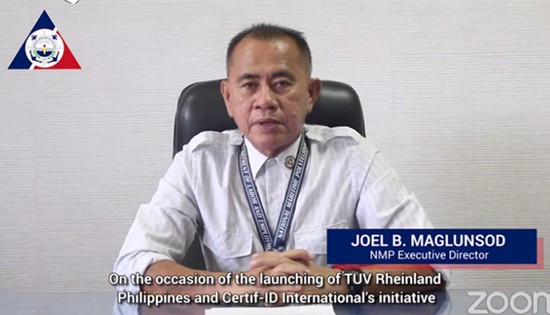 By National Maritime Polytechnic
July 30, 2020
TACLOBAN CITY – The National Maritime Polytechnic (NMP), the only government-owned maritime training and research center of the country took part on the online launching of the TUV Rheinland Philippines and Certif-ID International's initiative: 'Next Step Seafarers: Skills Development To Employment' during the celebration of the "World Youth Skills Day" on 15 July 2020. The strategic partnership was aimed at supporting the Filipino seafarers impacted by COVID-19 in returning to their workforce as quickly as possible.
NMP was among the government agencies who supported the said undertaking together with other world leading organizations including, TSM Group, German-Philippine Chamber of Commerce and Industry (GPCCI), Nordic Chamber Philippines, Technical Education and Skills Development Authority (TESDA), PTC Holdings, Skill Bean, and United Nations Educational, Scientific and Cultural Organization (UNESCO).
NMP Executive Director Joel B. Maglunsod was invited to share through a recorded video message, some essential guidance and practical steps to help the maritime industry manage the impact of COVID-19. NMP's inputs focused on sustaining capability development for the maritime industry's human capital as a major thrust in enhancing sustainability and resilience of the maritime transport during and post-COVID.
In his message, ED Maglunsod shared that, the Philippines, as a major provider of seafarers to the global maritime labor market is seriously bearing the devastating impact of the COVID 19 pandemic on the maritime industry thus the need to strain forward and take stock of possible situations in the maritime industry in the near future, so that it can brace itself and adequately prepare for the call of the times while during and after the COVID pandemic.
He also emphasized that amidst the difficulties, the maritime industry continues to play an essential role in the emergency response to the COVID-19 pandemic, by facilitating transport of vital commodities and product which was made possible with a lot of sacrifices by the seafarers who have been stuck at sea providing service to the world beyond their contract period and within a highly challenging situation.
It was also stressed the need to consider the impact of the pandemic to the global economy and the maritime industry, highlighting the fact that saving the world's seafarers redound to saving the supply system that they support, and to enhance resiliency of the maritime transport will require sustaining the capability development of the human capital in the maritime industry.
ED Maglunsod also highlighted that the closure of all educational and training institutions due to the COVID situation has accelerated the adoption of online learning by all, including countries that have lagged in embracing digital evolution. Online delivery provides a safer alternative and a cost-effective solution to ensure that seafarers are able to renew mandatory training certificates during these extraordinary times and maintain proof of competence.
With online learning, convenient learning conditions can be provided to meet the needs of the crew wherever they are. The problem on the shortage of qualified maritime instructors to teach students and trainees in the traditional face-to-face setting is mitigated; education and training institutions can tap senior marine officers from anywhere to be part of the pool of its teaching staff without need for them to be physically present in the training institution. The cost savings for employers and seafarers are important in these challenging times. Obvious savings come from reduced travel costs for seafarers and maritime instructors and the administration cost of educational institutions in maintaining buildings and training spaces.
Moreover, the way forward to further strengthen resiliency of the maritime industry is for nations to work in collaboration and in synergy with each other. The capability building of seafarers within a region through a highly interconnected distance learning platform among countries or member economies in order to reach seafarers across the region will have milestone impact in ensuring adequate supply of competent and competitive seafarers. In addition, the establishment of a distance learning platform to be utilized both onshore and onboard among member economies will enhance resilience of the maritime industry in the area on human capital development for unexpected external situations in the future, similar to the COVID pandemic.
Further, he disclosed that in response to these challenges, NMP will start to offer this quarter online learning for the 'value-adding' courses and at the same time ram up the development of purely online and blended learning platforms for the mandatory training courses. Meanwhile, Post-Enhanced Community Quarantine (ECQ) protocols have been put in place for the public, our clients - the seafarers, ensuring their safety and of everyone while availing of face-to-face training for our existing training courses for officers and ratings in both deck and engine departments.
NMP continuously assures that its training courses are implemented in accordance with national and international standards on maritime education and training. Its training services are designed and implemented addressing the current and emergent needs of critical groups such as the management level officers, trainers and assessors, offshore and maritime-allied personnel and employer-required skills on top of the regular training programs.
Likewise, the Agency is exigently strengthening strategic alliances with partner agencies and institutions, both government and private as well as local and international, taking advantage of opportunities of the new developments in its external environment for the generation of resources and technical operation as well as improved visibility of NMP in the industry.
Meanwhile, in its effort to sustain its mandate in providing quality service through upgrading and specialized training programs, NMP continues to maintain and upgrade its facilities and its pool of competent instructors. Those Interested to take the training courses may visit the NMP website @ www.nmp.gov.ph or visit the agency's Facebook page (www.facebook.com/ nmptrainingcenter) where all updates and relevant information on NMP programs are available.
Interested stakeholders who wish to validate the authenticity of their seafarers-employed with NMP issued certificates may visit www.verify.nmp.gov.ph. Likewise, those interested in NMP research undertakings may visit the NMP website and access the e-Research Information System Portal which is designed to disseminate NMP completed researches, present the Research Agenda, and engage the industry stakeholders to collaborate in the research activities.
Further, NMP encourages OWWA registered seafarers to avail of the NMP-OWWA (Overseas Workers Welfare Administration) Seafarers' Upgrading Program (SUP) and Skills for Employment Scholarship Program (SESP) which entitles the beneficiary to receive financial assistance for training costs from the OWWA.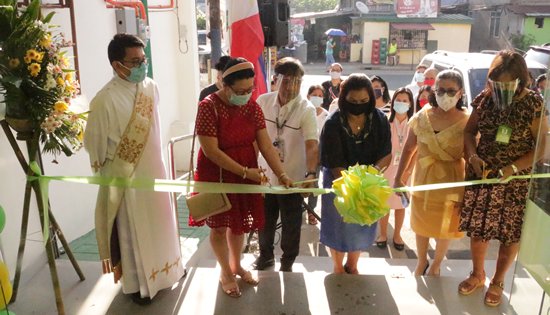 In the picture are (L-R) Rev. Mar Andreen Castillo, CARD SME Bank client Lilia Barcelon, CARD SME Bank President Aristeo A. Dequito, CARD MRI Managing Director Flordeliza L. Sarmiento, CARD SME Bank Executive Vice President and COO Cynthia B. Baldeo, and CARD SME Bank client Priscila Arzobal during the opening of the 35th branch in Nasugbu, Batangas.
CARD SME Bank opens new branch in Batangas; geared up for the new normal
By CARD MRI
July 30, 2020
SAN PABLO CITY – As we start to embrace the new normal brought by COVID-19 crisis, CARD SME Bank, a thrift bank and a member institution of CARD Mutually Reinforcing Institutions (CARD MRI), opened its 35th branch in Nasugbu, Batangas on July 27, 2020, and is now ready to serve its clients adapting to the new normal.
This is part of the expansion plans of the bank in promoting financial inclusivity for all. Said CARD SME Bank President Aristeo B. Dequito, "CARD SME Bank is now celebrating its 9th year of providing financial services to the communities. We started from small offices in 2011 but we remain steadfast in our mission in reaching more MSMEs and cater to their growing financial needs in CALABARZON region."
He also added that despite the COVID-19 pandemic, CARD SME Bank sees it not as a barrier in providing financial services. "There might be some changes in our plans because of the swelling number of cases of COVID-19 in our country, but our goal remains, to reach and help more communities by providing them access to financial products and services and better banking experience. We are here to build better post-pandemic banking services to our clients."
"Our investment in advance technologies has coped with the latest trends in banking. Our journey to digital innovations has led to more convenient banking experience to our clients. As we continue our transformation to digitization, our clients will soon experience hassle-free banking transactions anytime and anywhere using their mobile phones through the konek2CARD mobile banking app," he added.
The branch is strategically located at J.P Laurel St., Barangay 11, Nasugbu, Batangas, and expecting to serve more than 15,000 clients from eight branch-lite-units.
Present during the opening was CARD MRI Managing Director Flordeliza Sarmiento, CARD SME Bank Executive Vice President and COO Cynthia Baldeo, and CARD MRI clients and staff.
The thrift bank
CARD SME Bank is one of the banking institutions of CARD MRI that caters to the needs of thousands of MSMEs in the country.
The bank primarily offers various business loan products tailored-fitted to the needs of MSMEs such as flexible loan payment terms and options, and affordable interest rates. It also offers deposit accounts such as savings account for microentrepreneurs and kiddie savings for children, ATM, checking, time deposit, consumer loans such as car and housing loan, and domestic remittance service.
As of June 2020, CARD SME Bank already served 987,686 clients nationwide with 35 bank branches and 328 offices and a total asset of P7.7 billion.
DPWH completes flood control structure along Cagnipa River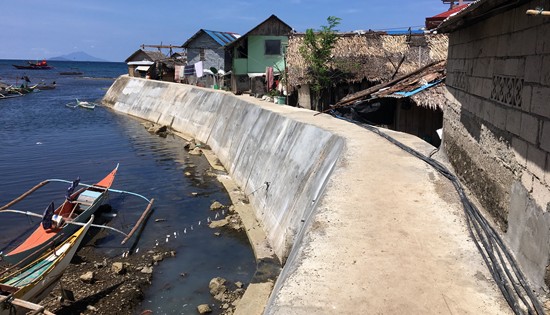 By CHENZI MAY UY
July 30, 2020
CALBAYOG CITY – The Department of Public Works and Highways has completed another flood control structure along Cagnipa River in Brgy. Cagnipa, this city. It covers a 45-meter section of the river bank near the coast.
The flood mitigation structure primarily serves to protect the lives and properties located in the immediate vicinity of the river. Secondarily, it prevents erosion of the river bank that may undermine the structural integrity of the adjacent Cagnipa Bridge. Said bridge is part of the national road (Daang Maharlika) network.
The project was allocated P6.1 million from the General Appropriations Act (GAA) 2019.


NMP Registration and Certification Unit (left) and Cash Unit (right) providing frontline services.
NMP resumes training operations
By National Maritime Polytechnic
July 30, 2020
TACLOBAN CITY – Following the approval of its Post-Enhanced Community Quarantine (ECQ) Training Operations Protocol by the Maritime Industry Authority (MARINA) and productive coordination with the respective Local Government Units (LGU), the National Maritime Polytechnic (NMP), a government-owned maritime training and research institution, resumes its training operations on 20 July 2020 both at its main office at Brgy. Cabalawan, Tacloban City and liaison office with address at 2nd Floor ECC Building, 355 Sen. Gil Puyat Avenue Makati City.
It can be recalled that NMP suspended the conduct of its trainings on 16 March 2020 in line with the declaration of state of public health emergency in the Philippines due to the outbreak of COVID-19 and in compliance to MARINA Advisory No. 2020-16 suspending the conduct of all maritime training courses as well as theoretical and practical assessments in Luzon and other areas affected by the community quarantine.
Since the outbreak, the National Maritime Polytechnic (NMP), has been taking precautionary measures to safeguard the safety and health of the public and personnel. Health precautionary measures/protocols were established. Clients were subjected to temperature scanning and footbath before entry. NMP personnel were provided with medical-grade personal protective equipment (PPEs) such as facemask (surgical, N95), face shield, and hazmat.
To aid in any tracking, all clients were obliged to accomplish the NMP Health Monitoring Form indicating the following basic information: name, contact numbers, address, person to notify in case of emergency, and travel history within the last six (6) months. They were also required to present a valid certification issued by their respective City/Municipal/ Rural Health Office stating that they have completed quarantine or are COVID-free.
Also, to prevent, contain, and mitigate the possible transmission of virus, cleaning and disinfection supplies/equipment (disinfectant alcohol, chlorine, hand soap and sprayers) were procured and hand washing facilities were established. Sanitizers and signages promoting proper hand washing, cough etiquette, and proper social / physical distancing were put up in conspicuous and strategic places.
NMP Maritime Training Express Registration System Kiosks (MTERS) were also installed to process enrollment of walk-in trainees and to minimize face to face transaction.
Moreover, isolation rooms were identified for trainees who will become unwell or have developed COVID-19 symptoms, and NMP Sick Bay was equipped with appropriate medical supplies and manned by an Emergency response personnel who is always on duty while training is on-going.
In terms of classroom arrangements, class intake was reduced to 12 trainees per course or 50% of the previous maximum capacity, to effectively observe 1-meter apart guidelines of World Health Organization (WHO) and health and safety briefing is conducted before the start of training / assessment.
Anticipating these possibilities, NMP conducted repair, improvement, and expansion of its classrooms. Divisions / partitions were also installed to accommodate larger number of trainees.
All these initiatives were done during the Enhanced Community Quarantine (ECQ) period where NMP Executive Director Joel B. Maglunsod directly supervised.
It can be noted that with the suspension of NMP's training operations on 16 March 2020, several on-going trainings were halted, and onward schedules were suspended. Upon its resumption on 20 July 2020, enrollment of those affected enrollees was given priority.
After months of lockdown, NMP regained momentum on its first week (20-25 July 2020) with a total of one hundred forty-seven (147) certificates issued, this, despite of NMP's restrictions on the acceptance of enrollees, only those coming from Region 8 were allowed enrollment.
In the interim, with the aim of providing a safer alternative and cost-effective solution to ensure that Filipino seafarers can renew mandatory certificates and maintain their competence during these extraordinary times, NMP is conducting an on-going review of its existing training courses to identify those that can be transformed into purely online and blended learning.
In preparation for the online learning, NMP took a proactive stance in carrying out personnel interventions to its trainers by providing workshop on the familiarization on the use of Google Classroom and Google Meet applications. Online registration is also underway to answer the need for the contactless payment and registration being recommended by the MARINA.
Meanwhile, NMP's Training Schedule for July to December was released last 17 July 2020. The complete schedule can be downloaded at the NMP website www.nmp.gov.ph and facebook page (www.facebook.com/nmptrainingcenter) where the training requirements and other related information are available.
Interested stakeholders who wish to validate the authenticity of their seafarers-employed with NMP issued certificates may visit www.verify.nmp.gov.ph. Likewise, those interested in NMP research undertakings may visit the NMP website and access the e-Research Information System Portal which is designed to disseminate NMP completed researches, present the Research Agenda, and engage the industry stakeholders to collaborate in the research activities.
Further, NMP encourages OWWA registered seafarers to avail of the NMP-OWWA (Overseas Workers Welfare Administration) Seafarers' Upgrading Program (SUP) and Skills for Employment Scholarship Program (SESP) which entitles the beneficiary to receive financial assistance for training costs from the OWWA.
Gov't troops seize NPA lair in Samar
By DPAO, 8ID PA
July 30, 2020
BRGY. FATIMA, Hinabangan, Samar – A Communist NPA Terrorist (CNT) lair was seized by soldiers in a four-hour long intermittent firefight in Sitio Salvacion, Brgy San Nicolas, San Jose de Buan in Samar province 1:30PM Wednesday, July 29, 2020.
Operating troops engaged about 50 NPA terrorists who put up stiff resistance before withdrawing away. Troops discovered the lair after several residents complained about the presence of armed NPA terrorists who are extorting money and foodstuff as part of their Rebolusyonaryong Buwis sa Kaaway na Uri (RBKU).
The NPA terrorist lair can accommodate 50 to 100 individuals based on the structures found composed of 34 huts and a kitchen that can be used for huge food preparations.
Soldiers recovered five M-16 assault rifles, hundreds of assorted ammunition, a generator set, electronic gadgets, food, medicines, medical paraphernalia and subversive documents.
No soldier was wounded in the skirmish but authorities believe the NPA terrorists could have suffered numerous wounded.
Residents who refused to be identified said they can no longer bear the abuses of the NPA. "We do not have enough to eat ourselves and yet they extort RBKU from us," one resident said in the vernacular. People lament that RBKU is the extortion scheme of the CNT against their enemies yet they impose that against the masses.
The series of surrenders and successful encounters in San Jose de Buan is believed to be the result of the support of the local chief executive who few weeks ago admitted his participation in supporting the CPP-NPA-NDF as part of political survival.
Mayor Joaquin Elizalde, Municipal Mayor of San Jose de Buan, withdrew his support from the CPP-NPA-NDF a few weeks ago and publicly encouraged NPA members to surrender and embrace peace. Several NPA fighters and Militia ng Bayan members heed the call and several armed skirmishes ensued since the public declaration of the mayor.
Brigadier General Camilo Ligayo, the 801st Brigade Commander said, "While the NPA continue to harrass and abuse people, our soldiers will be more active in serving the masses. We thank the people and local officials of San Jose De Buan for renewing their support to our legitimate government and denying sanctuary to the NPA."
Lieutenant Colonel Reynaldo B Balido Jr., the Battalion Commander of 87th Infantry Battalion encouraged NPA members who might be wounded to surrender so as to be treated appropriately. "The wounded must be treated. We call on the leadership of the NPA to let the wounded be treated adequately. Their lives is more important at this time than their passe ideology. There are many cases that their wounded end up dead and they just burry them in shallow graves or worse, they just leave them behind," Lt. Col. Balido said.
In a similar encounter few days ago in Borongan, Eastern Samar, troops of 78th Infantry Battalion engaged NPA terrorists in a firefight after residents tipped them off on the presence of armed men extorting from households.
Few months ago in April and May during the height of community quarantine in Samar Island, series of incidents were recorded involving NPA terrorists extorting money and foodstuff from the people and some resulted to armed skirmishes after residents informed soldiers.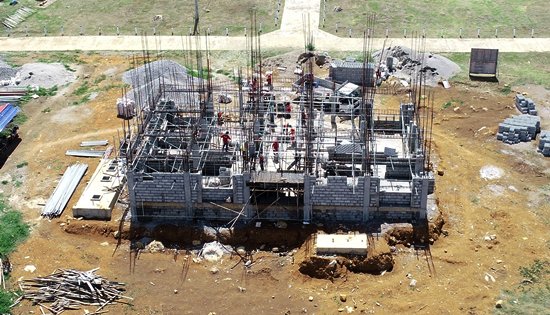 Aerial view of the on-going construction of Biliran Provincial Police Office Building at Brgy. Larrazabal, Naval, Biliran. The project is under contract with W.B. Alagao Construction with a contract amount of P24.15M.
New Biliran provincial police office building underway
By DPWH-Biliran
July 29, 2020
NAVAL, Biliran – A safe and community-friendly new Provincial Police Office (PPO) building and facility will soon rise at Larrazabal village in Naval town.
The Department of Public Works and Highways (DPWH)- Biliran District Engineering Office (BDEO) is now in the mid part of the construction of the PPO building that will house police men and women in order for them to have a spacious and comfortable workplace.
David P. Adongay Jr., District Engineer revealed that the contractor is catching up with the slight delay of their project implementation due to circumstances caused by Corona Virus Disease 2019 (COVID-19) pandemic.
"Contractor had already resumed its work construction and now fast-tracking this project to meet their target date of completion on November 06, 2020," Adongay reported.
The construction of the new three-storey building costing P24.15M has a total floor area of 720 sq.m.
Police Colonel (PCOL) Julius M. Coyme, Provincial Director, Biliran PPO already said during the groundbreaking ceremony of this building on February 18, 2020 that the construction of a new building was proposed because the assessment conducted of the existing/old PPO building revealed that the building is unstable for occupancy after the earthquake on April 23, 2018.
DE Adongay informs that the construction of the new Biliran PPO is like an upgraded version of a standard police office building.
"Aside from its Physically Challenged Person-friendly facility, this building is designed to be earthquake resilient," said Adongay.
As of July 28, 2020, the project posts an accomplishment of 37.67%. This project is in convergence with DPWH and the Philippine National Police (PNP) implemented under FY 2020 Regular Infrastructure Program.