DPWH-BDEO installs rainwater collection systems in Biliran province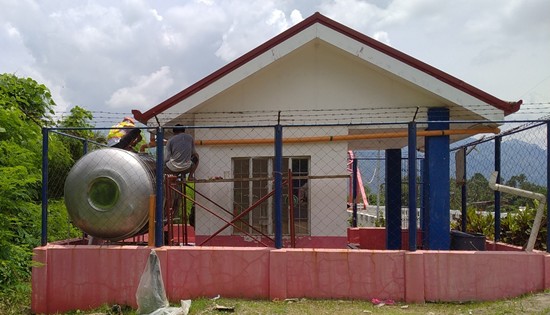 By DPWH Biliran
September 10, 2020
NAVAL, Biliran – To address the problem of the shortage of water supply in the province, the Department of Public Works and Highways- Biliran District Engineering Office (DPWH-BDEO) installs rainwater collection systems intended for sanitation purposes.
DPWH-BDEO has allotted P4.5M for the construction of these water collection systems strategically located at 18 different sites where water is scarce.
According to District Engineer David P. Adongay Jr., public schools and government establishments are among the beneficiaries of the said projects.
The said rainwater collections are installed at BIPSU, Biliran Campus, Biliran Science High School, Busali Elementary School, Burabod Elementary School, Pinangomhan Elementary School and DPWH Field Office all in the town of Biliran.
Three rainwater collections are also installed in Culaba town particularly at Acaban Elementary School, Bool Elementary School and San Roque Elementary school while one rain water collection is installed at Sabang Elementary School in Naval town.
DPWH-BDEO also installed five rainwater collections in the island town of Maripipi located at Barangay Hall in Binongto-an village, Barangay Hall in Ermita village, Canduhao Elementary School and Rural health Unit (RHU) and Philippine National Police (PNP) office of the said town.
In Almeria town, Matanggo Elementary School, Talahid Elementary School and Pili Elementary School are among the beneficiaries of the rainwater collection.
These rainwater collector systems are installed to accumulate rainwater from the roof of buildings and is used to flush on toilets and in watering plants, rather than let it run off to nowhere.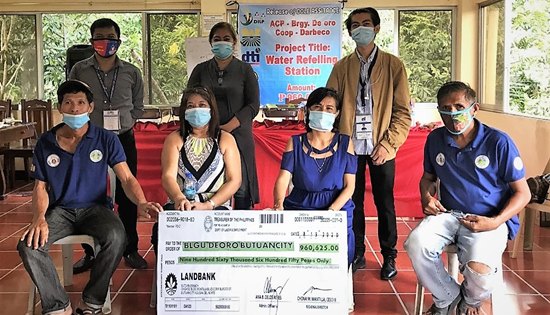 Representatives from DARBECO,DTI, and DOLE pose for a smile during the check turnover on September 4, 2020.
Agrarian reform group receives P960K livelihood grant
By DTI Caraga
September 10, 2020
BUTUAN CITY – A farmer beneficiary group assisted through the Department of Trade and Industry's Comprehensive Agrarian Reform Program has received a total of P960,650 worth of livelihood assistance from the Department of Labor and Employment-Agusan del Norte (DOLE-ADN) in a turnover ceremony held last September 4, 2020.
With the joint effort of the DTI, Department of Agrarian Reform, and DOLE, De Oro Agrarian Reform Beneficiaries Cooperative (DARBECO) finally received the grant from DOLE's Integrated Livelihood Program (DILP) or Kabuhayan Program which is intended to purchase the needed equipment and initial materials for the group's water refilling station.
"We join DARBECO in celebrating its recent milestone. We are happy that through our CARP Unit, we were able to help craft this business proposal for actual implementation with the DOLE funding," said DTI Agusan del Norte Provincial Director Brenda Corvera.
"We believe that as with the other income-generating projects which we engaged them with – the most recent of which is the personal protective equipment, their going into e-commerce, and participation in our online and virtual trade fairs – this newest project will also be successful," Corvera added.
DOLE-ADN Provincial Office Head Keith Duran encouraged every member of the cooperative to continue their unity.
"I am confident that the grant will be successful with the help of the Barangay Local Government Unit of De Oro," he added.
Furthermore, he gladly announced that if DOLE sees that the project is successful, the Cooperative can request for an enhancement or expansion of the enterprise or for another project grant after two years.
"Mapasalamaton ko sa tanang government agencies nga nagpaluyo kanunay sa DARBECO. Ang DAR nga nag mold namo, sa DOLE nga maoy ni bubu sa pondo ug sa DTI nga naghago og dako sa project proposal para aning water refilling station (I am grateful to all the government agencies that have always assisted DARBECO. To DAR for molding us, DOLE for providing us with the fund, and the DTI that has worked hard in completing the project proposal for this water refilling station)," said Evangeline Magtibay, DARBECO chairperson.
Barangay Chairperson Randy Jagonos pointed out the strong management of DARBECO and its growing support to the BLGU have made him greatly trust the Cooperative. He then reminded the barangay LGU and the proponent group about the process to be followed since they are accountable for the project.
On Pemberton's absolute pardon: they killed Jennifer again and our sovereignty
NCCP Press Release
September 9, 2020
QUEZON CITY – "The granting of absolute pardon to US Marine Joseph Scott Pemberton has shown how little the President values the life of a transgender and a Filipino. The fact that the victim of Pemberton is a Filipino shows how little regard is placed on our sovereignty," said Bishop Reuel Norman O. Marigza, General Secretary of the National Council of Churches in the Philippines (NCCP). This came after President Duterte granted an absolute pardon to Pemberton, who was found guilty of killing the transgender Filipina Jennifer Laude in 2014.
The NCCP leader condemned this untimely and unjust act. Bp. Marigza pointed out that Pemberton was granted special treatment while serving his sentence, a treatment not accorded to ordinary Filipino convicts. This should have been enough basis for not to set him free during his supposed incarceration. "It is like they killed Jennifer again and deeply wounded her family and loved ones anew. It also belittles the rights and dignity of our LGBT community that are pushing for justice and equality and our sovereignty as a nation," Bishop Marigza stated. "The absolute pardon to Pemberton is an injustice not only to Jennifer Laude and her family but to all Filipinos," the General Secretary added.
Pemberton was convicted of homicide in December 2015 by the Olongapo City Regional Trial Court with a sentence of 10 years, 1 month and 10 days imprisonment. The homicide conviction was considered by many as a light sentence given the violent circumstance of Laude's death. Thus, the order of release by the same court for Pemberton allegedly due to Good Conduct Time Allowance (GCTA) was quite surprising to say the least. The GCTA law earned a lot of flak recently when convicted rapist murderer Antonio Sanchez was almost released because of it. But while the lawyers of Laude were preparing for their appeal against the release order, President Duterte granted an absolute pardon to Pemberton.
The Protestant Bishop also underscored this decision as "an act of double-standard," amid the calls of rights groups to release low-risk, sick, and elderly prisoners, including those who were wrongfully imprisoned because of their political beliefs, as a humanitarian act to the pandemic.
"If the president can grant absolute pardon to murderers like Pemberton who has not shown any remorse for his deed, then surely he can also free prisoners of conscience whose 'crimes', if they can be called that, are for defending the rights of the poor and marginalized."
NCCP General Secretary continued that Pemberton's controversial pardon is an issue of sovereignty. He reiterated the NCCP's opposition to the Visiting Forces Agreement (VFA) and Enhanced Defense Cooperation Agreement (EDCA), and the entire US military presence in the country.
"It is saddening how truth and justice are sacrificed as the President submitted our national sovereignty to the US. Jennifer's death is a glaring image of how the US military presence exacerbates the vulnerabilities of women, children, and LGBT in their own communities. As long as they are here, our country won't be a safe space for the Filipinos," Bishop Marigza stated. "Let us continue to mourn for the injustice to Jennifer but let us also work for justice, peace and the rule of law," Bishop Marigza concluded.
Book Review:
Meet Alunsinag Bayani, Pinoy protagonist in new sci-fi novel on Amazon
Press Release
September 7, 2020
MANILA – Looking for something exciting to read on Kindle books from Amazon? Grab a copy of "58 Minutes in Driftland," the new sci-fi adventure novel written by Filipino writer I.S.A. Crisostomo-Lopez.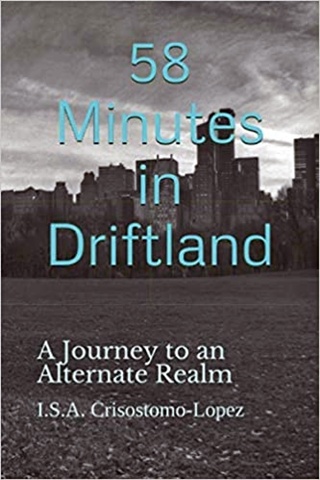 The story revolves around Alunsinag Bayani, a 17-year-old Filipino immigrant in the US who is trying to find his place in the world. His mother Mercedes or "Chedeng" Bayani is a nurse who works at a community hospital in Los Angeles, while his father Artemio "Miyo" Bayani is a travel writer who is mostly out of town on assignment to feature endangered plants or animals.
Alunsinag or "Al" as his friends call him, faces many adventures with his two best friends, Ming Ju-long, a Chinese immigrant from Hong Kong, and Tej Ondrej, an Indian immigrant from Bangalore.
Driftland is an alternative realm where childhood dreams and nightmares exist. The adventure begins when Alunsinag accidentally steps into Driftland and discovers he can switch places with his alternate, more efficient self for 58 minutes. The switch opens doors to discovering one's strengths and regaining confidence in one's abilities.
An interesting allegory on a person's journey to self-realization and the battle between good and evil, "58 Minutes in Driftland" is also a coming of age story which explores current issues facing young people today like belongingness and discrimination, standing up to bullies, discovering one's potential, and falling in love.
On an interesting note, the author I.S.A. Crisostomo-Lopez is a stay-at-home mother who has retired after 17 years of office work. She revealed that she composes story ideas in her mind while doing the laundry, changing diapers or mopping the floors. She is based in Binan City, Laguna, Philippines with her husband, four children and two dogs.
"58 Minutes in Driftland" is available in both digital and paperback editions. For more information on the book, please visit amazon.com or this link: https://www.amazon.com/58-Minutes-Driftland-Journey-Alternate-ebook/dp/B08H44HG9H/ref=sr_1_1?dchild=1&keywords=58+minutes+in+driftland&qid=1599298467&sr=8-1
Ida's sari-sari store survives with the essentials
By DTI-Regional Operations Group
September 7, 2020
MAKATI CITY – "Gusto ko pong lumago ang aking sari-sari store na naumpisahan dahil dito ngayon nakikita ang mga pangunahing bilihin ng mga tao," says Ida Hilvano from Jaro, Leyte.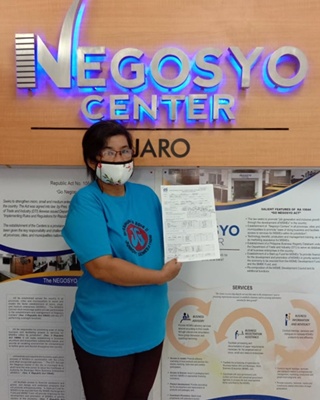 Ms. Ida Hilvano holding her Business Improvement Plan as a result of the trainings she attended. She hopes to sustain her sari-sari store through the help of DTI NSB-LSP.
A woman, together with her husband, Mario, once started a bakeshop in their barangay in 2009. Both did not have the know-how in business. Her husband was a construction worker who lost his job while she was a plain house wife.
Their business started to flourish; they hired a baker and 3-5 more to help in the operations. The bakeshop was then registered in DTI and in the municipality Alvin's Bakeshop. Their main target market are the people in the public markets as they also recognized that they sell more in the "tabo-tabo". Tabo is a traditional way of trading and barter of goods such as root crops, vegetables, meat, poultry, kakanin, rice, clothes and other items.
Their top selling product among others was the snack-bite miki bread, these are mini milky bread sticks in small packs – a healthy substitute for chips. They were known for this plus other cookies and hard bread such as roscas and galletas.
They were identified by DTI as an assisted MSME and various interventions through trainings were received by Ms. Ida. She was also a graduate of the Kapatid Mentor Me Program in 2017.
"Malaki po ang naitulong sa akin gng mga training and seminar ng DTI kasi natuto po ako magnegosyo ng tama at lalo na paano dumiskarte," says Ida.
The business was growing, it sustained their daily living, supported the studies of their children. Not long, this business resulted to Ida's sari-sari store. Her sari-sari store became one of their sources as well for living. Located at home with their bakeshop, the sari-sari store has almost everything needed by the nearby households.
When this pandemic happened, their bakeshop reduced their operations. Their employees stopped from working, they were not allowed to sell in the market since tabo-tabo is prohibited because it draws crowed in the market. What was left of them was their sari-sari store.
She then realized that this sari-sari store has every essential item that a person would need. She thought, this could help them survive the pandemic.
True enough, the sari-sari store was frequently visited by their kapitbahays. People run to their store for every little cooking ingredient and personal essentials. They got very engaged with the sari-sari store; however, they needed help in sustaining its supplies and to recover from the setback they have experienced. A much needed capital for the goods is necessary.
She envisions it to expand by being helped by government agencies that is why when she heard that she is one of the beneficiaries of the Negosyo Serbisyo sa Barangay- Livelihood Seeding Program to be granted with a Sari-sari Store Restarter Kit, she cannot help but be thankful that DTI once again is there to help her in the recovery of her business.
CARD Pioneer holds online promo; vows continuous insurance services to its members
By CARD MRI
September 5, 2020
SAN PABLO CITY – To provide additional assistance and "hope" amid the ongoing pandemic, CARD Pioneer Microinsurance (CPMI) held an online promo for its clients.
Named "Sagip-Buhay, Hanep-Buhay", the promo was participated by CARD clients nationwide, who availed and/or renewed CPMI's Sagip Plan policy from July 1, 2019 to December 31, 2019. Sagip Plan is one of the institution's non-life insurance products.
The grand raffle draw was held live on CPMI's Facebook page on August 20, 2020. Earlier this March, the provincial winners were announced.
Said CPMI Officer-in-Charge Ms. Melinda Grace Labao during her opening remarks, the online activity is their way to give hope and give back to the millions of their patronizing clients, especially now that the country is facing a pandemic. She also lauded the resiliency of the Filipino people.
"We Filipinos are known for our resiliency. We leave no one behind; we fight as one," began Ms. Labao. "As we face this battle together, we, at CARD Pioneer and CAMIA, remain to be your partner. We will continue to provide our clients the protection through our insurance products, and our services in times of crisis."
The four grand winners emerged from Manila, Marinduque, Cebu, and Davao Oriental. Each has won P125,000 worth of kabuhayan package or a tricycle. Meanwhile, the prizes for the provincial draw include a kabuhayan package worth of P50,000 as major prize and sari-sari store items worth P5,000 as consolation prizes.
A story of healing
Not only was the event a celebration for the lucky winners. It was a time to pause and reflect amid the pandemic.
"The pandemic we are experiencing is a story of hope," shared Ms. Labao. "It is a story of new beginnings, a story of the Filipinos' enduring spirits. Above all, this pandemic is a story of healing."
Ms. Labao ensured that CPMI, together with CAMIA, have been at service to keep its clients insured and protected especially during the pandemic. As a matter of fact, CPMI has recorded more than PhP13 million total claims paid from March 2020 to April 2020.
"And so, we will strive to continue providing our clients the insurance services especially during these trying times," said Ms. Labao.
A partnership for life
CARD Pioneer Microinsurance Inc. (CPMI) is the first microinsurance company in the Philippines. Born out of partnership between the Center for Agriculture and Rural Development (CARD) and Pioneer, CPMI provides microinsurance to socially-and-economically challenged families.
As part of its mission to serve the underserved, CPMI offers affordable insurance products that address calamity, agriculture, income loss, and other non-life insurance needs of the underserved.
One of CPMI's products is the Sagip Plan. For only P34 per week, a member is entitled to a year-round coverage for personal accident up to P150,000, and funeral benefit up to P15,000. Members affected by natural calamities such as fire, flood, typhoon, or earthquakes may also receive up to P36,000.
Binato banana chips: Produkto ng Pag-asenso at Pagbabago
By DTI-Regional Operations Group
September 3, 2020
MAKATI CITY – The island of Samar is known for its rich forestry, natural resources, with different variety of fruit-bearing trees and plants, root crops, and coconuts. No matter how abundant, its three provinces remain at the bottom half of the country's less developed provinces. People continue to strive for their livelihood.
There may be various factors affecting this but one could be the high insurgence by armed communist groups and communities held under their influence. This is one prevailing national issue that is directly affecting communities in the countryside.
Though its success may be measured by the number of surrenderees and communist groups turned down, it is also evident through stories of communities with emerging entrepreneurial groups.
The Binato Banana Chips is a fruit of the whole-of-nation approach in poverty reduction through the National Task Force to End Local Communist Armed Conflict (ELCAC). Livelihood was established in one of the under-developed and unreached barangays in Calibiga, Samar.
DTI Samar, being part of the the Provincial Task Force ELCAC under the Poverty Reduction, Livelihood and Employment Cluster (PRLEC), has intentionally targeted communities in barangays that may be reached through the Negosyo Serbisyo sa Barangay (NSB) Program.
In August 2019, one of the barangays reached was Barangay Guimbanga in Calbiga. It was also a priority barangay for the 46th Infantry Battalion of the Philippine Army as part of its commitment to deliver the basic services of the government to far-flung communities.
During the Business Community Identification of DTI, a Community Dialogue Participation was conducted by the Samar Provincial Task Force ELCAC composed of DTI, PLGU-Samar, Office of Cong. Ann Tan, LGU-Calbiga, TESDA, Office of the Provincial Agriculture, 801st Brigade and 46th IB of the Philippine Army with the group of binato banana producers.
Binato is a local variety of banana abundantly growing in Guimbanga with a distinct sweet aroma and rich taste. For it is abundant in the area, it was identified by the task force to process and develop for the community's start up business.
A Community-based Skills Training on Organic Banana Chips Processing was conducted by DTI on September 30, 2019 to harness the skills of these locals in producing binato banana chips. The training cost which includes raw materials, tools and equipment, packaging and labeling materials, and trainer's honorarium were all covered by DTI. The materials used were aslo turned over to the group.
The group's first output was sent to the BAHANDI Eastern Visayas Trade Fair in Manila last October 2019 for market test and it sold well. From then on, production of the binato banana chips continued and started to receive orders from government agencies. The DTI Negosyo Center Calbiga assisted them in their packaging and labeling, promotion and market-matching, linking this group and their product to consolidators, pasalubong centers and buyers.
Their product was branded Binato Banana Chips promoting their naturally-grown bananas.
From September-December 2019, their president reported a total net profit of P19,000.00 and they were also able to distribute dividends among the members.
On the first quarter of 2020, DTI Samar replenished their packaging and labeling materials. It is the same period that the group was formally recognized as an association and was registered to the Department of Labor and Employment as Guimbanga Farmer's Association with 22 males and 15 females bringing a total of 37 members.
Unfortunately, the pandemic caused their production to temporarily stop but it was eventually restored on May 1, 2020.
Since the Office of the Provincial Government of Samar and Office of the Provincial Agriculturist saw the potential of this group, the offices funded Guimbanga's Processing Center. It was inspected last June 24, 2020 is now operational.
This development of the Binato Banana Chips and the formation of the Guimbanga Farmer's Association marks the beginning of enabling livelihood, facilitating income and jobs generation in remote areas like that of Calbiga, Samar.
Guimbanga's story proves the positive change through whole-of nation approach to combat insurgence and validates the efficacy DTI's programs in the countryside through the Negosyo Serbisyo sa Barangay and Negosyo Center.
Now, the community is never the same.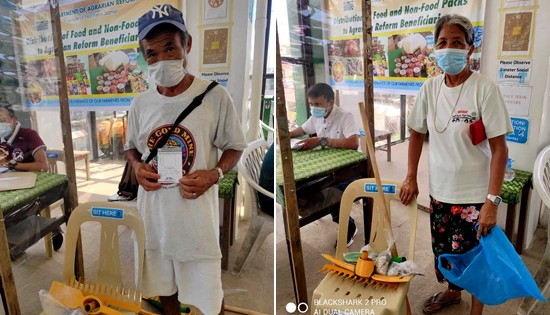 About 638 agrarian reform beneficiaries (ARBs) in Northern Samar are expected to receive garden tools and different varieties of vegetable seeds from the Department of Agrarian Reform (DAR) under its ARBold Move project.
DAR reaches out ARBs in far-flung Northern Samar villages
By DEBORAH BIANES
September 3, 2020
CATARMAN, Northern Samar – The Department of Agrarian Reform (DAR) continues in reaching out to agrarian reform beneficiaries (ARBs) in far-flung villages in this province to provide farm production assistance as the nation faces health emergency crisis caused by the coronavirus disease 2019 (COVID-19) pandemic.
After distributing supplemental food, vitamins and hygiene kits to 535 ARBs throughout the province, DAR is now distributing farm production inputs to 638 ARBs under the second component of the PaSSOver: ARBold Move for Deliverance of ARBs from the COVID-19 Pandemic project.
DAR Northern Samar Provincial Office started delivering farm production inputs comprising of garden tools and different varieties of vegetable seeds to the Municipal Agrarian Reform Offices (MAROs) in the province's 24 towns in mid-July this year.
However, staff of the different MAROs tasked to distribute the said items to the intended agrarian reform beneficiaries (ARBs) are having hard time penetrating many areas in the province.
According to Sheila Jean Oronos, Agrarian Reform Program Technologist (ARPT) assigned in San Jose town, there are areas which could not be accessed by any type of vehicle that one needs to hike several kilometers or cross rivers to reach these remote villages.
"But no matter how far these areas are, we are determined to bring these items to our ARBs," Oronos added.
She further said that by merely seeing the recipients happy after receiving the garden tools and seeds relieve them from exhaustion.
At the moment, 596 ARBs, or 93.42 percent of the 638 targeted ARBs in the entire province have already been provided with farm inputs, with each receiving a rake, a shovel, a garden knife, and five varieties of vegetable seeds.
During the initial distribution held in Catarman, Provincial Agrarian Reform Program Officer II (PARPO II) Nida Abelido emphasized to the recipient-ARBs the importance of farming during this time of pandemic.
She told them that one should not look lowly at farming because it is not only a source of food, but also a source of income. A business opportunity which may help them ease the burden brought by the COVID-19 pandemic, Abelido further stressed.
Proposed internet transactions act in senate to help Filipino online platforms, businesses
By DTI-Office of the Secretary
September 3, 2020
MAKATI CITY – Citing the need to support Filipino platforms and businesses on the Internet, Department of Trade and Industry (DTI) Secretary Ramon Lopez called for the immediate passage of Senate Bill 1591, or the proposed "Internet Transactions Act," authored by Senators Win Gatchalian and Nancy Binay.
During the joint hearing of the Senate Committee on Trade, Commerce, and Entrepreneurship Chaired by Sen. Aquilino "Koko" Pimentel III and Co-Chaired by Sen. Pia Cayetano, as well as the committees on Finance and Ways and Means, Sec. Lopez noted the relevance of the proposed measure, given the growing number of online merchants and the corresponding increase in consumer complaints. He added that this will also promote and enhance consumer protection.
Sen. Imee Marcos likewise expressed support for the bill, noting how it will help define employment standards for the 'gig economy'.
"With the bill's regulatory framework for internet transactions, the bill will promote and support Filipino platforms and businesses based on the principle that domestic online platforms shall be treated under the law equally as offshore non-resident online platforms," Sec. Lopez said.
"This means domestic online platforms shall be given opportunities to grow and be competitive in the digital market. What's more, the Senate bill provides incentives to encourage newly registered online enterprises, especially during this time of pandemic, to operate above-ground," he added.
The trade secretary also noted that the bill will protect the interests of Filipino consumers by providing them effective remedies for their complaints, even if sellers are located abroad. The bill will ensure the Philippine government's regulatory authority over foreign platforms or sellers.
Under the proposed law, DTI shall have regulatory powers to allow for pro-active protection of Filipino consumers. This means DTI will have the authority to take down websites or issue cease-and-desist orders, which would give the government agency prompt and effective means to curtail further harm to consumers caused by websites selling illegal or dangerous products or services.
Further, DTI supports the development of the eCommerce Philippine Trustmark to provide greater public assurance of safety and security in internet transactions. Sec. Lopez further said that, "This bill will balance the interests of entrepreneurs, consumers, and the government by establishing a forum for stakeholders to raise issues and concerns surrounding e-commerce."
"Under this measure, regulation can occur under an environment of stakeholder consultation. This regulatory approach and framework is based on experience after years of observing actual developments on the ground in the emergence of e-commerce, which can be promoted as a regional model moving forward," he explained.
The proposed Internet Transactions Act was previously mentioned by President Rodrigo Roa Duterte during the State of the Nation Address (SONA) last July. During his address, the President directed DTI and other relevant government agencies to work closely with Congress to ensure the provisions of the proposed bill are responsive to the needs of the consumers while promoting the growth of e-commerce in the country.