P3.4-M TUPAD grants benefit 679 Leyteňos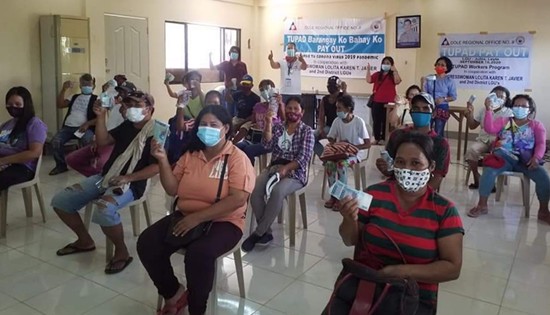 By NORMA RAE S. COSTIMIANO
September 18, 2020
TACLOBAN CITY – The provision of opportunities and fresh hopes to workers in the Eastern Visayas region continues as a total of P3,479,875.00 fund assistance under the Tulong Panghanapbuhay Para sa Ating Disadvantaged/Displaced Workers (TUPAD) Program of the Department of Labor and Employment benefited some 679 informal sector workers in Alangalang and Julita, Leyte.
In partnership with Cong. Lolita Karen T. Javier of the 2nd District of Leyte, TUPAD funds amounting to P2,982,750.00 were released to the local government unit of Julita, benefiting 582 workers affected by the pandemic. Each worker received P4,725.00 as payment for their services rendered. Disinfecting solutions and cleaning materials were likewise provided during the period of employment.
During the payout, Atty. Jo Ann B. Zacarias, representing Cong. Javier, thanked the DOLE for assisting them in extending assistance to the beneficiaries. She likewise said that the office of the good congresswoman sees to it that the needed help and services by the people will really reach them.
Meanwhile, some 97 displaced workers in the municipality of Alangalang also benefited from the P497,125.00 TUPAD grants funded by the An Waray Partylist. Each worker received P3,250.00 for the 10-day wage employment program completed.
Mr. Ian Mariano Noel representing Cong. Florencio G. Noel encouraged all the beneficiaries to use wisely the money received out of the implementation of TUPAD program. He urged them to spend it for their basic needs and priorities, especially this time of pandemic.
In the two separate payouts conducted in Julita and Alangalang on September 10 and 11, 2020, respectively, Mr. Norman L. Uyvico, OIC-Chief of DOLE-North Leyte Field Office (NLFO) were in attendance to represent Regional Director Yahya A. Centi. He said that DOLE will continue to uphold its mandate of looking into the wlefare of every FIlipino worker especially during this time.
"Consistent with our given mandate, we at DOLE are doing the best we can to extend help to every worker in need, especially during this time of pandemic", said Mr Uyvico.
Mr. Uyvico likewise recognized the importance of having great partners who always support the DOLE programs and services.
"Of course we recognize and appreciate the enormous support and commitment we get from our partners like An Waray and the Office of the 2nd Distict of Leyte. Without them these TUPAD implementations will not be realized", Mr, Uyvico ended.
Karapatan: EU resolution on rights situation in PH a welcome step towards reckoning and accountability
By KARAPATAN
September 18, 2020
QUEZON CITY – The resolution on the human rights situation in the Philippines recently adopted by the European Parliament* is a "welcome step towards reckoning and accountability over the Duterte administration's blatant disregard of its obligation to uphold human rights and civil liberties in the country," Philippine human rights alliance Karapatan stated, as the group urged the international community to "continue to stand with human rights defenders in the Philippines and the Filipino people who suffer in this worsening crisis of political repression and State violence under this increasingly tyrannical regime."
"The sham drug war has continued to kill the poor with impunity while human rights defenders face vilification, violence, and death for their work in exposing these human rights violations even in the middle of a pandemic. Domestic mechanisms have been ineffective and outright failing in bringing the perpetrators of these gruesome crimes to justice. These attacks cannot continue, and the European Parliament's resolution is a strong statement from the international community that there would be consequences for these abuses," Karapatan Secretary General Cristina Palabay said.
The resolution – which was reportedly adopted in toto with 626 votes in favor, 7 against, and 52 abstentions – recommended the European Union (EU) to temporarily withdraw the Philippines' Generalized Scheme of Preferences Plus status, which provides tariff perks for Filipino goods, as the European Parliament called on Philippine authorities to "immediately carry out impartial, transparent, independent and meaningful investigations into all extrajudicial killings," particularly killings related to the drug war as well as the recent killings of human rights activists Jose Reynaldo "Jory" Porquia, Randall "Randy" Echanis," and Zara Alvarez.
The European Parliament also expressed "serious concern" over the enactment of the Anti-Terrorism Act as it recalled that "in no circumstance can advocacy, protest, dissent, strikes and other similar exercise of civil and political rights be considered terrorist acts" amid the intensified vilification and terror-tagging of human rights defenders, activists, and government critics in the Philippines. The resolution further urged the EU and its member States to support the adoption of a resolution at the ongoing 45th session of the United Nations Human Rights Council (UN HRC) to "establish an independent international investigation into human rights violations committed in the Philippines since 2016."
"We thank the six political parties who initiated the European Parliament resolution and the members of parliament who supported and adopted it, as we hope this will enjoin other governments and the international community at large to continue to take a strong stance in denouncing the Duterte administration's attacks on human and people's rights in the Philippines and in supporting an independent investigation by the UN HRC on these attacks," the Karapatan officer ended.
See copy of the adopted resolution here


On-going road opening for the concreting project of Brgy. Mapuyo to Palayan ng Bayan FMR, Phase II, Brgy. Mapuyo, Kawayan, Biliran. This project is under contract with Roving Premiere Contractors Inc. amounting to P24.2M.
P24.2M Mapuyo to Palayan FMR, Phase 2 in Biliran kicks off construction
By DPWH Biliran
September 17, 2020
NAVAL, Biliran – The Department of Public Works and Highways- Biliran District Engineering Office (DPWH-BDEO) has started the construction of the P24.2M Mapuyo to Palayan ng Bayan Farm to Market Road (FMR) project in Mapuyo village in Kawayan town.
David P. Adongay Jr., District Engineer said that this is already the second phase of the project which includes the road opening and concreting of a 1-kilometer two lane road including drainage and slope protection.
From its start date on August 17, 2020, this project is target to be completed on March 04, 2021.
According to Adongay, BDEO has already completed phase 1 of the project in 2016 which includes the road opening and concreting of 783-meter two lane road in Mapuyo village amounting to P9.8M.
"This road project aims to connect Mapuyo Village in Kawayan town to Palayan ng Bayan in Caucab village in Almeria town." said Adongay.
Engr. Rosario B. Rosete, Chief of Planning and Design Section revealed that more or less 4-kilometer road is still needed to concrete to connect the two towns. The said project is implemented under its local infrastructure program in convergence with the Department of Agriculture (D.A).
Sitio Palayan in Caucab village in Almeria town is found at the foot of Mount Panamao and is abundant with abaca and "palay" thus, derived the name "Palayan ng Bayan," as rice terraces were carved in the mountains.
The completion of this project will provide a safe, convenience and faster mobility of agricultural products to the nearby towns.
PNVSCA convenes first batch of LGU volunteerism focal persons' coordination meeting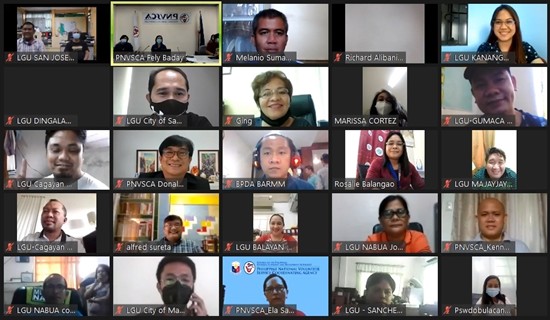 Press Release
September 16, 2020
QUEZON CITY – Aimed at increasing the awareness and appreciation on the importance of volunteerism as a cross-cutting strategy and as a tool to achieve local and national development goals, the Philippine National Volunteer Service Coordinating Agency (PNVSCA) convened more than 110 Volunteerism Focal Persons (VFPs) and technical staff from 76 LGUs across the country in a virtual meeting on 28 August 2020.
In his welcome statement, PNVSCA Executive Director Donald James D. Gawe expressed gratitude to the participants and emphasized the importance of the gathering specifically at this time of the COVID 19 pandemic which needs the cooperation and participation of everyone to address the various problems brought about by the pandemic. ED Gawe also mentioned the common observation that in the Philippines, volunteerism is seen more as a crisis management and not as a development strategy. Thus, he hopes that all agencies and institutions will realize the need to harness the potential role of volunteerism as an alternative approach to achieve local and national development goals and include it in their development plans.
To increase the appreciation of the participants' appreciation on volunteerism as a strategy in local development, the following topics were presented and discussed by PNVSCA volunteer service officers: (1) Volunteerism 101 which provided basic volunteerism concepts, and the related legislations and policy framework by Mr. Kenneth Siruelo; (2) the role of PNVSCA in the voluntary sector and its thrusts and priorities including the current initiatives in response to the COVID 19 pandemic by Ms. Ela Sarmago; and (3) PNVSCA's initial efforts on strengthening sub-national mechanism to mainstream volunteerism as a development strategy by Ms. Fely Baday.
Professors Alfred Sureta and Eric de Torres of DILG also discussed IATF'S Recovery Task Force efforts to engage volunteers in its strategies and priority activities. DILG also highlighted the significant role of the LGUs in taking the lead in addressing the pandemic in their respective localities, and the importance of a coordinated and collaborative effort between the LGU, CSOs and the public in general to overcome the challenges posed by the COVID-19 pandemic.
A number of questions and concerns were raised during the open forum which were responded to by the PNVSCA and DILG resource speakers; these include the following: (1) how to establish a volunteer program, (2) what are the necessary steps and policies that will sustain the implementation of their existing volunteer programs including the provision of incentive for the volunteers; (3) what to do when youth are actively involved as volunteers but their age bracket is not allowed to go out under the IATF guidelines; among others. As rejoinder, several LGUs shared their best practices and experiences on how they institutionalized volunteerism in their regular programs.
For the participants' added information and opportunity for learning and networking, they were invited to attend PNVSCA's webinar on 3 September 2020 on Engaging Volunteers during the COVID-19 Pandemic: Some Good Practices of Local Government Units (LGUs).
ED Gawe ended the meeting by expressing his appreciation to all the participants and requested the Volunteerism Focal Persons to suggest agenda items/topics for the subsequent meetings.
Also present during the meeting were the Regional Volunteerism Focal Points from 11 NEDA Regional Offices and BPDA-BARMM.
Inflation rate in EV increases further to 2.3% in August 2020
By PSA-8
September 16, 2020
TACLOBAN CITY – Inflation Rate (IR) in Eastern Visayas increased further to 2.3 percent in August 2020. This IR is 0.6 percentage point higher compared with the 1.7 percent IR in July 2020. This is also 1.8 percentage points higher than the recorded 0.5 percent IR in the same period last year.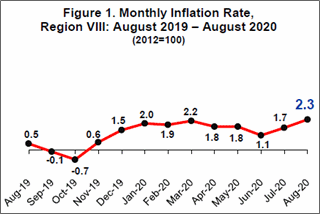 The regional IR is 0.1 percentage point lower than the 2.4 percent national average inflation rate in August 2020.
Northern Samar, Samar, Eastern Samar, and Leyte registered higher inflation rates in August 2020 compared with their figures in July 2020. Samar recorded the highest growth of 1.4 percentage points, from 2.9 percent IR in July 2020 to 4.3 percent IR in August 2020. The rest of the provinces registered increases ranging from 0.2 percentage point to 0.6 percentage point. Meanwhile, Southern Leyte and Biliran, retained their previous month's inflation rates of 3.0 percent and 0.8 percent, respectively. Northern Samar posted the highest IR at 5.1 percent, while Biliran recorded the lowest IR during the month in review at 0.8 percent.
Majority of the 11 commodity groups in the region exhibited higher IRs in August 2020 compared with their rates in July 2020. Transport commodity group registered the biggest increase of 1.5 percentage points, from 1.0 percent deflation in July 2020 to 0.5 percent IR in August 2020. The 1.4 percent IR in the index for transport services offset the 2.5 percent deflation in the index for operation of personal transport equipment.
IRs for restaurant and miscellaneous goods and services commodity group and furnishings, household equipment and routine maintenance of the house commodity group both recorded 0.7 percentage point increase, posting 4.4 percent and 3.2 percent, respectively, in August 2020.
Compared with the July 2020 level, the IRs for the commodity groups of housing, water, electricity, gas and other fuels (1.5 percent); health (1.2 percent) were both higher by 0.5 percentage point in August 2020.
The commodity group of clothing and footwear went up by 0.3 percentage point, from 3.0 percent in July 2020 to 3.3 percent in August 2020. This can be traced back to higher IRs recorded in both indices for clothing (3.7 percent) and footwear (2.2 percent).
The IR of food and non-alcoholic beverages commodity group inched up by 0.4 percentage point to 2.2 percent in August 2020 from 1.8 percent in July 2020. Higher IRs were noted in majority of the items under this commodity group. Vegetables index registered the highest increase of 1.9 percentage points, posting 8.3 percent IR in August 2020 from 6.4 percent IR in July 2020. Double digit IR was still noted in fruits index during the month in review at a higher rate of 15.9 percent. Rice and bread and cereals indices continued to register deflations but at slower rates of 1.7 percent and 0.7 percent, respectively. Meat index, meanwhile, retained its 0.2 percent deflation recorded in July 2020.
On the other hand, recreation and culture commodity group declined by 3.1 percentage points to 2.0 percent deflation in August 2020 from 1.1 percent IR in July 2020. This can be attributed to the significant decrease in the index for recreational and cultural services to a double-digit deflation rate of 11.1 percent in August 2020, from 0.9 percent IR in July 2020.
IR for alcoholic beverages and tobacco commodity group eased down by 0.1 percentage point, settling at 7.6 percent during the month in review.
Communication commodity group retained its previous month's deflation at 1.7 percent. Education, meanwhile, sustained its zero IR in August 2020.
The Purchasing Power of Peso (PPP) of the region remained at P0.79 in August 2020. This PPP implies that the goods and services worth P79.00 in 2012 is worth P100.00 in August 2020.
PPP in Eastern Samar and Samar weakened by P0.01, while the rest of the provinces sustained their PPP last month. Biliran recorded the strongest PPP at P0.83. Leyte ranked second at P0.81, followed by Southern Leyte at P0.80, and Eastern Samar at P0.77. Northern Samar and Samar posted the weakest PPP at P0.73.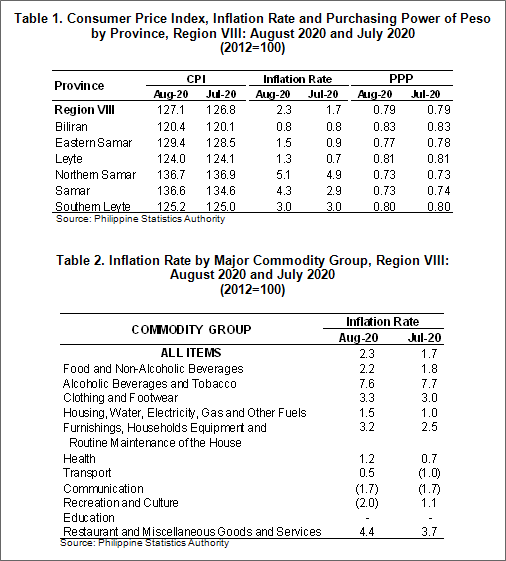 Govt troops rescue two minors, cry rape versus NPA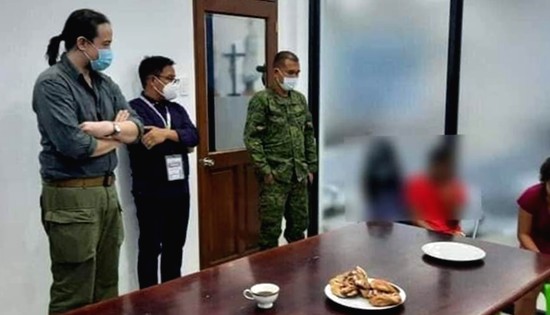 By DPAO, 8ID PA
September 15, 2020
CAMP LUKBAN, Catbalogan City, Samar – Two 14-year-old girls were rescued while two terrorists were arrested in a clash between the government troops and members of the CPP-NPA Terrorists (CNTs) in Barangay Rizal, Kananga, Leyte at 8:30 p.m. Sunday, September 13, 2020.
The rescue operation was conducted by the troops of 93rd Infantry Battalion after local residents complained about the presence of armed men who were conducting illegal activities together with some minors who were evidently forced to join the terrorist group.
A ten-minute firefight broke out when government troops encountered about 10 CNTs, a soldier named PFC Nicxon Tomenio paid the ultimate sacrifice while an undetermined wounded CNTs were able to withdrew.
The clash also resulted in the arrest of two CNT members while two minors were rescued and were turned over to the Municipal Social Welfare Development Office (MSWDO).
Seized during the clash were one cal.45 pistol and ammunition reportedly owned by terrorist leader Juanito Selleza alias 'Tibor/Larry/Jay', cellphone, electronic gadgets, oral contraceptives, Anakpawis ID cards, ID of certain Tabang as Sinirangang Bisayas member and various subversive documents. An AK-47 assault rifle and ammunition were later recovered at 6:30 a.m. of Monday during the pursuit operation.
Women as sex slaves, minors included
The minors revealed that some of the women including minors were sexually abused and were forced to take oral contraceptives by the NPAs.
During the past operations, anti-pregnancy pills were also recovered in an encounter by the 20th Infantry Battalion a few months ago in Northern Samar.
Brigadier General Zosimo A. Oliveros, Commander of 802nd Infantry Brigade, condemns the NPA for their abuse and utter disregard of the rights of women and children.
"This act by the NPA of abusing women including minors is monstrosity at its worst! We hold the NPA and their coddlers accountable against such crimes against the people. Our soldiers will continue to conduct security measures to protect communities from such criminals and we thank the local residents for making sure their own locality is safe from such threats to peace," Oliveros said.
NPA used human shield
In the middle of the clash, the NPA terrorists took children and used them as human shield. Soldiers were not able to fire their weapons specifically when the terrorist leader named Tibor took a child in his bid to escape.
Lieutenant Colonel Roberto Q. Beatisula, Commanding Officer of 93rd Infantry Battalion, condemned the cowardly act of the terrorists in using civilians especially children as human shield.
"These NPA terrorists are cowards! To use civilians especially children as human shield is inhumane! And is a clear violation of Human Rights. Our troops will do everything necessary to make these NPA terrorists face the bar of justice and pay for their crimes against humanity," Beatisula said.
Same NPA group perpetrated Inopacan massacre
The group of NPA terrorists encountered by the security forces were reportedly the remnants of the same notorious NPA group responsible in the 'Inopacan Massacre' who killed many civilians including their own members during their 'Oplan Ahos', 'Missing Link', 'Zombie' and numerous other moves by the communist terrorists in killing civilians and purging their own ranks.
Use and manipulation of legal organizations
The recovery of numerous IDs of Anakpawis, a partylist group with active representative in congress and Sinirangan Bisayas, a human rights Non-Government Organization (NGO), brings to the fore the schemes of the CNTs in using legal organizations to pursue their armed struggle.
Brigadier General Oliveros called on the legitimate People's Organization (PO) to conduct appropriate actions to protect their own members to avoid being manipulated by armed terrorists.
"We call on the officials of NGOs, POs and other civil society organizations to protect their people. Do not let armed elements recruit your members. We also call on the members of every organization to carefully examine if they are being exploited and manipulated by groups wanting to destroy our country. Let us help each other in protecting our communities," Oliveros said.
Last year, the Philippine government contingent was sent abroad to talk with various international organizations in exposing the schemes of the CNT in manipulating civil society organizations and using legitimate issues to secretly support the armed terroristic activities of the NPA.
Exploring the Philippines inside a box with Hijos Tours
By CARD MRI
September 15, 2020
SAN PABLO CITY – One of the most gravely affected industries by the COVID-19 pandemic is Tourism. Due to limited mobility and implementation of health measures to contain the spread of the virus, many tourism-related businesses have temporarily put their operations on hold. But one tour company thought outside of the box through packaging a different travel experience, inside a box.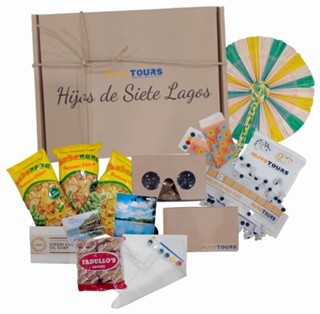 CARD MRI Hijos Tours, a Laguna-based tour company established in 2017, offers "Travel Goals in a Box" that allows travelers to explore and experience local tourist destination in the comforts of their homes. The travel box comes with VR glasses which can be used to experience a virtual tour of selected cities in the Philippines. To make the experience even more holistic, local food delicacies, souvenir items and fun educational games are also included in the travel box.
"At the onset of the COVID-19 pandemic, we certainly knew that tourism will be hit greatly. We have to be proactive and think of innovative ways to continue our mandate of providing a meaningful travel experience to our travelers while still assisting the local community engaged in our company," said CARD MRI Hijos Tours President Marilyn M. Manila. Keeping in mind its purpose, Hijos Tours curated a travel box that contains the products of the local communities complemented with their local virtual reality tours.
Hijos Tours continues to celebrate local culture, food, people, and their stories. Every product inside the box is locally made by the communities Hijos Tours is working with. The physical tour guides now serve as virtual tour guides.
"If you miss many of your 2020 travel goals because of the crisis, we offer our tour boxes and virtual tours in San Pablo City and Iloilo City. We are currently crafting our tour boxes for Samar and Leyte, Davao, and Baguio which will be soon offered to the public," said Manila.
"Clients can spend quality time with their family as they find beautiful scenery to these places, and learn their history, culture, and tradition through our 360° videos and our customized games in a more cost-efficient way," Manila emphasized.
Become part of a greater mission
Manila also shared that for every box subscribers, part of it will go to Hijos Tours community tour guides and suppliers. "Aside from the company, our thoughts are with our local communities who rely on our tour programs. No one should be left behind. As we adapt to this new landscape, we remain true to our purpose. We always ensure to empower the communities we are serving through our innovative products and services."
Subscribers of the travel box will also be able to support cultural growth and encourage development to these local communities.
Community-based tourism
CARD MRI Hijos Tours started as a tour program of CARD Mutually Reinforcing Institutions (CARD MRI) in 2013. It was then officially registered as a Tour Company in 2017. To date, Hijos Tours has more than 56 families being assisted by its five tour programs. To learn more about Hijos Tours and its products and services, its official Facebook page is www.facebook.com/HijosToursOfficial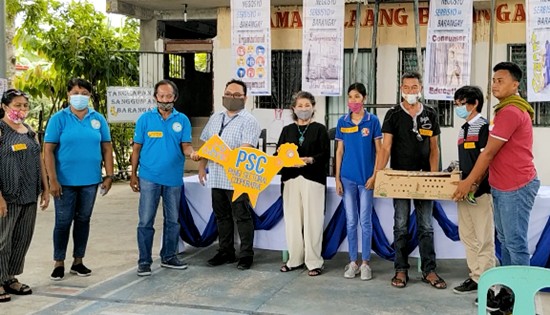 Awarding of livelihood kits to PSC with DTI Marinduque provincial director Roniel Macatol, Gasan Mayor Victoria Lao Lim, and other officials.
Raising success through poultry farming in the new normal
By DTI-Regional Operations Group
September 14, 2020
MAKATI CITY – The COVID-19 disease outbreak created global crises that brought deep impact to different aspects of the society. Posing enormous health, bringing economic, environmental, and societal challenges.
This may not always be the case, on the other hand, for the Pangi Sectoral Cooperative from Pangi, Gasan, Marinduque. For them, the way people perceive the world may change, looking merely on negative effects of the situation, but there are always silver linings in every adversity.
Pangi Sectoral Cooperative (PSC) was organized on June 19, 2020, composed of 22 active members from mostly affected sectors such as farmers, fisherfolks, women and youth from the municipality.
On July 08,2020, the cooperative benefited from the first-ever launching of the Negosyo Serbisyo sa Barangay-Livelihood Seeding Program facilitated by the Department of Trade and Industry (DTI) through the Negosyo Center Gasan.
With the aim of extending aid to qualified affected individuals in restoring and improving their businesses, DTI Marinduque conducted skills training on Chicken Broiler Production. The presence of sustainable water supply, strategic farm location, and wide array of market for chicken products made the project more suitable for the cooperative. They received a total of P30,000.00 worth of starter kits including 100 30-day chicks, 6 sacks of feeds, drinker/waterer vitamins, dextrose, net, screen, bulb, and extension wires and laminated sacs. Aside from the skills training, they also received training on sanitary measures for poultry, pricing and costing, and how to start a business.
Likewise, a follow-up training on dressed chicken preparation was conducted on September 1 ,2020 to assist the group in making and offering quality dressed chicken in the market. They were also taught about poultry diseases prevention and control to avoid unnecessary losses. The cooperative was able to receive their business permit through the LGU.
Furthermore, a write shop training on cooperative documentary requirements such as by-laws and articles of cooperation were provided. As of this writing, Pangi Sectoral Cooperation is in the finalization and approval of the documents which will be used in their registration to the Cooperative Development Authority.
The cooperative was able to build a poultry house in just a week in a farm land owned by one of the member's colleague. They conduct weekly meeting and ensure that each member contribute to the maintenance of the facility. PSC President Nestor P. Isoli testified the required hard work in the poultry industry, that is why they make sure that they closely monitor the ins and outs in the production and operations.
Despite encountering a 7% mortality rate in their first cycle, the cooperative didn't give up. They are now growing 200 chicks and have generated a total of P35,000.00 sales from their first and second cycle broiler. In the following month, they are planning to add another hundred chicks to be grown. They are also constructing another semi-concrete building as an area for processing their product and another building to house the newly bought chicks. They are also planning to acquire a chicken dresser machine to further improve their operations.
Pangi Sectoral Cooperative's continuous journey is an inspiration that there is hope behind every crisis. Through passion, eagerness, and teamwork, they hope to pursue their goals to help the members financially, supply the demand of dressed chicken in the municipality, treasure and grow the grant given to them, and help in the recovery of the province's economy in the new normal.
Troops averted bomb plot, seize NPA IED factory in Samar
By DPAO, 8ID PA
September 13, 2020
CAMP LUKBAN, Catbalogan City – A communist plan to plant bombs in numerous roads in Samar was foiled by joint Army and Police operatives after a manufacturing site of Improvised Explosive Devices of the New People's Army (NPA) terrorists was uncovered in the boundary of Sitio Burabud and Sitio Biga, Brgy Mabini, Basey, Samar at 1:00 PM Saturday, September 12, 2020.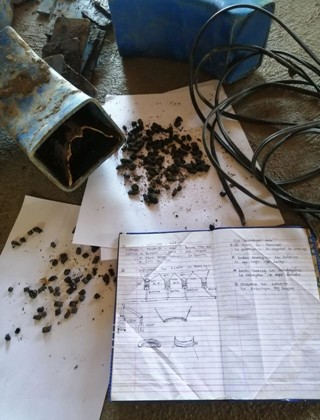 The inter-agency task group composed of elements from the 63rd Infantry Battalion and PNP's 12th Special Action Battalion seized five IEDs, 18 IED shells, wires, steel cutters, IED making components and subversive documents.
The discovery of the hideout and recovery of the bombs and other paraphernalia was successful due to the information given by local residents who were wary of the danger of roadside bombings done by the NPA in the past. The latest is the Borongan bombing incident perpetrated by the Communist NPA Terrorists (CNTs) last December 2019 that killed several civilians.
Lieutenant Colonel Edgar Alan Orbito, Commanding Officer of the 63rd Infantry Battalion, condemned the NPA for their evil plan to put everyone in danger.
"The plan of the NPA to plant roadside bombs in Samar is not different to the IEDs exploded recently in Sulu. They all meant to harm even civilians. This kind of evil men are the reason why our people in Samar and the whole country are suffering. They will do every possible way to pursue their evil intent even if it harms the innocent."
On the other hand, Brigadier General Camilo Z. Ligayo, Commander of 801st Infantry Brigade, commended the concerned residents who took the initiative to inform the authorities. He also thanked the Philippine National Police for their active participation in the operation.
"I salute the brave people of Mabini, Basey, Samar for their bravery and concern for the wellbeing of everyone who might fall victim of the barbaric plan of the NPA. The outstanding work of the Army and PNP in thwarting another terroristic act of the NPA is a testament of the trust, confidence and excellent teamwork of our soldiers and policemen here in Samar that is worth emulating," Ligayo said.
The NPA is listed as a terrorist organization by the European Union, the United States and other countries.