Filipino startup wins in global pitch competition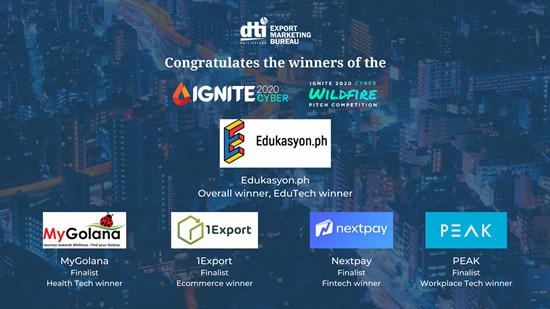 By DTI-TPG-Export Marketing Bureau
October 27, 2020
MAKATI CITY – Filipino startup Edukasyon.ph emerged as the overall winner in the Wildfire Pitch Competition, held during the Ignite 2020 Cyber Conference on 13-15 and 20-22 October 2020.
Receiving US$5,000 equity-free cash, Edukasyon.ph is an education technology platform that connects students to education opportunities. The startup was among the five startup finalists – four of which were founded in the Philippines.
The six-day conference was organized by Brainsparks, Dentsu, and TechShake and was supported by the Department of Trade and Industry-Export Marketing Bureau (DTI-EMB).
"DTI-EMB, as IGNITE's partner since their first conference in 2017, has always been a supporter of IGNITE's vision of bridging the gap between startups and corporates or non-tech industries, and at the same time promoting the PH startup ecosystem to the rest of the world," said DTI-EMB Director Senen Perlada, during his opening remarks on 22 October.
"This year's edition of IGNITE is a perfect example of how technology and innovation can address the needs of today and the post-pandemic world," he continued.
The conference featured several international speakers and a pitch competition for startups in the education tech, health tech, fintech, e-commerce, and workplace tech sectors. Winners for each sector delivered their three-minute pitches on the final day to determine the overall winner.
The other finalists were:
• MyGolana, a health tech startup providing affordable and accessible counseling solutions
• Nextpay, a fintech startup providing an easy solution for small businesses to manage and track their finances.
• 1Export, an e-commerce startup that is a one-stop, end-to-end platform helping small businesses in the Philippines export, by addressing concerns in terms of compliance and market access.
• PEAK, a Thai workplace tech startup that offers online accounting software that allows businesses to track business information instantly.
"Out of the five finalists, four of them are Philippine startups. It shows that the Philippines is not lacking in talent and potential as a startup ecosystem. The challenge now is creating an environment that will not only help startups survive but also thrive and take advantage of the new opportunities brought about by the pandemic," said Perlada.
DTI Undersecretary Rafaelita Aldaba said during her opening remarks on 13 October that "as the virus is contained and as [physical support] bolster the economy, along with global recovery we will be able to take advantage of emerging opportunities and challenges from shifting trade and investment preferences and changing forms of international productions in the wake of Covid-19 by fast tracking innovation and adapting new technologies with greater focus on more resilient, inclusive, and sustainable industrial recovery toward the post pandemic future."
Since 2017, Ignite Philippines has gathered the stakeholders from the startup ecosystem under one roof. The online event was attended by more than 1,200 participants from 25 countries.
PH gov't maltreatment of Nasino and child violated int'l standards on prisoners, children
Manhandling of Baby River funeral further exposes tyranny of Duterte gov't says global rights group
Press Release
October 23, 2020
QUEZON CITY – The International Coalition for Human Rights in the Philippines (ICHRP) and its chapters condemned the Philippine government's inhumane treatment of Filipina political prisoner Reina Mae Nasino following the death of her three-month-old Baby River. Statements from the global coalition reminded the Duterte's government that the acts of cruelty against Nasino and her child are violations of international rules on women prisoners.
"The treatment of Reina Mae Nasino and her Baby River from the State has violated international standards of treatment of prisoners and children," says ICHRP's chapter in British Columbia, Canada.
Human rights advocates from all over the world send their deepest sympathy to Reina Mae Nasino who not only has been cruelly deprived of her right to care and comfort her child, but also has been deprived of her right to cradle and see her baby at the funeral one last time.
The United Nations Rules for the Treatment of Women Prisoners and Non-Custodial Measures for Women state that women prisoners should be allowed to breastfeed their children. Expert medical research studies have evidenced that breastfeeding provides protection for infants against infections, including acute and prolonged diarrhea, and long-lasting active immunity.
Article 3 of the Convention on the Rights of the Child, to which the Philippines is a State Party, declares that "The baby's best interest shall be the primary consideration in all actions concerning children, whether undertaken by public or private social welfare institutions, administrative authorities, legislative bodies, or courts of law."
After immense public pressure, Philippine court was prompted to grant a furlough to Reina Mae Nasino to visit her baby's wake but with heavy security and in handcuffs.
"A legal right intended for prisoners but the Duterte government deemed it as privilege only to be given to its allies and powerful elite," says Asia Pacific Coalition for Human Rights in the Philippines spokesperson Sister Patricia Fox.
Since their separation, Baby River had fallen ill several times and on October 9th, Baby River died from acute respiratory disease at the intensive care unit of the Philippine General Hospital. According to ICHRP chapter in the United States, the Philippine government's handling of Baby River and Reina Nasino's case amounts to no less than torture.
"We are enraged and hold the Philippine government responsible for River's passing. Ultimately Duterte himself is responsible given his backtracking on promises to release political prisoners and Anti-Terror Law which demonizes, imprisons and kills activists," ICHRP-US spokesperson Drew Elizarde-Miller.
During the first three hours of "furlough" in which Nasino attended River's wake, state forces surrounded Reina and did not remove her handcuffs except so she could briefly wipe tears from her eyes. Obstructing free speech, the jail personnel further tried to prevent Nasino from speaking with the media. During the Baby River's burial, there were 43 heavily armed state authorities deployed and hijacked the burial procession from the family. Nasino was still unhandcuffed.
"We note the politics of selective accommodation and the blatant disregard for the principle of justice. Individuals and groups who committed crimes against the people are exempted from prosecution and accountability while the poor and those working on social justice issues are arrested and kept in jail on trumped-up charges," says ICHRP- British Columbia.
BotiCARD opens pharmacy in Oroquieta City
By CARD MRI
October 23, 2020
SAN PABLO CITY – BotiCARD opens its 12th branch in Oroquieta City in Misamis Occidental to provide its healthcare products and services to the local community on October 19, 2020.
To comply to minimum health protocols, CARD MRI executive committee members and senior advisers attended the branch opening via online conference. Said BotiCARD President Rosenda P. Aquino, "The pandemic will not be a hindrance in achieving our goal. At a time like this, we know that we are needed the most by our clients and the general public."

Reinforcing CARD MRI's mission
The Oroquieta Branch is the third branch of BotiCARD in Mindanao which is strategically located beside the CARD MRI Rizal Bank-Oroquieta Branch. Aside from the banking institution, CARD, Inc. (A Microfinance NGO) and CARD MBA are also present in the City. "With the additional force of the pharmacy of CARD MRI, empowering communities is already on the horizon. We are intensifying our approach to fight the different facets of poverty," said Aquino.
Aquino also added that, "BotiCARD is not an ordinary pharmacy. Aside from providing quality generic medicines, we also provide primary healthcare services to CARD clients and staff and the communities to ensure their wellness."
Meanwhile, CARD RBI President and CEO Elma B. Valenzuela shares her commitment in helping the institution meets its mandate of providing health care products and services to the community. With thousands of clients of the microfinance-oriented rural bank in the area, its staff are in full support by introducing the additional service of CARD MRI to its clients in Oroquieta. "As we are one with the overarching goal of CARD MRI in eradicating poverty, we will empower one another to also empower the local communities," said Valenzuela.
The direction towards a healthy community
The pharmacy advocates the use of generic medicines as it is more affordable and as effective as branded medicines. In partnership with the Microfinance and Health Protection (MaHP) Program of CARD MRI, it also provides free medical services through clinics located in various communities.
The institution is guided in achieving its mission by providing genuine service to its clients and the communities. "We will not wait for our clients to come, but we will bring our services closer to the communities to provide them equal and inclusive opportunities for all."
Armeda Villasin, one of the clients of CARD RBI in Oroquieta, shares that she is very much grateful for CARD MRI. "CARD is a good institution because it provides numerous benefits to its members to ensure that every family is secured."
BotiCARD also eyes to develop loanable medicine and wellness products to be offered to CARD clients to encourage them to prioritize their health.
Service realization
BotiCARD was an idea conceived from CARD MRI's partnership with Freedom from Hunger in 2011. Fighting poverty means not only providing access to financial products and services but addressing its different aspects. With poor health and inaccessible healthcare services, the poor will suffer even more. Boosting people's health and providing quality medicines and healthcare services are ways to break the vicious circle of poverty. This is BotiCARD's support to CARD MRI's mission in ending poverty in the country.
Linking art and biz through string art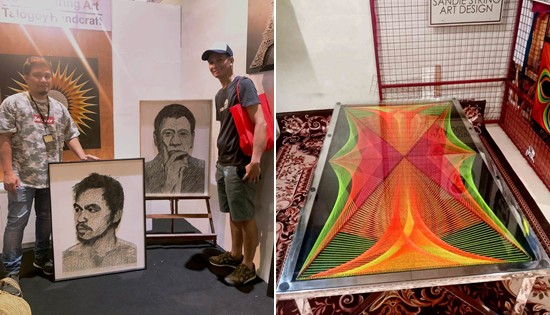 By DTI-Regional Operations Group
October 22, 2020
DAVAO CITY – In an artist's perspective, selling or marketing one's artworks could be as tedious as conceptualizing an output from scratch. But despite that, Sandie L. Padilla took the challenge by heart.
Padilla is among the fifth batch graduates of the Kapatid Mentor Me (KMME) program, an initiative of the Department of Trade and Industry (DTI) and Philippine Center for Entrepreneurship (PCE) aiming to guide and mentor entrepreneurs according to their needs, with the help of experts in different fields. This batch graduated last July 18, 2019.
Padilla, who owns and manages Sandie String Art Design, was hesitant about starting his business when he came back to the Philippines after working in Jeddah, Saudi Arabia for 6 years. However, with his love for the arts and his determination to have a sustainable livelihood, he finally decided to open this venture.
Padilla, who used to work as a coffee shop barista while still abroad, is armed with the kind of creativity and commitment to come up with something that is unique and eye-catching. The idea of having a business related to using strings to create portraits came into mind while he was busy making remarkable pieces through wire sculptures and coffee bean art during his work breaks. Innovativeness is innate in him, and this became his ticket to discovering his talent in crafting artworks through strings. Who could have thought that the long strips of thread can be used to produce portraits?
It was a eureka moment for him when he started doing string art, he said that he remembered doing it when he was still in elementary. When asked about his motivation to pursue this, he shared that it is the uniqueness and craftsmanship of string art.
When Padilla came back to Davao City, he did not pursue his passion for string art right away. He tried working as a promo-merchandiser in a shopping mall at first, however, he felt that something was telling him to pursue art instead of getting an eight-hour job.
While navigating on Facebook and checking on anything that got his attention, he came across the official page of Negosyo Center Davao City. Through it, he found out about the different programs and services that the Negosyo Center provides. That was when he realized that it would be great to begin working on his own business.
"I immediately thought of turning my passion in string art into a business opportunity," he narrated. From then on, he started attending various training activities, including those on how to run a business, and an orientation on how to avail a micro loan. With his unending interest in business, he enrolled in the KMME program, which provided his foundation as an entrepreneur through different sessions tackling the 10 modules.
Following his KMME graduation, the Sandie String Art Design started reaping the fruits of his labor, especially that Padilla participated in trade fairs, such as the Mindanao Trade Expo (MTE) and the renowned Manila FAME. This move made him earn between P15,000 and P77,000.
Despite the struggles he encountered as an entrepreneur, especially with being a newbie and the uniqueness of his concept, Padilla never lost the spark to go on. He is thankful to DTI, too, for walking with him in this journey.
The pandemic, which has affected business operations, did not stop him as well to continue with what he has started. Innovative as he is, Padilla maximized the social media and other means to widen his network, to sustain the expansion of his market. His untiring efforts resulted in new designs and the establishment of a bigger production area in his house.
He encouraged other artists to consider getting into business through the craft they love. For him, it is likewise a way to give back to the community where they operate.
"Ang kita sa abroad kay makita raman sad nimo diri sa Pilipinas basta og maningkamot ra man gyud diay ka (We can still earn here in the Philippines the amount we receive while working abroad if we continue to work hard)," he said.
It is Padilla's dream to help the persons with disability and women in several communities in the future. He said he will establish his own gallery or workshop for him to teach them about string art, and earn from it.
For those interested to buy Padilla's artworks, he can be contacted at 09665384644 or in his Facebook page, Sandie String Art Design.
CARD, Inc. adapts to the new normal with CARD Sulit Padala and konek2CARD
By CARD MRI
October 21, 2020
SAN PABLO CITY – As part of its mission to provide accessible services to its clients amid the COVID-19 health crisis, CARD, Inc. (A Microfinance NGO), a member of CARD Mutually Reinforcing Institutions (CARD MRI), opens more CARD Sulit Padala outlets in Visayas and Mindanao.
CARD Sulit Padala is now available in 116 CARD, Inc. unit offices nationwide. Through this domestic remittance service, clients can now pay for their loans and receive remittances not only from CARD, Inc. outlets but also from other financial institutions under CARD MRI namely CARD Bank, CARD SME Bank, and CARD MRI Rizal Bank which also have more than 300 outlets nationwide.
CARD Sulit Padala is also known for its "piso" or one-peso charge for first time money senders and its minimum rates for those sending remittances anywhere in the Philippines.
CARD, Inc. Executive Director Jocelyn Dequito highlighted the importance of CARD Sulit Padala as the country transitions to a New Normal. "As we adapt to a better normal, we want to continuously give our clients the easiest and convenient remittance services where they can experience a hassle-free sending and receiving of money anywhere in the Philippines," Dequito said.
Konek2CARD agents
Dequito also mentioned that their clients can now pay their loans through konek2CARD agents in their barangays. This is another way for the institution to bring an easier way of paying their loan dues wherein clients do not need to travel to CARD offices. "CARD is exerting more effort to adapt to the new normal and bring safer transactions to our clients. This initiative will surely help our clients especially this time when many of us are still carefully complying to health and safety protocols," said Dequito.
She also explained that expanding CARD's payment channels is beneficial to its million clients in the Philippines. "We encourage our clients to opt for our alternative ways to lessen physical contact and immobilize the spread of the virus and ensure their safety."
Army foils NPA's plan to disrupt gov't livelihood opportunities in Can-avid, E. Samar
By DPAO, 8ID PA
October 20, 2020
CAMP LUKBAN, Catbalogan City, Samar – The government troops repelled Communist NPA Terrorists (CNTs) who were planning to disrupt the implementation of government's livelihood trainings in two remote villages of Can-avid, Eastern Samar in a gunfight about 10A.M., October 20, 2020 in Barangay Salvacion, Can-avid, Eastern Samar.
According to Lieutenant Colonel Joven D Bugarin, Commanding Officer of 52nd Infantry Battalion, soldiers were sent in order to conduct security operations for the upcoming Agrikultura at Kabuhayan tungo sa Kaunlaran at Kapayapaan (AKKAP) Project launching on Thursday, October 22, 2020 in barangays of Boco and Balagon of Can-avid.
However, during the conduct of security operations the troops clashed with more or less 25 CNTs in Barangay Salvacion, Can-avid, Eastern Samar who scampered to different directions after the 15-minute firefight.
Three soldiers were wounded while an undetermined casualty was reported on the CNT's side.
"Traces of bloodstains in the area they abandoned suggest that many in the NPA were wounded," said LtCol. Bugarin.
Utilizing K9 teams, recovered were two anti-personnel mines (APM), blasting caps, and electrical wires that will be used by the NPA to sow terror.
To recall, on December 13, 2019, three innocent civilians were killed while 14 were wounded including two minors and an infant caused by NPA's roadside bombing in Barangay Libuton, Borongan City, Eastern Samar. While on April 2019, a nine-year-old boy died in another NPA bombing in Barangay San Miguel, Las Navas, Northern Samar. And recently, four civilians including two teachers were also wounded in an ambush in Barangay Tagbayaon, Jiabong, Samar.
"This only shows how cruel and heartless the NPA's are. They ignore the safety of the civilians and put their lives at risk for their own gain," LtCol. Bugarin added.
The livelihood training under AKKAP is part of the Provincial Task Force to End Local Communist Armed Conflict (PTF-ELCAC) program in order to address the insurgency problem in the remote Barangays in the town of Can-avid. At the same time, offer livelihood opportunities to the residents who have been suffering from poverty.
The Commander of 801st Infantry Brigade, Brigadier General Camilo Z Ligayo said the collaboration among the military, Local Government Units and different Government agencies were already in place but the CNTs hinder the implementation of the government programs and projects.
"Ang mga teroristang NPA ay salot at perwisyo. Sinasabotahe at pinipigilan nila ang pagpasok ng mga pangunahing serbisyo ng pamahalaan sa mga Geographically Isolated and Disadvantage Areas (GIDAs). Pinagkakait ng mga NPA na makaranas ng pag-unlad ang mga kababayan natin sa mga pinakaliblib na mga kumunidad. Mga Teroristang NPA ang tunay na pagpapahirap at nagpapanatiling mahirap dito sa buong Samar," BGen. Ligayo said.
Unrest in pineapple and banana workers
Japanese execs urged to stop unlawful layoffs at Dole Philippines, pineapple workers calls for reinstatement
By Associated Labor Unions
October 16, 2020
QUEZON CITY – Hundreds of unlawfully laid off pineapple and banana workers are calling for their reinstatement and thousands more are appealing to Japanese top executives to stop the illegal retrenchments of Dole Philippines Inc. employees in Polomolok, South Cotabato.
The Dole Philippines was acquired by Japanese firm Itochu Corporation from Dole Food Inc. in 2013.
The plant-level unrest was started by an on the spot termination on September 15 of 478 regular employees without just and authorized cause and amid the continuing hiring of more contractual workers from manpower cooperatives.
This ruthless retrenchment by Dole in a monocrop economy such as in Polomolok is both untimely and unconscionable. Management fully knows that there are no new jobs waiting for retrenched workers once they are terminated. The upstream and downstream economies of towns and cities built around plantation operations are very vulnerable to corporate attempts to bring down wages and to artificially bring down labor rights.
The effect of pandemic is negligible and cannot be used by Dole Philippines Inc. to justify the lay-offs given the resilience of its strong export markets. It has deep corporate pockets and the current troubles attributable to the pandemic are a mere blip. The termination is doubly painful to severed workers to lose their livelihood as the country's economy sink deeper into recession caused by the pandemic lockdowns.
In seeking redress, sacked employees sought the help of the labor federation Associated Labor Unions-Trade Union Congress of the Philippines (ALU-TUCP) and asked it to represent them in the government mediation and conciliation mechanism in the hope that they be reinstated back to work, said Sofriano Mataro, ALU Regional Vice President for Southern Mindanao Region.
Other disenfranchised employees fear they might suffer the fate of retrenched co-employees have asked the help of the labor federation to convey their appeal to Itochu Corporation top executives to stop any further unlawful lay off of regular workers in Polomolok.
Workers strongly believes the Dole Philippines middle executives are disempowering the right of more than 6,000 regular employees to organize a union and collectively bargain for better wages and benefits by the end of the year and undermine the legal procedure by replacing them with non-regular contractual workers without the knowledge and the consent of the top management.
Dole Philippines' management continues to replace regular workers it has retrenched and will be retrenching with contractuals, clearly establishing that they are just bidding down wages, eroding constitutionally protected workers rights, and maximizing profits in service of corporate greed. Targetting 32 core union leaders for retrenchment reveals that they are really engaged in union-busting.
"The relative Dole Philippines' labor-management shared industrial peace was broken by these unlawful termination and disrespect to the workers right to legally organize a union and negotiate for better wages and benefits. While employees still have hope with top management officials, we urge the Dole top executives to respond and intervene by ordering a stop to the unlawful termination, reinstate illegally laid off employees and ensure the workers' right to form a union and collectively bargain before the situation become worse, " Mataro said.
Dole Philippines profited immensely from our workers here. It is also time for them to restrain greed in the name of plain decency, he added.
With almost 20,000 plantation and cannery workers during peak operations, Dole Philippines Inc. is the biggest producer and marketer of renowned pineapple and banana fresh fruits, juices and by-products to the U.S, Middle East, Japan, China, Korea, Australia and New Zealand through its 16,000 hectares of pineapple and banana plantations and canneries located in South Cotabato.
It is a giant multinational which is not losing money since the agricultural export market remains vibrant. Over the last 15 years Dole Philippines' corporate earnings have been highly profitable, in no short measure, due to the labor productivity of its workers.


Engr. Rommel C. Lesigues facilitating the conduct of Oily Water Separator course through blended learning.
NMP adopts blended learning
By National Maritime Polytechnic
October 13, 2020
TACLOBAN CITY – In support to the government policies and priorities as articulated in the We Recover as One Report under the banner program "enabling a digital government and economy" toward mitigating the impact of COVID-19 pandemic and transitioning to a "new and better normal", the National Maritime Polytechnic (NMP) through its Curriculum Development Section (CDS), conducted a pilot class on Oily Water Separator (OWS) Course on 10 October 2020 (Saturday) adopting blended learning as teaching methodology.
The alarming effects of the COVID-19 pandemic have dramatically changed the existing education and training landscape to technology-based learning to minimize face-to-face contact and control the spread of the virus. The NMP's OWS Course in blended learning conforms with the reprioritization of government programs on adult learning in protecting the marine environment and in improving its accessibility to Filipino seafarers.
The pilot class was conducted to determine areas for improvement / refinement prior to its offering to ensure that loopholes, deficiencies, misalignments are identified and corrected. It was facilitated by Engr. Rommel C. Lesigues and attended by twelve (12) NMP trainees who during the said day, were billeted at the NMP dormitories.
The theoretical aspect of the course was delivered though an online or e-learning platform using Google Classroom and Google Meet applications and the practicum exercise and assessment were conducted through the traditional face-to-face method.
OWS is an advocacy program of NMP, developed with the aim of providing seafarers with a deeper understanding of Resolution MEPC.107(49) "Revised Guidelines and Specifications for Pollution Prevention Equipment for Machinery Space Bilges of Ships" to increase the effectiveness of shipboard oily waste management.
The offering of OWS will ensure compliance to paragraph1.1.5 of the said resolution, viz, Ship staff training should include familiarization in the operation and maintenance of the equipment and heighten seafarers' awareness in the effects of ships' daily operations to the environment and contribute for the attainment of the International Maritime Organization's (IMO) overarching objective to achieve safe, secure, and efficient shipping on cleaner oceans.
Moreover, another pilot class is scheduled to be undertaken come 17 October 2020 (Saturday) for the offering of the Updating Basic Training (BTU).
Also, the online Consolidated MARPOL 73/78 course and the blended Training Course for Instructors (IMO Model Course 6.09) and Assessment, Examination and Certification of Seafarers (IMO Model Course 3.12) are in the pipeline for their immediate offering.
Further, the development of the Vessel Crane Operator Course and the Freefall Enclosed Lifeboat Course in blended learning are for completion within the year.
Meanwhile, NMP continues to conduct face-to-face trainings with strict implementation of the Maritime Industry Authority's (MARINA) approved Post-Enhanced Community Quarantine Operational Plan and other health and safety protocols as required by the Department of Health (DOH), Department of Labor and Employment (DOLE), and local government unit (LGU).
Likewise, seafarers who are interested to avail of the NMP's FREE online classes on SHAPIMS, PADAMS, and GSTS may register through this link: https://nmp.gov.ph/online-course-offerings/.
Stakeholders who wish to validate the authenticity of their seafarers-employed with NMP issued certificates may visit www.verify.nmp.gov.ph. Also, those interested in NMP research undertakings may visit the NMP website and access the e-Research Information System Portal which is designed to disseminate NMP completed researches, present the Research Agenda, and engage the industry stakeholders to collaborate in the research activities.
Further, NMP encourages OWWA registered seafarers to avail of the NMP-OWWA (Overseas Workers Welfare Administration) Seafarers' Upgrading Program (SUP) and Skills for Employment Scholarship Program (SESP) which entitles the beneficiary to receive financial assistance for training costs from the OWWA.