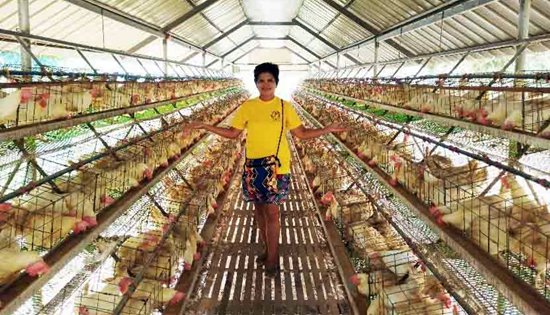 Lilibeth Arce opened her egg-layer machine for 1,000 chickens amid a pandemic but her hopes were high all for the advocacy of food sustainability in Surigao City.
An egg-citing story of an ex-OFW: If chicken do it, so can you
By DTI-Regional Operations Group
November 16, 2020
SURIGAO CITY – Meet Lilibeth Arce, an all-around entrepreneur who used to be an Overseas Filipina Worker (OFW) but is now embarking into entrepreneurship with many ventures.
From being the chairperson of Trinidad Agrarian Reform Beneficiaries Cooperative (TARBECO), a food processing cooperative located at Brgy. Trinidad, to managing her own carenderia and the local bagsakan outlet for farmer's yields Casa de Verdura, she is also the president of Marajaw Karajaw Local Producers and Exhibitors Association, the cooperator of OTOP Hub Surigao City, a pasalubong center located at the Luneta Park, this city.
Just recently, she added another feather to her cap when she put up the Memorada Farm, a 1.7 hectare of agri-tourism haven. It is a vegetation site for ginger, eggplant, okra (lady finger), string beans, chili and bell peppers, among others amid flowering and beautiful shrubs lined by several mango trees. It also has pigpens and chicken coup for fighting and free-range native chickens.
But what draws us into her world even more and prompted a visit from the Department of Trade and Industry (DTI) Surigao del Norte OIC Provincial Director Elmer M. Natad was her recently opened egg-layer machine for 1,000 chickens. Nestled almost at the edge of her land bordered by the Surigao River was a structure built to supply the egg requirement not only within Trinidad but also Surigao City and nearby municipalities such as Placer.
Although it opened last March 2020 when COVID-19 pandemic had just started to be felt in the country, she was not daunted by its effect but instead gave her an additional drive to do right by it. She became hands on in the operations (procuring feeds and tending to the chickens) and meticulously keeps track on how the egg business works. She first started by selling eggs around the neighborhood and tap agencies such as DTI to help her market her eggs. Not long after, she started harvesting an average of 900 eggs daily. Pretty soon, egg dealers started stopping by at her farm to buy all her eggs.
Conversing with her about her return on investment, capacity to repay capital loan, business contingency plan and the next bout of increased harvest by putting up another egg-laying machine, it was very clear there is no stopping her just yet.
"I want to share what I have learned because I want to help not only in providing jobs for people of Trinidad but also because I am an advocate of food security for Surigao," Arce said encouraging other existing or would-be entrepreneurs by sharing her story and the thriving agri-business of Memorada Farm.
Four multi-purpose buildings constructed for different barangays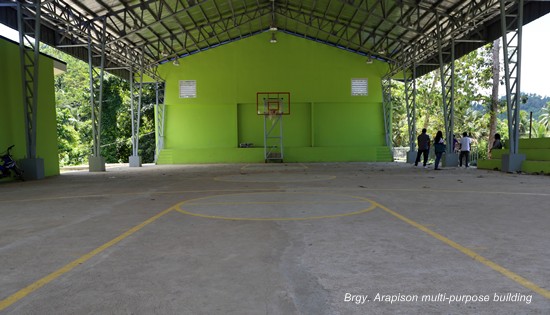 By GISSELLE G. PARUNGAO
November 15, 2020
CALBAYOG CITY – Four (4) multi-purpose buildings (MPBs) were built in Calbayog City, Sta. Margarita and Gandara with a total allocation of P33 million, said Samar First District Engineering Office.
One of these MPBs was from Barangay Dumaloong in Gandara which will serve as a day-care center that will be used by children in the barangay and allotted with P3 million. Two (2) other MPBs were also built in Calbayog City. One was built in Barangay Danao 1 that was made as a covered court while the MPB in Barangay Guin-on was designed as a basketball court. They were both allotted P5 million each.
The three (3) MPBs were drawn from the General Appropriations Act (GAA) of 2020.
Another completed MPB in Barangay Arapison is allotted with P20 million from the General Appropriations Act (GAA) of 2019. This comes with three (3) comfort rooms including those for persons with disability (PWDs).
DPWH is doing its part in developing the communities as a whole, by providing MPBs that can serve as venues for livelihood seminars, medical and dental missions, feeding programs, recreational events, sports competitions, and other activities. The buildings are also designed to provide temporary shelter for local residents in the event of flooding during typhoons and other calamities.
Two road projects completed by Samar 1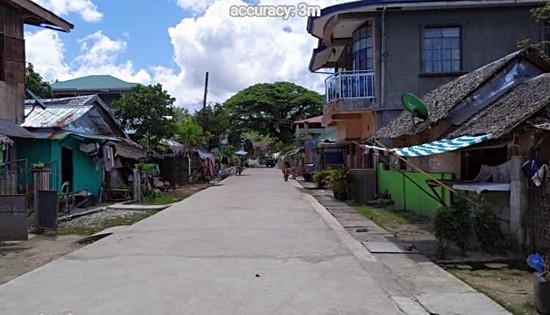 By VENUS VILLANUEVA
November 14, 2020
CALBAYOG CITY – The Department of Public Works and Highways Samar First District Engineering Office has completed the construction and rehabilitation of two barangay roads in the first district of Samar.
One of the completed projects is the rehabilitation of población roads in Pagsanghan, Samar. The P19.4-million project is a five-meter wide concrete road covering a span of 1.112 kilometers.
To further support the improvement of the said roads, the project covers 327 meters of open line canal for drainage. This is an essential structure to avoid flooding in the town proper where most of the residential areas in the barangay are located. Slope protection structure of 96 meters in length, are also installed to prevent erosion since some parts of the población roads are located alongside of Gandara River which passes through the west part of the barangay.
On the other hand, a concrete road in Brgy. Cabungaan, Tarangnan, Samar is constructed with 0.758 lane-kilometers length (2.5 meters wide) of concrete roads, amounting to P4.5-million.
This project supplements the existing provincial roads connecting Brgy. Cabungaan to the town proper of the Municipality of Tarangnan, Samar, providing for a more convenient transport of goods and people in the barangay.
Both projects, which are funded through the district's Local Infrastructure Program aims to help improve the quality of transportation by providing a safe, efficient, and reliable infrastructure thus contributing to the economic growth of the community.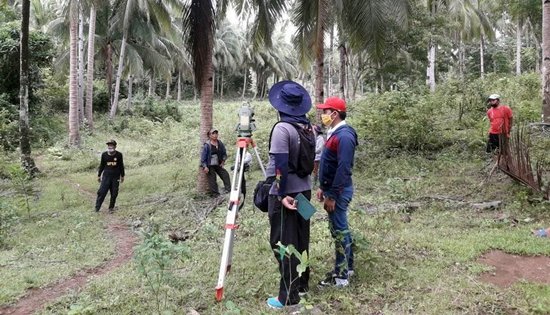 The survey team of the Department of Agrarian Reform (DAR) Samar Provincial Office conducts subdivision survey on an 8.4-hectare landholding covered by a collective Certificate of Land Ownership Award (CLOA) in Motiong, Samar. (Photo by Reynaldo Labine)
DAR subdivides lot in Samar town despite rise of COVID-19 cases
By JOSE ALSMITH L. SORIA
November 13, 2020
MOTIONG, Samar – Despite the continuous rise of coronavirus disease 2019 (COVID-19) cases in the province of Samar, the survey teams of the Department of Agrarian Reform (DAR) remain unstoppable in performing their tasks.
Last week, Engr. Enan Chua and Ferwell Aquino of the DAR Samar Provincial Office survey team proceeded to this town to subdivide an 8.4-hectare landholding covered by a collective Certificate of Land Ownership Award (CLOA) for the eventual issuance of individual titles.
According to OIC-Municipal Agrarian Reform Program Officer (MARPO) Constancio Mabag, the said collective CLOA was issued in 1996 to four agrarian reform beneficiaries (ARBs) under the government's Comprehensive Agrarian Reform Program (CARP).
Mabag disclosed that the area is situated in the upland barangay of Candumacol, some nine kilometers away from the town proper.
Meanwhile, the province of Samar, as of press time, posts the highest number of coronavirus disease 2019 (COVID-19) cases in Eastern Visayas with 2,383.
However, based on the Department of Health (DOH) data, 2,240 of them have already recovered, leaving a total of 143 active cases and 21 deaths. (with reports from Reynaldo Labine)
Eastern Visayas inflation rate declines to 1.8% in September
By PSA-8
November 6, 2020
TACLOBAN CITY – Inflation Rate (IR) in Eastern Visayas declined to 1.8 percent in September 2020. This figure is 0.5 percentage point lower than the 2.3 percent IR recorded in August 2020. The September 2020 IR of the region, however, is higher by 1.9 percentage points compared with the 0.1 percent deflation in the same period last year.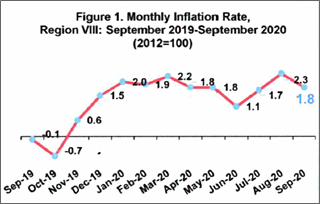 The regional IR is 0.5 percentage point lower than the 2.3 percent national average in September 2020.
Among provinces, Samar posted the highest IR in September 2020 at 5.3 percent. This figure is 1.0 percentage point higher compared with its 4.3 percent IR in August 2020. Southern Leyte and Eastern Samar also recorded increases by 0.1 percentage point, resulting to an IR of 3.1 percent and 1.6 percent, respectively.
Leyte retained its previous month's IR of 1.3 percent.
Alcoholic beverages and tobacco commodity group continued to post the highest IR at 7.6 percent in September 2020, followed by restaurant, miscellaneous goods and services at 4.7 percent.
Of the 11 commodity groups in the region, four (4) commodity groups exhibited lower IRs in September 2020 compared with their figures in 2020. The commodity group for housing, water, electricity, gas and other fuels declined by 2.2 percentage points from 1.5 percent IR in August 2020 to 0.7 percent deflation in September 2020. This can be traced to the continued decline in the index for electricity, gas and other fuels from 0.7 deflation in August 2020 to 6.8 percent deflation in September 2020.
The IR for furnishing, household equipment and routine maintenance declined by 0.5 percentage point from 3.2 percent in August 2020 to 2.7 percent in September 2020.
Compared with their figures in August 2020, the IRs for both clothing and footwear commodity group and health commodity group decreased by 0.2 percentage point settling down to 3.1 percent and 1.0 percent, respectively, in September 2020.
On the other hand, four (4) other commodity groups exhibited higher IRs in September 2020 compared with their rates in August 2020. Transport commodity group posted the highest increase of 2.2. percentage points, from 0.5 percent in August 2020 to 2.7 percent in September 2020. This can be attributed to the 4.7 percentage points increase in the index for transport services, from 1.4 percent in August 2020 to 6.1 percent in September 2020.
The IR for education commodity group went up to 0.4 percent in September 2020 from zero IR in the previous month. This increase is due to the 1.4 percent increase in the index for pre-primary and primary education.
The IR for restaurant and miscellaneous goods and services commodity group rose to 4.7 percent in September 2020, higher by 0.3 percentage point compared with the 4.4 percent IR a month ago. This can be attributed to the 0.3 percentage point increase for both indices of catering services and personal care.
The index for recreation and culture commodity group inched up by 0.1 percentage point, from 2.0 percent deflation in August 2020 to 1.9 percent deflation in September 2020.
Alcoholic beverages and tobacco, and food and non-alcoholic beverages commodity groups retained their previous month's IRs at 7.6 percent and 2.2 percent respectively. Meanwhile, communication commodity group retained its previous month's deflation at 1.7 percent.
The Purchasing Power of Peso (PPP) of the region remained at P0.79 in September 2020. This PPP implies that the goods and services worth P79.00 in 2012 is worth P100.00 in September 2020.
PPP in Northern Samar strengthened by P0.01 compared with its figure in August 2020. Biliran weakened by P0.01, while the rest of the provinces retained their previous month's PPP.
Biliran recorded the strongest PPP at P0.82. Leyte ranked second at P0.81, followed by Southern Leyte at P0.80, Eastern Samar at P0.77 and Northern Samar at P0.74. Samar posted the weakest PPP at P0.73.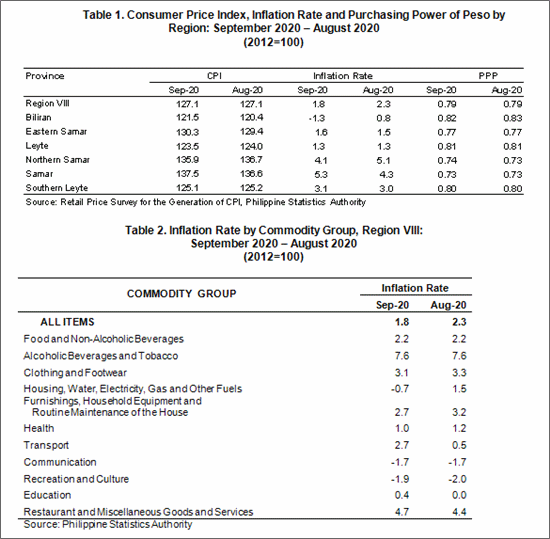 Pre-school show "Tish Tash" all set for worldwide distribution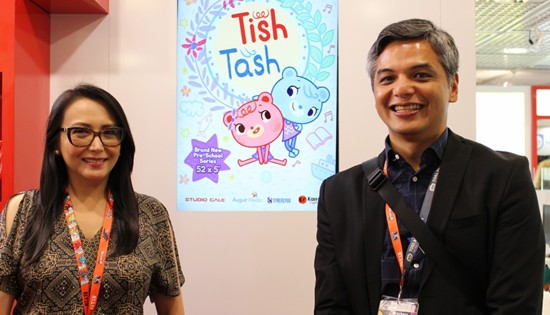 By DTI-Foreign Trade Service Corps
November 3, 2020
MAKATI CITY – Animated pre-school show "Tish Tash" will soon be enjoyed by kids around the world after leading kids entertainment specialist CAKE has inked a distribution deal with its producers – Korea's Studio Gale, Singapore's August Media Holdings, U.K.'s Karrot Entertainment, and Philippines' Synergy Entertainment Media.
"Tish Tash has huge potential – a fresh take on what it's like to have an imaginary friend, something most children have experienced and can relate to," said CAKE CCO & Managing Director Ed Galton.
"We are very excited to be working with strong partners from around the world, whose collaboration has resulted in a truly global approach," he added.
Synergy88 COO and Managing Director Jackeline Chua also expressed her excitement over this landmark deal.
"We're excited to see another show come to life and now distributed globally. It was a great collaboration with Studio Gale and August Media. Tish Tash is just one of the many shows that Synergy88 has co-produced with the best global entertainment companies," she said.
Chua also recounted how Synergy88's participation in the government sponsored outbound business missions in Cannes from 2016-2018 had opened opportunities for global partnerships.
"The company's portfolio of properties now spans across television, mobile and web platforms targeting pre-school kids all the way to millennials. We're truly glad that DTI-Export Marketing Bureau & FTSC (DTI Foreign Trade Service Corps) have been very active and supportive in promoting PH's global presence in the creative industry."
DTI Secretary Ramon Lopez welcomed this development, saying, "We have been pushing for the promotion of the economic potential of our creative industries globally and we are happy to see developments like this. The creative industry is a high value-adding sector, and the country has a natural competitive edge in this area, considering its rich pool of talents."
DT-FTSC Executive Director Anthony Rivera also added, "We will continue to collaborate with the creative industry stakeholders and government partners to help promote and develop opportunities in the creative sector such as in advertising, animation, film, game development and design among others. We hope to feature more of our creative capabilities and gain more access in international markets for Philippine made content."
Aside from "Tish Tash," Synergy88 also paved the way for the country's first Filipino animated series "Barangay 143," which aired on free-to-air television channel GMA 7 in 2018. It made headlines once again last Oct 1 as it premiered on streaming giant Netflix and made it to the top ten most watched titles for the week.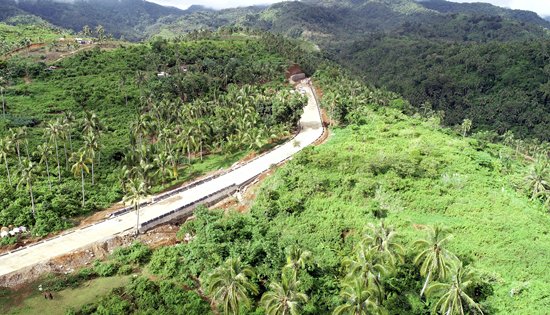 The aerial view of the on-going construction of access road leading to Talustusan Falls in Naval, Biliran. The project involves the concreting of existing gravel road and a rehabilitation of existing damaged paved road with a length of 1.215-kilometer two lane road.
Tourism road leading to Talustusan falls in Biliran now halfway complete
By DPWH Biliran
October 29, 2020
NAVAL, Biliran – The Department of Public Works and Highways- Biliran District Engineering Office's (DPWH-BDEO's) access road project leading to Talustusan Falls in Naval town is now halfway complete.
David P. Adongay Jr., District Engineer said that the project is being fast-tracked for completion on January 03, 2021, the revised expiry date.
"Not only the tourists will benefit from this project but also the farmers along this road project will enjoy a wider, safer, and convenient transport of agricultural products to market centers," said Adongay.
The improvement of access road leading to Talustusan Falls involves the road opening and concreting and rehabilitation of existing damaged paved road at Sitio Magtaran-an, Brgy. Talustusan with a length of 1.215-kilometer two lane road.
This project is implemented under fiscal year 2020 with a contract amount of P31.3M.
DPWH in convergence with the Department of Tourism (DOT) has allotted P105M under multi-year funding to enhance the hidden waterfalls in the province.
The fund will be implemented by phases from year 2020-2022 with a total length of 4.715-Kilometer two-lane road with a width of 6.10-meter and a thickness of 0.23-meter.
The completion of this project by phases will help boost tourism in the province. Walking time will also be reduced from 30-40 minutes to just 3-5 minutes to reach the waterfalls.

Effective 6:00 AM October 27, Caraycaray Bridge Detour along Biliran-Naval Section is open to all types of vehicles. DPWH-Biliran DEO in coordination with LM Baltonado construction complete the restoration works of the scoured approaches (Caraycaray Side) after being damaged by continuous heavy rains brought by Tropical Storm "Quinta".
Bridge detours damaged by TS Quinta in Biliran completes restoration
By DPWH Biliran
October 28, 2020
NAVAL, Biliran – The Department of Public Works and Highways (DPWH)- Biliran District Engineering Office (DEO) has completed the restoration works of the scoured approaches of the Caraycaray and Catmon Bridge detours.
David P. Adongay Jr., District Engineer informed that effective 6:00 AM on October 27, 2020 the Caraycaray and Catmon Bridge detours along Biliran-Naval section are now open to all types of vehicles (lightweight, four (4) wheels and heavy equipment).
Restoration works which involve backfilling were done in coordination with DPWH-BDEO and LM Baltonado Construction.
According to Adongay, DPWH-Biliran DEO is exerting their efforts and closely monitoring and coordinating with the contractor under contract with DPWH Regional Office VIII to restore the said detours for the safe passage of the motorists and the travelling public.
"These detours are deemed important as the construction of both Caraycaray and Catmon Bridges are on-going at present," said Adongay.
"Travelling public especially heavy equipment operators will no longer need to take a longer route to travel to the capital town of Naval and to its neighboring municipalities," the District Engineer added.
The District Engineer also acknowledges the help extended by Businessman Mr. Robert Juve Yao Ang to fast-track the repair of the detours.
The Caraycaray and Catmon detours were damaged due to continuous heavy rains brought by Tropical Storm "Quinta" on October 25, 2020.
China asked to listen to the people to make BRI "people-centered"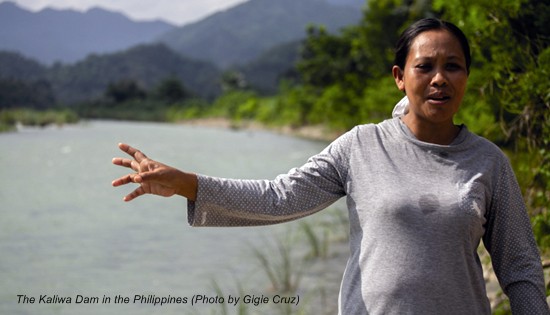 Press Release
October 28, 2020
MANILA – Eight national and Asian regional organizations based in the Philippines, Indonesia, Bangladesh, Pakistan, and Sri Lanka on Wednesday asked China to listen to the voices of the people in communities most directly affected by Belt and Road Initiative (BRI) projects.
In a virtual press conference, leaders of the organizations said appropriate consultations with the local communities transformed by the BRI projects would maximize social benefits, minimize investment risks, and make the BRI truly "people-centered."
A new book chronicling the effects of the BRI projects in the Philippines, Indonesia, Bangladesh, Pakistan and Sri Lanka turns the spotlight on the views of people affected by the BRI projects. The book was launched during the virtual press conference.
"Numerous books, studies, and research papers have been produced by governments, companies, economists, and investors about the BRI. The voices from the most important community, however, have not been heard," Lidy Nacpil, coordinator of the Asian People's Movement on Debt and Development (APMDD), said during the launch of "Belt and Road through My Village."
The "Belt and Road through My Village," co-produced by eight non-governmental organizations, is a collection of interviews with over 100 villagers who live on sites where BRI projects are being undertaken.
China's total investments in countries where BRI projects are ongoing reached USD 117.31 billion, according to the 2019 China Outbound Direct Investment Statistical Report released recently by China's Ministry of Commerce, the National Statistics Bureau, and the State Administration of Foreign Exchange.
As of end-2019, over 27,500 Chinese investors have established 44,000 direct investment enterprises in 188 countries and regions where BRI projects are located.
"The lives of billions of people in these 188 countries are being affected directly and indirectly, positively and negatively, and their lives are changed forever," Nacpil said.
The book project was led by the People of Asia for Climate Solutions (PACS) and APMDD, and supported by Asia Comms Lab, Philippine Movement for Climate Justice (PMCJ), Indonesia's Koalisi Rakyat untuk Hak Atas Air (KruHA: People's Coalition for the Right to Water), Coastal Livelihood and Environmental Action Network (CLEAN) in Bangladesh, the Pakistan Kissan Rabita Committee (PKRC), and the Centre for Environmental Justice (CEJ) in Sri Lanka.
The book covered seven major BRI projects. They are the Kaliwa Dam in the Philippines, the Jakarta-Bandung High-Speed Rail in Indonesia, the Barisal 350 MW Coal Power Plant in Bangladesh, the Bahawalpur Solar Power Park and Sahiwal Coal-Fired Power Plant in Pakistan, the Colombo Port City and the Colombo Highways in Sri Lanka. The total population being affected by these seven projects alone stands at more than 15 million.
Based on the interviews, renewable energy and road construction are among the most welcomed projects, while lack of communication and transparency, especially with communities on the sites of the projects, unfair employment practices, and social and environmental impacts are among the most frequently raised complaints.
The following are snapshots of the stories and quotes in the book:
Philippines: the Kaliwa Dam Project
Water crisis is a serious challenge for the growing population in Metro Manila.
Mike Santos, a barangay official from Barangka Drive, Mandaluyong City, said they had to mobilize fire trucks to distribute water to residents. Santos said even with the emergency water distribution, "residents were easily angered despite our efforts because they were getting impatient over the situation."
The Kaliwa Dam is part of the New Centennial Water Source projects to provide new water sources for Metro Manila and other nearby provinces. The project involves the construction of a 600 million liter-per-day (mld) capacity dam (73m high) and a conveyance tunnel that has a capacity of 2,400 mld (27.70km long, 4m diameter, around 200m deep).
Around 300 indigenous people will be displaced from their ancestral lands when the construction begins. Once completed, the project will inundate a large part of Barangay Daraitan in Rizal and several areas, including Barangay Pagsangahan and Barangay Magsaysay in Quezon Province. Residents of indigenous communities living along the Kaliwa River said they were not fully informed nor consulted about the project. "We remain clueless about the proposed dam," Maria Clara Dullas, 39, a resident of Daraitan, in Rizal province near Metro Manila, said. "The Metropolitan Waterworks and Sewerage Systems has not reached out to residents of Daraitan to explain its possible impacts on the community," she said.
Indonesia: the Jakarta-Bandung High-Speed Rail
Talking about the Jakarta-Bandung High-Speed Railway, 23-year-old student Nissa Nurmauluddiana said: "I think this is positive because there will be many transportation options to Jakarta, especially now, Bandung people who work in Jakarta or Jakarta people who are on business to Bandung always run out of train tickets."
The project was envisioned to be completed in 2019, but was delayed due to problems related to land acquisition and compensation to villagers and local workers. The total investment is estimated to be USD $5.5 billion. About 124,000 villagers have been affected by the construction of the railway.
According to KRuHA, which works closely with the local communities, some people protesting the land acquisition have been beaten and arrested. They are gravely concerned about reports of incidents of human rights abuses.
Silvi Febrianti, a college student from Gempolsari village in Bandung said: "until now, I have not heard any news from the government about our land compensation money. It's not clear enough when we will get it, and how much we will receive. I want to move as soon as possible."
Bangladesh: the Barisal 350 MW Coal Power Plant
Maliha Hossain, 38, a business woman, talked about the importance of electricity to her online business and to Dhaka. "In Dhaka city, there is an unlimited number of food courts and recreational activities, if electricity stops working, everything stops. This is a matter of great satisfaction. But for the last three years or more, we have been getting an uninterrupted electricity supply."
However, she also voiced her worries about possible air pollution from the coal-fired power plant project.
The Barisal coal-fired power plant project is expected to begin operations in 2022. The entire project will require 300 acres of land and the government is expected to buy power from this plant for a period of 25 years, according to the agreement. The project site is surrounded by land reserved for wildlife and fish sanctuaries. Villagers said they were forced to evacuate the land to give way for the project.
Abdul Malek Mosulli, 96, from Taltoli, is one of the hundreds of villagers who lost his house. "Local villagers protested, but police brought charges against innocent young men," he said.
Now the village is visibly divided into two parts: the high land acquired for the power plant and low land where the villagers relocated. With the recent floods, the relocation site has been underwater for months. There is no drinking water and no fish to catch. The residents are jobless. A number of people have become laborers at the plant site.
Pakistan: Bahawalpur Solar Power Park and Sahiwal Coal-Fired Power Plant
"Our lands have gone from zero to hero since the Quad-i-Azam Solar Power Park project was initiated in the area," Muhammad Iqbal, 62, a counselor in Chak 6-BC, one of the villages close to the solar power park in Bahawalpur, said.
The Quaid-i-Azam Solar is a 100 MW solar plant spanning 200 hectares of desert land, and Sahiwal Coal-Fired Power Plant, encompassing 690 hectares of fertile land, has an installed capacity of 1320 megawatts.
In a different village, Noman Bhatti, 40, was not happy with the Sahiwal Coal-fired Power Plant. "I'm still at a loss to understand why the most fertile land in the Punjab province has been selected to commission such an anti-agriculture project," Bhatti said. "We, the affected community, had approached the court of law to resist installation of the plant here. Some officials managed to blackmail most of the plaintiffs in the name of National Interest."
Sri Lanka: The Colombo Port City and Colombo Highways
In 2019, China and Sri Lanka signed an agreement to further fund and build the Central Expressway Project (CEP).
Tharushika Wickramasinghe, 25, talked about how she had changed her mind about highways near her house after experiencing the new conveniences: "I would like to see more highways coming up in the country and want the Chinese to help the Sri Lankan government to build more expressways."
The Colombo Port City was proposed in early 2012 by the China Harbour Engineering Corporation as the site for constructing the Colombo International Financial City. The project is expected to be completed by 2041 and will be on a 99-year lease.
Aruna Roshantha Fernando, a 49-year old fisherman, raised questions about it: "I don't think Sri Lanka needs such a big city port in Colombo. Only the rich people will benefit from this project. What happens to poor people like us who earn a living by the resources of the sea?"
"People-to-people connectivity is supposed to be the ultimate vision for BRI, alongside policy connectivity, infrastructure connectivity, trade connectivity, and financial connectivity," Xiaojun Wang, executive director of PACS, said.
All the testimonials are presented in the book in the native languages of the villagers, and have been translated into English and Chinese for international and Chinese audiences.
At the 75th Session of the United Nations General Assembly in September 2020, President Xi Jinping called on all major countries to act with leadership. "They should provide more global public goods, take up their due responsibilities and live up to people's expectations." This was a continuation of his call for China and host countries "to act on the principles of high standard, people-centered and sustainable development" at the 2nd Belt and Road Forum in Beijing in April 2019.
"In order to achieve true 'people-centered' vision for the BRI, China must work with host country governments and be more proactive in reaching out to the communities to be affected," Wang concluded. "Only when these voices are heard, will social, environmental, political and financial risks be minimized, and will real benefits and welfare improvements be shared by all involved."