Paying it forward: NMP mobilizes donation drive for MPCF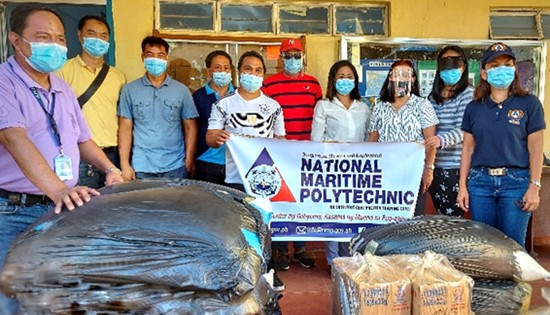 By National Maritime Polytechnic
November 25, 2020
TACLOBAN CITY – Humbled by the Super-typhoon Yolanda experience in November 2013, the National Maritime Polytechnic (NMP) rolled out a donation drive for the victims of Super-typhoon Rolly in Bicol region, particularly to the employees, staff, and students of the Mariners Polytechnic Colleges Foundation (MPCF) - Legaspi and Naga Campuses. A special committee for the said undertaking was created, chaired by the NMP Deputy Executive Director, Ms. Mayla N. Macadawan.
"It is our time now to give back to the MPCF who wholeheartedly helped NMP recover and rebuild after the onslaught of Super-typhoon Yolanda. In the spirit of unity, we need to help them, no matter how small, to reciprocate the kindness they extended to NMP during the difficult and challenging days of Yolanda, besides, no act of kindness is too small", said NMP Executive Director Joel B. Maglunsod.
It can be recalled that on 26 November 2013, roughly eighteen (18) days after Yolanda, Commodore Dante L Jimenez, the then President and CEO of the MPCF, visited NMP and upon seeing the damages wrought by the typhoon, volunteered in mobilizing assistance from the private maritime sector including the Philippine Association of Maritime Training Center, Inc. (PAMTCI) and other maritime associations.
The MPCF deployed four (4) batches of its National Service Training Program (NSTP) cadets to NMP from December 2013 to March 2014 for the much-needed clearing and cleaning operations. Relief goods consisting of food packs and used clothing were also distributed to NMP employees, job order workers, and security guards.
NMP knows how it feels after being devastated by a super-typhoon, life was grey and dreary. However, everything had to be recovered including the broken spirits of the people affected, thus, the donation drive was pushed to convey the NMP's heartfelt appreciation to the overwhelming support of the MPCF who laboriously helped the Agency to rise above the shackles of uncertainties brought by Yolanda.
Through the concerted efforts of the NMP management and staff, the Agency's sole and exclusive negotiating agent, the NMP Services Association (NMPSA), and the Philippine Coast Guard - Coast Guard District Eastern Visayas (CGDEV), the relief assistance was successfully turned -over to the MPCF on 21 November 2020.
"We are very much glad and thankful for the assistance of NMP and for its effort of personally coming to our place to hand-over the heartwarming donations for the victims of Typhoon Rolly", relayed by Ms. Ahmie Lanuzo, Community Extension Service Director of MPCF.
NMP will forever be grateful to everyone who in one way or another helped the Agency to rise again after the devastation of Yolanda, repositioning NMP for a higher rebound in maritime training and research.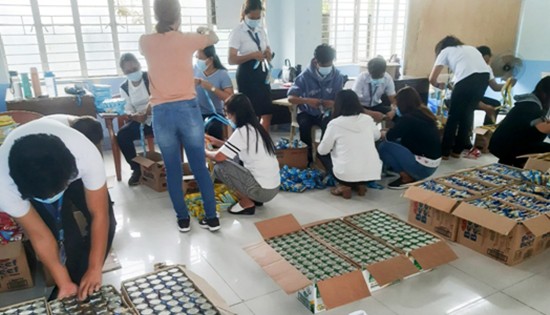 Eastern Visayas' economy slows down to 5.3% in 2019
By PSA-8
November 24, 2020
TACLOBAN CITY – The economy of Eastern Visayas grew by 5.3 percent in 2019, albeit, slower than the 7.0 percent growth recorded in 2018. The economic growth in 2019 was driven by the Financial and Insurance Activities (FIA), Education, Manufacturing, Wholesale and Retail Trade; Repair of Motor Vehicles and Motorcycles, and Electricity, Steam, Water Supply and Waste Management (ESWW).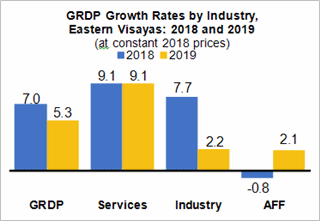 Services sustained its 9.1 percent growth in 2019. Among its sub-industries, Financial and Insurance Activities (FIA), as well as Information and Communication (IAC) posted accelerated growths at 19.3 percent from 12.1 percent, and 11.0 percent from 7.2 percent, respectively. Public Administration and Defense; Compulsory Social Security (PAD) sustained its 14.1 percent growth in 2019.
Other sub-industries grew at a slower pace: Wholesale and Retail Trade; Repair of Motor Vehicles and motorcycles slowed down to 6.0 percent from 7.6 percent; Transportation and Storage decelerated to 5.3 percent from 12.7 percent; Accommodation and Food Service Activities (AFSA) decelerated to 1.8 percent from 19.9 percent; Real Estate and Ownership of Dwellings (REOD) slowed down to 3.0 percent from 6.1 percent.
Professional and Business Services (PBS) decelerated to 4.0 percent from 4.9 percent; Education decelerated to 13.5 percent from 14.2 percent. Meanwhile, Other Services (OS) rebounded from 4.0 percent contraction in 2018 to 16.2 percent growth in 2019. Human Health and Social Work Activities (HHSWA) continued to decline at a slower rate to 0.7 percent in 2019 from 7.3 percent contraction in 2018.
Industry decelerated to 2.2 percent in 2019 from 7.7 percent in 2018. Electricity, Steam, Water Supply and Waste Management slowed down to 7.1 percent from 7.4 percent. Manufacturing recovered from 6.6 percent contraction in 2018 to 6.0 percent growth in 2019. Meanwhile, Mining and Quarrying (MAQ), and Construction contracted to 6.0 percent and 1.8 percent in 2019, respectively.
Meanwhile, Agriculture, Forestry and Fishing (AFF) recovered from 0.8 percent contraction in 2018 to 2.1 percent growth in 2019.
Services and Industry shared the bulk of the region's economy at 46.8 percent and 39.7 percent, respectively. AFF had a share of 13.5 percent.
Among the three (3) major industries, Services contributed most to the region's overall growth rate at 4.1 percentage points. Industry shared 0.9 percentage point, followed by Agriculture, Forestry and Fishing at 0.3 percentage point.
Puentespina Farms opens doors to DavOr's cacao farmers, coops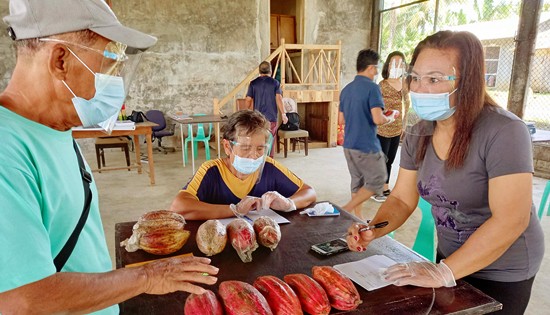 By DTI-Regional Operations Group
November 24, 2020
DAVAO CITY – The Department of Trade and Industry (DTI) Rural Agro-enterprise Partnership for Inclusive Development and Growth (RAPID Growth) Project, in partnership with the Puentespina Farms, conducted a five-day intensive training on cacao processing, bean trading, and cacao economics among the seven cacao farmer organizations from Davao Oriental on November 16 to20.
The Puentespina Farms, through its Malagos Cacao Development Center (MCDC), which is the birth place of the award-winning Malagos Chocolate, shared its processing technology, standards and protocols that brought them to the world stage. The participants, composed of twelve farmers, underwent several activities to hone their skills further. These included those on understanding the Philippine cacao genetics and opportunities, productivity enhancement, fermentation and drying process, bean grading and cacao economics, such as product costing. Furthermore, the cacao farmers and coop leaders had an actual field demonstration on all the topics to ensure that they acquired the necessary knowledge and skills related to technology and the science behind cacao production and processing.
In the meantime, the participants also received an orientation on Good Agricultural Practices (GAP) and process requirements from the Department of Agriculture (DA) Regulatory Division, as part of the project's package of assistance. Likewise, the Philippine Crop Insurance Corporation (PCIC) gave an orientation of its services, as well as, encouraged these farmers and micro, small and medium enterprises (MSMEs) to avail of the government's subsidized insurance intervention.
The seven farmer organizations that participated in the latest activities were the Nagkahiusang Mag-uuma sa San Isidro (NAGMASID ARCO), Davao Oriental Coco & Cacao Development Coalition (DOCCIDeC), Limot Tribal Mandaya Coop (LIMTRIMCO), Gov. Generoso Cacao Farmers (GGCFA), Panikian Cacao Sustainable Farmers (PACSFA), NAKMACCO and Yagakauyon ng Kooperatiba ng San Ignacio (YAKOSI). They would cascade these learnings to their respective members. These groups are beneficiaries of DA's Philippine Rural Development Program's (PRDP) cacao post-harvest facilities. As such, the DTI-RAPID Growth Project complements the other government agencies' interventions and harmonizes the support to ensure that the proposed business model will be carried out and sustained.
The MCDC shared the same vision with the DTI - RAPID Growth Project, which is to build and sustain a solid supply of raw materials. Thus, it commits to help in the production of high quality cacao beans, while strengthening the foundation of cacao farming. Along this line, the company will enter into a marketing agreement with the farmer organizations. Part of the said partnership are the continuous technical interventions of MCDC, particularly the Puentespina Farms. Being the anchor firm, it would help establish the business enterprise systems and protocols of the backward links. This partnership with MCDC is expected to benefit around 300 to 350 cacao farmers, by having an institutional market for high quality beans.
Puentespina Farms owner Charita Puentespina encouraged the farmer leaders to share the knowledge they acquired to their members and to really nurture their most vital capital - the cacao variety in the Philippines.
"If there's proper technology transfer, the farmers could get a premium price for their produce, since they are targeting to provide and offer fine cacao both to the local and international markets," Puentespina said.
To achieve the collaboration's objective, all parties agreed to continuously work together to finalize their commercial partnership agreement. This would include the operation systems and protocols and the roles and responsibilities of each of them to strengthen and sustain the partnership.
The DTI- RAPID Growth Project is a special initiative, which DTI implements, and with a funding support from the International Fund for Agriculture Development (IFAD). It focuses on four industries - cacao, coffee, coconut and processed fruits and nuts.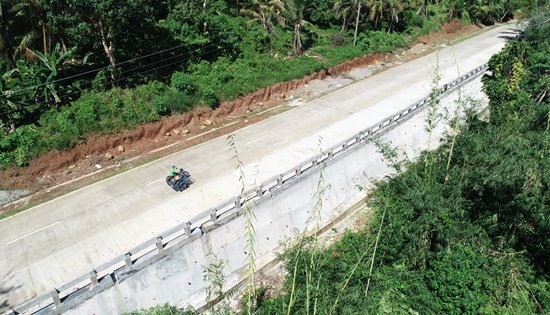 Completed construction of road slope protection in Brgy. Tomalistis, Caibiran, Biliran.
DPWH-Biliran DEO completes P35.7M road slope protection in Caibiran, Biliran
Press Release
November 23, 2020
NAVAL, Biliran – Motorists are now enjoying a wider and safer travel along Tomalistis Road in the town of Caibiran as the Department of Public Works and Highways (DPWH)- Biliran District Engineering Office completes the P35.7M road slope protection project.
According to David P. Adongay Jr., District Engineer, the construction of road slope protection was implemented in three road sections at Tomalistis road along Biliran Circumferential Road (BCR) where road slips and landslides are most likely to occur.
The said project entails the construction of 2,002.87 square meters of road slope protection (gravity wall) (left side) including re-blocking and paving of shoulder.
The District Engineer said that the completion of the said project will prevent further road slips and landslides along this road section at BCR, thereby protecting the existing national road from future damage.
"Road closures because of road slips and landslides causes inconvenience to the travelling public, the completion of this road slope protection will ensure that motorists can always have an alternative route along BCR when other road sections will be closed to traffic," Adongay said.
Moreover, the road slope protection project will preserve the existing concrete road subjected to wear and tear of heavy equipment and vehicles. This will earn the government savings in rehabilitating damaged pavement in the future caused by slips and soil collapse.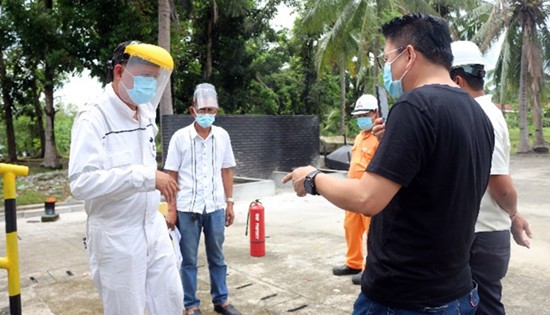 MARINA Representative, Engr. Jose Romualdo Denzon, conducting on-site inspection for AFF and RAFF training courses on October 21, 2020.
NMP courses pass MARINA accreditation
By National Maritime Polytechnic
November 20, 2020
TACLOBAN CITY – The National Maritime Polytechnic's (NMP) application for reaccreditation of its two (2) Standards of Training, Certification, and Watchkeeping for Seafarers (STCW) courses, namely: Advanced Fire Fighting (AFF) and Refresher Course on Advanced Fire Fighting (RAFF) have been approved by the Maritime Industry Authority (MARINA).
In the official letter issued by MARINA dated 30 October 2020, which was received by NMP on 05 November 2020, the aforementioned STCW courses were granted full course approval valid for three (3) years effective upon payment of course approval fees. However, the 3-year validity period of RAFF will commence from the grant of its Provisional Authority to conduct the said training on 01 July 2019.
Alongside with the approval of the said courses, MARINA also accredited the NMP's instructors, assessors and supervisors who will be handling the above-mentioned courses.
During the 3-year period, announced and unannounced visits will be made by MARINA STCW Office or its duly authorized representatives to ascertain NMP's compliance with the MARINA's rules and regulations.
Moreover, the records of implementation of corrective actions for audit results both internal and external, records of review and validation of the courses including the assessment and statistical record of trainees enrolled / certificated must be made available during the conduct of monitoring.
NMP Executive Director Joel B. Maglunsod expressed his appreciation to MARINA for granting the full course approval of the Agency's ten (10) STCW courses within the year.
"We are thankful for the support and guidance that the MARINA has continuously extended to NMP throughout our journey in putting our STCW courses in place which paved way to the accreditation of our ten (10) STCW courses which took us over two (2) years of working out", said ED Maglunsod.
It can be recalled that NMP applied for reaccreditation of its ten (10) STCW courses in January 2018. The full course approval of each course was issued in a staggered basis pending the compliance with the requirements set forth under MARINA STCW Advisory No. 2019-05 re: Clarifications and Supplemental Guidelines on the Implementation of STCW Circular No. 2018-02 entitled "Standards for Mandatory Training Courses Under the STCW Convention, 1978, as Amended" and the results of the site inspections conducted last 24-28 February and 21 October this year.
The aforementioned courses are now open for enrollment. Interested enrollees may call the NMP Registrar's Office at the following contact numbers: 0965-182-3521 / 0939-006-3780 or the Information Marketing Section (IMS) through cellphone no. 0936-786-2196 or email us at info@nmp.gov.ph. They may also visit the NMP website @ www.nmp.gov.ph or the agency's Facebook page (www.facebook.com/ nmptrainingcenter) where all updates and relevant information on NMP programs are available.
Meanwhile, NMP continues to conduct face-to-face trainings with strict implementation of the Maritime Industry Authority's (MARINA) approved Post-Enhanced Community Quarantine Operational Plan and other health and safety protocols as required by the Department of Health (DOH), Department of Labor and Employment (DOLE), and local government unit (LGU).
Likewise, Filipino seafarers who are interested to avail of the NMP's FREE online classes on SHAPIMS, PADAMS, and GSTS may register through this link: https://nmp.gov.ph/online-course-offerings/.
Interested stakeholders who wish to validate the authenticity of their seafarers-employed with NMP issued certificates may visit www.verify.nmp.gov.ph. Likewise, those interested in NMP research undertakings may visit the NMP website and access the e-Research Information System Portal which is designed to disseminate NMP completed researches, present the Research Agenda, and engage the industry stakeholders to collaborate in the research activities.
Further, NMP encourages OWWA registered seafarers to avail of the NMP-OWWA (Overseas Workers Welfare Administration) Seafarers' Upgrading Program (SUP) and Skills for Employment Scholarship Program (SESP) which entitles the beneficiary to receive financial assistance for training costs from the OWWA.
Road leading to Mapaso Hot Spring undertaken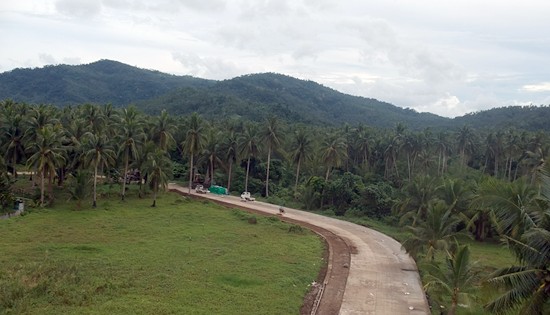 By GISSELLE G. PARUNGAO
November 19, 2020
CALBAYOG CITY – An access road leading to Mapaso Hot Spring is currently undertaken by the Department of Public Works Highways- Samar First District Engineering Office.
This road taps from an existing road that leads to Maharlika Highway and will lead to one of the leading tourist destinations in Calbayog City, the Mapaso Hot Spring. This is drawn from the General Appropriations Act (GAA) 2020 with a total allocation of P30 million.
Calbayog City is well-endowed with natural resources and potential tourist magnets. Mapaso Hot Spring is one of the main tourist attractions of Calbayog City, well-known for its soothing and refreshing pools of hot water. Bordered by mountain glades and rich vegetation, the place is as remote as it gets.
There are two ways that this destination can be reached. One way is through Oquendo Poblacion where you would have to take a boat to cross a river (Oquendo River) going to the hot spring which will take 30 minutes.
Another way is to go through Barangay Amampacang then to Dinagan, Mabini and finally in Barangay Rizal II which is roughly 6.6 kilometers with a vehicle.
Calbayog City is a fast-growing commercial hub. With its boom comes the need for bigger and better thoroughfares to accommodate the increasing traffic volume and influx of tourists that may visit the tourist destination.
Samar agrarian reform beneficiaries organization wins DOST award
By JOSE ALSMITH L. SORIA
November 19, 2020
JIABONG, Samar – The operationalization of a common service facility by a pop rice producer-agrarian reform beneficiaries organization (ARBO) based in this fifth class municipality was recognized on Friday by the Department of Science and Technology (DOST) as this year's best Grant-in-Aid (GIA) science and technology project implemented in Eastern Visayas.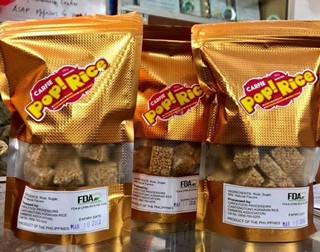 Cantongtong Agrarian Rice Farmers Association (CARFA) bested five other contenders coming from the five other provinces in the region and received P5,000 cash prize.
This was announced during the virtual culmination activity of the weeklong celebration of DOST-8's National Science and Technology Week held on November 9-13, with this year's theme, "Agham at Teknolohiya: Sandigan ng Kabuhayan, Kaayusan at Kinabukasan".
OIC-Regional Director Ismael Aya-ay of the Department of Agrarian Reform (DAR) sent his congratulatory message to CARFA for the honors they are reaping now. Aya-ay is happy to know that CARFA is taking advantage of the all the assistance and opportunities extended to them.
He likewise commended those responsible at the DAR Samar Provincial Office and at the Municipal Agrarian Reform Office of Jiabong for a job well done.
According to Engr. Ramil Uy, DOST-8 Information Officer, CARFA stood out for its best practices and community participation as well as its socio-economic impact.
Uy disclosed that the judges were moved by the transformation of CARFA which started producing pop rice the traditional way until they were able to acquire modern equipment through the combined assistance of DOST, DAR and the Department of Trade and Industry (DTI).
CARFA is composed of 46 rice farmers. According to Municipal Agrarian Reform Program Officer (MARPO) Thelma Alfaro, 41 of the members are agrarian reform beneficiaries (ARBs). Thus, DAR organized them into an association in 2012, Alfaro added.
For additional income, CARFA produced pop rice made from left over rice that are sun-dried and fried to puff the grains.
DAR Samar Provincial Office's Enterprise Development and Economic Support point person, Monica Bato (now MARPO), disclosed that in 2016 CARFA became a recipient of a processing facility under DAR's Village Level Farm-Focused Enterprise Development (VLFED) project.
Later, it received more assistance under the DAR, DTI-CARP, DOST Regional Synchronization, as well as from the provincial government under then Governor Sharee Ann Tan.
From the various assistance, CARFA was able to procure modern equipment, exposed to skills trainings, and was able to comply with the Food and Drug Administration (FDA) requirements.
Bato further disclosed that with the P250,000 Grant-in-Aid from the DOST, CARFA was able to acquire nitrogen gas flushing packaging machine and stainless pre-cutter molders. They were also able to undergo training on Good Manufacturing Practices, which led to FDA's approval in granting the association in 2018 the License to Operate (LTO), making them eligible to penetrate a wider market for their product, Bato explained.
From plain pop rice they used to produce, CARFA has now nine available flavors to choose from: peanut, pili, cookies and cream, vanilla, sesame seeds, marshmallow, choco-coated, pandan and butter.
In 2019, CARFA's sales on pop rice had increased by 50 percent with 4,470 packs sold. It has also generated employment at least to its members.
DPWH - LGU Naval tackle solutions to sustain major bridge detours in Naval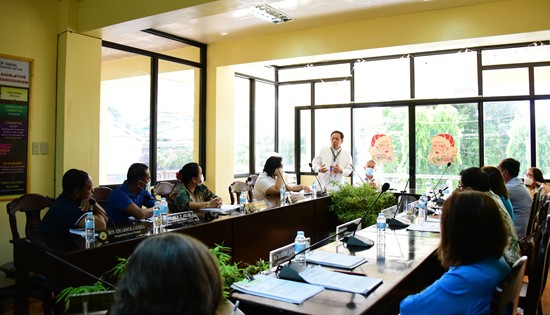 By DPWH Biliran
November 18, 2020
NAVAL, Biliran – To address the recurring problem on the Caraycaray and Catmon Bridge Detours in Naval town, the Naval Local Legislative Members and the Department of Public Works and Highways- Biliran District Engineering Office (DPWH-BDEO) joined hand in hand to find solution for the problem.
During the 59th Regular Sangguniang Bayan (SB) Session of the Local Legislative Members on November 16, 2020 at SB Session Hall, David P. Adongay Jr., District Engineer (DE) and Alfredo L. Bollido, Assistant District Engineer (ADE) clarify and explain some issues regarding the controversial bridges and detours in Naval, Biliran.
Recently, the Catmon and Caraycaray Bridge Detours became unpassable to the travelling public due to the continuous heavy rains brought by subsequent typhoons: Rolly (October 25, 2020) and Ulysses (November 10, 2020) that caused the water to overflow which resulted to erosion of the bridge detours.
To prevent or minimize the situation of the said detours, Hon. Eduardo B. Gaviola, SB Member suggested to DPWH thru DE Adongay to improve the roadway of the Catmon Bridge detour by concreting it, similar to the detour of Caraycaray Bridge. Gaviola also suggested to conduct a rechanneling on the Catmon and Caraycaray rivers.
Citing the construction/ widening of the Anas Bridge project, Gaviola said that the bridge was no longer inundated as it used to, after the said project was completed. In his assumption, because the aggregates used during the construction of the said project was taken from Anas River, it makes the river deeper and wider, thus less likely for water to overflow.
The suggestion was supported by Hon. Ben T. Olid, SB Member. He added that if rechanneling would be done, quarried materials should be taken away or be placed at the back of the flood control where it cannot return to the river.
DE Adongay explained that the district office has already submitted a request for funding, not for rechanneling but for dredging of all rivers in Biliran right after typhoon Urduja in 2017.
However, Adongay said that there was no action taken regarding this request. The District Engineer suggested to the Local Legislative to conduct a topographic survey in coordination with the Department of Environment and Natural Resources (DENR) to determine the portion of the river channel where dredging/ rechanneling has to be undertaken. He suggested the SB Members to pass a resolution through the Congressman of the Lone District of Biliran requesting the DPWH for funding of the project.
On the status of the construction/ replacement of Caraycaray Bridge currently being implemented by the DPWH Regional Office VIII, the District Engineer reported that the delay has remained caused by the unavailability of required pile integrity and dynamic strain tests, since accredited companies (geotechnical firms) from Manila and Cebu are still affected with travel restrictions due to the prevailing pandemic.
According to Adongay, the said construction tests are part of the construction process and a requirement. He explained that the absence of the said tests will affect the bridge construction process which will result in variation order and additional expenses. The said tests are also needed for the Construction/ Replacement of the Catmon Bridge.
Hon. Marietta C. Ebio, SB Member clarified that workers who are doing projects in the Province are no longer required to undergo quarantine as long as they will coordinate with the LGU. According to Hon. Ebio, workers can immediately report to their work assignments as long as they will just be in one place for the whole stay.
During the session, some issues were also brought up concerning DPWH infrastructure projects.
The meeting concluded with DE Adongay assuring that the suggestions/ recommendations taken during the meeting be brought to the attention of the DPWH Regional Office for action.
A closer look of Farm-to-market road in Barangays Imelda to Avelino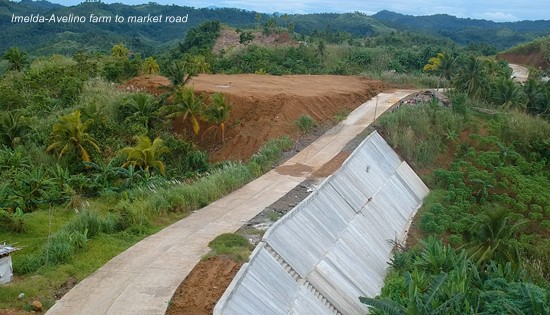 By GISSELLE G. PARUNGAO
November 17, 2020
CALBAYOG CITY – Farm-to-market roads (FMRs) constructed from the fund allotted by the Department of Agriculture paved the way for the concreting of FMR in Barangays Imelda through Bana-o to Avelino located in the Municipality of Sta. Margarita, Samar with a total allocation of P50 million.
A concreted road which spans 900 meters is constructed on most part of Barangay Imelda. The rest is an opening with a length of 1.780 kilometers. With a width of 5.3 meters, a riprap was also infused in the project to avoid collapse of structure and protect soil from erosion since the structure is located in the mountains.
Copra, rice, banana, corn and other root crops such as taro, cassava and sweet potato are products that are usually being delivered to the local markets in Calbayog City from the said barangays.
Residents and farmers alike, who are living in Barangays Imelda, Bana-o and Avelino would have to walk for 3-4 hours on foot on a footpath to reach Barangay Napuro and from there, they will need to ride a motor vehicle to reach the city proper for another 30 minutes. Income is strenuous for farmers since they need to bribe someone depending on the product that they are selling aside from the fare that they pay for the motor vehicle from Barangay Napuro to the city proper.
A resident and farmer of Barangay Bana-ao, DayDay Tolibat have these to say. "Amon la ginkakarga amon produkto pareho san saging o kopra sa amon kalugaringon na lawas tapos mano-mano la ngadto sa dalan tapos pag abot namon sa Napuro, gnsasakay na namon ngadto sa Calbayog. Tikang sa Bana-o maglalakat kami sa Napuro tapos sa Napuro karga na namon tikadto sa Calbayog na. Naglalakat kami danay upat ka oras, naabot lima, danay tulo liwat depende la san imo kalakat ngadto. Wara pa dida an tikang sa Napuro tikadto sa Calbayog. (We carry our own products in our backs like bananas or copra and trudge the footpath to Barangay Napuro, then we load it on a motor vehicle that passes the said barangay to the city proper. We walk for four hours, sometimes five or three depending on our pace, excluding the time-travel from Barangay Napuro to the city proper.)
A resident and Barangay Captain of Barangay Imelda attested saying, "mahirap talaga noon na hindi pa kalsada ang aming barangay dahil sa mga produkto na lang na aming dinadala papunta sa car line dahil upland itong aming lugar, mahirap talaga. Kung mayroon kaming produktong copra na dinadala namin sa Napuro, galing dito, ang pagdala, binubuhat lang ng tao at yan ay kada sako binigbyan ng suhol ng seven pesos kada kilo o five pesos depende sa presyo ng kopra. Kaya sobrang hirap na wala pang kalsada noon". (When the road is non-existent, it is so hard for us to deliver our goods to where motor vehicles are available because we come from an upland. If we have products to send to the market, we need to go walk on foot and load it on a make-shift basket carried at the back to Barangay Napuro and bribe them with seven or five pesos per kilo depending on the price of copra. That is why it is hard when there is no road.)
With the completion of this farm-to-market road, farmers' income is much better since travel of their goods are directly delivered to the public markets. Travel time was reduced from 15-10 minutes to Barangay Napuro where they can get ahold of vehicles to Calbayog City. Farmers won't have to bribe just to get their products to the local markets since public transportations can now reach their barangays because of the completed roads.
Furthermore, health issues such as problems in carrying their sick or those who are pregnant, can now be transported to the nearest hospitals immediately unlike before that that they have to carry them and travel on foot for hours.
"Pag-abot naman san mga may sakit amon la iton ginkakarga ngadto kay wara man natukad ngadi sa amon nga ma check-up. Tapos kun may mga burod, nanganganak, amon iton gnbababa liwat, lakat na liwat. Pag abot sa Napuro mao na masakay ngadto sa Calbayog, Pero yana madali na kay didi na la masakay deretso na an byahe kay may ada na man sarakyan", said Mr Tolibat. (when it comes to those who are sick and pregnant, we carry them in our backs since no one can come here for check-ups. But now, it is easier since any vehicle can now reach our place.)
In the communities where the primary source of livelihood is farming, the concrete road is a welcome respite from the inconvenience of travelling to the Poblacion and back, and able to get their produce to the market cheaper and faster.
Farmers have better opportunities ahead of them now. Basic infrastructure paves the way for a future that holds an abundance of promise, heightened productivity and accessibility.