Chiz leads groundbreaking of Sorsogon's first cancer treatment center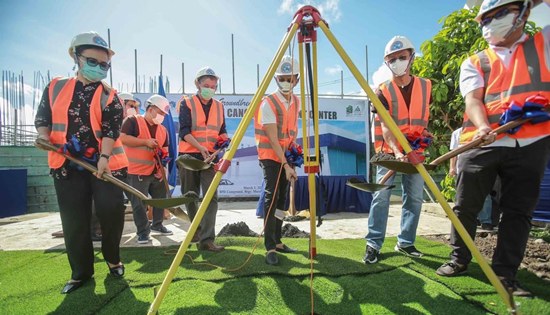 By Office of Governor Francis G. Escudero
March 11, 2022
SORSOGON CITY – Sorsogon Gov. Chiz Escudero led the groundbreaking of the province's first cancer treatment center, as part of his personal commitment to provide better and quality medical and health services to Sorsoganons when he became governor three years ago.
The P49.5-million Sorsogon Cancer Treatment Center is the second cancer facility in the entire Bicol region to provide medical care and treatment for patients of cancer, the fourth leading cause of death in the Philippines in 2021 and the second in 2020, according to the Philippine Statistics Authority.
"Ang cancer center na ito na pinapangarap ko sa ating lalawigan noon ay maisasakatuparan na rin sa ating pagtutulung-tulungan. When I ran for governor, giving the Sorsoganons world class health facilities and services was on top of my mind," Escudero, who is seeking a fresh six-year term in the Senate, said during the groundbreaking recently.
"Kaya naman ating pinagsikapan na makamit ang lahat ng ito, lalo na ang mga ISO (International Standardization for Organization) certification sa ating siyam na mga public hospitals at pati na ang buong lalawigan," the veteran lawmaker added.
Escudero, who is in the remaining three months of his three-year gubernatorial term, said that once the center is completed, the people of Sorsogon will no longer have to travel to the nearby cancer center in Naga City or to Manila for radiation and other cancer-related treatments.
"For the longest time, our patients needing radiation treatments will have to be referred to other provinces or in Manila. With this center, our patients will not have to leave the province just to avail the said services," he said.
The treatment center is also envisioned to service cancer patients from nearby provinces such as Albay, Catanduanes, Masbate and Albay.
Escudero thanked his team at the provincial government, officials and employees of the Provincial Health Office (PHO) and Sorsogon Provincial Hospital, where the cancer center will be constructed, for their commitment and dedication in giving the people the best health services, even at the risk of their own lives at this time of COVID-19 pandemic.
In his message, Dr. Renato Bolo, the province's acting health officer, expressed his gratitude to Escudero for implementing many pioneering health-related projects in the province in less than three years.
"Katulad po ninyo, ang cancer center dito sa probinsya ay isang pangarap sa akin at sa mga bumubuo ng PHO. We are thankful that through your leadership, this will soon become a reality," Bolo remarked.
Meanwhile, Dr. Roberto Chacon, supervising chief of hospitals in the province and Medicare, said in an interview that the Sorsogon Cancer Treatment Center will serve as the referral/apex hospital of the nine government hospitals in the province. Phase 1 of the cancer center will provide radiation services and outpatient clinics, while Phase 2 will offer chemotherapy services.
"Ang cancer center ay mayroong Linear accelerator, Brachytherapy at CT scan. Ang Linear Accelerator nito ay ang pinakabagong modelo na unang ilalabas sa buong Pilipinas. Taglay nito ang bagong features na mas makakapagbigay ng iba't ibang radiation treatment at features na angkop para mas 'user friendly' at accessible sa espesiyalista ang paggamit ng makina kahit nasa ibang lugar siya (remote access)," Chacon explained.
"Ang brachytherapy naman ay radiation treatment na kadalasan na ginagamit para sa mga gynecologic cancers o cancer sa mga kababaihan. Ang CT scan ang siyang gagamitin para sa preparasyon at planning bago gawin ang radiation sa pasyente. Ang equipment at operations nito ay manggagaling sa pribadong outsourced provider or proponent," he added.
Chacon also said the P49.5 million budget, which will be used for the construction of the building alone, was funded by the Department of Health's Health Facilities Enhancement Program (HFEP). Completion of the construction and full operation of phase one is targeted in June 2022.
According to the Global Cancer Observatory, there were 153,751 new cancer cases in the Philippines in 2020, with 86,484 or 56% occurring among women. Cancer of the breast, lung, colon, liver, prostate, cervix uteri, thyroid, rectum, leukemia and ovary were identified as the most common types of cancer among Filipinos.
The DOH, citing 2018 global data, said more than 140,000 new cancer cases and 80,000 cancer deaths are expected annually, which translates to at least 219 Filipinos dying from cancer every day. Of the projected new cases, at least 4,000 will be among children.
Funds for MSMEs loans during the pandemic fully utilized as of end 2021

By Small Business Corporation
March 10, 2022
MAKATI CITY – Funds downloaded by the Department of Budget and Management (DBM) to the Small Business Corporation (SBCorp) for lending to multi-sectoral micro, small, and medium enterprises (MSMEs) adversely affected by the COVID-19 pandemic have been fully utilized as of the end of 2021, according to the Small Business Corporation (SBCORP), an attached agency of the Department of Trade and Industry (DTI).
SBCorp President and CEO Luna Cacanando explained, "Of the PHP 7.93 billion loan funds granted by the Bayanihan 2 Act to SBCorp for MSMEs, PHP 4 billion was set aside for travel and tourism related loans, and the rest or P3.93 billion were used for lending to multi-sectoral MSMEs or businesses in trading, manufacturing, services, agriculture and other sectors."
As of February 28, SBCorp has approved a total of P5.9 billion to these multi-sectoral MSMEs, far exceeding the P3.93 billion in funds provided for types of enterprises, or by 150%. The SBCorp President added that the extra funding was internally sourced from SBCorp funds just to be able to continue the momentum of lending during the pandemic.
She stressed, "In fact, SBCorp has lent more to these MSMEs than what was provided for by the Bayanihan 2 Act and downloaded by DBM."
The Bayanihan 2 Act instructed a capital infusion to the SBCorp of P10 billion as the government's response to the need for financing assistance to MSMEs affected by the series of protracted lockdowns and Enhanced Community Quarantine (ECQ) since March 2020.
However, only P8.08 billion was released by the DBM to SBCorp which was downloaded in November 2020, out of which P7.93 billion were loan funds, the rest earmarked for mobilization and operating expenses.
The loan program for tourism enterprises or the CARES for TRAVEL is administered by the SB Corp in partnership with the Department of Tourism.
The excess funds were sourced by the SBCorp from the annual funds provided by Congress for the P3 Program, a micro-financing program intended by the government to replace usurious money lending. Also, with the concurrence of the DOT, a portion of the funds for the tourism sector was temporarily used for lending to multi-sectoral MSMEs, as the uptake of loans for tourism was very slow.
Pres. Cacanando added, "The travel and tourism sector has lagged behind the multi-sectoral MSMEs in availing of loan assistance from the government due to the effects of the prolonged lockdown in the tourism sector. The uptake of loans from tourism establishments has been very slow due to the series of lockdowns and the general uncertainty that had governed the sector the past two years."
As of February 28, 2022, only P278 million worth of loans to the tourism sector have been approved by SBCorp, although as much as P524 million are now in the pipeline for processing.
She added, "We expect an increase in loan applications from the Travel and Tourism sector as the country removed last March 1 the restrictions in most inter zonal domestic travel and the quarantine requirements for vaccinated international travellers. Also, the scope of the CARES for TRAVEL Program has been expanded to include non-DOT accredited tourism enterprises such as tourism support services and facilities. Lastly, the destruction brought about by Typhoon Odette in major tourism areas in the country has increased the demand for CARES for Tourism and Travel loans."
BiotechJP encouraged with results of Rice Revolution 21 pilot project
By DTI-Foreign Trade Service Corps
March 10, 2022
MAKATI CITY – Moved by the tragic ordeal of Typhoon Yolanda victims, Kiyosada Egawa came to the Philippines with a vision to provide innovative food products that can sustain calamity-stricken Filipinos marooned in islands that were left without access to food, power, or water.
He set up BiotechJP in 2015 and turned to his patented Plant Origin Lactobacilli (POLAB) technology to produce ready-to-eat rice products which now hold the record of having the longest shelf life in the market. He also developed low protein high-fiber rice products for kidney and diabetic patients who need to satisfy their calorific requirements while continuing to lead normal lives.
From victims of natural disasters to patients suffering from chronic kidney disease, Mr. Egawa recently added marginalized agricultural producers to the growing roster of beneficiaries of BiotechJP's innovations. In 2018, the company started a project called Rice Revolution 21, envisioned to transfer Japanese rice technology to the Philippines across the entire rice value chain, starting with cultivation, collection, drying, milling, processing, and retail. It aimed to enhance the capacity of the Philippines to trade processed and well-milled rice across the globe as well as increase the incomes of Philippine farmers, millers, and production operators.
In 2021, agriculture accounted for around 10% of the nation's GDP. Unfortunately, the sector has not grown as fast as it should because of the country's vulnerability to natural disasters as well as remaining challenges related to infrastructure and productivity.
The Philippines' farming sector is characterized by large industrial farms co-existing with smallholders or family farms. Compared to industrial farms, smallholders are disadvantaged due to their relative lack of access to a supporting ecosystem, technology, and agronomic expertise. BiotechJP believes that Rice Revolution 21 can offer solutions to these challenges.
BiotechJP signed a Memorandum of Understanding (MOU) with Tarlac Governor Susan Yap for a Rice Revolution pilot project last July 22. Under the MOU, the Provincial Government of Tarlac agreed to identify and provide a list of qualified rice farmers as well as available farmland while BiotechJP committed to providing Japanese seedlings, rice farming technology, and machinery to local farmers.
To set the trial run in motion, BiotechJP partnered with a rice farming cooperative in Gerona, Tarlac in November 2021. The pilot involved the planting of Japanese rice seedlings in a one-hectare farm. The company imported Koshi Hikari, sworn by many as the best rice variety in Japan, from the Echigo plains of Niigata, widely known as the rice capital of Japan, and engaged a Japanese agricultural expert in the person of Mr. Juntaro Nakajima to train farmers in smart farming methods.
By Japanese standards, a two thousand (2000) square meter of land can harvest around 400 kg rice paddy. While the company initially estimated a harvest of below 200 kg rice paddy, the company reported over 260 kg harvest of a rice paddy at the beginning of March 2022. This encouraged BiotechJP to move into the next phase of introducing POLAB for soil and rice management.
Egawa said, "The better-than-expected results will help us transfer Japanese rice flour technology to the Philippines. I pray that Rice Revolution will help Filipino farmers attain the same socioeconomic standing as their Japanese counterparts. I hope to see the model expanding across the country and farmers gaining greater economic leverage. We can move more quickly to producing yogurt, rice enhancer, low protein, and gluten free bread in the Philippines."
Special Trade Representative Dita Angara-Mathay of the Philippine Trade and Investment Center in Tokyo (PTIC-Tokyo), who facilitated the entry of the Niigata-based SME to the Philippines more than 5 years ago added, "The entry of more Japanese SMEs into the Philippines redounds to strategic benefits for the Philippines. As Japanese SMEs expand beyond their borders to take advantage of regional free trade mechanisms and seize market demand opportunities from growing populations, we stand to benefit from the transfer of technology, influx of experts, and supply chain enhancements Japanese SMEs will carry along with them in their movement to our market. As in the case of BiotechJP, DTI commits to helping Japanese SME investors navigate their way through the administrative intricacies and operational challenges of setting up first-time bases abroad."
Titus Brandsma canonization a gift to Philippine Carmel
Press Release
March 10, 2022
QUEZON CITY – The Order of Carmelites Philippine Province of Blessed Titus Brandsma rejoices with all members of the Carmelite family and with all the faithful around the world at the much anticipated canonization of its titular on May 15, 2022, St. Peter's Square in Rome.
One of 10 candidates for sainthood who will be canonized by Pope Francis on this date, Titus Brandsma was a Dutch Carmelite priest, educator and journalist who was executed at the Dachau concentration camp on July 26, 1942, for his staunch refusal to publish Nazi propaganda in Catholic newspapers. Because his heroic campaign to educate the public and resist misinformation cost him his life, Brandsma is often referred to as a "Defender of Truth" and a "Martyr of Press Freedom."
"The canonization of Titus Brandsma is truly a milestone and an inspiration, not only for the Church but particularly for Filipino Carmelites," says Rev. Fr. Rico P. Ponce, O.Carm., Prior Provincial of the Philippine Province.
"Having our Province named after this modern-day martyr and mystic is made more meaningful by our own present struggles against the venom of deceit, lies, fake news, historical revisionism and all other forms of disinformation. We are currently embroiled in a battle against the vicious enemies of truth, as well as those who try to manipulate the use of media and communication technology for their own selfish ends," he points out.
"It is a great consolation for us to have someone from a not-so-distant generation praying and interceding for us in our current struggles, and who knows how it is to be persecuted for defending his beliefs in the light of his faith."
"We have much to learn – and to imitate – from Titus Brandsma, who defended Truth and Press Freedom until his dying breath."
Fr. Ponce adds that for many years, Philippine Carmel has been working to honor the memory of its holy patron through various initiatives, such as the Titus Brandsma Media Center which extends learning resources for media education and pastoral care for media professionals; the Titus Brandsma Media Awards, which honors outstanding media practitioners whose work reflect the values of truth, freedom, and genuine service to the poor and marginalized; as well as the Filipino Carmelites' active involvement in various initiatives and movements for Justice, Peace, and Integrity of Creation (JPIC).
Local activities to celebrate Titus Brandsma's canonization will be announced soon.
Rehabilitated roads along Brgy. Balugo serves motorists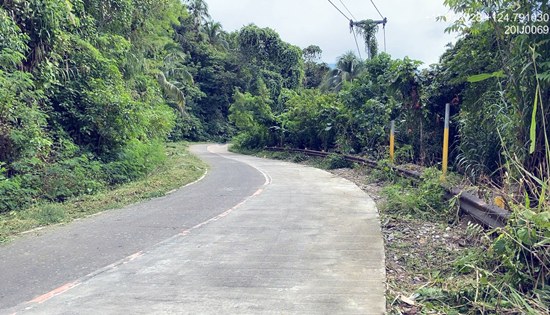 By ROMELLA LALAINE A. GUARDE
March 7, 2022
CALBAYOG CITY – Samar First District Engineering Office has intermittently rehabilitated a road along Balugo, Tarangnan, Samar; additionally, a slope protection structure has been constructed.
Said road rehabilitation and slope protection construction is funded under the General Appropriations Act (GAA) of 2021 with a total revised contract amount of P48.9 million.
An area of 11,175.45 square meters was rehabilitated on a certain section of the road along Balugo, Tarangnan, Samar.
Moreover, part of its scope of work is the construction of a slope protection structure with a total length of 220 linear meters because certain sections along the said road needs immediate slope mitigation, it being the most critical section. Due to the uneven terrain of said sections, two portions of the said slope protection structure have varying dimensions: one having a length of 82.1 linear meters and a height of 24.1 meters and the other, a length of 137.9 linear meters and a height of 12.4 meters.
With the completion of said project, DPWH-Samar I aims to ensure a safe and reliable roadway for both public and private vehicles, as well as the residents in the community through the improvement of road sections that are in immediate need of rehabilitation. Additionally, slope protection structure will increase slope stability, and in return, prevent rock collapse which would further cause damage on the existing pavement and other road component.
Chiz inaugurates Bulusan eco-tourism center, recreational facilities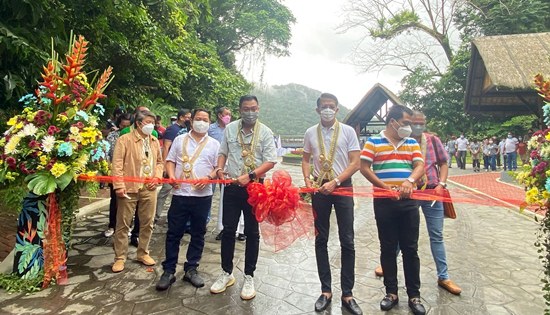 Press Release
March 7, 2022
SORSOGON CITY – Sorsogon Gov. Chiz Escudero led the reopening and inauguration of the Bulusan Eco-tourism Center and Facilities in the Bulusan Volcano Natural Park after two years of massive rehabilitation, to welcome more local and foreign visitors with the easing of travel restrictions around the country due to decreasing COVID-19 cases.
"Ginawa nating world class ang mga facililities dito sa park upang mas marami pang turista ang pumunta sa muling pagbubukas ng ating lalawigan dahil sa paghupa na ng mga kaso ng COVID sa Pilipinas. Pinaganda pa natin ang lugar na ito at hindi lamang ang lalawigan ng Sorsogon ang makikinabang, kundi partikular ang bayan ng Bulusan," Escudero said at the reopening rites on Saturday.
The natural park is also home to the Bulusan Eco-Adventours, which was launched coinciding with the blessing and inauguration of the tourism center. It also hosts new amenities like the al fresco coffee shop and restaurant, a massage spa and souvenir shop.
Recreational activities such as eco-tour, trekking, kayaking, stand up paddling, boating and fishing are now also open to visitors.
Other attractions in Bulusan Volcano National Park, a protected area, are up for restoration and improvement, Escudero announced, including the 18th century bell tower of St. James The Great Church which will be done in partnership with the National Historical Commission of the Philippines (NHCP).
Aside from the physical improvement of tourism sites, Escudero said there is a need to immortalize the beautiful stories and history behind the landmarks and destinations in Sorsogon for better appreciation of the Sorsoganons and visitors.
"Ang turismo ay hindi lamang tungkol sa magagandang tanawin at mga lugar. Bahagi ng turismo ang kasaysayan at pinanggalingan ng lugar na sana sa sinumang bibisita rito ay malaman at makita niya ang mga karasanan at kwento ng mga pangyayari katulad dito sa Bulusan," Escudero pointed out.
He commended the Provincial Tourism Office (PTO), the Bulusan local government unit and government agencies involved in the beautification of the Bulusan park, which was carried out at the height of the COVID-19 pandemic in 2020.
The Department of Public Works and Highways–Region V has also undertaken the construction of the arrival and departure shed, a ramp, food bar and upper view deck at a cost of P30 million.
Sorsogon PTO chief Bobby Gigantone said the town of Bulusan hopes to attract even a fraction of the pre-pandemic tourist arrivals as the country transitions to the new normal phase. In 2019, Bulusan received 141,000 visitors, mostly locals.
"After two years of being shut down and undergoing massive rehabilitation, this ecological escapade is ready to say hello to tourists again. We are hopeful na ang mga turista ay unti-unting makabalik sa Bulusan at sa aming lalawigan," he said.
"Thank you to Governor Escudero and Bulusan Mayor Mike Guysayko for their commitment and for supporting our tourism campaign. In time, makakabangon na rin ang turismo sa Sorsogon," Gigantone added.
CARD Sulit Padala waves goodbye to long queues with remit to deposit for CARD clients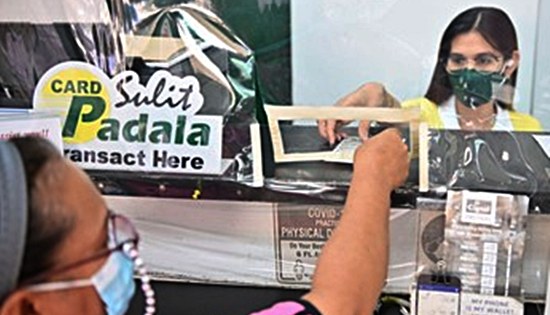 Through CARD Sulit Padala outlets nationwide, CARD clients can now conveniently and affordably send money straight to their loved ones' CARD savings account anywhere in the Philippines.
By LYNFA A. TAN
March 2, 2022
SAN PABLO CITY – CARD MRI clients can now say "bye" to long queues and "hello" to more convenient transactions with CARD Sulit Padala's new remit to deposit service!
Through CARD Sulit Padala, clients of CARD, Inc. (A Microfinance NGO), CARD Bank, CARD SME Bank, and CARD MRI RIZAL BANK can now send money straight to their loved ones' CARD savings account in any CARD Sulit Padala outlets nationwide.
CARD MRI Managing Director Aristeo A. Dequito is optimistic that the new service of CARD Sulit Padala will help CARD MRI clients to have easier and faster banking transactions. "With this goal in mind, we are ever-ready and equipped to improve the alternative delivery channels of CARD MRI, including CARD Sulit Padala, to give our clients more options to send money to their families."
Dequito also mentioned that with the additional outlets of CARD Sulit Padala, clients can now easily access CARD MRI's financial services, in line with its financial inclusion initiatives and its mission of poverty eradication.
CARD Sulit Padala, formerly known as CARD Bilis Padala, is a local money remittance service, operating since 2006. It finally gained recognition as CARD Sulit Padala in 2012, and has since upgraded to serve clients more efficiently in 2017. Aside from express lanes for CARD Sulit Padala customers, it is also known for its "Piso sa unang padala" promo that charges as low as PhP 1.00 for its customer's first transaction, amounting to PhP 20,000 and below. Affordable charges also apply in succeeding transactions with CARD Sulit Padala.
CARD clients can also pay their loans through CARD Sulit Padala, which gives its clients more options on where to pay their amortization dues. Moreover, CARD Sulit Padala also welcomes non-clients of CARD to send and receive money through the remittance provider as well.
To send money through CARD Sulit Padala, visit any CARD, Inc. unit offices or CARD Bank, CARD SME Bank, and CARD MRI RIZAL BANK branches and branch-lite units. Head to the remittance outlet and fill out the remittance slip. Indicate the date, sender, beneficiary, and contact information, sign the remittance slip, and present it to the remittance personnel together with one valid government issued ID or CARD client ID.
To receive money, fill out the remittance slip with the correct Reference Code from the sender. Present one valid ID, and you are good to go. Whether a customer is a CARD client or not, there is no need to wait in line as CARD MRI gives priority to customers of CARD Sulit Padala.
With CARD Sulit Padala's 1,449 outlets as of January 31, 2022, customers can now send and receive money from their loved ones with ease. To know more about CARD Sulit Padala and their affordable remittance fees, visit their official Facebook page, @CARDSulitPadalaOfficial
Eastern Visayas welcomes 2022 with 5.2% inflation rate
By PSA-8
February 28, 2022
TACLOBAN CITY – Eastern Visayas welcomed 2022 with 5.2 percent Inflation Rate (IR) in January. This IR is 1.0 percentage point higher compared with the 4.2 percent IR in December 2021. This January 2022 IR nearly doubled the recorded 2.9 percent IR in January 2021.
In comparison with the national average IR, the regional IR is higher by 2.2 percentage points than the 3.0 percent national IR in January 2022.
Among the provinces, Leyte posted the highest IR at 6.2 percent in January 2022. Southern Leyte's IR came next at 5.7 percent, then Eastern Samar at 5.2 percent. The lowest IR was noted in Samar at 4.1 percent. All provinces exhibited higher IRs in January 2022 compared with their figures in December 2021. Southern Leyte's IR more than doubled, from 2.8 percent in December 2021 to 5.7 percent in January 2022. This is the biggest increase in IR among the provinces in the region at 2.9 percentage points. The IR in Biliran posted at 4.6 percent in January 2022 is 2.0 percentage points higher than its 2.6 percent IR in December 2021.
Leyte and Northern Samar both recorded 1.2 percentage points increase, pushing their January 2022 IRs to 6.2 percent and 4.2 percent, respectively. IR in Eastern Samar picked up by 0.5 percentage point, registering 5.2 percent IR in January 2022. Samar's IR inched up by 0.1 percentage point in January 2022, settling at 4.1 percent. Meanwhile, IR for Tacloban City, the lone Highly Uranized City (HUC) in the region, was recorded at 4.4 percent in January 2022, 0.8 percentage point higher than its 3.6 percent IR in December 2021.
In January 2022, only the commodity groups of food and non-alcoholic beverages, transport; and housing, water, electricity, gas, and other fuels registered IRs higher than their previous month's levels by 2.3 percentage points, 0.2 percentage point, and 0.2 percentage point, respectively. All other commodity groups have either lower or retained their December IRs.
The financial services commodity group maintained its December 2021 IR at 47.0 percent, registering the highest IR among commodity groups in January 2022. This was followed by transport commodity group (7.4%); food and non-alcoholic beverages commodity group (7.2%); and housing, water, electricity, gas, and other fuels commodity groups (5.7%). All the other commodity groups have IRs lower than the IR for all items recorded at 5.2 percent.
The heavily weighted food and non-alcoholic beverages commodity group registered the biggest increase in IR with 2.3 percentage points, from 4.9 percent in December 2021 to 7.2 percent in January 2022. Higher IRs were noted in majority of the items under this commodity group. Fish and other seafood index registered the highest increase of 4.7 percentage points, posting an IR of 14.9 percent in January 2022 from 10.2 percent in December 2021. Meat and other parts of slaughtered land animals index likewise posted higher double-digit IR in January 2022 at 17.3 percent from 12.7 percent in December 2021. Prices of corn picked up by 0.6 percent in January 2022 after registering 4.0 percent deflation in December 2021.
The indices of vegetables, tubers, cooking bananas and pulses (4.1%); non-alcoholic beverages (0.5%); and flour, bread and other bakery products, pasta products, and other cereals (0.5%) likewise registered annual price hikes during the month in review after registering deflations in December 2021. The rest of the items under this commodity group recorded increases in IRs ranging from 0.2 percent to 0.7 percent. Meanwhile, IR for fruits and nuts index fell to 8.6 percent in January 2022 from its double-digit IR of 10.4 percent a month ago. Sugar, confectionery, and desserts index retained its previous month's IR at 1.1 percent.
The IRs for transport commodity group and housing, water, electricity, gas, and other fuels commodity group both inched up by 0.2 percentage point registering 7.4 percent and 5.7 percent, respectively, in January 2022.
On the other hand, IRs for the commodity groups of clothing and footwear; information and communication; and furnishings, household equipment, and routine maintenance of the house managed to shed off 0.2 percentage point from their IRs in December 2021, settling at 1.2 percent, 0.6 percent, and 0.4 percent, respectively, during the month in review.
The IRs for restaurants and accommodation services commodity group (1.0%); personal care and miscellaneous goods and services commodity group (0.5%); and recreation, sport, and culture commodity group (0.5%) all eased by 0.1 percentage point in January 2022.
Meanwhile, the commodity groups of financial services; alcoholic beverages and tobacco; and health retained their previous month's IRs at 47.0 percent, 2.5 percent, and 0.9 percent, respectively. Education services registered zero IR during the month in review.
The Purchasing Power of Peso (PPP) of the region weakened to P0.89 in January 2022 from P0.91 in December 2021. This PPP implies that the goods and services worth P89.00 in 2018 is now worth P100.00 in January 2022.
Compared with their levels in December 2021, PPP in Biliran and Southern Leyte both weakened by P0.03. PPP in Eastern Samar and Samar reduced by P0.02, while PPP in Leyte and Northern Samar diminished by P0.01. Southern Leyte recorded the strongest PPP at P0.91, while Samar posted the weakest PPP during the reference month at P0.87.
The PPP in Tacloban City was pegged at 0.89 in January 2022. This figure is P0.02 lower compared with its P0.91 PPP in December 2021.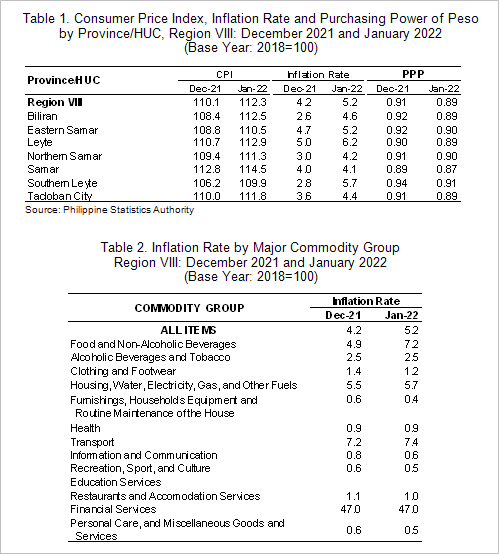 Note: The Philippine Statistics Authority (PSA) has rebased the Consumer Price Index (CPI) for all income households to base year 2018, from base year 2012. The methodology of rebasing the CPI to base year 2018 was approved by PSA Board Resolution No. 15, Series of 2021. Starting January 2022 (reference month), PSA will release the 2018-based CPI series for the region, provinces, and Highly Urbanized Cities (HUCs).
Samar First secures 100% road maintenance rating for three consecutive years
By ROMELLA LALAINE A. GUARDE
February 23, 2022
CALBAYOG CITY – Samar First District Engineering Office through its Maintenance Section obtained a 100% rating on the CY 2021 Road Maintenance Performance Assessment pursuant to the Interim Guidelines of Department Order 41, series of 2016.
DPWH-Samar I has been consistently achieving a 100% rating on road maintenance and bridges for three (3) consecutive years now. In accordance with D.O. No. 41, series of 2016, otherwise known as, the "Amended Policy Guidelines on the Maintenance of National Roads and Bridges," the cumulative rating for the road maintenance performance assessment is based on the inspection and validation made for both 1st semester and 2nd semester rating periods.
The Regional Office and the Bureau of Maintenance commends DPWH-Samar I for its continuous effort in providing the traveling public with safe and well-maintained roads and bridges. Hence, DPWH-Samar I is highly motivated in maintaining said performance for the years to come.
Additionally, the district is inspired to continue striving hard to sustain its good performance in keeping with the commitments and target in the Philippine Governance System (PGS) Enterprise Scorecard.
konek2CARD hits 2 million-user milestone in Q1

By CARD MRI
February 23, 2022
SAN PABLO CITY – With its continuous campaign to financially include more communities in the Philippines, konek2CARD has finally reached two million registered users on February 12, 2022 with 2,002,482 registrations and counting.
konek2CARD is a mobile banking application used by clients of CARD Bank, CARD SME Bank, CARD MRI RIZAL BANK, and now, CARD, Inc. (A Microfinance NGO) to make their financial transactions accessible in the comforts of their home. Through konek2CARD, clients can now easily check their balance, pay their bills and loan dues, purchase e-load, and transfer funds with just a few taps on their phones. Agent-assisted cash-in and cash-out services are also made possible through konek2CARD agents strategically placed in barangays.
Looking back, the mobile banking application has first seen an increase in user registration after its "Saya ng Buhay, Level App" campaign in April 2021, which ramped up the registrations to 808,378 in May 2021. Two months after the campaign, konek2CARD finally reached its one million milestone on June 28, 2021 with 1,000,828 registrations, which was recognized by Bangko Sentral ng Pilipinas Governor Benjamin E. Diokno in a recorded statement.
Ms. Cynthia B. Baldeo, President/CEO of CARD SME Bank who spearheaded the konek2CARD expansion together with CARD microfinance institutions' (MFIs) champions, accomplished the milestone of reaching two million registered clients.
"Once again, we are reaping the fruits of our digital initiatives, and this cannot be possible without the help of our institutional partners, konek2CARD champions, Account Officers (AO), and even our konek2CARD agents on the ground," Baldeo said.
Further, Baldeo, emphasized the role of Account Officers and konek2CARD agents, who continuously promote the benefits of konek2CARD to clients. "The success of konek2CARD can be attributed to the hard work and perseverance of our economic frontliners. With the new normal, they have served as vanguards to our konek2CARD initiatives. As our Account Officers visit their centers day by day and as our konek2CARD agents collect their fellow center members' weekly dues, our Account Officers and agents include the importance of the mobile banking application in their agenda, now that our operations are a mix of high tech and high touch," Baldeo added.
A Sign of Success
Consequently, CARD MRI Managing Director Aristeo A. Dequito also recognized the efforts of over 17,000 on-boarded konek2CARD agents as of February 2022. "With the help of our konek2CARD agents, who work closely with our MFIs and who have taken on a huge and important role in their community, we are even more hopeful that our goal of bringing our financial services closer to our clients in all corners of the Philippines is within reach," Dequito expressed.
Further, Dequito added, "There is no question that our clients are composed mostly of nanays or mothers who desire better lives for their families. Some of them are not digital savvy or inclined to modern technology, but again, our hearts are warmed to see our elders try and our younger generation try with them. It is this family spirit that we see that makes our konek2CARD experience more purposeful and our journey to overcoming the pandemic more possible."
"Growth can be a sign of success, yes, but it is always the collaborative effort between CARD MRI and our clients that sustains us to make our mission of poverty eradication possible," CARD MRI Founder and Chairman Emeritus Dr. Jaime Aristotle B. Alip said. "As we pull the ropes together to surpass the poverty line, we are positive that we will reach even more milestones together," Dr. Alip concluded.
The two million milestone has motivated CARD MRI to continue its mission of serving communities with its digital financial services. It hopes to achieve the 3.5 million-user mark by June 2022.
To know more about konek2CARD, visit their official Facebook page, @konek2CARDOfficial or their new YouTube account, konek2CARD Official.