Region 8 Task Force ELCAC sends carpentry teams to Southern Leyte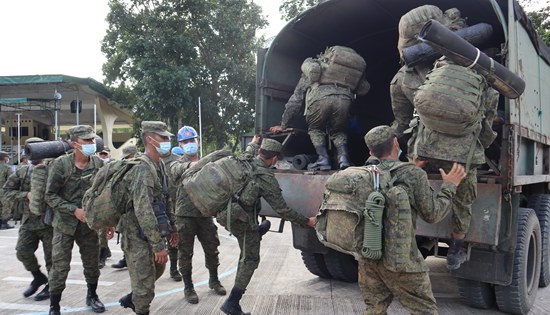 By DPAO, 8ID PA
December 22, 2021
CATBALOGAN CITY – The Region 8 Task Force ELCAC through the AFP's Joint Task Force "Storm" launched an interagency response dubbed as "Bulig Leyte". Having seen the extent on damage to houses in Southern Leyte, the AFP's JTF (Army; Air Force; Navy) organized 28 Carpentry teams of soldiers. They were sent off from JTF Storm headquarters in Catbalogan City on December 21, 2021 as part of the rehabilitation mission of RTF8 ELCAC "Bulig Leyte".
According to JTF Storm spokesman Cpt Ryan Layug, Joint Task Force Storm Commander Major General Edgardo De Leon ordered the deployment to assist the LGUs and the residents of severely affected municipalities in Southern Leyte.
"As early as December 14, our units have been coordinating with provincial and municipal DRRMOs. We have been on red alert for humanitarian assistance and disaster response (HADR) mission. Our first responders were already in the communities assisting the LGUs even during the pre-emptive evacuation. Our carpentry teams are part of the 2nd wave that is more focused now on relief and rehabilitation missions" Layug said.
Maj Gen De Leon said "our Panday Han Sinirangang Bisayas (Carpenters of Eastern Visayas) are not army engineers, but carpentry-skilled foot soldiers repurposed to help repair damaged homes. Instead of their issued rifles, they are now equipped with hammer, chain saw, shovel and other basic carpentry tools. This help shall be temporary as more sustainable and better assistance of the government are en route to eastern Visayas".
"Our teams are not intended to construct new homes, they will help residents repair shelters, particularly walls for toilets and roofs of homes. Basic na pangangailangan lang talaga. They would help remove debris along roads and help facilitate quick delivery of service to our people. First aid po ito habang paparating pa ang mga heavy equipment galing sa DPWH, provincial engineers as well as from AFP engineers. While we have the manpower and limited tools, we appeal for volunteers to join the efforts as well as donors willing to provide used wood; used roofing materials; trapal; used tarps and laminated sacks that could be easily installed in damaged homes" De Leon added.
MGen De Leon has designated his Assistant Division Commander Col Erwin Lamzon as the head of JTF Storm's Bulig Leyte task to oversee the efficient delivery of services.
Chiz: Review 4Ps amid rising poverty incidence
Press Release
December 21, 2021
SORSOGON – Sorsogon Gov. Chiz Escudero is urging the Department of Social Welfare and Development (DSWD) to review its roster of beneficiaries under the Pantawid Pamilyang Pilipino Program (4Ps) as poverty incidence in the country rose for the first time since 2012.
Escudero, a veteran legislator and now provincial chief executive, said there should have been a substantial increase in the budget for 4Ps in the 2022 budget ratified by Congress and submitted to the President.
Under the proposed National Expenditure Program (NEP) for 2022, P115.7 billion was allocated for 4Ps, the same as its 2021 budget of P115.6 billion. The 4Ps is the government's main poverty reduction program through conditional cash transfer for the poorest families.
"Now is not the time to be scrimping on economic assistance for the poor because millions of Filipinos are still struggling with the impact of the pandemic, and we do not expect recovery anytime soon, if we're being realistic," Escudero, a senatorial aspirant, said.
During the Senate's budget deliberations, it was revealed that 51,000 families have graduated from 4Ps, which covers some 4.4 million poor Filipino families. At 54%, the 4Ps account for the biggest chunk of the DSWD budget.
"There seems to be a disconnect in government poverty data and poverty strategy. There are over 10 million Filipinos who cannot afford to put food on the table and 4.2 million working-age Filipinos who do not have jobs. The DSWD should review its list of 4Ps beneficiaries because data show that more Filipinos are poor and need assistance," Escudero said.
The latest Family Income and Expenditures Survey (FIES) of the Philippine Statistics Authority (PSA) found that poverty incidence has gone up to 23.7% in the first half of 2021. The PSA defines poverty incidence as the "proportion of poor Filipinos whose per capita income is not sufficient to meet their basic food and non-food needs."
This means 26.14 million Filipinos lived below the poverty threshold of P12,082 monthly for a family of five in 2021, almost 2 million more than the 22.26 million poor Filipinos in 2018, before the COVID-19 pandemic.
This was the first time poverty incidence went up since the 2012 first-half FIES. Poverty incidence in the Philippines for the first-semester FIES was at 27.9% in 2012; 27.6% in 2015; and 21.1% in 2018, according to the PSA.
Subsistence incidence, or the proportion of Filipinos whose income is insufficient to meet even the basic food needs, was at 9.9%, translating to 10.94 million Filipinos who could not afford to feed their families. The 2021 FIES pegged the monthly food threshold for a family of five at P8,393.
"Marami ang nawalan ng trabaho dahil sa pandemya. Marami ang nagkasakit at namatayan. Ang kailangan ng mga Pilipino ay tulong at pag-asa. How can we strengthen the 4Ps with the same budget? How can we help local governments provide better services to the people as they strive to recover?" Escudero said.
A survey by the Social Weather Stations, released in September 2021, found that only 1 in 5 Filipinos, or 21%, do not consider themselves poor; 34% feel they are borderline poor; and 45% or 11.4 million families feel they are impoverished. Of those who rated themselves poor, 6.9% or 1.7 million households were "newly poor," meaning they did not consider themselves poor at least a year ago.
8ID cancels Christmas gathering of troops, saves resources for relief operations in Leyte island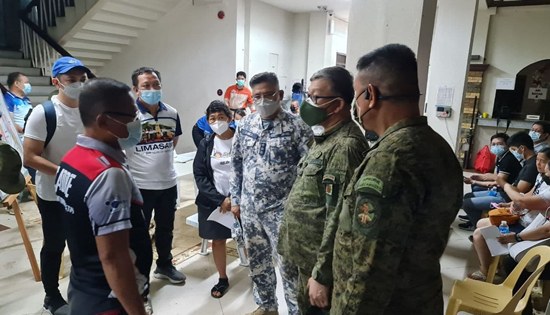 By DPAO, 8ID PA
December 19, 2021
CATBALOGAN CITY – 8th Infantry Division Commander Maj Gen Edgardo De Leon implemented a directive of AFP leadership to cancel Christmas get-together to commiserate with public abstention from holiday revelry amid pandemic.
"Earlier, our higher headquarters directed us to abstain from holding of unit Christmas party due to the COVID 19 pandemic. As we now send our troops to help in relief operations to areas affected by Typhoon Odette, particularly in the provinces of Leyte and Southern Leyte, the food and other resources we originally set aside for Christmas party will instead be repurposed to support our troops on relief operations mission" said Gen De Leon.
The AFP's JTF Storm comprising of Army's 8ID and 546 Engr Bn; PAF's TOG8; PN's Naval Task Group 2 has initiated a project to generate assistance to affected residents of Southern Leyte and Leyte to be dubbed as TF Bulig Southern Leyte and Leyte (TF Bulig) for a "whole of region" bayanihan.
The AFP units will provide manpower, sea, air, and land transportation to help in the collection, transport, and distribution of donations for SLL. "We can provide personnel and transport assets, but we would like to solicit relief goods from volunteers such as 20-liter containers with potable water, food, cooking kits, hygiene kits, toiletries and first aid kits. I personally saw the situation of our constituents in Southern Leyte and Leyte. They are in need of immediate help and assistance" De Leon added.
Incidentally, 142 trainees were enlisted as new Privates in 8ID today after completing their Basic Military Training. The first task issued by MGen De Leon to them is to join the relief operations, setting aside their traditional "training leave" due to the exigency of the service of rendering humanitarian assistance and disaster response to typhoon victims.
Stormtroopers spokesman Cpt Ryan Layug clarified that "Christmas and New Year shall still be celebrated by our soldiers, but it would be primarily with their family and love ones. Only the traditional unit party was cancelled. The resources we set aside for the parties will instead be used for humanitarian assistance and disaster response operations".
"Our efforts shall be limited to augmenting the efforts of the Office of Civil Defense following the Regional Disaster and Risk Reduction Management system of the region. The Office of Civil Defense 8 shall spearhead this effort." Layug added.
General De Leon on his message "our responders in Region 8 are themselves affected and in need of assistance along with the communities. We are in need of assistance from other regions and provinces. We are appealing for food; water; other basic household needs; as well as roofing and carpentry materials to repair damaged roofs. The AFP shall mobilize, deliver goods and help in the repair of shelters, to enliven the Filipino tradition of bayanihan."
December 15, 2021 prior landfall of typhoon Odette, all of 8ID Brigades and Battalions were already in touch and have meetings with local DRRMCs. 8ID issued Red Alert to all its units.
Ka Leody seeks end to destructive mining as he campaigns in Eastern Visayas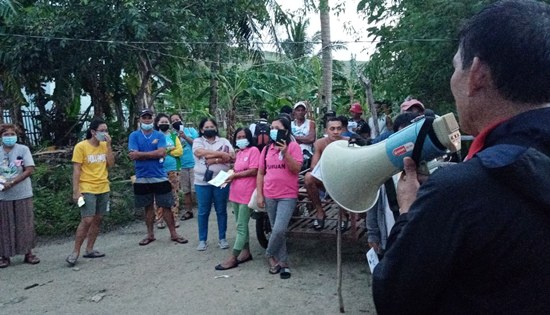 Press Release
December 6, 2021
MANILA – Ka Leody De Guzman, presidential candidate, headed to Manicani Island in Guiuan, Easter Samar to draw the attention of the nation and 2022 electoral candidates to the effect of large-scale mining that is destroying the environment and sustainable livelihood of communities. According to him, destructive mining should be stopped because it also endangers the lives of citizens like what happened in Manicani, an island hit by Typhoon Yolanda last 2013.
On October 28, 1992, the Mines and Geosciences Bureau of the Department of Environment and Natural Resources gave permission to Hinatuan Mining Corporation (a subsidiary of Nickel Asia Corporation) to mine the 1,165 hectare land in Manicani island for its nickel ore. Its Mineral Production Sharing Agreement (MPSA) was suspended in 2002 and expired last October 2017.
Due to the protest of residents there, that even resulted in a camp-out at the DENR national office in Quezon City in 2017, the agreement was no longer renewed. Being discussed today is the rehabilitation of the island, which the community asserts to be the responsibility of the Hinatuan Mining Corporation.
Ka Leody stated: "Nakaramdam na ako ng matinding lungkot noon nang makita ang mga larawan ng malaking hukay na resulta ng pagmimina. Paano nakakatulog ng mahimbing ang mga malalaking negosyante at mga opisyal ng gobyerno na may kagagawan nito? Kailangan silang parusahan sa kanilang krimen laban sa mamamayan ng Manicani. Sila dapat ang gumastos sa rehabilitasyon ng buong isla upang maihon ang nasirang buhay at kabuhayan ng ating mga magsasaka't mangingisda".
["I felt an intense sadness when I first saw images of the large open pit that resulted from the mining. How do big businessmen and government officials responsible for this sleep at night? They need to be made accountable for their crime against the people of Manicani. They should be the ones who pay for the cost of rehabilitating the whole island to recover the lost lives and livelihoods of our farmers and fisherfolk."]
Ka Leody is advancing a "just transition to a green economy" as a solution to destructive extractive industries like mining and logging. The companies destroying the environment should be compelled by the government to employ residents of communities to be rehabilitated. They should be given the knowledge and skills to conserve the ecology of their environments, which is crucial to the return of their livelihoods in farming and fishing.
Ka Leody is running under Partido Lakas ng Masa (PLM) which has fielded candidates from national to the local level in the 2022 election under the banner of "Kalikasan Muna, Manggagawa Naman." Their senatorial candidates include labor lawyer Luke Espiritu and environmental activists David D'Angelo and Roy Cabonegro.
PH participation in RCEP is a must
By DTI-IDTPG-Bureau of International Trade Relations
December 2, 2021
MANILA – The Regional Comprehensive Economic Partnership (RCEP) Agreement dubbed as the largest free trade deal in the world is set to take effect on January 1, 2022.
At present, six (6) ASEAN Member States namely, Brunei, Cambodia, Singapore, Lao PDR, Thailand, and Vietnam, and four (4) ASEAN Free Trade Partners namely, Australia, China, Japan, and New Zealand have already deposited their respective Instruments of Ratification.
As the entry into force of the agreement gets closer, the Department of Trade and Industry is asking the Senate for the immediate concurrence of the RCEP agreement.
According to Assistant Secretary Allan B. Gepty, the gains and opportunities that the agreement will create cannot be overemphasized. "The size of the market alone and the extent of economic activities happening in the region demands that the country must be part of this free trade area. This is not to mention that this is an ASEAN led FTA", Gepty added.
More than being the largest free trade area, RCEP represents 50% of the global manufacturing output; 50% of global automotive output; 70% of electronics; 26% of Global Value Chain (GVC) Trade Volume; 60% GVC for Electrical/Machinery, Petroleum/Chemicals, Textile/Apparel, Metal & Transport Equipment, 35% Contribution to Global Exports of Electronics and Machineries; and the main GVC hubs of big economies such as South Korea, Japan and China.
According to Dr. Francis A. Quimba, Research Fellow at the Philippine Institute for Development Studies (PIDS), amongst RCEP Parties, Philippines and Vietnam would both reap approximately 2% increase in real GDP growth which may be attributed to lower transaction costs brought by possible wider sourcing of raw materials and inputs for sectors in manufacturing provided in the FTA.
For the Philippines, RCEP is expected to generate 10.47% increase in the country's exports and 2.02% increase in real GDP. His analysis was measured against the backdrop of rising trade costs brought about by the COVID-19 pandemic and by establishing the impact on trade should the country fail to timely accede or opt out of the mega free trade agreement deal.
On the other hand, by looking into the impact of economies failing to ratify the agreement, the PIDS expert observed that non-participation would result in the highest decline for the Philippines and Viet Nam in terms of exports and GDP. He also noted that the country would not only miss out the forecasted growth but there would also be 0.26% decline in real GDP.
"Economies that fail to ratify the agreement (when the rest of the countries do) will be adversely affected. The Philippines and Vietnam are among the countries that have positive export growths once the RCEP is in effect, and much of the growth is coming from new-product margin where innovations stem," said the PIDS Research Fellow.
Opportunities for the Philippines under Trade in Services
Acknowledging that his preliminary findings looked into the impact of the country's participation from the perspective of real GDP and goods trade, Dr. Quimba also cited a similar study on RCEP conducted this year by Dr. John Paolo Rivera and Dr. Tereso Tullao, Jr. of the Asian Institute of Management and De La Salle University School of Economics, which suggested that the country should use its strengths in business services and professional services to harness market access opportunities in ASEAN FTA Partners such as China.
As mentioned by Dr. Quimba: "Similar findings of PIDS from the perspective of services trade suggests that the RCEP is a marginal regional trading arrangement that encapsulates previous regional trading agreements in ASEAN. Nonetheless, additional commitments made by signatory economies, such as in terms of commercial presence (i.e. Mode 3) and movement of business persons and skilled professionals (i.e. Mode 4) for sectors such as business and professional services would strengthen the trading environment and provide specific opportunities which may be valuable for Filipino businesses and service suppliers alike."
RCEP sends positive signal to businesses and investors
RCEP is coming into effect at a time where global trade faces many challenges including the current pandemic. With its conclusion and eventual implementation, RCEP Parties commit their unwavering commitment to an open, free, fair, inclusive, and rules-based trading system.
According to Assistant Secretary Gepty, being part of RCEP means that the country is offering a stable and predictable business environment. This means that regardless of any change in leadership in a country trade and investment policies remain certain.
"RCEP aims to create an enabling business environment in the region that is conducive to investment. RCEP will also push for a legal framework that is favorable for e-commerce, especially during a time wherein cross-border activities have increasingly shifted online", Gepty said.
In the recent ADB Study, Economic Implications of the Regional Comprehensive Economic Partnership for Asia and the Pacific, conducted by Cyn-Young Park, Peter A. Petri, and Michael G. Plummer it was also stated that the RCEP Agreement presents strong potential to mold regional trade and investment patterns and influence the direction of global economic cooperation at a challenging time and that at the sectoral level, exports and imports of nondurable and durable manufactures will experience the most growth. RCEP will strengthen the region's manufacturing supply chains, increasing wages and employment.
NMP supports MARINA's proposed shift in the maritime education and training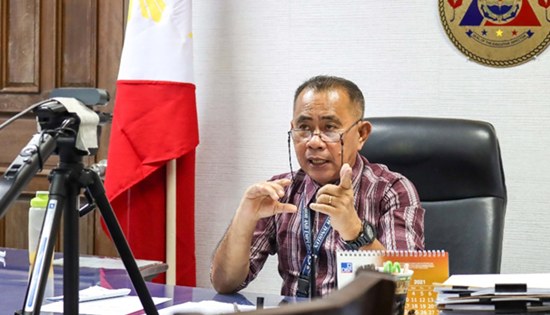 NMP Executive Director III Joel B. Maglunsod expresses support to MARINA.
By National Maritime Polytechnic
November 27, 2021
TACLOBAN CITY – The National Maritime Polytechnic (NMP), upholding its commitment being the sole government-owned maritime training and research institution in the country supports the initiative of the Maritime Industry Authority (MARINA) on the proposed enhanced curriculum standardization for the maritime degree programs, and recommend to put-off the Onboard Training (OBT) after graduation.
MARINA is eyeing that the students of the Bachelor of Science in Marine Transportation (BSMT) and Bachelor of Science in Marine Engineering (BSMarE) will finish first the 4-year program and graduate, then begin the one-year OBT under Marina's supervision, after graduation. Upon completion of the 12 months, they will be issued their Certificate of Competency (COC) by the Maritime Administration.
NMP believes that the proposed revamp of MARINA is an effective strategy to improve the maritime education curriculum and will aid to fully equip our aspiring seafarers by providing them with sufficient knowledge and skills through updated teaching materials and supplement extensive laboratory and simulation trainings prior to their exposure to the real-world.
In one of NMP's research study completed in 2019 on the Capacity of the Philippine Maritime Industry to Produce Officers in Charge Per STCW Requirements: Focus on the Onboard Training of Cadets, revealed the struggle of Maritime Higher Education Institutions (MHEIs) to deploy their cadets and attain the deployment rate required by regulatory bodies, due to the inadequate number of domestic ships qualified for OBT of cadets, and the limited availability of oceangoing vessels that accept cadets for OBT, among others.
The lack of training berths available for cadets eventually lead to the low turnout of maritime graduates and redound to lesser number of merchant marine officers. Considering that this is a global concern, the lack of training berths for both domestic and international fleets should be addressed not only by the MHEIs but by the maritime industry as a whole.
The Philippines, being the apex supplier of seafarers globally, needs to develop highly competent officers for both domestic and international voyages and withstand various challenges at sea.
As an integral part in the growth of the maritime industry, NMP in accordance with its mandate is committed to provide any means of assistance to strengthen the shipboard capabilities of the maritime fleet.
Inflation rate in Eastern Visayas escalates to 4.0% in October 2021
By PSA-8
November 25, 2021
TACLOBAN CITY – Inflation Rate (IR) in Eastern Visayas escalated further to 4.0 percent in October 2021. This IR is 0.3 percentage point higher compared with the 3.7 percent IR in September 2021. This October IR of the region is also 2.1 percentage points higher than the recorded 1.9 percent IR in the same period last year.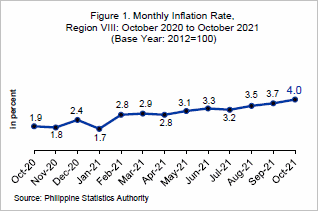 In comparison with the national average IR, the regional IR is lower by 0.6 percentage point than the 4.6 percent national IR in October 2021.
Among the provinces, Samar posted the highest IR at 6.4 percent in October 2021. Eastern Samar's IR came next at 5.1 percent, then Biliran at 4.9 percent. The lowest IR was noted in Leyte at 2.9 percent. The provinces of Samar, Northern Samar, Leyte, and Southern Leyte exhibited higher IRs in October 2021 compared with their figures in September 2021.
Samar, Northern Samar, and Leyte all recorded 0.5 percentage point growth registering IRs at 6.4 percent, 3.8 percent, and 2.9 percent, respectively, in October 2021. IR in Southern Leyte inched up by 0.2 percentage point pushing its IR to 3.5 percent in October 2021. On the other hand, Biliran recorded a 0.4 percentage point decrease, bringing its IR down to 4.9 percent in October 2021 from 5.3 percent in September 2021. Eastern Samar's IR eased by 0.1 percentage point, settling at 5.1 percent in October 2021.
The 0.3 percentage point increase in IR of the region was brought about by IRs of the transport commodity group and food and non-alcoholic beverages commodity group, which posted increases of 1.2 percentage points and 0.7 percentage point from their IRs in September 2021, registering 7.6 percent and 4.0 percent IRs in October 2021. The commodity groups of clothing and footwear; recreation and culture; restaurant and miscellaneous goods and services; health; and communication retained their September 2021 IRs of 1.6 percent, 1.5 percent, 1.2 percent, 1.1 percent and 0.9 percent, respectively. All other commodity groups showed declines in IRs.
The transport commodity group posted the highest IR in October 2021 at 7.6 percent. This was followed by IRs of housing, water, electricity, gas, and other fuels commodity group (6.6%), and alcoholic beverages and tobacco commodity group (6.3%). All the other commodity groups have IRs equal or lower than the IR for all items recorded at 4.0 percent.
The furnishings, household equipment, and routine maintenance of the house commodity group registered the biggest decrease in IR by 0.6 percentage points. Its IR settled at 0.8 percent in October 2021 from its 1.4 percent in September 2021. This can be traced to lower IRs in the indices of household appliances (0.4%); tools and equipment for house and garden (0.5%); goods and services for routine household maintenance (1.0%); glassware, tableware, and household utensils (1.1%); and furniture and furnishings, carpets and other floor covering (0.5%).
The IR for the alcoholic beverages and tobacco commodity group managed to shed off 0.4 percentage point from its 6.7 percent IR in September 2021, registering 6.3 percent IR in October 2021. Compared with their September 2021 levels, IRs for housing, water, electricity, gas, and other fuels (6.6%) and education commodity group (0.1%) both declined by 0.1 percentage point in October 2021.
On the other hand, transport commodity group's IR increased to 7.6 percent in October 2021 from 6.4 percent in September 2021, recording a growth of 1.2 percentage points. This faster pace in IR was brought about by the higher double-digit IR in the index of operation of personal transport equipment at 22.2 percent.
Food and non-alcoholic beverages commodity group registered a 0.7 percentage point increase in IR, from 3.3 percent in September 2021 to 4.0 percent in October 2021. Higher IRs were noted in majority of the items under this commodity group. Fish index registered the highest increase of 2.2 percentage points, from 9.4 percent IR in September 2021 to a double-digit IR of 11.6 percent IR in October 2021. Meat index continued to register a double-digit IR at a faster rate of 11.6 percent in October 2021. Prices for vegetables picked-up posting double-digit IR of 10.7 IR in October 2021.
Faster price increases were also noted in the indices of fruits (4.9%) and non-alcoholic beverages (0.3%). The indices of rice, and bread and cereals continued to register deflations but at slower rates of 1.5 percent and 1.2 percent, respectively. On the other hand, slower IRs were exhibited in the indices of food products not elsewhere classified (3.7%); sugar, jam, honey, chocolate, and confectionery (1.8%); and oils and fats(1.6%). Corn index further deflated to 1.8 percent. Meanwhile, the index for milk, cheese, and eggs retained its previous month's IR at 1.3 percent.
The Purchasing Power of Peso (PPP) of the region remained at P0.76 in October 2021. This PPP implies that the goods and services worth P76.00 in 2012 is now worth P100.00 in October 2021.
All provinces also retained their previous month's PPP. Leyte recorded the strongest PPP at P0.79. Biliran ranked second at P0.78, followed by Southern Leyte at P0.77, Eastern Samar at P0.73, and Northern Samar at P0.71. Samar posted the weakest PPP during the reference month at P0.69.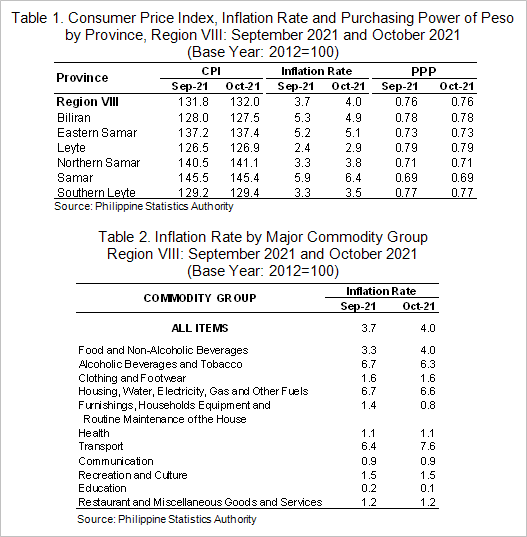 CIIE generates $597.34M in export sales for the Philippine food sector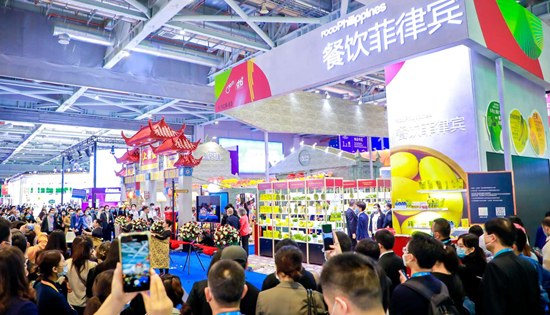 By DTI-TPG-Center for International Trade Expositions and Missions
November 24, 2021
PASAY CITY – The Center for International Trade Expositions and Missions (CITEM) celebrates another milestone for the food export industry as the Philippines' hybrid event participation in the Chinese International Import Expo (CIIE) held last November 5-10, 2021 at the National Exhibition Center in Shanghai, China delivered over USD597.34 Million worth of onsite export sales.
China stands as the leading export trade partner of the Philippines representing approximately 27% of the country's total exports. Last year, the trade show participation grossed USD462 Million worth of onsite export sales, of which USD455.689 Million worth of export deals came from signings and commitments and USD6.17 Million worth of onsite booked sales and business matching activities.
Outperforming last year, this year resulted in 29.3% growth for onsite export sales. A significant amount of export deals came from Memorandum of Understanding sales, amounting to USD575.03 million from signings and commitments. A total of USD22.31 million came from sales booked and inquiries on the trade floor and business matching activities organized by the Department of Trade (DTI) Export Marketing Bureau (EMB) and Food2China.
"This year's results show the continuously growing trade relationship between the Philippines and China. We are grateful to have the opportunity to showcase outstanding Filipino food products in the international market and are looking forward to expanding this relationship in other industries," according to DTI Undersecretary for Trade Promotions Group (TPG) Abdulgani Macatoman.
The Philippine delegation was represented under the FOODPhilippines signature brand of CITEM. Highlighting the Philippines as a source for healthy and organic products, the country's pavilion housed 40 local companies that exhibited a range of tropical fruits, processed fruits and vegetables, healthy snacks, seafood and marine products, and other premium food products.
"The Philippines is a great sourcing destination for food products because of its diverse agricultural landscapes and rich gastronomy. Especially with this pandemic, the demand for healthy products is high and the country is poised to be a leader in this category," said CITEM Executive Director Pauline Suaco-Juan.
"Our promotion of Philippine food to China and other countries does not end with our participation in CIIE. We are continuously promoting our export products 24/7, anytime anywhere through IFEXConnect.cn, our B2B platform for food exporters, and FOODPhilippines.cn, our community platform for Filipino food. These websites allow us to widen our reach and strengthen our engagement across the globe. Buyers and food enthusiasts who want to know more about Philippine food are welcome to check out our platforms," added Suaco-Juan.
The Philippine participation in the CIIE is organized in partnership with the Foreign Trade Service Corps (FTSC) through the Philippine Trade and Investment Centers in Beijing, Shanghai, Guangzhou, and Hong Kong, EMB and Liwayway Corporation. The delegation partners include the Department of Agriculture (DA) through the Office of the Agricultural Counsellor in Beijing (DA-OAC-Beijing), the Department of Tourism in Shanghai, Philippine Exporters Confederation, Inc. (PHILEXPORT), and the Federation of Filipino-Chinese Chambers of Commerce and Industry, Inc. (FFCCCII).
The new norm for the exhibition industry is the adoption of hybrid event formats where there is a physical exhibition or trade fair that is held but provisions for digital exploration are also integrated in order to cater to a broader audience given travel and logistical restrictions during this pandemic. From placing QR codes on shelves and making digital lookbooks and assets available for buyer consumption to organizing virtual meetings across borders, the Philippine pavilion offered user-friendly and dynamic spaces to ease the expo trade experience.
Specific for this event and the Chinese market, CITEM has also launched FOODPhilippines China Portal (https://foodphilippines.cn/ciie2021/), which is an information platform where potential buyers from China can explore the different exhibitors of CIIE and request B2B meetings. As an added value to exhibitors, CITEM has also enhanced its presence on China's social media platforms – Weibo and WeChat, where the agency promotes Filipino products and services to a broader Chinese demographic. For year round access to more exhibitors, CITEM launched IFEXConnect (www.ifexconnect.com) last September 23 which makes thousands of Filipino export goods more discoverable and accessible to a global audience.
The country's food sector was represented by 40 Filipino companies namely: AG Grays Farm, Agrinurture Inc., Avante Agri-Products Philippines Inc., B&C Healthy Snack Foods Inc, Castillo Import Export Ventures Inc, Century International (China) Co., CJ Uniworld Corp., Century Pacific Agricultural Ventures Inc., DOLE Asia Holdings Pte Ltd, DOLE Packaged Foods (Shanghai) Co. Ltd, Eau de Coco, Eng Seng Food Products, Excellent Quality Goods Supply Co., Fisher Farms, Gerb Golden Hands Trading, Good Sense Food & Juices Corporation, Hancole Corporation, Hijo Resources Corporation, Innovative Packaging, Island Fun Inc, Jegen S.W.E. Enterprises, JNRM Corporation, Jugard Foods Co. Ltd., M. Lhuillier Food Products, Magic Melt Foods Corp, Marigold Manufacturing Corporation, Monde Nissin, Nutri Asia, Oleofats Incorporated, Orich International Traders Inc, Raspina Tropical Fruits Inc, Republic Biscuit Corporation, S&W Fine Foods, See's International Food Manufacturing Corp., Sunnjef Plantation Inc, Tanduay Distillers Inc, Team Asia Corporation, Uni Steady, Vegetari Vegetarian Products, and Weambard International Technology Inc.