Serbisyo Caravan: Bringing government services at the doorsteps of an isolated community in San Julian, Eastern Samar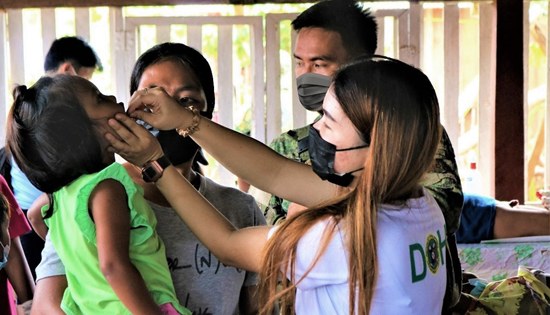 By 78th Infantry Battalion, 8ID PA
October 14, 2021
BORONGAN CITY, Eastern Samar – A total of seventy-seven (77) families from the far-flung sitios of Pala-uno and Karuyagon, under Barangay Putong, San Julian, Eastern Samar have benefited from the Serbisyo Caravan on 12 October 2021.
The hinterland sitios are located at the tri-boundaries of San Julian, Borongan City, and Hinabangan. The roads are unpaved and inaccessible for any type of vehicles.
The absence of government services in the areas mentioned in the past years had made such communities a fertile ground for the Communist NPA Terrorists (CNT) to plant seeds of subversion and rebellion. This was proven during an encounter between the government forces and the CNT last July of 2021 wherein NPA casualty was identified as a resident in the said locality.
To break the influence of Communist Terrorist Group in the area, and more importantly to provide much needed social services to the communities, the 78th Infantry Battalion and the Local Government Unit of San Julian joined hands in bringing various programs and services right at the very doorstep of the community to make them feel that the government is present and working to uplift their lives.
Hon. Dennis P. Estaron, the Mayor of the Municipality of San Julian is very much thankful for the collaborative efforts of all the members of the Municipal Task Force in Ending Local Communist Armed Conflict (MTF-ELCAC). Mayor Estaron states: "We, in partnership with other government agencies are doing our best to address the existing socio-economic problems in the municipality".
The 78th Infantry (Warrior) Battalion, under the leadership of Lt. Colonel Oliver C Alvior, clearly displayed during this activity that it is a reliable and committed partner to the different MTF-ELCAC partner agencies. The 78th Infantry (Warrior) Battalion will continuously be a productive partner with ELCAC agencies by actively participating in winning the peace and finding solutions on the issues used by the CTGs in manipulating and exploiting the masses.
As stated by Lieutenant Colonel Alvior: "This is a manifestation that we are serious in our efforts to achieve the goal for permanent and peaceful closure of all armed conflicts with non-state groups. We will give you the full assurance that your army, in partnership with other stakeholders in Eastern Samar, will support you and we will be your partners for peace and progress."
Various services were provided by the different departments of both the municipal and provincial local governments concerned. The efforts of the caravan literally brought the government closer to the people it is mandated to serve.
The wholehearted response of the local populace during the activity had provided a glimpse to the reality that the Communist Terrorist Group (CTG) is losing the moral high ground, because the issues being exploited by them are no longer relevant. Furthermore and more importantly, their unfulfilled promises of a better life are continuously being shown as the lies they truly are.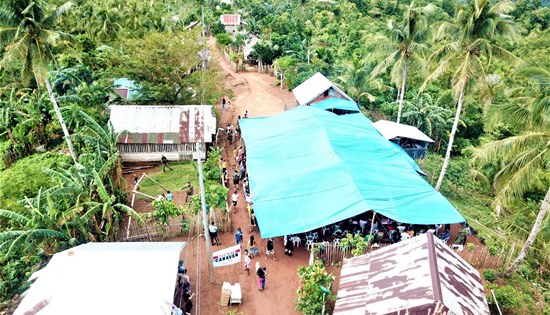 Young artist from Leyte gets assistance from DOLE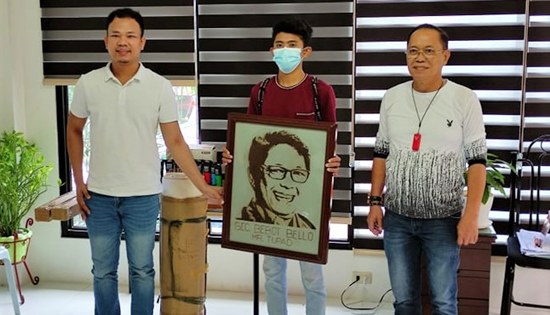 By NORMA RAE S. COSTIMIANO
October 14, 2021
TACLOBAN CITY – Connie Frances Fumar, a young painter from Palo, Leyte can now pursue and improve his talent in painting and other forms of art through the livelihood assistance provided by the Department of Labor and Employment Regional Office No. 8 through its North Leyte Field Office.
No less than DOLE Assistant Secretary Victor A. Del Rosario, assisted by Regional Director Henry John S. Jalbuena, awarded the arts and crafts livelihood project worth more or less P30,000.00 to Fumar last October 12, 2021 at the DOLE Regional Office.
Fumar, 21 years old, is currently a 2nd year college student at AMA Computer Learning College in Tacloban City taking up Information Technology.
As a proof of his unique and artistic gift, Fumar created a masterpiece out of DOLE Secretary Silvestre "Bebot" Bello's portrait using rusts. When asked how he came up with the idea of using rust as his primary material in the said artwork, he said he just wanted to bring to a higher level his natural skill.
"I know I have the skill but I thought I can still bring it to the next level by using a material that others may just take for granted like rusts from the metals and other scrap materials", said Fumar.
Asec. Del Rosario was amazed at the works of Fumar and encouraged him to be more passionate in the things he love to do.
"I really am in awe how rusts can be turned into a great work of art and I hope you will continue doing your craft more passionately and inspire others to pursue their natural talents", said del Rosario.
Director Jalbuena informed that DOLE gave Fumar tools and materials so that he can also earn income while enhancing his talent in arts.
"We are hitting two birds with one stone here. With this livelihood grant, Connie can pursue and enhance his craft while earning and making a living", said Jalbuena.
Fumar received the following during the simple turnover activity: jigsaw, wood, canvass cloths, nails, paints, wooden easel, paint brush set and other art materials.
Aside from the livelihood project, Fumar likewise received P30,000.00 stipend under the department's Tabang OFW program since his mother was an OFW affected by the COVID-19 pandemic.
Fumar expressed his gratitude to DOLE for all the help he received.
"I am very thankful to DOLE for helping me pursue what I love as an artist. Not only that, they also extended financial assistance so I can finish my studies despite the pandemic. These really inspire me to achieve the best I can", Fumar ended.
Also present to facilitate the awarding of livelihood was Mr. Norman L. Uyvico, Head of DOLE-NLFO. (with report from DOLE-NLFO)
Inflation rate in Eastern Visayas increases to 3.5% in August 2021
By PSA-8
October 1, 2021
TACLOBAN CITY – Inflation Rate (IR) in Eastern Visayas increased to 3.5 percent in August 2021, the highest in the region of the last 12 months. This IR is 0.3 percentage point higher compared with the 3.2 percent IR in July 2021. This August IR of the region is also 1.2 percentage points higher than the recorded 2.3 percent IR in the same period last year.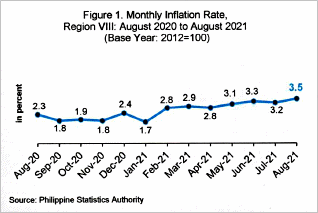 In comparison with the national average IR, the regional IR is still lower by 1.4 percentage points than the 4.9 percent national IR in August 2021.
Among the provinces, Eastern Samar posted the highest IR at 6.3 percent in August 2021. Samar's IR came next at 6.0 percent, then Biliran at 5.4 percent. The lowest IR was noted in Leyte at 2.2 percent. Biliran, Northern Samar, Leyte, and Eastern Samar registered higher IRs in August 2021 compared with their figures in July 2021.
Biliran and Northern Samar recorded the highest increase in IR both at 0.9 percentage point. Biliran grew to 5.4 percent in August 2021 from 4.5 percent in July 2021. Northern Samar went up to 2.4 percent in August 2021 from 1.5 percent in July 2021. Leyte's IR increased to 2.2 percent in August 2021, recording 0.5 percentage point growth from its 1.7 percent IR in July 2021. IR in Eastern Samar inched up by 0.2 percentage point pushing its IR to 6.3 percent in August 2021.
On the other hand, the provinces of Samar and Southern Leyte recorded decreases in their IRs in August 2021 by 0.9 percentage point and 0.1 percentage point, respectively. Samar declined to 6.0 percent in August 2021 from 6.9 percent in July 2021. Southern Leyte eased to 2.8 percent in August 2021 from 2.9 percent in July 2021.
Transport commodity group continued to post the highest IR at 9.3 percent. This was followed with the IR of alcoholic beverages and tobacco commodity group (7.1%), and housing, water, electricity, gas and other fuels commodity group (5.1%). All the other commodity groups have IR lower than the IR for all items recorded at 3.5 percent.
Majority of the 11 commodity groups in the region exhibited lower IRs in August 2021 compared with their rates in August 2021. However, these were offset by the higher IRs recorded in three (3) commodity groups, which resulted to 0.3 percentage point increase in the overall IR of the region in August 2021.
The transport commodity group and furnishings, household equipment, and routine maintenance of the house commodity group both registered the biggest decrease in IR by 1.0 percentage point. Transport commodity group settled at 9.3 percent in August from its double-digit IR of 10.3 percent in July 2021, while IR for furnishings, household equipment, and routine maintenance of the house commodity group declined to 1.4 percent in August 2021 from 2.4 percent in July 2021.
The IRs for the commodity groups of restaurants and miscellaneous goods and services, and health both managed to shed off 0.8 percentage point from their IRs in July 2021 registering 1.7 percent and 1.2 percent IRs, respectively, in August 2021.
Compared with their July 2021 levels, IRs for clothing and footwear commodity group (1.7%) and alcoholic beverages commodity group (7.1%) were lower by 0.5 percentage point and 0.2 percentage point, respectively in August 2021. Communication commodity group's IR eased by 0.1 percentage point settling at 0.9 percent in August 2021.
On the other hand, housing, water, electricity, gas and other fuels commodity group recorded 5.1 percent IR in August 2021, higher by 1.5 percentage points from its 3.6 percent IR in July 2021. This growth can be attributed to higher IR in the indices for electricity, gas, and other fuels (15.1%) and water supply and miscellaneous services relating to the dwelling (0.9%).
Food and non-alcoholic beverages commodity group registered a 0.7 percentage point increase in IR, from 2.6 percent in July 2021 to 3.3 percent in August 2021. Lower IRs and deflations were noted in majority of the items under this commodity group. Fruits index registered the highest decrease of 0.9 percentage point, from 2.6 percent IR in July 2021 to 1.7 percent IR in August 2021.
The IR for non-alcoholic beverages declined by 0.4 percentage point from its 0.6 percent IR in July 2021, posting 0.2 percent IR in August 2021. Slower price increases were also noted in the indices for food products not elsewhere classified (2.8%) and oils and fats (1.9%). Corn, rice, and bread and cereals further deflated to 1.7 percent, 1.6 percent, and 1.2 percent, respectively in August 2021. However, these decreases were offset by the increases registered in four (4) food items. Vegetables index registered the highest increase in IR at 3.0 percentage points, from 1.6 percent in July 2021 to 4.6 percent in August 2021.
IR for fish index registered 2.6 percentage points increase posting a double-digit IR of 10.1 percent in August 2021. Meat index continued to register double-digit IR at 11.6 percent in August 2021, higher by 1.3 percentage points from its 10.3 percent IR in July 2021. Higher price increases were also noted in the index for sugar, jam, honey, chocolate, and confectionery at 2.0 percent. Milk, cheese, and eggs retained its previous month's IR at 1.3 percent.
The commodity group for recreation and culture, which registered a 1.6 percent deflation in July 2021 recorded price increases in August 2021 at 1.7 percent.
The Purchasing Power of Peso (PPP) of the region remained at P0.76 in August 2021. This PPP implies that the goods and services worth P76.00 in 2012 are now worth P100.00 in August 2021.
Compared with their levels in July 2021, PPP in Biliran and Northern Samar weakened by P0.01. The rest of the provinces retained their previous month's PPP. Biliran and Leyte recorded the strongest PPP among provinces in August 2021 at P0.79. Southern Leyte ranked second at P0.78, followed by, Eastern Samar at P0.73, and Northern Samar at P0.71. Samar posted the weakest PPP during the reference month at P0.69.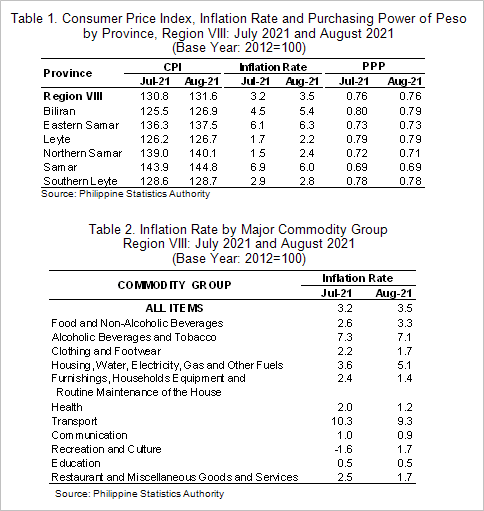 CARD MRI responds to Typhoon Jolina's aftermath
By CARD MRI
October 1, 2021
SAN PABLO CITY – When Typhoon Jolina struck parts of Luzon and Visayas on September 8, 2021, CARD Mutually Reinforcing Institutions (CARD MRI) reached out to disaster-stricken communities, particularly in CALABARZON, MIMAROPA, Bicol, Samar, and Leyte.
CARD Mutual Benefit Association (CARD MBA) and CARD Pioneer Microinsurance, Inc. (CPMI), the microinsurance arm of CARD MRI, came to the aid of its member communities in CALABARZON, National Capital Region (NCR), Marinduque, Masbate, Oriental and Occidental Mindoro, Camarines Sur, Camarines Norte, Eastern Samar, and Leyte.
Through its CARD MRI Disaster Relief Assistance Program (CDRAP), CARD MBA provided cash assistance to affected members in their community. As of September 27, 2021, the association has reported 10,340 affected members and has disbursed an equivalent amount of P1,240,800 of cash assistance.
Meanwhile, CPMI has disbursed claims amounting to P3,790,250 as of September 28, 2021. These claims were disbursed to policyholders covered under the Sagip Plan, a family insurance package which covers damaged houses due to natural calamities like typhoons.
Further, affected policyholders of Typhoon Kiko have received P220,500 amount of claims from their BINHI and crop assistance as of September 28, 2021.
The claims validation and disbursement of cash assistance are currently ongoing for clients affected by Typhoon Jolina and Typhoon Kiko.
"Immediate response in calamities such as typhoons is very crucial for our microinsurance group in CARD MRI. In times when we are most needed by our members, CARD MBA and CPMI ensure that we can be relied on," said CARD MBA CEO Jocelyn D. Dequito.
The Disaster Plan
The Disaster Management Committee, led by Legal and Security Operations Unit Director Deolito Valdemar and is comprised of the microfinance operations team, CARD MBA, BotiCARD, and other institutions of CARD MRI, monitored Typhoon Jolina while it was outside the Philippine Area of Responsibility (PAR). Its direction, speed, and strength as well as the areas it will fall on were among those that were monitored by the Central Monitoring System (CMS), which is responsible for reporting to the committee chairman.
To mitigate the effects of the typhoon and to avoid damage to people's lives and their properties, the Disaster Management Committee also sent an IT and CMS text blast to warn the branches, especially those that are located in places prone to flood, tsunami, storm surge, and landslide.
After Jolina struck Luzon and parts of Visayas, the committee checked the affected branches, members, and staff, while CPMI validated the affected policyholders covered under Sagip Plan, and CARD MBA disbursed the cash assistance to members covered under CDRAP.
"The speed by which we assist our clients is vital in situations like this," shared CARD MRI Managing Director Aristeo A. Dequito. He continued, "It is important that we reach our clients as soon as possible so as not to burden them further with the pandemic underway. With the help of our Disaster Management Committee and the digital strategies we have employed for a safer and easier claims validation and disbursement, I remain optimistic that we may serve as a beacon of hope to our policyholders during this trying time," concluded Dequito.
Calbayog Diversion to Guinbaoyan road is now passable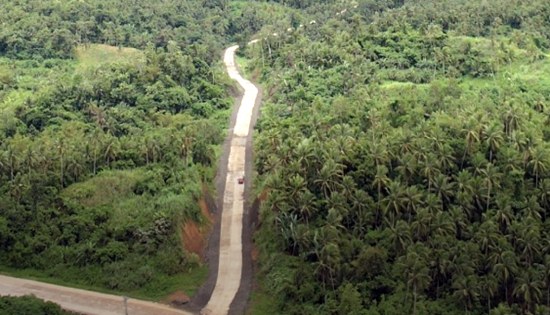 By GISSELLE G. PARUNGAO
September 28, 2021
CALBAYOG CITY – In order to provide faster, reliable and accessible route for farmers, motorists and locals to reach the nearest market place and the city proper, phase II of Calbayog Diversion to Guinbaoyan road is now passable.
Funding of said project was drawn from the General Appropriations Act (GAA) of 2021 with a total contract amount of P38.8 million.
The project spans a total of 1.6 kilometers of Portland Cement Concrete Pavement (PCCP) and a total of 90.2 meters of stone masonry and hand laid rocks with a width of 6.1 meters. Also, 58 pipe culverts were installed to allow the flow of water supply to surrounding farmlands.
It can be recalled that the construction of gravel road on this area started in 2018 allowing access to Calbayog City proper and nearby market where farmers and entrepreneurs alike can sell their produce. This will eventually gain economic growth for the city and source of income for the locals.
Rehiring of Pinoy seafarers rises due to LGU vaccination of mariners
By ALU-TUCP
September 27, 2021
QUEZON CITY – The rehiring of Filipino seafarers – the most sought-after seafarers in the global seafaring industry – is rising, thanks to local government units' inclusion of Filipino seafarers into their COVID19 vaccination program, said the workers group the Trade Union Congress of the Philippines (TUCP).
The deployment of Filipino seafarers fell to 252,000 in 2020 from 470,000 in 2019 due to the pandemic lockdown restrictions in the country and in ports around the world.
"But at the growing rate the national and local government units are now vaccinating our seafarers, we are optimistic that we can reach our target number of Filipino seafarers completely vaccinated and ready for redeployment by the end of 2021. We will continue to work with the national and local governments to provide more jabs for our seafarers in their vaccination program," said TUCP President and TUCP Party-list Rep. Raymond Mendoza.
Mendoza thanked Marikina City Mayor Marcy Teodoro for the inoculation of deployment-ready 300 more members of the Associated Philippine Seafarers' Union (APSU) and Associated Maritime Officers' and Seamen's Union of the Philippines (AMOSUP) with vaccine brands preferred by shipowners abroad.
The vaccination held at the Marikina Sports Center materialized with the coordination between seafarers unions APSU, AMOSUP and the Joint Manning Group (JMG) with the city government.
With that activity, the TUCP placed the total vaccinated Filipino seafarers close to 100,000 since the vaccination began in May this year.
Mendoza said before the pandemic the country deploys an average of 400,000 Filipino seafarers per year to work in 51,400 merchant ships around the world.
The Inter-Agency Task Force on Emerging Infectious Diseases (IATF) in May this year changed the classification of seafarers in the order of priority vaccination from B3 category to A4 category and to A1 category as frontline essential sector category for those with immediate deployment contracts following a joint lobby between TUCP, seafarers unions and local manning agencies.
According to the global union federation the International Transport Workers Federation (ITF), Filipino seafarers are the backbone of global shipping industry.
Before the pandemic, twenty five per percent of the 1.7 million marine workers in 51,400 cruise and merchant ships transporting oil, food, medicines and other essential products to and from different parts of the world are Filipinos making them the largest group of seafarers.
Filipino seafarers are preferred by shipowners and manning agencies abroad because they have a legacy for being good communicator, hardworking, multi-skilled and professional workers.
In 2019 alone, more than a quarter of the world's 1.6 million seafarers come from the Philippines with 470,000 Filipino seafarers contributed to almost US $7 Billion to the Philippine economy.
However, by the end of 2020 or nine months after the March 2020 lockdown, the Philippine Overseas Employment Administration (POEA) recorded deployed seafarers not exceeding 200,000.
Meanwhile, APSU National President Michael Mendoza urged the local government units to accommodate more seafarers into their local vaccination programs.
Thus far, only seven Local Government Units allow vaccination for seafarers. These are Manila, Pasig, Taguig and Las Piñas cities in Metro Manila and Cebu City, Iloilo City and Davao City.
"We are on track but we need additional city mayors to commit vaccination slots for our seafarers and contribute to bigger and faster redeployment of our seafarers. The more vaccinated seafarers that we deploy, the greater chances we can retake our place as the most sought after seafarer in the world shipping industry," Mendoza said.
Filipino seafarers contribute significantly to the global supply chain and help keep our local economy afloat through the financial remittances to their families back home.
Before the pandemic, the Philippines is the biggest supplier of seafarers hired by shipowners followed by China, Indonesia, Russian Federation, Ukraine, Vietnam, and Myanmar.
Environmental groups push for green electoral reforms ahead of the 2022 polls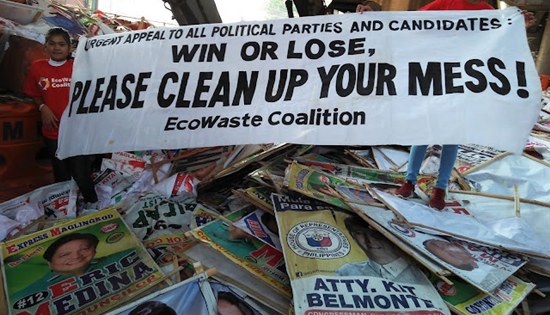 Press Release
September 26, 2021
QUEZON CITY – As the election fever heats up across the country, environmental groups wasted no time in urging the Commission on Elections (COMELEC) to initiate much-needed reforms toward an eco-friendly conduct of the 2022 polls.
Through a letter submitted last Friday to the office of COMELEC Chairman Sheriff M. Abas, pro-environment groups led by the EcoWaste Coalition, Greenpeace Philippines, Mother Earth Foundation, and Zero Waste Philippines appealed to the poll body "to proactively integrate waste and toxic prevention in the conduct of the upcoming elections."
The groups, along with the Cavite Green Coalition, Interfacing Development Interventions for Sustainability, Oceana Philippines, NASSA/Caritas Philippines, Urban Poor Associates and a host of other community-based organizations, made the earnest appeal ahead of the filing period on October 1 to 8 for the Certificates of Candidacy for all elective positions, as well as the certificates of nomination and acceptance.
"Considering the problems already plaguing our society due to garbage, plastic pollution, climate change and COVID-19, we urge the COMELEC to champion much needed policies and practices that will protect our fragile environment from being further degraded by the avalanche of partisan political activities leading to the 2022 elections," wrote Eileen Sison, President, EcoWaste Coalition.
"We hope COMELEC will commit to greening the 2022 polls to the best of its ability and with the participation and support of all stakeholders," she said, noting the widespread disregard of environmental rules and regulations in past electoral exercises.
The groups identified some of the more blatant offenses in previous polls that have directly or indirectly harmed the environment, including the unrestrained plastering of campaign posters outside COMELEC-designated areas, most notoriously on trees, electric posts and walls.
The groups also scored the unbridled display of "indirect" political propaganda such as graduation and fiesta banners and tarpaulins; the unregulated noise from mobile political propaganda and during campaign meetings; the unchecked distribution and littering of sample ballots on election day; the open burning of campaign waste materials, which is prohibited under the Clean Air Act and the Ecological Solid Waste Management Act, and the failure to avoid the use of single-use plastics and adding to the mounting plastic pollution that ends up in the waterways and the ocean.
"We have also observed the rampant use of campaign materials that are hardly reused or recycled, particularly plastic tarpaulins, posters and buntings, as well as the confetti thrown in miting de avance," the groups said.
Aside from the littered sample ballots on the actual polling day, the groups also noted the use of disposable food and beverage containers inside the polling centers for the members of the Board of Election Inspectors, poll watchers and volunteers, and the lack of an ecological system for managing discards such as food leftovers and their single-use containers.
To reduce the ecological footprint of the much anticipated elections in 2022, the EcoWaste Coalition requested COMELEC to heed the following action points:
a. Adopt a resolution declaring and enunciating Zero Waste as a policy to effectively prevent and reduce the generation of garbage, including COVID-related waste such as used face masks and face shields.
b. Create a special committee that will take the lead in the multi-stakeholders task of "greening" the elections and the strict enforcement of relevant environmental rules and regulations.
c. Require all individuals and groups running for election to abide by the Ecological Solid Waste Management Act, which, among other prohibited acts, bans littering, open dumping and open burning of waste.
d. Make it mandatory for parties and candidates to make use of recyclable and reusable materials free of hazardous chemical substances for their electoral campaign, and for them to conduct compulsory post-election clean-up.
e. Use its moral authority to encourage parties and candidates to articulate in their electoral platforms how they plan to advance the state policy, as written in the Constitution, to "protect and advance the right of the people to a balanced and healthful ecology in accord with the rhythm and harmony of nature."
f. Incorporate environmental awareness and responsibility in the COMELEC's public information drive for clean, orderly, peaceful, honest and fair elections.
g. Regulate campaign motorcades, if not impose an outright ban, to address perennial problems with traffic congestion, noise, air pollution and climate change.
h. Work with the Department of Health to set regulations on poll campaign noise.
i. Strictly enforce the laws, rules and regulations on proper posting of campaign materials and enforce sanctions to those who violate them.
The EcoWaste Coalition will also reach out to political parties and political wannabes to encourage them to think of the environment as they ardently woo the electorate for votes.