Salcedo Mayor sees refrigerated van from DAR an opportunity

Chief of the Program Beneficiaries Development Division, Melecia Ong (3rd from left), representing DAR-8 OIC-Regional Director Ismael Aya-ay, hands over the symbolic key to FEA Agrarian Reform Cooperative Chairman Luis Bayarong (5th from right) as DAR turns over the P1.8-million refrigerated closed van to the agrarian reform beneficiaries organization (ARBO). Witnessing the event are Salcedo Mayor Melchor Mergal (3rd from right), Vice Governor Maricar Gootesan (4th from right), and Sebastian Caspe (representative of Congresswoman Maria Fe Abunda, 6th from right).
By JOSE ALSMITH L. SORIA
May 20, 2021
SALCEDO, Eastern Samar – An opportunity not only for the recipient agrarian reform beneficiaries organization (ARBO) but for the entire municipality as well is how Mayor Melchor Mergal of this fifth-class municipality perceives the refrigerated closed van provided by the Department of Agrarian Reform (DAR), rather than just a plain assistance.
During the turnover of the delivery vehicle worth P1.8 million to the FEA Agrarian Reform Cooperative (FEA ARCo) early this month, Mergal stressed, "It is not only an ordinary refrigerated van. It offers a whole lot of opportunity where we can start the engagements of our farmers to multi-corporations because we have the facility."
Thus, Mergal encouraged FEA ARCo to sustain their operation because according to him, "It's not only your organization that will be benefited but the whole municipality as well."
Provincial Agrarian Reform Program Officer II (PARPO II) Gilberto Apilado said, FEA ARCo, though situated in the remote village of Iberan in this town, is one of the progressive ARBOs in Eastern Samar. Aside from being producer of various crops and processed foods, they also serve as consolidator of farmers' products throughout the province, particularly cassava and cacao.
Chief of the Program Beneficiaries Development Division at the DAR Regional Office, Melecia Ong, explained that they recommended FEA ARCo to be the recipient of the delivery truck in Eastern Visayas because this ARBO has never received a common service facility from DAR yet.
Ong, who represented Regional Director Ismael Aya-ay in the turnover rite, disclosed that FEA ARCo upon evaluation by DAR Central Office passed the criteria, including marketing arrangements with institutional markets.
FEA ARCo at present has existing marketing contracts with the Department of Health retained hospitals, Department of Education, Bureau of Jail Management and Penology, and San Miguel Corporation for their products ranging from fresh fruits and vegetables to processed foods. "They indeed need this type of facility to keep the freshness of perishable products," Ong added.
She further disclosed that this facility was funded under DAR's PaSSOver: ARBold Move for Deliverance of our Farmers from the COVID-19 Pandemic project hoping to bolster the role of ARBOs as frontliners in the food supply chain by helping them overcome the obstacles in the consolidation, marketing, and delivery of farm products.
Meanwhile, FEA ARCo Chairman Luis Bayarong considers this assistance as an investment for them to be able to help others too.
In acceptance, he revealed their immediate plan to use the refrigerated closed van in delivering dressed chickens and fresh eggs which they supply throughout the province.
Mayor Melgar was so thankful for the assistance DAR has extended to his constituents which according to him, "the local government could not provide due to our limited resources".
"An amon nala, an pagbulig paglink ha magkadurudilain nga ahensya," (For our part, we will help link them to the different agencies) said Melgar.
DPWH-Biliran DEO allocates P50-M to rehabilitate Biliran bridge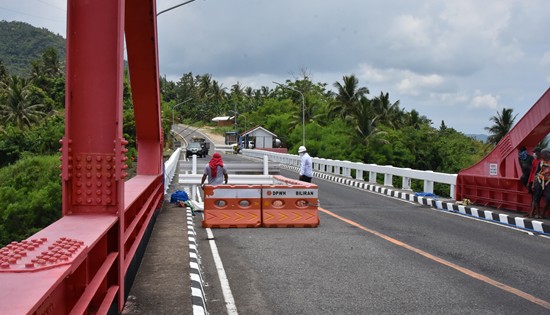 By DPWH-Biliran
May 20, 2021
NAVAL, Biliran – P50-M has been allocated by the Department of Public Works and Highways (DPWH)- Biliran District Engineering Office (DEO) to rehabilitate the deteriorating Biliran Bridge.
District Engineer Ferdinand A. Briones said that the fund from Special Allotment Release Order (SARO) for the said project was already released to the district office and is ready for implementation by July 2021.
The District Engineer recently reported that the said condition of the bridge can no longer accommodate large tonnage of vehicles/ cargoes due to its poor and old condition.
The realization of this project will not only preserve the historical significance of the existing bridge but most importantly, ensure the safety and convenience of the travelers and residents of the province.
Engr. Rosario B. Rosete, Chief of the Planning and Design Section revealed that the P50-M budget involves the rehabilitation of bearings of the bridge, repair of bridge deck, replacement of bolts, de-rusting, repainting and retrofitting of the bridge girder using carbon fiber plate and construction of field office for the maintenance crew under the bridge.
Engr. Rosete also added that construction of a new bridge is also being proposed parallel to Biliran Bridge to accommodate the increasing volume of traffic.
Inaugurated in 1976, Biliran Bridge was considered as the major and only bridge that connects the Province to the mainland Leyte and to the rest of the Philippines.
Inflation rate in Eastern Visayas eases to 2.8% in April 2021
By PSA-8
May 20, 2021
TACLOBAN CITY - Inflation Rate (IR) in Eastern Visayas eased to 2.8 percent in April 2021. This IR is 0.1 percentage point lower compared with the 2.9 percent IR in March 2021. This April 2021 IR of the region, however, is 1.0 percentage point higher than the recorded 1.8 percent IR in the same period last year.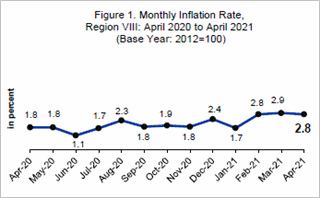 In comparison with the national average IR, the regional IR is 1.7 percentage points lower than the 4.5 percent national IR in April 2021.
Among the provinces, only Northern Samar and Leyte registered decreases in IRs. Northern Samar's IR declined to 0.7 percent in April 2021 from 2.2 percent in March 2021, a reduction by 1.5 percentage points. Leyte's IR, meanwhile, eased to 1.4 percent in April 2021 from 1.9 percent in March 2021.
Eastern Samar registered the highest increase in IR by 1.6 percentage points. Its IR rose to 4.9 percent in April 2021 from 3.3 percent in March 2021. Biliran grew by 1.3 percentage points, registering 4.9 percent IR during the month in review. Samar and Southern Leyte's IRs registered increases of 0.2 percentage point to 0.1 percentage point, settling at 6.7 percent and 4.1 percent, respectively. Samar recorded the highest IR among provinces in April 2021 at 6.7 percent, while Northern Samar posted the lowest at 0.7 percent.
Majority of the 11 commodity groups in the region exhibited higher IRs in April 2021 compared with their rates in March 2021. However, these were offset by the lower IRs recorded in four (4) other commodity groups, which resulted to 0.1 percentage point decrease in the overall IR of the region in April 2021.
Transport commodity group registered the biggest increase in IR by 4.0 percentage points. Its 8.9 percent IR in March 2021 grew to a double-digit IR of 12.9 percent in April 2021. This acceleration can be traced to the increased double-digit IR (25.6%) registered in the index for operation of personal transport equipment.
The commodity group for communication which registered a 1.4 percent deflation in March 2021 recorded price increase in April 2021 at 0.6 percent. This increase was brought about by the 2.8 percent IR in the index for telephone and telefax equipment in April 2021, from 23.8 percent deflation in March 2021.
Housing, water, electricity, gas and other fuels commodity group recorded 2.4 percent IR in April 2021, 1.0 percentage point higher than the 1.4 percent IR in March 2021. This growth can be attributed to the higher IRs in the index for electricity, gas, and other fuels (6.5%) and maintenance and repair of the dwelling (1.8%).
The IR for furnishings, household equipment, and routine maintenance of the house commodity group picked up by 0.7 percentage points, pushing its IR to 3.2 percent in April 2021.
Health commodity group registered 0.5 percentage point increase in its IR, from 1.1 percent in March 2021 to 1.6 percent in April 2021.
Compared with their March 2021 levels, IRs for restaurants and miscellaneous goods and services commodity group (3.6%) and education commodity group (0.5%) were higher by 0.2 percentage point and 0.1 percentage point, respectively, in April 2021.
On the other hand, IR for food and non-alcoholic beverages commodity group declined to 2.0 percent in April 2021 from 3.2 percent in March 2021. Lower IRs were noted in majority of the items under this commodity group. Vegetables index registered the highest decrease of 14.9 percentage points. Its IR dropped to 3.2 percent in April 2021 from its double-digit IR of 18.1 percent in March 2021.
The IR for oils and fats index managed to shed off 4.0 percentage points from its 5.5 percent IR in March 2021, posting 1.5 percent IR in April 2021. The IR for fruits index also declined by 3.5 percentage points, settling at 2.9 percent during the month in review. Bread and cereals index further deflated to 1.5 percent while the rest of the items registered decreases ranging from 0.6 percentage point to 2.3 percentage points. Meanwhile, prices of meat picked up at a faster rate of 9.0 percent in April 2021 from 7.0 percent in March 2021. Faster annual price increases were also noted in indices for sugar, jam, honey, chocolate, and confectionary products (1.6%) and fish (5.3%). Rice continued to register deflation in April 2021 but at a slower rate of 2.2 percent.
The IR for clothing and footwear commodity group declined by 0.8 percentage points, settling at 1.8 percent in April 2021. The IR for the commodity group of alcoholic beverages and tobacco likewise eased by 0.1 percentage point, settling at 6.9 percent in April 2021.
Recreation and culture commodity group further deflated to 1.5 percent in April 2021 from 1.0 percent deflation in March 2021.
The Purchasing Power of Peso (PPP) of the region strengthened to P0.77 in April 2021. This PPP implies that the goods and services worth P77.00 in 2012 is now worth P100.00 in April 2021. Compared to their levels in March 2021, PPP in Leyte strengthened by P0.01, while PPP in Biliran and Eastern Samar weakened by P0.01. The rest of the provinces retained their previous month's PPP.
Leyte recorded the strongest PPP among provinces in April 2021 at P0.80. Biliran and Southern Leyte ranked second at P0.78, followed by Eastern Samar at P0.73 and Northern Samar at P0.72. Samar posted the weakest PPP during the reference month at P0.70.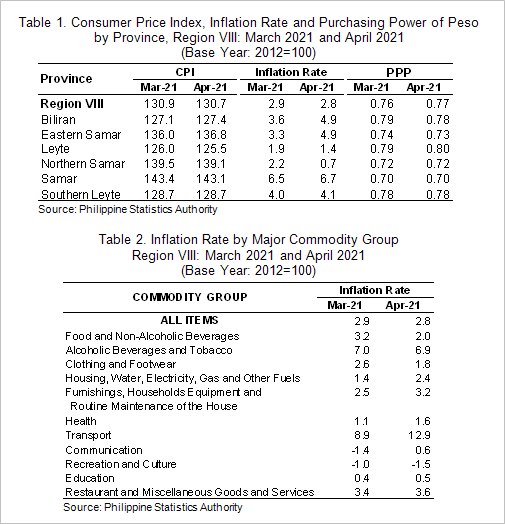 P35-M FMR projects underway in Biliran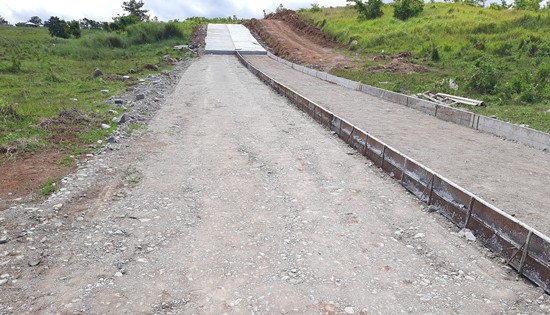 On-going concreting of Brgy. Catmon Farm to Market Road, Brgy. Catmon, Naval, Biliran. This project involves the concreting of .85-kilometer two-lane road with a .23-meter thick and a 5-meter width.
By DPWH-Biliran
May 19, 2021
NAVAL, Biliran – Three Farm to Market Road (FMR) projects amounting to P35M are underway in Biliran Province that will pave way for local farmers to easily transport their agricultural products to the market centers.
District Engineer Ferdinand A. Briones reported that the concreting of 2.18-kilometer FMRs by the Department of Public Works and Highways- Biliran District Engineering Office (DEO) has an overall accomplishment of 43.48% as of April 30, 2021.
Funded under the 2020 Convergence Program of the DPWH and the Department of Agriculture's (DA's) Bayanihan II, P12.5M is allotted for the concreting of Brgy. Matanggo to Sitio Patag, Brgy. Tabunan FMR in Almeria town with a length of .83 km, P10M for the concreting of Brgy. Cabungaan FMR (.5 km) and P12.5M for the concreting of Brgy. Catmon FMR (.85 km), both in the town of Naval. These projects involve the opening and concreting of a two lane-road with a .23-meter thick and a 5-meter width.
According to Briones, various agricultural crops such as coconut are found along these road projects.
"Contractors of these projects are being instructed to avail the good weather conditions in order to complete the project by June, this year," said Briones.
Moreover, the district engineer revealed that six FMRs with a total allocation amounting to P87-M will also be implemented by the district office this year funded under the FY 2021 DA project.
Briones said that these projects have already been bid out and just awaiting for the release of Special Allotment Release Order (SARO) to commence the project.
FMR projects are among the top priority projects implemented by DPWH-Biliran DEO in support of economic development in the Province.
DPWH-Leyte 2 upgrades road for safe and faster travels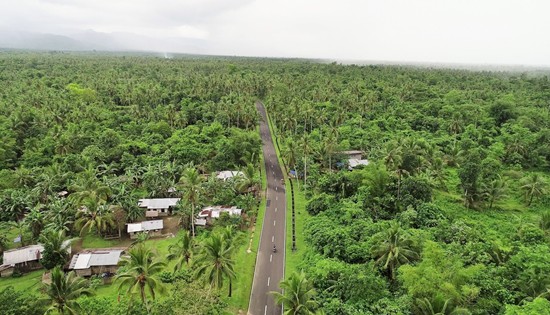 By DPWH 2nd LED
May 19, 2021
DAGAMI, Leyte – For faster travel and mobility of goods, the Department of Public Works and Highways (DPWH) Leyte Second District Engineering Office recently completed the asphalt overlay project along the secondary road of Jaro-Dagami-Burauen-La Paz road section.
The P38.4-million project involves 8.39-lane kilometer of asphalt overlay traversing the barangays of Plaridel, Rizal, Calipayan and Patoc in Dagami, Leyte.
"Motorists can now utilize the completed asphalt overlay project giving them a better road access which is one of the priorities of the department," said OIC-District Engineer Edward Oppura.
Asphalt overlay is a paving method of applying a new layer of asphalt and a cost-effective approach to extending pavement life.
A total of 206.985-kilometer road length is maintained by Leyte 2 DEO of which 96.363-km were asphalted and 108.356-km were paved.
DOLE-RO8 assists 600 youth beneficiaries in Leyte through TUPAD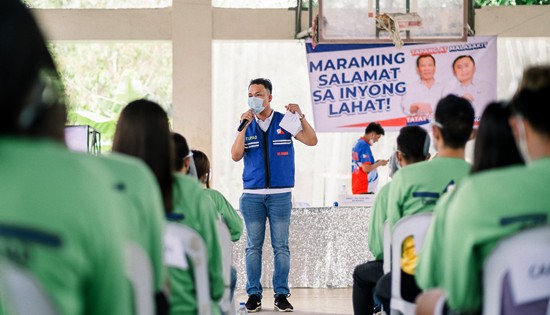 By NORMA RAE S. COSTIMIANO
May 18, 2021
TACLOBAN CITY – Six hundred youth beneficiaries from the Sangguniang Kabataan (SK) of Tacloban City, Palo and Alangalang, Leyte were recently assisted by the Department of Labor and Employment Regional Office No. 8 through the Tulong Panghanapbuhay Para sa Ating Disadvantaged/Displaced Workers or TUPAD program.
Each beneficiary received P3,250.00 as payment for their services rendered during the ten-day implementation of the program. Aside from the wages, all beneficiaries were provided personal protective equipment and micro insurances.
The total of TUPAD assistance extended amounted to P 2,193,600.00.
DOLE Assistant Secretary Victor "Jun" Del Rosario, in behalf of Secretary Silvestre H. Bello III, led the series of payout to the TUPAD workers conducted on May 17, 2021 in three separate venues – Tacloban City Engineer's Office, Montejo Gym in Palo and Alangalang Covered Court. He was assisted by Mr. Norman L. Uyvico, Head of DOLE-North Leyte Field Office, representing Regional Director Henry John S. Jalbuena.
In his message, Asec. Del Rosario said that the labor department continues to work passionately for the benefit of the workers in need.
"The DOLE never stops working in order to help our workers, including our youths, especially during this pandemic", said Asec. Del Rosario.
He likewise urged the youth beneficiaries to use their hard-earned money for the basic needs.
"I would like to remind our beneficiaries to spend the money for basic needs and not on alcoholic drinks or gambling. Please bear in mind that these are government's funds", Del Rosario added.
The good Assistant Secretary ended his message by giving words of encouragement to the young workers. He said, "Although we are facing difficulties because of this pandemic, please do not ever lose hope".
In attendance during the said series of payouts were Director Alan Tanuakio and Ms. Jane Anne Lo from the Office of the President, who brought raffle items for the beneficiaries such as bicycle, rubber shoes and electronic gadget.
Mayor Alfred Romualdez and Vice-Mayor Jerry Yaokasin of Tacloban City, and Mayor Lovell Ann Yu of Alangalang together with their respective SK Federation Presidents Thomas John Diaz and Jan Reian Saavedra, were likewise present during the event. Oriell Chiquillo, SK Federation President of Palo represented Mayor Frances Ann Petilla in the payout.
Aside from their TUPAD wages, the youth beneficiaries also received P2,000.00 each as financial aid from the Department of Social Welfare and Development under its Assistance to Individuals in Crisis Situation (AICS) Program.
Meanwhile, the Technical Education Skills Development Authority (TESDA) and the Department of Trade and Industry (DTI) also joined the activity to answer queries on trainings being offered and provided free advice and consultations for youth beneficiaries with business inclinations. (with reports from Norman L. Uyvico -DOLE NLFO)
NMP commemorates 43 years of excellence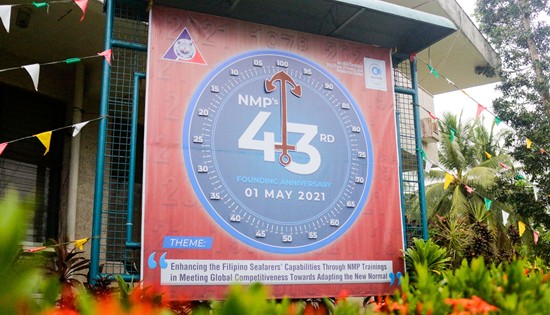 Press Release
May 14, 2021
TACLOBAN CITY – The National Maritime Polytechnic (NMP) committed to serve the Philippine maritime industry for 43 years, celebrates its founding anniversary on 03 May 2021 at the NMP Annex Building with the theme "Enhancing the Filipino Seafarers' Capabilities through NMP Trainings In Meeting Global Competitiveness Towards Adopting The New Normal".
The celebration started with the regular Monday-morning Flag Ceremony held at the Wharf Extension in the Boat Davit Area of NMP. It was followed by a Thanksgiving Mass and the NMP Anniversary Program at the NMP Annex Building wherein Loyalty Awards were bestowed to employees and Job Order Workers exemplifying devoted and productive years in the NMP service.
In his message, Executive Director Joel B. Maglunsod looked back to the many challenges that NMP had surpassed and to the endurance and growth that it had experienced as an institution.
"Rising above the hurdles, NMP will continually make itself relevant and productive to the maritime industry by equipping our Filipino seafarers with quality and holistic training programs, upgraded technological facilities and relevant researches to produce more globally competent and qualified seafarers.", ED Maglunsod said.
NMP's Deputy Executive Director, Mayla N. Macadawan, summed up the event equating NMP to a running race where it aims not to compete with other training centers but to daily improve, innovate and achieve its target, reach its finish line – providing upgrading and specialized trainings and relevant researches leading to glorious moments of the Filipino seafarers.
Due to the pandemic, the said program was livestreamed via Zoom and aired in strategic rooms where other employees were able to view while observing safety and health protocols. It was also videocast live at NMP's official Facebook page.
It can be recalled that NMP was created on May 01, 1978 with the signing of Presidential Decree No. 1369 by then President Ferdinand E. Marcos as the country's response to the challenges posed to Filipino seafarers in relation to the requirements of 1978 International Maritime Organization's (IMO) International Convention on the Standards of Training, Certification and Watchkeeping (STCW).
NMP began by offering the Basic Messman Course but today, NMP course offerings totaled to forty-seven (47), consisting of twenty-three (23) STCW courses and twenty-four (24) Non-STCW, three (3) mof which are Professional Development Courses.
BotiCARD celebrates one decade of serving communities
By CARD MRI
May 14, 2021
SAN PABLO CITY – BotiCARD, the pharmaceutical company under CARD MRI, celebrated its 10th year of serving communities on May 11, 2021.

BotiCARD President Rosenda P. Aquino remembers the idea of conceiving the institution. "Poverty has different faces. Our goal is to contribute to CARD MRI's mission of ending poverty by giving communities access to affordable and quality medicines. Since 2011, we have witnessed the impact of our health care to many families. We always aim to bring what is best to Filipino families at an affordable cost."
Aquino added that the institution also promotes community-oriented programs that benefit the lives of many communities. "We are not just a pharmacy that provides medicines, but we deliver our services with a heart. Our approach is in line with CARD MRI values as we engage with our clients."
Amidst the health crisis
BotiCARD continues to expand its reach despite the ongoing pandemic. It was able to open its 12th branch in Oroquieta City in October 2020. "Our service is needed, especially that we are facing a health crisis. By doing so, we bring closer our health care services to the rural communities in the country."
"We remain steadfast in our mission to deliver our healthcare services to our communities. Our hearts continue to beat for every family who needs our service, especially in these trying times," emphasized Aquino.
Aquino also took the opportunity to thank the staff who stayed despite the threat of COVID-19, "During this challenging time, I saw how dedicated and compassionate our workforce. Despite the continuous virus threat, they conquer their fear and still manage to serve."
Embracing the new normal
To continuously deliver affordable and quality medicines to its clients, BotiCARD also use an online delivery channel, Medhatid. This is an initiative to deliver quality medicines to clients in the comfort of their homes.
"We understand that with the travel restrictions and limitations, our clients need us the most at this challenging time. As such, we shifted to a more innovative way of reaching them," Aquino concluded.
To date, BotiCARD already has 12 branches in the country and serves more than 2 million clients nationwide.
TESDA to build training center, provincial office in Eastern Samar
By TESDA-PIAD
May 7, 2021
TAGUIG CITY – The Technical Education and Skills Development Authority (TESDA) is set to build a Provincial Training Center (PTC) and their provincial office in Guiuan, Eastern Samar., boosting the Technical and Vocational Education and Training (TVET) in the area.
On May 3, TESDA Secretary Isidro Lapeña and Guiuan, Eastern Samar Mayor Analiza Gonzales-Kwan signed the Deed of Donation for the 1,000 square meter lot, on which the PTC-Eastern Samar and provincial office will be built.
The donated 1,000 square meter parcel of land is part of the 13,861 square meter land owned by Gonzales-Kwan and located at Barangay Ward 10.
As part of its guiding principle "TESDA Abot Lahat", last July 2019, Lapeña issued a directive to all TESDA offices to establish at least one PTC to ensure continued access to quality training and skills development.
In his message, Lapeña said that the establishment of PTC in Guiuan will ensure the advancement of TVET training in the province of Eastern Samar.
"Establishing this PTC here in Guiuan will surely bring the programs and services of TESDA closer to its beneficiaries, considering that Guiuan has the greatest number of island barangays in the province," Lapeña said.
Lapeña likewise expressed his gratitude to Gonzales-Kwan noting that the continuous support TESDA has been receiving from local government units (LGUs) nationwide is a proof that TESDA is doing its job in providing training to Filipinos.
"I would also like to thank people of Guiuan and the members of the Municipal Council for welcoming TESDA and supporting the act of goodwill of Mayor Gonzales-Kwan," Lapeña added.
For her part, Gonzales-Kwan also expressed her gratitude to TESDA for giving the opportunity to empower more of their constituents and also their neighbors from other towns of the province.
"TESDA teaches us how to hone our skills to be competitive and world-class workers. It teaches us how to rise from poverty and improve the quality of life. It will give the people of Guiuan a good fighting chance to succeed in life," she said.
Meanwhile, also present during the virtual event were TESDA Chief-of-Staff Director Juliet Orozco, Guiuan Vice Mayor Veronica Cabacaba-Ramirez, TESDA Region 8 Regional Director Gamaliel Vicente Jr., TESDA Eastern Samar Provincial Director Antonio Waniwan, and school administrators of TESDA Technological Institutions (TTIs) in Region 8.
Eastern Visayas posts 9.5% increase in government spending in 2020
By PSA-8
May 6, 2021
TACLOBAN CITY – Eastern Visayas Region posted 9.5 percent increase in Government Final Consumption Expenditure (GFCE) in 2020 from 7.0 percent in 2019.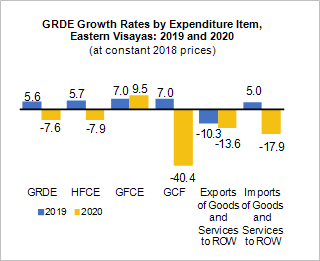 FOE refers to the value of all types of output of the general government to provide goods and services to the people for free or at insignificant prices. Included in GFCE are the expenditures of the government on salaries of employees, supplies, materials, and other expenses that are needed in the everyday operations of government institutions.
All other expenditure items exhibited declines in 2020 with Gross Capital Formation (GCF) posting the biggest drop at 40.4 percent. Exports of Goods and Services to Rest of the World further declined to 13.6 percent from 10.3 percent. Imports of Goods and Services to Rest of the World declined by 17.9 percent from 5.0 percent in 2019. Likewise, the region's Household Final Consumption Expenditure (HFCE) contracted by 7.9 percent in 2020 from 5.7 percent growth in 2019.
Consequently, the per capita HFCE of the region declined by 9.1 percent in 2020. Per Capita HFCE was estimated at P79,116 in 2020 lower than the previous year's figure of P87,033.
In terms of the share of expenditure items to the regional economy, HFCE comprised the biggest share with 86.6 percent, followed by GCF with 26.7 percent, Net Exports to Rest of the World with 26.4 percent, and GFCE with 24.3 percent. On the contrary, the negative performance of Net Exports to the Rest of the Philippines pulled down the expenditure in the region by 64.0 percent.
The economy of Eastern Visayas contracted by 7.6 percent in 2020 from its 5.6 percent growth recorded in 2019.
The Gross Regional Domestic Expenditure (GRDE) complements the Gross Regional Domestic Product (GRDP) in monitoring the economic performance of a region. It is the sum of all final uses of goods and services by residents of the region in the domestic territory, plus their expenditures in other regions, including the rest of the world.