DOLE awards P500-K livelihood project to Palompon fisherfolks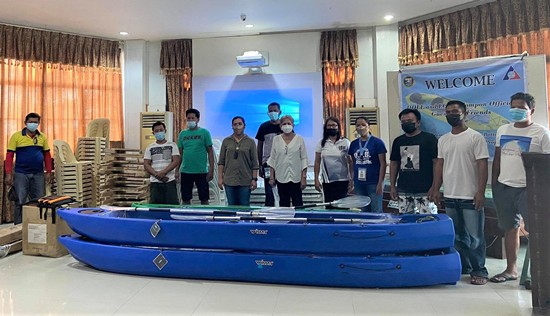 Press Release
April 12, 2021
TACLOBAN CITY – The Department of Labor and Employment Regional Office VIII through its West Leyte Field Office awarded on April 8, 2021 a P573,980.00 worth of livelihood assistance to the Kalanggaman Fisherfolks Association of Palompon, Leyte.
The recipient association, with 27 members, received glass bottom kayaks to boost their livelihood in Kalanggaman Island, one of the famous tourist destinations in Eastern Visayas. DOLE likewise awarded tables, chairs and other equipments for their "equipment for rent" business.
Present during the turnover are Ms. Fe A. Estrella, DOLE-WLFO Head, Hon. Myra Georgina L. Arevalo, Mayor of Palompon, Ms. Annabelle P. Marquez, PESO Manager and Mr. Rolando Urboda, President of Kalanggaman Fisherfolks Association.
Ms. Estrella congratulated the association for their new business and encouraged them to be good stewards of the government assistance.
"I congratulate you for these new equipment which will surely boost your livelihood. I hope these will inspire you to be more hardworking so that these help from our government will go a long way", said Estrella.
Mr. Uborda expressed his gratitude for the assistance received from DOLE and LGU-Palompon. He said that the livelihood project will bring them new hope and to remain hopeful amidst the pandemic.
"In behalf of our association, we would like to thank the DOLE and the LGU for helping us fisherfolks here in Palompon. We are hopeful that these things we receive will help us and our families to survive the effects of the pandemic", Uborda said.
CARD clients take semi-finalist spot for 18th CiTi Microentrepreneurship Awards
By CARD MRI
April 8, 2021
SAN PABLO CITY – Two (2) microentrepreneur clients from CARD Mutually Reinforcing Institutions (CARD MRI) were among the 50 semi-finalists who will compete for the 18th Citi Microentrepreneurship Awards (CMA) 2021 which will be virtually held in June 2021.
The Citi Microentrepreneurship Awards (CMA) is a nationwide search for outstanding microentrepreneurs in the country and founded by Citi Foundation in partnership with Bangko Sentral ng Pilipinas (BSP), Citi Philippines, and Microfinance Council of the Philippines Inc. (MCPI). This aims to give recognition to microentrepreneurs and to showcase their significant contribution to the country's economic growth.
This year's objective is to give incentives to microentrepreneur clients who stepped up and embraced the change brought about by COVID-19 pandemic. These microentrepreneurs have an important role in rebuilding local communities during this pandemic.
The CARD clients
Among the selected microentrepreneur clients are Renalyn Brondial from CARD SME Bank and Rosalyn Espenorio from CARD, Inc. (A Microfinance NGO).
Renalyn Brondial from Nagbalayong Morong, Bataan and her husband Willy used to own a sari-sari store. After several years of trying their luck and knowing that their community was abundant in cashew, they decided to venture into selling cashew nuts. The couple started to make roasted cashew nuts and packed them and displayed their products along their house. "Many tourists who pass by our barangay buy our products for pasalubong to their families and friends."
In 2012, the couple officially started their own cashew nut business, "We used our little savings as capital so that we can purchase materials for the business. Later on, we decided to borrow funds from sharks and some friends." But the couple realized that they needed to find a financial partner that could help them in sustaining their business, then they met CARD SME Bank in 2017.
Their business grew and started to expand in their province. "Since cashew is not really popular in the market, we highlighted its health benefits and made it as our marketing strategy to have a wider network."
But COVID-19 pandemic unexpectedly happened in 2020. Due to threats of the virus, the couple decided to temporarily close their stores and shift to online selling. Despite these challenges, they continued their business and started to use online platforms such as Facebook to market their products. They were able to generate employment with their community.
On the other hand, Rosalyn Espenorio is a microentrepreneur from Antipas, North Cotabato and a client for more than a decade of CARD, Inc. (A Microfinance NGO).
In order to provide the needs of her family, Rosalyn started her own bakery, fish and vegetable business, and fish cracker factory in 2004. "I grew up in a simple family and we we're raised by our parents to work hard for us to live a life comfortably."
After several years, her business grew and was able to employ a total of fifteen (15) workers from their community. "They helped me to expand my business. With their loyalty and respect, we built a great bond with each other. In return, I also treat them like family."
But when the government started to implement the enhanced community quarantine (ECQ) and total lockdowns in the country, Rosalyn was forced to temporarily close her business. Since food is one of the most important necessity, she decided to create a small talipapa. "During the ECQ, I sold fish and vegetables, and other household goods to our neighbors. It's one way for me also to help them in maximizing their time and securing their safety of being infected by the virus."
Also, Rosalyn provided relief goods to her employees to help them in their daily needs. She also donated bread and coffee in the barangay for the frontliners. Aside from that, she also volunteered in the distribution of relief goods to households.
When the Local Government Unit lifted the ECQ, she immediately opened her factory and bakery to allow her employees to resume their work.
Because of her humility, generosity, and good leadership, many people admire her. Driven to reach her dreams, Rosalyn wants to expand her business and plans to put up a car wash business and buy additional equipment for her factory. Ultimately, she dreams of creating more employment in her community.
Empowering the microentrepreneurs
Said CARD MRI Managing Director Flordeliza L. Sarmiento, "I'm really proud that two of our clients were chosen as semi-finalists for the CMA 2021. These clients both admirably showed measurable results in terms of making income generating activities in their respective communities despite the pandemic."
She added that they embody the capacity of every CARD client, "Since we started CARD in 1986, our main goal is to empower and give ownership to these women. Through our capacity building programs, our activities about entrepreneurship have contributed a lot in their growth."
Sarmiento is looking forward for the success of these microentrepreneur clients and concluded that many CARD clients will be known in the business in the future.
Palay production inches up by 1.4% in the fourth quarter of 2020
By PSA-8
April 6, 2021
TACLOBAN CITY – Palay production in Eastern Visayas slightly increased by1.4 percent, from 268,382 metric tons (MT) in the 4th quarter of 2019 to 272,182 MT in the same quarter of 2020. This is attributed to the minimal or 0.1 percent change in the total area harvested for palay from 72,797 hectares (Ha) in the 4th quarter of 2019 to 72,892 Ha in the same quarter of 2020. Likewise, the minimal increase in the production was due to the increase in the production in Samar by 3.2 percent during the reference period.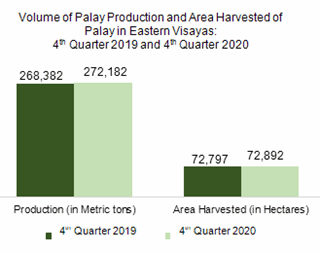 The Province of Leyte contributed the biggest share in palay production in Eastern Visayas at 148,509 MT during the 4th quarter of 2020 (Table 1). It comprised more than half or 54.6 percent of the total palay production in the region. Samar came next with 54,859 MT production, accounting for 20.2 percent of the region's total palay production.
All provinces except Samar registered decreases in area harvested for palay. Southern Leyte posted the biggest drop by 2.4 percent from 6,674 Ha in the 4th quarter of 2019 to 6,512 Ha in the same quarter in 2020.
Among the provinces, Biliran recorded the highest yield per hectare at 4.35 MT/Ha during the 4th quarter of 2020. This figure was 0.5 percent lower compared with the4.37 MT yield per hectare recorded in the same quarter of 2019. Meanwhile, Samar registered the lowest yield at 2.86 MT/Ha.

Chicken production in Eastern Visayas drops by 7.9% in the fourth quarter of 2020
By PSA-8
March 29, 2021
TACLOBAN CITY – The total volume of chicken production in Eastern Visayas declined by 7.9 percent during the fourth quarter of 2020. It went down to 15,360 Metric Tons (MT) in the fourth quarter of 2020 from 16,673 MT in the same quarter of 2019.
Eastern Visayas production accounted for 3.2 percent of the country's total chicken production during the fourth quarter of 2020. It ranked ninth from the region with highest chicken production.
The chicken population in Eastern Visayas as of 01 January 2021 stood at 2,437,068 birds. This figure was higher by 14.7 percent compared with the 2,124,681 birds as of 01 January 2020.
All provinces contributed to the increase in chicken population except for Eastern Samar which posted a decline of 8.9 percent.
Among provinces, Leyte recorded the highest chicken population at 838,911 birds as of 01 January 2021, which comprised more than one third (34.4 %) of the total chicken population in the region. Southern Leyte ranked second with 589,360 birds accounting for 24.2 percent of the region's total chicken inventory. Eastern Samar, meanwhile, registered the lowest inventory of chicken with 3.3 percent share or 79,505 birds.
Among the type of chicken, broiler chickens posted the highest growth of 68.6 percent, from the 251,348 birds as of 01 January 2020 to 423,778 birds as of 01 January 2021. This can be attributed to the triple increase (229.3%) in the broiler chicken population in Southern Leyte. Northern Samar and Biliran followed with 41.4 percent and 15.3 percent increases, respectively. Leyte posted the lowest increase at 0.8 percent. Samar registered 12,000 birds on 01 January 2021 from zero inventory due to scheduled downtime on 01 January 2020.
Layer chicken inventory stood at 615,422 birds on 01 January2021. This posted a significant growth of 26.0 percent from 488,322 birds on 01 January 2020. The biggest contributor to this increase is Samar which doubled its inventory (99.6%) from 94,429 birds on 01 January 2020 to 188,510 birds on 01 January 2021. This accounted 30.6 percent of the region's total layer chicken population. Southern Leyte followed with 29.1 percent increase. Biliran and Northern Samar posted a lower increase at 7.8 percent and 3.7 percent, respectively. While Leyte (0.01%) and Eastern Samar had nil or no increase at all.
Meanwhile, native/improved chicken inventory recorded almost steady inventory (0.9%) from a total inventory of 1,385,011 birds as of 01 January 2020 to 1,397,868 birds as of 01 January 2021. The 13.3 percent increase in the inventory in Biliran was offset by the decreases in inventory of Eastern Samar (9.13) and Southern Leyte (6.23). Northern Samar (4.4%), Samar (2.9%) and Leyte (1.2%) managed to post slight increase in their inventories.
More than half or 57.4 percent of the total chicken population in the region were native/improved chickens. Layer chickens accounted for 25.3 percent, while the remaining 17.4 percent were broiler chickens (Table 1).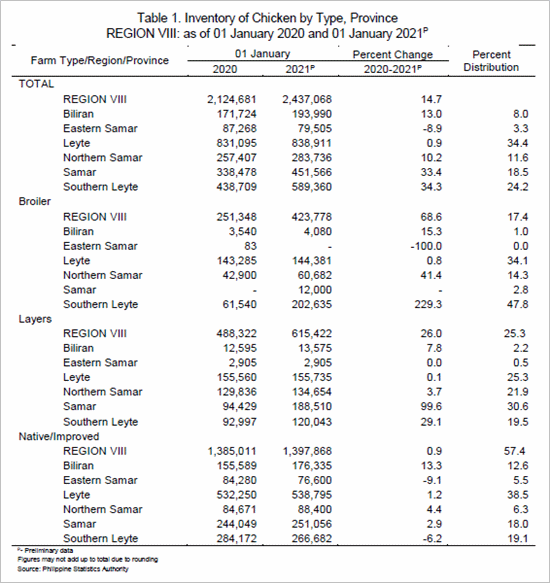 Lapeña eager to light up more remote communities in Eastern Visayas
By TESDA-PIAD
March 29, 2021
TAGUIG CITY – The Director General of Technical Education and Skills Development Authority (TESDA), Secretary Isidro Lapeña, spearheaded the launching of Liwanag At Malasakit Ramdam ang Asenso at Ginhawa (LAMRAG) Project in the provinces of Leyte, Eastern Samar, and Southern Leyte.
After attending the meeting of President Rodrigo Duterte with the Joint National and Regional Task Force to End Local Communist Armed Conflict (NTF-RTF-ELCAC) in Eastern Visayas, Lapeña spent his days afterwards on visiting TESDA offices and meeting the Regional Poverty Reduction, Livelihood, and Employment Cluster (PRLEC) together with the different local government units.
Project LAMRAG was first launched by Lapeña in Eastern Samar on Friday, March 19, 2021 with TESDA Deputy Director General for TESDA Operations Lina Sarmiento, Chief-of-Staff Juliet Orosco, TESDA-VIII Regional Director Gamaliel Vicente, Jr., local officials, PRLEC member-agencies, and regional officials of the Department of Energy (DoE).
Last Monday, March 22, 2020, the said project was launched in Southern Leyte and on the following day, in Leyte Province.
Like its equivalent training programs launched in other regions, Project LAMRAG in Eastern Visayas aims to provide solar lighting systems in Geographically Isolated Disadvantaged Areas (GIDAs) including the PRLEC-identified barangays.
It trains residents of GIDAs in Photovoltaic (PV) Systems Installation NC II through the scholarship and community-based training programs of TESDA and the installation of Solar Home System Components under the Household Electrification Program (HEP) of DoE.
"Lamrag" is the Waray term for "liwanag" or light.
The TESDA Chief hopes that the agency's skills training, along with the projects of the PRLEC and other RTF-NTF-ELCAC Clusters will help bring lasting peace and development in the communities of Eastern Visayas which were once a stronghold of the New People's Army (NPA).
"Now that they will know how to bring light inside their homes, we will follow it up with more skills training related to agriculture, construction, livelihood, and other training programs that can help uplift their living conditions and develop their community," he said.
During the RTF-ELCAC Meeting with President Duterte, Lapeña also led the awarding of Certificates of Scholarship Commitment to the six priority barangays in Northern Samar under the Barangay Development Program.
TESDA is also set to provide skills training and scholarship to 1,768 individuals in Eastern Visayas who have received Certificates of Land Ownership (CLOA) from the Department of Agrarian Reform (DAR).
Trade surplus in Eastern Visayas drops in December 2020
By PSA-8
March 29, 2021
TACLOBAN CITY – Total trade in goods in Eastern Visayas slipped to USD 165.80 million in December 2020. This amount is 38.63 percent lower than the USD 270.18 million total trade reported in December 2019.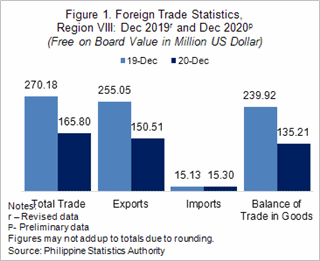 Total value of exports in Eastern Visayas dropped to USD 150.51 million in December 2020 from USD 255.05 million in December 2019 or a 40.99 percent contraction of exports revenues.
The total value of imports, meanwhile, slightly increased by 1.10 percent, from USD 15.13 million in December 2019 to USD 15.30 million in December 2020.
Consequently, the Balance of Trade (BoT) in goods registered a 43.64 percent decrease, from USD 239.92 million in December 2019 to USD 135.21 million in December 2020 (Table 1).
Total volume of exports in December 2020 was 77.37 million kilograms valued at USD 150.51 million. The major export for the month was copper and articles thereof commodity group worth USD 138.99 or 92.35 percent of the region's total export revenue. The region's top export market destination was Thailand with USD 47.31 million worth of exports which comprised 31.43 percent of the total export revenues in December 2020.
Total value of import receipts amounted to USD 15.30 million in December 2020 with total gross weight of 87.09 million kilograms. Mineral fuels, mineral oils and products of their distillation; bituminous substances; mineral waxes was the major commodity group imported by the region. Its import valued at USD 6.48 million in December 2020 was 42.39 percent of the region's total import receipts during the period in review. The region's top import trading partner in December 2020 was Singapore with USD 3.95 million worth of imported goods, or 25.85 percent of the region's total import value.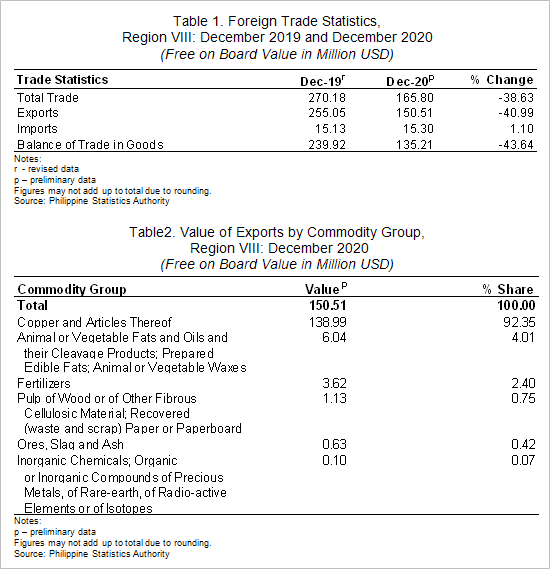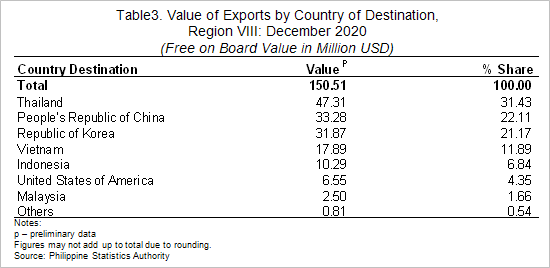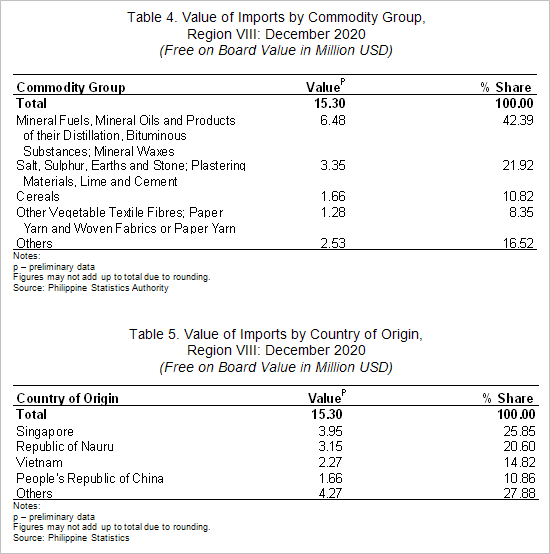 DE Briones inspects various projects in the island of Maripipi, Biliran province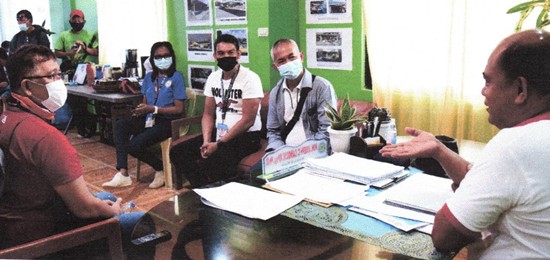 District Engineer Ferdinand A. Briones (in red shirt) and Asst DE Alfredo L. Bollido (in long sleeve) together with project engineers, technical personnel and some section chiefs pay courtesy call to Maripipi mayor Joseph C. Caingoy (right) on March 19, 2021 before conducting inspection at the island municipality.
By DPWH-Biliran
March 26, 2021
NAVAL, Biliran – District Engineer (DE) Ferdinand A. Briones of the Department of Public Works and Highways - Biliran District Engineering Office (DPWH-DEO) monitors various projects in the island town of Maripipi, Biliran in his recent inspection on March 19, 2021.
DE's inspection was accompanied by Assistant District Engineer Alfredo L. Bollido, Project Engineers, Technical Personnel and some Section Chiefs of Biliran DEO.
The projects inspected are the on-going projects from FY 2017, 2019 and 2020 implementation under contract with LM Baltonado Construction and LEDA Construction.
These projects are the P47M Rehabilitation / Reconstruction / Upgrading of Damaged Paved Roads - Tertiary Roads, Maripipi Circumferential Rd - K0004+585 - K0006+600 at Brgy. Casibang to Brgy. Ol-og implemented under FY 2020 and P45.6M Rehabilitation of Damaged Paved Roads at Brgy. Danao – Brgy. Bato implemented under FY 2019, both under contract with LM Baltonado Construction and P118.6M Rehabilitation of Maripipi Circumferential Road under FY 2017 implemented at Proper Poblacion to Brgy. Ermita, Brgy. Bato to Brgy. Banlas and Brgy. Binalayan West, all in Maripipi town under contract with LEDA Construction.
Maripipi is located in the northernmost part of the province of Biliran and is separated by a narrow channel from its mainland. Means of transportation to the island is only by boat which takes about 45-60 minutes from the port of Kawayan, Biliran.
According to Briones, these projects were behind schedule and that the delay was attributed to the unfavorable weather conditions and the difficulty in transporting construction materials and manpower to the province and into the island which are worsened by the strict border policies against the spread of COVID-19 pandemic.
In order to fast-track the said projects, Briones demands the contractors to provide additional manpower and equipment on site. He also suggests some strategies to the contractors on how to ease the implementation and cope up with the delays. He also emphasized to the contractors the strict compliance of installing road warning signs and proper disposal of construction spoils to avoid road accidents. Moreover, Briones also inspects the vegetation control along the Maripipi Circumferential Road.
Briones revealed that contractors have only until December, 2021 to complete these projects and get paid.
"Pag-hindi pa rin natapos, ibabalik na natin ang pera at ire-recommend natin for blacklisting ang contractor," said Briones.
Briones added that liquidated damages will also be imposed to the contractors for the delays incurred. The district engineer explained that these contractors can no longer be paid in full based on the contract amount of the project.
Meanwhile, Briones also takes time to inspect the on-going construction of P3.8M Construction of Multipurpose Building (Health Facility), Brgy. Ermita and the P2.88M Construction of MPB (Municipal Hospital) under FY 2021 Fund.
As per request by Hon. Joseph C. Caingcoy, Maripipi Municipal Mayor, joint inspection on the LGU-implemented projects in the proposed government center of the municipality were also conducted.
DE Briones said that he will conduct regular inspections in this island town in order to fast-track these high-impact projects which are beneficial to the entire Municipality with about 17,000 populations.
DPWH-Biliran DEO turns-over Almeria bypass road project, phase I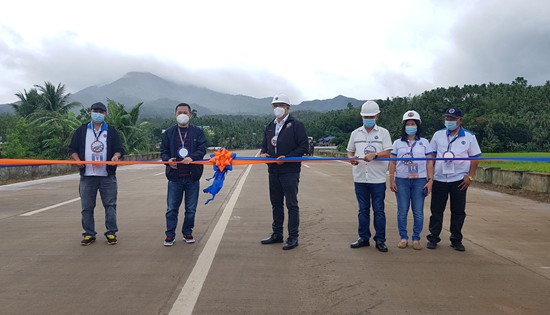 Biliran Congressman Gerardo J. Espina, Jr. (2nd from left), District Engineer Ferdinand A. Briones (3rd from left), and Assistant District Engineer Alfredo L. Bollido (3rd from right) lead the cutting of ribbon in a turn-over ceremony of the Almeria Bypass Road project, Phase 1 in Pob. Almeria, Biliran. They are joined in by Engr. Luisito Filemon A. Abad (leftmost), Chief of Construction Section, Engr. Reynaldo Peñaflor (rightmost), Chief of Quality Assurance Section and Engr. Glenda G. Dagalea (2nd from right), Chief of Maintenance Section.
By DPWH-Biliran
March 26, 2021
NAVAL, Biliran – The Department of Public Works and Highways (DPWH) Biliran District Engineering Office (DEO) turns-over the completed Almeria Bypass Road Project, Phase I in Pob. Almeria, Biliran on March 11, 2021.
The turn-over ceremony was led by Biliran Congressman Gerardo J. Espina, Jr., Almeria Mayor Richard D. Jaguros, Brgy. Captain Rolando S. Nierra of Poblacion Almeria, District Engineer (DE) Ferdinand A. Briones and Assistant District Engineer Alfredo L. Bollido together with DPWH employees.
The said project is implemented in two phases under FY 2018 and FY 2019 fund allocation.
The first phase of the project which is now completed involves the road opening, slope protection, bridge construction and a road concreting of a 0.879-kilometer four lane road with a contract cost of P83.1M.
Mayor Jaguros expresses gratitude for the realization of the Almeria Bypass Road Project which is seen to decongest traffic along the main highway of Poblacion Almeria.
"Dako kaayu ni'g tabang namo kay kung wala gyud ni marealize, ang among baryo sa Brgy. Poblacion basin Sitio nala na,"
"This project (bypass road) is really a big help because if it was not realized, maybe our town in Brgy. Poblacion will just become Sitio," said Jaguros.
The said project was proposed by the Sangguniang Bayan in lieu of the road widening project on the main highway of Poblacion Almeria where numerous residents will be affected.
The alternate road begins at Sitio Daro traversing rice fields all the way to Upper Look in Almeria town. It is implemented in two phases with a total length of 1.262 km. 4-lane roadway and a 20 ln.m Bridge (4 lanes) amounting to P95.8M.
According to DE Briones, Phase II of the said project is almost completed and expected to be finished on the end of the 1st quarter of 2021.
The Phase II of the project involves the construction of a 4-lane concrete road with a total length of 0.383-kilometer amounting to P12.7M.
The completion of the bypass road project will provide a wider, safer and faster travel for the motorist from the towns of Kawayan and Almeria in going to the capital town of Naval and vice-versa. This road also leads to the only Provincial Hospital of Naval.
2,800 Biliranons to benefit from P9.8 million TUPAD funds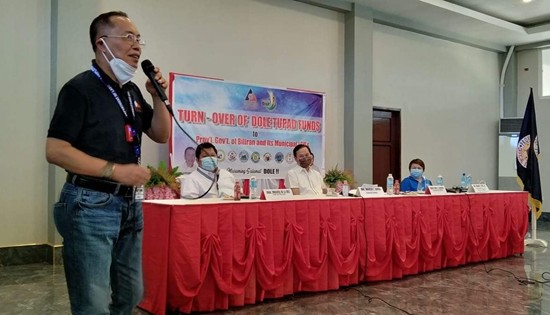 By NORMA RAE S. COSTIMIANO
March 26, 2021
NAVAL, Biliran – The Department of Labor and Employment Regional Office No. 8 through its Biliran Field Office (BFO) on March 23, 2021 awarded a total of P9,873,500.00 assistance under the Tulong Panghanapbuhay Para sa Ating Disadvantaged/Displaced Workers (TUPAD). The said funding assistance will benefit 2,800 informal sector workers in Biliran.
Regional Director Henry John S. Jalbuena, assisted by DOLE-BFO Chief, Engr. Emmanuel Y. de la Cruz and Senior Labor and Employment Officer Imelda M. Codilan, led the turn-over of TUPAD checks to the Provincial Government of Biliran and seven municipalities of the province namely Naval, Almeria, Kawayan, Maripipi, Culaba, Caibiran, and Biliran.
Hon. Rogelio "Dok Roger" Espina, Jr., Governor of Biliran Province personally welcomed the DOLE-RO8 Regional Director. Mayor Humphrey Olimba and Mayor Richard Jaguros of the municipalities of Culaba and Almeria, respectively, were in attendance to personally claim the funding assistance.
In his message, Director Jalbuena thanked the local chief executives in Biliran for the warm welcome and for actively supporting the programs of the department.
"I'd like to thank Governor Espina as well as our Mayors here in Biliran for welcoming me. We at DOLE are privileged to have active partners like you in implementing the different programs and services of the department", Jalbuena said.
The newly-installed Director of DOLE-RO8 likewise expressed his unwavering commitment to serve the region with excellence.
"As your new Regional Director in Region 8, I commit my steadfast dedication to deliver excellent services to our clients. May these TUPAD grants bring new ray of hope and optimism to our informal sector workers here in Biliran especially during this time of pandemic", Jalbuena added.
Public Employment Service Office (PESO) managers representing their local chief executives were also present to receive the funding assistance: Estrellita Santolorin of Almeria, Myra Cabrales of Biliran, Sheryl Udtohan of Culaba, Maya Borromeo of Caibiran, Jose Amador of Kawayan and Rosita Maranga of Naval.
The breakdown of TUPAD funds awarded are as follows: P1,735,500 for the Province of Biliran; P1,751,750 for LGU-Naval; P874,250 for LGU-Almeria; P1,313,000 for LGU-Kawayan; P438,750 for LGU-Maripipi; P698,750 for LGU-Culaba; P1,313,000 for LGU-Caibiran and P1,748,500 for Biliran.
Also in attendance during the turn-over activity were Jason Sanjorjo, PESO-OIC of Provincial Government of Biliran, Mr. Ritchie Garcia, Head of Congressional Office, Jean Sanjorjo, Livelihood and TUPAD in-charge and Dwight Anthony Inchoco, Provincial Government focal on TUPAD. (with reports from Imelda M. Codilan-DOLE Biliran Field Office)
NMP and DMMA College forge agreement on the conduct of PDC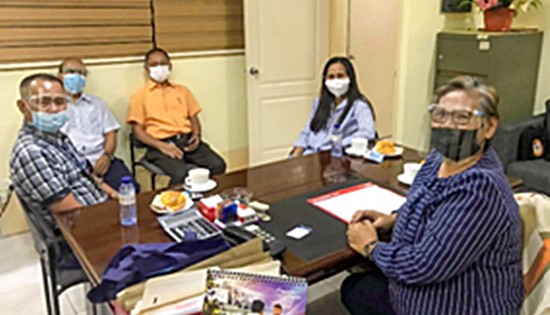 Exploratory Meeting of NMP Executive Director Joel B. Maglunsod and Deputy Executive Director Mayla N. Macadawan with DCSP Officials in Davao City.
By National Maritime Polytechnic
March 25, 2021
TACLOBAN CITY – With the aim of enhancing the quality of trainings for Filipino seafarers and expanding its services to Davao and its nearest regions particularly on the conduct of Professional Development Courses (PDC), the National Maritime Polytechnic (NMP) and the DMMA College of Southern Philippines (DCSP) forged a Memorandum of Agreement (MOA) on 15 March 2021.
NMP being an authorized PDC provider by the Maritime Industry Authority (MARINA) ensures the conduct of trainings in accordance with its policies, rules and standards pursuant to international practices in maritime education and training. The programs include the Training Course for Instructors (IMO MC 6.09); the Assessment, Examination and Certification of Seafarers (IMO MC 3.12); and Training Course for Simulator Instructors and Assessors (IMO MC 6.10).
Among the NMP's significant achievements is its pioneering role in the development and offering of IMO Model Courses with the objective of reaching out to more active and aspiring seafarers. These courses also provide avenue and medium to review and improve current training techniques and provide insight into course management necessary to achieve the prescribed standard of competence for those responsible for the education and training of seafarers.
DCSP signified its intention of partnering with NMP to update and improve the knowledge, skills and attitudes (KSA) of its maritime instructors / trainers. Noteworthy that the said institution is also equipped with the necessary facilities, equipment and other resources needed for the conduct of the said trainings.
"NMP is always open for collaborative undertakings that give priority to our seafarers and maritime-allied professionals including the maritime faculty such that they are all empowered with the technical competence as they face the challenges in these trying times", NMP Executive Director Joel B. Maglunsod disclosed.
The first training to be held is IMO MC 6.09 scheduled on April 12-23, 2021 followed by IMO MC 6.10 on April 26-30, 2021 which will be conducted at the DCSP, Tigatto Road, Buhangin, Davao City. Interested participants may contact these nos: (082) 241-2090 / 0920-264-8169.
Meanwhile, NMP continues to conduct face-to-face trainings exclusively to the seafarer-trainees residing within Region VIII, imposing strict implementation of the Maritime Industry Authority's (MARINA) approved Post-Enhanced Community Quarantine Operational Plan and other health and safety protocols as required by the Department of Health (DOH), Department of Labor and Employment (DOLE), and local government unit (LGU).