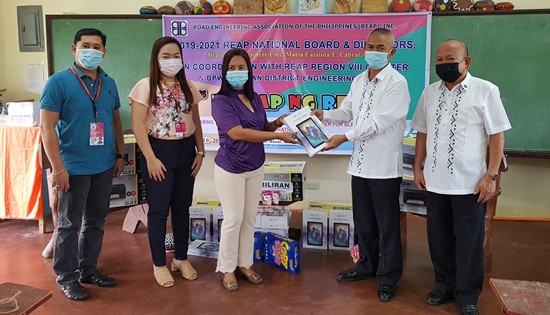 From right, DPWH-Biliran District Engineering Office represented by Chief of Administrative Section Mr. Bern L. Calomadre and Assistant District Engineer Alfredo L. Bollido on behalf of District Engineer David P. Adongay Jr. turn-over donated tablet, bond papers and printers with ink to Naval National High School (NNHS) represented by Ms. Rachelle C. Dado, Principal I, Ms. Elaine Joy Mejia, Head Teacher I, and Mr. Patricio P. Laurito Jr., Head Teacher III on December 16, 2020 at NNHS, Brgy. Larrazabal, Naval, Biliran.
DPWH-Biliran DEO turns-over donated printers, tablets and other supplies
By DPWH-Biliran
December 18, 2020
NAVAL, Biliran – The Department of Public Works and Highways (DPWH)- Biliran District Engineering Office (DEO) turns-over printers, tablets and other supplies donated by the Road Engineering Association of the Philippines (REAP) Inc. thru "Lingap ng REAP" project to selected schools and deserving students in the Municipality of Naval on December 16, 2020 at Naval National High School, Brgy. Larrazabal, Naval, Biliran.
Assistant District Engineer (ADE) Alfredo L. Bollido together with Mr. Bern L. Calomadre, Chief of Administrative Section led the turn-over on behalf of District Engineer David P. Adongay Jr.
According to ADE Bollido, DPWH in coordination with the Department of Education (DepEd) identified six schools and 10 deserving students to be the recipient of the tablets, printers with ink and reams of bond papers for use in the new normal set-up of learning under the threat of COVID-19 pandemic.
Recipient schools are Naval National High School with two units of printers having plenty of enrollees and one unit each for Naval Central School SPED Center, Lucsoon National High School, Larrazabal Elementary School, Cornelio P. Limpiado Elementary School and Fidel M. Limpiado National High School, Higatangan Island, all in the town of Naval.
Meanwhile, 10 poor but deserving students of Naval National High School (NNHS) received one tablet each that they can use for the blended learning.
Ms. Rachelle C. Dado, Principal I of NNHS expressed her gratitude in behalf of the school to the DPWH and REAP for donating the said equipment and supplies.
"This is really helpful for the learners in researching topics in their Learning Activity Sheets (LAS) especially that we are in this pandemic and of course a great help for the teachers for printing the LAS and other reports," said Ms. Dado.
The "Lingap ng REAP" project – Sharing tablets for on-line learning in coordination with the Department of Education aims to help the students in adapting to the new blended educational system under COVID-19 and live to reap their efforts to success beyond the pandemic.
REAP Inc. 2019-2021 REAP National Director is headed by President and DPWH Undersecretary Maria Catalina E. Cabral with REAP Region VIII Chapter President, OIC-ARD Gerald A. Pacanan, now assigned in DPWH Region V.
Int'l Commission assembled to investigate Duterte's crimes against humanity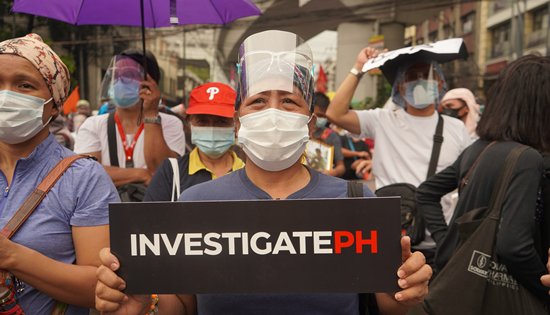 All eyes on the Philippines now as independent global probe happens
Press Release
December 17, 2020
MANILA – After the recent pronouncement of the International Criminal Court (ICC), prominent members of the international community declared on Thursday that there is an independent investigation ongoing in the Philippines called Investigate PH.
The ICC Prosecutor Fatou Bensouda said last Tuesday that there is "reasonable basis" to believe that crimes against humanity were committed by President Rodrigo Duterte, specifically the thousands killed in his war on drugs.
In a virtual press conference, the Independent International Commission of Investigation into Human Rights Violations in the Philippines or INVESTIGATE PH was publicly announced.
"We are here to announce that an independent people-led probe is happening in the Philippines. This is most definitely a global issue. The world community has a responsibility to speak up and seek the truth" says Former Australian Senator Lee Rhiannon also a member of the INVESTIGATE PH High Level Commission.
The former Australian senator further emphasized that: "We must not allow the call for human rights be hijacked. Accountability must be a part of the justice and democratic system."
Also speaking live in the media event were its leading High Level Commissioners namely: Rev. Michael Blair, General Secretary of the United Church of Canada; Atty. Jeanne Mirer, President of the International Association of Democratic Lawyers; Rev. Dr. Susan Henry-Crowe - General Secretary, General Board of Church & Society, the United Methodist Church; and Rev. Dr. Chris Ferguson, General Secretary of the World Communion of Reformed Churches.
According to INVESTIGATE PH, this global endeavor is an independent international investigation of the human rights situation in the Philippines. It is an initiative of global organisations, religious, legal, trade union and political leaders, and civil society.
"We will submit the final report of the findings to the International Criminal Court and other relevant UN bodies such as the UN Human Rights Council, UN Security Council, the UN General Assembly Special Session," says Atty. Jeanne Mirer, Investigate Ph High Level Commissioner.
The independent investigations are scheduled to happen through a hybrid of virtual and physical fact findings. This aims to further substantiate the Office of the High Commissioner for Human Rights June 2020 report.
A final report of the findings will be submitted to the Enhanced Interactive Dialogues and General Debates of the UN Human Rights Council 48th Session in September 2021, when the High Commissioner will update on the implementation of the Human Rights Council Resolution 45/L.38 that shall provide technical assistance and capacity-building to the Government of the Philippines for the promotion and protection of human rights in the country.
INVESTIGATE PH also intends to join in preceding UNHRC sessions, including the 46th Session in February to March 2021 and the 47th Session in June-July 2021 to share about the on-going investigation and the preliminary findings.
"That is what brings us together today. What is happening in the Philippines amounts to crimes against humanity. These crimes must be investigated. The human rights cases must be investigated and the perpetrators be made accountable," Former Senator Lee Rhiannon ends.
CARD SME Bank inaugurates 36th branch in General Santos City
Press Release
December 17, 2020
SAN PABLO CITY – CARD SME Bank opens its 36th branch on December 7, 2020, to cater to the financial needs of more MSMEs in Brgy. Lagao, General Santos City. The Lagao Branch, located at Sestina Building, Lucio Velayo Sr. Road, Brgy. Lagao, General Santos City, is officially the 6th CARD SME Bank branch in Mindanao and one of the two (2) branches in the city.
CARD SME Bank President and CEO Aristeo A. Dequito is positive that the products and services of the bank will ignite hope despite the challenges of 2020. "We want to end 2020 reaching more entrepreneurs and helping them recover from the adverse impact of the pandemic," says Dequito.
While the first branch in General Santos City already caters to more than 25,000 clients, Lagao Branch "will be the home of thousands of MSMEs in the area," says Dequito. He continues, "We assure that this expansion will provide easier transactions for our clients with us."
As the quarantine protocols ease, Dequito also shares how the bank braves the pandemic to constantly provide financial access to the unbanked and underbanked families.
"The branch strictly follows the safety guidelines and protocols to ensure the safety of our clients and staff," he adds. Like all its branches nationwide, CARD SME Bank Lagao Branch is equipped with plexiglass dividers and hand sanitizer dispensers, while strictly following government mandated health protocols like social distancing and wearing of face mask.
Digital Banking
Dequito also shares how the pandemic led the institution to accelerate its digitalization to advance its banking system. "Throughout the decade, we have been investing in our digital transformation, but with the current situation, our banking technological solutions need more urgency to provide our clients the safety and convenience they need amid the pandemic."
With digital banking, clients can now experience hassle-free banking transactions anytime and anywhere using their mobile phones through konek2CARD, a mobile banking application, offered free to all account holders of CARD SME Bank. "With our continuous journey to digital transformation, we will advance more of its capabilities."
Dequito continues, "We at CARD SME Bank, together with the other institutions under CARD MRI, are in full swing to continue our mission in improving the lives of the socioeconomically challenged families in the country."
CARD SME Bank is expecting to initially serve more than 7,000 clients from five (5) branch lite units.
The grand opening of CARD SME Bank Lagao branch was personally attended by several CARD MRI clients and staff, representatives from local government units, and other members of the community. Virtually present via Zoom conference were CARD MRI Executive Committee Members, including CARD MRI Founder and Chairman Emeritus Dr. Jaime Aristotle Alip and Managing Director Flordeliza Sarmiento.
As of October 2020, CARD SME Bank has already served more than 1 million clients, has disbursed more than P7 billion loans, and has a total asset of P8 billion.
DPWH completes P1.9M footbridge project in Caibiran town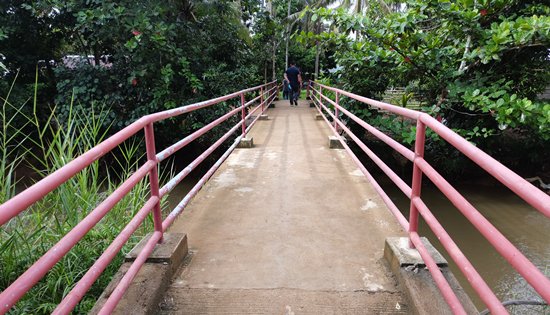 By DPWH Biliran
December 16, 2020
NAVAL, Biliran – Accessing basic essential services is now easier for the residents in Sitio Guindulangan, Victory village in Caibiran town with the completion of the P1.9M footbridge project from the Department of Public Works and Highways (DPWH)-Biliran District Engineering Office (DEO).
District Engineer David P. Adongay Jr., said that the footbridge project links Sitio Guindulangan to Sitio Katipunan, Victory village to the town proper of Caibiran and to other neighboring villages.
The said project covers the construction of a 14-meter length footbridge with a height of 4-meter from the river bed and a concreting of an 8-meter footbridge approaches on both sides.
Prior to the implementation of the project, residents of Sitio Guindulangan are crossing the river through a log bridge from an unused electrical post supported only by bamboo poles for its foundation.
Adongay revealed that the situation of the old bridge limits the residents' capacity to access the very basic services they need especially during high tide.
"Because of the poor condition of the old bridge, crossing the bridge also poses danger to the passers especially to the children, pregnant women and senior citizens," Adongay said.
"With the completion of the footbridge project, residents of Sitio Guindulangan can now enjoy a safer and faster access to the basic essential establishments of the town such as schools, health facilities, and other government and non-government services," Adongay said.
Moreover, transport of goods and farm products will now be much easier since the footbridge is now accessible by motorcycles.
From its start date on October 15, 2020, the said project was completed on November 25, 2020, ahead of its target completion date which is on January 02, 2021.
DTI launches National Trade Fair Digital Mall
By DTI-TPG-Bureau of Domestic Trade Promotion
December 15, 2020
MAKATI CITY – In lieu of the usual National Trade Fair (NTF) organized annually, the Department of Trade and Industry - Bureau of Domestic Trade Promotion (DTI-BDTP) is launching the NTF Digital Mall. This is in response to the unprecedented challenges faced by micro, small, and medium enterprises (MSMEs) during the COVID-19 pandemic, which has adversely impacted their operations.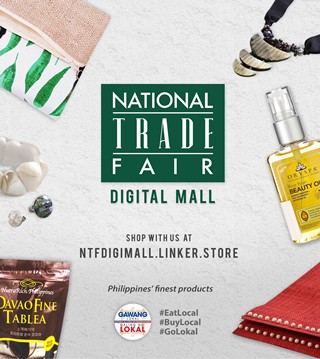 To help MSMEs future-proof their businesses as they pivot to online selling, the NTF Digital Mall is a platform that offers continuous promotion of the food and non-food products from the different regions, amid the physical restrictions of the pandemic. A project of the DTI-BDTP in collaboration with the DTI-Regional and Provincial Offices, the NTF Digital Mall is an e-commerce platform inside the UB GlobalLinker site.
Formally opened on December 15, the NTF Digital Mall, like all national trade fairs, showcases the best products of 223 MSMEs from all parts of the country. Featured products include processed food and beverages, gifts and souvenirs, houseware and decor, fashion accessories, wearables, as well as health and fitness products.
For a more convenient online shopping experience, the NTF Digital Mall features a product catalog with a facility to search for a specific product or product category. For easier transactions, buyers can connect with the MSMEs via the Viber app for secure instant messaging. Visitors will also have access to DTI webinars, and can read about the participating exhibitors' inspirational success stories.
Digital Mall Features for MSMEs
The NTF Digital Mall is hosted on UnionBank GlobalLinker, a free and innovative platform that helps MSMEs grow online with tools for efficient business management and network expansion. It is distinct from other e-commerce platforms as it is an all-in-one accessible platform that enables MSMEs to connect to both local and global B2B and B2C partners, suppliers, and customers. It has networking capabilities to help MSMEs grow and manage their business. It offers immediate access to financial service providers, point of sale, accounting, inventory, human resources, tax and payroll services, supply chain management, and B2B and B2C marketplaces.
Some of the business features offered on the NTF Digital Mall that MSMEs can readily use are:
• Linker.Store - Connect the MSME's business to the world by launching their do-it-yourself E-commerce store for free with its inventory management and data analysis tools.
• Network – Search for and manage a global network of potential suppliers, partners, and customers, not just in the Philippines, but also in other parts of Southeast Asia.
• Biz offers - Have access to business tools that will help MSMEs manage their business, share files, and track important events more efficiently.
• Secure multi-device access via desktop, mobile or tablet.
• Apply online for business loans, deposit products, and credit cards without the hassle.
• Biz Forum - Get tips and inspiration from successful entrepreneurs. A place for discussing new business ideas, topics and useful articles within a vibrant business community.
To visit the site, simply log in to https://ntfdigimall.linker.store/
For more information about the DTI-Bureau of Domestic Trade Promotion, please follow their social media accounts @BDTP on Facebook, Instagram, and Twitter. You may also email bdtp@dti.gov.ph.
DELIVER-e will be "game-changing" for farmers and consumers - DTI chief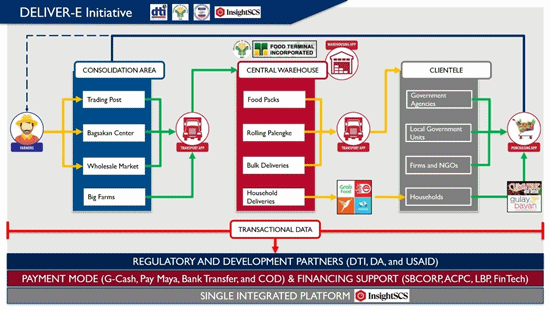 By DTI-OSEC-Office of Digital Philippines
December 13, 2020
MANILA – The Department of Trade and Industry (DTI) – together with the Department of Agriculture (DA), private sector partners, farmer cooperatives, and the United States Agency for International Development (USAID) – is officially launching DELIVER-e on December 14, 2020 alongside a multi-stakeholder commitment pledge signing to upscale agriculture value chain and improve overall food security in the country even beyond the COVID-19 crisis.
"This initiative is all about bringing farm produce closer to consumers and cutting layers of traders. Through technology and innovation, it will be game-changing not only for our farmers but also for our consumers," DTI Secretary Ramon Lopez said.
He added: "This is part of our strong partnership with Agriculture Secretary William Dar as we jointly work on solutions to increasing farmers' income, providing better supply chain in agriculture and its link to industry processors or direct to marketplace, and delivering fresher products for consumers."
DELIVER-e is a digital platform that connects farmers to buyers through an efficient and transparent end-to-end market-based system. It operates through a sophisticated blockchain technology developed by a Filipino tech startup, Insight Supply Chain Solutions (InsightSCS), that integrates related e-commerce and logistics application services from consolidation point to central warehousing facility, and then to last-mile delivery services to reach end-clients.
As the lead agency for the Inter-agency Task Force for Emerging Infectious Diseases (IATF-EID) sub-taskforce on food value chain and logistics, DTI brought together public and private partners, as well as development partners like the USAID, to design and implement strategies addressing the looming threat on food security and widened gap in agriculture value chain.
"Our main goal is to increase production and ensure supply stability for basic necessities and prime commodities through new business models," Sec. Lopez said.
The immediate collaborative planning, consultation, and benchmarking activities of the DTI, DA, private sector partner Supply Chain Management Association of the Philippines (SCMAP), logistics technology experts, farmer groups, and the USAID DELIVER-Project paved the way for the development and initial launch of DELIVER-e in early April 2020.
Since April, this innovative platform has mobilized over 260 tons of fresh fruits and vegetables and recorded more than P7.15 million worth of transactions. Additionally, it has helped around 600 farmers in Luzon and some provinces in Mindanao by doubling their income from their harvests and reducing wastage from 50 percent down to only 5 percent.
Even beyond the pandemic situation, DELIVER-e's technology is deemed as one of the key sustainable solutions to improve the Philippines' agriculture value chain, making the country more food-secure while improving the lives of every Filipino farmer.
With the intent of further developing DELIVER-e and its database modules, DTI – together with its collaborators from the National Government, private sector, farmer groups, and the USAID – will undertake a ceremonial commitment pledge signing during the "DELIVER-e Goes Live" official launch event on 14 December 2020 to solidify greater collaboration and cooperation efforts.
As the platform onboards more players in the agriculture value chain, DELIVER-e will soon be able to build an elaborate supply-and-demand dashboard system that will be useful in providing insightful data for the Philippine Government's evidence-based decision-making process in relevant sectors and issues as the country moves towards building back better.
"Instead of adjusting to the New Normal, let us try to create a Better Normal where all Filipinos can enjoy the fruits of our country's inclusive growth and shared prosperity for all," DTI Sec. Lopez underscored.
In October 2019, DTI and DA also signed a Memorandum of Understanding (MOU) with the Philippine Chamber of Commerce and Industry (PCCI) reinforcing strong collaboration and implementation of the Agribusiness Support for Promotion and Investment in Regional Expositions (ASPIRE) between the government and the private sector.
Through DELIVER-e, the public and private sectors will be able to realize ASPIRE's ultimate vision of creating businesses and jobs to the rural community by linking farmers directly to the market.
Unwrapping the sweet success story of a mother turned entrepreneur from Occidental Mindoro
By DTI-Regional Operations Group
December 11, 2020
MAKATI CITY – While motherhood and running a business might be a 'tight-rope walk', Jerlie Daseco, owner of Triple P Food Products from the Municipality of Paluan in Occidental Mindoro, embraces both her vital roles.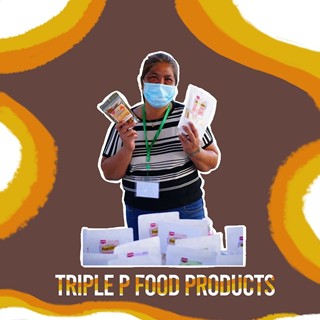 Triple P Food Products' flagship product is pastillas. A sweet milk-based confection made with carabao's milk, pastillas is a popular pasalubong in the municipality of Paluan, as it is in any part of the country. The enterprise offers a variety of pastillas flavors, from purple yam (ube), jackfruit (langka), cheese, pandan, coconut, and chili, showing the diverse taste palette of Filipinos.
Occidental Mindoro is also home to cashew, expanding her product line to roasted and fried cashew nuts. More of Triple P's products include, sampaloc candies, papaya relish (atsara), and honey.
With an initial capital of P1,500.00 just enough to produce and sell pastillas in their small community, backed by the owner's passion to help her family, and the Department of Trade and Industry (DTI) MIMAROPA's support, the enterprise grew remarkably. From a monthly gross sale of P12,000.00, Triple P Food Products hit P200,000.00 to P300,000.00 gross sale per month. Furthermore, the enterprise was able to employ two full-time employees and 6 part-time employees.
Since DTI MIMAROPA's interventions, Triple P Food Products has attended several free business development trainings and seminars, product packaging and label designs assistance through the Regional Integrated Product Development Assistance Project (RIPDA) under the One Town One Product (OTOP) Program, laboratory analysis support, and participation to numerous municipal, regional, and national trade fairs. Ms. Daseco is also a member of the Paluan Food Processors Association (PAFPA), cooperator of Milk Processing Shared Service Facility, and a beneficiary of the Livelihood Seeding Program – Negosyo Serbisyo sa Barangay (LSP-NSB), among others.
Triple P Food Products takes pride in helping their community, especially the indigenous peoples (IPs) and farmers, by buying their produce at fair prices.
DTI's interventions helped Jerlie Daseco to reach out to more aspiring and existing Mompreneurs, having hired as one of the trainers of the Department on pastillas and cashew nut processing in the province. This stay-at-home mom turned entrepreneur is a perfect example of how one can ripple change to the community through entrepreneurship.
Triple P Food Products has also tapped the online market, enrolling their products to several digital platforms, as assisted by DTI. They supply their products to different stores in Occidental Mindoro and nearby provinces in the region. Likewise, their product distribution has extended to Manila, Batangas, and Tarlac, through retailers and distributors.
Interested buyers and distributors may reach them via their official Facebook page: Triple P Food Products -Apong. For more information on local products and produce proudly made from MIMAROPA, visit the nearest DTI Provincial Office or Negosyo Center.
Castriciones signs AO giving land to agriculture graduates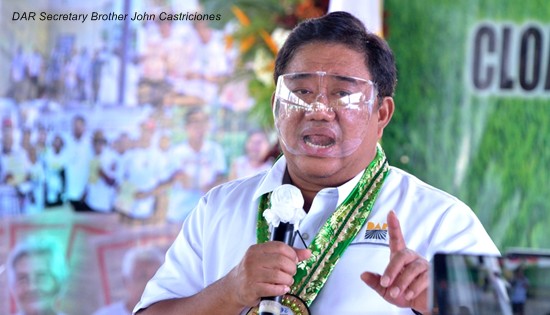 By JOSE ALSMITH L. SORIA
December 10, 2020
TACLOBAN CITY – Agriculture graduates can now avail of farmland under the Comprehensive Agrarian Reform Program (CARP) where they can apply their knowledge on farming as Agrarian Reform Secretary Brother John Castriciones signed Department of Agrarian Reform (DAR) Administrative Order No. 03, series of 2020.
During the Radyo Agraryo program aired on Monday (December 7) over Radyo Veritas, Castriciones announced that he had already signed the said law that would allow agriculture graduates to become agrarian reform beneficiaries (ARBs) of CARP's Land Transfer Program.
The new law will take effect 10 days after it has been published in the newspaper of general circulation.
To qualify, DAR Undersecretary for Legal Affairs, Luis Meinrado Pañgulayan, explained that aside from being a graduate of a four-year agriculture-related course, the applicant must be landless; living within the municipality where the land to be awarded is situated; has the aptitude to make the land productive; and not an applicant of any other DAR's land transfer programs.
He emphasized that an applicant need not be a fresh graduate.
Once this new law takes effect, Pañgulayan said, interested applicants can file letter of intent at the Municipal Agrarian Reform Office (MARO) in their area, and fill out the forms that will be provided to them.
A certification from the school registrar, where they completed their studies, attesting that the applicant is truly a graduate of an agriculture-related course must also be submitted, Pañgulayan added.
Two weeks ago, Castriciones shared when he distributed Certificates of Land Ownership Award (CLOAs) in Alangalang, Leyte, that his agency is preparing an administrative order that would grant graduates of agriculture-related courses a maximum of three-hectare farm lot under CARP for their laboratory.
With the signing of the new administrative order, Castriciones calls on parents to encourage their children to take agriculture-related courses to boost the country's agriculture sector.
He reported that per inventory, there are approximately 230,000 hectares of government-owned lands (GOL) that may be involved all over the country.
NCCP on Human Rights Day: Stand for Justice, Stand for Human Rights
Press Release
December 10, 2020
QUEZON CITY – On the occasion of International Human Rights Day, the National Council of Churches in the Philippines joined the multisectoral actions commemorating the 72nd anniversary of the Universal Declaration of Human Rights. "This year's commemoration of International Human Rights Day is a reminder that as Christians we must actively take part in defending human dignity especially at a time when wanton disregard for human rights and the rule of law seems to be a state policy," said Bishop Reuel Norman O. Marigza, the General Secretary of the National Council of Churches in the Philippines (NCCP).
"To remain silent runs counter to what our faith and conscience demand – to do justice, to love kindness and to walk humbly with God (Micah 6:8)" Bishop Marigza added.
The NCCP has always been vocal in its defense of human rights especially in the midst of the pandemic where spiraling deeper crises plague the country, and have pushed many of the vulnerable sectors to the fringes of society as toxic lockdowns were implemented. NCCP avers that the government's militaristic response to the pandemic only brought devastating effects to the lives of the Filipino people.
The Council and its member churches also experienced intensifying vilification and red-tagging. Aside from NCCP, repeatedly mentioned in the recent presentations made by NTF-ELCAC Executive Director Allen Apuyan were Iglesia Filipina Independiente, United Church of Christ in the Philippines, United Methodist Church and Convention of Philippine Baptist Churches. Last December 8, the image of IFI Obispo Maximo Rhee Timbang was also included in malicious flyers distributed around Cagayan De Oro tagging him as a "communist terrorist".
"Red tagging is real, but despite these attacks, we will continue to defend human rights. Denouncing evils in our society and proclaiming and asserting Jesus' promise of abundant life for all remains to be our fundamental task." Bishop Marigza averred.
"The defense of human rights is at the very core of our faith because of our belief in the sanctity of life and the need to protect human dignity that God bestowed on each of us. Just as Jesus triumphed over death in order to proclaim God's love, the churches will surely win against the attempts to malign our ministry and prophetic stance. We will continue to stand for human rights!" Bishop Marigza concluded.