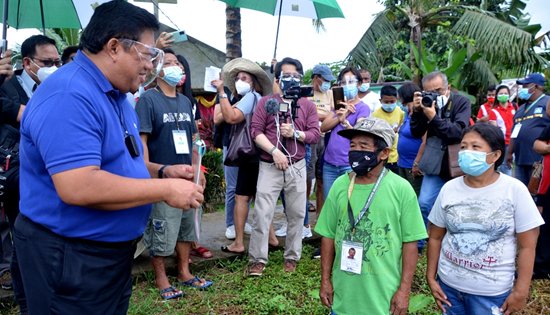 DAR to Door. Department of Agrarian Reform (DAR) Secretary Brother John Castriciones delivers Certificates of Land Ownership Award (CLOAs) to agrarian reform beneficiaries' (ARBs') homes in Barangays Lourdes and Bobonon in Alangalang, Leyte.
Castriciones delivers CLOAs in remote Leyte villages despite heavy rains
By JOSE ALSMITH L. SORIA
December 5, 2020
ALANGALANG, Leyte – Despite the sudden heavy downpour, Department of Agrarian Reform (DAR) Secretary Brother John Castriciones did not back out from his original plan of delivering the Certificates of Land Ownership Award (CLOAs) to six agrarian reform beneficiaries (ARBs) in a remote village here under the "DAR to Door" program.
Upon his arrival on Wednesday (November 25) in Tacloban City, Castriciones went directly to this town, which is some 30 kilometers away.
Accompanied by his deputies, Undersecretary David Erro of the Field Operations Office and Undersecretary Carim Panumpang of the Special Concerns Office, Castriciones proceeded to Barangay Lourdes, which is still about five kilometers away from the town proper.
While in the middle of his talk with ARB Francisco Catindoy in the land the latter is tilling, heavy rain suddenly poured. But Castriciones patiently waited in a nearby house of Bernardo Lagaday, another ARB, for the rain to subside to continue with his purpose of delivering the CLOAs to the homes of the four other recipient farmers in the area.
From Barangay Lourdes, Castriciones went also to Barangay Bobonon to deliver the CLOA of Alicia Tabernero, who became emotional when she received the land title.
Tabernero, as she thanked Secretary Castriciones, shared that she had been wishing for a long time that the land she was tilling would be hers someday, and that her wish is now being realized. She added that she valued much that land especially the time that she was sending her children to school.
On the following day, Castriciones went back to this town and distributed in a formal rite at the municipal covered court 1,280 more CLOAs covering an aggregate area of over a thousand hectares to 1,042 ARBs from other farming villages in this municipality as well as from the towns of Barugo, Burauen, Capoocan, Carigara, Dagami, Jaro, Kananga, and Pastrana.
According to Castriciones, "kaya ako ay lumilibot sa buong Pilipinas upang palakasin ang pag-asa ng ating mga magsasaka sapagkat alam ko na sa panahong ito ay dapat silang bigyan ng pag-asa, bigyan sila ng motibasyon para magpatuloy sa paghahanapbuhay bilang mga magsasaka.
Castriciones described the farmers as true heroes of our nation.
He emphasized "malaki po ang utang na loob ng ating bansa sa ating mga magsasaka lalo na ngayong may pandemya. Dahil sa kanila may pagkain ang ating mga mesa."
Meanwhile, MAALSADA-Farmer Irrigators Service Cooperative (FISCO) was honored on the same occasion as outstanding agrarian reform beneficiaries organization (ARBO) in the region for garnering the highest product sales encompassing both the traditional and institutional markets, at P13.3-million from March to October this year.
However, Reynaldo Peja, chairman of the MAALSADA-FISCO, begged to increase the buying price of rice. At present, a kilo of rice is sold at P12 only.
Karapatan files complaint against gov't officials engaged in red-tagging
By KARAPATAN
December 4, 2020
QUEZOZN CITY – On December 4, 2020, days after the last Senate committee hearing on red-tagging, Karapatan filed criminal and administrative charges against the ranking officials of the National Task Force to End Local Communist Armed Conflict (NTF-ELCAC) and former PCOO Undersecretary Mocha Uson. The National Union of Peoples' Lawyers (NUPL) serves as Karapatan's counsel in this case.
During the filing of charges before the Office of the Ombudsman, Karapatan Secretary General Cristina Palabay said Hermogenes Esperon Jr., Antonio Parlade Jr., Lorraine Marie T. Badoy, and Esther Margaux "Mocha" Uson should be held criminally and administratively liable for the acts that malign, vilify and baselessly red-tag her along with Karapatan's officers and members.
Palabay said red-tagging of activists and progressive groups has led to the killings of human rights defenders, enforced disappearances, illegal arrests and detention, torture, criminalization of their jobs and advocacies, and other defilements of their civil and political rights.
Parlade was earlier quoted in an article by the Philippine News Agency (PNA) entitled "Denounce Reds over brutal slay of CAFGU member, Karapatan told", written by Priam Nepomuceno and published on June 2, 2019, alleging that Karapatan has a connection with the New People's Army.
"On March 7, 2019, Respondent Parlade, in a poster shared from the account of the Civil Relations Service AFP, referred to KARAPATAN as a terrorist front organization, told the European Union (EU) and the United Nations (UN) falsehoods with regards to the human rights situation in the country, and sought material support from EU member states on the basis of these false claims," the 40-page complaint said.
"Thereafter, on April 9, 2019, Respondent Parlade utilized the social media as his platform to spread lies against me and my organization KARAPATAN. In a story published by Kalinaw News in its website, Respondent Parlade was quoted."
The complaint also cited that Parlade continued red-tagging KARAPATAN, "that even our support for the calls for press freedom insofar as the franchise renewal issue of ABS-CBN is concerned was smeared with malicious and baseless accusations against us."
The complaint said the respondents' red-tagging of Palabay, KARAPATAN and its members and officers violates the principle of distinction under international and domestic humanitarian law.
The Philippine government is a party to the Comprehensive Agreement on Respect for Human Rights and International Humanitarian Law (CARHRIHL). One of the hallmark principles of International Humanitarian Law is the principle of distinction, which restricts targets of attacks to military objectives only to protect civilian persons and objects.
"Both parties affirmed the applicability of the 1949 Geneva Conventions and its 1977 Additional Protocols, which are main IHL treaties. The Rome Statute of the International Criminal Court has parallel provisions and principles on this," the complaint said.
Under the complaint, Palabay and Karapatan said red-tagging constitutes the Crime against Humanity of Persecution.
Republic Act No. 9851 (RA 9851) or the Philippine Act on Crimes Against International Humanitarian Law, Genocide, and Other Crimes Against Humanity penalizes the crime against humanity of persecution.
Republic Act No. 9851 (RA 9851) or the Philippine Act on Crimes Against International Humanitarian Law, Genocide, and Other Crimes Against Humanity penalizes the crime against humanity of persecution.
Under Section 3(p) of RA 9851, persecution refers to "the intentional and severe deprivation of fundamental rights contrary to international law by reason of identity of the group or collectivity."
"This crime against humanity is committed when there is persecution "against any identifiable group or collectivity on political, racial, national, ethnic, cultural, religious, gender, sexual orientation, or other grounds, committed as part of a widespread or systematic attack directed against any civilian population," the complaint said.
Under the complaint, Karapatan and Palabay said the government officials also violated the Anti- Graft and Corrupt Practices Act by doing acts that "are contrary to law or regulation; are unreasonable, unfair, oppressive or discriminatory; and are inconsistent with the general course of an agency's functions, though in accordance with law proceed from a mistake of law or an arbitrary ascertainment of facts; are in the exercise of discretionary powers but for an improper purpose; or are otherwise irregular, immoral or devoid of justification."
"Respondents acted with manifest partiality and evident bad faith when they recklessly engaged in red-tagging me and KARAPATAN publicly, absent any competent, admissible, much less credible evidence to prove their claims," the complainants said.
"Lastly, the red-tagging and vilification against us have indubitably already caused us undue injury not only by threatening our lives, liberty, security but also discrediting our work and advocacy and besmirching our reputations."
Download: Copy of the complaint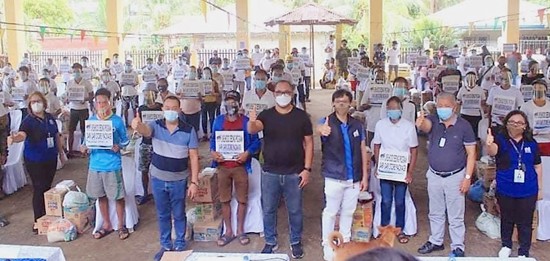 Ninety-nine LSP-NSB & PPG beneficiaries received livelihood packages from DTI Asec. Niño Contreras with DTI R8 RD Celerina Bato, DTI Leyte OIC-PD Araceli Larraga and other government official.
DTI Leyte grants livelihood kits to 99 former rebels, MEs in Calubian, Leyte
By DTI-OSEC-Office of the Assistant Secretary for PPG
December 4, 2020
MAKATI CITY – The Department of Trade and Industry (DTI) Leyte Provincial Office grants livelihood kits to 82 former rebels (FRs) and 17 COVID-19 affected micro entrepreneurs of Calubian, Leyte during the Livelihood Seeding Program (LSP) - Negosyo Serbisyo sa Barangay (NSB) and Pangkabuhayan sa Pagbangon at Ginhawa (PPG) Program Distribution of Livelihood Kits last November 19, 2020 at Brgy. Jubay, Calubian, Leyte.
DTI Assistant Secretary Niño Contreras, PPG Head for Visayas and Mindanao Region led the distribution of P5,000.00 worth of sari-sari store and food processing livelihood packages to these FRs together with Leyte Vice-Governor Carlo P. Loreto representing Governor Dominic L. Petilla, Representative Vicente Veloso of the 3rd District of Leyte, Brigadier General Zosimo A. Olivares, Brigade Commander of 802 Brigade of the Philippine Army, DTI Region 8 Regional Director Celerina T. Bato, Calubian Mayor Marciano A. Batiancela, Jr., DTI Leyte OIC-Provincial Director Araceli D. Larraga and Capt. Roberto Q. Beatisula, Jr., Battalion Commander of 93rd Infantry Battalion, 8th Infantry Division, Philippine Army.
"We are bringing the services of the national government through DTI and other government agencies to the remote barangays and conflict affected areas of the country", says Asec. Contreras.
He also emphasized that "President Duterte is there to help the people affected by calamities including those former rebels who are now in one with the government."
The sari-sari store package is composed of: 72 pieces of instant noodles assorted flavor, 240 single packs of 3-in-1 coffee, 50 pcs. canned sardines, 45 corned beef and 144 sachets of detergent powder. On the other hand, the food processing package comprised of one (1) unit two-burner gas stove, a frying pan and an 11 kg. filled liquefied petroleum gas tank (LPG) with accessories. In addition to the livelihood kits, the beneficiaries also received grocery items courtesy of Senator Bong Go who co-funded the PPG program.
Mr. Rotchel Itol, a former rebel expressed his deep gratitude to DTI and the national government for the assistance received:
"Thank you very much to DTI and to our government for this PPG livelihood grant. This is a big help us (former rebels) as we start a new life", he said. He encouraged all other beneficiaries to properly manage the pangkabuhayan kit they received. "Let us nurture the livelihood packages given by the government so this will grow and help us improve our lives", Itol added.
The Pangkabuhayan sa Pagbangon at Ginhawa (PPG) Program is one of the initiatives of the government and the Department of Trade and Industry that aims to help micro entrepreneurs and individuals who were affected by natural and man-made calamities such as typhoons, earthquakes, volcanic eruptions, flash floods, fires, health emergencies or pandemics and local armed conflicts. The said program gives a fast and easy source of initial capital in the form of livelihood kits such as the sari-sari store and food processing package to help micro entrepreneurs recover from the effects of a calamity and for identified individuals like former rebels start a new business opportunity.
First BAHANDI Virtual Trade Fair earns more than P8M
By DTI-Regional Operations Group
December 2, 2020
MAKATI CITY – Moved by the determination of our assisted micro entrepreneurs and the readily available opportunity for a wider market reach through technology, the Department of Trade and Industry Region 8 launched its first BAHANDI Eastern Visayas Virtual Trade Fair.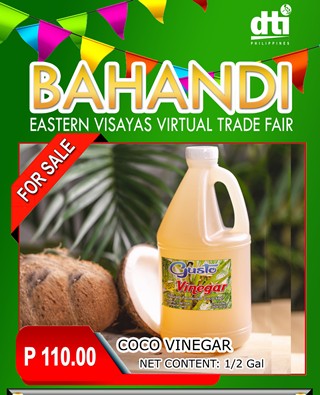 The Trade Fair ran from November 16-20, 2020 which was participated by 104 micro entrepreneurs across the region. These entrepreneurs showcased their products remotely using online platforms such as Zoom and Facebook. The products were also posted online as DTI sees it as one of the best marketing strategies in this season.
The micro small and entrepreneurs generated a total sale of P8,087,302 including cash and booked orders. Food products in the region remain best sellers with 81% chunk from the total sales generated.
Top sellers were Alboco Food Industry with P2.775 M sales for peanut butter and Delza's Native Products with P450,230.00.
The products are still posted at the BAHANDI Eastern Visayas FB Page and the PLDT Kaasenso Virtual Trade Expo Platform.

OIC-Regional Director Ismael Aya-ay (2nd from right) of the Department of Agrarian Reform (DAR) in Eastern Visayas turns over the P201,000.00 cash to DAR Secretary Brother John Castriciones (extreme right) as financial assistance for colleagues in Regions II and V who were severely affected by Typhoons Rolly and Ulysses. Assistant Secretary David Erro (left) and Assistant Regional Director Ma. Fe Malinao (2nd from left) witness the event. (Jose Alsmith L. Soria)
DAR-EV employees extend financial assistance to victims of Typhoons Rolly, Ulysses
By JOSE ALSMITH L. SORIA
December 1, 2020
TACLOBAN CITY – OIC-Regional Director Ismael Ay-ay of the Department of Agrarian Reform (DAR) in Eastern Visayas turned over on Friday P201,000.00 to Agrarian Reform Secretary, Brother John Castriciones as financial assistance for colleagues in Regions II and V who were severely affected by Typhoons Rolly and Ulysses.
Aya-ay disclosed that the said amount was a combined contribution of all employees throughout the region.
Even the contractual and job-order employees did not hesitate to voluntarily share any amount they could afford. No matter how small an amount is, but when summed-up, we were able to raise more than P200,000.00, Aya-ay added.
According to Girlie Costa, a job-order employee assigned at the Land Tenure Service Division, "we can feel how they feel now because we've been through the same situation when Typhoon Yolanda struck our region in 2013, and they were there to help us recover from devastation."
"Now, it's our time to help them. It's time that we show them our love even in a small way," said Costa.
Earlier, DAR Southern Leyte Provincial Office send more than P10,000.00 to the DAR Employees Association in Central Office for the same purpose.
Meanwhile, Castriciones was in the Region 8 last week to distribute Certificates of Land Ownership Award (CLOAs).
Young female NPA fighter killed in a clash in Kananga, Leyte
By 802nd Infantry Brigade, 8ID PA
November 28, 2020
CAMP DOWNES, Ormoc City – A young female NPA fighter died in a 15- minute clash between the operating troops of the 93rd Infantry Battalion, 8th Infantry Division, Philippine Army and the Communist Party of the Philippines-New People's Army (CPP-NPA) at Sitio Mat-i, Barangay Mahawan, Kananga, Leyte about 3:35pm today.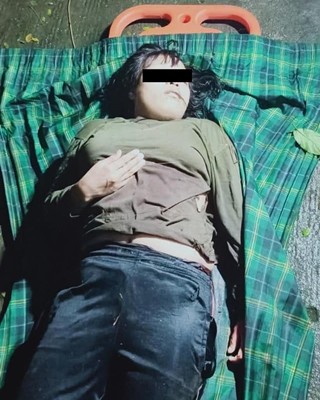 The Kananga Municipal Police Station identified the fatality as a certain Rochelle Mae Bacalso alias Ruth/Justine, about 21 years old, said to be a newly-recruited member of the remnants of Sub-Regional Committee Levox, Eastern Visayas Regional Party Committee, CPP-NPA-NDF.
The attending physician declared her dead when brought to the Kananga Municipal Hospital, where the troops rushed her in an attempt to save her life. She sustained gunshot wounds in the body that caused her death.
Bacalso was among the undetermined number of CPP-NPA terrorists who attempted to ambush a team of soldiers patrolling in the area. The soldiers were deployed to check reports from local residents on the presence of armed persons who were suspected to be communist terrorists.
Captured from the encounter site were one Austrian-made Glock pistol, one bandoleer for M16 magazines, one magazine for M16 rifle with 29 pieces of caliber 5.56 ammunition, one backpack with personal belongings, one cellular phone, four hammocks, four poncho tents, and documents with high intelligence value.
It can be recalled that in the aftermath of the first armed encounter between 93IB troops and the same marauding CPP-NPA band led by a certain Juanito Selleza alias Tibor, the 802nd Infantry (Peerless) Brigade, 8ID, PA posted in its Facebook Page photos of a certain Ruth alias Justine who was identified as a member of the engaged communist terrorist group.
The 802Bde appealed to the public then for help in locating her family in Samar Island or elsewhere in Eastern Visayas in a bid to rescue her from the CTG that deceived her into joining the armed struggle.
Facial photos taken from the remains of the female NPA casualty whom the police identified as Rochelle Mae Bacalso matched with the photos of Ruth alias Justine, which were downloaded from her Facebook account bearing the pseudo name of "Kenlyn Mark." Three unmistakable moles under her lower lip confirmed her identity.
Brig. Gen. Zosimo A. Oliveros PA, commander of the 802Bde, reiterates his previous call for "the local CTG members to abandon the armed struggle and return to the mainstream of the society and become productive citizens."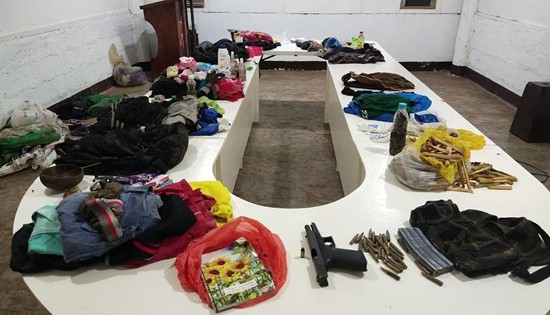 Army troops seized high-powered firearm, explosives in Northern Samar clash
By 803rd Infantry Brigade, 8ID PA
November 28, 2020
CATARMAN, Northern Samar – The troops of the 43rd Infantry Battalion engaged in an encounter with more or less 25 Communist NPA Terrorists (CNTs) after a concerned citizen reported the presence of an armed group in the vicinity of Barangay Mabini, Catarman, Northern Samar on November 27, 2020.
Gunfight lasted for about 15 minutes. No casualty on the operating troops while an undetermined number of wounded NPA terrorists were reported based on the bloodstains found in the encounter site.
Seized during the clash were one M16 rifle, one shotgun, a hand grenade, detonator with detonator cord, six M16-magazines, 91 rounds of ammunition, bandolier, laptop, cellphones, 22 backpacks with personal belongings, five CNT flags, medical supplies and subversive documents.
The Commander of the 803rd Infantry Brigade, Colonel Lowell R Tan, lauded the troops of 43IB for their efforts in protecting the community of Barangay Mabini. He also thanked the residents who gave the information.
"Let us continue engaging the community from the Barangay down to Sitios, to build a strong rapport with the communities and help them cooperate with the government and the armed forces. The government troops are also willing to extend our hand for the wounded members of the NPA," Tan said.
NMP BOT approves offering of Vessel Crane Operator Course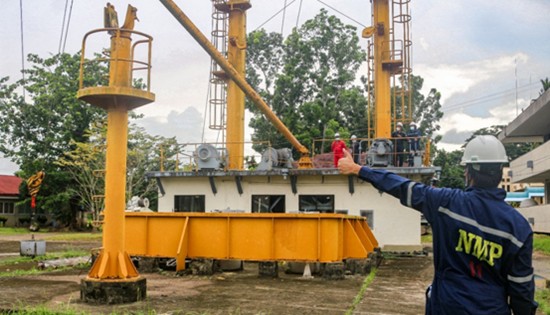 By National Maritime Polytechnic
November 28, 2020
TACLOBAN CITY – Driven to address the current training needs of domestic and ocean-going seafarers and maritime allied personnel, the National Maritime Polytechnic developed new training course, namely: Vessel Crane Operator Course which aimed to provide adequate training and familiarization on the usage and operation of a vessel crane equipment to ensure the safety of the crew, dockworkers and cargoes.
Reports revealed that majority of crane accidents are caused by human error, resulting to safety risk, and controllable lost time to the whole operation and even death, however, these accidents may be minimized, controlled, or prevented if the person assigned to operate has the proper training, thus, equipped with the needed knowledge, understanding and skills on the principles and safe practices relative to the its operation.
It can be recalled that last 19 July 2019, on the occasion of the Maritime Industry Tripartite Council Dialogue held in Cebu City, NMP Head of the Curriculum Development Section, Capt. Chito A. Go had an initial discussion with a representative from the Gothong Southern Shipping Lines, Inc. (GSSLI) on the possible development of a company specific course for vessel crane operator to address the latter's need to increase awareness and to keep its crew and personnel abreast of the safe and effective operation of the equipment.
Relative to said cause, a Memorandum of Agreement (MOA) was forged by both parties on 18 September 2019 in Cebu City. The course development was completed in the 3rd quarter of CY 2020 and pilot-class was eventually conducted on 24 October 2020 with twelve (12) participants. It was also attended in by six (6) validators, three (3) from NMP and three (3) from GSSLI.
After the successful conduct of the pilot-class, the course package was presented to the NMP Polytechnic Council on 06 November 2020 where it was thoroughly deliberated and agreed to have it endorsed to the NMP Board of Trustees and seek their approval.
The NMP Board of Trustees (BOT) during its Third (3rd) Regular Meeting (virtual) on 25 November 2020 approved the Agency's proposal to offer the said course with a training fee of Two Hundred Eighty-One Pesos (P 281.00) only.
Schedules for the conduct of the training will be finalized and posted at the NMP website: www.nmp.gov.ph or in the Agency's Facebook page (www.facebook.com/ nmptrainingcenter) where all updates and relevant information on NMP programs are also available.
Meanwhile, NMP continues to conduct face-to-face trainings with strict implementation of the Maritime Industry Authority's (MARINA) approved Post-Enhanced Community Quarantine Operational Plan and other health and safety protocols as required by the Department of Health (DOH), Department of Labor and Employment (DOLE), and local government unit (LGU).
Likewise, Filipino seafarers who are interested to avail of the NMP's FREE online classes on SHAPIMS, PADAMS, and GSTS may register through this link: https://nmp.gov.ph/online-course-offerings/.
Interested stakeholders who wish to validate the authenticity of their seafarers-employed with NMP issued certificates may visit www.verify.nmp.gov.ph. Likewise, those interested in NMP research undertakings may visit the NMP website and access the e-Research Information System Portal which is designed to disseminate NMP completed researches, present the Research Agenda, and engage the industry stakeholders to collaborate in the research activities.
Further, NMP encourages OWWA registered seafarers to avail of the NMP-OWWA (Overseas Workers Welfare Administration) Seafarers' Upgrading Program (SUP) and Skills for Employment Scholarship Program (SESP) which entitles the beneficiary to receive financial assistance for training costs from the OWWA.
1st NSPMFC, POP celebrate National Children's Month with 200 schoolers and non-schoolers
By LEVIRESA ATIS GETIGAN
November 28, 2020
CAMP CARLOS DELGADO, Catarman, Northern Samar – The First Northern Samar Provincial Mobile Force Company (1st NSPMFC), Philippine National Police (PNP), in a joint activity with the People's Outreach Program (POP), celebrated the 28th National Children's Month with 200 school and non-schoolers in Barangay Mirador, Mondragon of same province, on November 25, 2020.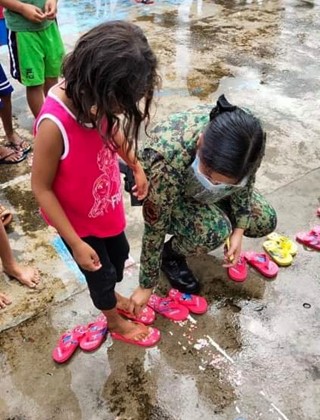 November marks the National Children's Month as declared by the Council of Welfare for Children (CWC). The month-long event aims to promote awareness on the children's rights and protection.
COVID-19 has disrupted the activities in an environment where children thrive that basically affect their rights to enjoy and develop themselves; thus, the celebration.
The distress suffered by the families, coupled with restricted movement, aggravated the risks of children to certain abuses like neglect, exploitative labor, social exclusion, physical, sexual and psychological, which existed long before the spread of the dreaded corona virus.
With the theme: "Sama-samang Itaguyod ang Karapatan ng Bawat Bata sa Panahon ng Pandemya", 1st NSPMFC, collaborated with POP and local officials of said barangay including feeding and distribution of slippers, facemask and school supplies.
Relatively, each child received copy of 1st NSPMFC's Comic Books as additional reading materials which promote the PNP's campaign against terrorism. Parlor games concluded a fun-filled and enjoyable Children's Month Celebration.
Meanwhile, an orientation was simultaneously conducted to the parents and guardians to take care of their children by upholding their rights especially during this global crisis.
The significance of responsible parenting plays a primordial role in influencing the developmental competence and life course trajectories of the children.
"Our children must be treated with utmost protection. Being powerless, they become vulnerable to exploitation, violence and certain abuses. As protector of innocents and weak, we assure to stand for their security and protection and exemplify ourselves as role model to guide them along their journey," said Police Major Edwin Oloan Jr, 1st NSPMFC Commander.
Upset Hindus urge ex-beautyqueen Imelda apologize & replace album cover mimicking goddess Kali
Press Release
November 26, 2020
Upset Hindus are urging Filipino-German musician and former beauty queen Imelda Bautista Schweighart to apologize and replace cover of her album "Fuccboi" emulating Hindu goddess Kali, calling it highly inappropriate.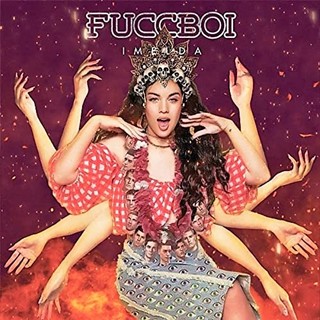 Hindu statesman Rajan Zed, in a statement in Nevada (USA) today, said that goddess Kali was highly revered in Hinduism and was meant to be worshipped in temples or home shrines and not to be used for selling albums with vulgar names. Inappropriate usage of Hindu deities or concepts or symbols or icons for commercial or other agenda was not okay as it hurt the devotees.
Celebrities should not be in the business of religious appropriation, sacrilege, and ridiculing entire communities. It was deeply disrespectful and trivializing of divine Hindu deities to be ill-used in scenarios like this; Zed, who is President of Universal Society of Hinduism, emphasized.
Hinduism was the oldest and third largest religion of the world with about 1.2 billion adherents and a rich philosophical thought and it should not be taken frivolously. Symbols of any faith, larger or smaller, should not be mishandled; Rajan Zed noted.
Zed further said that such trivialization of Hindu deities was disturbing to the Hindus world over. Hindus were for free artistic expression and speech as much as anybody else if not more. But faith was something sacred and attempts at trivializing it hurt the followers, Zed added.
Goddess Kali, who personifies Sakti or divine energy, is widely worshipped in Hinduism. She is considered the goddess of time and change. Some Bengali poets described her as supreme deity.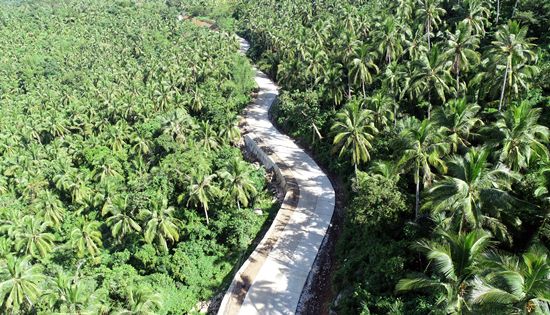 On-going construction/improvement of access roads leading to trades, industries and economic zones - Caraycaray-Cabungaan-Libtong road in support of the agribusiness: food and resource-based processing in Brgy. Libtong, Naval, Biliran.
DPWH-Biliran DEO improves road in support of agribusiness in Libtong, Naval
By DPWH Biliran
November 26, 2020
NAVAL, Biliran – The on-going construction/ improvement of access road in Libtong, Naval town in support of the agribusiness: food and resource-based processing is now more than halfway complete.
The project which starts from Brgy. Caraycaray-Cabungaan-Libtong is now on its third phase of implementation, according to David P. Adongay Jr., District Engineer.
According to Adongay, this is a multi-year funded project from FY 2018-2022 under the Convergence program of the Department of Trade and Industry (DTI) and the Department of Public Works and Highways (DPWH). This project covers a total length of 5.8-kilometer two-lane road concreting with road slope protection, masonry barriers, drainage structures and rehabilitation of damaged pavement with an allocation amount of P187.9M.
To date, DPWH Biliran District Engineering Office (DEO) has completed a total length of 1.6-kilometer two lane road under 2018 and 2019 implementation.
Currently, DPWH Biliran DEO is implementing the 1.86-kilometer two-lane road concreting with drainage & slope protection in Brgy. Libtong under 2020 implementation. This project has a contract amount of P46.7M and is now 71.64% complete as of October 31, 2020.
The completion of the project by phases will provide a safer and faster transport of farmers' agricultural products for food and resource-based processing such as palay, abaca, copra, cassava, camote, curioso and ginger in Brgy. Libtong to the market center in the progressive town of Naval and to the nearby urban areas.
High-powered firearm, explosives seized in Paranas, Samar clash
By 801st Infantry Brigade, 8ID PA
November 26, 2020
FATIMA, Hinabangan, Samar – Operating troops of the 87th Infantry Battalion engaged in an encounter with Communist NPA Terrorists (CNTs) following a tip from a resident of the presence of terrorists in Barangay Sto. Niño, Paranas, Samar, 9:40 a.m. on November 25, 2020.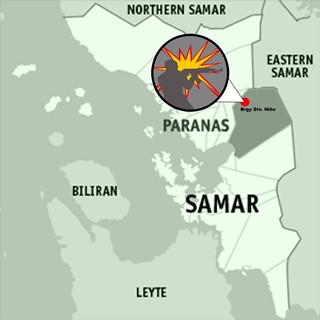 During the conduct of focus military operations, the army troopers clashed against five CNTs in a 10-minute firefight.
No casualty on the government side while an undetermined casualty was reported on the terrorist side following the bloodstains found in the area and route of withdrawal.
Seized during the operation were one AK47, bandoleer, three long magazines, 27 ammunition, two improvised grenades, cellphones, and subversive documents.
"The army will continue its offensive against the NPA. We will assure the people of Samar that the Army will continue relentlessly and will use all its resources against the threat group. The government troops will not stop until we see an end to the local communist armed conflict", said Brigadier General Camilo Z Ligayo, Commander of 801st Brigade.
Ligayo also encouraged the people to work closely with the authorities by reporting any information regarding the NPA movements and activities in their communities.