FMR projects opened another route for farmers in Sta. Margarita, Samar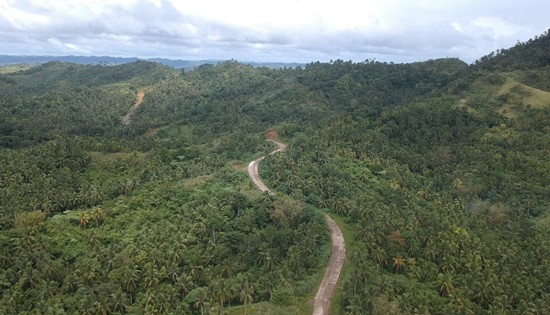 By GISSELLE G. PARUNGAO
February 15, 2021
CALBAYOG CITY – In convergence with the Department of Agriculture, Samar First District Engineering Office completed a farm-to-market road from Barangays Mabuhay to Hindang through Salvacion.
The FMR built has a contract amount of more than P28.2 million that will help a lot of farmers residing in the barangays mentioned and surrounding areas that will benefit the new route. This opened road will eventually connect Barangay Hindang to other nearby barangays that will allow them exit to the main highway either through Barangay Cagsumje or Barangay Lambao via Barangay Mabuhay in the event that future developmental projects will be implemented in said barangays.
The scope of work covers a road opening with Portland Cement Concrete Pavement (PCCP) which spans 960 meters while the remaining road opening with gravel has a length of 1,210 meters. All of which has a width of 5.3 meters. A riprap is also built intermittently on some areas to avoid erosion or collapse of structure that spans a total of 238 linear meters.
Before, the path that they trek on resembles a marshland, very muddy especially when it rains, said Marvin Gatoc, a farmer from Barangay Mabuhay. Now, it is easier for them to carry their products like copra and other root crops that they grew to the nearby market because their barangay is already accessible by motor vehicles.
Farmers can now transport greater amount of their goods anytime because its already accessible to vehicles. Gone are the days that they have to walk for hours and would have to start walking early in the morning to reach the marketplace on time. With this, farmers were able to plant more crops other than copra to increase their income. More business opportunities also come with the new road.
Travel time was also reduced from two to three hours to thirty minutes since motor vehicles can now access these remote barangays.
Konsyumer Negros wants 20 MW CENECO tender stopped in favor of better terms for consumers
Press Release
February 15, 2021
MANILA – The Negros chapter of nationwide consumers' movement Konsyumer on Monday called on to the Central Negros Electric Cooperative (CENECO) and relevant energy agencies to put a stop to an ongoing tender of the electric cooperative (EC), citing the use of Terms of Reference (TOR) unfavorable to consumers and lack of transparency in the bidding process as in need of proper amendments before bids should be allowed to push through.
The biggest EC of Negros Occidental is holding a competitive selection process (CSP) for a power requirement of 20 MW, assumed to be in time for the expiration of its 64 MW Power Supply Agreement (PSA) with a coal power plant in Naga, Cebu, owned by KEPCO-SPC.
"We are finally getting off, though only partially, paying for costly and dirty electricity from coal. But before we can even celebrate this, we are concerned that CENECO is already preparing to expose us once more to electricity that is not least-cost, and we are not even given the chance to properly be informed on and participate in the process," said Griderick Alila, Coordinator of Konsyumer Negros.
Earlier this month, Konsyumer Negros formally filed a letter addressed to CENECO protesting the conduct of the tender and calling for its suspension. The group noted that the TOR and documents guiding the selection process have not even been posted publicly as mandated by DOE even as the target electricity delivery date of February 26 looms close.
"Consumers have the right to know and should have a say on what kind of electricity we are paying for. This is especially true in this time of crisis when costs of basic needs continue to rise while means of living for many are still down. So far, however, our concerns have only been met by silence," he said.
The group's call was supported by the Center for Energy, Ecology, and Development (CEED), a Quezon City based think-tank that has been working together with Konsyumer and a broad alliance of Negrosanons under the banner of the REpower Negros Movement in advocating for the island's power sector transformation. CEED in December released a policy brief examining faults and lessons from the power procurement processes of Metro Manila distribution utility MERALCO, which are now also observed in the CENECO tender.
"The 20 MW tender fails to set in place straight energy pricing, guaranteed supply availability requirement, and better force majeure provisions, including dispute settlement mechanism – all of which will benefit its consumers. These could protect them from additional costs in unpredictable times like the pandemic. The tender also creates unnecessary barriers for renewable energy firms that could provide cheaper electricity with little cost to the environment, many of whom can be found locally and are in fact struggling with oversupply, since the current inter-island grid set-up is incapable of absorbing all electricity they produce," said Avril De Torres, Research, Policy, and Law Program Head of CEED.
Konsyumer filed another set of letters today to follow-up on the call for a suspension of the tender, addressed to CENECO and offices of the Department of Energy (DOE), National Electrification Administration (NEA), the Third Party Bids and Awards Committee (TPBAC), and the Negros Electric Cooperatives Association (NECA).
"Our home island abounds in clean and affordable renewable energy sources, which we hope CENECO and all other electric cooperatives would tap before looking elsewhere and forcing consumers to pay for dirty, overpriced electricity. Konsyumer Negros will not back down until this and our many other concerns on the tender are addressed. CENECO and our energy regulators may expect to continue hearing from us," said Alila.
CARD MRI Hijos Tours launches first Virtual Food Tour
Press Release
February 11, 2021
SAN PABLO CITY – While tourism remains to be one of the industries most affected by the COVID-19 pandemic, a glimmer of hope can be seen as the Department of Tourism (DOT) continues to support Laguna's tourism sector, promoting it as a "fun, safe, and sustainable tourist destination." CARD MRI Hijos Tours, for example, gets the nod of DOT as the San Pablo-based tour company in Laguna continually creates fun virtual tour programs that let the adventurous explore the country without travelling.
One of its programs allows food vloggers, culinary students, and food lovers to enjoy "a real time fun experience" in the comforts of their home, through CARD MRI Hijos Tours' Virtual Food Tour.
The first Virtual Food Tour will jumpstart on February 27, 2021 which will include discussions on the history of San Pablo City's traditional dishes and delicacies like fern salad (ensaladang pako) and grilled tilapia, and Pancit Kalabuko or noodles made out of mushroom with squash (kalabasa) and coconut (buko).
The Virtual Food Tour will also include a pre-recorded food demo of suman, a Filipino rice cake, that will allow subscribers to cook and prepare these traditional specialties alongside members of CARD.
Food enthusiasts may subscribe to the Virtual Food Tour by purchasing a Food Box (P1,999) that includes some of the key ingredients in making these traditional specialties like the malagkit or glutinous rice for suman and the mushroom noodles for the Pancit Kalabuko. The Food Box also contains products that can be best paired with these special Filipino food like Coco Sugar, Coco Jam, and Kapeng Barako to complement the suman delicacy.
Stories of Heritage and Hope
"The Virtual Food Tour is a way for us to learn more about history, stories of the past," said CARD MRI Hijos Tours President Marilyn M. Manila. According to Manila, one of the goals of the Virtual Food Tour is to share heritage stories of both food and families – how they passed down recipes through generations and how important it is to be stewards of one's resources.
The Virtual Food Tour also aims to help communities recover from the effects of the pandemic as Hijos Tours sources the contents of the Food Box from their suppliers who are CARD clients. "With every bite of these delicious delicacies, we support the livelihood of our clients," Manila added.
Subscribers of the Virtual Food Tour will not only learn about the culture, history, and tradition of San Pablo City, Laguna but will also be able to support communities through its activities and help food become "the new destination".
| | | |
| --- | --- | --- |
| Discover the history and culture San Pablo City's delicacies and specialties through Hijos de Siete Lagos Food Box. | | Hijos de Siete Lagos Food Box contains ingredients used for virtual cooking demo as well as other local products from CARD clients. |
CARD MRI Publishing House launches Online Radio
Press Release
February 9, 2021
SAN PABLO CITY – CARD Mutually Reinforcing Institutions (CARD MRI), a social development organization that is in the business of poverty eradication, continues its journey to digital transformation by introducing its online radio on January 29, 2021.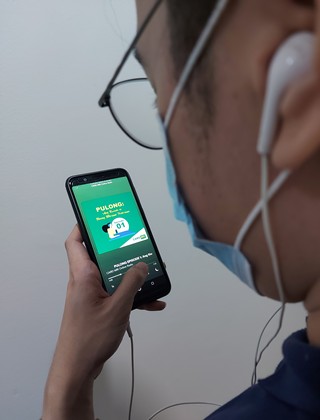 A subscriber listens to the first episode of Pulong: Ang Kwento ni Inay on CARD MRI Online Radio.
Through CARD MRI Publishing House Inc., CARD MRI launched a podcast channel named CARD MRI Online Radio on Spotify with its first program offering, "Pulong: Ang Kwento ni Inay." This tells stories of women, usually microentrepreneurs and their experiences with CARD MRI.
The said program is set to produce 12 episodes a year, with each episode featuring a unique story about women overcoming poverty through entrepreneurship. Every episode will also feature CARD Leaders as storytellers including CARD MRI Founder and Chairman Emeritus Dr. Jaime Aristotle B. Alip and CARD MRI Managing Director Flordeliza L. Sarmiento.
"We are delighted to share the stories of our clients through new innovative approaches. Because times have changed, we learned that we have to adapt and take advantage of digital platforms to continue sharing stories of hope," said CARD Publishing President Marilyn M. Manila, who was also the first storyteller of the first program.
Her episode featured Marisssa Federizo, a supplier of Mga Likha ni Inay's Palengke on Wheels (PoW). Through PoW, Marissa's business thrived as she continuously sold her products to households during the pandemic. Now, with the assistance of POW, Marissa has expanded her frozen food business.
The CARD MRI Online Radio also plans to introduce new programs throughout the year. "We will also be launching talk shows with microfinance-practitioners and experts that listeners will not only enjoy, but also learn from. We are excited to bring you more inspiring stories through our podcast channel," she concluded.
Refreshing reward for hard work: Success story of Brilliant Juice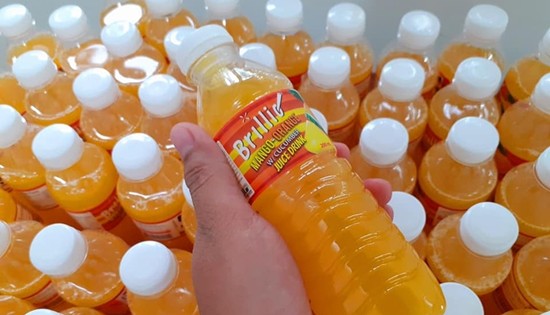 By DTI-Regional Operations Group-MIMAROPA
February 8, 2021
MAKATI CITY – The journey to the Brilliant Juice's success didn't happen overnight. Mr. Rustico Melendez, OFW turned full-time entrepreneur and owner of Brilliant Juice Manufacturer, had to swim against the waves to get where he is today.
"Whatever comes in your way while growing the business, you need to maintain your mindset to focus on your vision. Never give up, continue striving until you reach your dream."
This is Mr. Rustico Melendez's aphorism in his journey towards making Brillo Juice, the flagship product of Brilliant Juice, the healthy drink of choice. Brilliant Juice manufactures natural drinks made with tea, tropical fruits such as oranges and mangoes infused with cucumber.
"Brillo" is the shortened term for Brilliant which Mr. Melendez got from the cruise ship, Brilliant of the Seas, where he worked as a wine steward for 25 years.
The beginning of Brillo is an arduous journey as Mr. Melendez faced criticism and rejection from store owners to display and sell his products because of lack of trust on its quality. Despite such, he fueled this energy to become a full-time entrepreneur and put his savings in investing equipment and machineries to make his manufacturing semi-automated.
Being enrolled in the One Town One Product (OTOP) Next Gen Program of the Department of Trade and Industry (DTI) was of great help to Mr. Melendez. He was able to acquire barcode, trademark, laboratory analysis, new packaging, compliant labels, among others. He was then able to comply with the requirements to secure a License To Operate (LTO) from the Food and Drug Administration (FDA), thus Brillo Juice was certified and the license was given.
Moreover, his learnings from attending various trainings helped him to effectively manage his business. He was able to widen his connections through regional trade fairs and gain friends who contributed to his business success. The success also translated in their sales, having a yearly significant increase in total gross sales.
Mr. Melendez is the epitome of perseverance as he poured his dedication and trust in making his business successful. "I am committed to the quality of my products and I always ask for the guidance of the Lord for its success," he firmly believes. Now, the owner gives back by hiring 12 full-time employees from around his community, because he believes they too, deserve the opportunity to improve their lives.
From 8 hours of processing 350 bottles of Brillio, working time was reduced to 3 hours with DTI's assistance for machinery upgrade. "Brillo Juice" became a hit not only to the taste buds of children, but to adults as well. Before, Brilliant Juice Manufacturer produces 1,500 bottles of Brillio Juice, but today, they distribute around an average of 6,000 bottles a month.
Notably, Brillio Juice was awarded the MIMAROPA Naturally Agri-Trade and Tourism Fair's Most Innovative Product in 2014. Until today, Mr. Melendez continues to find ways to quench the thirst of the public for innovative ways in serving healthy juices.
Brilliant Juice's products are currently distributed to direct consumers, schools, catering services, hotels and groceries within Marinduque and outside the province as well.
DE Briones inspects major projects in Biliran
By DPWH-Biliran
February 5, 2021
NAVAL, Biliran – Newly designated District Engineer Ferdinand A. Briones of the Department of Public Works and Highways (DPWH) -Biliran District Engineering Office (DEO) inspects major projects in Biliran on February 03, 2021.
Together with Section Chiefs and some technical personnel of Biliran DEO, DE Briones inspects projects along Naval-Caibiran Cross Country Road (NCCCR) starting with the on-going construction of Palanay Gymnasium in Caibiran town. This project is implemented in Phase 1 (Structural building) and Phase 2 (Roofing) under contract with BNL Construction amounting to P4.8M and P2.9M, respectively.
During the inspection, Briones talks with the contractors' representative regarding some corrections that needs to be done in the said project. According to Briones, this slight correction is important to make the roof strong to withstand the strongest typhoon. He instructed the contractor's representative to review the plans and specifications and to closely coordinate with the project engineer for action. The completion of the project will provide a place for residents to hold different activities without being exposed to harsh weather conditions. This will also serve as an evacuation center for residents during calamities.
The second project inspected is the newly completed Cabibihan Bridge in Caibiran town funded by the Office of the President (OP) thru the Office of the Civil Defense (OCD) amounting to P15M. DE Briones suggested to Engr. Rosario B. Rosete, Chief of Planning and Design Section to request funds for the concrete paving of the bridge's approaches and to construct flood mitigation structures along the river to protect the bridge against flooding.
The District Engineer also inspected two on-going projects – Emergency Repair of Damaged National Road with Slips, Slope Collapse and Landslide at Sitio Macalpi, Brgy. Cabibihan in the town of Caibiran amounting to P44.8M and P35M, respectively. These projects are essential for residents in the town of Caibiran and to its neighboring towns for a faster access to the only Provincial Hospital and other basic essential services like banks and other financial institutions in the capital town of Naval.
Meanwhile, one road slope protection along Biliran Circumferential Road is also inspected funded under FY 2018 fund. The completed project provides safety to the travelling public.
DE Briones said that he will be regularly conducting project inspections to ensure that projects are in accordance with the approved plans and specifications and in order to familiarize himself with the different road sections in the Province. This is the first time that the new district engineer conducts project inspection since his assignment in this district office.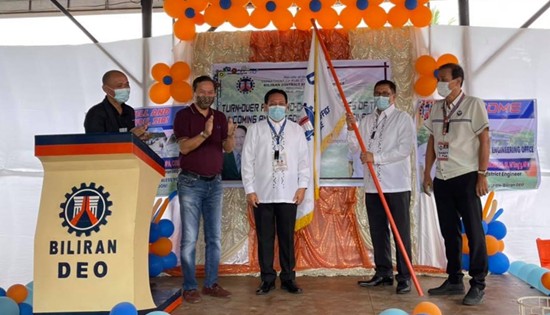 District Engineer Ferdinand A. Briones received on Monday, February 01, 2021 the flag of the DPWH -Biliran District Engineering Office from outgoing District Engineer David P. Adongay Jr. (middle) in a symbolic turn-over ceremony. The ceremony was held at DPWH-BDEO, Brgy. Calumpang, Naval, Biliran and was witnessed by Governor Rogelio J. Espina (2nd from left), Chief of the Construction Division, Engr. Sandy T. Pua (1st from right), and Mr. Ritchie Garcia, (1st from left), District Head Officer at House of Representative on behalf of Congressman Gerardo J. Espina Jr.
DPWH-Biliran DEO has new district engineer
By DPWH-Biliran
February 4, 2021
NAVAL, Biliran – The Department of Public Works and Highways -Biliran District Engineering Office (DPWH-BDEO) welcomes new District Engineer Ferdinand A. Briones in a turn-over ceremony on Monday, February 01, 2021.
DE Briones will assume the stewardship of Biliran DEO vacated by outgoing District Engineer David P. Adongay Jr. who in return will also assume the leadership of Northern Samar 2nd District Engineering Office in lieu of DE Briones.
"As a public servant and a good follower, if I may add, I would like to assure everyone that I come here to accomplish a mission mandated to me by our department," said Briones.
Briones said that with the much-needed support and cooperation from Biliran DEO employees, he may able to deliver his priorities as he begins his stint in the district.
According to Briones, aside from his priority to continue the programs and projects initiated by DE Adongay, he will also see to it that the proposed programs and projects of the district office for CY 2022 will be realized.
He also emphasized that he will enhance linkages with the agency's stakeholders especially the Local Government Units (LGUs) through close coordination with the different local officials in order to support, prioritize and provide infrastructure development programs in the province.
The new district engineer also said that it is his priority to maximize manpower development both technical and non-technical to raise the bar of competence in program implementations and to practice the core values of the department which are Public Service, Integrity, Professionalism, Excellence and Teamwork.
Meanwhile, outgoing District Engineer Adongay has been awarded by Biliran DEO employees the plaque of appreciation in recognition, grateful acknowledgement and sincere appreciation for his eight years of dedicated services rendered to the agency as District Engineer.
The said ceremony was witnessed by Governor Rogelio J. Espina, Engr. Sandy T. Pua - Chief of Construction Division, Regional Office VIII, and Mr. Ritchie Garcia - District Head Officer at House of Representative on behalf of Congressman Gerardo J. Espina Jr.
BotiCARD initiates CARD e-Pharmacist to clients
By CARD MRI
February 3, 2021
SAN PABLO CITY – To continuously deliver essential services to clients, BotiCARD, a pharmaceutical company under CARD Mutually Reinforcing Institutions (CARD MRI) in collaboration with Microfinance and Health Protection (MaHP) Program Unit launched its CARD e-Pharmacist.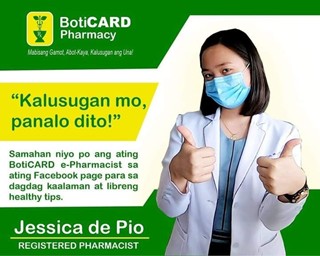 Said BotiCARD President Rosenda Aquino, RPh, "In this time of pandemic, one major priority and concerns of our clients is their health. Following the success of CARD e-Doctor, we, at BotiCARD, initiated CARD e-Pharmacist to make sure that our clients have easy access to seek advice about their health problems and discuss possible treatment that could cure them."
Through CARD e-Pharmacist, CARD clients and the general public can have immediate access for medical advice and information from health practitioners by using the online platform. "Since the use of digital platform continues to grow, this is an effective and convenient way to help and reach our clients nationwide. CARD e-Pharmacist offers medical advice, diagnose them following a series of questions, and help the clients with the right prescriptions at the comfort of their home," she added.
To shift online is one way to limit face-to-face contact. She explained that with the use of Facebook, clients can directly message BotiCARD official Facebook page to consult and address their medical concerns. "We make sure that with this initiative, clients can benefit a quick access and free patient counseling to pharmacist and widen the reach of communities and clients that we serve."
Aquino concluded that with this initiative clients with medical problems that is lack of health care will surely benefit the program. "With this, it will lessen the cost of going to clinics, hospitals, and pharmacies. In this trying time, clients should avoid themselves in exposing outside and debts due to health expenses."
DAR to make Tacloban producer of vegetables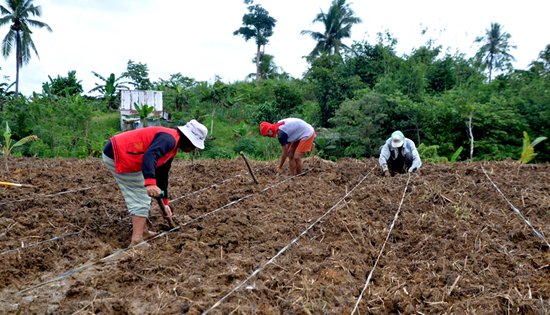 By JOSE ALSMITH L. SORIA
January 30, 2021
TACLOBAN CITY – Despite having been categorized as highly urbanized, this city is still capable of producing tons of your favorite vegetables.
This is what the Department of Agrarian Reform (DAR) would like to prove as it plans to turn an awarded lot under the government's Comprehensive Agrarian Reform Program (CARP) into a vegetable garden.
In partnership with the Department of Agriculture and the City Agriculture Office, DAR initiated two weeks ago, the plan to make portion of the 23-hectare lot in Barangay New Kawayan, which is covered by a collective Certificate of Land Ownership Award (CLOA), into a vegetable garden where the agrarian reform beneficiaries (ARBs) are guaranteed of sure income.
This project according to DAR Regional Director Ismael Aya-ay is dubbed as "Buhay sa Gulay", which Agrarian Reform Secretary, Brother John Castriciones, would like to be replicated in urban areas nationwide after the successful initial implementation in Tondo, Manila.
This project is expected to contribute to the sufficient supply of food in the city and neighboring towns, aside from providing livelihood to the farmers.
Here, though the project will initially utilize a one-hectare lot planted to fast-yielding crops such as kangkong, pechay, lettuce, okra and pepino, DA's Romeo Delmo suggested, during last week's planning session, that they will conduct simultaneously Farmer Field School to the 20 members of the New Kawayan-Cabalawan Agrarian Reform Beneficiaries Farmers' Association to sustain the project and by-and-by spreading it until the entire 23 hectares are utilized.
Sonny Colete, 46, an agrarian reform beneficiary (ARB) of lot-9, which was chosen to be the demo farm, shared that he agreed to make his area as the demo farm "because it is an opportunity for us to be assisted in developing our lots".
According to him, prior to this project, only a portion of his area was planted with cassava. The rest was idle.
In this project, DAR will provide the farmers with garden tools and other farming materials, while DA and the City Agriculture Office will provide the seeds and training.
The project commenced last week with the preparation of the land, layouting, plot making and plant sowing. Planting of seedlings into their assigned plots is scheduled on February 4.
On the last week of February, it is expected that the farmers could already start harvesting.
At the moment, making of 60 plots measuring one-by-20 meters continues.
Matuguinao peace advocates unite against NPA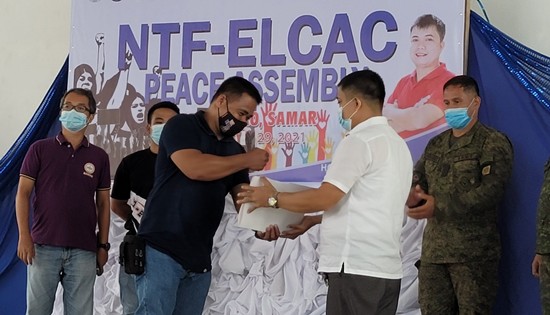 By DPAO, 8ID PA
January 29, 2021
CAMP LUKBAN, Catbalogan City, Samar – Some 350 residents of Matuguinao, Samar joined a walk for peace and rejected the presence of the Communist Party of the Philippines-New People's Army-National Democratic Front (CPP-NPA-NDF) in their municipality, in a Peace Assembly on Friday, January 29, 2020.
Led by Mayor Aran Boller and Vice-Mayor Cleofe Belonio, the participants, who included barangay officials, law enforcers, employees of various government agencies, and former rebels, denounce the communist terrorists' deceptive recruitment scheme of the youth and the atrocities committed against government security forces and Matuguinaonons.
"It's about time to end the chaos and the damage brought by the communist terrorist group. I encourage every Matuguinaonon to help the government by stopping providing sanctuary, financial, material, or any kind of support to the NPA terrorists," Mayor Boller said.
During the program, hundreds of residents from the 20 barangays of Matuguinao were joined by municipal and barangay leaders, Philippine Army personnel, employees of various government agencies, and former rebels in the ceremonial signing of a peace covenant and resolution declaring the CPP-NPA-NDF as persona non grata in their town. They also burned flags of the CPP-NPA-NDF.
"I appeal to all members of the CPP-NPA-NDF to stop destroying the future of our youth by becoming victims of your deceptive recruitment. I also encourage them to lay down their arms and go back to the folds of the law and be productive citizens," Mayor Boller added.
The former rebels who joined the peace assembly narrated their experiences while inside the organization and witnessed the inhumane acts of the NPA. They said they are thankful for the government's help to their families after they have decided to surrender. They were not only given a chance to live peacefully with their families but were also given livelihood.
Like the LGU, they are also appealing to their former comrades to return to the folds of the law as the government is ready to help them so they can have peaceful and normal lives as productive citizens of the society.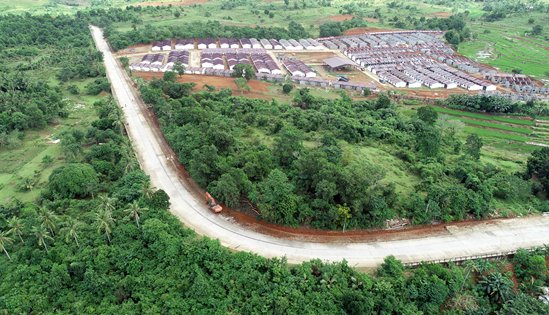 On-going road widening at Biliran- Naval Road Section (K1016+027 - K1018 + 140), Brgy. Bato, Biliran, Biliran under FY 2020-2021 Multi-year Contracting Authority (MYCA).
DPWH-Biliran DEO gets P1.9B infra budget for 2021
By DPWH-Biliran
January 29, 2021
NAVAL, Biliran – A total of 124 infrastructure projects with a budget amounting to P1.9B is to be implemented by the Department of Public Works and Highways (DPWH) -Biliran District Engineering Office (DEO) this year.
District Engineer David P. Adongay Jr. said that of the 124 projects, 90 are funded for "Comprehensive Release" (FCR) with a budget allocation of P1.37M while 18 are "For Later Release" (FLR) under FY 2021 amounting to P401,287.00. Meanwhile, 16 projects are funded under FY 2020-2021 Multi-Year Contract Authorization (MYCA) amounting to P181,539.00.
According to Adongay, P32M is allocated for preventive maintenance (asphalt overlay), P11M for rehabilitation/ reconstruction of damaged paved road (Tertiary Road), P350.8M for rehabilitation/ reconstruction of roads with slips, P177.6M for road widening, P65M for by-pass and diversion roads, P5M for rehabilitation/ major repair of permanent bridges, P53.2M for widening of permanent bridges and P185M for flood mitigation structures.
Under Convergence and Special Support Program, Biliran DEO will implement a total of P156M - P45M for the construction of roads leveraging linkages for industry and trade, and P111M for installation of water supply systems.
Biliran DEO will also implement a total of P665M under Local Infrastructure Program which consists of multipurpose buildings/ facilities, drainage/ protection works, flood control structures/ facilities, local roads, and local bridges.
"The district office has advertised all 124 projects and bid out a total of 118 projects with an accomplishment of 38.82% as of January 22, 2021," said Adongay.
Adongay revealed that a total of P747M which includes two asphalt overlays amounting to P108.1M, two tourism roads (P136.7M), two roads leveraging linkages for industry and trade (P157M), one construction of new Provincial Hospital (P150M) and two rehabilitation of roads with slips, slope collapse and landslide amounting to P195.5M will be implemented in this Province under DPWH Regional Office VIII.