Samar First received 162 projects for 2021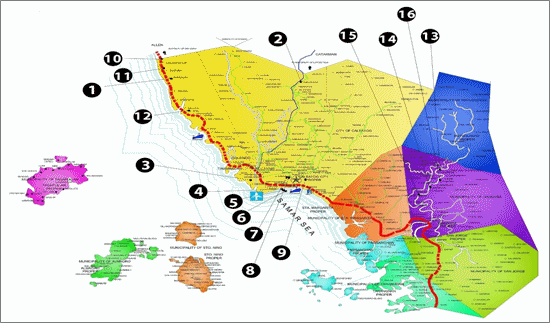 By GISSELLE G. PARUNGAO
January 28, 2021
CALBAYOG CITY – The Department of Public Works and Highways -Samar First District Engineering Office received 162 projects to be implemented by the district amounting to more than P2.95 billion for 2021.
There will be 36 projects that are under the Multi-Year Contracting Authority (MYCA) while one project is included in the FY 2020 For Later Release (FLR) that is subject for withdrawal. Another 125 of which are part of the new projects. These will comprise the General Appropriations Act for CY 2021. Samar is continuously creating opportunities within its sphere of jurisdiction and infrastructure project under the Build, Build, Build Program.
To preserve the infrastructure investment made along national road, the project identified focus more on rehabilitation/construction/widening on both national and secondary roads amounting to P1,457,587,000.00 while an allocation of P343,417,000.00 was granted to projects that will prevent flooding in low-lying areas.
Local Program also received P1,012,746,000.00 whereas, convergence and special support program received P136,599,000.00 to build roads leading to tourism destinations and infrastructure/s in support of national security which is beneficial to the people of the 1st District of Samar.
Investigate PH: The world needs to act now on Duterte gov't's rights abuses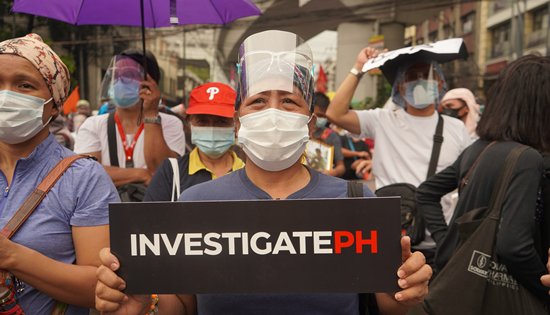 Global independent probe on rights abuses in the Philippines launched, announced 3 reports for submission to UN human rights body
Press Release
January 28, 2021
MANILA – The Independent International Commission of Investigation into human rights violations in the Philippines or Investigate PH was launched this Thursday, January 28. The commission expressed urgency for accountability of perpetrators and justice for victims and their families.
More than 200 participants from lawyers organisations, civil society and churches all over the world came together to manifest their support for the global project.
"Investigate PH is a critical space of solidarity and accompaniment of the people of the Philippines as it investigates the blatant violation and violence related to the basic human rights of people," says one of the commissioners, Rev. Michael Blair, current General Secretary of the United Church of Canada's General Council.
The creation of Investigate PH was prompted by the resolution of the 45th UN Human Rights Council session on the Philippine rights situation, also known as Resolution 45/L.38, last October 2020 that fell short of victims and the international community's demand for an independent probe on the country.
"The gravity of the violations underlines why the world needs to know about these human rights abuses and to act to stop the crimes. I put it to everyone at this event that if we were Filipinos, we would surely have suffered under the Duterte government. The evidence is overwhelming. The testimonies [are] tragic," Investigate PH Commissioner Lee Rhiannon and former Senator of Australia said, pertaining to her solidarity visit in the Philippines last 2019.
In the global launch, commissioners of Investigate PH call on the international community to act now on the human rights abuses perpetrated by the government of President Rodrigo Duterte. Currently, the Commission is composed of 10 eminent personalities namely:
Lee Rhiannon, Former Senator of Australia
Atty. Jeanne Mirer, President of the International Association of Democratic Lawyers
Atty. Jan De Lien of the Justis Lawyers Group of Belgium
Atty. Suzanne Adely, President of the National Lawyers Guild
Senator Janet Rice, Australian Greens Spokesperson for Foreign Affairs
Rev. Dr. Chris Ferguson, General Secretary of the World Communion of Reformed Churches
Rev. Michael Blair, General Secretary of United Church of Canada
Rev. Dr. Susan Henry-Crowe, General Secretary of the General Board of Church & Society, the United Methodist Church
Archbishop Joris Vercammen of the Old Catholic Church of Netherlands, and Central Committee member, World Council of Churches
Dr. David Edwards, General Secretary of the Education International
Leaders of international lawyers' groups, political leaders and global church groups have formed the Investigate PH to gather evidence on crimes against humanity in relation to Philippine President Rodrigo Duterte's "war on drugs" and the persecution of human rights defenders and civil society organisations.
New York-based human rights lawyer Jeanne Mirer vowed that Investigate PH will "bring these violations to light" internationally.
Three reports to the UNHRC, ICC
It was announced in the global launch that the international probe will submit their findings by way of oral interventions and submissions at Enhanced Interactive Dialogues and General Debates in the upcoming UNHRC Regular Sessions.
Two preliminary reports will be released in time for the 46th and 47th UNHRC sessions in March and July 2021 respectively, and one final report in time for the 48th UNHRC session in September when the High Commissioner will deliver an update on the implementation of Resolution 45/L.38.
"We are preparing a submission on these crimes to go to the UN Office of the High Commissioner for Human Rights," says Rhiannon and added that "what is happening in the Philippines amounts to crimes against humanity. These crimes must end."
Investigate PH will also submit their findings to the International Criminal Court. They aim to update the Bachelet report and help facilitate international mechanisms for redress and accountability such as in relevant UN bodies and the ICC.
A project brief on Investigate PH is attached to this email. You may also access it here.
100-days countdown marker to NMP's 43rd anniversary unveiled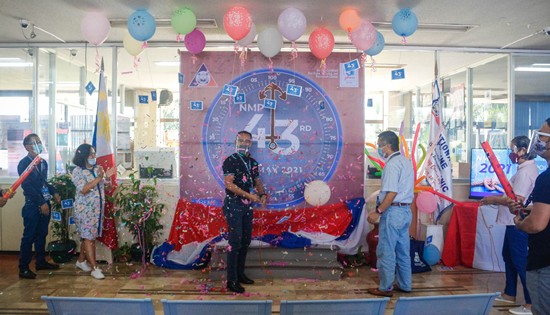 By National Maritime Polytechnic
January 26, 2021
TACLOBAN CITY – The National Maritime Polytechnic (NMP), established in the year 1978 by Presidential Decree No. 1369, sets its pace through the unveiling of the 100-Days countdown marker last 22 January 2021 in celebration of NMP's 43 years in public service providing competitive and quality trainings & researches to the Filipino seafarers.
With this year's anniversary theme: "Enhancing the Filipino Seafarers' Capabilities through NMP Trainings In Meeting Global Competitiveness Towards Adopting The New Normal", a challenge and reflection was injected by NMP's Deputy Executive Director, Mayla N. Macadawan in her opening remarks, "This is not the occasion we imagined it to be. It's not going to be a normal celebration but nevertheless, with our initiative and resilience we always find ways to give meaningful occasions. The wisdom of putting NMP in Tacloban City is we are at the heart of the country making us accessible to both the two major islands of the country. Therefore, let's look back to 43 years as a premier & the only maritime training & research center with the need to evolve and continuously meet the demand of the advancing maritime world."
The event was concluded with the words of encouragement from the Executive Director of NMP, Joel B. Maglunsod mirroring on the importance of unity as a great factor in achieving success and the persistent attainment of the NMP's vision and mission.
"This occasion must be marked by the dedication and commitment of all NMP employees who have been serving the Filipino people in general, and the Filipino seafarers in particular, for the past 43 years" said Executive Director Maglunsod.
NMP, an attached agency of the Department of Labor and Employment (DOLE), was established as the government's response to the immediate and dire need of updating and upgrading the capability and qualifications of maritime licensed officers and other marine graduates for their increased acceptability for employment in international and domestic fleets. Also, the agency has a satellite office located at Makati City but soon to transfer to a more reachable location at the DOLE Office in Manila.
Apart from its training operations, NMP also conducts industry researches towards improving the Philippine maritime workforce with its findings adopted as inputs in the formulation of maritime education and labor and employment policies.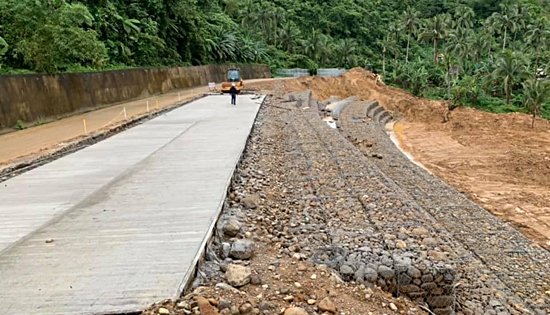 David P. Adongay Jr. inspects on-going construction of the Emergency Repair of Damaged National Roads with Slips, Slope Collapse and Landslide along Naval Caibiran Cross Country Road, (K1041+500-K1041+590), So. Macalpe, Naval, Biliran.
Emergency repair of damaged road with slope collapse in Biliran underway
By DPWH-Biliran
January 26, 2021
NAVAL, Biliran – Two on-going projects: emergency repair of damaged national road with slope collapse along Naval-Caibiran Cross Country Road (NCCCR) are more than halfway complete.
David P. Adongay Jr., District Engineer said that these projects are being fast-tracked under contract with Chu Construction to accommodate huge numbers of traffic along NCCCR.
Both projects are located at Sitio Macalpe, Brgy. Cabibihan, Naval Biliran with road sections: K1041+500-K1041+590 amounting to P35M and K1041+266-K1041+382 amounting to P44.8M. As of January 25, 2021, they have an accomplishment of 83.52% and 60%, respectively. Currently, these road sections are passable only to light vehicles for safety measures.
"The immediate completion of these projects is important to prevent any road accident especially that these road sections are prone to slips, slope collapse and landslides," said Adongay.
According to Adongay, major scope of work for this project involves the concreting of a four-lane road and the installation of gabions, the first of its kind here in the Province.
Gabion is a wire cage or box filled with materials such as stone, concrete, sand, or soil. It is a partially flexible block construction used for slope stability and erosion protection in construction.
"The asset preservation project is designed to prevent further road slips along NCCCR and prevent road closures in this area", said Adongay.
The road at NCCCR is essential for residents in the town of Caibiran and to its neighboring towns for a faster access to the only Provincial Hospital and other basic essential services like banks and other financial institutions in the capital town of Naval.
When completed, this project will provide a wider and safer road for the increasing volume of traffic along NCCCR.
From its start dates on June 10, 2020, these projects are targeted to be completed on February 19, 2021 and March 05, 2021.
Global probe on PH rights violations to include case of harassed indigenous peoples leader
Igorot activist Windel Bolinget politically persecuted, submitted himself to authorities for custodial protection on fabricated charges
Press Release
January 26, 2021
MANILA – Investigate PH, an independent international investigation on the human rights abuses in the Philippines announced Wednesday that it will include the case of Cordillera indigenous leader Windel Bolinget. Last week, Bolinget submitted himself to the authorities for protection as he faces the trumped-up murder case that was filed by a police against him. Prior to this, a shoot to kill order and bounty of US $2,100 was issued by the police directly threatening his life.
"We are determined to pursue the case of indigenous peoples activist Windel Bolinget in this ongoing independent investigation. The absurd cases filed against him causing fear for his life and the safety of his family are testaments to the terror human rights defenders face in the Philippines," says International Coalition for Human Rights in the Philippine (ICHRP) Chairperson Peter Murphy who is also part of the global probe Investigate PH.
Bolinget's case which involves harassment, red-tagging and the now trumped up charges has been shortlisted by Investigate PH in its investigation. The independent international probe will submit a report to the upcoming Regular Sessions of the United Nations Human Rights Council (UNHRC).
Mr Bolinget is the Chairperson of the Cordillera Peoples Alliance and national convenor of KATRIBU national alliance of indigenous peoples. He is also a member of the global steering committee of Land is Life, a global network of indigenous peoples' organizations and advocates. "Windel Bolinget has long been known globally as an indigenous activist strongly committed to his work, and for many years has suffered red-tagging and death threats," says Murphy.
On 6 August 2020, a criminal case was filed at Davao del Norte, Southern Philippines, against eleven individuals including Mr Bolinget, for their alleged involvement in the murder of Garito Malibato on 21 March 2018. Bolinget belongs to the Kankanaey and Bontok indigenous peoples in the Cordillera Region, Northern Philippines. The distance between the Cordillera and Davao del Norte is more than 1700 kilometres and is two major islands away.
"The murder charge appears to be absurd and out of this world. The Cordillera is in the north of the Philippines, while Davao del Norte is very far to the south," says Murphy.
The Police circulated online and in public places the Wanted Poster announcing a reward of P100,000 (2,080 USD) for any information that could lead to his arrest. On January 19, 2021, Police Provincial Regional Office Cordillera Chief R'win Pagkalinawan released a 'shoot to kill' order for Mr Bolinget, qualifying it only with 'if nanlaban' (if he retaliated). 'Nanlaban' is the routine excuse for police shooting of alleged drug suspects and indicates that the target person 'resisted'.
According to ICHRP, this bounty only encourages vigilantes and more violence, which further puts in danger the life of Bolinget. It also denied due process to the falsely accused Mr Bolinget.
The ICHRP Chairperson reminded Chief Pagkalinawan that his statement "is a pretext for the speedy extra-judicial killing of Mr Bolinget before evidence presented in a legal process could prove that the murder charge is false."
The Independent International Commission of Investigation into Human Rights Violations in the Philippines or Investigate PH seek to look into cases of killings of those allegedly involved in drug trade/use and the persecution of human rights defenders and civil society organizations like that of Bolinget.
Investigate PH will be holding a global launch this week to introduce its commissioners who are leaders of government parliaments, international legal organisations and churches.
Lastly, the global rights group ICHRP stressed that Bolinget's case is just one of many cases that demonstrate that the Philippine government claims to the international community that its domestic processes upholding human rights are blatantly fraudulent.
DPWH completes circumferential road in Barangay Basud, Calbayog City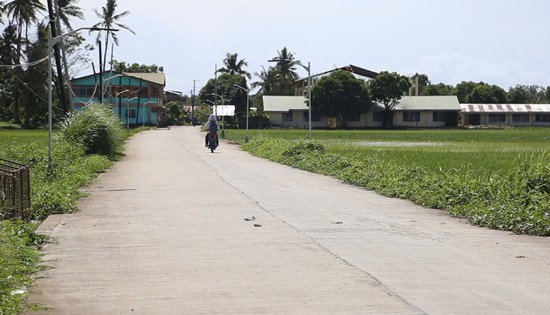 By GISSELLE G. PARUNGAO
January 25, 2021
CALBAYOG CITY – The circumferential road built in Barangay Basud, Calbayog City is now completely passable to motorists and residents of the barangay, said DPWH-Samar First District Engineering Office. The projects have a total revised contract amount of more than P57 million drawn from the General Appropriations Act (GAA) of 2019.
The road before is somewhat dangerous because it was narrow and some parts are not yet cemented while other parts can be reached through a footpath. This area is hazardous and accident prone for passing motorists and residents as stated by Barangay Captain Bliselda Ortiz.
With this condition, a length of 520 meters was rehabilitated that includes a riprap of 430 meters. Another part includes a concreted road opening of 290 meters and a gravel road of 30 meters with a riprap of 340 meters along Salagan Creek. Cross drainages were also built to allow free flow of water since the area is a rice field and near a body of water.
Furthermore, another part of the road was rehabilitated which spans 923 meters and a riprap was also built with a length of 42.5 meters. This project also includes a drainage canal for both lanes that spans 236.8 meters and another two cross drainages to avoid water flooding on the main road.
Both road works have a width of six (6) meters and includes installation of solar lights.
Now that the roads are widened and solar lights are installed, the security of the residents and passing motorists are ensured. By strengthening connectivity, the circumferential road will allow for the smooth flow of motorists going to and from the city proper and facilitate socioeconomic progress among the community.
Former rebels, soldiers jointly finish livelihood training in Leyte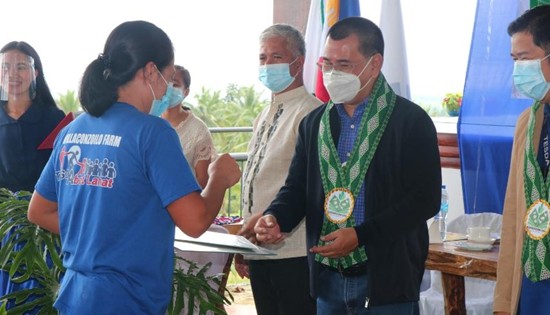 By DPAO, 8ID PA
January 22, 2021
CAMP LUKBAN, Catbalogan City – Fifteen former New People's Army (NPA) rebels in Samar and Leyte are now job-ready as they completed a 27-day skills training conducted by the Technical Education and Skills Development Authority (TESDA).
The livelihood training the former rebels have completed is the Landscape Installation and Maintenance (Softscape) NC II.
Ten soldiers of the 8th Infantry Division also attended the same training as former rebels training partners to show unity and peaceful endeavor.
The graduation was held at the Villaconzoilo Farm School, Barangay Villaconzoilo, Jaro, Leyte on January 20, 2021.
TESDA Regional Director Gamaliel Vicente Jr. congratulated the graduates and hoped that more rebels would enroll for them to gain skills and later have jobs, which are beneficial for their families.
"TESDA is in full support to former rebels in providing livelihood training opportunities in pursuit of peace," Dir. Vicente said.
Leyte Governor Leopoldo Dominico Petilla said the local government units are offering livelihood training to bring the government closer to the people and encourage rebels that some programs and services await them if only they return to the folds of the law. He added that skills training is a venue for more rebels to address poverty in their families and communities which is one of the socio-economic issues being used by the NPA to lure and recruit individuals in the region.
A former rebel, who introduced himself as Jade said that he is thankful for the government's intervention. He was not only given the chance to live peacefully with her family but was also given livelihood.
"Masayang-masayang ako dahil nabigyan ako ng scholarship sa TESDA sa pamamagitan po ng Task Force - ELCAC. Di ko pa po naranasang grumaduate dahil hanggang grade 1 lang po ako ngunit ngayon ay naka-graduate na at ganap nang landscaper," Jade said.
Among the graduates, Jade was ranked as top 3 and received awards as best in indoor gardening and best in dish gardening.
The 802nd Infantry Brigade Commander, Brigadier General Zosimo A. Oliveros who facilitated the surrender of some former rebels pledged to work and encourage more NPA surrenderers to sustain the gains of peace and development in the province.
The International Red Cross and Red Crescent Movement celebrates the entry into force of the Treaty on the Prohibition of Nuclear Weapons
Press Release
January 22, 2021
GENEVA – The International Red Cross and Red Crescent Movement welcomes the entry into force today of the first instrument of international humanitarian law to include provisions to help address the catastrophic humanitarian consequences of using and testing nuclear weapons.
The Treaty on the Prohibition of Nuclear Weapons (TPNW) explicitly and unequivocally prohibits the use, threat of use, development, production, testing and stockpiling of nuclear weapons, and it obliges all States Parties to not assist, encourage or induce anyone in any way to engage in any activity prohibited by the Treaty.
"Today is a victory for humanity. This Treaty – the result of more than 75 years of work – sends a clear signal that nuclear weapons are unacceptable from a moral, humanitarian, and now a legal point of view. It sets in motion even higher legal barriers and an even greater stigmatization of nuclear warheads than already exists. It allows us to imagine a world free from these inhumane weapons as an achievable goal," said Peter Maurer, President of the International Committee of the Red Cross (ICRC).
Red Cross and Red Crescent leaders celebrate the entry into force of the TPNW and salute all 51 states whose backing of the Treaty makes clear their refusal to accept nuclear weapons as an inevitable part of the international security architecture. They invite other world leaders, including those of nuclear-armed states, to follow suit and join the path toward a world free of nuclear weapons, in line with long-standing international obligations, notably those under the Nuclear Non-Proliferation Treaty.
The Philippines has yet to become party to the treaty, although President Rodrigo Duterte, during the 75th session of the United Nations General Assembly in September 2020, said he has asked the Philippine Senate to ratify the TPNW, adding that "we were among those to sign it first." The Philippines was among the 122 States that adopted the treaty in July 2017 and was one of the 50 States that signed the treaty when it opened on 20 September 2017.
In August 2020, on the 75th anniversary of the Hiroshima and Nagasaki bombings, the ICRC and the Philippine Red Cross issued a joint statement calling on the Philippines to join other States in ratifying the treaty and in protecting all humanity.
The TPNW is now before the Philippine Senate for discussion, following endorsement by its Committee on Foreign Relations last week.
Francesco Rocca, President of the International Federation of Red Cross and Red Crescent Societies (IFRC), said: "The entry into force of this instrument of international humanitarian law comes as a welcome and powerful reminder that despite current global tensions, we can overcome even our biggest and most entrenched challenges, in the true spirit of multilateralism. This capacity to effectively unite and coordinate our action should be called upon as we grapple with other global, deadly challenges."
The Treaty obliges states to provide assistance, including medical care, rehabilitation and psychological support, to victims under their jurisdiction without discrimination, and ensure their socio-economic inclusion. It also requires states to clear areas contaminated by nuclear use or testing.
"The Treaty is a ground-breaking step to address the legacy of destruction caused by these weapons. The compelling evidence of the suffering and devastation caused by nuclear weapons, and the threat their use may pose to humanity's survival, makes attempts to justify their use or mere existence increasingly indefensible. It is extremely doubtful that these weapons could ever be used in line with international humanitarian law," Mr. Maurer said.
The Treaty enters into force as the world witnesses what happens when a public health system is overwhelmed by patients. The needs created by a nuclear detonation would render any meaningful health response impossible. No health system, no government, and no aid organization is capable of adequately responding to the health and other assistance needs that a nuclear blast would bring.
The adoption by nuclear-armed states of more aggressive nuclear weapons policies and the continued modernization of nuclear weapons all worryingly point towards an increasing risk of use of nuclear weapons. That's why it is imperative that we act now to prevent a nuclear detonation from happening in the first place, by removing any use and testing of nuclear weapons from the realm of possibility.
States Parties, which will have their first meeting in the course of 2021, must now ensure that the Treaty's provisions are faithfully implemented and promote its adherence.
"The Treaty presents each of us with a really simple question: Do we want nuclear weapons to be banned or not? We are ready, together with our Red Cross Red Crescent National Societies, to intensify our efforts to achieve the broadest possible adherence to the Treaty and insist on its vision of collective security. The entry into force of the Nuclear Ban Treaty is the beginning, not the end, of our efforts," Francesco Rocca said.
CARD Bank opens branch in Tabaco City
By CARD MRI
January 21, 2021
SAN PABLO CITY – In its bid to promote financial inclusion, CARD Bank, a microfinance-oriented rural bank, opened its 98th branch in Tabaco City, Albay on January 18, 2021.
The branch will cater to 29,626 microfinance clients who were originally part of Legazpi Branch. Having this new branch will bring bank services closer to clients of nine branch-lite units in the municipalities of Tabaco, Tiwi, Bacacay, Malilipot and Malinao. As well, these two branches will have better opportunities to expand.
This will fully reach more unbanked and underbanked families in the province. According to CARD Bank Regional Director Wilma Laurio, the branch is expected to deliver financial banking products and services to 31,000 clients by the end of the first quarter.
"These clients, who mostly came from the socioeconomically challenged families, will have equal opportunities to access affordable and useful financial products and services," said CARD Bank President and CEO Marivic Austria. She added that financial inclusion is one of the solutions to break the endless cycle of poverty.
Aside from offering microfinance, SME and other loan products, CARD Bank also promotes a better saving habit for every client it serves. For as low as P100, its clients can now open their savings account. This will encourage them more to become conscious about saving for their future.
CARD Bank also has a remittance service called CARD Sulit Padala. Together with CARD, Inc., CARD SME Bank, and CARD MRI Rizal Bank, clients who need remittance services can send or transfer money in more than 900 branches nationwide. For as low as P1, senders can transfer money to their loved ones to meet their financial needs.
The new branch will also be part of CARD Bank's digitization journey which is even more intensified because of the pandemic. "During the pandemic, the digital services of the bank showed a crucial role to constantly provide its services even with the presence of physical barriers. These digital efforts brought convenience and safety to our clients," said Austria.
The branch is located at Purok 1, Brgy. Pawa, Tabaco City, Albay. The opening was graced by CARD Bank President Marivic Austria, CARD Bank Executive Vice President Lourdes Dijan, CARD Bank Vice President for Operations Glenda Magpantay, and CARD Bank Assistant Vice President Raquel Zaragoza. It was also attended by CARD Bank Chairman Dr. Jaime Aristotle B. Alip, CARD Bank Senior Advisers Dr. Dolores Torres and Lorenza Bañez, and CARD MRI Managing Director Flordeliza Sarmiento via online conference.
To date, CARD Bank has more than 3.4 million clients served all over the country.