EV closes 2020 with 2.4% inflation rate
By PSA-8
January 20, 2021
TACLOBAN CITY – Eastern Visayas closed 2020 with a 2.4 percent Inflation Rate (IR). This IR is 0.6 percentage point higher compared with the 1.8 percent IR a month ago. This is also 0.9 percentage point higher than the recorded 1.5 percent IR in the same period last year.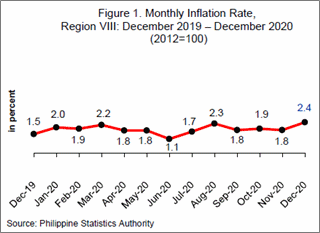 The regional IR is 1.1 percentage points lower than the 3.5 percent national average inflation rate in December 2020.
Samar, Northern Samar, Southern Leyte, and Leyte registered higher IRs in December 2020 compared with their figures in November 2020. Samar and Northern Samar recorded the increase in their IRs at 1.9 percentage points, pushing their IRs in December 2020 to 5.5 percent and 4.0 percent, respectively. Southern Leyte and Leyte's IRs, meanwhile, rose to 3.2 percent and 1.9 percent, respectively. Both provinces recorded 0.6 percentage point increase from their figures in November 2020.
On the other hand, Biliran registered a 1.0 percentage point decrease in IR. It declined to 0.8 percent in December 2020 from 1.8 percent in November 2020. This is the lowest IR among the provinces during the month in review. Eastern Samar, meanwhile, eased down to 1.5 percent in December 2020 from 1.7 percent in November 2020.
Of the 11 commodity groups in the region, five (5) exhibited higher IRs in December 2020 compared with their rates in November 2020. Alcoholic beverages and tobacco commodity group registered the biggest increase of 2.9 percentage points, from 6.4 percent in November 2020 to 9.3 percent in December 2020. This acceleration may be traced to the double-digit IR (12.4%) registered in the index for tobacco.
The IR for food and non-alcoholic beverages commodity group increased by 1.4 percentage points, from 1.7 percent in November 2020 to 3.1 percent in December 2020. Higher IRs were noted in all items under this commodity group. Vegetables index registered the highest increase of 4.7 percentage points, posting a double-digit IR of 13.0 percent in December 2020 from 8.3 percent in November 2020.
Fish index recorded 2.9 percent IR in December 2020 from 0.6 percent deflation in November 2020. Corn index continued to register deflation but at slower rate of 0.4 percent during the reference month from 0.5 percent deflation in November 2020. The rest of the items under this commodity group recorded increases in IRs ranging from 0.1 percent to 2.2 percent.
Transport commodity group recorded 1.1 percentage points increase in its IR, from 3.9 percent in November 2020 to 5.0 percent in December 2020. The 3.1 percent deflation registered in the index for operation of personal transport equipment was offset by the higher IR (8.9%) posted in the index for transport services.
Compared with their November 2020 levels, the IRs for clothing and footwear commodity group (2.7%) and health commodity group (1.2%) were higher by 0.2 percentage point and 0.1 percentage point, respectively, in December 2020.
On the other hand, annual price change for housing, water, electricity, gas and other fuels commodity group declined by 1.1 percentage points. The 0.5 percent IR in November 2020 dropped to 0.6 percent deflation in December 2020. This can be attributed to the significant decrease in the index for electricity, gas and other fuels to 2.8 percent deflation in December 2020, from 0.1 percent deflation in November 2020.
The deflation for communication commodity group eased down by 0.1 percentage point, settling at 1.6 percent during the month in review.
The commodity groups of restaurants and miscellaneous goods and services; furnishings, household equipment and routine maintenance of the house; and education retained their previous month's IRs at 3.8 percent, 2.4 percent, and 0.4 percent, respectively. Meanwhile, recreation and culture commodity group retained its previous month's deflation at 1.4 percent.
The Purchasing Power of Peso (PPP) of the region remained at P0.78 in December 2020. This PPP implies that the goods and services worth P78.00 in 2012 is worth P100.00 in December 2020.
Compared to their levels in November 2020, PPP in Samar (P0.71) weakened by P0.02 in December 2020. This is the lowest PPP among the provinces during the month in review. PPP in Leyte (P0.80), Southern Leyte (P0.79), Eastern Samar (P0.75), and Northern Samar (P0.72) weakened by P0.01 in December 2020. Biliran, meanwhile, retained its previous month's PPP at P0.82 registering the strongest PPP among the provinces during the reference month.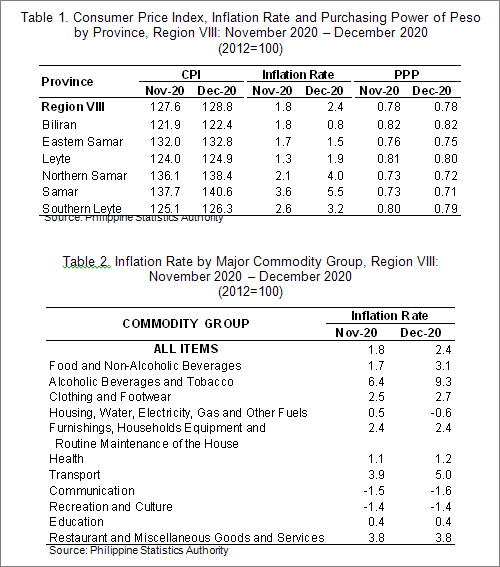 Killed: Alias Apple, Secretary of FC 2, SRC Emporium, EVRPC.
Government troops repel CTG's intents to sow havoc during Christmas time in Northern Samar
By DPAO, 8ID PA
December 25, 2020
CAMP LUKBAN, Catbalogan CIty – In a series of encounters this week, the government troops repelled Communist NPA Terrorists (CNTs) who were planning to sow chaos during the Christmas celebration in Northern Samar.
A high-ranking New People's Army (NPA) terrorist leader was killed while another wounded NPA was arrested during the five successive encounters. Several high and low-powered firearms, ammunition, improvised explosive devices (IEDs), claymore mine, and grenades were also seized.
The first encounter between the troops of the 43rd Infantry Battalion and a group of CNTs occurred in Barangay Happy Valley, San Isidro, in the morning of December 21, 2020.
The 30-minute gunfight resulted in the death of a certain Jerry Lutao, alias 'Apple', Secretary of Front Committee 2, Sub-Regional Committee (SRC) Emporium, Eastern Visayas Regional Party Committee (EVRPC) whose body was left behind by the retreating comrades.
The troops also overran the CNT's lair and successfully seized one M16, M4, M4KG, .38 revolver, magazines, two rifle grenades, a hand grenade, four IEDs, claymore mine, bomb triggering devices, backpacks, cellphones, generator sets, medical supplies, NPA flag, and subversive documents.
In the morning of December 22, 2020, while on pursuit operation, the troops of the 43rd IB encountered six CNTs at the vicinity of Barangay Happy Valley, San Isidro.
No casualty on the government side while an undetermined casualty on the enemy's side was reported during the 10-minute firefight.
Five hours after the morning encounter, troops of 43rd IB clashed with the same group of CNTs at the vicinity of Sitio Agsam, Barangay Happy Valley, San Isidro. Seized during the encounter were two shotguns, one caliber .38 revolver with ammunition, one magazine of .45 pistol loaded with 7 rounds of ammunition, cellphones, and backpacks.
The fourth encounter transpired at dawn of December 23, 2020, at the vicinity of Km 14, Barangay Happy Valley of the same town. One Communist NPA Terrorist (CNT) was wounded and troops immediately gave him first aid. He was identified as Jonas Dela Torre alias Jonel, 36, years old, Team Leader of Squad Uno, Front Committee 2. Troops were able to recover Dela Torres's AK47 rifle.
The last encounter happened hours before Christmas Eve when troops from 43rd IB engaged in a 15-minute gunfight with three CNTs still at Barangay Happy Valley, San Isidro, Northern Samar.
There were no reported casualties on the government side while there are heavy casualties on CNT's side as indicated by bloodstains at enemy's route of withdrawal.
Recovered at the encounter site were two M16 rifles, magazines, ammunition, and one improvised hand grenade. Troops are still on pursuit operation.
According to 43rdIB Commanding Officer, Lieutenant Colonel Raymundo C Picut Jr, all their military intelligence are closely monitoring the activities of the Communist Party of the Philippines New People's Army (CPP-NPA) this holiday season as it planned to really conduct atrocities in the Province.
"Maliban sa panggugulo ngayong kapaskuhan sa mga remote at vulnerable areas ay magsasagawa rin sila ng mga tactical offensives sa mga military detachments at police stations lalo na ngayong nalalapit na rin ang ika-52 anibersaryo ng CPP-NPA," Picut said.
Because of the dwindling ranks of the NPA, 8th Infantry Division Commander Major General Pio Q Diñoso III said, it is unlikely for the Communist Terrorists to hold a large meeting during CPP's founding anniversary on December 26.
He assured the people of Eastern Visayas that troops will be guarding communities to ensure a meaningful and peaceful Christmas celebration.
"Bilib at hanga ako sa lakas at determinasyon ng ating mga tropa. Gamit ang ating makabagong technology, military assets kasama ang ating K9 team at mga pursigidong sundalo at sa tulong ng mga residente, hindi natin titigilan ang pagtugis sa mga teroristang NPA hanggang sa magapi natin sila. Maliban na lamang kung mapag-pasyahan na nilang sumuko para maibalik natin sila ng buhay sa kanilang mga pamilya." Major General Diñoso added.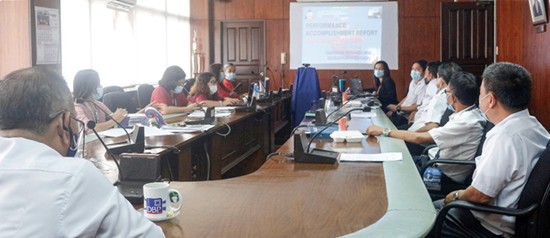 NMP's 2-Day Year-End Performance Assessment (YEPA) held last December 7 & 9, 2020 at NMP Training Complex, Cabalawan, Tacloban City.
NMP bares 2020 accomplishments during YEPA
By National Maritime Polytechnic
December 23, 2020
TACLOBAN CITY – The National Maritime Polytechnic (NMP), the sole government maritime training and research center in the country conducted its 2020 Year-End Performance Assessment (YEPA) and 2021 Corporate Planning Exercise on 07 & 9 December 2020 at the NMP Complex, Tacloban City.
The Agency's accomplishments as of 30 November 2020 were presented and assessed vis-à-vis its Thrusts and Priorities as well as performance commitments as contained in the 2020 Office Performance Commitment Review (OPCR), Annual Action Plan, and NMP Strategic Plan.
As to the conduct of maritime trainings, NMP was able to train a total of 5,405 seafarer- trainees as of 30 November 2020 representing an accomplishment of 113.55% from its reformulated annual target of 4,500. The trainees certificated comprised of aspiring and active seafarers, maritime instructors, assessors and supervisors and other allied personnel in the maritime industry.
All (100%) of the trainees were issued with certificate within seventy-two (72) hours from successful completion of all course requirements. Further, 100% (2,242 out of 2,242) of trainees-assessed who requested for Training Completion and Record Assessment (TCROA) were issued with TCROA after completion of the assessment.
This is a notable accomplishment considering that the Agency only resumed its conduct of training operations in July 2020 after its suspension on 16 March 2020 in line with the declaration of state of public health emergency in the Philippines due to the outbreak of COVID-19.
Contributing significantly to the output performance were the conduct of Professional Development Courses (PDC) in NMP Manila with 256 certificates issued and the accreditation of ten (10) STCW courses, namely: Ratings Forming Part of a Navigational Watch (RFPNW); Medical First Aid (MEFA); Survival Craft and Rescue Boats other than Fast Rescue Boats (SCRB); Refresher Course on Survival Craft and Rescue Boats other than Fast Rescue Boats (RSCRB); Global Maritime Distress and Safety System Radio Operators (GMDSS RO); Ratings Forming Part of a Watch in a Manned Engine-room/designated to perform duties in a Periodically Unmanned Engine Room (RFPEW); Basic Training (BT); Refresher Course on Basic Training (RBT); Advanced Fire Fighting (AFF); and Refresher Course on Advanced Fire Fighting (RAFF).
Ingrained to serve despite of the health crisis, NMP also transitioned to "new and better normal" by offering in August 2020, FREE online courses on: STD/HIV/AIDS Prevention in the Maritime Sector (SHAPIMS); Prevention of Alcohol and Drug Abuse in the Maritime Sector (PADAMS); and Gender Sensitivity Training for Seafarers (GSTS). A pilot-class on Oily Water Separator (OWS) Course and Updating Training on Basic Safety (BTU) using blended learning were also held last 10 & 17 October 2020, respectively.
Likewise, as part of the Agency's thrust in keeping its training services abreast and receptive to the varying demands of the maritime industry, one (1) maritime training course was developed and approved by the NMP Board of Trustees last 25 November 2020, namely: Vessel Crane Operator Course.
The imposition of Enhanced Community Quarantine (ECQ) in the different parts of the country affected the Agency's major activities including those under its Maritime Research Program. The dissemination of the CY 2019 completed researches through the conduct of Stakeholders' Fora in Manila and Davao in April 2020 and the data gathering activities in March and April 2020 for the four (4) researches targeted for completion within the year were cancelled.
With NMP's request for the reformulation of its targets having been granted by the Department of Budget and Management (DBM), its target for the conduct of researches was reduced from four (4) to two (2) researches completed and two (2) research proposals developed. As of November 2020, three (3) researches are on near completion stages, the research entitled "An Examination of the Online Learning Readiness of Filipino Seafarers" is 80% accomplished, the study on "Managing the Threats of a Pandemic: Response of the Philippine Maritime Industry to COVID-19" is 72% accomplished while the research titled "An Assessment on the NMP's Capability to Conduct Online Training" is 75% accomplished.
On research proposals developed, the proposal on "Managing the Threats of a Pandemic: Response of the Philippine Maritime Industry to COVID-19" was completed while the proposal on "Issues and Concerns on the Philippines' Non-Ratification of STCW-F" is 80% accomplished.
Meanwhile, the cancellation of the Research Fora in April 2020 has led to the enhancement of the NMP e-Research Portal to facilitate the research dissemination and validation processes. The portal may also serve as a discussion forum for the development of the NMP Three-year Research Agenda (CY 2021-2023) where the involvement of the stakeholders is the foremost priority.
Also, complementing the efforts of providing quality maritime training and the conduct of relevant researches were the implementation of administrative and support programs that significantly contributed to the NMP's sustained productivity.
On two (2) Information Systems (IS) targeted to be developed by year-end, the Document Tracking System was completed in June 2020 while the Work Queue Information System has a 95% cumulative accomplishment.
In terms of infrastructure projects, Repainting of Maritime Training Building (Phase 2) was completed in July 2020 and Repair of Staff House No. 4 and Renovation/Improvement of Learning Resource Center (LRC) were accomplished in August 2020.
Similarly, repair / improvement of NMP buildings, structures and facilities damaged by Typhoon Ursula on 24 December 2019 were also undertaken and 100% accomplished, namely: Repair/ replacement of Damaged Existing Perimeter Fence; Fabrication/ Installation of Double Wall Folding wood Partition @ Maritime Training Annex Building and Provision of Rain Water Catcher; Repair/ Replacement of Glass Partition at Registrar's Office Waiting Area; Repair/ Improvement of Existing Concrete Seawall and Repair/ Replacement of Existing Damaged Roofing @ DED Staff House, School Buildings, Officer's and Rating's Dormitory. Said projects were funded from the Government Service Insurance System (GSIS) insurance proceeds received after the destruction brought by the Super Typhoon Yolanda in 2013.
Moreover, the Agency has successfully passed the surveillance audit of NMP Quality Management System (QMS) conducted by the SOCOTEC Certification Philippines Inc. on 05 March 2020 and was recommended for continued certification under ISO 9001:2015 Standard.
On top of these accomplishments, however, NMP Executive Director Joel B. Maglunsod still pushed for the completion of other deliverables that have yet to be completed for 2020.
Further, NMP continues to conduct face-to-face trainings to those residents of Region VIII with strict implementation of the Maritime Industry Authority's (MARINA) approved Post-Enhanced Community Quarantine Operational Plan and other health and safety protocols as required by the Department of Health (DOH), Department of Labor and Employment (DOLE), and local government unit (LGU) of Tacloban.
Filipino seafarers who are interested to avail of the NMP's FREE online classes on SHAPIMS, PADAMS, and GSTS may register through this link: https://nmp.gov.ph/online-course-offerings/.
Interested stakeholders who wish to validate the authenticity of their seafarers-employed with NMP issued certificates may visit www.verify.nmp.gov.ph. Likewise, those interested in NMP research undertakings may visit the NMP website and access the e-Research Information System Portal which is designed to disseminate NMP completed researches, present the Research Agenda, and engage the industry stakeholders to collaborate in the research activities.
Further, NMP encourages OWWA registered seafarers to avail of the NMP-OWWA (Overseas Workers Welfare Administration) Seafarers' Upgrading Program (SUP) and Skills for Employment Scholarship Program (SESP) which entitles the beneficiary to receive financial assistance for training costs from the OWWA.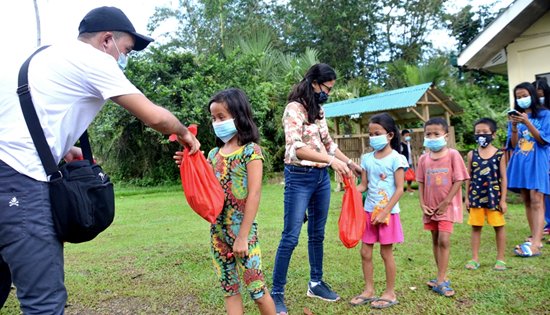 More than 60 children in Barangay Banawang, Tunga, Leyte receive toys and goodies from employees of Department of Agrarian Reform Regional Office 8 on December 16, 2020.
DAR continues its tradition of sharing this holiday season
By JOSE ALSMITH L. SORIA
December 22, 2020
TUNGA, Leyte – Some 40 households in a remote village in this town will somehow celebrate with joy on Christmas eve as they received a bag of "pang-noche buena" items from the Department of Agrarian Reform (DAR).
With the help of barangay officials and teachers in the area, personnel of the Support to Operations Division of the DAR Regional Office-8, headed by Regional Chief Admin Officer, Ma. Fe Castro, distributed on Wednesday, December 16, bags of "pang-noche buena" items in Barangay Banawang, a village six kilometers away from the national highway, which crosses a river and a mountain.
Aside from the excited housewives who received the said items, some 60 children in the area also received goodies and toys for them to feel the spirit of Christmas.
But before distributing the Christmas presents, the DAR employees instill to the residents in the area, both adults and children, the importance of social distancing and wearing of face masks to contain the spread of the dreaded coronavirus disease 2019 (COVID-19), thus facemasks were likewise provided to those who were not wearing it.
A day before, the Legal Division of the same office, headed by Legal Chief, Atty. Christopher Ryan Rosal, opted to distribute food packs to 40 children living at the Tacloban City by-pass road.
Yesterday, the Agrarian Reform Beneficiaries Development and Sustainability Program (ARBDSP) Division, headed by ARBDSP chief, Melecia Ong, chose the 39 persons deprived of liberty (PDL) at the Tacloban City Jail's Women's Dorm as beneficiaries of hygiene kits.
Meanwhile, the Land Tenure Service (LTS) Division, headed by LTS Chief, Francis Diloy, distributed food packs and goodies today to children living in Barangay 74 also in Tacloban City.
Regional Director Ismael Aya-ay said, DAR-8 will continue its tradition of sharing something out of personal generosity especially to the less fortunate this season of giving with or without pandemic.
IFC and CARD MRI partner to help Filipina entrepreneurs weather COVID-19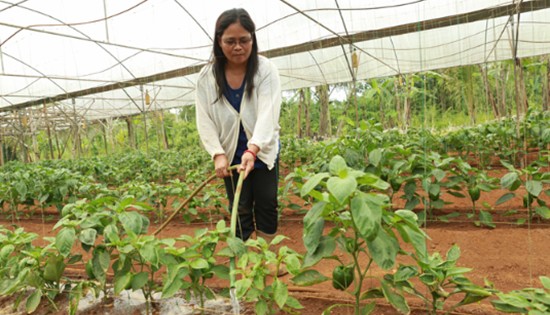 Press Release
December 22, 2020
MANILA – Women entrepreneurs in the Philippines stand to benefit from new loans issued to two of the country's largest microfinance institutions, which will help keep businesses afloat and save jobs as the Philippines grapples with the economic impacts of the COVID-19 pandemic.
The International Finance Corporation (IFC), a member of the World Bank Group, plans to issue up to 750 million Philippine pesos ($15 million) in debt financing to CARD Bank Inc. and CARD SME Bank Inc. which are part of the Center for Agriculture and Rural Development – Mutually Reinforcing Institutions Group (CARD MRI).
The investment aims to benefit over 60,000 companies, 44,000 of which are micro, small and medium enterprises (MSMEs) owned or led by women. The banks have more than 120 branches and serve four million customers. Support from the Women Entrepreneurs Finance Initiative (We-Fi) in the form of performance-based incentives will help the banks reach pre-defined targets for lending to women-owned/led small and medium-sized enterprises (SMEs).
"Filipino women entrepreneurs are fighting to recover from the grave effects of the pandemic, and we are right behind them every step of the way" said Dr. Jaime Aristotle B. Alip, Founder and Chairman Emeritus of CARD MRI. "We believe that a poverty-free Philippines can be achieved by empowering these women to reach their full potential. Through this partnership with IFC, we can reach more women-owned and led MSMEs and help them continue their journey towards a better future."
The funding will provide critical working capital to MSMEs, which have been especially disadvantaged by the pandemic due to the lack of funding buffers and capacity to restart operations during strict quarantine periods. MSMEs account for 99.5 percent of businesses in the Philippines. More than half of those businesses are led by women, and the largest share of companies operate in wholesale and retail, which have been particularly impacted by COVID-19.
The financing package is part of IFC's $8 billion global COVID-19 fast-track financing facility, aimed at helping businesses stay afloat during the ongoing public health crisis. The loans are being provided through IFC's Working Capital Solutions Program, a $2 billion facility that provides funding to emerging-market banks to extend credit to help businesses shore up their working capital.
"We are delighted to continue our long-standing relationship with Dr. Alip and the CARD MRI Group," said Rosy Khanna, Regional Industry Director for Financial Institutions Asia Pacific at IFC. "The success of women-owned businesses in the Philippines is critical to the success of the overall economy. Our investment will help provide much-needed working capital at a crucial time for micro, small and medium sized businesses, helping them to sustain operations and save jobs so they are on a better footing for a successful post-crisis recovery."
The transaction is IFC's first investment in the Philippines as part of its Banking on Women business, which provides financing and expertise to financial institutions to help them profitably finance women-owned businesses. Women customers present a substantial growth opportunity for financial institutions and financial-technology companies, known as fintechs. Women own and lead roughly 9.7 million formal SMEs and 63.8 million micro-businesses in emerging markets, with a total estimated unmet credit demand of $1.5 trillion.
The transaction builds on a relationship between IFC and CARD MRI that began in 2007, when IFC helped CARD MRI develop an SME lending platform. Since then, the two institutions have worked together on a series of initiatives, including agrifinance, digital risk management and the Binhi Crop Insurance Program, which protects farmers from the adverse effects of natural disasters.
CARD MRI aims to empower socially and economically challenged women and families by providing access to financial, educational, social and health services. The group has 6.9 million clients and insures over 25 million people in the Philippines.
About We-Fi
The Women Entrepreneurs Finance Initiative (We-Fi) is a collaborative partnership among the 14 governments that have made financial contributions, six multilateral development banks that serve as implementing partners, and other public and private stakeholders. We-Fi was formally established in October 2017 as a Financial Intermediary Fund hosted by the World Bank. We-Fi invests in programs and projects that help unlock billions of dollars in financing to address the full range of barriers facing women entrepreneurs—increasing access to finance, markets, technology, and mentoring, while strengthening policy, legal and regulatory frameworks. As one of the We-Fi Implementing Partners, IFC supports private sector clients with investment and advisory services to expand financial services and market access for women-owned/led firms, as well as increasing the capacity of women entrepreneurs to run high-growth businesses. For more information, visit www.we-fi.org.
About IFC
IFC – a member of the World Bank Group—is the largest global development institution focused on the private sector in emerging markets. We work in more than 100 countries, using our capital, expertise, and influence to create markets and opportunities in developing countries. In fiscal year 2020, we invested $22 billion in private companies and financial institutions in developing countries, leveraging the power of the private sector to end extreme poverty and boost shared prosperity. For more information, visit www.ifc.org.
About CARD MRI
CARD Mutually Reinforcing Institutions (CARD MRI) is a group of institutions with a holistic approach to development. Established in 1986, CARD MRI has continuously provided socio-economically challenged families with access to financial, microinsurance, education, livelihood, health and other capacity-building services. CARD Bank and CARD SME Bank are both member-institutions of CARD MRI with clients served of 3.3M and 1M individuals, respectively.
Violence Against Women
Labor unions call for the protection of those vulnerable to violence
By Associated Labor Unions
December 20, 2020
QUEZON CITY – The Associated Labor Unions (ALU) and global unions Building and Wood Workers International (BWI), and IndustriALL, are calling for the protection of workers and other persons in situations of vulnerability from gender-based violence perpetuated or condoned by individuals, institutions and the State, especially in the midst of pandemic Christmas season.
ALU National Executive Vice President Gerard Seno urged the government, employers, and communities to tighten their measures to address violence and harassment against frontliners, jobseekers and applicants, those in contractual arrangement, probationary period, night work, domestic work, women with disabilities, and in poverty.
On December 20, on the occasion of the anniversary of the 1993 adoption of the United Nations' Declaration on the Elimination of Violence against Women, ALU National Vice President and Women's Committee Chair Eva Arcos continued to value its pioneering explicitness from which governments are obligated to act and from which many national and international instruments and programs addressing gender-based violence were built.
Arcos, however said that, 27 years and ILO Convention 190 on Violence and Harassment (2019) after, the Philippines has gotten worse in terms of bridging the gap between law and practice, and in delivering justice to victims who died or survived from gender-based violence, and in protecting witnesses, whistleblowers and defenders.
Arcos reminds full compliance to existing women-specific laws and international instruments which the Philippines signed or ratified. Swift actions are needed for victims of gender-based violence to include right to remove themselves from an unsafe work situation, protection from retaliation, 10-day paid leave, employment facilitation, access to financial assistance or low-interest credit facility, equal access to justice mechanism, free legal assistance, establishment of more shelters in the country, and counseling services.
Seno pressed for the necessity of having gender-sensitive public officials and officers of the law, of enforcing penalties, and complying with the mandatory psychological counseling or psychiatric treatment for offenders.
Health and safety risk, flexible work arrangements, joblessness, reduced income, work from home, home-schooling, childcare, difficulties in reporting and limited access to essential services are aggravating circumstances to cases of violence and harassment that jeopardize not only women's health and safety, but also their capability to access, remain, and advance in the labor market.
The labor unions pointed out that aside from the need to update and publicly circulate database on gender-based violence and harassment, the government, in consultations with stakeholders, should conduct regular research on the effectiveness of measures being undertaken to prevent and redress violence against women.
The labor unions have been campaigning for the Philippine government's ratification of Convention 190.
*The UN Declaration on the Elimination of Violence against Women was adopted by the United Nations General Assembly in 1993. It covers physical, sexual and psychological violence as well as violence both at home and elsewhere in society.
*Convention 190 – Violence and Harassment Convention, 2019 (No.190) recognizes the right of everyone to a world of work free from violence and harassment, including gender-based violence and harassment and acknowledges that violence and harassment also affects the quality of public and private services, and may prevent persons, particularly women, from accessing, and remaining and advancing in the labor market.