Wounded NPA, abandoned by comrades, dies in Samar clash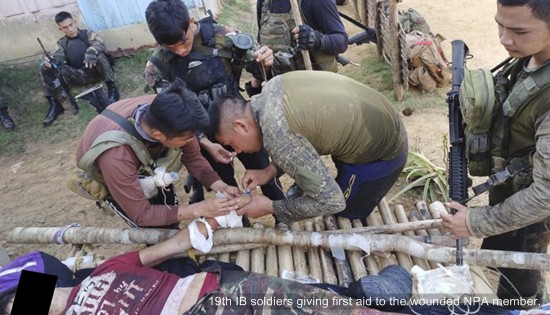 By 19th Infantry Battalion, 8ID PA
March 8, 2021
MATUGUINAO, Samar – A member of the terrorist New People's Army succumbed to death after an encounter with the operating troops of 19th Infantry Battalion (19IB) a few kilometers away from Barangay San Roque, Matuguinao, Samar on March 6, 2021.
The troops clashed against ten (10) NPA terrorists in the afternoon of the said date leading to a 30-minute firefight that resulted to the capture of a wounded NPA who was abandoned by his fleeing comrades.
Determined to keep the wounded NPA alive, the troops immediately provided immediate medical care and evacuated the casualty to the barangay proper for further medical assistance.
The wounded NPA identified himself as Oti Ogacho, 23yo, and a resident of Brgy. Mahanud of the same Municipality. He was presented to the barangay officials and residents of Brgy San Roque, Matuguinao, who confirmed his identity and recognized him as a known NPA member operating in the area.
The wife of Oti Ogacho also arrived at the Barangay hall to accompany her husband. Residents further revealed that the wife is also an NPA member who went on lie-low in order to deliver her second child two (2) weeks ago.
However, while waiting for assistance to evacuate Oti to the nearest hospital for further medical attention, he passed away due to the effects of the gunshot wounds he incurred during the encounter.
"It is so sad that another life is gone, wasted, because of the CPP-NPA's deception. Our soldiers were determined to keep the wounded NPA alive because we know his family needs him, especially his newborn child. It is also a norm for us soldiers to treat the wounded even if he is an enemy. 'Sir buligi ak, Karuyag ko pa mabuhi mayda ako duha na anak ngan bag-o la nanag anak tan asawa' - those are the words Oti uttered to the troops before taking his final breath," Lieutenant Colonel Fernando C Engcot, Battalion Commander of 19IB, said.
Fishery production in Eastern Visayas drops by 13.7% in the fourth quarter of 2020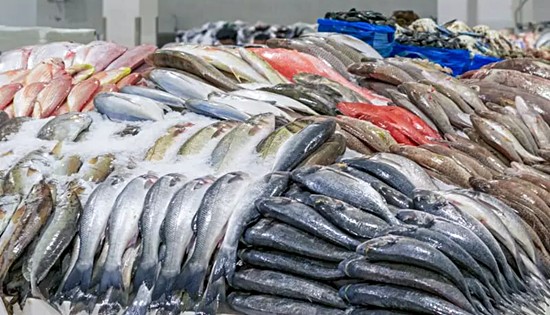 By PSA-8
March 4, 2021
TACLOBAN CITY – The total volume of fisheries production in Eastern Visayas was estimated at 30,145 Metric Tons (MT) during the fourth quarter of 2020. It is 13.7 percent lower compare with the 34,936 MT production in the same quarter in 2019.
Eastern Visayas accounted for 2.5 percent of the country's total fishery production during the 4th quarter of 2020. It ranked seventh among the regions with low fishery production in the country (Table 1).
Across provinces, Northern Samar produced the highest volume of fisheries at 6,849 MT, comprising 22.7 percent of the total fishery production in the region. Samar ranked second at 6,777 MT, accounting for 22.5 percent of the region's total fishery production. Biliran, meanwhile registered 1,750 MT, the lowest volume of production which shared only 5.8 percent.
Among the subsectors, municipal fishing contributed the highest production with 22,639 MT or 75.1percent share to the total fishery production in the 4th quarter of 2020. Aquaculture shared 4,596 MT or 15.2 percent, while commercial fishing contributed 2,910 MT or 9.7 percent (Table 2).
Municipal Fisheries production inched up by 3.7 percent from the 21,834 MT in the fourth quarter of 2019 to 22,639 MT in the same quarter of 2020. Of this figure, 99.6 percent came from unloading in marine landing centers while the rest were caught from inland bodies of water. Among provinces, the increase in municipal fisheries production was noted in Southern Leyte which almost tripled from 1,340 MT in the 4th quarter of 2019 to 3,764 MT in the same quarter in 2020. While Northern Samar and Eastern Samar registered increases by 29.9 percent and 1.3 percent, respectively. A drastic drop was noted in Leyte by 65.1 percent. Minimal decreases were recorded in Biliran (7.6%) and Samar (0.5%).
Commercial fishing production on the other hand decreased by 14.3 percent, from 3,397 MT in the fourth quarter of 2019 to 2,910 MT in the same quarter of 2020. The subsector comprised 9.7 percent of the total fisheries production. Samar, Southern Leyte and Leyte, recorded a significant decline of 44.6 percent, 33.8 percent and 2.6 percent, respectively. Biliran recorded the highest increase of 19.6 percent, from 432 MT in the fourth quarter of 2019 to 517 MT during this period in 2020 (Table 2).
Meanwhile, volume of harvest from aquaculture went down by 52.6 percent. Its 9,705 MT production in the fourth quarter of 2019 dropped to 4,596 MT in the same quarter of 2020. The share of aquaculture subsector to the total fisheries was 15.2 percent. Only Eastern Samar recorded increase in production estimated at 177 MT at 56.6 percent. On the other hand, the decrease in the volume of harvest in aquaculture was contributed by the decreases in the provinces of Northern Samar (71.5%), Leyte (53.7%), Samar (53.6%), Biliran (42.4%) and Southern Leyte (13.1%).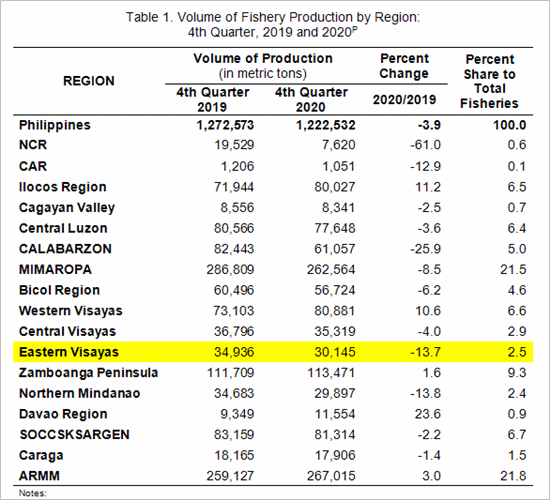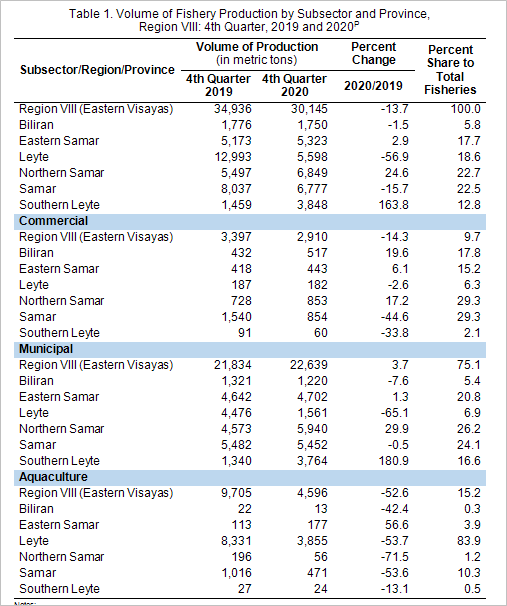 DPWH turns over new school building to Tomaligues Integrated School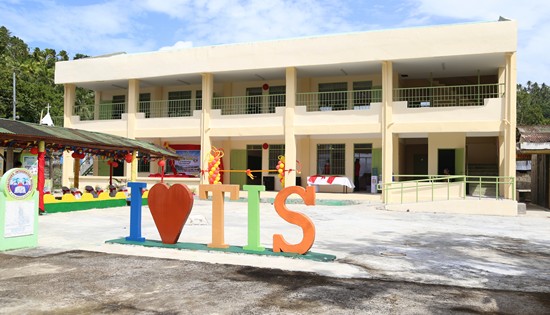 By GISSELLE G. PARUNGAO
March 4, 2021
CALBAYOG CITY – The Department of Public Works and Highways recently turned-over the new two-storey, four-classroom school building in Tomaligues Integrated School (TIS) with a revised contract amount of P11.5 million.
Following the minimum performance standards and specifications (MPSS) prescribed by the Department of Education, DPWH equipped the school building with a fire alarm system, fire extinguisher, automatic water sprinklers, fire escape, PWD ramp access, and sanitary restrooms. A roof-mount twin water storage tank was also installed.
The Marcos-type building was replaced by this new school building that will be occupied by Kindergarten, Grades 1, 2 and 3 with a total of 95 pupils and four teachers. For over 15 years, said Ma. Richel Caber, Property Custodian of Tomaligues Integrated School, Tinambacan District, this building has been reported for condemnation and removal because it is risky for students and teachers alike which is not fit to be used as educational classroom.
School Head Nova Gaspan stated that they really lack school buildings due to the number of students enrolled in TIS but now that this building is ready to be used, there will be enough classrooms for enrollees. She further said that, "this will be in preparation to our application for Senior High School, as it is our target for the next year or school year that we will be having our Senior High School because we already have three vacant classrooms".
Miss Universe 2018 and OTOP Ambassador Catriona Gray's visit creates huge impact on sales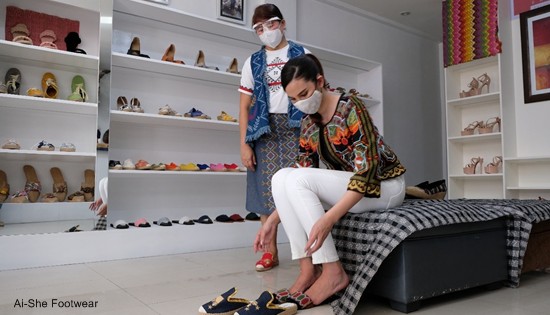 By DTI-Regional Operations Group
March 4, 2021
MAKATI CITY – The Miss Universe 2018 Catriona Gray visited the province of Laguna to showcase some of its local products and businesses in her role as an ambassador of the Department of Trade and Industry's One Town, One Product (OTOP) project on August 27 to 30, 2020. Gray was also recognized as "Adopted Illustrious Daughter of Laguna" by the provincial government.
As the face of OTOP Philippines, Gray highlighted small local businesses in various regions, with Laguna as her first stop. "I am lending my platform to our [Filipino] small businesses, MSMEs (micro, small and medium-sized enterprises) and entrepreneurs," the beauty queen said via Instagram last August 29.
Some of Laguna MSMEs who showcased their local products and businesses during the visit were Ai-She Footwear (Liliw, Laguna), Junk Not Handicraft (Biñan City, Laguna), and Rolyo Likha At Iba Pa Handicraft (Pila, Laguna).
Started with an investment of P50,000.00 in 2006, Corazon Coligado, owner of Ai-She Footwear, grabbed an opportunity and started her footwear business with two male footwear makers aside from her designer friend. Crafting the business with continuous learning, Coligado engaged herself with different programs and services of the Department of Trade and Industry (DTI). To name one, she was endorsed to the Department's partner agency CESO (Canadian Executive Service Organization) which honed her business plan and focused on the main plans to transfer to a bigger production area in order to hire more workers and increase production as well as to improve raw materials and inventory management.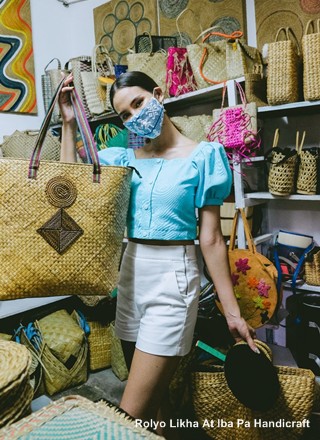 Ai-She Footwear was overwhelmed with the fast development in their business and fortune and has become a regular exhibitor on every trade fair at the national and international fairs organized by DTI. Ai-She Footwear focused on producing many kinds of artisan shoes, in a variety of aesthetics – including crocheted and patchwork – in colors mirroring the town's vibrant culture.
With the recent involvement to OTOP Philippines Ambassador Gray's visit, Ai-She Footwear generated estimated sales of P300,000.00 from September to December 2020. Ai-She designed a Catriona abaca mule made from locally sourced materials, all handcrafted by sapateros in Liliw, with an embroidered three stars and a sun emblem as a finishing touch. "Kinikilig ako kasi Filipino brand Ai-She Footwear created shoes in my honor," Gray says. "I was even able to experience putting together my own pair of the 'Catriona shoe!'," she added.
With the aim to turn trash into art, Wilhelmina "Willie" Garcia, owner of Junk Not Handicraft, is passionate about interior design and the environment. They always had a way to recycle plastic wastes and transform them into artful, premium-priced furniture and even bags and fashion accessories. Junk Not Handicraft has long been involved in a lot of journeys in partnership with DTI including participation to trade fairs and exhibits sponsored by the Department.
Junk Not Handicraft was featured and won many local and international awards. Known for being a social entrepreneur and with continuing international trend of environmentalism, Willie has received numerous inquiries from all over the Philippines and abroad on the possibility of replicating her business model. With the recent involvement to OTOP Philippines Ambassador Gray's visit, Junk Not Handicraft generated estimated sales of P1,830,000.00 from September to December 2020.
From his interest and hobby of paper rolling, Renel Batralo identified a business opportunity to create various art and crafts from fashion accessories to home furnishing to containers to mats to baskets. This has led to the growth of Rolyo Likha At Iba Pa Handicraft – now one of the best artists in this field not only in Laguna but also in the Philippines.
Despite the challenges and negative criticisms encountered in 2008, Batralo never gave up and held his determination and explored all other possibilities to further improve his work. He was enrolled in DTI's Kapatid Mentor ME Program wherein he attended and participated in various DTI seminar workshops and trainings on entrepreneurship. Soon after, he became a mentor himself as well and started providing livelihood trainings to potential and existing MSMEs. Batralo maximized the use of local resources and turned these into art and crafts. With the recent involvement to OTOP Philippines Ambassador Gray's visit, Rolyo Likha At Iba Pa Handicraft generated estimated sales of P707,000.00 from September to December 2020.
The Raise Your Flag Laguna initiative as part of the visit of OTOP Philippines Ambassador Gray was able to become a venue to see the importance of learning and advocating our local products, our weaving communities, and our Filipino culture.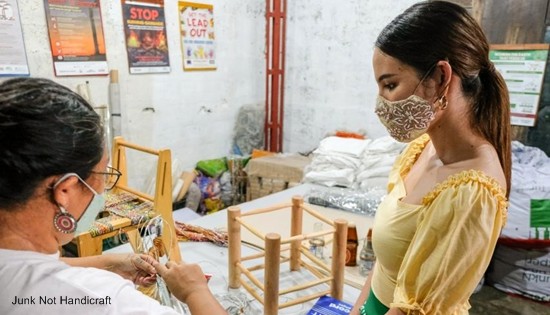 Karapatan echoes call for PDL's right to health: 'Immunize them with free, safe, effective vaccines'
Press Release
March 4, 2021
QUEZON CITY – Human rights group Karapatan on Thursday, March 4, supported the call of families and friends of political prisoners for inclusion of thousands of prisoners, especially the elderly and sick, and pregnant women among them, in the Philippines for free, safe, and effective vaccination against COVID-19, as they contend with the country's overcrowded detention facilities and poor health and nutrition situations in jails.
"The people's right to health, including the right to free, safe and effective vaccines, should be upheld, at this time of a pandemic that has contributed to increased vulnerabilities of populations, including those in packed and poorly equipped prisons," said Karapatan Secretary General Cristina Palabay.
Karapatan said that there are at least 680 political prisoners, 95 of them have various illnesses including life-threatening ones while 58 are elderly, out of the more than 200,000 prisoners in the country. The Bureau of Jail Management and Penology said in December 2020 that there have been 1,987 cases of COVID-19 among persons deprived of liberty (PDLs).
"The cases of deaths and infections among prisoners clearly shows that they are part of those most at-risk from contracting the highly contagious and deadly disease that hit the country. These belie declarations of government officials a year ago when harped on the 'safer' conditions in jail despite irrefutable data on the susceptibility and vulnerabilities of those in prison to the virus," she said.
Karapatan said that the prison population in the Philippines continues to be overwhelmed because of the dire lack of access to justice of the majority of poor prisoners and deeply-rooted defects of the justice system, including the criminalization of the exercise of political dissent or political beliefs in the country. It cited the "callous actions on the plea of elderly and sick political prisoners for humanitarian release during the pandemic."
"Instead of being released on humanitarian and just grounds especially amid the pandemic, they experience multiple layers of injustice including being charged with and detained on trumped up criminal offenses," she stated.
"Thus, it is the government's responsibility and obligation to ensure the provision of timely, relevant and comprehensive health services for PDLs, including their access to free, safe, and effective vaccines," ended Palabay.
The Philippines: A Top Tourist Attraction in Fun and Entertainment
It has 81 provinces split into 17 different regions and comprises over 7,000 islands. The Philippines has each bit of its archipelagic country shouting attraction, fun, entertainment, and paradise.
It was in 2019 that tourism and travel managed to contribute 12.7% towards the Philippines ' Gross Domestic Product. With the country being one filled with many tourist attractions, the country has experienced a steady increase in its interests over the years.
This article will be discussing fun and entertainment pointers that keep tourists engaged in a whole holiday experience when visiting the Philippines.
Festivals
Highlighting tourist attraction points wouldn't be complete without bringing up the country's signature fiesta time. These festivals occur throughout the year. Visitors are guaranteed an entire Filipino experience that bursts with colors. There's dancing, costumes, masks, and outfits. Major attractions throughout the years have included the Ati-Atihan Festival, Bacolod's MassKara Festival, and the Marinduque's Moriones Festival.
Philippines Nightlife
Top Filipino online casino sites draws thousands of Filipino residents and visitors looking to have a good time online. However, those who enjoy the reality of a good time have fun, land-based spots to visit while visiting as tourists. Top land-based casinos include the Okada Manila Casino, and the Hyatt Hotel and Casino Manila. Tourists can enjoy themselves in top hang-out spots in Quezon City and Cubao X. The country hosts entertaining bars and nightclubs. This is fantastic for night-riders to explore a more intimate and social side to the trip. It's also excellent for the tourists who enjoy living on the wild side.
Landscapes and Wilderness
Those who enjoy the beautiful and majestic sight of nature have had their hearts won. It's the Ifugao Rice Terraces that allow tourists to experience a raw and untamed experience of the country. Tourists get to ride along and share breathtaking moments. They can do this while viewing the Philippines' mountainous landscapes at Sagada. During these trips, tourists have the chance to explore nature at its fullest and spend time in the midst of mother nature.
Beaches and Islands
Experience glazed views of blue waters touching on the Philippines' pearl white sand. Here, tourists can take boat trips and have a complete beauty experience of beaches, lagoons, palm trees, rocky islets, and reefs. Visitors get to enjoy a sense of luxury and visit private islands such as the Calamian Islands. There's the El Nido dive spot for people to make a splash in and have a personal encounter with the world underwater. For beach lovers, there's also Cebu which is the paradise of beach lovers.
Filipino Dishes
Dishes served in the Philippines have also added to the holiday experience. Those who have the honor of a complete dining experience. Enjoy the likes of the mighty adobo, the kare-kare stew, and the famous Lechon. Try the classic Sinigang, crispy pata, meaty sisig, hot bulalo, and the popular Pinoy pork barbecue.
In conclusion
Tourist attractions in the Philippines host many activities that cater to all personalities. Whether it be day or night, fun and entertainment lie in all fields of this majestic country.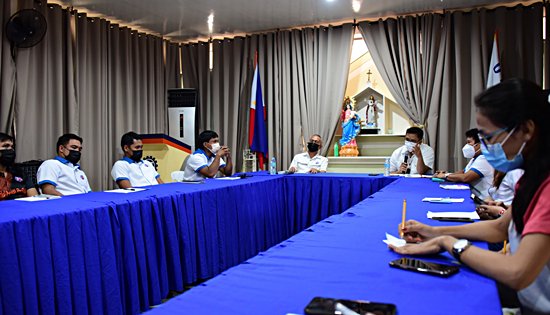 District Engineer Ferdinand A. Briones (front right) together with Assistant District Engineer Alfredo L. Bollido (front left) conduct staff meeting with the Planning and Design Section headed by Engr. Rosario B. Rosete on February 04, 2021 at DPWH Biliran DEO Conference Hall.
DPWH-Biliran DEO aims P100M project limit for high impact projects
By DPWH-Biliran
March 3, 2021
NAVAL, Biliran – The Department of Public Works and Highway (DPWH) -Biliran District Engineering Office (DEO) aims to implement high impact infrastructure projects costing up to P100M.
Currently, DPWH-Biliran DEO is only authorize to approve and implement infrastructure projects with a P50M project cost. Above the said amount will already be supervised and implemented by DPWH Regional Office VIII.
District Engineer Ferdinand A. Briones challenges district's Planning and Design Engineers headed by Engr. Rosario B. Rosete, Chief of Planning and Design Section to upgrade the district's status.
"Malaki ang impact para sa atin kung maa-upgrade tayo sa P100M (project limit)," said Briones.
According to Briones, once the office will be upgraded, programming, designing, bidding and implementation of infrastructure projects will already be undertaken by the district office which will increase the office's Engineering Administrative Overhead (EAO) appropriation.
"Yang' EAO na yan' na addition, pwede tayo mag-acquire ng additional job orders, dadami ang personnel natin at marami ang mabibigayan ng trabaho dahil may sapat tayong pangsweldo," said Briones.
Briones also added that the upgrade will also increase the Planning and Design Section's Preliminary and Detailed Engineering (PDE) fund that could be used to buy the latest softwares for use in planning and designing.
Moreover, implementation of projects will be regularly monitored by the district office.
"Yun ang mission natin ngayong taon na ito, alam kong kaya niyo yan kasi wala namang babaguhin, dadagdagan lang," said Briones.
The District Engineer instructed Planning and Design Engineers to review the checklist and prepare documents, plans and variations for the upcoming Design Audit which will be the basis in the district's upgrade.
Briones emphasized that the participation and cooperation of the Planning and Design Section is very important in achieving this goal.
Stop deadly purge of civilians in Cordillera, Philippines -ICHRP
Press Release
March 2, 2021
Mass execution policy 'Oplan Tokhang' to be used vs. media, critics, human rights defenders
MANILA – "The February 24, 2021, resolution by 47 senior police and government officials in the Cordillera Region calling for the notorious 'Oplan Tokhang' to be deployed against 'known left-leaning personalities in the government, media, and other entities' demonstrates that the Duterte government is brazenly defiant of its human rights obligations", said Mr. Peter Murphy of the International Coalition for Human Rights in the Philippines (ICHRP).
This Resolution was made at the same time that Justice Secretary Guevarra was telling the United Nations Human Rights Council that "the PH strongly emphasizes its legal and judicial system, its domestic accountability mechanisms are functioning as they should."
"The international community must know that 'Oplan Tokhang' is the method used by police to kill tens of thousands of civilians in the mis-named 'war on drugs' over the last five years," said Mr Murphy. "This Resolution demonstrates that the Philippine state is planning to systematically kill its civilian critics. It is not 'knock (on the door) and plead', but kick in the door and shoot.
Last December, the International Criminal Court's (ICC) Office of the Prosecutor said there is a "reasonable basis" to believe that crimes against humanity were committed in the Duterte administration's drug war policy.
The ICC identified 'Oplan Tokhang' as a way for authorities to kill civilians through a drug watch list wherein "some of those targeted also included persons who had previously 'surrendered' to the police.
In the 'war on drugs', local government officials are required to provide lists of residents allegedly using or dealing drugs, or just 'troublemakers'. These lists are provided to the police, who then eliminate the targets without any regard to due process. Local government officials switch off CCTV on the nights of these police raids. In the one case where two police were prosecuted for murder – that of 17 year-old Kian De Los Santos – in August 2017, the Barangay Captain had failed to switch off the CCTV.
The Cordillera officials decided that "this resolution be elevated to the Regional Peace and Order Council for their concurrence and adoption and convince local government units (LGUs) to support this and be brought to the attention of all governors and Mayors in the Cordillera Region".
"While the bureaucratic machine tries to bring together all the elements for this program of civilian repression, there is time for the international community to say no, and they can say it now at the 46th Session of the UN Human Rights Council," said Mr Murphy.
When the media revealed this resolution last week, the Cordillera Regional Director of the Commission on Human Rights, Atty Romel Daguimol, withdrew his signature, declaring that the resolution was in conflict with CHR policy. "We continue to stand that activism is not a crime. People should be free to express legitimate dissent and grievances for the government to act on."
"The other 46 police and other government officials must likewise withdraw their signatures," said Mr Murphy.
"ICHRP strongly supports the many statements coming from media organisations, the National Union of Journalists, the Karapatan alliance for Peoples Rights, and members of Philippine Congress who condemned the resolution, and who uphold the basic democratic and human rights of the people despite the massive threats they have to endure under the Duterte government", Mr Murphy concluded.
CARD MBA receives Golden Arrow Award for Good Corporate Governance
Press Release
March 2, 2021
SAN PABLO CITY – The CARD Mutual Benefit Association (CARD MBA), the microinsurance arm of CARD MRI, was awarded a Two Golden Arrow Award during the virtual ceremony of the ASEAN Corporate Governance Score (ACGS) on February 19, 2021.
The Golden Arrow Awards recognizes publicly listed companies (PLCs) and insurance companies from participating ASEAN countries that has scored at least 80 points in the 2019 ACGS Assessment. ACGS is an initiative introduced by the Asian Development Bank (ADB) and the ASEAN Capital Markets Forum in 2011 to serve as a point of reference to understand the corporate governance standard that a company has. CARD MBA was given a score of 91.8 by the Institute of Corporate Directors (ICD), a non-profit organization that sets standards for corporate governance and the domestic ranking body for the Philippines.
"We are ecstatic that we continue to improve each year. From One Arrow in 2018, we have now stepped up and received Two Arrows. This inspired us to ensure that the culture of corporate governance in our institution continues so that we can provide the best service to our stakeholders," CARD MBA CEO Ms. May Dawat said. She mentioned that together with other institutions of CARD MRI, improving the quality of service and relationship to the Filipino people is a step towards a better quality of life.
CARD Mutual Benefit Association (CARD MBA) is an institution under CARD MRI that offers microinsurance services and covers unforeseen accidents and death. Currently, CARD MBA has more than 21 million insured individuals and more than 6 million active members.