Philippines: Duterte's administration should be held accountable for the killings of activists and human rights defenders
By FORUM-ASIA
March 18, 2021
BANGKOK – The Philippine Government must face international accountability for its widespread killing of activists and human rights defenders, and the grave human rights violations it has committed, seven human rights groups said in a statement today.
On 7 March 2021, members of the Philippine National Police (PNP) and the military killed nine community-based activists and arrested six in coordinated raids across four provinces, in a massacre that highlighted the continuous attacks against the government's critics. Two days prior to this incident, Duterte had issued a shoot-to-kill order targeting communist rebels, saying, 'If the enemy is holding a gun, kill them. Kill them right away.' He further noted 'Ignore human rights. That is my order.'
'Duterte's inciting rhetoric and terrorist-tagging of human rights defenders, activists and critics have resulted in the harassment and violence against them, as well as their death. This demonstrates the increasingly dangerous space, not just for human rights defenders, but for all of civil society and the Philippine people at large,' said Shamini Darshni Kaliemuthu, Executive Director of FORUM-ASIA.
Under Duterte's government, civil society and human rights defenders have found themselves in danger particularly for opposing the government's 'war on drugs' and his repressive policies. Duterte has consistently incited violence against his critics, while blaming human rights defenders for the increase in the number of drug users. He has threatened to behead human rights activists, and justified the assassination of 'corrupt journalists', as he continues to promise protections to police who follow these orders. There have also been allegations where evidence was planted by the police and military forces to justify the violence.
'Despite the UN High Commissioner for Human Rights report that details widespread and systematic human rights violations by the government, including the killing of human rights defenders, and a subsequent resolution providing technical assistance on human rights to the government, the violence and harassment against rights defenders have only intensified. These killings highlight the need for an immediate international investigative mechanism to ensure accountability for all perpetrators,' the Observatory for the Protection of Human Rights Defenders said.
This crackdown on civic space is being institutionalised through state policy. In July 2020, the government implemented an Anti-Terror Law which allows a Council composed of state officials to designate individuals as terrorists, without a court order. A local resolution targeting left-leaning personality with 'drug-style' operations was released in the Cordillera region in February 2021. Government officials, and the security sector continue to tag activists and civil society members as terrorists, communists and subversives in their public speeches, endangering their safety and security.
Since 2016 when Duterte took power, FORUM-ASIA has documented at least 59 killings, including extrajudicial killings of human rights defenders in the country.
'These attacks go beyond individual killings; they reinforce an environment where people are afraid to question and dissent, further perpetuating this cycle of impunity. This proves that the UN Human Rights Council's recent resolution has been ineffective at stemming these violations, and the international community must immediately initiate clear and sustained action to hold the perpetrators to account,' said CIVICUS Asia Pacific researcher, Josef Benedict.
'Domestic human rights mechanisms remain compromised, while human rights defenders face threats every day. An international investigative mechanism for the extrajudicial killings related to the "war on drugs", and the killings of rights defenders, is even more imperative today, than it has ever been,' said the groups.
DPWH, LGU and provincial government led the groundbreaking ceremony of new Caibiran Municipal Building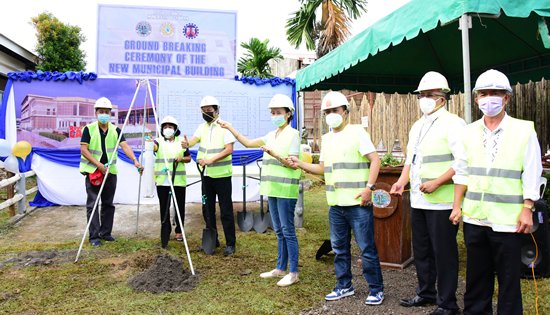 Capsule Laying of new Municipal Building in Caibiran, Biliran on March 15, 2020. From right: Assistant District Engineer Alfredo L. Bollido, District Engineer Ferdinand A. Briones, Congressman Gerardo J. Espina Jr., Caibiran Mayor Rhodessa D. Revita, Governor Rogelio J. Espina, Caibiran Vice Mayor Linda V. Baleyos and Mr. Warlito B. Alagao. of W.B. Alagao Construction.
By DPWH-Biliran
March 17, 2021
NAVAL, Biliran – A new and a modern state of the art Municipal Building will soon rise in the town of Caibiran as the Department of Public Works and Highways (DPWH)- Biliran District Engineering Office (BDEO) kicks off the construction of the building.
Caibiran Mayor Rhodessa D. Revita and Vice Mayor Linda V. Baleyos led the groundbreaking ceremony on Monday March 15 together with Congressman Gerardo J. Espina Jr., Governor Rogelio J. Espina, DPWH-BDEO District Engineer Ferdinand A. Briones, Assistant District Engineer Alfredo L. Bollido and Mr. Warlito B. Alagao of W.B. Alagao Construction.
According to Briones, the 3-storey municipal building has a modern structural design with a total floor area of 2,377.8 sqm and will rise in a 33x26 meter-lot area.
"Maganda po ang soil dito (site), the stability of the building is fair enough to sustain the 3 floors of the structure," said Briones.
Briones added the new Municipal Building has a complete civil, electrical, plumbing and sanitary works including air conditioning and other wall finishes. The said project has an appropriation amount of P30M under contract with Chu Construction.
DE Briones revealed that this project will be completed by early part of January or February of 2022.
When completed, the new municipal building will provide a spacious and a convenient workplace for the LGU employees which in return will give a hassle-free transactions and a more quality service for their fellow Caibiranons.
Mayor Revita, in her speech, expresses her gratefulness to Congressman Gerardo Espina Jr. and Governor Rogelio Espina for their strong support in the realization of this project.
According to the Mayor, the said project is a dream come true for the people of Caibiran. She encouraged her constituents to continue delivering good public service to attain its vision for a more vibrant and revitalize Caibiran.
Aside from the new Municipal Building, DPWH-Biliran DEO will also implement a total of P8M for the construction of new legislative building and P41M Water Supply System in Caibiran town under FY 2021 implementation.
Domestic remedies for PH rights abuses insufficient, illusory says INVESTIGATE PH Report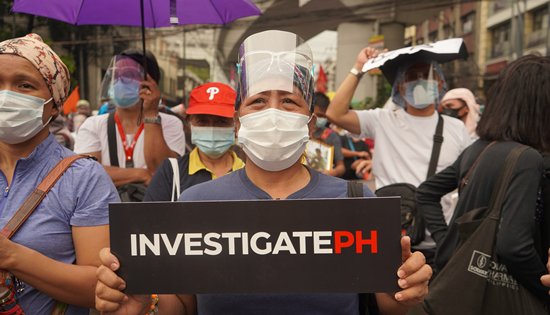 Global probe first report recommends more action from UNHRC as PH rights situation went from bad to worse
By INVESTIGATE PH
March 17, 2021
MANILA – There is strong evidence that "domestic remedies" for the many cases of human rights violations in the Philippines "are insufficient and even illusory" while cases of rights abuses escalate in the Philippines according to the first Report of INVESTIGATE PH released Tuesday in Geneva.
The 198-page report confirmed and expanded on the June 2020 Office of the High Commissioner for Human Rights (OHCHR) findings that there is a "deepening human rights crisis in the Philippines."
"With the drug war, the creation of the National Task Force to End Local Communist Armed Conflict (NTF-ELCAC), the July 2020 passage of the Anti-Terrorism Act (ATA), and the Philippine government's militarized response to COVID-19, the perpetration of human rights violations by state forces has become more institutionalized, orchestrated, and entrenched," says the initial Report which examined 49 illustrative cases of human rights violations that occurred largely during 2020 and 2021.
"The findings are a damning indictment of the human rights crisis happening in the Philippines," says renowned human rights lawyer and INVESTIGATE PH Commissioner Jeanne Mirer. "Not only that. We found out that domestic remedies are ineffective at providing redress for the victims," Mirer adds.
While fellow Commissioner and president of US-based National Lawyers Guild Atty. Suzanne Adely highlights that "there is a grave power imbalance between victims of state violence, and perpetrators who have the backing of government apparatuses. As seen in the report's findings, the structures to even redress this imbalance are lacking."
First of three reports by INVESTIGATE PH, this initial paper will be followed by a second report in July and final report in September 2021.
Domestic accountability mechanisms "not working"
One of the claims of the Philippine government in the recent Regular Sessions of the UN Human Rights Council (UNHRC) is that domestic accountability mechanisms are "functioning as they should." However, INVESTIGATE PH Report's scoping review of cases, interviews with victims and witnesses, and validation from a repository of currently available evidence, point in the other direction.
The investigation identified 10 indicators that led it to the conclusion that there is failure of domestic remedies. Firstly, there is obstruction of state authorities on investigations where police plant evidence and refuse to comply with Supreme Court orders and requests by the Philippine's Commission on Human Rights to release documents.
The other nine indicators discussed in the Report are: 1. investigations of violations are not impartial; 2. available mechanisms for civilians to hold police and military accountable are failing; 3. court protections are inaccessible, slow, and discriminatory; 4. government's NTF-ELCAC constricts recourse to government agencies; 5. counter-insurgency activities are targeting lawyers, denying victims access to independent counsel; 6. efforts to challenge unjust laws through legal channels are being dismissed in court or repressed; 7. opposition political voices providing a check on the armed forces and executive power have been eliminated from the Supreme Court and Congress; 8. independent institutions and alternative platforms for accountability have been eviscerated or made practically inoperative; 9. even when remedies are secured, they are inadequate justice.
UNHRC, world has to act now
The Report and its Recommendations were first presented to the UN High Commissioner for Human Rights, Ms Michelle Bachelet, on Monday March 15 in Geneva.
One of its recommendations is for the UNHRC to urge its member states, relevant United Nations agencies, and other stakeholders to make use of international mechanisms, saying that the Council need to create "commissions of inquiry, fact-finding missions, or investigations, to help improve the human rights situation in the Philippines, exert accountability, and deliver measurable as well as reliable justice to victims."
The Commissioners emphasized the need for these measures. "There is a sense of urgency here. The killings and degradation of human dignity are escalating as seen in the Report. The UNHRC and the world has to rise to the challenge of putting an end to this. We have to act now and save innocent lives while we still can," says INVESTIGATE PH Commissioner Rev. Dr. Susan Henry-Crowe of the General Board of Church and Society, the United Methodist Church.
As the Report is being released publicly, there is news from the Philippines that a local law enforcement committee in Cordillera, Northern Philippines, has ordered a "tokhang" (purge) against "left leaning personalities." And Police raids in Southern Tagalog on March 7, 2021, resulted in the massacre of nine trade unionists, indigenous leaders, and urban poor organizers, suggesting events are on the cusp of heightened bloodshed.
The recommendations also asked for the International Criminal Court (ICC) to receive the initial and succeeding reports of INVESTIGATE PH and "expedite the process of bringing the preliminary examination to a conclusion." The Report also urged the global tribunal to "make a decision on whether to seek authorization to open an investigation into the situation in the Philippines."
Philippine president Rodrigo Duterte has continuously barred past UN investigations, and even threatened to arrest an ICC prosecutor probing the "War on Drugs". In 2018, his administration's Department of Justice sought to place a UN special rapporteur on the rights of indigenous peoples on a "terrorist" watch list.
"We launched this investigation because our organisations stand unequivocally for international human rights standards," says Commissioner Dr. Agnes Abuom who is the Moderator of the Central Committee of the World Council of Churches.
"Our members and partner churches in the Philippines have been the victims of the violations themselves. Filipinos are calling for our help and INVESTIGATE PH is a step towards exacting justice and protecting the many lives who are in danger," Abuom adds.
In the online launch of the report, Commissioner Rev. Dr. Chris Ferguson of the World Communion of Reformed Churches reiterated that "this investigation raised hopes among the victims in search of justice. It raised hope that help may be found from the international community. That is why we have to play our part which is to seek the truth, challenge the horrifying violations of human rights, use all available international mechanisms to put an end to it all and ultimately, no matter how protracted, hold the perpetrators accountable."
CARD Sulit Padala now available in more than 500 outlets nationwide
Press Release
March 15, 2021
SAN PABLO CITY – To continuously provide access to fast, easy, and affordable remittance service to clients, the financial institutions of CARD Mutually Reinforcing Institutions (CARD MRI) has expanded its CARD Sulit Padala remittance outlets to 534 cities and provinces in all regions in the Philippines as of February 2021.
Initially, CARD Sulit Padala was only offered by the banking institutions of CARD MRI namely: CARD Bank, CARD SME Bank, and CARD MRI Rizal Bank Inc. in 2018. With the approval of Bangko Sentral ng Pilipinas (BSP), CARD, Inc. (A Microfinance NGO) began to operate as a remittance sub-agent of CARD Bank in 2019. Since then, the domestic remittance service became known for its one-peso charge for first-time money senders. It also offers as low as 1% remittance fee based on the principal amount sent.
The additional outlets are part of CARD MRI's digital transformation campaign to widen its reach to the rural communities it serves. Despite the on-going health crisis, CARD MRI took it as an opportunity to boost its services to its clients.
Said CARD MRI Managing Director Flordeliza L. Sarmiento, "Our expansion to more locations give access to remittance services even in the hardest-to-reach areas. With the on-going pandemic, we aim so serve more communities who might be of need of sending funds to their loved ones anywhere in the country."
She added that with the newly opened outlets, clients can save on time and money for transportation. "Since our remittance outlets are located in barangays, our clients can conveniently send and receive remittances. By saving their time, they can productively use it in running their business, more time for their family and other household chores. We also want to ensure the safety of our clients by always adhering to health protocols while the pandemic is still on-going."
This February, CARD Sulit Padala opened outlets in the provinces of: Lipa City, Batangas; President Roxas, Capiz; Bangued, Abra; Kalipay, Masbate City; Apalit, Pampanga; San Miguel, Bulacan; Antipolo City; and Guagua, Pampanga.
Sarmiento concluded that CARD MRI's unending mission for poverty eradication will continuously push its charge to uplift the lives of Filipino families in the country.
NMP Services Association yields bountiful rice harvest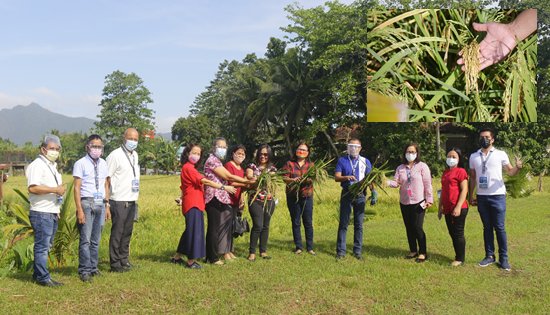 NMP Officials and NMPSA Members witnessing local farmers gather the first harvest of the NMP-NMPSA rice plantation.
By National Maritime Polytechnic
March 11, 2021
TACLOBAN CITY – A day of immense pride and joy for the National Maritime Polytechnic Services Association (NMPSA), the sole and exclusive negotiating agent of NMP as the fully-grown rice paddy in an approximately six thousand two hundred square meters (6,200 sqm) is now being hand-harvested after 4-5 months of cultivation.
It can be recalled that NMP and the NMPSA entered into a Memorandum of Agreement (MOA) in October 2020 allowing the latter to cultivate, by engaging a local farmer, the former's idle and unproductive land located at the back of the General Services and Auxiliary Section (GSAS) Building.
This is in consonance with certain provisions of the Collective Negotiation Agreement (CNA) entered into by and between NMP and NMPSA particularly on the "Association's Entrepreneurial Activities" which allows the NMPSA to engage in entrepreneurial activities within premises of the Agency, at its own expense and responsibility aimed at improving the economic conditions of its members.
In turn, the NMPSA through a Contract of Agreement tapped a local farmer to cultivate and plant rice on the subject land based on a 75/25 sharing of net harvest in favor of the farmer.
"This is just one of the many more fruitful collaborations of NMP and NMPSA. More is yet to come with the end in view of enhancing employees' productivity, efficiency and work satisfaction, and to increase employees' morale", said NMP Executive Director Joel B. Maglunsod.
In response, NMPSA President, Ms. Maria Chona B. Rama conveyed her appreciation to the management.
"The NMPSA is grateful for the constant support of the management in its cause of fostering and improving the welfare and well-being of all NMP employees through partnership in various activities", she commented.
It is noteworthy that NMP and the NMPSA signed a 3-year CNA on 11 November 2019, paving way for a progressive and harmonious relationship, aimed at attaining maximum efficiency in providing services to the public through conduct of quality trainings and relevant researches.
Moreover, the CNA also provides for the inclusion of NMPSA in committees and bodies mandated by the Department of Labor and Employment (DOLE) and Civil Service Commission (CSC) and the joint institution of cost-cutting measures to generate savings without prejudice to the efficient delivery of services to the Agency's clients.
Rebel Returnees as Peacebuilders in Eastern Samar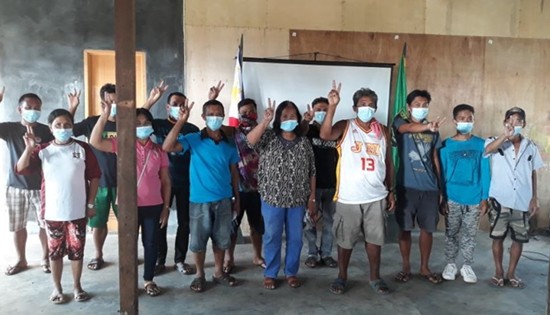 By DPAO, 8ID PA
March 11, 2021
BORONGAN, Eastern Samar – The government has further intensified the campaign against communist rebels. Apart from the intensified military operations and the neutralization of the communist rebel personalities, the government is also utilizing the former rebels turned peacebuilders as their allies.
About 31 former rebels, yunit militia, organizers, and mass supporters in Eastern Samar have expressed support to help convince their former comrades to turn their back from the Communist Terrorist Group (CTG) during an assembly held in Barangay Lalawigan, Borongan City on Tuesday, March 9, 2021.
Ka Olive, a former rebel and President of the Eastern Samar Peacebuilders Group could not hide her happiness as she looks back on how the local government and law enforcement agencies helped her after surrendering two years ago. She said she was not only given a second chance to be reunited with her family but was also given financial assistance so she can start anew.
"Malaki ang support nila (gobyerno) sa amin, dahil kung wala siguro ay bumalık na kami doon sa bundok. Malaki na rin ang pagkakaiba ng buhay namin ngayon kaysa noong nasa sa bundok na wala kang aasahan; sa gobyerno natin malaki ang pag-asa, marami ang tumulong at tutulong, maraming proyekto ang binibigay sa amin," Ka Olive said.
She added with the creation of the peacebuilders group in Eastern Samar, peace-building efforts and livelihood opportunities among the returnees will be strengthened. It will also pave the way for more members of the CTG to lay down their weapons and return to the folds of the law.
Another returnee, Ka Dendong, assured the government of his full support in addressing the decades-long insurgency problem in Eastern Visayas. He now leads the campaign against the deceptive recruitment of the New People's Army encouraging youth not to be deceived by the false ideology of the NPA, and how the communist group used legal organizations like Anakbayan, Kabataan Partylist, and Karapatan to recruit students and youth to join the armed struggle between the Armed Forces and NPA.
"Nakatulong kami di lang sa aming barangay maging sa ibang tao, at makatulong sa ating gobyerno na tapusin na ang mga NPA na walang mabuting naidudulot sa atin," Ka Dendong added.
Meanwhile, the 17-year old Ka Lyn, one of the rebel returnees is hoping that like her, more youth who were recruited by the NPA will finally decide to leave the armed struggle. Like Ka Olive and Ka Dendong, she was also convinced to be part of the rebel group because of their promise that she will be sent to school to finish her education but instead become an extortion collector in Balangiga town.
"Araw-araw nangongolekta ako ng pera sa mga magsasaka. Kada buwan may naiipon akong tatlong libo na binibigay ko sa kilusan. Kalaunan di ko na kayang mangolekta lalo na sa mga magsasaka na hirap tustusan ang kanilang pamilya," Ka Lyn said.
The Commanding Officer of the 78th Infantry Battalion, Lieutenant Colonel Oliver C. Alvior said the Philippine Army and the Local Government Units are doing the localize peace talks since military solution alone is not the solution to the decades-long insurgency problem in Eastern Visayas.
"Grassroots yong ating approach, sila na nandoon sa barangay, so when we organized them we are identifying yong mga issues that are being used by the communist terrorist group in exploiting them. So if we correctly identify yong mga issues na yon, then we can provide the correct interventions, so in doing so we can help them return to the mainstream, and prepare them through proper interventions prepare them to become productive citizen," said LtCol. Alvior.
LtCol. Alvior added with the full support of the peacebuilders and the community more NPA rebels are expressing to surrender and avail of the programs offered by the government to the rebel returnees.
"Pag nakita ng mga kasamahan nila na nasa bundok pa, then it could be a testament, evidence na the government is not only talking but putting into actions yong ano yong mga nakasaad na objectives ng EO 70. So pagmakita ng mga kasamahan nila yan and then less effort from us sila na mismo ang magconvince kasi sila yong may mga contacts, sila yong magcoconvince to follow their footsteps withdraw allegiance with the communist party," LtCol. Alvior said.
First batch of Davao durian arrives Down Under
By DTI-Foreign Trade Service Corps
March 11, 2021
MELBOURNE, Australia – Australians will soon be tasting the sweet, savory, and creamy durian from Davao as the Philippines' first-ever shipment of frozen durian from Davao City has arrived Down Under.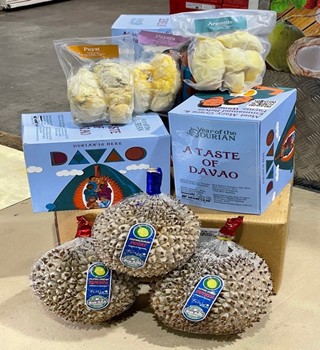 The initial shipment of two varieties of durian called Puyat and Duyaya in whole pieces with shell and a tasting sampler pack arrived at the Port of Melbourne on Tuesday, 2 March, made possible by Melbourne-based importer, Aus Asia Produce Pty Ltd. Aus Asia Produce is an Australian company that specializes in importing and distributing exotic tropical fruits, Asian vegetables, herbs and other products.
"The durian varieties included in the shipment are Puyat and Duyaya. Puyat is sweet with a hint of "bitterness" as desired flavor amongst new generation durian connoisseurs. Whilst Duyaya has the most flesh of any durian I have ever seen in my life, and I've eaten many before and this is even more meaty," said Thanh Truong, director of Aus Asia Produce Pty Ltd.
"The first batch of shipment also includes a Tasting Sampler Pack or Durian Box containing 3 varieties of durian: Puyat, Duyaya and Arancillo curated by "Year of the Durian" writer and traveller Lindsay Gasik, the most travelled durian blogger in the world," added Mr. Truong.
Philippine Ambassador to Australia Ma. Hellen B. De Le Vega said this is a breakthrough development that could further expand exports of other fruits and vegetables from Mindanao. "The Philippine government continues to find ways to make available our food products here in Australia and we are working with stakeholders in government and in business to deliver premium variety to the Australian market," the Ambassador said.
In the meantime, the Department of Trade and Industry, through the Philippine Trade and Investment Center (PTIC) in Sydney said the Philippines is looking forward to more cooperation between Australian and Philippine companies that will bring more Philippine high-quality, world-class food products to Australia and make it available to both Filipino and Australian mainstream consumers.
SFDEO paved a road leading to Mapaso Hot Spring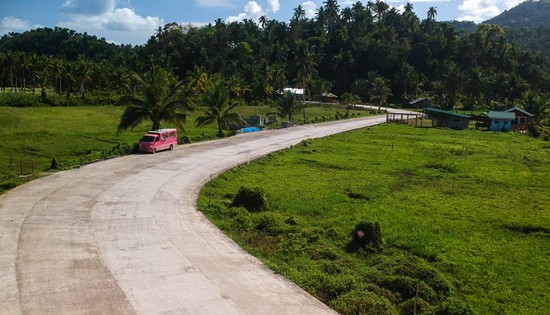 By GISSELLE G. PARUNGAO
March 9, 2021
CALBAYOG CITY – To boost the tourism industry in Calbayog City, DPWH Samar First District Engineering Office has completed the road leading to Mapaso Hot Spring with a revised contract amount of P26.9 million.
This road taps from an existing road that leads to Maharlika Highway and will lead to one of the leading tourist destinations in Calbayog City, the Mapaso Hot Spring. The road spans 745 linear meters and a width of six (6) meters and 1.5 meters concrete shoulders on both sides of the carriageway. Reinforced concrete pipe culvert were also installed to provide uninterrupted water flow of creeks located in the area.
Now, visitors can visit Mapaso Hot Spring through Barangay Amampacang then to Dinagan, Mabini and finally in Barangay Rizal II which is roughly 6.6 kilometers and with a vehicle, it will only take 15 minutes from Maharlika Highway.
For adventure-seekers one can reach the tourist destination through Oquendo Poblacion where you would have to take a boat to cross a river (Oquendo River) going to the hot spring which will take 30 minutes.
"This project is a great help since it is now easier to travel and reach Mapaso Hot Spring. Before, you have to walk on foot and cross a river to reach the destination. This project is also a big help to the barangay because there is now a much better road that we can use for travelling unlike before that you have to cross a river. If more tourists will visit this tourist destination, then more people can have work which is being a tour guide. This road is a huge help because everything and anything can pass through here", said Kristine Pearl Yabut, a resident living near Mapaso Hot Spring.
Hijos Tours grabs finalist spot in Sustainability Innovations Pitch
Press Release
March 8, 2021
SAN PABLO CITY – CARD MRI Hijos Tours was selected as one of the finalists in the Society Category of the Sustainability Innovations Pitch on February 22, 2021.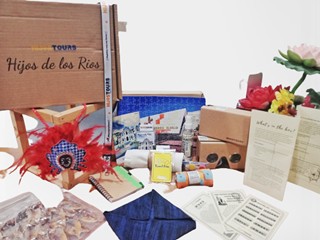 The Hijos Tours travel subscription box will allow you to experience Iloilo even at home.
The Sustainability Innovations Pitch is part of this year's Philippine Innovation Month that plans to support projects that tackle one of the 17 Sustainable Development Goals and aid in recovering from the impacts of the COVID-19 pandemic.
Hijos Tours chose to present its travel box, one of its innovations in response to the challenges faced by the tourism industry due to the COVID-19 pandemic.
"Even when the tourism industry is hardly hit by the pandemic, we continue our mission of supporting communities through our innovative services. We thought that while our mobility is limited due to physical restrictions and health protocols, we can still travel in the comforts of our homes virtually. Thus, our team conceptualized a travel box that contains products of various locales and that makes use of virtual reality technology," Mr. Raffy Antes, Hijos Tours Deputy Director said.
The travel box includes a VR glass which you can use to view the 360° tour; souvenirs like pins, ref magnets, post cards found in the locale; and food items that is unique to the city. Each purchase will help the locals that contributed to the making of the box, providing a source of income from tourism amidst the pandemic.
Hijos Tours aims to build and support communities by helping them showcase their heritage stories and products, in line with CARD MRI's goal of community building. This provides opportunities for local communities as well as for e-travelers to have a quality, virtual tour at the comfort of their home.
"We hope to produce more travel boxes to reach more communities in the future. Post COVID, we would like to use the Travel Box as a gateway to the local communities and give e-travelers a glimpse of what to expect when they can physically tour the place. With this, we hope to feed the minds and bodies of the Filipino people through these challenging times," Mr. Antes as he concluded Hijos' plans for the future.
Hijos Tours is an institution under CARD MRI that promotes local tourism that builds tourism communities by engaging local sources, talents and skills and presents its clients with impactful and currently relevant experience. Currently, Hijos Tours offers virtual tours and online classes related to history based on their tour packages.
Flood control structure erected along Gandara River in Samar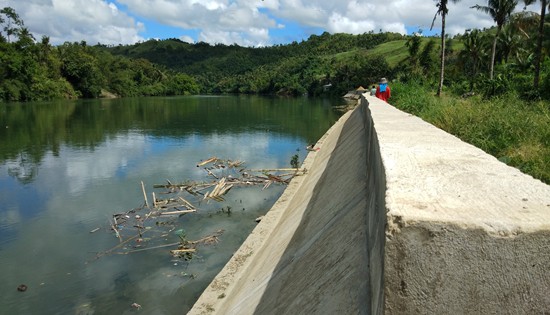 By GISSELLE G. PARUNGAO
March 8, 2021
CALBAYOG CITY – In an effort of the Department of Public Works and Highways (DPWH) to strengthen infrastructure for flood risk mitigation, a flood control structure was built with a total contract amount of P61.1 million along Gandara River in Adela Heights, Gandara Samar.
The scope of work spans 596 linear meters and a height of 3.275 meters with an additional parapet of 0.9 meters. Torrential rains most of the time cause rivers to swell as in the case in Gandara River where more inhabitants are at risk of flooding.
Gandara River is one of the two major river systems in the First District of Samar. While it is a source of livelihood and water for nearby towns and villages, it is also usually the source of inundation. Hence, Samar First District Engineering Office is undertaking more flood control projects along said river.