DPWH-Biliran DEO ground breaks two major projects in Biliran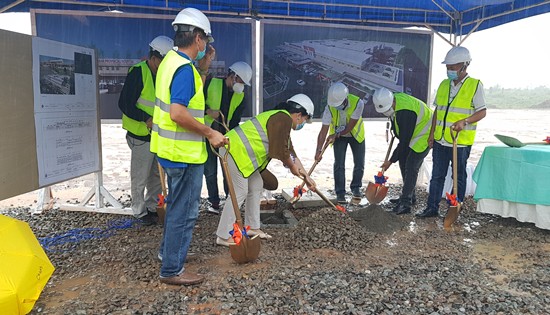 Congressman Gerardo J. Espina, Jr. leads in the laying down of time capsule and groundbreaking for the Construction of the New Biliran Provincial Hospital at Barangay Larrazabal, Naval, Biliran, March 11. Congressman Espina is joined in by Biliran Sangguniang Panlalawigan Board Member Miguel Casas, Dr. Joyce Pla-Caneja, Chief of Biliran Provincial Hospital, DPWH-BDEO District Engineer Ferdinand A. Briones, Napoleon Consebido, Sr. of Aqualine Construction that undertakes the site development project of the New BPH, DPWH-BDEO Assistant District Engineer Alfredo Bollido, and Biliran Vice-Governor Brigido Caneja III.
By DPWH-Biliran
March 25, 2021
NAVAL, Biliran – The site development project for new Biliran Provincial Hospital (BPH) and the construction of Graduate School and Administrative Building in Biliran Province State University (BiPSU) will begin its construction following the groundbreaking ceremony by the Department of Public Works and Highways (DPWH) -Biliran District Engineering Office on March 11, 2021.
According to District Engineer (DE) Ferdinand A. Briones, developing the site is needed before the construction of the new BPH building at Brgy. Larrazabal, Naval, Biliran. This project has a contract cost of P28.8M which involves embankment and the construction of drainage.
Briones revealed that the site for the soon to rise building is abundant with water because of the presence of spring.
"First time in history na mag-ooverflow ang water supply sa isang ospital dahil may katabi ditong (site) spring, and that spring ay simbolo na magkakaroon pa ng konting beautification at landscape ang ospital," said Briones.
Briones added that there will also be an underground water storage to supply the whole hospital with a potable water.
According to the District Engineer, the structure is stable enough to sustain the building because it has been designed to withstand external forces.
The site development project undertaken by Biliran DEO is in preparation for the construction of new Biliran Provincial Hospital (BPH) which will be undertaken by the DPWH Regional Office VIII with a total amount of P400M.
The groundbreaking ceremony was led by Biliran Congressman Gerardo J. Espina, Biliran Vice-Governor Brigido Caneja III, representing Biliran Governor Rogelio J. Espina, District Engineer Ferdinand A. Briones, Assistant District Engineer (ADE) Alfredo L. Bollido, Biliran Sangguniang Panlalawigan Board Member Miguel Casas, Dr. Joyce Pla-Caneja, Chief of Biliran Provincial Hospital and Napoleon Consebido, Sr. of Aqualine Construction, contractor of the site development project of the New BPH.
Meanwhile, a 5-storey Graduate School and Administrative building will also rise in Biliran Province State University (BiPSU) in Naval, Biliran, the only state university in the Province.
According to Dr. Victor C. Cañezo, University President, the realization of the project will greatly aid the lack of classrooms for the graduate students of the school as well as provide a convenient workplace for the administrative staff.
"This event is historical because after how many years since our conversion as higher education institution sometime in 1946, finally BiPSU, formerly Naval Institute of Technology and Naval State University will now have its administration building because currently, our administration offices are just lodged in the different classrooms in the University," said Cañezo.
The construction of the said project will be implemented by phases. First phase of the said project has a contract amount of P13.5M.
Biliran Congressman Espina, Jr., together with University President Cañezo, Biliran Vice-Governor Caneja III, DE Briones and ADE Bollido led the groundbreaking ceremony of the Graduate School and Administrative building.
National Microinsurance Forum showcases a thriving microinsurance sector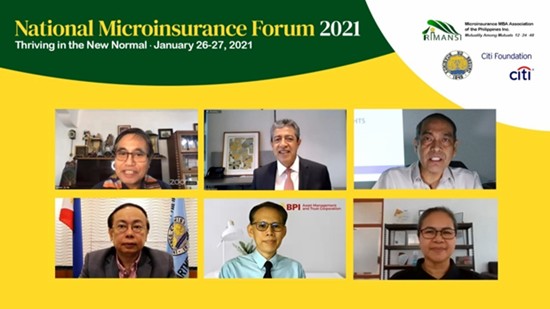 The government and the private sector work together with microinsurance mutual benefit associations to bring microinsurance to millions of Filipinos. (Upper left to right): RIMANSI Chairman Emeritus Dr. Jaime Aristotle Alip; Citi Philippines CEO Aftab Ahmed; Department of Finance Undersecretary & Chief Economist Gil Beltran. (Lower left to right): Philippine Insurance Commissioner Atty. Dennis Funa; BPI AMTC Chief Investment Officer Smith Chua and RIMANSI President Silvida Antiquera.
By CARD-MRI
March 25, 2021
SAN PABLO CITY – More than 20 million Filipinos are enjoying the benefits of mutual microinsurance, providing protection to individuals with low incomes especially through these challenging times.
Insurance Commissioner Atty. Dennis Funa credits microinsurance mutual benefit associations (Mi-MBA) in successfully bringing microinsurance to 26.66 million individuals, reaching 69% of the country's total insurance outreach. "MBAs have been very effective in providing assistance to millions of beneficiaries in times of crisis," said Atty. Funa.
In late January 2021, over 400 microinsurance stakeholders joined the National Microinsurance Forum hosted by the Microinsurance MBA Association of the Philippines Inc. (MiMAP, also known as RIMANSI) via Zoom and Facebook Live. With the theme 'Thriving in the New Normal,' the forum featured various responses of the local microinsurance sector to provide sustained, timely and appropriate delivery of much needed microinsurance services and support to low-income Filipinos, amid the COVID-19 pandemic and other natural calamities in 2020. Last year, MiMAP members collectively settled 66,847 claims amounting to PhP1.62 billion.
Citi Foundation and Citi Philippines are key partners and supporters of mutual microinsurers in the country. Citi Philippines CEO Aftab Ahmed opened the Forum by calling on participants to adopt an optimistic and proactive outlook in 2021 and beyond.
"You should not be discouraged as we will return to normal. Therefore, it is essential that you stay the course and find a way for your business to survive and grow. You have made sizeable investments in your respective businesses, in terms of time, effort and money, and you should believe in your ability to turn things around," said Ahmed.
The forum likewise provided an opportunity for government and private sectors to discuss and reflect on lessons learned in 2020. The event highlighted a strong sense of mission among the stakeholders that pushed them to take bold moves, independently and collaboratively, and put in place a business environment conducive for a thriving microinsurance sector.
Setting the Backdrop for Sustained Action and Growth
Proactive government reforms to stimulate economic growth, facilitate social protection and mitigate health risks. From negative growth in 2020, the Philippine economy is projected to recover with a Gross Domestic Product (GDP) growth rate of 6.5 to 7.5% and 8 to 10% in 2021 and 2022, respectively. This positive note was conveyed by Department of Finance Undersecretary Gil Beltran as he outlined the Philippine government's key reforms and measures to stimulate economic growth while addressing the continuing health risks posed by COVID-19.
Among these measures include making vaccines against COVID-19 available to Filipinos. Department of Health Undersecretary Dr. Maria Rosario Vergeire outlined the key features of the National COVID-19 Vaccine Deployment Plan, wherein vaccination is expected to start in 2021 for identified priority groups with up to 50 million individuals targeted to be covered in year one; and a 100% population vaccination level to bring about 'herd immunity' is projected to be reached by 2023.
Reforms in the financial system citing initiatives taken by the Bangko Sentral ng Pilipinas (BSP) have also supported the banking system enabling banks to come out of the 2020 crisis in good financial health. Smith Chua, Chief Investment Officer of BPI Asset Management and Trust Corporation (BPI AMTC) presented the Philippine investment market outlook and further added that while the Philippine yield curve was lower in 2020 than in 2019, it has shown a sustained positive upward track until the end of the year.
As an actively responsive regulatory agency, the Insurance Commission also came out with several measures among which is the issuance of a Circular Letter 2020-29 that classifies MBAs as health insurance providers and part of the health frontline services. This issuance granted MBA employees freedom of mobility to transact business, especially claims settlement, during the enhanced community quarantine (ECQ) period.
Access to technology and network of technology service providers. Concerned about how to sustain timely delivery of services amid the pandemic, Mi-MBAs were quick to explore and adapt to available technologies. Simple, affordable and appropriate technology-driven systems and procedures were used to communicate and continue daily operations of marketing, enrollment of new policy holders, renewal of policies, claims settlement and other member concerns.
CARD MRI through its insurance service providers, CARD MBA, CaMIA and CARD Pioneer Microinsurance Inc., shared how it addressed the challenge of lapsation of 340,000 microinsurance policies in mid-2020. They launched a text blast campaign to send out messages to inform and guide policy holders on decisions and steps, such as policy renewal through a text reply of yes or no.
Drawing Strength from the Core
Community Engagement. Mi-MBAs, also referred to as "mutuals", draw its strength from mutual sharing, support and responsibility among members, a characteristic best mobilized where there is trust and transparency.
The forum accorded an afternoon's session to exchange experiences and insights on how membership engagement has been activated and further strengthened. As a variety of strategies emerged, Mi-MBA resource speakers highlighted the value of having a two-way communication facility between members and the Mi-MBA, and between field staff/coordinators and management. This facility has become the means to inform and update members, invite, receive and respond to feedback, submit and exchange documents, and convey mutual support and customer care. Such facility can be as sophisticated as the CARD MBA's use of a chatbot where member queries and comments can be received and responded to by artificial intelligence, or the simpler text messaging phone line of ASKI MBA, or TSPI MBA's FB chat groups, or CARE MBA's e-kumustahan in Zoom.
An effective communication facility has resulted in the members' enhanced perception of the importance of microinsurance and their membership in the MBA, such as having a dependable safety net to fall back on. This positive perception has in turn increased member satisfaction and support to MBA activities and transactions.
Indeed, by the end of 2020, MiMAP saw its collective membership going up by 5% to 7.2 million members in 2020 from 6.86 million members in 2019; total outreach also increased by 7% from 24.94 million insured individuals in 2019 to 26.71 million in 2020.
Mission-Focused. When it came to the industry's threats and opportunities, it was clear that the pandemic sparked immediate action among Mi-MBAs. Wired to focus on the mission, a Mi-MBA will do everything in its power to deliver prompt and promised service to a member in need. This commitment drives Mi-MBAs to be innovative, creative and adaptable.
Despite the threat of business losses and closure and thus the large volume of claims, 1 Cooperative Insurance System of the Philippines, Inc. (1CISP) shared that they decided to go ahead and launch its business interruption insurance product in April 2020. 1CISP incurred losses as they had expected but learned a lot and remained hopeful for increased product uptake starting in 2021. CARD MRI in partnership with Pioneer Life also completed the design of a business interruption insurance and are set to pilot as soon as the Insurance Commission completes its review and gives approval on this new product.
Before the pandemic, Mi-MBAs proudly settled claims within a day upon receipt of notice. It was only a few months into the lockdown that many Mi-MBAs were able to settle claims in one day, using a blended approach of technology and manpower resource. Claim documents were sent as e-photos over FB messenger and approved claims were paid via online cash payment facilities. In far-flung areas with limited internet connectivity, staff traveled on motorbikes to provide the needed support in claim processing.
Thriving for Greater Results
The demonstrated ability to thrive in the new normal has energized the sector and further emboldened it to do more. This was reinforced by Asian Development Bank's (ADB) Principal Financial Sector Specialist, Arup Chatterjee, who cited the Philippines to be a fitting global ambassador for microinsurance during his talk on the state of the Asia-Pacific insurance industry.
"The Philippines can provide valuable lessons to the world through its pool of well-established microinsurance service providers brimming with rich microinsurance experiences and achievement," said Chatterjee.
The forum has also identified areas where more work awaits. To cite a few, microinsurance penetration is still low as inclusion of other vulnerable groups such as workers from the informal sector have yet to be considered and pursued. More creative community-based risk sharing strategies and new product offerings need to be studied and tested to dispel 'uninsurability' of some risks involving certain vulnerable groups and situations. There remain opportunities to tap the full benefits of digital technology and capacity to better understand and serve the market, such as modernizing core systems and use of data analytics.
"The crisis has pushed us to strengthen our capabilities. With our collective response, we have elevated the quality and responsiveness of our services and increased member satisfaction and engagement," said MiMAP President & KMBA General Manager, Silvida Antiquera. "We shall continue to give our best, break new grounds, and work together to ensure that microinsurance provides a sturdier and wider safety net to more people," Antiquera added as she expressed MiMAP's continuing commitment of service to the country, and the world.
The National Microinsurance Forum 2021 was co-sponsored by 1CISP, BPI AMTC, CARD MBA, PhilCare, Pioneer Life, Inc., and RMSI.
SFDEO undertakes 2 flood control projects in Calbayog City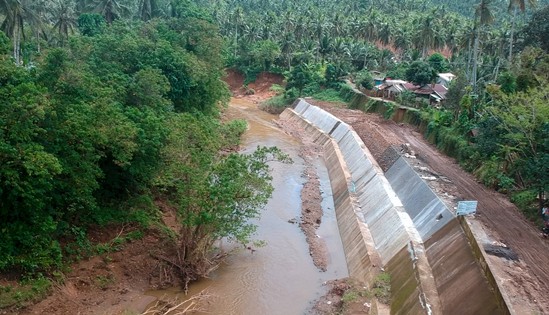 By GISSELLE G. PARUNGAO
March 25, 2021
CALBAYOG CITY – Through the continued effort of the Department of Public Works and Highways -Samar First District Engineering Office to mitigate flooding, 2 (two) flood control projects are now being undertaken under the General Appropriations Act of 2020.
A total of more than P63 million contract amount was drawn to finish the flood control structures at Barangays Caybago and Lonoy.
The flood control structure in Barangay Caybago will cover a length of 106 meters that includes a walkway and a height of nine (9) meters. The scope of work includes a parapet of 0.8 meters.
"When I got back from Cebu, that is when I experience in 2014, Typhoon Ruby when the water rose to the level of where the road is located (level of her house is a meter or so below the road). In 2019 or 2018 I supposed, Typhoon Usman happened, that is when we experienced that is very traumatic, that for the first time in my life this has happened. We cannot trace as to where the water came from since when we started checking the river, it was still shallow and in seconds it rose to a level that we were not able to prepare, people are not prepared, properties were lost because of the typhoon Usman, that we experienced so much hardships, not only trauma but so much grief', said resident Carolina Durmiendo.
On the other hand, the flood control structure in Barangay Lonoy will span 373 linear meters that includes a walkway with a height of three (3) meters. The scope of work also includes a parapet of 0.95 meters.
Emmalyn Arpon, one of the residents testified that, "one of my experiences here in Barangay Lonoy, I have experienced when there was a typhoon, water would rise and reach inside our houses. Flooding would reach inside the house that washed away half or more than half of our house. All of our things and appliances in the kitchen are washed out, almost nothing was left".
She further said that, "I am now happy that with this project, we won't fear anymore if the water level will rise because we already have a barrier. Aside from me, a lot of families are also happy that this project was constructed because no matter what typhoon may enter, we will not be frightened anymore because we have something to block the rising water from the river. Even if the water level will increase, since we can't tell what and when the bad weather occur and in these times, water usually rises, we will not fear it anymore".
P4.7 million TUPAD grants benefit 900 Leyteños
By DOLE-8
March 23, 2021
STA. FE, Leyte – A total of P4,797,900.00 grants under the Tulong Panghanapbuhay sa Ating Displaced/Disadvantaged Workers (TUPAD) program benefitted some 900 beneficiaries of LGU-Sta. Fe, Leyte.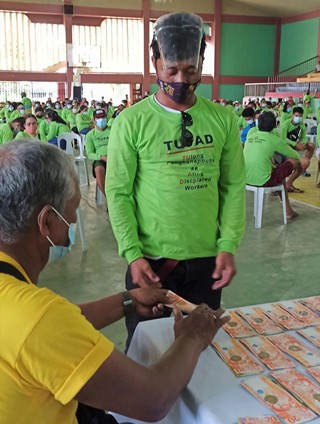 During the payout conducted last March 12, 2021, each beneficiary received P4,875.00 as wages for their 15-day employment. Accident insurances and personal protective equipments were provided prior to the start of their TUPAD engagement.
Director Henry John S. Jalbuena, the newly-installed Regional Director of DOLE-RO8 personally attended the said payout. Also present to grace the event were Congressman Ferdinand Martin Romualdez, House Majority Floor Leader and Leyte 1st District Representative, Mr. Jude Acidre of Tingog Partylist and Mayor Amparo Montesa of Sta. Fe.
Director Jalbuena said that he is privileged to be in the public service, being able to see the happy faces of the beneficiaries as they receive their money.
"This is really the essence of being a public servant. We get to see the happiness that our programs bring to the people. It brings sheer joy knowing that we are doing our part to help our workers in dire need", said Jalbuena.
Through the TUPAD program, the labor department provides support to the workers from the vulnerable and marginalized sectors whose livelihoods were affected by the COVID-19 pandemic. Beneficiaries were engaged in community clean-up activities for four (4) hours a day to a maximum period of fifteen (15) days while wearing appropriate PPEs and observing health protocols.
AppendPay signs MOA with CARD Banking Group as settlement bank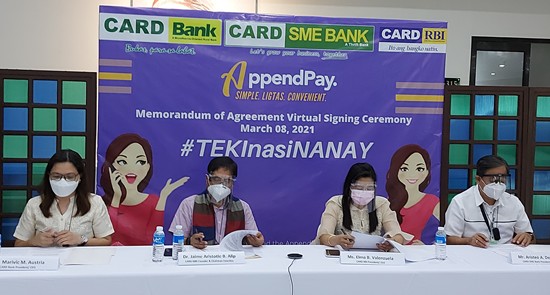 The CARD Banking Group inked an agreement with AppendPay in promoting financial inclusion in the country on March 22, 2021. In the photo are (L-R) CARD Bank President and CEO Marivic M. Austria, CARD MRI Founder and Chairman Emeritus Dr. Jaime Aristotle B. Alip, CARD MRI Rizal Bank Inc. President and CEO Elma B. Valenzuela, and CARD SME Bank President and CEO Aristeo A. Dequito.
By CARD-MRI
March 23, 2021
SAN PABLO CITY – As part of its mission to provide financial inclusivity for all, CARD Banking Group signed a memorandum of agreement (MOA) with AppendPay through a virtual signing ceremony on March 8, 2021.
It was attended by CARD MRI Founder and Chairman Emeritus Dr. Jaime Aristotle B. Alip, CARD MRI Managing Director Flordeliza L. Sarmiento, CARD Banking Group President and CEOs Marivic M. Austria (CARD Bank), Elma B. Valenzuela (CARD MRI Rizal Bank), and Aristeo B. Dequito (CARD SME Bank). Also present were AppendPay Corporate Founding Board Chairman Angel de Leon, Jr.; Append President Jeng San Juan; Bangko Sentral ng Pilipinas Representative Acting Managing Director Ellen Joyce Suficiencia; MNRC Corporate Governance and Finance Department Director Atty. Rachel Esther Gumtang-Remalante; and MCPI President Eduardo C. Jimenez.
Said CARD MRI Founder and Chairman Emeritus Dr. Jaime Aristotle B. Alip, "Having the CARD Banking Group as a settlement bank of AppendPay has highlighted the collaborative environment that the microfinance industry has. The challenges brought by COVID-19 pandemic gave us the opportunity to push our digital initiatives to our clients and to their families."
Dr. Alip explained how the CARD banking group and the microfinance industry served as the beacon of hope to the lives of many small microentrepreneurs during the community quarantines and lockdowns as they faced the challenges of continuing their businesses and microenterprises. "We saw how the health crisis really affect the lives of our clients, many businesses were forced to temporarily stop its operations but despite the pandemic we decided to continue our financial services in order for them to surpass the challenges," he added.
As the whole world embraces to the new normal, CARD MRI envisions to continuously give financial access to recover and cope with the changes brought by the pandemic. "We're looking forward for the good result of this collaboration. Through this partnership, we hope to further extend our services to millions of our clients. Digital platforms such as AppendPay and konek2CARD enable microfinance institutions to have an easy and convenient access to financial services."
The AppendPay
AppendPay is an online platform that aims to ease business processes and create seamless transactions for micro, small, medium and all other social entrepreneurs (MSMEs) through the assistance of CARD Banking group as their settlement bank.
"This collaboration is truly a remarkable moment for each of us. We, at APPEND, appreciate the effort of CARD Banking group as they open their doors for AppendPay to provide fast, easy, and convenient eCommerce channels to clients," said AppendPay Corp. Founding Board Chairman Angel de Leon, Jr. during the MOA signing.
He concluded that the mobile application links APPEND members around the country and allows the app users to request and pay for the various loans, utilities and commercial services. Users can also transfer money to other AppendPay users.
Inflation rate in EV increases to 2.8% in February 2021
By PSA-8
March 21, 2021
TACLOBAN CITY – Inflation Rate (IR) in Eastern Visayas increased to 2.8 percent in February 2021. This IR is 1.1 percentage points higher compared with the 1.7 percent IR in January 2021. This is also 0.9 percentage point higher than the recorded 1.9 percent IR in the same period last year.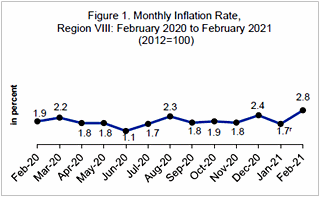 In comparison with the national average IR, the regional IR is 1.9 percentage points lower than the 4.7 percent national IR in February 2021.
All provinces registered higher IRs in February 2021 compared with their figures in January 2021, except for Northern Samar, which recorded a 0.6 percentage point decrease from its inflation rate a month ago. Its IR eased down to 2.7 percent in February 2021 from 3.3 percent in January 2021. Meanwhile, Biliran recorded the highest growth of 2.7 percentage points from its zero IR in January 2021. The rest of the provinces registered increases ranging from 0.3 percentage point to 1.6 percentage points. Samar posted the highest IR at 6.1 percent, while Leyte recorded the lowest IR during the month in review at 1.9 percent.
Majority of the commodity groups in the region exhibited higher IRs in February 2021 compared with their rates in January 2021. Food and non-alcoholic beverages commodity group and housing, water, electricity, gas, and other fuels commodity group both registered the biggest increase in IR at 1.6 percentage points. IR for food and non-alcoholic beverages commodity group rose to 3.5 percent in February 2021 from 1.9 percent in January 2021. Contributing largely to this increase is the fish index which registered a 4.8 percentage points increase in IR, from 0.3 percent in January 2021 to 5.1 percent in February 2021.
Vegetables index continued to register double digit IR in February 2021 at 19.6 percent, 3.7 percentage points higher than its 15.9 percent IR a month ago. Prices of meat picked up by 5.3 percent in February 2021 from 3.1 percent in January 2021. Corn, rice, and bread and cereals indices continued to register deflations but at slower rates of 2.7 percent, 2.1 percent, and 1.2 percent, respectively. Meanwhile, IR for fruits index managed to shed off by 0.8 percentage point from its double-digit figure of 12.0 percent in January 2021, posting 11.2 percent IR in February 2021. Decreased IRs were also registered in the indices for food products not elsewhere classified (6.7%); oils and fats (5.5%); milk, cheese and eggs (2.8 percent); non-alcoholic beverages (2.4%); and sugar, jam, honey, chocolate and confectionery (0.7%).
Housing, water, electricity, gas and other fuels commodity group which registered 1.4 percent deflation in January 2021 recorded price increase in February 2021 at 0.2 percent. The 0.7 percent deflation in the index for electricity, gas, and other fuels was offset by the IRs in the indices for maintenance and repair of the dwelling (1.6%); actual rentals of housing (0.6%); and water supply and miscellaneous services relating to the dwelling (0.3%).
IR for transport commodity group increased by 0.6 percentage point, from 5.6 percent in January 2021 to 6.2 percent in February 2021. This can be attributed to the higher IR (1.7%) posted in the index for operations of personal transport equipment.
Compared with their January 2021 levels, the IRs for furnishings, household equipment and routine maintenance of the house commodity group (2.5%) and health (1.2%) commodity group both inched up by 0.1 percentage point in February 2021.
Recreation and culture commodity group continued to post deflation but at a slower rate, settling at 1.0 percent during the month in review.
On the other hand, alcoholic beverages and tobacco commodity group recorded 0.5 percentage point decrease in its IR, from 7.4 percent in January 2021 to 6.9 percent in February 2021. This can be traced to the lower IR in the indices for both alcoholic beverages (3.5%) and tobacco (8.9%).
IR for restaurant and miscellaneous goods and services commodity group eased by 0.2 percentage points, settling at 3.9 percent in February 2021.
The commodity groups of clothing and footwear and education retained their previous month's IRs at 2.5 percent and 0.4 percent, respectively. Meanwhile, communication commodity group retained its previous month's deflation at 1.5 percent.
The Purchasing Power of Peso (PPP) of the region remained at P0.77 in February 2021. This PPP implies that the goods and services worth P77.00 in 2012 is worth P100.00 in February 2021.
Compared to their levels in January 2021, PPP in Biliran weakened by P0.02, while PPP in Leyte, Southern Leyte, Eastern Samar, and Northern Samar declined by P0.01 in February 2021. Samar, meanwhile, retained its previous month's PPP. Biliran and Leyte recorded the strongest PPP among provinces in February 2021 at P0.79. Southern Leyte ranked second at P0.78, followed by Eastern Samar at P0.74 and Northern Samar at P0.71. Samar posted the weakest PPP during the reference month at P0.70.