Cebuanos tell ADB to cease funding coal, dirty energy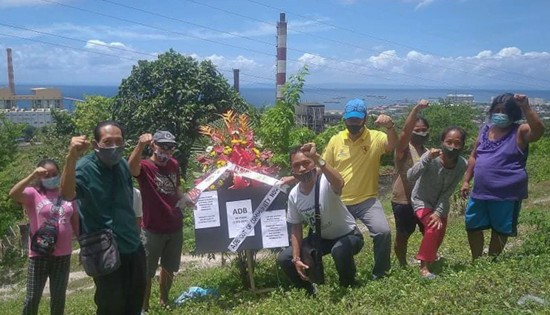 Press Release
May 4, 2021
QUEZON CITY – The Power for People Coalition (P4P) and residents of Naga City, Cebu on Monday demanded a clear commitment from the Asian Development Bank (ADB) to end its financial support for coal and other dirty energy projects in the Philippines and Asia through a symbolic action at the site of the ADB-funded Naga coal plant in Cebu.
The action was held as the Bank starts its 3-day Annual Meeting, as statement that the impacts of the coal power and other dirty energy projects must be a top-of-mind matter in the evaluation and updating of ADB's 2009 Energy Policy and investment decisions.
"For over a decade, ADB allowed itself to believe that its supposedly 'clean energy' agenda propelled it towards leadership in sustainability while helping achieve energy security in its member countries. That is far from the reality experienced by communities affected by ADB's coal projects," said Teody Navea, Coordinator of Philippine Movement for Climate Justice (PMCJ) Cebu. PMCJ is a convenor of P4P.
Inaugurated in 2011 and currently managed by Korean Electric Power Corporation-Salcon Power Corporation (KSPC), the 200 MW Naga coal power plant is ADB's first coal power generation project under its 2009 Energy Policy and was touted by the Bank as adopting "a more environment-friendly technology by using circulating fluidized bed (CFB) combustion boilers". Upon entering operation, the plant was subjected to complaints from community members and concerned groups for heavy pollution and noncompliance in social acceptability and public communication requirements.
"As the Bank's executives attend their Annual Meeting in the comfort of their homes and offices, we gather here today to let them know of our health and livelihood problems, environmental degradation, vulnerability to climate disasters, and a constant fear for the welfare of future generations of our people," Navea said.
The groups led a symbolic wreath-laying activity featuring a 'tombstone' detailing destructive impacts of ADB's Naga coal plant to community members.
"We live next to a coal facility that is taking us nearer to our demise with each day it burns coal and emits toxins into our air, land and water. We know the same is being experienced by other Filipino communities. It is in solidarity with them that we urge ADB to lay to rest its dirty energy legacy and bury its support to coal and other fossil fuels in the past, so that communities like ours would no longer need to bury loved ones led to their early deaths by dirty energy," said Dominador Basaya of the Naga Neighborhood Association.
ADB is expected to publicize a draft of its updated energy policy around the time of its Annual Meeting.
"In this Annual Meeting and its new energy policies, we hope the Bank chooses to initiate projects that would help communities like ours access clean and affordable renewable energy sources, of which we know our country is rich in," Basaya said.
Last week, P4P including several groups and community organizations from Cebu, submitted to the Bank a joint Philippine civil society statement urging ADB to end its dirty energy legacy and align to the 1.5°C Paris ambition.
"ADB's Energy Policy is severely outdated in the context of the global energy transformation and the climate emergency, the deadliest manifestations of which are already being experienced in our country....ADB is about to make a critical decision that will define its role in global energy transformation and addressing the climate emergency. We urge it to choose to finally end financing for coal and other dirty energy projects, and set the standard among all other development banks in climate and sustainable finance leadership," the statement read.
Canadian Parliamentary hearing on the human rights situation in the Philippines
By ICHRP-Canada
May 4, 2021
MANILA – The Canadian House of Commons Subcommittee on International Human Rights conducted a hearing on the human rights crisis in the Philippines on Tuesday, May 4, 7:30 - 8:30 P.M. EST. The hearing was conducted amidst growing calls to the Canadian government to end its policy of quiet diplomacy in the Philippines and fulfill its commitment to human rights.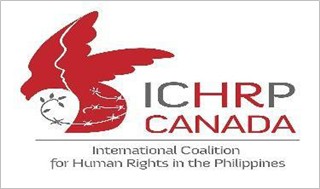 Following the Bloody Sunday massacre in the Southern Tagalog region on March 7, 2021, where 9 activists, human rights defenders, and community organizers were killed in a coordinated police operation, 65 Canadian organizations, including churches, trade unions, and Filipino associations, and prominent individuals signed a joint letter to Prime Minister Justin Trudeau expressing profound concern about the deteriorating human rights situation in the Philippines and Canada's deafening silence.
The Subcommittee invited journalist Maria Ressa, one of Time Magazine 2018 Persons of the Year, and Cristina Palabay, Secretary General of Karapatan Philippines, a national network of human rights organizations, to testify at the hearing. Quebec lawyer and co-chair of International Coalition on Human Rights in the Philippines - Quebec, Guy-Lin Beaudoin and Catherine Coumans of MiningWatch Canada, also testified.
In her testimony, Ms. Palabay underscored the urgency of the human rights crisis in the Philippines. "It has become even more dangerous every day for human rights defenders and ordinary citizens, with an epidemic of rights violations in the Philippines." Fifteen human rights workers of Karapatan were among the 394 civilians killed "in the course of the Duterte government's counterinsurgency campaign."
Even in the run-up to the Canadian Parliamentary hearing, there had been no letup in the military and police deadly campaign of terror.
On April 25, 2021, a local government official, Froilan Saez Oaferina III, in Camarines Sur, was killed after about 30 members of the Philippine National Police went to his home to allegedly serve a search warrant.
On April 27, police officers appeared at the office of the United Church of Christ in the Philippines Southern Mindanao District in search of Bishop Hamuel Tequis and five others, including two social workers and an indigenous leader. They were charged with violating the Special Protection of Children Against Abuse, Exploitation, and Discrimination Act for sheltering indigenous evacuees at the church's Haran Centre.
Earlier, the government froze the bank account of Haran Centre for alleged violation of the Terrorism Financing Prevention and Suppression Act on allegations that assets are being "used to finance terrorism."
The application of this law to harass human rights and other civil society organizations into silence raises grave concern about Canada's funding of a program to combat "the financing of terrorism" for the Philippines and three other Asian countries through the Association of Southeast Asian Nations.
On May 2, Pastor Dan Balucio of the United Church of Christ in the Philippines and youth leader Sasah Sta. Rosa were arrested in the province of Bicol.
On the same day, John Heredia, a well-known journalist, town administrator in the province of Capiz and past chair of the provincial chapter of the National Union of Journalists in the Philippines, was assassinated. In 2019, his wife, Criselda, a human rights lawyer, and their daughter survived an ambush.
These cases underscore the impunity with which the Philippine military and police carry out extrajudicial killings, arbitrary arrests, and other atrocities against innocent citizens.
Ms. Palabay told the Subcommittee, "in the midst of all these; there is the inadequacy or lack thereof domestic mechanisms that encourage victims for the rendering of justice and accountability. Courts mandated to provide legal protection for defenders refuse or deny them, resulting in more harmful impacts on our lives, security, and liberty." She urged the "Canadian government to actively take action on these concerns with urgency, as our country further descends into an authoritarian state."
"Canada must end its policy of quiet diplomacy," said Guy-Lin Beaudoin. Mr. Beaudoin called on the Minister of Foreign Affairs to publicly condemn the atrocities committed by the Philippine government and its security forces. On behalf of ICHRP, he called on Canada to suspend all Canadian support to the Philippine government's anti-terrorism and counterinsurgency programs.
As well as, calling on the Minister to urge the Canadian Embassy in Manila to apply vigorously the tools in Canada's guidelines on supporting human rights defenders (Voices at Risk) to protect those who face immediate danger of being killed or arrested. Listing human rights violations associated with Canadian mining companies operating in the Philippines, Catherine Coumans called on Canada "to fulfill its obligation to protect human rights in the context of the deteriorated human rights situation in the Philippines, and in particular to protect those who are criminalized and whose lives are threatened for speaking out in defense of human rights and the environment."
The International Coalition for Human Rights in the Philippines is a global network of organizations, concerned about the human rights situation in the Philippines and committed to campaign for just and lasting peace in the country. It aims to inform the international community about the grave human rights situation in the Philippines today.
DPWH-Biliran DEO implements P9.8-M access road in Caanibongan, Cabucgayan town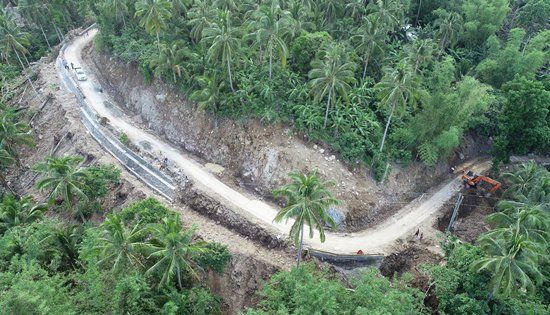 On-going construction of road leading to Caanibongan Elementary School, Brgy. Caanibongan, Cabucgayan, Biliran.
By DPWH-Biliran
April 30, 2021
NAVAL, Biliran – The Department of Public Works and Highways (DPWH) Biliran District Engineering Office (DEO) is implementing the construction of road leading to Caanibongan Elementary School project in Cabucgayan town that will benefit not only the learners but the entire residents of Brgy. Caanibongan.
The P9.8-M road project involves the construction of a 0.33-kilometer two lane road with a 5-meter width and a 0.2-meter thickness.
Situated in the hill top of Cabucgayan town, District Engineer Ferdinand A. Briones revealed that road safety features are also included in the project such as the construction of road slope protection structure and concrete barrier.
"From a narrow one lane dilapidated concrete road, residents will enjoy a wider, better and safer road when this project is completed," said Briones.
Based on the 2015 population census, about 270 residents will benefit this road.
DE Briones reported that the project which is under contract with QYT Construction and Supply is now halfway complete with an accomplishment of 51.77% as of April 30, 2021.
From its start date on February 16, 2021, this project is to be completed by July 15, 2021.
Eastern Visayas' economy contracts by 7.6% in 2020
By PSA-8
April 29, 2021
TACLOBAN CITY – The economy of Eastern Visayas contracted by 7.6 percent in 2020 from its 5.6 percent growth recorded in 2019. The total value of goods and services in the region or the Gross Regional Domestic Product (GRDP) declined to 433.4 billion pesos in 2020 from 469.3 billion pesos in 2019, resulting in 35.9 billion pesos economic loss during the reference period.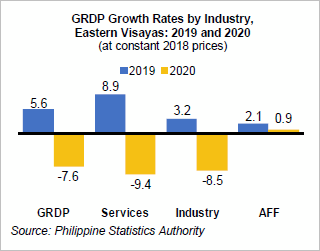 The economic contraction in 2020 was driven by the declines in Construction, Transportation and Storage, Wholesale and Retail Trade, Repair of Motor Vehicles and Motorcycles, Accommodation and Food Service Activities (AFSA), Real Estate and Ownership of Dwellings (REOD), Education, Other Services (OS), Mining and Quarrying (MAQ), and Professional and Business Services (PBS).
Services plunged to -9.4 percent in 2020 from 8.9 percent growth in 2019. Among its industries, AFSA posted the largest contraction of 70.4 percent. The following industries also dropped: Transportation and Storage (40.2%); Other Services (19.3 %); Real Estate and Ownership of Dwellings (11.6%); Trade (6.6%); Education (5.0%); and Professional and Business Services (3.2%).
Industry declined by 8.5 percent in 2020 from 3.2 percent growth in 2019. Construction, and Mining and Quarrying (MAQ) dropped by 34.2 percent and 26.8 percent, respectively. On the other hand, the upbeat performance of Manufacturing slightly mitigated the contraction of the economy after posting 20.8 percent growth in 2020. Electricity, Steam, Water and Waste Management likewise grew by 4.1 percent.
Meanwhile, Agriculture, Forestry and Fishing (AFF) managed to grew by 0.9 percent in 2020 from 2.1 percent in 2019.
Services and Industry shared the bulk of the region's economy at 45.7 percent and 39.6 percent, respectively. AFF had a share of 14.8 percent.
Among the three (3) major industries, Services and Industry contributed to the region's economic contraction with -4.4 percentage points and -3.4 percentage points, respectively. AFF cushioned the decline at 0.1 percentage point.
Army-PNPs Darangpanan offers food to people in need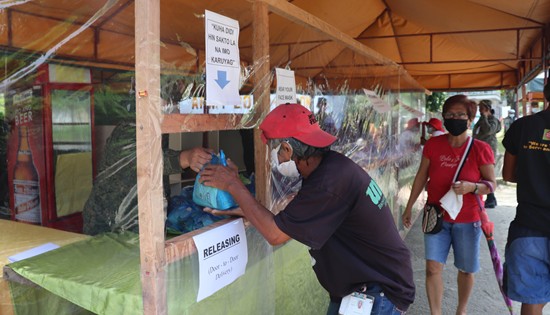 By DPAO, 8ID PA
April 28, 2021
CAMP LUKBAN, Catbalogan City, Samar – Selling chicharon or pork rind has been the source of income of the 72-year old Anita Oliva. Despite her age, she worked hard to provide food on the table. For months since the Covid-19 pandemic began, her family has been struggling to make ends meet.
"Akon mga anak damo gihapon it mga anak salit kulang pa, may gin-atiman pod ako na pag-umangkon na may kapansanan." (My children also have many children, so it's not enough. I also provide the needs of my nephew who has a disability.)
Seeing the need to alleviate hunger, the soldiers of the 8th Infantry Division and the police personnel of the Samar Police Provincial Office strengthen the spirit of Bayanihan by setting up "Darangpanan" outside the 8ID Headquarters, Catbalogan City, Samar.
Darangpanan is a venue that provides food packs to families affected by the pandemic. Each food pack contains rice, canned goods, noodles, eggs, sugar, coffee, some fruits, and vegetables.
The 8th Infantry Division Chief of Staff, Colonel Perfecto P. Peneredondo said the initiative to help dubbed as the Kapwa Ko, Sagip Ko Program was made possible by the help of kind-hearted Samareños who never cease to extend their hand to the needy.
"It is this time of difficulty that we see the spirit of Bayanihan among every Filipino and how they willingly share a portion of what they have to those who need it the most," Colonel Penaredondo said.
One of those who were able to receive goods is the15-year old Ryan Igdalino, who patiently fell in line just to bring home something to share with his family at home.
"Nakita ko kasi kung paano nahihirapan ang mga magulang ko ngayon upang may mapakain lang sa aming magkakapatid. Gusto kong tumulong kahit sa maliit na paraan, sagot ko na po hapunan namin mamaya." (I see how my parents struggle just to provide food for me and my siblings. I want to help them even in the smallest way, I am in charge of tonight's dinner.)
Colonel Penaredondo added that although they are delighted by the fact that many people benefited from this activity, a feeling of sadness still lingers, as there are still plenty of people who need help.
"May this initiative inspire others to help, especially during these trying times. I am also hoping that, with the help of some kind-hearted Samareños, this could last long, especially now that a lot of individuals have expressed their willingness to help the initiative."
As of 3pm, April 26, Darangpanan was able to provide food packs to 316 individuals.
CARD e-Doctor marks Year One; served more than 30,000 individuals through online consultation
By CARD MRI
April 28, 2021
SAN PABLO CITY – CARD Mutually Reinforcing Institutions (CARD MRI) through its Microfinance and Health Protection (MaHP) unit launched CARD e-Doctor in April 2020 to continuously provide online medical access to clients during the COVID-19 pandemic.
Said MaHP Director Dr. Roderick Belen, "We started this online platform because we saw an opportunity to continuously reach CARD MRI clients and their families amidst the pandemic. We realized at the onset of community quarantines and lockdowns last year that access to medical support will be gravely needed as we face this health crisis."
After a year of conducting online consultations, the program recorded a total of 34,756 consultations. Further, a total of 11 partner doctors were tapped, specializing in internal and general medicine, obstetrics and gynecology, pediatrics, dentistry, ophthalmology, and orthopedic surgery.
"When they invited me to this program, I never hesitated to join because helping other people is my purpose in life. Being part of this initiative made it easier for doctors like us to reach clients in the country and address their medical concerns," said Internal Medicine Physician Dr. Remedios Maligaya.
Aside from the online consultation, CARD e-Doctor also became a venue for CARD MRI to inform and educate the general public about current health issues and concerns. "Before the pandemic, we regularly conducted simultaneous weekly community health days (CHD) nationwide to provide medical, optical and dental check-ups. The CHD also allowed us to host physical forums to discuss various health topics. We decided to transform these forums online to continue our advocacy of raising awareness on health and wellness," Dr. Belen shared. He recalled that when CARD e-Doctor held its first live consultation, the viewers reached more than 2,500 viewers nationwide. The first topic discussed in this Live is COVID-19, its symptoms, and preventive measures.
"From a total of 149 health topics that were discussed, we have reached 15,404 live viewers throughout the country. As we continuously fight the COVID-19, we are now embracing to adopt advanced technology in order to cater more clients and their families," he concluded.
Like and follow CARD e-Doctor official Facebook page to avail free online medical consultations, watch health-related live discussions and know more about the program.
DPWH-L2DEO rehabilitates and widens roads along Palo-Carigara-Ormoc road section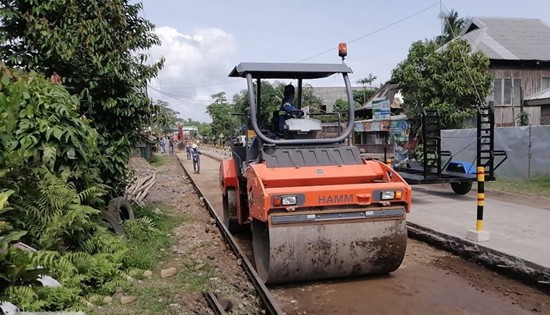 By DPWH 2nd LED
April 27, 2021
CARIGARA, Leyte – To increase the load capacity and improve the road condition along the national highway, the Department of Public Works and Highways (DPWH) -Leyte Second District Engineering Office allocates P121 million covering road improvement, rehabilitation, widening, slope protection structure and concrete drainage canal.
OIC-District Engineer Leo Edward Oppura said these projects will be in the major road of Palo-Carigara-Ormoc road section particularly in Jaro, Carigara and Capoocan areas.
"Road slope protection will be installed in Brgy. Lemon, Capoocan, Leyte, while road in some parts of Carigara & Jaro road section will be widened and rehabilitated." Oppura said.
DE Oppura calls to the public affected by the road widening project to cooperate with the government's effort to improve the road network for better and faster mobility of the motorists considering that Palo-Carigara-Ormoc road section is one of the busiest roads in Leyte.
The P121-million is composed of six (6) infrastructure project namely; Asset Preservation Program-Preventive Maintenance-Primary Roads-Palo-Carigara-Ormoc Road, K0958+123.67-K0958+413.00, K0958+534.35-K0958+827.40;
Asset Preservation Program-Rehabilitation/Reconstruction/Upgrading of Damaged Paved Roads-Primary Roads-Palo-Carigara-Ormoc Road, K0957+357-K0957+659; Network Development Program-Road Widening-Primary Roads-Palo-Carigara-Ormoc Rd. K0957+(-212)-K0957+347;
Asset Preservation Program-Preventive Maintenance-Tertiary Road-Palo-Ormoc via Jaro Poblacion Rd.-K0941+1144-K0941+1196, K0941+500-K0941+1144; Network Development-Road Widening-Primary Roads, Palo-Carigara-Ormoc Road K0940+910-K0941+442;
Asset Preservation Program-Rehabilitation/Reconstruction of Roads with Slips, Slope Collapse and Landslide-Primary Roads along Palo-Carigara-Ormoc Road K0972+776.13-K0973+041.13.
Among these projects 4 are on-going while the 2 projects are waiting for the modification approval.
Barugo-San Miguel road section undergoes road rehabilitation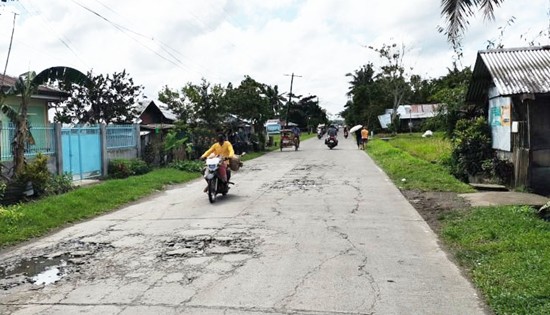 By DPWH 2nd LED
April 26, 2021
BARUGO, Leyte – Aiming to deliver a better road connectivity in the town of Barugo and San Miguel in Leyte, the Department of Public Works and Highways (DPWH) Leyte Second District Engineering Office works to improve road network in these road sections.
The project involves rehabilitation and improvement of intermittent section traversing Poblacion District 4 to Barangay Calingcaguing in Barugo town covering 5.19-lane kilometer.
"This is a vital road considering that this road network serves as an alternative road for motorists utilizing Palo-Carigara-Ormoc road section," said OIC-District Engineer Leo Oppura.
Barugo-San Miguel road section is under the jurisdiction of the Provincial Government of Leyte, connecting to the national road network. The Babatngon - San Miguel road section is connected to Palo-Carigara-Ormoc road section under Leyte First District Engineering Office. Meanwhile, Bagahupi-Babatngon-Sta. Cruz-Barugo-Carigara road connects to Leyte 2nd District Engineering Office.
This road section had been an alternate route to and from Tacloban, Ormoc, Biliran when the Hiagsam Bridge along Palo-Carigara-Ormoc Road (Jaro road section) was damaged due to severe flooding caused by typhoon Seniang in December 2013, causing severe deterioration of the road pavement thus immediate reconstruction is needed for the safety of the travelling public.
Once completed, the P43.808-million worth project will provide safer and convenient travel of the motorists.
The rehabilitation project commenced last April 12, 2021 and will be completed on or before October 30, 2021 is part of the FY-2021 General Appropriation Act (GAA).
DPWH-Biliran DEO starts construction of two diversion road projects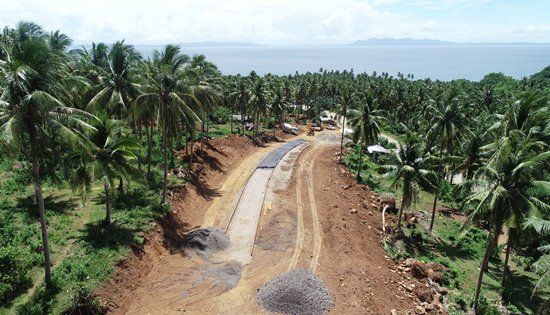 On-going construction of Pawikan-Esperanza Diversion Road, Brgy. Cabucgayan, Biliran.
By DPWH-Biliran
April 25, 2021
NAVAL, Biliran – The Department of Public Works and Highways (DPWH) Biliran District Office (DEO) has started the construction of two diversion road projects in Biliran that will relieve traffic congestion in the main highway of Naval and Cabucgayan towns.
District Engineer Ferdinand A. Briones said that the projects are implemented at Sitio Riverside to Brgy. Sto. Niño leading to Biliran Provincial Hospital, Naval, Biliran and Brgy. Pawikan to Brgy. Esperanza, Cabucgayan, Biliran.
The P47.4-M construction of Naval Diversion Road which recently started involves the road opening and concreting of 0.946-kilometer two-lane road and 6,338.20 sq.m. roadway slope protection and acquisition of Road-Right-Of-Way (RROW).
According to Briones, the said project is a multiyear project from year 2021-2022 with a total appropriation amount of P80M.
"The completion of this project by phases will relieve traffic congestion and provide quality, safe, and direct access to the Provincial Hospital of Biliran," said Briones.
Meanwhile, DPWH-Biliran DEO is also implementing the construction of its P9.9-M Pawikan-Esperanza Diversion Road. This project involves opening and concreting of a four-lane road with a length of 0.341-kilometer.
This is also a multiyear project from year 2021- 2023 with a total allocation of P243-M. It involves road opening and concreting of a four-lane roadway with a total length of 4.658 kilometer and a construction of a four-lane, 20 ln.m. bridge and acquisition of ROW.
Briones said that the project is prioritized in lieu of the road widening in the main highway of Brgy. Baso, Brgy. Bunga, Brgy. Libertad, Brgy. Magbangon and Brgy. Esperanza all in the town of Cabucgayan where many residents will be affected.
"These diversion road projects will not only help speed up the movement of people, goods and services for economic development in the towns of Naval and Cabucgayan, also it avoided the damages to the existing establishments/ buildings that could have been incurred if road widening projects were to be implemented on these areas," said Briones.
DTI helps protect the environment through accredited Service and Repair Enterprises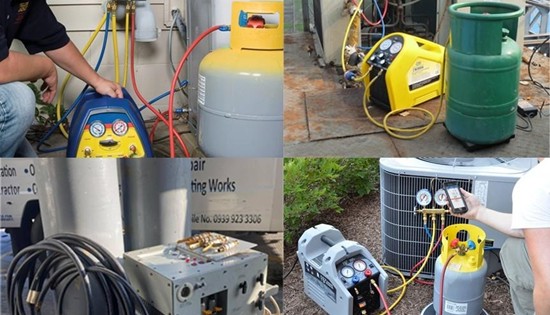 By DTI-CPG-Fair Trade Enforcement Bureau
April 23, 2021
MAKATI CITY – The Department of Trade and Industry - Fair Trade Enforcement Bureau (DTI-FTEB), through the Business Licensing and Accreditation Division (BLAD), accredits service and repair enterprises including those that repair, service, install, and maintain refrigerator and air conditioning (RAC) units, whether for household, commercial or mobile (motor vehicle) purposes.
Department Administrative Order No. 03, Series of 2006 requires these shops to have refrigerant recovery machine to use in recovering refrigerants in the A/C units to prevent the refrigerant from venting to the air while being serviced or repaired. They are also required to have non-disposable refrigerant cylinders/tanks, one for each type of refrigerant to store the recovered refrigerants. Refrigerants are known for having harmful effect on the environment since they have global warming and ozone depletion potentials. Relative thereto, the Department of Environment and Natural Resources (DENR) has a program in the collection of these recovered refrigerants for proper disposal.
Service and Repair Shop Enterprises are also required to have technicians properly trained and certified by the Technical Education and Skills Development Authority (TESDA) and to submit copies of the relevant and valid TESDA certificates as part of the accreditation requirements.
FTEB-BLAD conducts validation inspection in the shop's premises to verify the application and to check the required tools and equipment including the recovery machine. In 2019, the result of inspection showed that several shops were found to have no recovery machines, as such were endorsed to the FTEB Enforcement Division (ED) for issuance of Notice of Violation (NOV) and filing of Formal Charge.
"We remind all Ref and Air-conditioning SREs to submit proof of acquisition and a photo of their recovery machine as evidence that they own or lease the said equipment. New applicants, however, are to be inspected to ensure and validate the presence of recovery machines in their respective shop," DTI-FTEB Director Ronnel O. Abrenica underscored.
Undersecretary for DTI - Consumer Protection Group (CPG) Ruth B. Castelo also added that DTI is one with DENR in protecting the environment and ensuring that consumers are provided with fair and satisfactory service from Ref and Air-conditioning service and repair shops and that sustainable consumption is promoted and practiced as well.
The Ref and Aircon SREs is the second among the most number of accredited SREs after Motor Vehicle SREs.