Villar and Lorenzana lead inauguration of two units 2-storey building for army brigade in region 8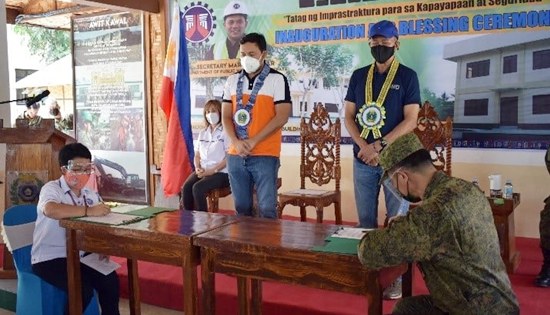 Ceremonial Signing of Acceptance of Facility by ADE Rebecca Yuse and LTC Joel Almendral CE (GSC) PA witnessed by Sec. Villar and Sec. Lorenzana.
By TACLOBAN CITY DEO
August 4, 2021
TACLOBAN CITY – The Department of Public Works and Highways (DPWH) Tacloban City District Engineering Office (TCDEO) celebrates another milestone achievement with the completion and official turnover of two units 2-storey building for the 546th Engineer Construction Battalion, 53rd Engineer Brigade, Philippine Army.
DPWH Secretary Mark A. Villar together with Department of National Defense (DND) Secretary Delfin N. Lorenzana led the ceremonial inauguration and blessing of the 2-storey building Battalion Office and Officers' Quarters Building and 2-storey building Senior NCO Baracks held on August 3, 2021 at the 546th Engineer Construction Battalion Multipurpose Hall.
Both projects are under the DPWH-DND "Tatag ng Imprastraktura para sa Kapayapaan at Seguridad (TIKAS)" Convergence Program which was conceptualized primarily for the purpose of revitalizing the mutual interest of the two agencies, that is for the DPWH to help address various facility requirements of the different armed forces units and for DND to protect and safeguard implemented projects especially in conflict areas.
The 2-storey Battalion Office and Officers' Quarters Building consists of conference rooms and office spaces for the battalion officers situated at the first-floor area and 12 air-conditioned bedrooms with individual toilet and bath at the second-floor area. Furthermore, the second 2-storey building serves as living quarters for the Senior Non-Commissioned Officers consisting of 24 air-conditioned bedrooms with individual toilets and bath. Both buildings are secured with CCTV cameras, fire escape and fire protection facilities.
In total, the project costs about P45.2-million funded under the General Appropriations Act of 2021.
In behalf of the whole 546th Engineer Construction Battalion, 53rd Engineer Brigade of the Philippine Army, Brigadier General Gerardo Catindoy, Commander of the Philippine Army 53rd Engineer Brigade, expressed his heartfelt gratitude to all who have contributed in the realization of the projects which supports the administrative and operational functions of the unit.
Sec. Lorenzana also commended the successful DPWH-DND TIKAS Program for it has reached great achievements in providing the armed forces with facilities that support their peacekeeping and security roles.
In return, Sec. Villar thanked Sec. Lorenzana for showing commitment towards protecting DPWH infrastructure projects in support of national security especially in Region 8.
With the continued collaboration and commitment of DPWH and DND to the TIKAS Program, the country's armed forces units are envisioned to have complete and modernized facilities that would help them reinforce their military missions and enhance their capabilities in maintaining peace and security all throughout the country and also for the country's infrastructure facilities in conflict areas to be safeguarded to continuously support the government's national development programs.
Also present during the event were DPWH-TCDEO Assistant District Engineer Rebecca G. Yuse in lieu of District Engineer Lino Francisco Gonzalez, DPWH RO8 Regional Director Nerie D. Bueno, Commander of the Philippine Army 8th Infantry Division Major General Pio Q. Diñoso III, Commanding Officer of 546ECB, 53 EBDE, Philippine Army LTC Joel M. Almendral, Regional Director of the Office of Civil Defense ROVIII Lord Byron P. Torrecarion and MAJ Shidie B. Bitanga CHS (PA) Chaplain of 8th Infantry Division of the Philippine Army who lead the blessing of the buildings.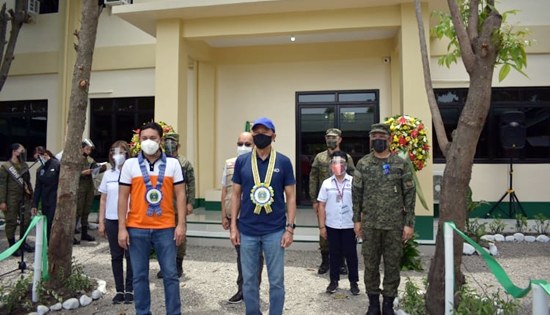 In picture are Sec. Villar, Sec. Lorenzana, MGen. Diñoso, ADE Yuse, OCD ROVIII RD Torrecarion, DPWH ROVIII RD Bueno, LTC Almendral and BGen. Catindoy.
Suspected NPA slain in Eastern Samar clash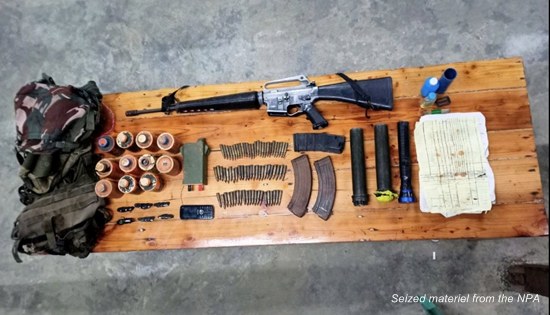 By 78th Infantry Battalion, 8ID PA
August 2, 2021
BORONGAN CITY, Eastern Samar – The operating troops of the 78th Infantry Battalion, 8th Infantry Division, Philippine Army engaged in a firefight against the CPP-NPA Terrorists (CNTs) which resulted to the death of one of their members in Brgy. San Andres, this city, at around 8:00 in the morning of August 01, 2021.
The troops were conducting combat operations in response to the reported complaints of the farmers on the extortion activities by the CNTs involving threat and intimidation if they refuse to apportion their farm produce.
A 35-minute firefight ensued between the army and more or less 7 CNTs that recorded one slain NPA member while there is no casualty on the said operating troops.
Among the seized materiel after the gun battle were one M16 rifle with one long magazine and ammunition, hand grenades (IEDs) and detonators, rifle grenades, one magazine and ammunition of AK47, subversive documents, backpacks and CNTs' personal belongings. There were also series of NPA camps seized before the encounter transpired this morning.
Lieutenant Colonel Oliver C. Alvior, Commanding Officer of 78th Infantry Battalion expressed his grief for the loss of life because of a fraudulent and worthless ideology peddled by the CPP-NPA terrorists.
"I extend my most profound sympathy to the family of the slain rebel. Rest assured that he will be given a decent burial through the help of the City Government of Borongan", said Alvior.
"We call the rebels still fighting for their futile ideologies to overthrow the government. We strongly urge you to lay down your arms and submit yourselves to the government before a needless bloodshed happens. Your families are waiting for you to live a peaceful life with them", Alvior added.
The 78IB will continue to perform its mandate through the cooperation of the community so as to end insurgency in Eastern Visayas.
Water system supply benefit four barangays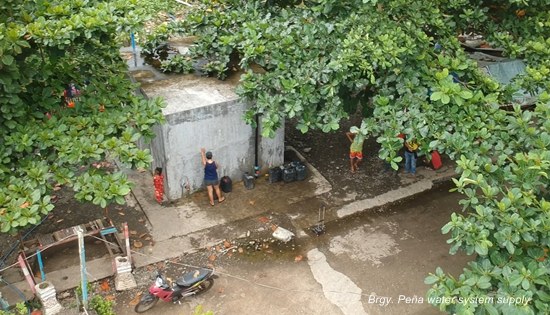 By GISSELLE PARUNGAO
July 30, 2021
CALBAYOG CITY – Four (4) barangays benefitted the water system supply designed and built by Samar First District Engineering Office. This project is drawn from the General Appropriations Act of 2020 with a contract amount of P68.68 million.
A water supply system is installed in Barangay Malayog wherein a total of 3,335-meters pipe was laid out from the water source and six (6) reservoirs were dispersed all over the area. Whilst, in Barangay Peña, a total of 12,717 meters of pipe was placed and eight (8) reservoirs are spread out in strategic areas of the barangay.
Another water system is mounted in Barangay Cag-olango with a total of 1,595-meter pipe with five (5) reservoirs inside the area. Moreover, in Barangay Cagnipa, another 4,658 meters of pipe was aligned with eleven (11) reservoirs.
The water source comes from Lamorin falls (Barangays Malayog and Peña) or a downfall river (Barangays Cag-olango and Cagnipa) wherein a catch basin was made to collect water. High density poly ethylene pipes of different sizes were tapped for transmission of water to all barangays: 6-inch diameter are used from the source to the barangays, 4-inch diameter are used within the barangay and 2-inch diameter to the reservoir. All of the reservoirs are structural concrete with two (2) faucets.
Violeta Delabajan, a resident of Barangay Peña said "the water source here in Barangay Peña before would come from the mountain and most of the time the water is murky during rainy season. A hose would be tapped from a creek in the mountain and into a public area where people can fetch water for the resident's consumption. For those with box wagons, it is easier for them but for those who does not have any, they would carry it with their bare hands. Also, a water pump was dug out through the barangay officials' efforts but it has a foul smell due to the manganese present in the water that cannot be used for cooking or washing clothes. Now that these reservoirs are in place, the difficulty in getting water is now resolved. Water is overflowing and not a problem for Barangay Peña."
P3.2M worth of Kabuhayan packages released in Northern Samar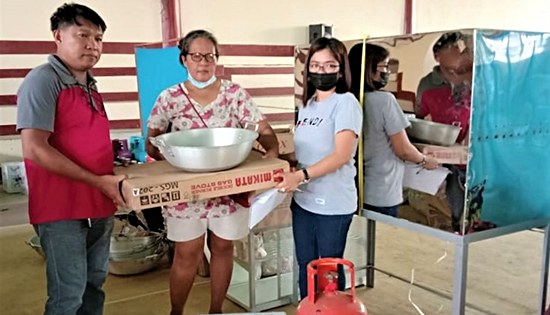 By JEROLD C. AMAGO, DOLE NSFO
July 30, 2021
CATARMAN, Northern Samar – The Department of Labor and Employment Northern Samar Field Office (DOLE-NSFO) here recently released over P3.2 million pesos worth of livelihood projects benefitting some 96 unemployed and disadvantaged workers from the municipalities of Bobon and Catarman.
Formal turn-over ceremonies followed with the actual distribution of project equipment and raw materials were each held on 22 and 23 July 2021 in Brgy. Cervantes, Catarman, and in Bobon, Northern Samar, respectively. DOLE-NSFO Chief and Provincial Head Patria A. Bigcas, Bobon Municipal Administrator Rene Celespara, and Cervantes Punong Barangay graced the events.
The projects consisted of various Kabuhayan packages amounting to a maximum of P30,000 pesos worth of tools, jigs, raw materials, and other equipment for the approved Kabuhayan Starter kits. They include Sari-Sari Store Kabuhayan Package, Food-processing Business, Rice-Retailing, Bakery Production Project, Barbecue Making, Fish Vending, Tailoring, Welding, Piggery and Poultry Raising, among others.
The 96 beneficiaries which were composed mostly of parents of child laborers, were identified and prioritized based on the Child Labor Profiling Program held in 2019 by the DOLE-NSFO in the two municipalities. Ms. Bigcas said the Kabuhayan projects were primarily aimed at helping the beneficiaries create sources of livelihood and thereby enable them to adequately earn incomes needed for their families.
"The immediate and long term objectives of this is to significantly reduce, if not eliminate, the incidence of child labor in the areas," she added.
In his message, Bobon Municipal Administrator Mr. Rene Celespara thanked DOLE for its "continued support to their poverty-alleviation initiatives."
He also emphasized that, while the packages are provided as a grant, he reminded the beneficiaries that the project is part of the efforts between the DOLE and LGU to eliminate child labor, and that by providing parents a sustainable means of livelihood, their children can focus on their welfare, health and education, instead of engaging in hazardous work.
Susan Polinas, 64, farmer and mother of thirteen children from Barangay Cervantes, Catarman, Northern Samar, said that she didn't have a choice but to allow one of her children to work as a paid laborer in a nearby construction. "Life is difficult especially now that we barely have coconuts due to constant typhoons," sighed Polinas.
With the DOLE kabuhayan, however, she hopes that it will help her earn more and provide for the needs of her household.
The DOLE likewise provided the beneficiaries with a crash course on records-keeping to help them sustain their business through proper financial management.
In surveys conducted between 2018 to 2019, more than 80 child laborers were profiled, mostly out-of-school male aged 14 to 17, working in construction, farming and other hazardous occupations. Reasons often cited as to why they sacrifice school and health to earn a living is to support their families by giving money to their parents and buying things for their households.
With the restrictions due to COVID-19 starting to ease, CLP surveys have resumed and are currently on-going.
DPWH road rehabilitation project delivers smooth road to motorists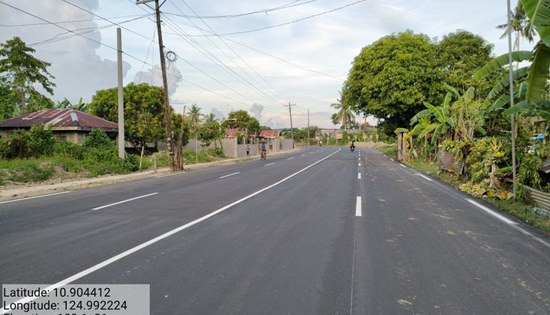 By DPWH 2nd LED
July 30, 2021
MAYORGA, Leyte – With the aim to provide a better road network to the motorists and travelers, the Department of Public Works and Highways (DPWH) -Leyte Second District Engineering Office rehabilitates and upgrades Mayorga-La Paz road section.
The project is located along Barangay Mabini road section in Mayorga, Leyte and has a total length of .592 linear kilometer of asphalt overlay.
"This project will provide convenience to the travelling public and faster movement of vehicles utilizing this road section," said OIC-District Engineer Leo Edward Oppura.
"Aside from improving the ride quality of the commuters, the pavement structure will be strengthened and can withstand occasional overloads without serious damage," Oppura added.
Mayorga-La Paz road section is classified as a secondary road connecting Daang Maharlika in the Southern part of Leyte.
With a capital outlay of P14.55-million under DPWH-General Appropriations Act FY-2021, this project is now completed and utilized by the travelling public.
Regional winners of 2021 Productivity Olympics awarded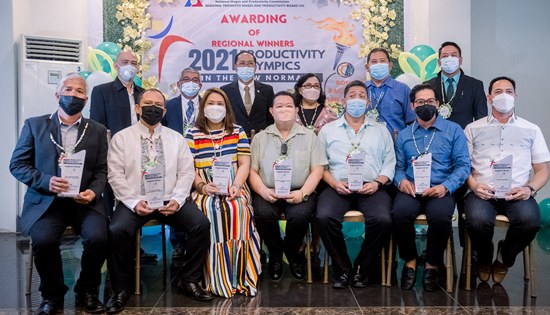 By NORMA RAE S. COSTIMIANO
July 30, 2021
TACLOBAN CITY – With the theme "Bounce Back Better", seven (7) regional winners of this year's Productivity Olympics were awarded by the Regional Tripartite Wages and Productivity Board VIII (RTWPB) on 26 July 2021 at Hotel Costa Brava, San Jose, this city.
Screened and evaluated by the members of the RTWPB on the criteria of business continuity, employee engagement and employee preservation, the following emerged as victorious winners of the region: Leyte Compact Farming Agriculture Cooperative, Stephanie Smoke Haus, Don Orestes Romualdez Electric Cooperative Inc. (DORELCO), Hotel Costa Brava, Eva Marie Arts and Craft, Cantongtong United Youth Association (CUYA) and Northern Samar Multipurpose Cooperative.
Each awardee received a plaque of recognition and a cash prize amounting to P10,000.00.
Director Henry John S. Jalbuena, DOLE-RO8 Regional Director and Chairman of RTWPB, led the conduct of said activity together with DTI Director Celerina T. Bato (Vice-Chair), Atty. Miguel T. Tezon (Labor Sector Representative), Mr. Efren M. Gabriola (Labor Sector Representative), Mr. Orlando C. Uy (Employer Sector Representative) and Mr. Reynaldo Soliveres (Board Secretary).
In his welcome message, Director Jalbuena thanked and recognized the efforts of the regional winners in demonstrating resilience and overcoming difficulties just to preserve employment and contribute to economic recovery.
"I'd like to express my sincere thanks and appreciation to all our winners for striving to overcome all difficulties brought by this pandemic to your respective businesses. With your decision to keep your employees, you are contributing to employment preservation and economic recovery of the region", said Jalbuena.
Ms. Eva Marie Adona-Yu, owner of Eva Marie Arts & Craft, shared her deepest gratitude for the recognition received and regarded it as a blessing and source of inspiration.
"Thanks to this Productivity Olympics for recognizing our hardwork. This is a blessing for us and inspires us more. You are our cheerleader during this pandemic", said Ms. Yu.
Meanwhile, Mr. Allan Laniba, General Manager of DORELCO underscored in his response speech the need to be productive especially during this pandemic.
"This pandemic affected all businesses and we are really doing the best possible way to keep our workers. That's why our mantra now is, If you want to be compensated, be productive", Laniba said.
In closing, Atty. Tezon wished all the best for the regional winners who will be advancing to the national screening.
"You are all winners for us and we wish you all the success in the national productivity olympics", said Tezon.
National winners will be receiving a cash prize of P150,000.00 aside from a trophy and priority to trainings and programs of the National Wages & Productivity Commission (NWPC).
Productivity Olympics is a national competition of best productivity practices of micro, small and medium enterprise (MSME) nationwide.
Desperate NPA terrorists burn construction equipment in Northern Samar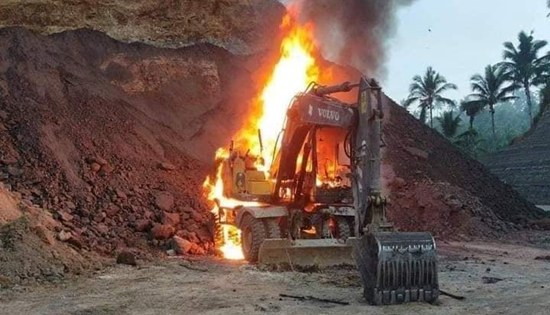 By DPAO, 8ID PA
July 29, 2021
CAMP LUKBAN, Catbalogan, Samar – In a desperate move to derail the efforts of the Northern Samar Provincial Task Force - Ending Local Communist Armed Conflict, the Communist NPA Terrorists (CNTs) burned several construction equipment at around 4:00 a.m. today, July 29, 2021, in Brgy. San Francisco, Las Navas, Northern Samar.
Burned equipment includes a ten-wheeler dump truck, two backhoes, crane, one self-loading vehicle (prime mover), soil compactor, grader, two loaders, and generator set.
The said construction equipment are owned by MDU Construction with more than a hundred employed construction workers in the completion of the road construction project in barangays Quirino and San Francisco, both of Las Navas. The project which is targeted to be completed by end of December this year shall connect the Northern and Eastern Samar provinces in Eastern Visayas.
The information received disclosed that more or less 20 fully-armed CNTs arrived in the area and simultaneously burned the above-mentioned equipment.
Accordingly, the CNTs burned the equipment due to the refusal of the construction company's owner to their extortion demand.
Major General Pio Q Diñoso III, Commander, 8th Infantry Division in his statement said that the recent burning of construction equipment used for road projects in Las Navas clearly shows that the NPA is anti-development, anti-people, and anti-Samarnons.
"This terroristic action has derailed the completion of this vital road project that will connect the Eastern towns of Samar to the rest of the island and make the lives of the people in the area much easier. There could only be one reason for this arson, their demand for money or more money has not been met as contractors have had enough of these terrorists' extortion. Nonetheless, the contractors will not be cowed and have pledged to not give in to terrorists' demands," Major General Diñoso said.
Major General Diñoso also assured the people of Eastern Visayas that the Philippine Army will work closely with these project proponents to ensure that projects of the government will be finished and be delivered to the people at all costs.
"While this setback has been costly, projects will continue and no terrorist will be able to stop us if we will act together against them," MGen. Diñoso added.
DPWH constructs flood control structure to reduce the effects of flood waters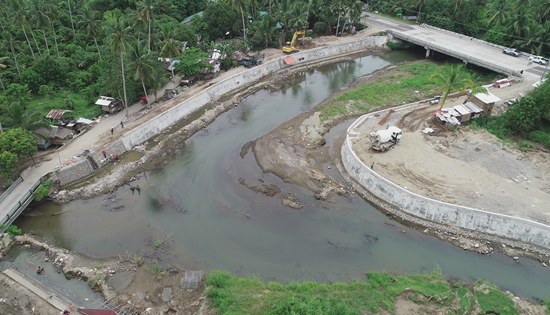 By DPWH 2nd LED
July 28, 2021
MAYORGA, Leyte – The Department of Public Works and Highways (DPWH) -Leyte Second District Engineering Office is currently implementing flood control project in Barangay General Luna, Mayorga, Leyte as part of its mitigating measures against the damaging effects of flood waters as well as to protect the Hibuga bridge structure.
"This project will not only protect the local residents' lives and properties but also the Hibuga bridge structure which is a vital bridge located along Maharlika highway." said OIC-District Engineer Leo Edward Oppura.
The completion of the flood control structure will prevent water influx to the residential areas and mitigate the impact of flooding since the water level in these areas tend to rise up during rainy season which poses threat to low lying barangays.
The project started last March 2021 has a target completion is on or before September 21, 2021.
Funded under General Appropriation Act FY-2021, this P39.86-million flood control project involves the installation structural steel sheet piles with stone masonry works and concrete facing.
Along with this project, the district office is also constructing flood control projects located in Balire River Basin, Barangay Liwayway, MacArthur, Leyte; Binahaan River Basin, Barangay Abre, Dagami, Leyte; Binahaan River Basin, Barangay Balilit, Dagami, Leyte; Binahaan River Basin, K002+847 - K003+622 (Left Side River Bank) & Barangay District 1, Pastrana, Leyte; Daguitan River Basin, Burauen, Leyte.
Samar First improves Nijaga Park in Calbayog City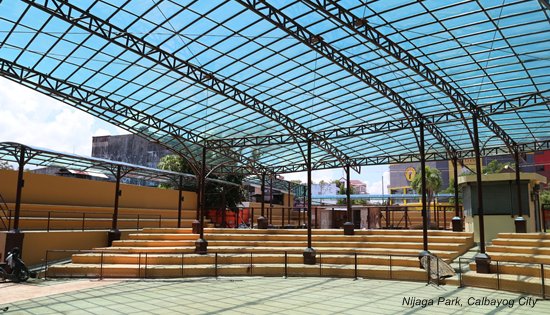 By GISSELLE PARUNGAO
July 27, 2021
CALBAYOG CITY – The city's largest park where town shows are held, was recently improved, said Samar First District Engineering Office.
Nijaga Park was enhanced by installing a steel gate and fence, new concrete bleachers and mounted polycarbonate roofing from the stage to the entire area where benches are built. Drainage and flooring were also enhanced to help water flow around the area.
Adjoining the stage is the City Arts and Culture Office (CACO) building. Improvements are also done inside the CACO building which includes new tiles, the whole building is repainted, and ceiling is replaced.
This project is drawn from the General Appropriations Act of 2020 with a total contract amount of P29.49 million.
The enhancements made in Nijaga Park where talents from CACO showcase their talents will ensure that Calbayog's legacy in the arts will continue on and benefit more generations to come.
Calbayog City is known as the "talent bank capital' of Eastern Visayas – talent development is strengthened through the city's Arts and Culture Office which produces talented individuals through its scholarship programs and technical trainings.
Torrecarion extols aspirant soldiers to fight for peace
By DPAO, 8ID PA
July 27, 2021
CAMP LUKBAN, Catbalogan, Samar – A total of 148 applicants composed of 135 from the regular quota, two special enlisted privates of the Division, and 11 from 53rd Engineering Brigade took their oath as candidate soldiers during the opening ceremony of the Candidate Soldier Course Class 677-2021at 8ID Parade Ground today.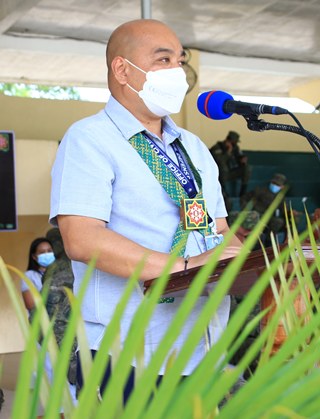 The opening ceremony was graced by the Regional Director of Office of Civil Defense, Regional Office 8, Lord Byron P. Torrecarion, who expressed his appreciation to the 148 candidate soldiers for accepting the challenge of soldiery.
"Before you go through the months of hard training, some of you will work harder than you ever did in your life, some of you will shed more sweat than what is humanly possible, some may even question what they have gotten themselves into. In those times of doubt, dig deep; remember that if you have a dream, don't just sit there. Gather the courage to believe that you can succeed and leave no stone unturned to make it a reality. Because it does not matter how many times you got knocked down, all that matters is you get up each time you fall," Torrecarion said.
The class educational profile consists of 95 college graduates, 38 college undergraduates, one vocational graduate, and 14 senior high school graduates.
Most of the applicants came from the Eastern Visayas region, 101 from Samar Island, 28 from Leyte, 13 from Cebu, three from Biliran, one from Negros Occidental, one from Bohol, and one from Taytay, Rizal.
NMP exceeds annual target in seafarers trained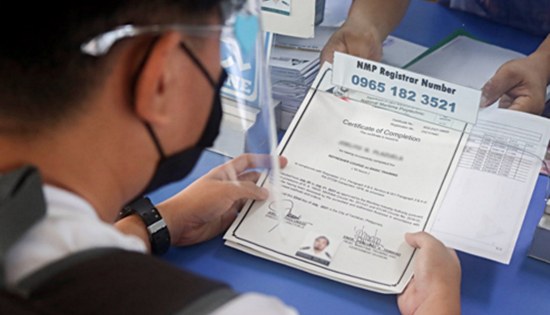 NMP issues Certificate of Completion to seafarer-trainee who completed all training requirements.
Press Release
July 24, 2021
TACLOBAN CITY – The National Maritime Polytechnic (NMP), the only government maritime training and research agency of the country already trained a total of six thousand three hundred (6,300) seafarer-trainees as of 30 June 2021 comprising of aspiring and active seafarers, maritime instructors, assessors and supervisors and other maritime allied personnel. This exceeds the Agency's annual target of six thousand (6,000) trainees trained.
This is a notable accomplishment considering the pandemic-related restrictions being followed by NMP wherein its class intake was reduced to 50% from the previous maximum capacity to effectively observe physical distancing. Likewise, since the start of the pandemic, enrollees at NMP main office located in Tacloban City were limited to residents of Region VIII only and are required to stay at the NMP dormitories within the entire duration of their training.
Trainees availed of the various NMP training course offerings, namely: Deck Courses, Engine Courses, Specialized Courses, Basic Courses and Professional Development Courses.
Contributing significantly to the output performance was the NMP's conduct of online trainings which produced 1,598 certificated trainees equivalent to 25.37% of the NMP's annual target.
"Expediting the transitioning and offering of NMP courses through blended and online mode of learning will not just enable us in keeping pace with the private sector, but would scale-up the availability and accessibility of online and blended maritime programs from the government" said NMP Executive Director Joel B. Maglunsod during the Agency's 2021 Mid-Year Performance Assessment (MYPA) and Re-planning Exercise conducted on 08-09 July 2021.
Said accomplishment is the result of the implementation of 47 training courses during the year and as well as the establishment of linkages and partnership with the Philippine Coast Guard, Agro-Industrial College Foundation College of the Philippines, DMMA College of Southern Philippines, Apostleship of the Sea - Stella Maris Seafarers' Center and different local government units (LGUs) in Region VIII.
Further, NMP started offering blended courses in July 2021 wherein the e-Learning component is conducted online using digital platform while practical exercises and assessment is being held at the NMP practical site.
Meanwhile, interested enrollees to NMP trainings may visit the Online Registration System via reserve.nmp.gov.ph or the agency's Facebook page (www.facebook.com/nmptrainingcenter) where all updates and relevant information on NMP programs are available. Likewise, for information on NMP research undertakings please visit the NMP website and access the e-Research Information System Portal (www.research.nmp.gov.ph) which is designed to disseminate NMP completed researches, present the Research Agenda, and engage the industry stakeholders to collaborate in the research activities.