SBCorp, DBP forge partnership for MSME sector recovery
By DTI-ROG-Small Business Corporation
July 6, 2021
MAKATI – The Small Business Corporation (SBCorp) and the Development Bank of the Philippines (DBP) forged a partnership through a Memorandum of Understanding (MOU) signed on 7 June 2021 at the DBP Building in Makati City. The aim of the partnership is to develop a collaborative approach between the financing programs of both institutions to further facilitate the recovery and sustainable growth of the micro, small, and medium enterprises (MSMEs).
Through marketing segmentation and strategic client referral process, the DBP's MSME Recovery Program and SBCorp's COVID-19 Assistance to Restart Enterprises (CARES) Program, which are both designed to accelerate the recovery of MSMEs, will complement for the purpose of providing a more efficient assistance to their target beneficiaries.
These collaborative strategies will be implemented by reciprocally identifying the institutions' market segments and designing a two-way client referral process which will be based on the asset size of the enterprises pursuant to the individual mandate of the institutions and existing lending guidelines.
DBP President and CEO Emmanuel G. Herbosa said the partnership will serve as a response of the DBP to the needs of their clients with nominal loan requirements and insufficient documentation. "Through this memorandum of understanding, we vow to get our act together to make sure that our programs work to serve the best interest of our target beneficiaries in a more effective and efficient way," he added.
On the other hand, SBCorp President and CEO Ma. Luna Cacanando affirmed that the DBP's MSME Recovery Program is a complementary facility to the CARES Program as both programs offer similar low financing cost features, longer repayment terms and grace period, and collateral-free loan for amounts not exceeding PhP 3.0 million. "The synergies that this partnership will produce will not only be mutually beneficial to our respective institution, but will ultimately go a long way in helping our MSMEs restart and rebrand their businesses," PCEO Cacanando further said.
DBP Senior Vice President Paul D. Lazaro and SBCorp Executive Vice President Santiago Lim also shared their optimism on the potential of the collaboration.
The program interventions developed by the institutions for the MSMEs are pursuant to the enactment of the Republic Act No. 11494 otherwise known as the Bayanihan to Recover as One Act (BARO) which ought to bolster the resiliency of the Philippine economy.
"We must build stronger alliances, not only to ensure the success of our corporate goals but to achieve the collective aspirations of our nation to help our MSMEs survive and ultimately recover from the economic challenges brought about by the national health emergency confronting the country in the past 15 months," PCEO Cacanando added.
konek2CARD reaches one million registered users; BSP congratulates CARD

By CARD MRI
July 2, 2021
SAN PABLO CITY – CARD MRI's mobile banking app, konek2CARD, has reached more than 1 Million registered users as on June 28, 2021 after an aggressive marketing campaign, which was launched first quarter of 2021.
The mobile banking application first saw an increase in user registration in May 2021 with 808,378 users registered on the application. The campaign consisted of various promotions including registration and usage promos and a konek2CARD dance contest that spiced up the campaign even further.
CARD Bank, which initiated konek2CARD in 2016, ushered in the largest number of registrants with 557,913, followed by CARD SME Bank with 273,974, CARD MRI RIZAL BANK with 168,187, and CARD, Inc. (A Microfinance NGO) with 754. The financial institutions of CARD MRI garnered a total of 1,000,828 registrations and counting.
Changing the Way We Live
konek2CARD has changed the way people live in the New Normal by providing a variety of banking transactions to its clients in the comforts of their homes. Among these include checking of savings and loan balance, transferring funds, purchasing e-load, and viewing of mini-statement and transaction history. Agent-assisted transactions such as cash-in (deposit) and cash-out (withdrawal) services through konek2CARD agents are also made possible through konek2CARD. These services bring an added convenience to clients most especially as health and safety protocols should be observed during the COVID-19 pandemic.
With the positive response towards the mobile banking application, CARD MRI Founder and Chairman Emeritus Dr. Jaime Aristotle B. Alip emphasized the importance of konek2CARD in this COVID-19 era and expressed hope even as the pandemic stretches on.
"We are delighted that our clients and communities are embracing our digital initiatives as we prioritize their health and safety amid the pandemic. We continue to be one with the government in ensuring transactions are safe for our clients. I believe that this is the beginning of our fruitful journey as we reach out to more underbanked communities," said Dr. Alip.
CARD MRI Managing Director Aristeo A. Dequito also expressed his gratitude to those who have trusted the mobile banking service.
"As we conform to our government-mandated protocols, we continue to adapt to the new normal with konek2CARD to provide our clients the convenience they need in times like these. We are grateful to our clients for trusting konek2CARD, and we hope that the mobile banking application continues to serve as their companion for their banking needs," said Dequito.
Road to Financial Inclusion
konek2CARD was not only designed to provide safety and convenience to its clients. It also serves as an instrument to financial inclusion. As the platform being used by the four financial institutions of CARD MRI namely, CARD, Inc. (A Microfinance NGO), CARD Bank, CARD SME Bank, and CARD MRI Rizal Bank, the mobile banking service enables them to break the barriers that separate its clients, especially those in the outskirts of communities, from experiencing affordable and well-designed financial services.
According to CARD Bank President and CEO Marivic M. Austria, "Since konek2CARD's inception in 2016, we saw how the mobile banking application changed the lives of our clients and the communities we serve overtime. This is a part of our financial inclusion initiative to make sure no one gets left behind especially during a health and financial crisis such as this."
Through konek2CARD agents strategically placed in neighborhoods, konek2CARD is within reach of CARD MRI clients who need to make their banking transactions. Because of the accessibility of konek2CARD agents, more users saw the need to register to the mobile banking application, contributing to the success of the "Saya ng Buhay, Level App" campaign. To date, CARD MRI has 11,621 konek2CARD agents nationwide.
"Reaching one million registered users proves how vital digital transformation is in our journey towards eradicating poverty," Head of the konek2CARD campaign and CARD SME President and CEO Cynthia Baldeo said. She added, "Our konek2CARD agents, operations staff, and executives are all essential in making this possible."
CARD, Inc. Executive Director Vicente Briones, Jr. also sends his gratitude to konek2CARD agents who have been vital in their operations. "Thanks to our konek2CARD agents, we have created an ecosystem that makes it possible for our clients to conduct their financial transactions even during the weekends without going to our offices. We appreciate how they make our clients' lives more convenient through their work."
In light of expanding their services to provide access to better financial and social development assistance to communities, CARD MRI RIZAL BANK President and CEO Elma B. Valenzuela is also optimistic in overcoming the challenges of financial inclusivity.
"We will not be fazed by the roadblocks that try to exclude the unbanked and underbanked communities in the Philippines. We will eventually reach those in the far-flung communities with our initiatives, especially now that konek2CARD is in place," said Valenzuela.
BSP on konek2CARD
Meanwhile, Bangko Sentral ng Pilipinas (BSP) Governor Benjamin E. Diokno congratulated CARD MRI for reaching 1 million registered users on konek2CARD in a recorded statement.
"We extend our congratulations for reaching 1 million registered konek2CARD users. CARD has been a longtime partner and champion of financial inclusion, and we are glad to mark this achievement with you today," remarked Diokno.
In addition, the current BSP governor and former budget secretary mentioned how it was "fortunate to witness the beginnings of konek2CARD" as "the significant gains in a short period revealed the vast opportunities available to financial service providers when they maximize enabling policies and adopt an innovative financial inclusion-oriented mindset."
In his speech, Diokno also revealed some of the digitalization initiatives included in BSP's Digital Payments Transformation Roadmap for 2020 to 2023. This includes QRPH payments, which will allow payment of goods and services in stores, markets, and even transportation through the use of mobile phones. He also mentioned the Philippine Identification System (PhilSys) which will authorize clients to avail bank accounts and other financial services using the PhilID alone. This will lessen the need to acquire various government IDs and will expedite transactions.
As mobile and internet connections remain to be a constant problem for Filipinos, Diokno also broached the subject of "pushing for mainstream technologies like satellite internet" and making way for more broadband players in the industry.
Finally, the BSP governor remarked how "digitalization can improve the lives of a common man" as he ended his speech with a positive note.
"Indeed, by embracing our financial inclusion mission, we can improve lives and create shared prosperity in ordinary and extraordinary times. And so, to the officers and personnel of CARD Bank, keep up the outstanding work," concluded Diokno.
konek2CARD will continue its mission of serving communities with its digital financial services. It hopes to acquire 2 million registered users by the end of 2021.
Gov't agencies, private sector join force to upskill PH workers through Philippine Skills Framework
By DTI-TPG-Philippine Trade Training Center
June 28, 2021
PASAY CITY – When the nation develops its people, the people develop its nation.
This was highlighted by government agencies and the private sector during the launch and the ceremonial signing of the Memorandum of Understanding of the first Philippine Skills Framework (PSF) Initiative on Friday (25 June 2021), a part of the country's inclusive innovation strategy that targets to equip Filipino workforce with skills mastery and lifelong learning.
Seeing the need to create a framework to upskill, reskill, and prepare the country's human capital to increase their competitiveness, the Department of Trade and Industry (DTI), Philippine Trade Training Center - Global MSME Academy (PTTC-GMEA), and the Technical Education and Skills Development Authority (TESDA) convened nine other government agencies to forge partnership for the Philippine Skills Framework.
Among the government agencies that participated in the PSF are Commission on Higher Education (CHED), Department of Education (DepEd), Professional Regulation Commission (PRC), Department of Science and Technology (DOST), Department of Agriculture (DA), Department of Tourism (DOT), National Economic and Development Authority (NEDA), Department of Labor and Employment (DOLE), and the Department of Information and Communications Technology (DICT).
As the government recognizes the importance of a "whole-of-society" approach to realize this endeavor, they have enjoined industry associations and learning and development institutions in shaping the said framework.
The Philippine Skills Framework builds upon the continuing partnership among national government agencies. It is a product of the memorandum of understanding that DTI and TESDA forged with SkillsFuture Singapore in 2019, during the 50th anniversary of the diplomatic relations between the two countries.
Singapore developed industry transformation maps which provided insights in the impact of technology and jobs, career pathways, skills required for various occupations and reskilling options. Adopting the approach of Singapore, the Philippines is focusing on skills and developing a skills framework for specific industries as part of its Industry 4.0 strategy.
"This is indeed a momentous event as we see an MOU signed in 2019 between the Philippines, represented by the DTI and TESDA, and Singapore, represented by Skills Future Singapore, now seeing tangible results – eleven government agencies in the Philippines, coming together to forge partnership in the development of the Philippines Skills Framework for various sectors witnessed by the our Singapore Institutional partners," PTTC-GMEA Executive Director Nelly Nita Dillera said.
Upskilling needed to innovate Filipino Workforce
In his message of support, Senator Joel Villanueva, who also chairs the Committee on Higher and Technical & Vocational Education said that the launch of the Philippine Skills Framework gives guidance to Filipino workers to the country's priority sectors.
"With the launching of Philippine Skills Framework Initiative today, we are not only expressing or codifying our belief about the value of skills mastery and lifelong learning. We are also taking the lead for Filipinos, especially the youth, to follow. By guiding them to the country's priority sectors and in-demand occupation and skills, they, too, can take action to make their career choices work for them," he said.
"The future of work is already here, even before the pandemic. The COVID-19 only served as an accelerant of trends already well underway, especially in digital technology, artificial intelligence, and even in robotics. Now more than ever, we should help Filipinos navigate their way to success and take advantage of opportunities that lie ahead," Senator Villanueva added.
For his part, DTI Secretary Ramon Lopez emphasized that the need to reskill the country's human capital remains a significant part of the plan to produce a future-ready workforce.
"As we continue with our efforts to grow and develop competitive and innovative Filipino enterprises, the need to reskill and upgrade the skills of our human capital and workforce remains a crucial part of our plans. This is essential so that our industries can increase and sustain their competitiveness under the 4IR and move us closer to our goal of becoming an industrialized nation," he said.
"We aim to achieve better employment opportunities that will provide them with higher income. Skills development is a key pillar of our Inclusive Innovation Industrial Strategy or I3S. This involves the implementation of enhancements of our country's formal education curriculum and improvements in our technical and vocational education training, and refinements in our higher education system, Lopez added.
PSF's whole-of-society approach in tune with PRRD's mandate
In his speech, Secretary Lopez reiterated President Rodrigo Roa Duterte's mandate to involve the whole country – from the government to its citizens – in matters of national importance.
"This also requires the active involvement and support of stakeholders from industry and private sectors to inform and provide the government the need and advice of what the market demands from our workers and potential employees. As such, more than a whole of government, this needs a whole-of-society approach to ensure its success. As President Rodrigo Roa Duterte once said during his inaugural address, anything of national importance [and] significance needs cooperation and support of people," he said.
Technical Education and Skills Development Authority Director General Secretary Isidro Lapena also emphasized that the signing of the Memorandum of Understanding (MOU) signifies the whole society's commitment to develop the country's human resources.
"This Memorandum of Understanding seals our partnership for a whole-of-society participation for human resource development and competitiveness. Through this memorandum of understanding, we signify one commitment: to coordinate and collaborate towards the development of sectors that will guide them in enhancing their skills for a particular job role," he said.
PSF a long-term solution to evolving workforce demands
For her part, DTI Undersecretary for Competitiveness and Innovation Group Rafaelita Aldaba said that the Philippine Skills Framework will help workers be prepared for the future of work.
"The work of the government is crucial in managing the transition process and ensuring that training and skills development is provided to prepare the workforce for the jobs of the future. While past generations of talent could expect linear career progression, the workforce of the future will be required to rapidly learn and relearn new skills as reskilling, upskilling and redeployment define the new normal in the future of work," she said.
Secretary Lapena also believed that PSF is a long-term solution as the country enters the Fourth Industrial Revolution.
"In the long run, we saw how this will benefit Filipinos to raise the standard of our human resources and be better prepared for the Fourth Industrial Revolution," he noted.
Singapore's commitment to the Philippines
While the country is well-prepared to implement the Philippine Skills Framework, Singapore's Ambassador to the Philippines Ambassador Gerard Ho Wei Ho committed to help in the implementation of the PSF.
"The launch of the PSF is a timely and crucial step towards strengthening the Filipino workforce's ability to respond and to adapt to the digital economy in a post-pandemic world. As Singapore is a close friend, we will continue to assist in the implementation of the PSF, not only through the government channels, but also, hopefully, with more collaboration in the private sector," he said.
The Ambassador also thought that the PSF will entice more Singapore-based businesses to invest in the country, as its workforce will be future-ready.
"The PSF will strengthen the case for more Singapore-based businesses to create a greater economic footprint in the Philippines," he noted.
PTTC Executive Director Nelly Nita Dillera added that the Philippines - Singapore partnership went beyond the creation of the PSF.
"This partnership actually worked beyond the Philippine Skills Framework, but we also got to understand the nuances and the challenges confronting the two countries in the implementation of the Skills Framework," she said.
Supply Chain and Logistics Sector first to implement PSF
The Supply Chain and Logistics sector is the first to adopt the PSF, as its own Skills Framework was launched the same day.
The Department of Trade and Industry, Technical Skills Development Authority, and the Logistics Services Philippines were present to sign the Memorandum of Agreement.
The MOA aims to establish a collaborative effort between the government and the logistics services sector in advancing a competitive and future-ready logistics workforce through training and skills development. Specifically, the MOA provides scholarship programs to the logistics services sector on existing TESDA Training Regulations and non-registered programs, as well as collaborate on the formulation of the Philippine Skills Framework for Supply Chain and Logistics.
The PSF will also be implemented in the priority sectors, namely: Construction, IT-BPM, Tourism, Health and Wellness, Food, Manufacturing, and Creative Design industries.
NPA surrenders, army recovers high caliber firearms in Eastern Samar
By 78th Infantry Battalion
June 27, 2021
BORONGAN, Eastern Samar – An NPA cadre in Eastern Samar surrendered to 78th Infantry Battalion and exposed the Communist Terrorist Group's (CTG) arms caches containing high-powered firearms and improvised explosive devices (landmines).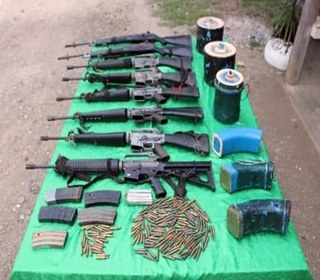 The NPA identified as alias Roel served as the Political Instructor and the Assistant Squad Leader of Squad 2 in the NPA's Guerilla Unit operating in the southern municipalities of Eastern Samar. He voluntarily surrendered to Lieutenant Colonel Oliver C. Alvior, Commanding Officer of 78th Infantry Battalion based in Brgy. Lalawigan, Borongan City, on June 15, 2021. Upon his surrender, he brought with him one (1) 5.56mm M16A1 Rifle, magazines, and numerous ammunition.
Upon his surrender, alias Roel was immediately given the mandatory proper medical and dental care as provided under the Enhanced Comprehensive Local Integration Program (ECLIP) of the government. Citing starvation and fatigue due to constant movement across the hinterlands of Eastern Samar as the primary consideration for his surrender, alias Roel has been successfully convinced to lay down his arm after series of negotiations mediated by Llorente-Gen MacArthur Peace Builder Group (PBG). Their members are former NPAs and supporters of the CTG.
Amazed by good treatment of the soldiers toward him, which is in stark contrast to the lies and fears instilled by his NPA comrades, alias Roel decided to reveal critical information on the status of the said NPA guerilla front. In a statement, he affirmed that the terrorist group had lost most of its manpower as a result of the relentless combat and security operations implemented by 78IB and Eastern Samar Provincial Police Office (ESPPO) as the main operating units under the Peace and Law Enforcement Development Support (PLEDS) Cluster here in Eastern Samar. This constant military operations also disrupted their capability to recruit new members forcing the rebel group to leave excess firearms in their caches through their former contacts in numerous barangays.
Alias Roel, assured of his safety and security by the government, also revealed the location of Communist Terrorist's arms caches in the hinterland barangays of Gen MacArthur, Eastern Samar. Thus, 78IB was able to locate and recover five (5) M16 rifles, two (2) M14 rifles, and six (6) IED main charge components.
In a statement, Lieutenant Colonel Alvior praised the bravery of the former rebel in deciding to surrender his firearm and to pinpoint NPA arms caches. He gave assurance that the government will provide necessary interventions for alias Roel and his family as the latter decided to be law-abiding citizens of the Republic of the Philippines.
"The surrender of alias Roel and the discovery of the NPA arms cache is a manifestation of the effectivity of the Whole-of-Nation approach wherein the collective effort of the TF-ELCACs particularly by the PLEDS and LPE Clusters represented by the Peace Builder Groups, have provided a conducive environment for the remaining active NPAs to surrender. The increasing number of NPA surrenderees and the recovery of numerous firearms and explosives signify that the NPA in Eastern Samar are directionless because their top leaders in Eastern Samar have abandoned their fighters", Lieutenant Colonel Alvior said.
NCCP to US Congress: Pass the PH Human Rights Act now
Press Release
June 26, 2021
QUEZON CITY – The National Council of Churches in the Philippines (NCCP) an aggrupation of Protestant and Non-Roman Catholic Churches commends and welcomes the reintroduction of the Philippine Human Rights Act (PHRA) to the US Congress last June 17, 2021, by US Representative Susan Wild of Pennsylvania. This bill seeks to intervene in the massive and intensifying human rights violations in the country under President Duterte's administration.
"The reintroduction of the PHRA gives hope to the Filipino people whose rights and lives have been ferociously trampled upon by state security forces. We believe that the international community has been vigilantly keeping watch to the bleak human rights situation in the country and we thank churches and human rights organizations in the US for their determined lobbying", said Bishop Reuel Norman O. Marigza, the General Secretary of the NCCP. He added that such vigilance to walk alongside the suffering Filipino people is a concrete manifestation of "bearing witness with us, of love and justice in action, which is the hallmark of Christian living".
The PHRA aims to block security assistance and funding to the Philippines until President Duterte's administration made the necessary reforms to its military and police forces. NCCP hopes this will help in improving the human rights condition in the country. If passed, the PHRA will prevent the sale of arms to the Philippines worth two billion dollars. The sale includes attack helicopters and the additional 126 million dollars worth of assault boats and armaments.
"This Act has been a direct result of tireless work and lobbying efforts of our allies and partners in the US, the churches and grassroots people's organizations, Filipino-American activists and rights defenders who have been working along our side to push for reforms. This is a concrete example of solidarity work being built and strengthened by movement-building, and this movement from the ground up can be a very powerful tool for impacting change" Bishop Marigza added.
We express gratitude to Rep. Wild and to the 13 honorable members of the legislative body who co-sponsors the H.R. 3884," the bishop said. "We pray and call that this Bill be passed without delay in the US Congress. This critical bill can spell life and death for many who are made vulnerable by the policies and actions of the Duterte government, particularly the economically poor and human rights activists. Indeed, acts of solidarity can go a long way", Bishop Marigza concluded.
Two flood control structures erected to protect residents of Calbayog City
By GISSELLE G. PARUNGAO
June 22, 2021
CALBAYOG CITY – A total contract amount of P54.4M is allocated to build two flood control projects in Calbayog City through the effort of the Department of Public Works and Highways -Samar First District Engineering Office.
A flood mitigating structure is erected in Barangay Lonoy, Calbayog City which spans 373 linear meters and a height of (3) meters which also includes a walkway. The structure has a parapet of 0.95 meters which acts as a barrier for the safety of the residents. The scope of work also covers embankment, steel sheet pile foundation, concrete capping and hand laid rock embankment.
Furthermore, same structure is built along Cag-olango Creek in Barangay Cag-olango. It has a length of 109.11 meters on both sides and a height of 3.2 meters. This also has a parapet of 0.8 meters and walkway along the structure.
Flood control structures are used to reduce or prevent the detrimental effects of flood waters. These were built to prevent water overflow and soil erosion along the creeks or riverbanks and has high assurance of safety and health environment of the families living therein.
Emperador now available in Indonesia
By DTI-Foreign Trade Service Corps
June 22, 2021
MAKATI CITY – The Philippine Trade and Investment Center -Jakarta reported that Emperador is now available in Indonesia after months of discussion with importing entities, bringing the taste of proudly Filipino-made alcoholic beverage to the largest ASEAN economy.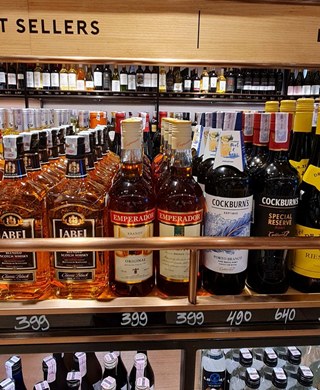 "Emperador is a household name and a global brand, and we are proud to facilitate its entry into Indonesia," said Commercial Attaché Jeremiah Reyes of the Philippine Trade and Investment Center - Jakarta. "We look forward to supporting the growth of local enterprises and bringing more Philippine products to this massive consumer market."
To thresh out the details of Emperador's market debut, Commercial Attaché Reyes met with importers PT Pantja Artha Niaga (PAN) and PT Sumber Anggur Sejahtera (SAS) on June 14. The two importing entities built a sprawling network comprising six wholly-owned distribution channels and eight external distributors covering major Indonesian provinces.
Emperador products is available in Red&White stores, a brand developed by PAN and SAS. There are 84 Red&White stores located across Indonesia, 69 in Jakarta, four in Surabaya, nine in Bali, and one store each in Semarang, Palembang, Ambon, and Gili Island of Lombok.
Alcohol consumption in Indonesia is expected to grow by an annual average of 9.6% YoY from 2021-2025, with spending set to hit USD 8.6 billion (IDR120.5 billion) in 2025, according to Fitch Solutions. Spending will be primarily driven by non-Muslim minorities and the tourist population, particularly in Bali.
"We are excited for the prospects of Emperador in Indonesia and commit to provide all the necessary support to help it replicate its success in the Philippines, here in Jakarta," said Reyes.
"The importers that we're in discussion with have expressed interest to carry more brands from the Philippines into Indonesia. This is a welcome development as we continue to mainstream more brands and show our Make It Happen mindset to the global stage," he added.
Emperador, Inc. is the largest liquor company in the Philippines and the world's largest brandy manufacturer with a portfolio of distilled spirits and alcoholic beverages in 55 countries.