Global demand for plant-based meat to reach USD74.2B in 2027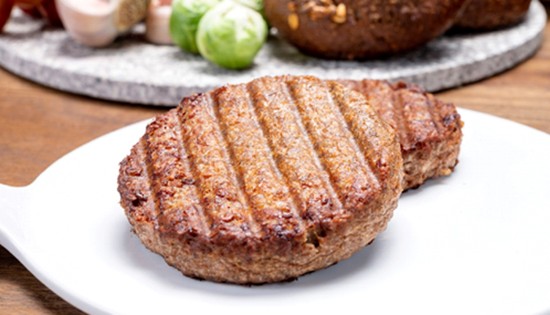 By DTI-TPG-Export Marketing Bureau
June 7, 2021
MAKATI CITY – The global demand for plant-based products is set to reach $74.2 billion by 2027, according to the market research firm Mintel. Hence, the Department of Trade and Industry-Export Marketing Bureau (DTI-EMB) encouraged exporters to ride this trend by becoming manufacturers of plant-based food.
"Promoting Philippine-made plant-based products requires a whole-of-government approach," said DTI Undersecretary Abdulgani Macatoman. "The DTI will work with the Department of Agriculture (DA) to maintain an adequate supply, while also working with our foreign trade posts to secure buyers of our products."
Plant-based food consists of ingredients that include vegetables, fruits, whole grains, nuts, seeds, or legumes. Plant-based meat, in particular, is a popular alternative for vegans and vegetarians.
The demand for plant-based products is rising around the world, not just in Europe and North America. In the Asia Pacific (APAC), the market is expected to be around $30 billion by 2027, at a compound annual growth rate (CAGR) of 18.9%.
According to Mintel, the APAC market growth is due to increasing disposable income, technological innovation in food and beverages, and supportive government policies especially in India, Japan, and China.
Plant-based meat manufacturers are partnering with convenience stores to carry their products. For instance, Hong Kong-based producer Right Treat (maker of Omnipork) and South Korea's Zikooin (maker of Unlimeat) started partnering with convenience stores to use plant-based meat in meals.
FamilyMart Taiwan announced the launch of Omnipork instant meal cups in early 2020. The store chain previously launched plant-based tomato spaghetti and plant-based cheeseburgers. In South Korea, 7-Eleven debuted plant-based burgers, dumplings, and Korean sushi rolls in 2020. The dumplings contain Zikooin's Unlimeat.
In the Philippines, more people are becoming vegans due to the growing awareness of plant-based diets. Century Pacific Food Incorporated (CNPF), the makers of Century Tuna, launched its plant-based meat product unMEAT in February this year.
The company partnered with Shakey's Pizza to use UnMEAT in the restaurant's The Good Burger and is reportedly partnering with more restaurants to carry the product. CNPF also started exporting unMEAT in 80 countries, including China and the United States.
Philippines has abundant supplies of agri-products such as bananas, broccoli, cassava, cauliflower, coconut, mango, mung bean, mushroom, peanuts, soybeans, and sweet potato. The DTI-EMB found that BARMM, Cagayan Valley, Ilocos Region, and Northern Mindanao are the regions where most of these are produced.
Existing and aspiring exporters can email the DTI-EMB at exports@dti.gov.ph to get assistance or information in exporting plant-based and other products.
DPWH-Biliran DEO to implement P278-M rehabilitation of typhoon-damaged infrastructure facilities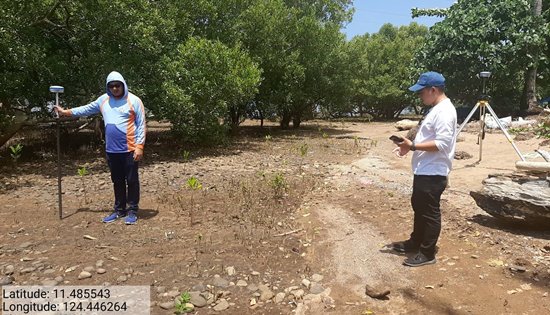 Planning and Design Section survey team conducts survey for the proposed seawall protection project in Brgy. Busali, Biliran town.
By DPWH-Biliran
May 28, 2021
NAVAL, Biliran – The Department of Public Works and Highways (DPWH) -Biliran District Engineering Office (DEO) will implement 11 rehabilitation projects of typhoon-damaged infrastructures in convergence with the Office of Civil Defense (OCD) amounting to P278-M.
District Engineer (DE) Ferdinand A. Briones said that infra projects to be rehabilitated are those damaged by typhoons "Urduja" and "Vinta" in 2017 and typhoon "Amang" in 2019. These projects will be funded under 2021 General Appropriations Act, RA 11518, and National Disaster Risk Reduction and Management Fund (NDRRMF) (Calamity Fund).
According to Briones, four projects are to be implemented in the town of Naval amounting to P82.5M. These projects are the Rehabilitation of creek protection in Brgy. Agpangi, Rehabilitation of Anas river control at Sitio Cogon, Brgy. Larrazabal, Rehabilitation of flood control river at Brgy. Catmon and Rehabilitation of river control protection at P.S. Eamiguel.
Meanwhile, three projects amounting to P73.8-M will be implemented in the town of Caibiran. These are the Rehabilitation of Shoreline Protection at Sitio Katipunan, Brgy. Victory, Rehabilitation of flood Control, Mapula River along Cabibihan Provincial Road, Brgy. Cabibihan and the Rehabilitation of Flood Control Calambis River at Brgy. Victory.
Moreover, another two projects amounting to P55.3-M will be implemented in the town of Biliran. These project are the Repair of seawall protection in Brgy. Busali and the Rehabilitation of flood control at Brgy. Pinangomhan.
Biliran DEO will also implement the P17.5-M rehabilitation of flood control at Bool River, Brgy. Bool in the town of Culaba and P49.1-M rehabilitation of Shoreline Protection at Brgy. Langgao and Brgy. Talibong in Cabucgayan town.
DE Briones revealed that these projects are already bid out and ready for implementation.
"Once implemented, these projects will be regularly monitored to ensure that standard plan and specifications will be followed," said Briones.
P42.8M access road leading to Higatangan lighthouse starts construction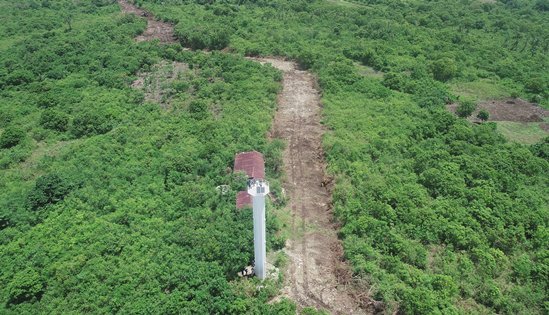 By DPWH-Biliran
May 27, 2021
NAVAL, Biliran – The Department of Public Works and Highways (DPWH) -Biliran District Engineering Office (BDEO) has started the construction of the P42.8M construction of an access road leading to Higatangan Lighthouse, Higatangan Island in Naval town.
DPWH-BDEO technical personnel headed by Engr. Jeorge Malaque, Project Engineer together with project inspectors Engr. Remar Zamora and Engr. Girlie Mhae Llanto inspected the project on May 20, 2021.
According to Engr. Malaque, the roadway has been fully excavated and will soon be paved. This project involves road opening and concreting of 1.3-kilometer two lane road including drainage and slope protection structure.
The location of the Higatangan Lighthouse is the highest point of the island and is one of the tourist destinations in Higatangan, alongside the Shifting Sandbar and Rock Formations. Throughout the night due to the lack of electricity in the island, the lighthouse guides the fishermen back home and serves as guide for sailors passing the Island at night.
Aside from the scenic view from the top, this lighthouse has a historical background. It was said that President Ferdinand Marcos took refuge in this area during the Second World War. Locals named the highest point of the land after Marcos, calling it "Marcos Hill".
Before this project, tourists were keen to walk over one kilometer of rocky, muddy and sometimes slippery wilderness just to see and climb the Parola (the visayan word for Lighthouse) and take picture-perfect photos.
The completion of this project will make it easier for both local and foreign tourists to visit the lighthouse and fully enjoy the scenic view. This also offers a safe path for farmers and livestock. From almost an hour walking time, travel time will be reduced to just 10-15 minutes thru vehicle ride.
Despite the coral sediments under the soil and other difficulties, both the Project Engineer and the contractor remain confident to successfully finish the project on or before the target date. This project is targeted to be completed on October 06, 2021.
NMP extends training to LGU-Hinunangan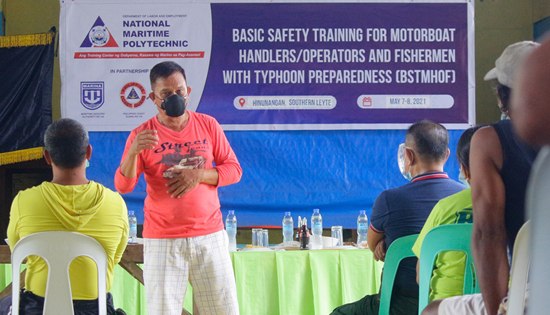 Press Release
May 27, 2021
TACLOBAN CITY – The National Maritime Polytechnic (NMP), in cooperation with the Maritime Industry Authority (MARINA) RO8 and Philippine Coast Guard (PCG) RO8, provided Basic Safety Training for Motorboat Handlers/Fisherfolks (BSTMHOF) to sixty-five (65) selected residents from the Local Government Unit (LGU) of Hinunangan, Southern Leyte on 07-08 May 2021.
In order to minimize face-to-face interaction, the first day of the training, dedicated entirely for lecture, was conducted through an online platform and on the following day, NMP Team headed by Executive Director, Joel B. Maglunsod went to the said municipality for the practical and assessment exercises.
One of the participants was the Municipal Mayor of Hinunangan, who in his talk, expressed his gratitude for NMP's efforts in bringing its training to their municipality and thereby equipping and providing more job opportunities to its constituents. "With this training, the Municipality of Hinunangan will be able to gather its resources and enhance the quality of services we give to our constituents and guests."
ED Maglunsod emphasized the importance of the training. "Ang pagsusulong ng safety of life at sea ay isa sa mga adbokasiya ng NMP. This is taking in cognizant the fact that maritime incidents and loss of lives are sometimes attributed to accidents involving marginalized vessels and motorboats, kaya kailangan na ma-enhance ang basic safety skills of our motorboat handlers/operators and fisherfolks."
Moreover, NMP is in consultation with the Department of Labor and Employment (DOLE) for the possible grant of motorized bancas to various fisherfolks association in the region through the DOLE's livelihood assistance. Said bancas can also be used during rescue operations in times of disasters and calamities.
DE Oppura inspects flood control project in Binahaan river basin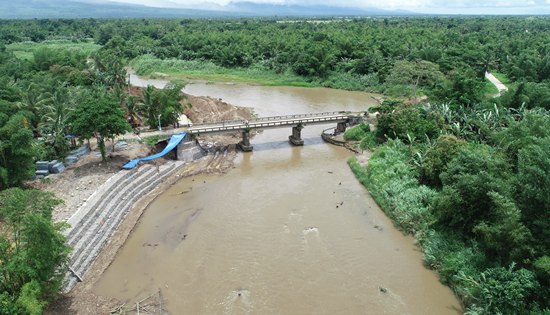 By DPWH 2nd LED
May 27, 2021
DAGAMI, Leyte – Ensuring that project implemented by the Department of Public of Works and Highways (DPWH) -Leyte Second District Engineering Office, OIC-District Engineer (DE) Leo Edward Oppura inspects the on-going construction of Binahaan flood control structure in Barangay Balilit, Dagami, Leyte.
This project will serve its purpose to protect the riverbank from further soil erosion posing damage to Balilit bridge approach and structure. Water running from upper stream piles up and eventually overrunning the sides of the channels.
The P42.3-million flood control structure involves 256 linear meter of gabions in 5.0-meter tall.
Construction commences last March 15, 2021 and expected to be completed on or before December 03, 2021 with 52.33% reported work accomplishment.
For Fiscal Year 2021, the district office will also implement flood control structures traversing Binahaan river basin in Barangay Abre, Dagami, Leyte; K000+850 - K001+513.25 (Right Side River Bank) and Barangay District 1, both in Pastrana, Leyte.
Two flood controls erected along Gandara and Jibatang Rivers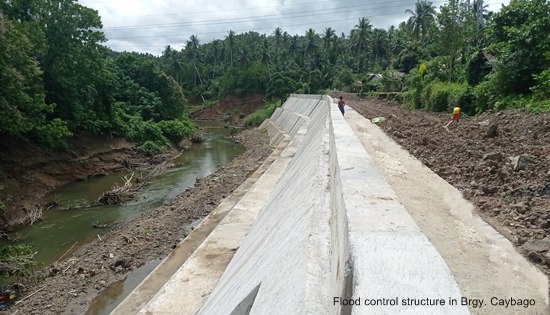 By SUZETTE G. PRETENCIO
May 27, 2021
CALBAYOG CITY – Samar First has recently completed the construction of flood control structures along Gandara River in Brgy. Minda, Gandara, Samar and along Jibatang River in Brgy. Caybago, Calbayog City, Samar. The projects have a total revised contract amount of P27.79 million.
The locals of both barangays are truly grateful for this recent development as it will give them better opportunities in conducting their different social and economic activities.
The flood control in Brgy Minda has a length of 84.23 meters and a height of 1.5 meters. Included is a parapet of 1-meter height and walkway of 1.5-meter width as part of its scope of work. The project shall benefit 1,485 people (according to 2015 census) in the barangay as it mitigates flood around the area.
While the scope of work in Brgy. Caybago covers a length of 106 meters that includes a walkway and a height of nine (9) meters with 0.8-meter parapet. Jibatang River being one of the low-lying areas of Calbayog District will surely benefit more than 82 households living near the river.
The district is beyond ecstatic to give the locals a quality infrastructure that helps improve their quality of life in the spirit of bayanihan and public service.
CMA recognizes CARD NGO microentrepreneur client as Mindanao Regional Winner 2021
By CARD MRI
May 27, 2021
SAN PABLO CITY – The Citi Microentrepreneurship Award (CMA) held a virtual ceremony on May 11, 2021 to award its Regional Winners for its 18th annual national search of outstanding entrepreneurs where CARD, Inc. (A Microfinance NGO) client Rosalyn Espenorio was named Mindanao awardee.
CMA is organized by Citi Foundation together with Citi Philippines, Bangko Sentral ng Pilipinas (BSP) and Microfinance Council of the Philippines, Inc. (MCPI) to push its advocacy of uplifting and acknowledging Filipino microentrepreneurs who contribute to the country's economy by providing employment to their local communities and to inspire other individuals so that they can be a microentrepreneur in the future.
Since 2002 when the annual search began, CMA focused on recognizing small, micro, and medium entrepreneurs who improved their lives through business start-up loans from the microfinance institutions. However, with the changes the country faced in 2020 due to the COVID-19 pandemic, this year's criteria for choosing the winners included how Filipino microentrepreneurs showed resilience, flexibility, and determination to cope with the global health outbreak. This year, CMA received more than 100 nominations from different microfinance institutions in the country.
Rosalyn emerged as the Regional Winner for Mindanao for her various businesses in Antipas, North Cotabato. She owns a bakery, a fish cracker factory, and also engages in fish and vegetable vending. She remarkably showed how Filipino microentrepreneurs could address and embrace the changes brought by the pandemic. She is known as one of the growing microentrepreneurs in the province because of her continuous expansion and discovering new business opportunities that could also help her fellow locals.
"In these trying times, we have to go beyond what we are used to doing. Through the years of being in the business, there's always room for taking risks. By overcoming challenges, we move closer to our dreams," said Rosalyn Espenorio.
Being a client of CARD, Inc. for more than a decade gave Rosalyn the opportunity to avail loans for her to upgrade and expand her businesses. She recalled how she started to borrow PHP 3,000 for her business and soon availed higher loans that enabled her to buy additional equipment, furniture, vehicles, and other materials that she can use. Amidst the health crisis, she maintained a healthy and 100 % repayment performance on her weekly dues.
She explained that CARD, Inc. taught her to become braver and more resilient. The values that the institution pass on to its clients and staff have influenced to her as an individual. "CARD is not only my financial partner but also my mentor that guides and supports me throughout the years. With every decision I made, I'll always go back to what would benefit not only myself but also other people."
Focusing on her business enabled her to become capable of providing the needs of her family. Apart from giving her family a better life, she also provides livelihood and employment to her community. Now, 15 locals from their community work in her various businesses.
Giving back to people
Rosalyn's businesses were among businesses whose operations were temporarily stopped due to the pandemic. She had to follow the safety protocols mandated by the government especially during the stricter community quarantines.
In order to extend her help to her employees, Rosalyn and her family gave relief to them. "I've been through tough situations before. I know how difficult these times are and I want to be there for my employees now that they need me."
Rosalyn concluded that growing up in a simple family made her dream of a better life. Because of her experience and generous character, she became an inspiration to her community that every dream can be achieved with strong determination and compassion.
Commitment to end poverty
"Being in the business for more than three decades, we believe that providing livelihood and employment to the community is possible and we can truly achieve a poverty-free country," said Jocelyn Dequito, CARD Inc. Executive Director.
She concluded that seeing microentrepreneurs succeed in their businesses brings pride to the institution. "We are so happy and proud for what Rosalyn has achieved. She is among our clients in the country that stayed with us through the years and has inspired us to push our charge forward for poverty eradication."
Samar I implements 9 flood control structures in 2021
By GISSELLE G. PARUNGAO
May 26, 2021
CALBAYOG CITY – Samar First District Engineering Office is constructing nine (9) flood control projects with a total appropriation of P343 million sourced out from the General Appropriations Act of 2021.
These flood controls will be erected in the following areas: Along Jibatang River (Upstream), Brgy. Caybago, Calbayog City, Samar; Along Sinidman River (Upstream), Brgy. Sinidman Occidental, Calbayog City, Samar; Along Jibatang River (Upstream), Brgy. Oquendo (Purok 2), Calbayog City, Samar; Along Gandara River (Upstream), Brgy. Pizarro, Gandara, Samar; Along Gandara River (Upstream), Brgy. Hampton, Gandara, Samar; Along Gandara River (Upstream), Brgy. Hiparayan, Gandara, Samar; Along Gandara River (Upstream), Brgy. Sidmon, Gandara, Samar; Gandara River, Brgy. Bangahon, Gandara, Samar; and Along Gandara River (Upstream), Brgy. Tawiran, Gandara, Samar.
All of the aforementioned projects are ongoing except for the construction of flood control project in Brgy. Hiparayan, Gandara, Samar which has not yet started due to its funding which is For Later Release (FLR). All projects are expected to be completed within the year.
Labor Secretary Bello awards P4.8M livelihood grants, leads payout to TUPAD workers in Samar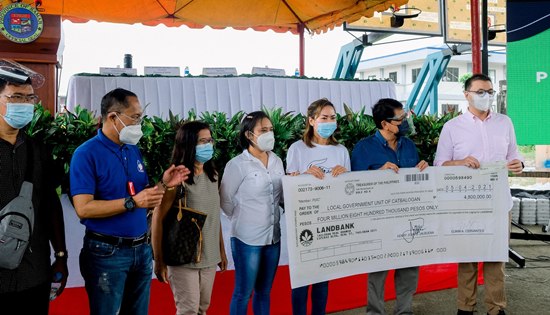 By NORMA RAE S. COSTIMIANO
May 26, 2021
CATBALOGAN CITY – A total of P975,000.00 TUPAD wages have been successfully paid to some three hundred (300) disadvantaged/displaced workers of Hinabangan, Samar on Friday, 21 May 2021 at Brgy. Maulong Covered Court, this city.
Each beneficiary received P3,250.00 as payment for their 10-day service.
Department of Labor and Employment Secretary Silvestre H. Bello III led the said payout together with Undersecretary Renato L. Ebarle, Director Ma. Karina Perida-Trayvilla of the Bureau of Workers with Special Concern (BWSC) and Administrator Hans Leo J. Cacdac of the Overseas Workers Welfare Administration (OWWA). He was assisted by DOLE-RO8 Regional Director Henry John S. Jalbuena and DOLE Samar Provincial Head, Ms. Fe Norma D. Valuis.
Aside from TUPAD, Secretary Bello likewise awarded livelihood grants amounting to P4.8 million pesos to aid some 160 parents and guardians of child laborers from the different barangays of Catbalogan. From the said beneficiaries, twenty-five (25) with employable skills will be referred to the Technical Education and Skills Development Authority (TESDA) to avail of the agency's innovative skills training programs that will generate greater employment opportunities.
Samar 2nd District Representative, Congresswoman Sharee Ann Tan and Governor Reynolds Michael Tan warmly welcomed the DOLE Secretary and his team to the City of Catbalogan and likewise graced the Opening and Awarding Ceremonies up to the pay-out of wages.
Bello extended his greetings and thanks to the beneficiaries and gave them some words of encouragement in this time of pandemic.
"I am very pleased to be here today to see your smiling faces. May this help from our government brings hope to you and your families and somehow ease the burdens you are experiencing because of the pandemic", said Bello.
The labor chief likewise thanked the active leaders in Samar for supporting the DOLE programs and implementing the same in the province for the benefit of more workers.
"Let me thank from the bottom of my heart Congresswoman Sharee Ann Tan and Governor Reynolds Michael Tan. Because of your relentless support, we are able to reach and benefit more people with our livelihood and employment programs," Bello added.
Also in attendance during the payout were Vice-Mayor Clarito Rosal and SB Councilors of Hinabangan, DOLE-Technical Support Services Division Chief Edgar B. Tabuyan and the team of DOLE-Samar Field Office. (with reports from Kirstine Orara-DOLE SFO)
Samar First constructs multi-purpose buildings in Samar Islets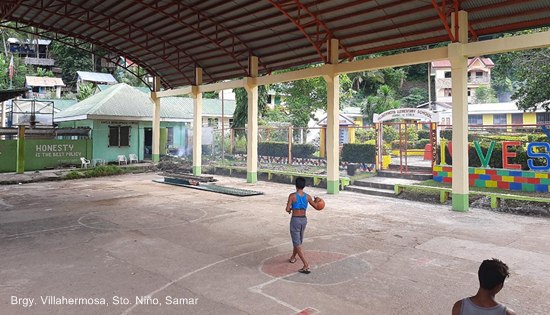 By SUZETTE G. PRETENCIO
May 26, 2021
CALBAYOG CITY – Samar First constructs four (4) multi-purpose buildings in Samar islets drawn from the General Appropriations Act (GAA) of 2020.
Brgy. Ilijan, Sto. Niño, Brgy. Pulang-bato, Tagapul-an, Brgy. Kerikite, Almagro, and Brgy Villahermosa, Sto. Niño, Samar are among the islets in Samar who benefitted these multi-purpose buildings.
The district completes the first phase of construction of multi-purpose buildings in Brgy. Ilijan with P4.73 million contract amounts, Brgy. Pulang-bato with P2.82 million, and Brgy. Kerikite with P4.68 million. More than 2,151 residents will soon feel the benefits of the projects once these are completed. Moreover, the second phase of construction of these buildings are already on-going and is part of the 2021 projects awarded to the District and nearing its completion.
Multi-Purpose building is essential to these areas as it can be utilized as evacuation centers minimizing the use of schools during calamities. Additionally, it can also be used as venue for different community and social work activities and programs.
The second phase of multi-purpose in Brgy. Villahermosa, Sto. Niño, Samar with contract amount of P2.84 million on the other hand is already completed and erected. More than 996 residents are very pleased by this recent development in their barangay and are now enjoying the full benefits of this project which includes sports activities and other events in the barangay.
DPWH-Biliran DEO proposes P2-B for 2022 infra projects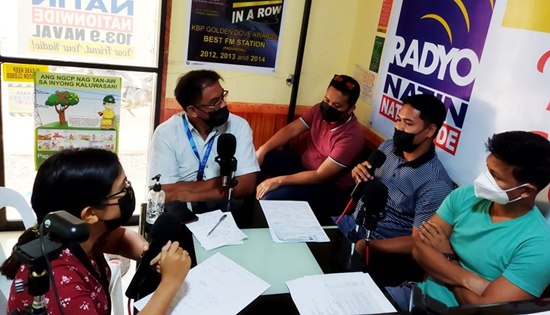 DPWH-Biliran District Engineering Office represented by Engr. Supremo Victor D. Sabitsana (wearing blue green shirt), Engr. Eddeli G. Nedruda (wearing stripe polo shirt) and Engr. Dindo R. Delis (wearing red) discuss during PIA's Pulong-Pulong ng Bayan Radio Program at Radyo Natin Fm on May 13, 2021 the accomplishment of CY 2021 project implementation, proposed projects for CY 2022 and maintenance activities done by Biliran DEO.
By DPWH-Biliran
May 24, 2021
NAVAL, Biliran – A total of P2.425-B has been proposed by the Department of Public Works and Highways (DPWH) -Biliran District Engineering Office (DEO) for implementation of various infrastructure projects for year 2022.
In an interview with PIA's Pulong-Pulong na Bayan program at Radio Natin-Naval, Engr. Eddeli G. Nedruda revealed that the district office thru the Planning and Design Section has already identified priority projects next year.
According to Nedruda, major projects up for implementation are the repair of roads, construction of drainages along national roads, construction of flood control and the construction of slope protection structures.
Biliran DEO will also implement infra projects in convergence with the Department of Tourism (DOT) and the Department of Trade and Industry (DTI) for the construction of access roads leading to declared tourism destinations and roads leading to trades, industries and economic zones.
Nedruda revealed that the district office has also prioritized the implementation of the second phase for the construction of Naval Diversion Road (Riverside to Brgy Sto. Niño), Naval, Biliran and Pawikan to Esperanza Diversion Road, Brgy. Cabucgayan, Biliran.
Moreover, another two diversion road projects will also commence next year that will decongest traffic along the main highway of Naval. These projects are the construction of Calumpang to Atipolo Diversion Road and Naval Terminal to Atipolo Diversion Road.
Road widening projects along Biliran Circumferential Road are also one of the top priority projects of the district office.
According to Nedruda, the construction of a P250-M parallel Biliran Bridge is another major infrastructure to look up in 2022. He said that this will be constructed beside the existing Biliran Bridge and will be undertaken by the DPWH Central Office.
Meanwhile, under 2021 project implementation, Engr. Supremo Victor D. Sabitsana, Assistant Chief of the Construction Section reported thru the radio program that of its 108 infra projects, 69 are already on-going, 18 are classified as "For Later Release" (FLR), seven (7) projects are for modification while 14 projects are already completed. These projects include eight (8) flood control, two (2) multi-purpose buildings, two (2) road concreting, one (1) seawall project and one (1) widening of local road.
Engr. Dindo R. Delis of the Maintenance Section also reported that the maintenance team has already started de clogging of drainage canals along the national highways in preparation for the upcoming rainy season to avoid flooding.
Two flood controls erected to protect flood-prone areas in Calbayog City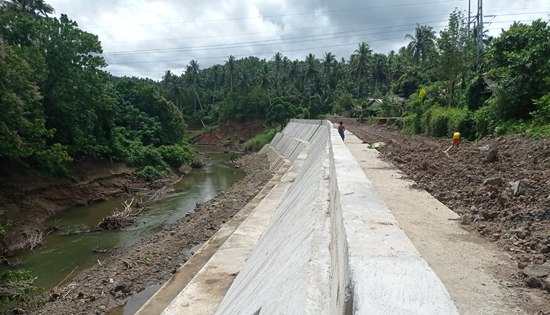 By GISSELLE G. PARUNGAO
May 24, 2021
CALBAYOG CITY – Two flood control structures drawn from the General Appropriations Act of 2020 are built along flood-prone areas said Samar First District Engineering Office.
A flood control structure is erected in Barangay Caybago along Jibatang River which spans 108 meters and a height of nine (9) meters. The scope of work covers a walkway and parapet with a height of 0.8 meters.
Likewise, another flood control structure is built in Barangay Bantian along Bantian Creek with a length of 204.55 linear meters with a height of 2.5 meters. A walkway of the same length is part of the scope of work which allows access for residents as passage or path for walking and a parapet of 0.8 meters.
These structures are made to protect the lives and properties living nearby as well as make it flood-resilient. This will also reduce or prevent the detrimental effect of flood waters.
Both structures have a total contract amount of P26.6 million. This will benefit more than 1,800 population living therein.
DPWH builds flood control structures to safeguard lives and properties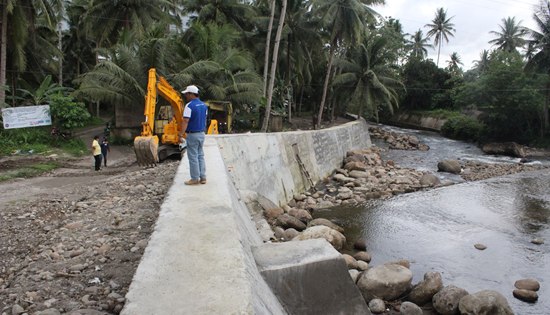 By DPWH 2nd LED
May 21, 2021
TUNGA, Leyte – Natural disasters are inevitable but their impacts can be mitigated through preventive measures such as flood control structures built by the Department of Public Works and Highways (DPWH) -Leyte Second District Engineering Office measuring 322.70-linear meter along the riverbank of Naliwatan river in San Vincente, Tunga, Leyte.
"It is necessary to construct flood control structures to protect the lives and properties living nearby the Naliwatan river, it poses danger during onslaughts of flood caused by heavy rainfall," said OIC-District Engineer Leo Edward Oppura.
During his project inspection he said that disasters inflict great damage, destructions and devastations to lives and properties, thus mitigation measures should be an utmost priority of the department.
The P11.72-million flood control structure stand at 3.80-meter tall of stone masonry works to protect the riverbank from further soil erosion due to water scouring.
Tunga has two (2) major rivers and are about 200-meter apart from each other. Water flows from the mountains of south eastern part barangays of Carigara towards Barugo in northwest direction passing the poblacion and three barangays of the municipality of Tunga.
Municipality of Tunga is bound on the northeast of Carigara, south of Jaro and northwest of Barugo.
DPWH pours road concreting projects linking barangays in the town of Jaro, Leyte
By DPWH 2nd LED
May 21, 2021
JARO, Leyte – The Department of Public Works and Highways (DPWH) -Leyte Second District Engineering Office poured-out road concreting projects in this town linking interior barangays to provide better access roads to the local populace.
Among these projects were the construction of roads worth P9.5-M in Brgy. Pange to Brgy. Batug; P19.8-M in Brgy. San Agustin to Brgy. Hibunawon to Brgy. Parasan; P9.8-M in Brgy. Uguiao - Brgy. Tinambacan; P9.4-M in Brgy. Buenavista, Brgy. Tinambacan to Brgy. Uguiao; P18.6-M in Brgy. Canapuan to Brgy. Bias Zabala to Brgy. Canhandugan and P4.7-M in Brgy. Sto. Niño.
The P71.8-million total contract amount will concrete 11.819-lane kilometer traversing these barangays.
"Road conditions traversing these barangays are worse especially during wet season, hampering local residents to go to the public market to deliver their farm produce or to buy their daily basic needs," according to OIC-District Engineer Leo Edward Oppura.
"Out of the six (6) road concreting projects, three (3) were completed while the remaining projects are nearing its completion. Once fully completed, burdens of local residents in travelling will be eased especially that their primary mode of transportation are motorcycles," Oppura added.
These road projects were funded under General Appropriations Act (GAA) CY-2020 & 2021.