Good food and a thriving business success story straight from the heart of the Philippines
By DTI-Regional Operations Group
July 23, 2021
MAKATI CITY – The small island of Marinduque is famously known for its Moriones Festival, an annual Lenten festival observed during the Holy Week. But the beauty of the province's culture and heritage doesn't end there.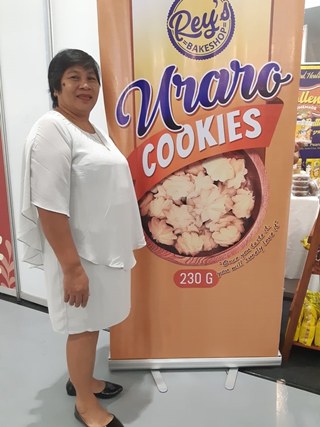 Mrs. Felisa Pedernal-Rey during DTI MIMAROPA's MIMAROPA Naturally Agri-Trade and Tourism Fair 2018 where they joined as one of the exhibitors.
Marinduque is also top of mind when it comes to arrowroot or uraro cookies. But for a small island brimming with ingenious entrepreneurs in this industry, how does one keep afloat?
"Business does not only make you rich but it also makes you strong, innovative, and persevering to leave a legacy that your children can inherit in the future," inspiring words from Mrs. Felisa Rey, owner of Rey's Bakeshop in Sta. Cruz, Marinduque.
Rey's Bakeshop formerly known as Josel Rodil's Bakery was established in 1987 by Mrs. Josefa Rodil. As a Home Economics teacher, Mrs. Rosil used to attend different seminars, especially on food processing until she came up with her version of arrowroot cookies. After her retirement in 1992, the small home-based business moved into a separate bakery shop. Their offer other pastries and bread aside from arrowroot cookies.
The business started with two (2) full-time employees: Mrs. Felisa Pedernal-Rey (adopted child of Mrs. Josefa Rodil) and her husband Mr. Rolando Rey who served as the marketing arm and production staff of the business. What started as a simple home business turned into one of the province's all-time favorites as they offer their cookies around Marinduque.
With the couple's hard work and perseverance, in 2014, Josel Rodil's Bakery was transferred to Mr. Rey and was then renamed Rey's Bakeshop. The bakeshop was able to support the needs of their family. It was in 2017 when their daughter Ms. Eunice Rey quit her corporate job abroad and helped them in managing the business.
As the industry gets more saturated in time, the daughter, Eunice, decided to join the second batch of the Department of Trade and Industry's (DTI) Kapatid Mentor Micro-Enterprise (KMME) program in 2018. KMME is a mentorship program designed by DTI as a mini Masters in Business Administration course, offered free for entrepreneurs to level up their businesses.
From then on, Rey's Bakeshop has been included in DTI's different programs such as the One Town, One Product (OTOP) where they availed free services such as laboratory testing for Nutrition Facts, new label and packaging, Trademark registration with the Intellectual Property Office (IPO) and barcode registration to GS1 Philippines. She also joined local trade fairs such as the Marinduque Expo and MIMAROPA Naturally, among others. She participated as well in different DTI seminars such as SGS Kaagapay sa Negosyo Program, Traceability, eCommerce, and Good Manufacturing Practices and Sanitation Standard Operating Procedure.
From a P200 starting capital, its assets increased to P3 Million and its manpower grew with ten (10) full-time and five (5) part-time employees. Its annual sales of P100,000 also increased to P1.5 Million.
But as the business was growing, it was in 2019 when the family faced one of, if not, the biggest hurdle in their life with the passing of the late Mr. Rolando Rey. Ms. Eunice took over the business with the supervision of her mother.
With DTI's assistance, Ms. Eunice started to prepare the technical requirements, and the production facility applied for the Food and Drug Administration License to Operate (FDA LTO) and is now waiting for the result.
As an answer to the pandemic, Rey's Bakeshop started selling its products online through different e-Commerce channels. Through the use of social media, Rey's product reached other provinces such as Laguna, Cavite, and even some parts of Metro Manila. Moreover, the small farmers in their community became the backbone of the business to answer the insufficient supply of raw materials.
The transformation of Rey's Bakeshop is a testament that perseverance, innovation, and being strong-willed run in the culture of Marinduque. And that the transfer of legacy from generation to generation transcends biological family ties.
NMP accepts enrollees online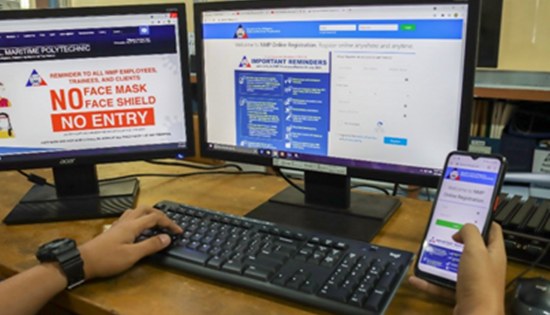 Press Release
July 21, 2021
TACLOBAN CITY – In order to provide convenient and accessible enrollment process to its trainings and services, the National Maritime Polytechnic (NMP), in accordance with the MARINA Advisory 2020-36 encouraging the use of contactless payments for enrollment, launches an Online Registration System via www.reserve.nmp.gov.ph on July 5, 2021.
NMP enrollees may choose their desired Training Courses and schedules and upload the required documents in the system. After validation by the NMP Registrar and provided that complete requirements were submitted, enrollees are emailed with an Order of Payment reflecting the fees to be paid and are given two (2) working days to settle the payment. The last step is uploading the Proof of Payment in the system for validation. Once found in order by the NMP Cashier, the enrollees will receive a Proof of Registration (POR) in their registered email addresses and are advised to come to NMP on the 1st day of their scheduled Face-to-Face training and/or 1st day of the practical exercise & assessment for Blended Learning.
"Seafarers can now easily enroll in NMP's courses simply with finger taps which will save their time, money and effort rather than coming personally to NMP," Executive Director Joel B. Maglunsod quoted.
This system for contactless registration and payment is in response to the need for less personal contact, thereby, mitigating the spread of the Covid-19.
Also, in support to the above premise, NMP offers Online Courses such as Consolidated MARPOL 73/78 (CONSO-MARPOL), STD/HIV/AIDS Prevention in the Maritime Sector (SHAPIMS) for Non-BT Trainees, Prevention of Alcohol and Drug Abuse in Maritime Sector (PADAMS) for Non-BT Trainees and Gender Sensitivity Training for Seafarers (GSTS).
Blended Learning are also provided for the following courses: Oily Water Separator (OWS), Basic Training for Oil & Chemical Tanker Cargo Operations (BTOCTCO), Advanced Fire Fighting (AFF), Basic Training (BT) with PADAMS, SHAPIMS & GSTS, Survival Craft and Rescue Boats other than Fast Rescue Boats (SCRB) & Updating Training on Basic Training (BTU).
Meanwhile, NMP continues to conduct face-to-face trainings exclusively to the seafarer-trainees residing within Region VIII, imposing strict implementation of the Maritime Industry Authority's (MARINA) approved Post-Enhanced Community Quarantine Operational Plan and other health and safety protocols as required by the Department of Health (DOH), Department of Labor and Employment (DOLE), and local government unit (LGU).
Those interested to take NMP training programs may visit the NMP website (www.nmp.gov.ph) and its Facebook page (www.facebook.com/nmptrainingcenter) where all related information on NMP trainings including its online classes are available.
Accordingly, those interested in NMP research undertakings may visit the NMP e-Research Information System Portal (www.research.nmp.gov.ph) which is designed for gathering inputs for NMP's research, dissemination of NMP completed researches and other articles pertaining to maritime research.
DPWH completes construction of local road amounting to P8.6-M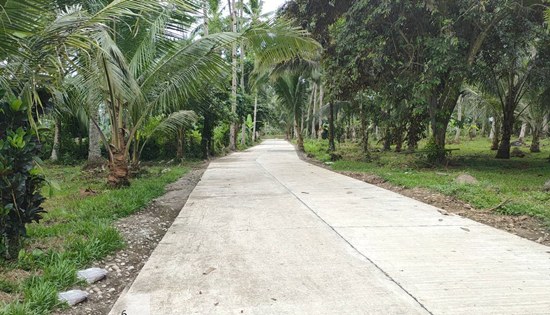 By DPWH 2nd LED
July 21, 2021
MAC ARTHUR, Leyte – Residents of Barangay Batug, Mac Arthur, Leyte are now utilizing the newly concreted road after the Department of Public Works and Highways (DPWH) -Leyte Second District Engineering Office completed the construction of .902-linear kilometer road concreting project.
The .902-linear kilometer concreted road having a width of 5-meter and box culvert will provide a better access road and transportation of goods will be faster and fare cost will be lesser.
According to OIC-District Engineer Leo Edward Oppura, this road is very useful to the local residents considering that agriculture and livestock are their main source of livelihood. Delivery of their products down to the markets and the consumers will be easier.
The project which costs P8.6-million is under DPWH General Appropriations Act - FY-2021 Local Infrastructure Program – Local Roads.
Aside from this project, the district office is also constructing road concreting project in Barangay Maya to Romualdez, Mac Arthur, Leyte with a construction cost of P11.64 million.
P17.71-M road concreting project links 2-barangay in Dulag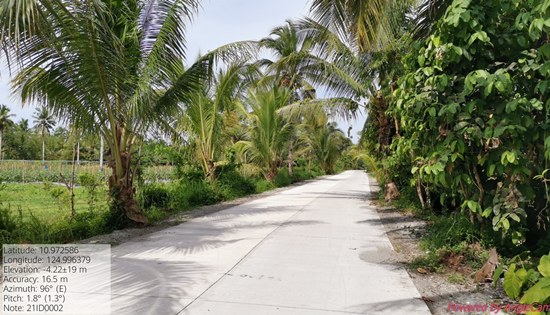 By DPWH 2nd LED
July 16, 2021
DULAG, Leyte – Residents of Barangay Calipayan and General Roxas can now utilize the P17.71-million road concreting project constructed by the Department of Public Works and Highways -Leyte Second District Engineering Office.
"The district office prioritizes the construction of these roads to give comfort to the local residents and the travelling public especially that their primary mode of transportation are habal-habal (motorcycle taxis)," said OIC-District Engineer Leo Edward Oppura.
The 2.93-lane kilometer concrete road will help alleviate the lives of the community and will boost small-scale farmers and encourages them to be more productive. Farm produced and livestock can easily be transported to the nearest public.
The P17.71-million road concreting project started its construction last March 08, 2021 and was completed on July 10, 2021 under DPWH General Appropriations Act - FY-2021 Local Infrastructure Program – Local Roads.
Small Business Corporation continues to help MSMEs restart via online loan financing
By DTI-ROG-Small Business Corporation
July 16, 2021
MAKATI – Small businesses looking to restart their operations during the pandemic may still apply for interest-free, collateral-free government loans by creating an account at www.BayanihanCARES.ph.
With just a few keystrokes and mouse clicks, small business owners can type in their pertinent details and upload scanned identity and business documents on the website, which is maintained by the Small Business Corporation (SBCorp), an attached agency of the Department of Trade and Industry (DTI).
SBCorp is the program implementer of the Bayanihan CARES (COVID-19 Assistance to Restart Enterprises), which makes P8.08 billion available for micro, small, and medium enterprises (MSMEs), cooperatives, hospitals, tourism businesses, and repatriated or displaced Overseas Filipino Workers (OFWs) affected by COVID-19 pandemic.
Under the program, qualified loan applicants can apply for loans ranging from P10.0 thousand up to P5.0 million, depending on their pre-pandemic sales and business assets figures, if applicable.
These loans are payable up to a maximum of four (4) years, inclusive of a maximum grace period of 12 months for Non-Tourism MSMEs, or a maximum grace period of 24 months for Tourism MSMEs accredited by the Department of Tourism (DOT) or registered as Barangay Micro Business Enterprise (BMBEs). Successful loan applicants will only need to pay a one-time service fee, set at a maximum of eight (8) percent for a four-year loan term. Lower service fees apply to shorter loan terms.
SBCorp also enhanced its requirements to enable more MSMEs to benefit from the highly concessional loan terms under the program. For instance, MSMEs that have been operational for at least one (1) year as of their date of application may now qualify for the loan. SBCorp's previous requirement was for MSMEs to be operational for at least one (1) year before 16 March 2020 when the community quarantine was imposed in the country. This is in recognition of the fact while most MSMEs chose to adapt to the new operating environment, some have chosen to pivot to or establish entirely new businesses.
The Bayanihan CARES Program also has a special window for tourism and travel-related industries (CARES for TRAVEL) with a fund allocation of P4.0 billion, and a start-up loan program for repatriated or displaced OFWs who want to start their own businesses (CARES for HEROES).
To date, SBCorp has approved 31,700 MSME loan applications. These correspond to a total loan amount of P4.84 billion.
It is important to emphasize that SBCorp is focused solely on helping make funds available for small business owners, according to its President and Chief Executive Officer Ma. Luna E. Cacanando. And during the pandemic, that focus didn't change, Cacanando said.
"SBCorp operates on the principle that we should not duplicate what the mainstream players in MSME finance are already doing," she said. "We do not compete with what is already working in the market. What we need to do is fill in the gaps for small businesses that banks and lending companies do not yet find attractive to finance relative to their profit objectives and cost management thresholds. We develop and operate our financing programs for MSMEs along these lines."
And just like every other organization, SBCorp has been disrupted by the pandemic.
But instead of being paralyzed by the lockdown, it was able to slowly transform itself, Cacanando said.
Between March and May last year, the organization "went through a deep rethinking on how to safely provide quick financing response to affected small businesses which we knew will increase in great numbers as the pandemic crisis is prolonged," Cacanando said.
She added: "We had to strategize how to design, develop and fund the IT application systems and IT connectivity that we needed to put in place. The challenge was heightened by the need to limit most of our meetings to online venues, instead of the usual face-to-face environment which allows for more interactive brainstorming. And we had limited IT equipment in the beginning relative to the emerging scale of digitization required."
Nowadays, its financing programs – including Bayanihan CARES – are fully electronic and fully operational, according to Cacanando.
As a result, the agency's MSME borrowers no longer need to go to its offices, unless they request it.
As it celebrates its 30th anniversary this year, SBCorp looks forward to enhancing its relationship with its stakeholders, the small business owners.
"SBCorp's greatest accomplishment to date is its attitude of oneness with the MSME sector. Together with our mother agency, the DTI, we understand the strengths and weaknesses of MSMEs, and the threats and opportunities confronting them," Cacanando said. "Moreover, we understand our responsibility of helping level the playing field in their favor. Thus, with all modesty, we serve as their strong and able advocate."
CARD MRI announces Grand Winner of nationwide art contest for clients

The CARD members of Mabentagen C-1, together with their Account Officers, received their certificate and prizes in winning first place in the Bahaginan 2021 Poster and Slogan Making Contest.
Press Release
July 15, 2021
SAN PABLO CITY – Among 112 entries from Luzon, Visayas, and Mindanao, Luzon candidate Mabentangen Center 1 from CARD, Inc. (A Microfinance NGO) was hailed the grand winner of Bahaginan Ngayong 2021 poster and slogan making contest after advancing as an institutional winner during the awards ceremony on July 7, 2021.
With the winning slogan, "Hawak-kamay sa hamon ng buhay, ang CARD MRI kaagapay tungo sa tagumpay", Mabentangen 1 bagged P15,000 for their Center, P5,000 for their Unit, a digital certificate of recognition, and Mga Likha Ni Inay and BotiCARD products worth P3,000 each.
"We would like to bring back all the glory to God," a representative from Mabentangen 1 said. He continued, "The concept was formed according to the theme: our center's journey with CARD MRI. Our goal is to show the relationship between CARD MRI and its members and how we hold each other's hands to help those in need. This served as an inspiration for us to strive harder and trust that nothing is impossible in life when we believe. We are thankful for CARD MRI as our ever-present partner in our success."
Three centers also emerged as the institutional winners of this year's Bahaginan with Luzon participants Paypayad 2 from CARD Bank and Subic Paradise from CARD SME Bank. Mindanao candidate Balanggay Center from CARD MRI RIZAL BANK also won the contest. The institutional winners bagged P10,000 for their Center, P3,000 for their Unit, digital certificate of recognition, and Mga Likha Ni Inay and BotiCARD products worth P1,500 each.
Ugnayan at Kwentuhan
Bahaginan Ngayong 2021 was one of the activities conceived from the Ugnayan and Kwentuhan project which aims to bridge the distance between CARD MRI and its clients during the pandemic. Aside from conducting phone conversations with both the members and staff, it also intends to build a connection with the members by giving them an avenue to showcase their talents and capabilities during the pandemic.
"Because our Account Officers could not conduct center visits like usual due to the health and safety protocols amidst the pandemic, we thought of a way to maintain our connection with our members. We also thought of a project that will exhibit their talents, and Bahaginan is one of them," CARD MRI Managing Director Aristeo A. Dequito said in his welcome remarks during the Bahaginan awarding.
He added that among other activities to look forward to include an online poetry contest entitled "Tugma at Titik", jingle-making contest, and talent show.
Meanwhile, CARD MRI Founder and Chairman Emeritus Dr. Jaime Aristotle B. Alip also gave an inspirational message during the event. "One theme dominates every poster that we've seen, and that is how CARD MRI ushers its clients out of a rough and unsteady road. This remains to be the mission of CARD MRI, to move them out of the claws of poverty and to encourage them to start over."
Finally, Senior Management Adviser Dr. Dolores M. Torres, who heads the Ugnayan at Kwentuhan Program, concluded the event with a reassuring statement for all the members in virtual attendance.
"We are opening our hearts to you, our dear members. There is nothing that can separate our relationship with you and your family. We will continue listening to your inspiring stories and be a witness to your journey as you start from the bottom up," Dr. Torres said.
Bahagi Ako Digital Exhibit
In celebration of Bahaginan Ngayong 2021, CARD MRI Publishing House curated the Bahagi Ako Digital Exhibit which revealed the artworks of the 29 regional winners and 9 finalists of the online slogan and poster making contest.
Enforcing strict health protocols, the organizers of Bahagi Ako opened the digital exhibit to CARD MRI staff and clients from July 1 to 2 and 5 to 6 at the Maharlika Square Events Place. A virtual tour was also created by CARD MRI Hijos Tours for those who could not physically visit the exhibit. This could be viewed through Online Ugnayan at Kwentuhan's Facebook Page at www.facebook.com/CARDkwento.
Newly concreted road improves road network in Leyte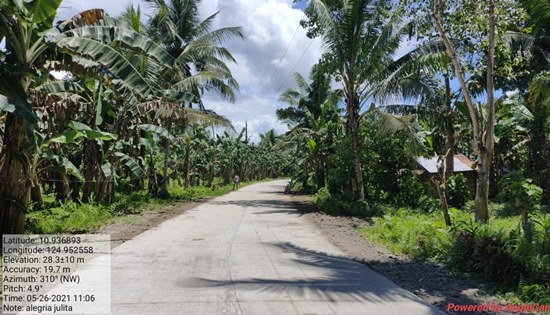 By DPWH 2nd LED
July 15, 2021
JULITA, Leyte – The newly improved and concreted road is now beneficial to residents and motorists traversing the road section of Barangays Alegria to Sto. Niño in the town of Julita, Leyte.
With a construction cost of P9.8-million, the Department of Public Works and Highways (DPWH) -Leyte Second District Engineering Office recently completed the construction of 1.610-linear meter with a width of 5-meters road concreting project.
According to OIC-District Engineer Leo Edward Oppura, mobility of goods and services will now have a significant improvement and travel costs and time will be reduced.
"Motorists utilizing this road will no longer experience the burden of travelling along a bumpy and muddy road especially during rainy season," Oppura added.
This project is under DPWH General Appropriations Act - FY-2021 Local Infrastructure Program – Local Roads.
Road widening and drainage project along Mayorga-La Paz road section completed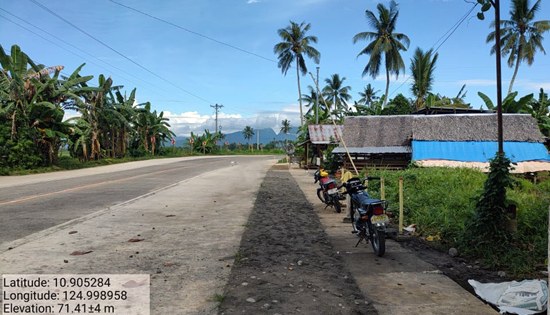 By DPWH 2nd LED
July 9, 2021
MAYORGA, Leyte – The Department of Public Works and Highways (DPWH) -Leyte Second District Engineering Office has completed the road widening project in Brgy. Zone 2 to Brgy. Mabini along Mayorga - La Paz road section in Leyte.
The completed project has a capital outlay of P42.81-million involving 13,062 square meter of additional 1-lane each side to the existing tertiary road.
According to OIC-District Engineer Leo Edward Oppura, this project will increase road capacity for faster mobility of the travelling public likewise traffic incidents will be minimal.
In addition to the road widening project, 409 linear meter of lined canal and pipe culverts were also installed to serve as drainage for surface runoff especially during heavy rainfall.
Mayorga-La Paz road section is classified as a national secondary road.
Construction of the road widening and drainage improvement project duration was from November 24, 2020 to June 04, 2021 under CY-2020 regular infrastructure program and part of the Multi-Year Contract Authority (MYCA).
Construction of Calbayog Diversion to Barangay Guinbaoyan road undertaken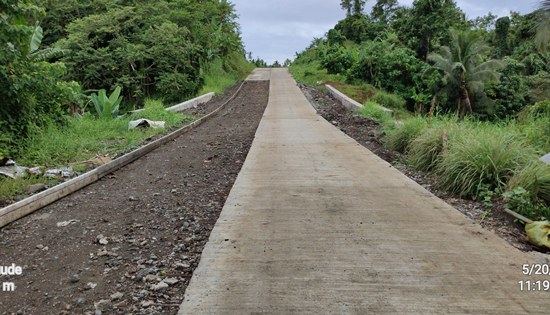 By SUZETTE G. PRETENCIO
July 8, 2021
CALBAYOG CITY – To aid the farmers and the locals, Samar First constructed the concreting project in Calbayog Diversion Road to Barangay Guinbaoyan. Fund of this project is taken under General Appropriations Act (GAA) of 2021.
The project has a contract amount of P35.87 million. Its scope of work will cover 1.6 kilometers length and a width of 6.1 meters of Portland Cement Concrete Pavement (PCCP). Also, part of the scope of work is 1,150 meters of open canal, 837.76 cu. m. of stone masonry and two (2) cross-drainage (pipe culverts).
Projects like these are beneficial to the local farmers and community as it would help them have less travel time going to and from the city proper once completed. Moreover, it would also give them better access to different public and private services like health and education.
These road projects started back in 2018 when the district began its first phase of construction of gravel roads around the area opening the roads from Calbayog Diversion Road to Barangay Alibaba.
Concreting projects for other roads are set for request for funding as future projects of the district.
DOLE-8 awards first safety seal to beverage company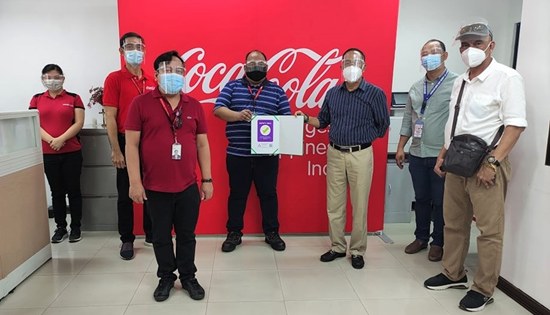 By NORMA RAE S. COSTIMIANO
July 6, 2021
TACLOBAN CITY – The Department of Labor and Employment Regional Office No. 8 awarded on 6 July 2021 its first safety seal to Coca-Cola Beverage Philippines, Inc. located at Brgy. 75, Fatima Village, this city.
Regional Director Henry John S. Jalbuena led the awarding of the safety seal to Mr. Joje Quezon, Plant Manager of Coca-Cola. He was assisted by Mr. Edgar B. Tabuyan, Chief of Technical Support Services Division and Mr. Norman L. Uyvico, Head of DOLE North Leyte Field Office.
The Safety Seal Certification Program aims to safely re-open the economy and affirm consumers and the public in general of the establishment's compliance to the minimum public health standards.
Per DOLE-DOH-DILG-DOT-DTI Joint Memorandum Circular No. 21-01 series of 2021, the Department of Labor and Employment (DOLE) will issue the certification for establishments in the manufacturing, construction, utilities, information and communication, and warehousing industries.
Other designated issuing authorities are the Department of Trade and Industry, Department of Tourism, Department of Interior and Local Government and the different local government units.
Director Jalbuena congratulated Coca-Cola for being the first to receive the safety seal in Region 8.
"Congratulations to Coca-Cola for successfully obtaining the first safety seal in Eastern Visayas. This seal will be helpful for your company in gaining the confidence of your customers and employees, that you are compliant with the health standards", said Jalbuena.
Jalbuena likewise urged other establishments in Region 8 to acquire the said certification and help re-open the economy safely.
"We are calling on other establishments to obtain their own safety seals and take part in safely re-opening our economy", Jalbuena added.
Also in attendance during the awarding were Mr. Virgilio A. Doroja, Jr., Senior Labor and Employment Officer, Mr. Edgar Montes, Operations Manager and Mr. Casper Laconse, People Associate Manager.
DOLE-8 will also be awarding safety seals to three more firms in Baybay City, namely: SC Global Food Products, Inc., SC Global Coco Products Inc., and Specialty Pulp Manufacturing Inc.
The safety seal, valid for six (6) months from the date of issuance, shall be displayed conspicuously at all entrance points of the establishment. DOLE may revoke the certification once there will be valid complaints raised against the company.
Independent int'l investigation of PH rights situation shows damning evidence of widespread impunity, failure of justice system
By INVESTIGATE PH
July 6, 2021
MANILA – INVESTIGATE PH provides more evidence of the persistent failure of the justice system in the Philippines. Its Second Report, released today, documents intensifying human rights violations perpetrated by state agents, in line with Philippine president Rodrigo Duterte's security policies and violent pronouncements that were adopted as official orders. The report includes an important series of recommendations, including a clear call for a United Nations-led probe on the human rights violations of the Duterte administration.
INVESTIGATE PH is the popular name of the Independent International Commission of Investigation into Human Rights Violations in the Philippines, which is led by 'High Commissioners' or prominent personalities of the international community. Its recent report is the second in a series of three reports, and builds on the findings of the first report launched in March 2021, which picked up from and further substantiated the UN Office of the High Commissioner on Human Rights' June 2020 report on the Philippine rights situation.
The Second Report spotlights three aspects of state terror in the Philippines, namely the War against the Poor (under the guise of the "war on drugs"), the War on Dissent, and the War against the Moro People. It is an important contribution to a growing body of evidence of state-perpetrated human rights violations and abuses in the Philippines that would help facilitate international accountability mechanisms.
According to Atty. Suzanne Adely, co-chair of the International Committee of the National Lawyers Guild in the US and one of the High Commissioners leading the investigation, "State policies, including Executive Order 70 or the whole-of-nation approach to counterinsurgency program and the 2020 Anti-Terrorism Act have emboldened both the police and military to massacre the poor and marginalised, as well as those who are fighting for the rights of these communities, including activists and advocates of peasant and Indigenous People's rights. Moreover, the government's capture of domestic redress and accountability mechanisms continue to fail victims." The report shows that the Philippine National Police (PNP) routinely covers up the circumstances surrounding killings in 'anti-drug operations', intimidates potential witnesses, and obstructs investigations by victims' families, civil society and even by the Commission on Human Rights.
The release of the Second Report is timely as it follows the recent request by the International Criminal Court's (ICC) outgoing Chief Prosecutor Fatou Bensouda for an investigation on the bloody "war on drugs" of Philippine President Rodrigo Duterte. Its launching also coincided with the ongoing 47th Regular Session of the UN Human Rights Council.
The report also highlights how military action in Mindanao is perpetrating violence against and entrenching the marginalization of Moro communities. The report shows that US military aid is propping up the military operations in Mindanao as part of the US-backed "War on Terror". These operations fail to distinguish between civilians and combatants, and are also causing mass displacement of Moro communities. One of the High Commissioners, the Rev. Dr. Susan Henry-Crowe of the US-based United Methodist Church said that, "It was difficult to hear testimony that U.S. military aid, as well as military support from other countries, is abetting human rights violations. It's simply unacceptable."
The report will be submitted to the Office of the High Commissioner for Human Rights, member states of the Human Rights Council, the UN Secretary-General, and the International Criminal Court. Rev. Michael Blair, who is also one of the High Commissioners, said, "Throughout this investigation, we have remained steadfast in our objective to realize justice for the victims of human rights violations in the Philippines. The report must go beyond evidence gathering and be a contribution to the process of accountability and an end to the injustice".