New leader takes helm at DAR Eastern Visayas
By JOSE ALSMITH L. SORIA
August 23, 2021
TACLOBAN CITY – A Basilan-born lawyer-accountant now heads the Department of Agrarian Reform (DAR) in Eastern Visayas following his installation on Wednesday last week.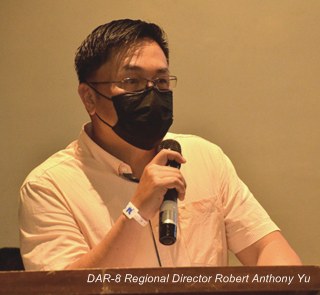 Regional Director Robert Anthony Yu replaced Ismael Aya-ay by virtue of Department Special Order No. 283 issued by Agrarian Reform Secretary Brother John Castriciones on August 2, this year.
Prior to his new assignment, Yu was the Director of the Planning Service at the DAR Central Office. He joined DAR in 2001 as a contract of service (COS) employee and rose from the ranks.
Upon passing the bar, Yu was appointed Attorney-V of the Legal Service. Since then, he was assigned to the different units in central office exposing him to problems encountered in the field including Agri-business Venture Agreement (AVA) and land conversion, as well as procurement and other administrative matters.
His first field assignment was as Provincial Agrarian Reform Adjudicator (PARAD) having been assigned to the provinces of Bataan, Zambales and Zamboanga del Norte on separate occasions.
He also served as Regional Agrarian Reform Adjudicator (RARAD) in MIMAROPA Region, radiating in the island provinces of Palawan, Marinduque and Mindoro as PARAD.
Yu disclosed that Region 8 is his first assignment as Regional Director.
In his message during his installation as the 21st DAR Regional Director to serve this region since the agency was created on September 10 1971, he encouraged transparency, team work and immediate resolution to every concerns and issues. "I don't want problems to persist, I want solutions to resolve the concerns and issues," he stressed.
Meanwhile, Aya-ay, who served as OIC-Regional Director for the past 15 months, concurrent Assistant Regional Director (ARD) for Agrarian Reform Beneficiaries Development and Sustainability Program (ARBDSP) and Agrarian Legal Service, will focus as ARD for Administration.
Under the same special order, OIC-Assistant Regional Director for Administration and Land Tenure Service, Ma. Fe Malinao, is designated Provincial Agrarian Reform Program Officer II (PARPO II) for Southern Leyte.
OIC-PARPO II for Leyte and Biliran, Renato Badilla, is designated ARD for Operations, while OIC-PARPO I for Leyte and Biliran, Josefina Corazon Turla, is designated PARPO II replacing Badilla.
DPWH completes off-carriageway improvement project in Jaro town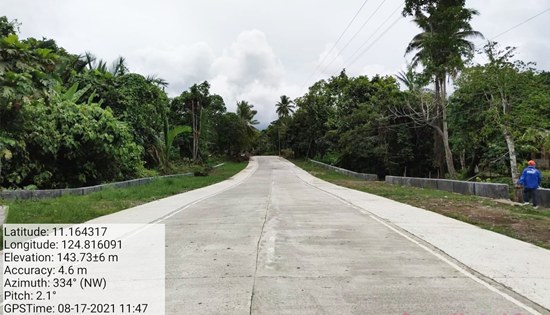 By DPWH 2nd LED
August 23, 2021
JARO, Leyte – Another off-carriageway improvement project has been completed by the Department of Public Works and Highways (DPWH) -Leyte Second District Engineering Office along Jaro-Dagami-Burauen-La Paz road section to provide a better and wider road access to the travelling public.
According to OIC-District Engineer Leo Edward Oppura, this project enables local traders to transport their agricultural products to nearby public market with minimal transportation costs.
"The P9.7-million road project involves concrete paving of 2-meter width on both sides of the existing road with inclusion of stone masonry works and top with concrete barrier have a total length of .591-kilometer located in Barangay Malobago to Pange in Jaro linking to the town of Pastrana in Leyte," he added.
For the current year, the district office is task to implement three (3) off-carriageway improvement of tertiary roads of which La Paz-Javier-Bito Rd – (K0952 + 710 - K0953 + 186), P9.6-M is on its final phase of construction while Burauen-Mahagnao Rd – K0979 + (-667) - K0979 + (-167), P9.5M; and Jaro-Dagami-Burauen-La Paz Rd K0944+290-K0944+881, P9.7-M were already completed.
2021 Jobstart Program kicks off in Tacloban City
By NORMA RAE S. COSTIMIANO
August 19, 2021
TACLOBAN CITY – In partnership with the Tacloban City Public Employment Service Office (PESO), the Department of Labor and Employment Regional Office No. 8 through its North Leyte Field Office kicked off the implementation of JobStart Philippines Program for this year with an Employer's Memorandum of Agreement (MOA) Signing on August 16, 2021 at the City Engineer's Gymnasium.
Five (5) private establishments attended the event and signed the agreement, namely, McCarol Ventures/McDonalds Tacloban, Mang Inasal, Pinutos and Chix Delight, Jollibee and Greenwich, and Hotel de Fides.
One hundred (100) youth beneficiaries from Tacloban City will be benefitting from the said employment facilitation program.
Present during the event were Mr. Norman L. Uyvico, NLFO Head, Ms. Marites H. Dy, NLFO JobStart Focal, Ms. Emilia A. Cruz, PESO Manager and Ms. Katherine P. Singzon, PESO JobStart Focal.
In behalf of Regional Director Henry John S. Jalbuena, Mr. Uyvico acknowledged all the employers for choosing to help the youths of Tacloban through the JobStart program.
"We would like to acknowledge and thank our employers who responded to our call of assisting our youth beneficiaries through the Jobstart program especially now that we are in a pandemic", said Uyvico.
Uyvico likewise lauded the PESO Tacloban for being an active Jobstart implementer ever since its first implementation in 2018.
"DOLE is indeed grateful for the strong support we get from our ever active PESO Tacloban led by Ma'am Mely Cruz", added Uyvico.
Dranix Distributors Inc. missed the formal MOA Signing but committed to become one of the employers for the 2021 Jobstart implementation in the city.
The JobStart Program, funded by the Government of Canada (GOC) with technical support from the Asian Development Bank (ADB ), aims to enhance employability of youth by reducing their job-search period and increasing their employability through life skills and technical skills training, paid internship and full-cycle employment facilitation services.
The program is also designed to increase the capacity of Public Employment Service Office (PESOs) in providing full cycle employment facilitation services. (with report from NLFO)
P1.6-M worth of Kabuhayan starter kits awarded to 116 Sogod folks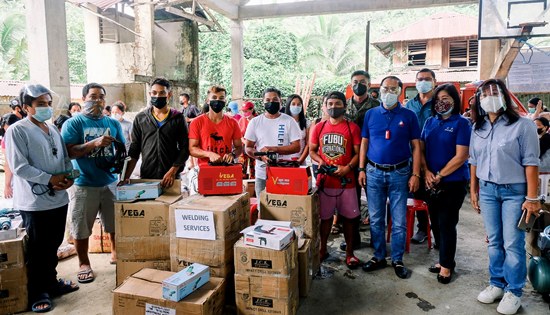 By NORMA RAE S. COSTIMIANO
August 18, 2018
MAASIN CITY – Some 116 beneficiaries from Brgy. Kahupian in Sogod, Southern Leyte received various kabuhayan starter kits amounting to a total of P1,645,270.00 from the Department of Labor and Employment through its Southern Leyte Field Office last August 13, 2021.
Present during the simple turnover activity were Regional Director Henry John S. Jalbuena, SLFO Head Marites Viñas, Sogod Mayor Imelda Tan, SB Member & Livelihood Committee Chair Rufo Olo and Staff Sgt. Advincula of the Philippine Army.
The said assistance was DOLE's commitment to Brgy. Kahupian, an identified barangay of the provincial Poverty Reduction, Livelihood and Employment Cluster (PRLEC) under the government's Task Force to End Local Communist Armed Conflict (ELCAC).
Regional Director Jalbuena in his message expressed continued commitment and support to the convergence programs of the government particularly the ELCAC.
"DOLE is one with the government in its fight to end local communist armed conflict and we are doing our part through provision of livelihood opportunities to our vulnerable sector", said Jalbuena.
Among the projects awarded to the beneficiaries were the following: carpentry, welding, vulcanizing, barbecue vending, homemade delicacies, mini carinderia, dressmaking, fruit and vegetable vending, bread-making, barber shop, charcoal vending, poultry farming and dried fish vending.
Said livelihood projects were charged under the DOLE Integrated Livelihood Program (DILP) funds of the region.
Also in attendance to facilitate the event were Ms. Velma Duguil, PESO Manager and Ms, Ma. Dahlia A. Gabriana, SLFO Livelihood focal. (with a report from SLFO)
Which car brands will be fully electric and when?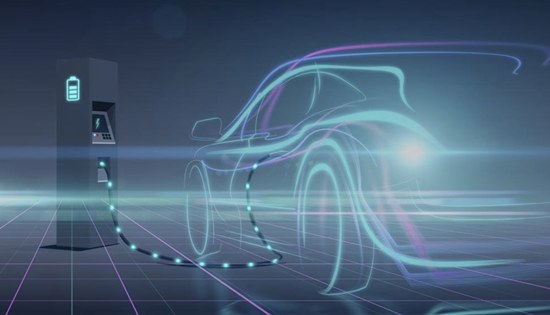 The world is gradually moving towards electric cars. This is due to the policies of many countries aimed at reducing the harmful impact on the environment and, as a result, banning the use of fossil fuel vehicles. Most car companies are investing in an industrial transition planned for the next 10 to 20 years. Below is a list of brands that are heading towards converting production to electric vehicles. And already today, the supply of new and used electric cars on the market is growing day by day, at an incredible pace.
Alfa romeo
Italian Alfa Romeo, which is owned by automaker Stellantis, has announced that it will sell electric vehicles from 2027 in North America, Europe and China. Stellantis will invest $ 47 billion in battery-powered vehicles by 2025.
Audi
The development of the internal combustion engine will gradually be completed by 2033. Hybrid, gasoline and diesel vehicles produced until 2026 will be on sale until the early 2030s. From 2026, all new models of Audi, which belongs to the Volkswagen Group, will be electric.
Bentley
Another company, which is part of the Volkswagen Group, plans to phase out internal combustion engines by 2026, leaving plug-in hybrids and battery cars. The release of the first electric vehicle was announced for 2025. Two hybrids are already on sale and the third will become available in 2023. Full transition to electric is planned for 2030.
Fiat
Fiat CEO Olivier François said the final switch to electric would take place between 2025 and 2030. The company, which is owned by Stellantis, will produce exclusively electric vehicles for the rest of this decade.
Ford
The American company Ford Motor, together with its Korean partner SK Innovation, will build and open three battery and one electrical assembly plant in the United States by 2025. Passenger cars for the European market will become fully electric by 2030.
General motors
The company, which owns Buick, Chevrolet, GMC, Cadillac, will finally switch to electric by 2035. Carbon neutrality is planned for 2040.
Honda
The Japanese company expects 40% of electric and hydrogen car sales by 2030 and 80% by 2035. All-electric models will be sold in North America, Japan and China until 2040.
Hyundai
The Hyundai Group, which includes Kia, is focusing on hydrogen cars - fuel cell electric vehicles. All commercial vehicle models will be hydrogen-powered by 2028. The selection of accumulator cars will gradually expand in the USA, Europe and China. The full transition to the electric motor will take place before 2040.
Jaguar
UK-based Jaguar will go all-electric from 2025. Jaguar Land Rover promises zero carbon emissions by 2039. The Land Rover electric vehicle is slated to launch in 2024.
Mercedes-Benz
The German company, which is owned by Daimler, will switch to electric before the end of the decade. The plan is to increase the production of battery cars and plug-in hybrids to account for 50% of global sales by 2025.
Mini
The brand from BMW will launch the last car with an internal combustion engine in 2025. Until 2030, only electric vehicles will be produced.
Nissan
The Japanese company, which is part of the Renault Nissan Mitsubishi alliance, will produce exclusively electric cars for Japan, China, the United States and Europe until the early 2030s. By 2050, the manufacturer will be carbon neutral.
Renault
The French company has dropped the ban on hybrid sales from 2035. However, Renault has said that 90% of its models will be battery-powered EVs by 2030.
Rolls-royce
The luxury Rolls-Royce, which is owned by BMW, will produce exclusively electric vehicles by 2030. The first all-electric vehicle will be unveiled at the end of 2023.
Toyota
The Japanese company is working to reduce air emissions by 2050. Basically, the manufacturer is focused on the development of hydrogen cars.
Volkswagen
The German company will exclusively sell electric vehicles in Europe until 2035. Following the European market, the sale of cars with internal combustion engines will be discontinued in the United States and China. Carbon neutrality is planned to be achieved by 2050.
Volvo
The company aims to ensure that by 2025 approximately 50% of Volvo's global car sales will be battery-powered and the other 50% hybrid. Only electric vehicles will remain in production until 2030.
Eastern Visayas posts 3.2% inflation rate in July 2021
By PSA-8
August 17, 2021
TACLOBAN CITY – Eastern Visayas posted to 3.2 percent Inflation Rate (IR) in July 2021. This IR is 0.1 percentage point lower compared with the 3.3 percent IR in June 2021. This July IR of the region is 1.5 percentage points higher than the recorded 1.7 percent IR in the same period last year.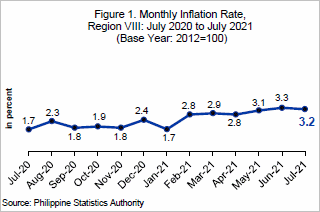 In comparison with the national average IR, the regional IR is 0.8 percentage point lower than the 4.0 percent national IR in July 2021.
Among the provinces, Samar posted the highest IR at 6.9 percent in July 2021. Eastern Samar's IR came next at 6.1 percent, then Biliran at 4.5 percent. The lowest IR was noted in Northern Samar at 1.5 percent. Northern Samar, Samar, Eastern Samar, and Southern Leyte registered lower IRs in July 2021 compared with their figures in June 2021. Northern Samar recorded the highest decrease in IR at 1.6 percentage points, bringing its IR down to 1.5 percent in July 2021 from 3.1 percent in June 2021.
Samar's IR declined to 6.9 percent in July 2021, while Eastern Samar and Southern Leyte managed to lower their IRs to 6.1 percent and 2.9 percent, respectively in July 2021. On the other hand, the provinces of Leyte and Biliran recorded increases in their IRs in July 2021 by 0.4 percentage point and 0.1 percentage point, respectively. Leyte grew to 1.7 percent, while Biliran inched up to 4.5 percent in July 2021.
Transport commodity group continued to post the highest IR at 10.3 percent. This was followed by alcoholic beverages and tobacco commodity group, and housing, water, electricity, gas and other fuels commodity group with IRs at 7.3 percent and 3.6 percent, respectively. All the other commodity groups have IR lower than the IR for all items recorded at 3.2 percent.
Five (5) of the 11 commodity groups in the region exhibited lower IRs in July 2021 compared with their rates in June 2021. The transport commodity group registered the biggest decrease in IR by 1.2 percentage points from its 11.5 percent IR in June 2021. It still, however, registered a double-digit IR of 10.3 percent in July 2021.
The IR for furnishings, household equipment, and routine maintenance of the house commodity group managed to shed off 0.5 percentage point, from 2.9 percent in June 2021 to 2.4 percent in July 2021.
Restaurants and miscellaneous goods and services commodity group recorded 0.4 percentage point decrease in its IR settling at 2.5 percent in July 2021.
Food and non-alcoholic beverages commodity group registered a slight decrease in IR by 0.2 percentage point, from 2.8 percent in June 2021 to 2.6 percent in July 2021. Lower IRs were noted in majority of the items under this commodity group. Fish index registered the highest decrease of 1.6 percentage points, from 9.1 percent IR in June 2021 to 7.5 percent IR in July 2021. The IR for food products not elsewhere classified declined by 1.1 percentage point from its 4.1 percent IR in June 2021, posting 3.0 percent IR in July 2021. Slower price increases were also noted in the indices for sugar, jam, honey, chocolate, and confectionery (1.8%); vegetables (1.6%); and milk, cheese, and eggs (1.3%).
Meanwhile, fruits index registered the highest increase of 3.4 percentage points, from 0.8 percent deflation in June 2021 to 2.6 percent IR in July 2021. Prices of meat picked up at a faster rate registering a double-digit IR of 10.3 percent in July 2021 from 9.6 percent in June 2021. Faster price increase was also noted in index for oils and fats at 2.2 percent during the month in review. Rice and corn further deflated to 1.4 percent. Bread and cereals likewise continued to register price drop-offs at 0.9 percent. Non-alcoholic beverages retained its previous month's IR at 0.6 percent.
Recreation and culture commodity group further deflated to 1.6 percent in July 2021 from 1.5 percent deflation in June 2021.
On the other hand, alcoholic beverages and tobacco commodity group recorded 7.3 percent IR in July 2021, higher by 0.5 percentage point from the 6.8 percent IR in June 2021. This growth can be attributed to higher IR in the indices for both alcoholic beverages (5.6%) and tobacco (8.3%).
The IR for housing, water, electricity, gas, and other fuels commodity group and health commodity group picked up by 0.3 percentage point, pushing its IR to 3.6 percent in July 2021.
Compared with their June 2021 levels, IRs for clothing and footwear commodity group (2.2%) and health commodity group (2.0%) were higher by 0.2 percentage point and 0.1 percentage point, respectively in July 2021.
The commodity groups of communication and education, meanwhile, retained their previous month's IRs at 1.0 percent and 0.5 percent, respectively.
The Purchasing Power of Peso (PPP) of the region remained at P0.76 in July 2021. This PPP implies that the goods and services worth P76.00 in 2012 is now worth P100.00 in July 2021.
Compared with their levels in June 2021, PPP in Biliran and Northern Samar strengthened by P0.01, while PPP in Leyte weakened by P0.01. The rest of the provinces retained their previous month's PPP. Biliran recorded the strongest PPP among provinces in July 2021 at P0.80. Leyte ranked second at P0.79, followed by Southern Leyte at P0.78, Eastern Samar at P0.73, and Northern Samar at P0.72. Samar posted the weakest PPP during the reference month at P0.69.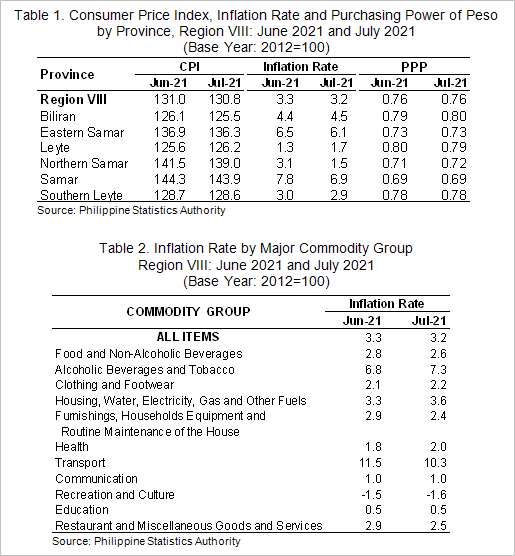 Chiz tells DTI, PPA: Spike in arrastre fees to hurt economic recovery
Press Release
August 13, 2021
SORSOGON CITY – Sorsogon Gov. Chiz Escudero has called on concerned government agencies to look into the current fees and charges imposed on various cargo shipments which sharp increases amid a global health crisis could hurt efforts to help the country rebound from the pandemic-induced economic downturn.
The veteran legislator has learned that arrastre fees in most major ports under the Philippine Ports Authority (PPA) went up by as much as 200 percent, an increase that may ultimately impact the growth of the Philippines which recently has gone out of recession as the economy grew by 11.8 percent in second quarter this year.
"Arrastre fees in most major ports went up by 200 percent. For example, for every bag of cement, arrastre fees went up from P5 to P21 per bag," the former senator posted on his Twitter account @saychiz.
"I hope the DTI (Department of Trade and Industry), the PPA and the DOTR (Department of Transportation) will look into this as it inordinately raises the cost of construction and doing business and DURING A PANDEMIC at that!" he added.
Arrastre is defined by the PPA as a person or entity that performs portside cargo handling operations, such as the receiving, handling, custody, security and delivery of cargo passing over piers, quays or wharves, transit sheds/warehouses and open storages within the jurisdictional area of responsibility of the authorized contractor or operator.
The PPA has continuously implemented, despite the ongoing COVID-19 pandemic, several memorandum circulars adjusting cargo tariff rates and handling fees in various ports nationwide under its jurisdiction such as the Manila North Harbor Port, Inc., Manila South Harbor, Inc. and the Manila International Container Terminal, despite industry-wide opposition of international shipping lines who are likewise battling the effects of the economic slowdown due to the pandemic.
In a position paper submitted by the Association of International Shipping Lines to PPA last year, industry leaders had warned that any increase in handling fees would not only hurt cargo handlers and operators, but more importantly small enterprises and consumers.
At the North Harbor alone, the PPA, through its Memorandum Circular 04-2017, has been implementing the 24-percent cargo handling rate increase since July 2019.
And this year, the ports authority, through two separate administrative orders, has started imposing empty container handling fees for foreign empty containers and storage fees for out-of-gauge containers, or cargoes that exceed the standard dimension of containers.
Serbisyong TUPAD benefits over 1K workers in Tolosa, Alangalang
By NORMA RAE S. COSTIMIANO
August 10, 2021
TACLOBAN CITY – The Department of Labor and Employment Regional Office VIII through its North Leyte Field Office successfully paid a total of P2,048,000.00 TUPAD wages to some 1,024 informal sector workers of Tolosa and Alangalang in Leyte last August 9, 2021.
Each beneficiary received P3,250.00 as remuneration for the services rendered during the 10-day TUPAD implementation.
Present to lead the event was DOLE Assistant Secretary Victor Del Rosario, representing Secretary Silvestre "Bebot" Bello III. He was assisted by DOLE-RO8 Regional Director Henry John Jalbuena and DOLE-NLFO Head Norman Uyvico.
Asec. Del Rosario in his message said that DOLE will never cease to deliver the needed assistance to the Filipino workers. He encouraged everyone to have faith and not lose hope despite the pandemic.
"I just want to encourage you to have faith and not lose hope. DOLE and the government is here to help you", said del Rosario.
Tolosa Mayor Ma. Ofelia Alcantara expressed heartfelt gratitude for the assistance received from DOLE and the different government agencies.
"We at LGU-Tolosa are thankful that we are able to avail of the programs and services of the government for the benefit of our displaced and needy workers", said Alcantara.
Meanwhile, Mayor Yu acknowledged the fruitful partnerships of LGUs and national government agencies in helping the Alangalanganons.
"We really appreciate the convergence of different government agencies just to bring relief to our constituents greatly affected by this pandemic", said Yu.
Livelihood assistance were likewise turned over to eight (8) parents of child laborers in Alangalang amounting to P160,000.00.
Director Jalbuena, like he always did in every payout, reminded all the beneficiaries to use their hard-earned money for the needs of their families.
Also in attendance to grace the event were Mr. Allan Tanuakio from the Office of the President, DTI Assistant Secretary Niño Contreras and Ms. Irene Permejo of DSWD Regional Office VIII. Beneficiaries were grateful because aside from the TUPAD wages, they also received P2,000.00 each as financial aid from the Assistance to Individuals in Crisis Situation (AICS) program of the DSWD.
Some ten (10) lucky beneficiaries also took home raffle prizes such as rubber shoes, android tablets and bicycles courtesy of the Office of Senator Christopher Lawrence "Bong" Go. (with report from DOLE-NLFO)
Secretary Bello leads awarding of over P11-M DOLE aid in Leyte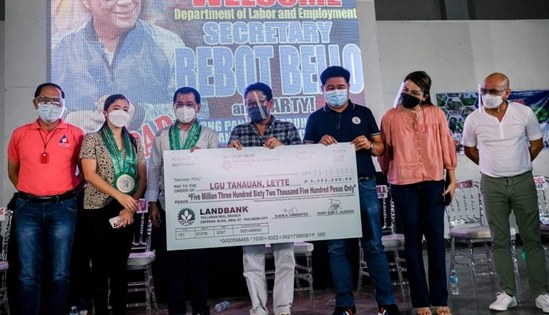 By NORMA RAE S. COSTIMIANO
August 6, 2021
TACLOBAN CITY – Leyteños were grateful as livelihood and employment assistance poured when DOLE Secretary Silvestre H. Bello III visited the towns of Tanauan and Burauen, Leyte on August 5, 2021.
A total of P11,080,372.00 livelihood and TUPAD grants were awarded to some 2,261 beneficiaries of the municipalities of Tanauan and Burauen.
P7,260,900.00 worth of TUPAD and livelihood grants were received by 1,801 underemployed and disadvantaged workers in Tanauan while P3,179,472.00 were benefited by 460 informal sector workers from Burauen.
Meanwhile, there were 25 displaced and returning OFWs who have received the sum of P640,000.00 livelihood and financial assistance under the OWWA's Balik Pinas Balik Hanapbuhay (BPBH) and Tabang OFW programs.
Aside from Secretary Bello, also in attendance to grace the event were Undersecretary Renato Ebarle, DOLE-BWSC Director Atty. Ma. Karina Trayvilla, OWWA Administrator Hans Leo Cacdac, DOLE-RO8 Director Henry John Jalbuena, An Waray Partylist Representative Florencio "Bem" Noel, Leyte Governor Leopoldo Dominico "Mic" Petilla, Alangalang Mayor Lovely Yu and Atty. Jo Ann Zacarias representing 2nd District Congresswoman Lolita Karen Javier.
Mayor Pelagio Tecson of Tanauan and Mayor Juanito Renomeron of Burauen warmly welcomed the team into their respective areas and expressed their sincerest gratitude for all the assistance received from the labor department.
"We are really grateful to Secretary Bello for being responsive to the needs of our constituents", said Mayor Tecson.
Governor Mic Petilla likewise recognized the efforts of DOLE and the administration in helping the province. He said that it will be a great help for the province to recover from the effects of the on-going pandemic.
"We don't know when this pandemic will end, but I can assure you that our province can recover especially that the government through DOLE is here to help us", Petilla said.
In his messages, Secretary Bello never failed to underscore that DOLE exists for the fulfillment of its mandate which is to look after the welfare of every Filipino worker.
"DOLE will continue to live up to its mandate and we will do all that we can for the benefit of our Filipino workers", said the labor secretary.
Just like a father to his children, Sec. Bello reminded all the beneficiaries to spend the money they received for their basic needs.
"These are government funds, so please use the money you received for the basic needs of your families", Bello added.
Bello committed to bring more assistance to the region for the benefit of the workers struggling due to the pandemic.
The team of DOLE-North Leyte Field Office headed by Mr. Norman Uyvico were also in full support of the successful undertaking.