DAR turns over Samar land for former rebels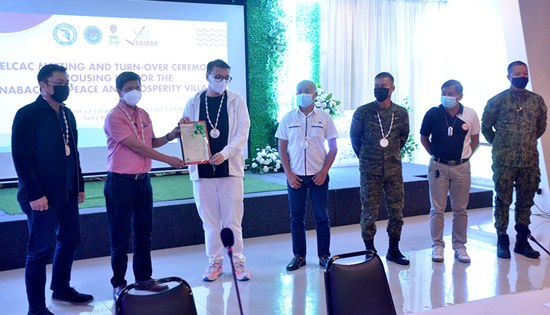 Department of Agrarian Reform's (DAR's) Bureau of Land Tenure Improvement Director Romeo Reyes (second from left) hands over to Samar Governor Reynolds Michael Tan (third from left) the Deed of Transfer and the land title for the three-hectare lot in Barangay Catigawan in Pinabacdao town intended for the housing project for former rebels as the said agency's contribution to End Local Communist Armed Conflict (ELCAC) activities. Witnessing the event are (from left) DAR Regional Director Robert Anthony Yu, Pinabacdao Mayor Teodoro Mabag, 801st Bde BGen Camilo Ligayo, Department of Interior and Local Government Provincial Director Judy Batulan, and Police Provincial Director PCol Peter Uy Limbauan. (JOSE ALSMITH L. SORIA)
Press Release
November 23, 2021
CATBALOGAN CITY, Samar – In support of the government's Whole-of-Nation approach to End Local Communist Armed Conflict (ELCAC), pursuant to Executive Order No. 70, s. 2018, the Department of Agrarian Reform (DAR) turned over to the provincial government of Samar the three-hectare lot intended for socialized housing for the Peace and Prosperity Village in Pinabacdao, Samar, last November 16, 2021.
The Bureau of Land Tenure Improvement (BLTI) Director Romeo L. Reyes from DAR Central Office, assisted by DAR Eastern Visayas Regional Director Atty. Robert Anthony P. Yu, handed over the Deed of Transfer and the land title to Governor Reynolds Michael T. Tan.
This significant event was witnessed by Pinabacdao Mayor Teodorico S. Mabag and the members of the Provincial Task Force-ELCAC, during their regular meeting at the Samar State University, Catbalogan city.
The said lot is in Barangay Catigawan, an upland village in the municipality of Pinabacdao, which is about three kilometers away from the national highway.
Regional Director Yu emphasized in his message that this turnover event is a meaningful way for DAR to fulfill its constitutional mandate of promoting social justice, which happened to be in line with the objectives of the ELCAC. He further highlighted how DAR was able to effectively attribute part of its existing budget in order to support and bolster the said Program by the government. He added that "DAR's effort does not end here. DAR will continue to distribute farm lots to qualified agrarian reform beneficiaries (ARBs) which will include not only farmers but also farmer rebel returnees and agricultural graduates in the area.
RD Yu ended his speech by mentioning key DAR officials that made this project possible. These are, former Secretary John R. Castriciones; Acting Secretary Bernie F. Cruz; Under Secretaries Atty. Elmer N. Distor, Atty. Luis Meinrado C. Pañgulayan, and Atty. David D. Erro, and Assistance Secretary Engr. Joey G. Sumatra.
Governor Tan express his gratitude by saying, "I am very happy na yung pinag-uusapan natin years ago, even before the pandemic, finally narito na." He assured the members of the PTF-ELCAC that "The provincial government, the office of Congresswoman Sharee Ann Tan, and of course the ever-supportive mayor will be working together for the realization of all the plans that we have laid out for our programs especially those relevant to ELCAC."
Mayor Mabag, likewise expressed thanks to the DAR as well as to Governor Tan and Samar's Second District Representative, Hon. Sharee Ann Tan, for the realization of the Peace and Prosperity Village in his municipality.
11 young entrepreneurs of Region 8 gain total sales of P118 thousand from YEP Market Expo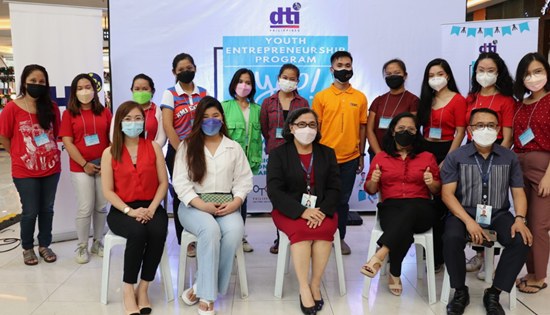 Two young entrepreneurs shared their story of success to inspire the young participants of the YEP Market Expo. Second from left is Ms. Nesly Ong-Uy, KMMM Graduate and proprietor of printing services packaging provider and franchisee while third from left is Ms. Patricia Camilla Uy, owner of a virtual bazaar and Korean chicken restaurant.
By DTI-Regional Operations Group
November 23, 2021
MAKATI CITY – Eleven young entrepreneurs, aging 30 years old and below, participated in the Youth Entrepreneurship Program (YEP) Market Expo last November 18-21, 2021 at the Level 1 Expansion Activity Area of Robinsons Place Tacloban.
Walk in buyers, owners of restaurants and established service providers were invited to check out products and services of local youth entrepreneurs so that they may also be able to create business linkages and partnerships.
These young entrepreneurs gained a total of P118,158.00 in just four days.
Alongside the expo, DTI also conducted session about DTI Services, IPO Services and SB Corporation Loan Programs that cans support the development of these young entrepreneurs.
The success of this Market Expo is hoped to encourage potential and existing young entrepreneurs to pursue business and become more productive contributor to the economic development of the countryside.
ICHRP calls for ICC investigation of Duterte's crimes against humanity to proceed without delay
Press Release
November 20, 2021
MANILA – 'Temporary Suspension of ICC investigation rewards Duterte and further victimizes those who gave evidence in support of ICC probe 'global coalition on human rights.
ICHRP Chairperson Peter Murphy expressed the organization's "extreme disappointment with the ICC decision to temporarily suspend their investigation into the Duterte government's alleged crimes especially after the Prosecutor found credible evidence that crimes against humanity had occurred. Any suspension or delay is an absolute betrayal of those brave individuals who came forward at great personal risk to provide evidence and testimony regarding these alleged crimes."
The ICC has suspended its investigation after a November 10th request by the Philippine government which stated that it has begun its own review of 52 cases where police killed suspects during anti-drug operations.
"The findings of the First and Second Reports of the Independent International Commission of Investigation into Human Rights Violations in the Philippines (Investigate PH) clearly showed the flaws and failure of the domestic remedies now claimed to be operating," said Murphy.
The Investigation demonstrated that the Philippine courts had managed to convict two police officers for the 2017 murder of 17-year-old Kian Delos Santos – one case in the 6,011 officially recorded up to the end of 2020. This case only succeeded because the Barangay Captain had failed to switch off the CCTV which recorded the police abduction of Kian.
Investigate PH also dispelled the Philippine government claims that the thousands of victims of the war on drugs were killed by police in self-defense. It presented forensic evidence to the ICC of victims with defensive wounds, of victims who had been bound before being killed. But there are probably over 30,000 cases of these police killings in anti-drug operations, based on statistics of "Deaths Under Investigation". And now the Philippine Drug Enforcement Agency no longer reports deaths in anti-drug operations, on their Real Numbers PH webpage.
"This kind of review – of 5,655 cases – was first promised by the Secretary of Justice to the UN Human Rights Council in June 2020," said Murphy.
In February 2021 Secretary Guevarra reported that just 328 cases had been reviewed, revealing no proper crime scene investigation in more than half the cases. In May 2021, he reported that the PNP had given access to files on 61 cases, but by June 1, 2021, the police had cut this number to 53. It seems this number has been reduced to 52. This is well below 1 per cent of deaths in police anti-drug operations. "There is no way that this level of inquiry – most unlikely to be genuine – amounts to an investigation of the crime against humanity of murder which the ICC was investigating," said Murphy.
"The ICC needs to re-start its investigation of all the evidence it has before it and give justice to the tens of thousands of Filipinos murdered at President Duterte's repeated incitement.
"ICHRP has full confidence in the impartiality of the ICC. We reiterate that the ICC should heed the call of these families to fully investigate the Duterte administration for these crimes against humanity so that, finally, justice may be served and impunity ended," Murphy said.
Murphy, an Australian-based human rights advocate, led Investigate PH, a recent three-part investigation by an international commission on the extrajudicial killings, illegal arrests, abductions, and disappearances in the Philippines since 2016 when President Duterte came into power.
Communist-NPA-Terrorists (CNT) brutally executes a defenseless innocent civilian in Victoria, N. Samar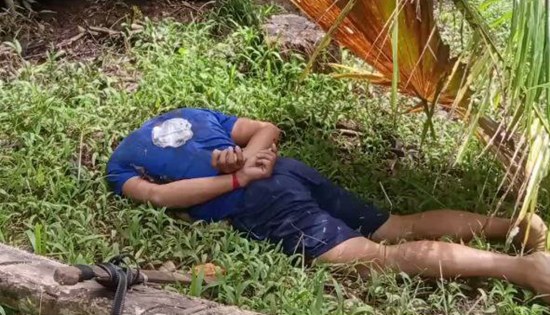 By 43rd Infantry Battalion, 8ID PA
November 20, 2021
LOPE DE VEGA, Northern Samar – A group of fully armed CNTs identifying themselves as members of the NPA's-Rudante Urtal Command (RUC), brutally executed an innocent civilian at Sitio Elejan, Brgy Pasabuena, Victoria, Northern Samar at around 3:00 o'clock in the morning, November 16, 2021.
The victim was identified as a certain Romnick D Rosas or "Minong" as he is fondly called, married, a 31-year-old farmer and a resident of Brgy Pasabuena, Victoria, Northern Samar. The lifeless body of the victim was discovered by civilians at Sitio Elejan of the said barangay.
The victim sustained a gunshot wound at his head with marks of strangulation at his neck including punctures from suspected sharp objects at the different parts of his body that may have caused his death. Both hands of the victim were tied behind his back using a piece of red cloth. Further, a folded piece of paper was found at the back part of the victim wherein the NPA's belonging to the Rudante Urtal Command (RUC) admitted that the responsibility in the killing of said innocent civilian accusing him as an informant of the Government Security Forces.
The CPP-NPA-Terrorists, time and again had proven their savage and cruel acts of killing defenseless and innocent people. A true testament of their willful disregard of human rights which they had perfected for more than 50 years of existence. With these consistent terror acts in Northern Samar, the NPA's mass base support had already crumbled as most of their former stronghold barangays have turned their backs on them.
The people of Victoria thru the Municipal Task Force to End Local Communist Armed Conflict (MTF-ELCAC)-Victoria voiced their sentiments by condemning this brutal killing of an innocent civilian by the said NPA-Terrorists and expressed their sincerest sympathy to the bereaved family and loved-ones of "Minong". "This killing is barbaric, inhuman, and unacceptable. This is undoubtedly a terroristic act which pictures out the genuine face of the NPA. These Communist NPA Terrorists are never welcome in our communities".
In the same manner, LTC Manuel B Degay Jr INF (GSC) PA, Commanding Officer of 43rd Infantry "We Search" Battalion, in coordination with the PNP Forces in the area, re-assured the people of Victoria of their security and safety. "We condole with the families and loved ones of the victims of these cold-blooded murders by the CNTs. We would again request for the witnesses and the people of Victoria to cooperate with the security forces by continuously reporting the location of these terrorists so that justice will be served the soonest."
MARINA reaccredits NMP training courses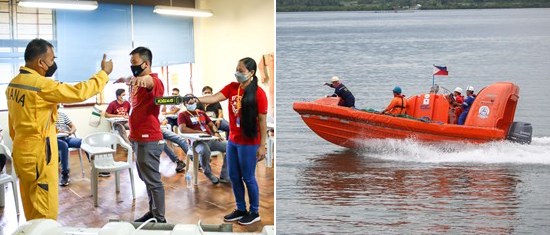 Conduct of the Security and Awareness Training and Seafarers with Designated Security Duties and practical exercise of Fast Rescue Boat.
By National Maritime Polytechnic
November 12, 2021
TACLOBAN CITY – Consistent with its mandate to provide maritime training and research that measures up to international standards and respond to the needs of the Filipino Seafarers and the maritime industry, the National Maritime Polytechnic (NMP) successfully passed the re-accreditation by the Maritime Industry Authority (MARINA).
The notice of accreditation was sent by MARINA dated 8 October 2021, granting Full Course Approval of NMP's training courses on Fast Rescue Boat and the Security and Awareness Training and Seafarers with Designated Security Duties, valid for three (3) years or until 19 April 2024 and 26 May 2024, respectively, inclusive of the extensions previously granted, unless sooner revoked or cancelled.
MARINA's approval for the above-cited maritime training courses is in response to NMP's application for the renewal of course approval, in accordance to MARINA Circular 2013-01 or the Rules on the Inspection and Accreditation of Maritime Training Courses, Standards of Training Certification for Seafarers (STCW) Circular No. 2018-02 or Standards for Mandatory Training Courses Under the STCW Convention, 1978, as amended, and STCW Advisory No. 2019-05 or Clarifications and Supplemental Guidelines on the Implementation of STCW Circular No. 2018-02.
To monitor the institution's continuing compliance with the existing MARINA rules and regulations, announced and unannounced visits will be conducted by the MARINA STCW Office in the duration of the validity period of the accreditation.
Likewise, together with this approval, MARINA also noted the list of duly accredited Instructors and Assessors corresponding to the above approved maritime courses.
CARD MBA, CPMI aid victims of Typhoon Maring in North Luzon
By CARD MRI
November 12, 2021
SAN PABLO CITY – Following Typhoon Maring's exit from the Philippine Area of Responsibility on October 12, 2021, CARD Mutual Benefit Association (CARD MBA) and CARD Pioneer Microinsurance, Inc. (CPMI) immediately took action through its disaster response initiatives to typhoon victims in North Luzon.
As of October 29, 2021, CPMI has reported 757 affected farmers from Isabela, Ilocos Norte, and Ilocos Sur, and has disbursed a total of P3,417,500 to 609 claims payment to policyholders in North Luzon. These farmers, who were affected by Typhoon Maring, received their claims from CPMI's BINHI crop insurance.
According to Vener Abellera, President and General Manager of CaMIA, the insurance agency that distributes CPMI insurance products, BINHI is one of CPMI's microinsurance products dedicated to CARD agri-loan borrowers, whose rice and corn crops have been devastated by the typhoon.
"We acknowledge the difficulties of our farmers when typhoons arise. BINHI was designed for farmers as they are one of the most vulnerable sectors when a typhoon strikes. This protects the livelihood of our client-farmers livelihood and ensures that they can recover from the aftereffects of typhoons, the habagat, or even LPA or low-pressure areas," Abellera said.
Marilou Garcia, a rice farmer from Nueva Era, Ilocos Norte, recollected how her one-hectare rice farm was flooded by Typhoon Maring which swamped their area for three days. After the typhoon, an officer inspected the damage to her farm, validated their claims, and disbursed P10,000 from BINHI.
"After submitting their requirements, I got a text message from CPMI to get our claims from a remittance center. It didn't take a week after the validation before we got our claims. I am really grateful for CPMI for covering our losses, considering the damage to our crops and the expensive fertilizer we have bought," Nanay Marilou shared.
On the other hand, CARD MBA also provides its calamity-struck members with cash assistance through the CARD MRI Disaster Relief Assistance Program or CDRAP. Among the calamities covered by the insurance are earthquake, fire, typhoon, and flood.
As of October 26, 2021, the Association has reported 31,307 members who were affected by Typhoon Maring. A total of P3,755,520 was disbursed to 31,296 members of CARD MBA.
"Since 2006, CARD MBA has already assisted families affected by calamities through CDRAP. Alongside CPMI's BINHI, CDRAP aims to give immediate response to our members and assure them that they can rely on us when disasters strike," CARD MBA Jocelyn D. Dequito said.
Disbursement of claims from BINHI and CDRAP is currently ongoing for those affected by Typhoon Maring in North Luzon, Typhoon Kiko in Ilocos Norte, and Typhoon Lannie in Oriental Mindoro and Eastern Samar.
STG-EI seized 18 containers of smuggled red onions in Cagayan De Oro worth P54 Million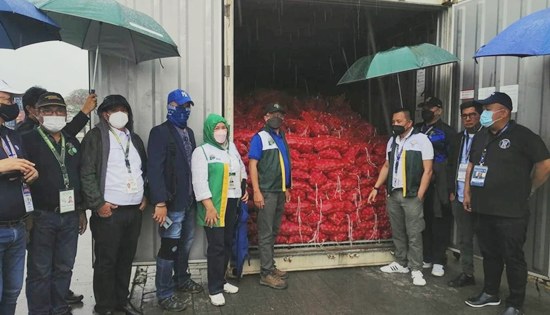 By DTI-CPG-Consumer Policy and Advocacy Bureau
November 11, 2021
MAKATI CITY – The Sub Task Group on Economic Intelligence (STG-EI) composite team led by the Department of Agriculture, Assistant Secretary Federico E. Laciste Jr., successfully seized eighteen (18) 40-foot reefer containers of technically smuggled agricultural products at Port of Cagayan De Oro with estimated value of P54 Million.
The said containers were under consignee R2H Trading declared as various importable products such as Crustaceans, Acidified Cream, Breaded Shrimp, Flavored Nuts, Curdled Cream Milk, Smoked Crawfish and Bread Improver but were found out to be misdeclared red onions upon physical inspection by the STG-EI composite team from DA, Department of Trade and Industry (DTI) Regional Office X, National Intelligence Coordinating Agency (NICA), DA-Regional Office X, Plant Quarantine Service Regional Office X, Bureau of Fisheries and Aquatic Resources (BFAR) Regional Field Office X, together with the Bureau of Customs (BOC) Inspectorate team led by Port of Cagayan De Oro (CDO) Collector for Administration, Atty. Roswald Pague.
The said shipments do not have the required Sanitary and Phytosanitary Import Clearance (SPS-IC) which is a mandatory requirement to ensure that the agricultural products are not health hazards and are free from harmful pests.
STG-EI Alternate Chair and DTI-CPG Undersecretary Ruth Castelo wrote a letter request to BOC Commissioner Rey Guerrero after receiving information that the said shipments contained smuggled agricultural products which to the immediate action of the STG-EI Operation Team after the letter request was approved by Commissioner Guerrero.
This successful operation initiated by the STG-EI, with the support of BOC, is part of the relentless effort of the taskforce to curb smuggling of agricultural products, secure the welfare of farmers and fisherfolks and at the same time, protection of consumers.
The inspection was witnessed by DA-R10 Exec Director Carlene Collado and Regional Technical Director Carlota Madriaga, DTI-R10 OIC Regional Director Ermedio Abang, BPI-Plant Quarantine Services (PQS) R10 Chief Manuel Barradas, BFAR - Fisheries Inspection and Quarantine Service (FIQS) R10 Migs Lim, representative from NICA R10, and BOC Port of CDO led by Collector for Admin Atty Roswald Pague, Chief CIIS Oliver Valiente and other members of the inspectorate team.
Yolanda anniversary: Reminder to take a scaled-up action from the government, world leaders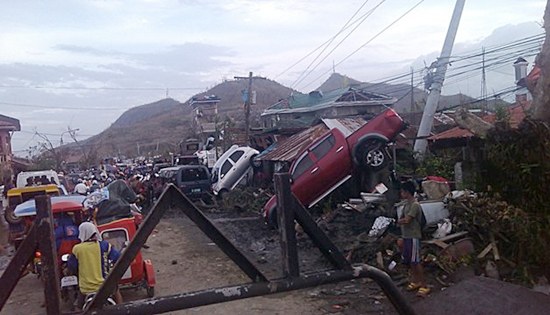 Press Release
November 8, 2021
QUEZON CITY – The National Council of Churches in the Philippines (NCCP), the country's biggest aggrupation of mainline Protestant and Non-Roman Catholic churches, renewed its commitment to support disaster survivors and climate vulnerable communities in time for the eighth-year anniversary of the infamous Typhoon Yolanda (Haiyan) destruction in 2013 and the 26th UN Climate Change Conference of Parties (COP26) that is happening in Glasgow, Scotland.
"Eight years after the Typhoon Yolanda landfall, we still call for justice. We will never forget the people who died from that disaster which was exacerbated by climate change and the grave negligence of both the past and present administrations."
"Since 2013, Typhoon Yolanda (Haiyan) has shown how utterly devastating the climate crisis is. Since then, we have experienced typhoons and extreme weather events with almost to the same destructive impacts as that of Typhoon Yolanda – a glaring indication that we no longer have to wait for a few more years to feel the climate crisis," said NCCP General Secretary Bishop Reuel Norman O. Marigza.
"These experiences should have pushed the government to scale-up disaster mitigation, ecological protection, and climate change adaptation. Regrettably, we haven't seen any indication that our national government is now well-prepared, as shown in the government's inadequate responses to post-Yolanda calamities," the bishop added. "If anything, we are in a much vulnerable state – as economic crisis and environmental destruction worsen at the backdrop of the climate emergency."
In recalling the destruction brought by Yolanda and in consideration of COP 26, we reiterate our call and prayer for climate justice. We hope and pray that people of goodwill eschew a global economic system where profit is prioritized over people. We pray and call for a shift to clean energy instead of monopolized fossil fuels, for rehabilitated and protected forests instead of large-scale mining, lives and livelihood of the people over big businesses," Bishop Marigza said.
Hosted by the United Kingdom in partnership with Italy, the COP 26 is gathering world leaders together to "accelerate action towards the goals" of the historic Paris Agreement and the UN Framework Convention on Climate Change.
"We extend our prayers and demand to the world leaders in the 26th climate conference, to finally respond with urgency to the climate crisis. We yearn for no less than shared solutions to address the needs of the most affected countries and accountability and meaningful action from the richest and highest carbon emitters and polluters," the bishop concluded.
Kapeng Barako conquers Switzerland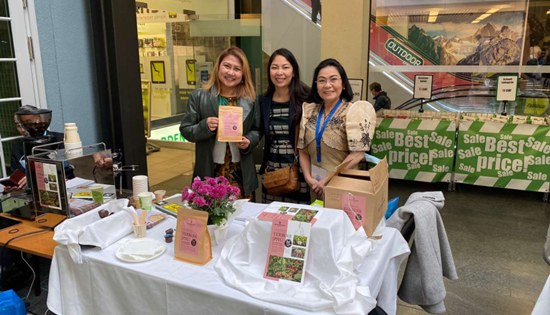 DTI Switzerland Commercial Counsellor Magnolia Ashley (center) with booth visitors.
By DTI-Foreign Trade Service Corps
November 5, 2021
MAKATI CITY – Blaser Café, one of oldest coffee traders (since 1922) and well-established coffee roaster in Switzerland, added Philippine Liberica coffee beans aka "Kapeng Barako" in their Terroir line.
The term "terroir", which originally comes from viticulture, is now also used in the coffee industry. A significant part of the character of a coffee can be traced back to its origin. It is the terroir that gives coffee its complexity. The soil and the climatic conditions shape its aroma, its acids and thus the entire profile of a coffee.
The Terroir line from Blasercafé in Bern responds to this awareness that the cherries of a coffee plant cannot thrive in exactly the same way in another location. On the package, the GPS coordinates of the respective plantation indicate where the beans come from, and thus their origin is 100 percent traceable.
In the case of kapeng barako, the Philippine Liberica beans, is traced back to the town/ municipality of Alfonso, Cavite. The ground on which the trees in Alfonso grow is enriched volcanic soil from the nearby Taal volcano. Fortunately, Alfonso was spared from the effects of the volcanic eruption in January 2020.
The Terroir line is roasted on a Ghibli profile roaster from Coffeetech located in the Rösterei Kaffee in Bern, Switzerland. This allows small batches of coffee beans to be roasted to profile. The roasting time and the roasting curve (temperature curve) can be defined according to the origin and variation of the beans by a computer software. In the case of Liberica beans, it was roasted in medium temperature that results to sweet, creamy, and juicy mouthfeel with rum, dried fruits, and brown sugar notes. Kapeng Barako is recommended to be served as espresso or black and prepared using Bialetti-Kocher, espresso machine, or fully automatic coffee machine.
Every cup of Philippine Liberica coffee helps support small coffee farmers, particularly in the provinces of Batangas and Cavite where the majority of this coffee is grown. The Philippine – EFTA Free Trade Agreement enables duty free importation of coffee beans to Switzerland.
A soft launch was held on 22 October together with Swiss media and free tasting during the 2021 Fernweh Festival. Blaser Café's Terroir PHL will be available throughout Switzerland starting December. Mainstreaming of Philippine coffee in Switzerland was a joint effort of Le Café Filipina, Blaser Café Suisse, and the Philippine Embassy in Bern - Department of Trade and Industry.
DAR confident to hit parcelization target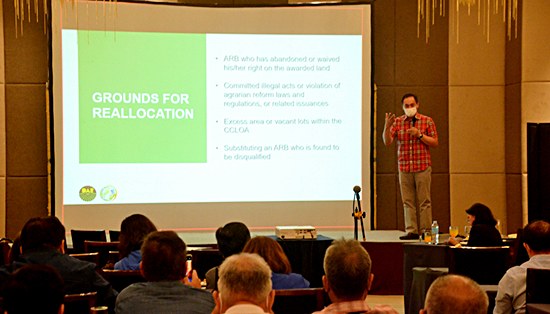 The Department of Agrarian Reform (DAR) Eastern Visayas hosted in October the conduct of "Policy Orientation on the Revised Guidelines and Procedures on the Parcelization of Landholdings with Collective Certificates of Land Ownership Award" to participants from Regions VII and VIII to fast-track the issuance of individual titles.
By JOSE ALSMITH L. SORIA
October 31, 2021
TACLOBAN CITY – With the cascading of the revised guidelines to field implementers of the Department of Agrarian Reform (DAR), parcelization of landholdings covered by collective certificates of land ownership award (CLOAs) is expected now to move fast and smooth.
During the first batch of the "Policy Orientation on the Revised Guidelines and Procedures on the Parcelization of Landholdings with Collective CLOAs" conducted in this city in mid-October this year through blended mode, many issues delaying the implementation of the project Support to Parcelization of Landholdings for Individual Titling (SPLIT), were addressed.
DAR Undersecretary for Field Operations Office Elmer Distor said, "I have full faith in the SPLIT project. With adequate team, we would be able to accomplish within the period of three years."
Assistant Secretary and SPLIT National Project Director, Rene Colocar, disclosed that this project seeks to subdivide more than 1.3 million hectares of lands nationwide covered by more than 134,000 collective titles and eventually issue individual CLOAs to about 1,140,735 agrarian reform beneficiaries (ARBs) until year 2023.
For 2021, Regional Director Robert Anthony Yu shared that Eastern Visayas has a target of about 1,878 collective CLOAs covering a combined area of 29,176 hectares for parcelization, which according to Distor, is the biggest among 15 regions.
RD Yu stressed that about 15,310 ARBs in Region-8 awarded with collective CLOAs are expected to benefit this year by receiving their individual titles by yearend.
Meanwhile, Yu added, about 129,000 ARBs from this region awarded with collective CLOAs with combined area of 206,436 hectares are expected to be benefited upon the completion of the project in 2023.
"This policy orientation is intended to motivate us all and be in a united front as to how we will address this parcelization issue," said Distor as he talked to participants from Central and Eastern Visayas regions.
Further, Undersecretary for Policy, Planning and Research Office, Virginia Orogo, motivated the field implementers by stressing the role the latter play. According to her, "What we are doing is a noble thing, a noble work, because we are helping our land to be productive, and we are giving land to people."
"In this time of pandemic," she added, "wala tayo ibang pupuntahan kundi lupa. Yan lamang ang nagbibigay sa atin ng pagkain. We continue to live because of the food we eat on the table, Orogo explained."
This P24-billion SPLIT project is funded by the World Bank wherein 78 percent comprise the loan proceeds, while 22 percent serves as government counterpart.