NMP collaborates with LGU Guiuan for BSTMHOF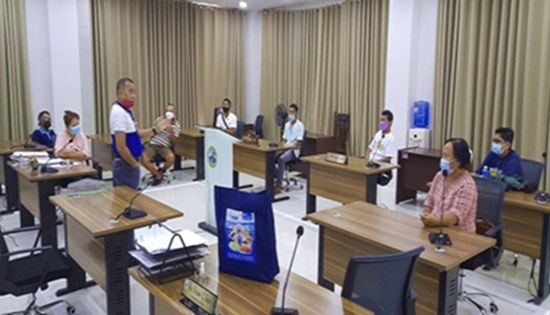 Meeting with NMP Executive Director Joel B. Maglunsod and the Presidents of different fisherfolks association of LGU Guiuan held at the Municipal Hall of Guiuan, Eastern Samar last 14 January 2022.
By National Maritime Polytechnic
January 26, 2022
TACLOBAN CITY – The National Maritime Polytechnic (NMP), is set to propel its way forward with a renewed partnership with the Local Government Unit (LGU) of Guiuan in a meeting conducted last 14 January 2022 at the Municipal Hall of Guiuan, Eastern Samar with NMP Executive Director Joel B. Maglunsod, Mayor Analiza Gonzales-Kwan, and LGU PESO Manager Rina P. Vertulfo.
ED Maglunsod and other NMP personnel, met with the officials of LGU Guiuan to present the proposal for the conduct of the Basic Safety Training for Motorboat handlers/Operators and Fishermen with Typhoon Preparedness (BSTMHOF), and eventually finalize the terms and agreements for the said training which is scheduled on 25 February 2022. ED Maglunsod and the rest of the NMP team also met with the fisherfolk of Guiuan for a consultative meeting to discuss concerns for the said training.
BSTMHOF is aimed at improving the basic safety skills of local motorboat operators and fisherfolks and expose them to new techniques in Personal Survival, Fire Prevention and Firefighting, Elementary First Aid and Personal Safety and Social Responsibility, including topics on the Rules of the Road, Typhoon Awareness and Marine Safety Requirements.
It is imperative that such training be conducted to help their people acquire the skills and knowledge to adapt to varying risks since the municipality of Guiuan is a fishing community and the only municipality in the region with the most number of island barangays, hence, most of the houses are situated in coastal areas, making them more susceptible to the hazards of typhoons.
Moreover, Mayor Kwan added that the BSTMHOF is a much-needed training because the Municipality of Guiuan also serves as a tourist attraction having rich historical background and a century-old church, and several scenic spots, surfing camps and white-sand beaches.
This initiative is a collaborative effort between the NMP, the Philippine Coast Guard (PCG), the Maritime Industry Authority (MARINA), and LGU Guiuan. It can also be recalled that prior to this, NMP was able to forge partnership with LGU Guiuan in the previous years for the conduct of the said training.
Meanwhile, NMP continues to upgrade its facilities and provide maritime trainings pursuant to the STCW Convention as amended in 2010 including value-adding courses to enhance the competitiveness and qualifications of Filipino seafarers, and conducts maritime studies to come up with policies for the improvement of the manpower sector of the industry.
Mayor condemns NPA's bomb attack in Samar
By DPAO, 8ID PA
January 25, 2022
CATBALOGAN CITY – An anti-personnel mine was detonated by communist NPA terrorists in Brgy Pelaon, Pinabacdao, Samar at around 08:26 in the morning January 25, 2022.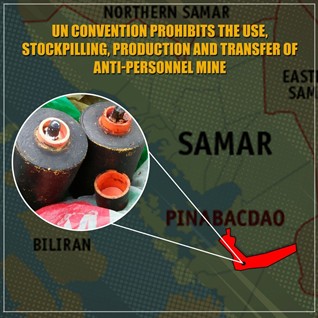 An army soldier and a CAFGU Active Auxilliary (CAA) were wounded by the explosion. The victims were on their way to a site for a new detachment when the incident happened. The construction of a new detachment was initiated in response to an earlier request by the local community leaders and residents.
Mayor Teodorico Mabag of the Municipality of Pinabacdao, Samar condemned the communist terrorist's use of anti-personnel mine as it poses significant risk to the lives of the civilian community of Brgy Pelaon where the explosion happened.
"The incident proves the CPP-NPA's willful disregard on the safety and well-being of humanity. Their continuing manufacture, stockpile, and use of anti-personnel mine is a gross disrespect to the UN convention that bans anti-personnel mines to protect humans from its mutilating effects and suffering. The leaders of the National Democratic Front of the Philippines (NDFP), which represented the NPA in past peace negotiations, should be held answerable for the continuing IHL violations of the NPA that they have been representing," Maj Gen Edgardo De Leon, Commander 8ID said.
In September 18, 1997 the Ottawa Convention banned the Use, Stockpile, Production and Transfer of Anti-personnel mine to put an end on the unnecessary suffering and desecration of human body caused by its explosion. Aside from NPA's use and stockpile of the banned anti-personnel Mines, the communist terrorists were observed to be abandoning explosive mines they laid hidden on trail, posing great risks to innocent civilians passing along. For the year 2021 alone, troops of 8th Infantry Division have discovered and safely recovered 96 pieces of abandoned anti-personnel mines in various parts of Region 8.
As of this report, the wounded servicemen were already evacuated safely and brought to medical facility for treatment.
Eastern Visayas closes 2021 with 3.4% inflation rate
By PSA-8
January 20, 2022
TACLOBAN CITY – Eastern Visayas closed 2021 with 3.4 percent Inflation Rate (IR) in December. This IR is 0.4 percentage point lower compared with the 3.8 percent IR in November 2021. However, December 2021 IR of the region is 1.0 percentage point higher than the recorded 2.4 percent IR in the same period last year.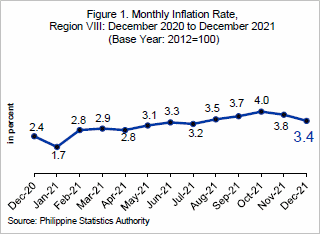 In comparison with the national average IR, the regional IR is lower by 0.2 percentage point than the 3.6 percent national IR in December 2021.
Among the provinces, Eastern Samar posted the highest IR at 4.4 percent in December 2021. Biliran's IR came next at 4.2 percent, then Samar at 3.7 percent. The lowest IR was noted in Southern Leyte at 2.2 percent. All provinces exhibited lower IRs in December 2021 compared with their figures in November 2021. Samar recorded the biggest drop of 1.7 percentage points from its 5.4 percent IR a month ago, registering 3.7 percent IR in December 2021. The IR in Southern Leyte moved at a slower pace of 2.2 percent in December 2021, 1.2 percentage points lower than its 3.4 percent IR in November 2021. Northern Samar recorded 1.0 percentage point decrease, bringing its December 2021 IR down to 3.0 percent. Meanwhile, IR of Leyte, Biliran, and Eastern Samar all eased by 0.1 percentage point in December 2021, settling at 3.0 percent, 4.2 percent, and 4.4 percent, respectively.
In December 2021, only the commodity groups of housing, water, electricity, gas and other fuels; furnishings, household equipment and routine maintenance of the house; and restaurant and miscellaneous goods and services registered IRs higher than their previous month's levels by 0.3 percentage point, 0.1 percentage point, and 0.1 percentage point, respectively. All other commodity groups have either lower or retained their November IRs.
Transport commodity group posted the highest IR during the month in review at 6.7 percent, followed by housing, water, electricity, gas, and other fuels commodity group at 6.2 percent. All the other commodity groups have IRs lower than the IR for all items recorded at 3.4 percent.
The alcoholic beverages and tobacco commodity group registered the biggest decrease in IR with 2.8 percentage points, which settled at 2.3 percent in December 2021 from 5.1 percent in November 2021. This can be traced in the declines of IRs in both indices of tobacco and alcoholic beverages by 1.0 percentage point and 3.9 percentage points, respectively.
Slower IR was also noted in the transport commodity group, from 8.7 percent in November 2021 to 6.7 percent in December 2021. This 2.0 percentage point decrease in IR was brought about by the reduction of the double-digit IR in the operation of personal transport equipment index by 9.7 percentage points.
The IR for food and non-alcoholic beverages commodity group in December 2021 slowed down to 3.3 percent from 4.0 percent in November 2021. The IR for vegetables dropped to 1.0 percent in December 2021 from 5.0 percent in November 2021, the highest decline of 4.0 percentage points. The IR for fish fell to 9.7 percent in December 2021 from its double-digit IR of 12.4 percent a month ago. Slower IRs were also exhibited in the indices of food products not elsewhere classified (2.8%); oils and fats (1.4%); sugar, jam, honey, chocolate, and confectionery (1.1%); and milk, cheese, and eggs (0.7%).
The index of rice and corn continued to register deflations but at a slower rate of 1.5 percent and 1.4 percent, respectively. The index of non-alcoholic beverages retained its previous month's IR at 0.2 percent, while bread and cereals retained its previous month's deflation of 1.2 percent. On the other hand, meat index continued to register double-digit IR at 14.4 percent in December 2021. Prices for fruits also picked-up posting IR of 6.1 percent in during the month in review.
Compared with its November 2021 levels, IR for clothing and footwear commodity group (1.4%) declined by 0.2 percentage point in December 2021. The IR for health commodity group likewise eased by 0.1 percentage point, settling at 0.9 percent in December 2021.
On the other hand, housing, water, electricity, gas, and other fuels commodity group's IR increased to 6.2 percent in December 2021 from 5.9 percent in November 2021, recording a slight increase of 0.3 percentage point. This uptick in IR was brought about by the higher double-digit IR in the electricity, gas, and other fuels index posted at 17.9 percent.
The IRs for restaurant and miscellaneous goods and services commodity group and furnishings, household equipment, and routine maintenance of the house commodity group both inched up by 0.1 percentage point registering 1.1 percent and 0.6 percent, respectively, in December 2021.
Meanwhile, the commodity groups of recreation and culture; communication; and education retained their previous month's IRs at 0.9 percent, 0.7 percent, and 0.1 percent, respectively.
The Purchasing Power of Peso (PPP) of the region remained at P0.75 in December 2021. This PPP implies that the goods and services worth P75.00 in 2012 was already worth P100.00 in December 2021.
Compared with their levels in November 2021, PPP in Biliran and Northern Samar both weakened by P0.01. The rest of the provinces retained their previous month's PPP. Biliran and Leyte recorded the strongest PPP at P0.78, while Samar posted the weakest PPP during the reference month at P0.69.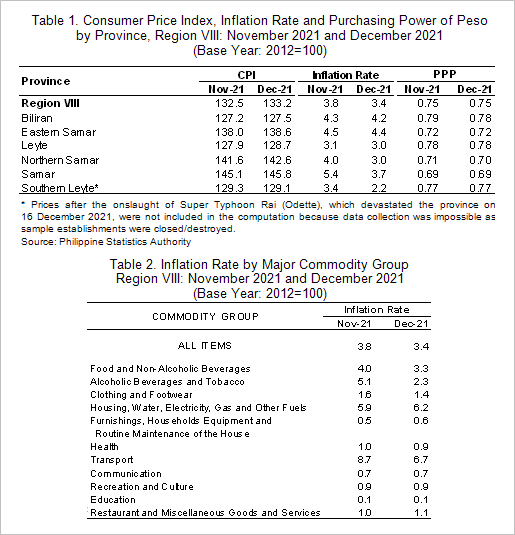 NCCP welcomes House passage of bill for the protection of human rights defenders
Press Release
January 18, 2022
QUEZON CITY – The National Council of Churches in the Philippines (NCCP), through its General Secretary, Bishop Reuel Norman O. Marigza, welcomed yesterday's passage of House Bill No. 10576 or the Human Rights Defenders Protection Act on its third and final reading. "The passage of the Human Rights Defenders Protection Act is a positive step forward in upholding the rights of those who are working for the protection of God's Gift of human dignity," Bp. Marigza stated.
"For the NCCP, the defense of human rights is an integral part of our Christian witness and mission and we have supported this Act since it was introduced in the previous 17th Congress and we are glad that legislators of this 18th Congress finally voted in favor of its passage," the Protestant leader added.
"In recent years, the state of human rights has sharply declined and the NCCP has observed various forms of human rights violations and more vicious patterns of attacks against human rights defenders, including church people, several of which are our pastors and lay members. We are also concerned over the rampant red-tagging and we are alarmed over the freezing and/or monitoring of bank accounts of church-designated sanctuaries, NGOs and humanitarian actors," Bp. Marigza said.
"When rights defenders have fallen victims to violations and abuses, who will now defend the defenders? We thus call on our Senators pass the counterpart Senate Bill No. 179 filed by Senator Leila de Lima," the Bishop added.
The Human Rights Defenders Protection Act or House Bill No. 10576 is a consolidated version of House Bills No. 15 filed by Albay First District Rep. Edcel Lagman, No. 161 filed by Quezon City Sixth District Rep. Jose Christopher "Kit" Belmonte, and No. 240 filed by the Makabayan bloc composed of representatives from partylists Bayan Muna, ACT Teachers, Kabataan and Gabriela Women's Party.
The House Bill defines the rights and freedoms of human rights defenders (HRDs) in the Philippines and aims to institute measures that will protect them. This was approved by the lower house chamber on January 17, 2022 with 200 affirmative votes, zero negative, and no abstention.
The NCCP is the largest aggrupation of mainline Protestant and non-Roman Catholic churches in the Philippines.
CLFC takes 14th spot on PFA financial survey
By CARD MRI
January 18, 2022
SAN PABLO CITY - Among the 49 participating companies, CARD Leasing and Financing Corporation (CARD LFC) takes the 14th spot with the highest net income after tax and places 22nd with the highest gross income in the Philippine Finance Association's (PFA) Survey on Financial Performance conducted earlier this year.
Established in 1962, the PFA, comprised of finance and leasing companies in the country, aims to develop innovative financial products and services for the betterment of the country.
"Ranking 14th was something we never expected. Regardless, CARD LFC welcomes the recognition as this proves our growth in terms of the quality of our services to our clients," CARD LFC President Frederick Nicasio M. Torres said as he recognizes the leasing corporation's achievement. As of December 2021, CARD LFC has more than 6,500 clients, doubling more than what they had the year before. "This also reinforces the company, as this shows that we are providing our clients with the right financing and credit access," he added.
Besides doubling the number of clients served by more than 100%, CARD LFC had an improved repayment rate from last year's 90% to this year's 97%. Repayment rate refers to how often someone pays based on the lender's loan terms.
The increase of performance of the CARD's leasing and financing institution may also be attributed to their technological innovations, one of which is their online loan application via Facebook. Assisted by a chatbot, interested applicants may message their official Facebook where they can apply for loans and be immediately released.
Holistic approach
Torres also mentioned that CARD LFC's holistic and hands-on approach to their clients drives the good performance of the institution. "Whenever our clients have concerns, we respond personally to help them address their needs. We also refer them to CARD MRI's institutions to help them expand their businesses. We know our clients by heart, and we focus on each one of them."
CARD MRI Managing Director Aristeo A. Dequito congratulates CARD LFC's progress. "The growth of CARD LFC despite the pandemic shows that CARD MRI will always find a way to be of service to our communities. Staying true to their mission of providing the best leasing and financing services in the most affordable way, CARD LFC's achievement is proof that at CARD MRI, we keep in mind our clients' best interests."
Since its inception in 2013, CARD LFC has provided leasing and financing services such as start-up, vehicle, and gadget loans to clients in and outside CARD MRI. For more information on their products and services, please visit their official Facebook page, @CARDLFCOfficial.
TESDA sets up solar lighting systems in Caraga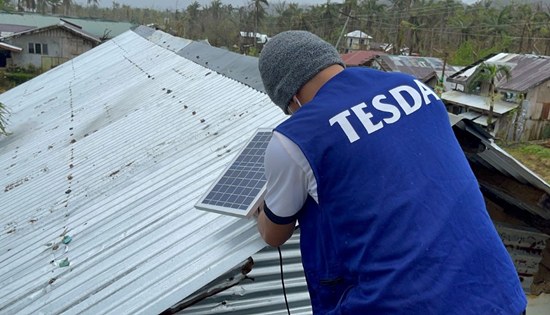 By TESDA-PIAD
January 18, 2022
TAGUIG CITY – Due to the power outage caused by the Typhoon Odette in the Caraga Region, the Technical Education and Skills Development Authority (TESDA) has set up solar lighting systems and charging stations in the region.
A total of 59 solar lighting systems have been installed in the Caraga Region, of which, five were installed in Surigao City and Surigao Del Norte; 27 in Siargao Islands; and 27 in Dinagat Islands.
These solar lighting systems were installed by TESDA Caraga with the help of their buddy regions, the National Capital Region (NCR) and Regions III, XI, and XII. The "buddy system" is being implemented by TESDA Central Office to ensure a smooth and faster provision of assistance and skills training to "Odette"-hit areas.
Also, TESDA Caraga, together with the augmentation team from Region III, conducted a community-based training on Solar Concept and Installation at Consuelo, Dapa, Surigao del Norte last January 12 where a total of 18 families attended the training.
Meanwhile, other interventions are still ongoing not just in the Caraga Region but also in other regions which were devastated by Typhoon Odette. TESDA has allotted P195 million worth of scholarship for the residents of the affected regions nationwide.
TESDA Secretary Isidro Lapeña shared that TESDA field offices are currently laying the groundwork to conduct massive training-cum-production on construction-related courses which will help the affected residents rebuild their destroyed houses and other infrastructure in their community.
These construction-related training courses include Masonry, Tile Setting, Electrical Installation, Painting, Shielded Metal Arc Welding, Plumbing, Carpentry, and also Photovoltaic Systems Installation.
Other TESDA units have started the conduct of community-based training in Electrical Installation and even hollow-blocks making. Training in Cookery and bread-making will also be offered.
It can be recalled that the TESDA Chief himself has approved the implementing guidelines of the agency for disaster response last February2021 which is being followed by all TESDA operating units.
This includes the Relief Phase where immediate basic needs of the affected population should be provided and the Rehabilitation Phase which requires the implementation of construction and livelihood trainings.
Lapeña also noted that after their recovery, the affected residents can also use what they have learned from these trainings to generate their own income through business or employment.
"In the spirit of Bayanihan, and with TESDA's mandate and guiding principle 'TESDA Abot Lahat', we will always be ready to provide relief and rehabilitation programs for our disaster-affected kababayans so they can immediately recover from the crisis," he said.
Duterte appoints new brigade commander in Samar
By DPAO, 8ID PA
January 9, 2022
CATBALOGAN CITY – Col Lenart Lelina assumes command of the Army's 801st Infantry Brigade through a Change of Command Ceremony at its headquarters in Camp Eugenio Daza, Brgy Fatima, Hinabangan, Samar on January 8, 2022.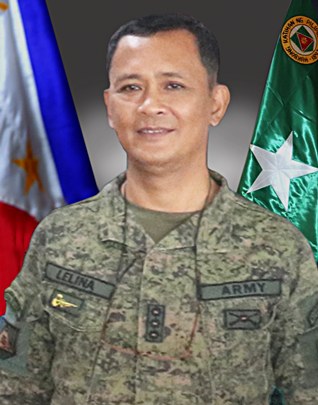 President Duterte signed the appointment of Col Lelina as new Commander of 801st Bde on December 28, 2021. Lelina replaced Brigadier General Camilo Ligayo who assumed higher position as the AFP's Deputy Chief of Staff for Reservist and Retirees Affairs, J9.
During the ceremony, Ligayo was recognized for his invaluable contributions to AFP's mission. He was given Meritorious Achievement Medal and Command Plaque from Visayas Command and Military Merit Medal from 8th Infantry Division in recognition of his achievements as Brigade Commander of 801Bde.
Ligayo on his speech as outgoing Commander, thanked various stakeholders to include the provincial governments of Samar and Eastern Samar, Provincial Task Force ELCAC, PNP and others for their contributions to accomplishing Brigade Mission.
Lelina is a veteran in Region 8, first assigned as a young 2nd Lieutenant in 43IB in Samar and Eastern Samar. In 2019 he became the Deputy Brigade Commander of the unit until his assumption of the top post. Lelina has a short and simple message to communist terrorists in Samar and Eastern Samar: "Lusad na kamo ngan uli na ha iyo pamilya samtang mayda pa panahon, (Come home and be with your families while there's still time) period".
AFP Commander in Eastern Visayas and 8th Infantry Division Commander Major General Edgardo De Leon presided the ceremony. De Leon on his speech commended the officers and troops of 801st Infantry "Bantay at Gabay" Brigade for their high degree of professionalism and commitment to serve. "Nawa'y lalo ninyong paigtingin ang inyong katapatan sa tungkulin at sa ating bansa nang sa ganon ay mabilis nating maisulong ang pagkamit ng kapayapaan at kaunlaran dito sa Samar".
Lt General Robert Dauz, Commander, Visayas Command was also present during the ceremony to personally award the Command Plaque and medal from Visayas Command to BGen Ligayo.
Chiz to LGUs: Don't count on windfall from Mandanas ruling
Press Release
January 9, 2022
SORSOGON CITY – Sorsogon Gov. Chiz Escudero is advising his fellow local chief executives not to count on the additional P234 billion in internal revenue allotment (IRA) expected this year as the national government complies with the Mandanas ruling of the Supreme Court.
Escudero, a veteran legislator, said the cost of the full devolution of services mandated by Executive Order 138 would be twice as much as what local government units (LGUs) are entitled to receive from the national tax collection. He used 2021 data to estimate the gap between the increased IRA and the increased cost of newly devolved services.
"Inisa-isa ko iyon sa national budget ng 2021 dahil line item naman ng budget. Ang kabuuang halaga ng dini-devolve nila sa LGU ay humigit-kumulang P1.3 trillion samantalang ang dagdag na IRA na bigay ng Mandanas ruling ay P695 billion lamang," said Escudero.
"In other words, they devolved double the amount of what they will be giving LGUs. Iyon pa lang kukulangin palagi yung pondo ng LGUs," he said.
According to the Department of Budget and Management (DBM), the total IRA for LGUs is projected to increase by 55.7%, from P695.49 billion in 2021 to PHP 1.083 trillion in 2022, which is 4.75% of the country's gross domestic product (GDP). This is based on the national tax collections in 2019, when the Supreme Court made the landmark decision giving LGUs greater share in national revenue.
The decision, now known as the Mandanas ruling, stemmed from petitions lodged by Batangas Gov. Hermilando Mandanas and former Bataan Gov. Enrique Garcia Jr. seeking local government share in all national taxes, not just in the taxes collected by the Bureau of Internal Revenue but also in the duties collected by the Bureau of Customs.
Because of this, LGU share in the IRA is expected to increase to at least 60% from the current 40%, leaving less money for the national government. As the IRA is based on the collections in the third year preceding the current fiscal year, the adjustment in tax allocations resulting from the Mandanas ruling will take effect in 2022.
"Hindi dapat umasa ang mga LGUs sa sinasabing windfall from Mandanas ruling kasi mas matindi ang windfall ng trabaho at pagkakagastusan nila dahil sa EO 138," said Escudero, who is seeking a Senate comeback.
"Gaya din ng naranasan natin ngayong COVID-19 pandemic at nitong nakaraang Typhoon Odette, kanya-kanyang diskarte ang mga LGUs para tugunan ang pangangailangan ng kanilang mga constituents. Ganun din ang inaasahan nating mangyayari sa full devolution," he said.
To mitigate the impact of the Mandanas ruling, the national government through Executive Order 138 signed in June 2021, decided to implement the full devolution of functions, services and facilities to the local government no later than 2024. LGUs and national agencies were instructed to prepare devolution transition plans and capacity development agenda.
Escudero warned that attaching permanent functions and services to a volatile source of funding is detrimental to LGUs and counter-productive to long-term planning. He urged local governments to be extra cautious in their spending because while the devolved functions and services will remain steady in the coming years, their source of revenue will not.
"LGUs should not create recurring expenditure or permanent positions because next year, they might not have the budget for those. By 2023, the IRA will be based on the 2020 national revenue, and we all know the Philippines had its worst economic performance that year due to the pandemic. Our GDP shrank by 9.5% in 2020, the worst since 1947, which means we may also see the worst IRA since then," Escudero said.
Government agencies converge to Limasawa Island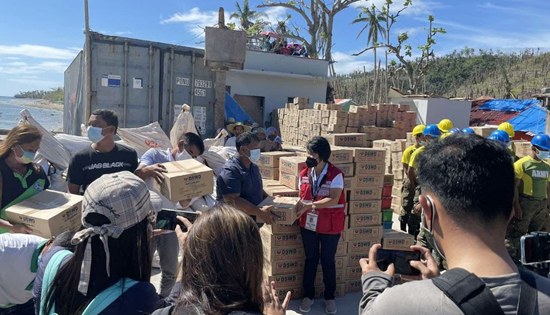 By DPAO, 8ID PA
January 7, 2022
TACLOBAN CITY – Regional line government units converged to Limasawa island on Jan 7, 2022 to pour-in more assistance to the Municipality of Limasawa following President Duterte's order to ensure typhoon victims will not sleep without roof.
According to Cpt Ryan Layug, military spokesperson in Region 8, a Philippine Air Force reconnaissance aircraft was immediately dispatched on Dec 17, 2021 to assess the damage caused by typhoon Odette. It was immediately disclosed to the public that 90% of existing structures in Limasawa were totally damaged, while the remaining 10% were severely damaged. Most of the small boats of the fishermen were also damaged leaving the Island municipality isolated. Two small boats were even blown up by strong winds towards the top of a hill, about half kilometer from the shore.
"Simbahan ra gyud mi nanagan tanan, naa pa gani pumpboat gilupad ni Odette padulong sa tuktok sa bukid dadto oh sa punuan sa cellsite (The church became our sole shelter, there were even pumbboat blown away on top of the hill in the cellsite)" a resident said pointing on the cell tower at the hilltop of the barangay. She also mentioned that have they not pushed themselves inside the unfinished 3-storey church, where 200-300 residents of Brgy Magallanes sought shelter, many could have died. Sea water and from ocean surge reached the houses, pushed and washed away all the debris. A resident said it was a miracle that in Brgy Magallanes, only one died.
"Nakakapanghinayang, mahigit 70% ng mga pananim, lalo na puno ng niyog, ang natumba at naputol. Nagkasirasira din ang mga bangka. Halos walang natirang maayos na bahay." Major General Edgardo De Leon, AFP Commander in Eastern Visayas or JTF Storm said.
The AFP in Region 8 sent soldiers in typhoon affected areas to assist the residents and facilitate relief operation. Carpentry-skilled teams of soldiers were deployed to help make temporary pantry and sanitation area. According to MGen De Leon: "scaled down muna ang military operations para bigyang daan ang pagtulong ng mga sundalo sa mga nasalanta ng bagyo. Nagkakarpintero muna ang mga sundalo natin para tumulong sa pagkumpuni ng mga nasirang bahay."
Limasawa Mayor Melchor Petracorta broke into tears as he expressed gratitude to the government agencies' non-stop convergence effort to help. "Ramdam na ramdam namin ang presensya ng gobyerno natin, nandyan sila para sa amin. Maraming salamat". Mayor Petracorta encouraged his constituents to replicate by waking up early at 5AM everyday to expedite their recovery process, particularly the repair of homes and pumpboats. He coined the "Magsipag at Magtulungan, para ang Pagbangon Hindi Matatagalan" as new motto for the people of Limasawa.
The AFP and PCG has been helping in the logistics requirement of RDRRMC, transporting relief goods to the Island. "We along with other government agencies like OCD, DSWD, DILG and other agencies in Regional Disaster Risk Reduction Management Council will exhaust all effort to help our people in the entire Southern Leyte get back on their foot. We are thankful for their understanding of our shortcomings but we are most especially touched when they say babangon tayo sir." De Leon added.
OCD distributed family, house repair and sanitation kits while DSWD handed Family Food Packs. The AFP sent manpower, able-bodied to help rebuild homes.