Mission Accomplished!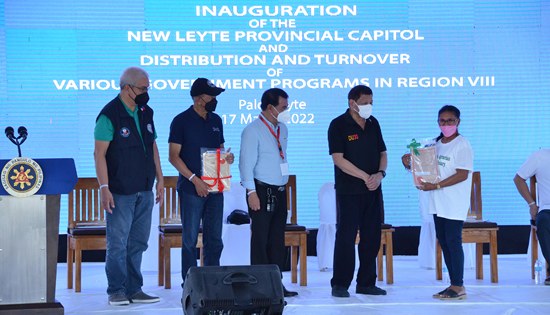 President Rodrigo Duterte handed certificates of land ownership award (CLOAs) to representatives of the 772 agrarian reform beneficiaries on March 17, 2022 at the new Leyte Provincial Capitol. (Jose Alsmith L. Soria)
Press Release
March 22, 2022
TACLOBAN CITY – Employees of the Department of Agrarian Reform (DAR) shout "Mission accomplished!" after President Rodrigo Duterte finally handed the Certificates of Land Ownership Award (CLOAs) for the former rebels on Thursday in support of the National Task Force to End Local Communist Armed Conflict (NTF-ELCAC).
DAR Eastern Visayas Regional Director Robert Anthony Yu disclosed that 446 individual CLOA covering 89 hectares of land in Sitio Limite, Barangay Daja Daku in San Isidro, Leyte, were handed by the Chief Executive to the 446 agrarian reform beneficiaries (ARBs) during the inauguration of the new Leyte Provincial Capitol in Palo town.
Two hundred fifty-eight of the 446 ARBs are former rebels, while 188 are actual farmers, Dir. Yu added.
Agrarian Reform Secretary Bernie Cruz, who assisted the President in the distribution of the land titles, lauded the DAR-Leyte employees for a job well done.
Sec. Cruz dropped by the DAR Leyte Provincial Office the day before the distribution, to check on the titles.
The President on January 23, 2020, during his visit to the remote San Isidro town to turnover various government assistance to former rebels, ordered former DAR Secretary, John Castriciones, to provide the former rebels farmlands to till under the Comprehensive Agrarian Reform Program (CARP) where they can start a livelihood.
One year and eight months after, a collective CLOA covering 91.6 hectares was generated and registered at the Registry of Deeds (ROD). Thereafter on March 19, 2022 the collective CLOA was parcelized into individual CLOAs, which were then distributed by the President on March 17, 2022.
During the same occasion, 326 more CLOAs with a combined area of 487.7 hectares were distributed by the President to the representatives of ARBs from other Leyte towns as well as from the provinces of Northern Samar, Western Samar and Southern Leyte.
NPA high ranking official says he does not regret his decision to surrender
By DPAO, 8ID PA
March 21, 2022
CAMP LUKBAN, Catbalogan City, Samar – A newly surrendered high-ranking official of the Guerilla Front Damol and 7 other high ranking CPP-NPA-Terrorists (CNTs) attended the Local Peace Engagement Panel and Peacebuilder Group dialogue at the Department of Trade and Industry (DTI) provincial office in Catbalogan City on Monday, March 21, 2022.
The said dialogue is an assessment of the situation and concerns of the newly surrendered CNTs and discussion on the assistances that the different government agencies can offer and provide.
Alyas Dori, the Organization Department Secretary of the Guerilla Front Damol which operates in the areas of Pinabacdao and Villareal, expressed that they can now prove that the government's help is real. He is hopeful that it can alleviate their way of living.
"We do not regret our decision to surrender to the government, rather we are happy. First, we no longer have to hide and we will no longer hesitate to help other people. And, I can now be with my family whom I never been with for 15 years," Dori said.
Dori has expressed his gratitude for all the government's efforts especially in helping them and calls out his former rebels to surrender as well.
"To my brothers and sisters in arms who are still in the organization (Communist Terrorist Groups), just cooperate and stop running so that we can take care and help your family. I can assure that I can help them. We do not want to die in the armed struggle because of wrong ideology, instead, be back to the folds of the law for us to have peace and make Samar prosper," Dori added.
The dialogue was attended by the different government agencies like the Philippine Information Agency, the Philippine Army, Department of Interior and Local Government, Provincial Social Welfare and Development Office Samar, Office of the Provincial Agriculture, Technical Education and Skills Development Authority, Office of the Presidential Adviser on Peace, Reconciliation and Unity, Department of Trade and Industry, Department of Labor and Employment and Philippine National Police who will be providing different assistances to the former rebels.
Members of LPE panel of Samar discuss assistance to new NPA surrenderers in EV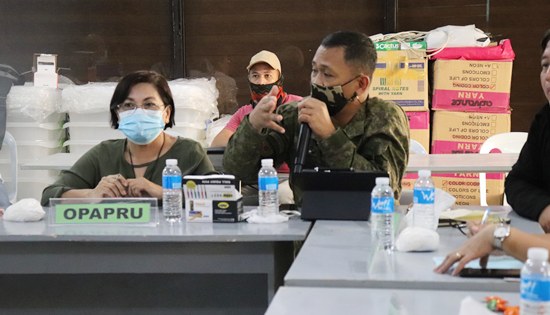 By DPAO, 8ID PA
March 21, 2022
CAMP LUKBAN, Catbalogan City, Samar – The Local Peace Engagement Panel of Samar with the 801st Infantry Brigade, Philippine Army have discussed assistances to newly surrendered high-ranking CPP-NPA-Terrorists (CNTs) who have been organized into a Peacebuilder Group in a dialogue held at Department of Trade and Industry (DTI) Catbalogan on Monday, March 21, 2022.
In the said dialogue, the different government agencies assessed the situation, concerns and needs of at least 8 rebels who surrendered in February and this month.
Colonel Lenart R. Lelina, the Commander of 801st Brigade said that this is just the start of the talks that include the identification of livelihood programs and other government assistances that will significantly benefit the former rebels.
"In the military, we can only provide security for you but here are the other government agencies who can provide different assistances that you need," Col. Lelina said.
The LPE panel of Samar is hopeful that the localized talks will lead to the dismantling of the Guerilla Front Damol that operates in areas in Pinabacdao and Villareal, Samar.
Ms. Alma Austero, the head of the LPE panel said that she believes that the former rebels still have a lot to offer and help in the fight against insurgency.
Among the 8 CNTs who surrendered, some were holding a higher post in the Communist Terrorist Group – 2 are top leaders in the Guerilla Front Damol, 1 Political Guide, others are in-charge in the logistics, and other significant positions in the organization.
Meanwhile, Lieutenant Colonel Juanito Parazo Jr., Philippine Army, the Commander of 46th Infantry Battalion said that the surrender of these rebels is a great loss to the NPA.
"It is a great decrease in the capacity and capability of the CPP-NPA here in the Samar province," Col. Parazo said.
Also discussed in the dialogue were the financial assistances that the government offers to the surrenderers. Ms. Austero of the Provincial Social Welfare and Development Office Samar said that the Local Social Integration Program or LSIP provides transitional assistance of P25,000, another P50,000 for livelihood assistance, and for those who will surrender with firearms will receive P25,000 for each firearm, and P10,000 for each NPA member that a facilitator can persuade to surrender.
On the other hand, the Department of Interior and Local Government said that the E-CLIP provides P15,000 for immediate financial assistance and P50,000 for livelihood assistance, plus firearm remuneration that's double the valuation amount.
With all these assistances the government is hopeful that the remaining CNTs will soon lay down their arms, abandon their armed struggle and be back to the folds of the law.
TUCP files P430 wage hike for workers in Region 7; cites price hikes, malnutrition, hunger, poverty
By ALU-TUCP
March 21, 2022
CEBU CITY – The Trade Union Congress of the Philippines (TUCP) today files a petition before the Regional Wages and Productivity Board VII (RTWPB-VII) for a P430 increase in the daily minimum wages in the Region.
TUCP stated in its petition that minimum wage earners and their families in Cebu, Bohol, Siquijor and other underlying islands are barely surviving with their meager income. The labor group said that since 2018, the prices of basic goods and services have gone up substantially which eroded the purchasing power of the current minimum daily wage of P404.00. This year, the Bangko Sentral ng Pilipinas projected that inflation will hit at 5.1% with the continuing increases in the price of oil triggered by the Russian invasion of Ukraine and ensuing economic and digital war.
"With the current high prices of food and other essential items, the measly income of workers can only accord them and their families with nutritionally deficient survival meals. We are deeply concerned that with the looming price hikes in the basic commodities, including electricity and transport fares, our workers and their families could really go hungry this time and that is unacceptable to us. We are filing our wage petition today to help our workers and their families in Cebu and in the entire of region VII to at least survive," said TUCP President Raymond Democrito Mendoza said.
TUCP said that an P18 increase in the daily minimum wage which the RTWPB-VII granted in January 2020 has long been dissipated by the high cost of basic goods and services, even before it could be felt by minimum wage earners.
"Today, we are waging war against malnutrition and imminent hunger of our workers and their families in Central Visayas. We are fighting for a minimum wage that at least will save them from starvation. We are not even asking for wage adjustment that will also cover the increasing costs of non-food items which are also necessary to the daily lives of our workers and their families," said Mendoza.
"With the current minimum wage in Region VII, a measly P15.00 per meal can be allocated per member of the family which is P41.17 lower compared to P61.17/meal/person estimated by the Ateneo Policy Center using the Food and Nutrition Research Institute (FNRI) of the Department of Science and Technology (DOST) Pinggang Pinoy model, and the March 2019 PSA Media Service Market Price of Selected Commodities. What kind of food can be bought by P15.00? Do our workers deserve just to eat nutritionally deficient foods while they continue breaking their backs to sustain and expand the economy?" asked Mendoza.
During the recent meeting of the House Committee on Labor and Employment, Mendoza who is the Vice Chairperson of the committee, pushed for the RTWPBs to act immediately on the wage petitions filed before them within 30 days. The TUCP also wrote President Duterte to direct the RTWPBs to swiftly deliberate on the same petitions.
"This is a race against time for the survival of millions of workers and their families who fell through the cracks. There dire conditions should be improved without delay by approving our desired minimum wage increase," said Mendoza.
"Let me also be clear on our fight for decent wages. Wage hike was needed long before the Ukraine-Russia war and the skyrocketing oil prices that followed. The possible oil price rollback this coming week, although we would certainly welcome it, does not mean rolling back our wage petitions. Our minimum wage earners and their families have already fallen below the poverty level even before the ongoing conflict and its aftermath. The fact that our minimum wage earners have become the newly poor is a blatant injustice that must be seriously and urgently addressed by the government," Mendoza said.
TUCP said that Region VII enjoyed an average GRDP growth rate of 9.35% for the period 2016 - 2019 before hitting -8.3% in 2020. Gross Domestic Product (GDP) grew by an average of 5.6% in 2021. Central Visayas has been the consistent fourth biggest contributor to the GDP, averaging 6.44% for the period 2016-2020.
"Workers continued to give and sacrifice even with their declining health and strength due to poor nutrition for the sake of regional and national economic development. And what do they get? Malnutrition, hunger, and poverty," said Mendoza.
The labor center said that the present monthly take home pay of P9,663.94, is far below the P16,295.00/month poverty threshold for a family of five in Central Visayas.
"What kind of life do our workers and their families have? Our workers and their families deserve to live, and to live with dignity. They need the wage adjustments now or they will continue to live in destitution. As a civilized society, we cannot and should not perpetuate the miserable conditions of our workers and their families," Mendoza finally added.
DTI reports threefold increase on retail value of confiscated products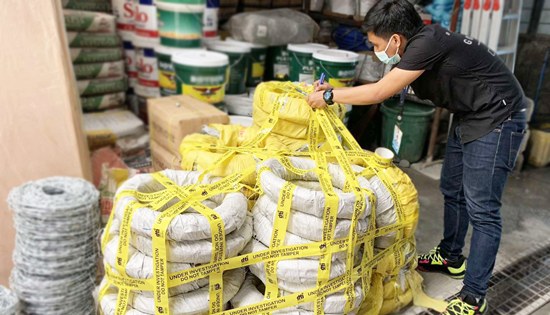 By DTI-CPG-Fair Trade Enforcement Bureau
March 15, 2022
MAKATI CITY – The Department of Trade and Industry-Fair Trade Enforcement Bureau (DTI-FTEB) reported a threefold increase on retail value of confiscated products in the National Capital Region (NCR) from January 1 to February 28, 2022.
A total of 7,551 pieces of uncertified products, with a retail value of P1,401,189.05, were cracked down by the DTI-FTEB through random inspection activities for the first two (2) months of the year. This resulted in a whopping 304% increase on the seized products' retail value compared to the same period last year wherein a total of 846 pieces of uncertified products, with a retail value of P346,704.00, were seized by the team.
Out of the 181 inspected establishments in NCR this year, 100 of which were issued Notices of Violation (NOVs) for selling products without the required Philippine Standard (PS) mark and Import Commodity Clearance (ICC) sticker certified and mandated by the DTI-Bureau of Philippine Standards (DTI-BPS). Among the seized products are low carbon steel wires, sanitary wares, television sets, cement, extension cords, electric blender, brake fluid, circuit breakers, helmets, plugs, socket outlets, uPVC pipes, rerolled steel bars, and other consumer products that requires to undergo mandatory certification.
Pursuant to Department Administrative Order (DAO) No. 2:2007 and the Implementing Rules and Regulations of Republic Act 4109 otherwise known as The Product Standards Law, products covered by the BPS mandatory product certification schemes, whether locally manufactured or imported, are required to bear the Philippine Standard (PS) mark or Import Commodity Clearance (ICC) sticker prior to market distribution.
"The PS marks and ICC stickers are the guide and assurance of our consumers that the products they purchase are safe and conforming to the relevant Philippine National Standards (PNS) mandated by the law," DTI-Consumer Protection Group (DTI-CPG) Undersecretary Atty. Ruth B. Castelo underscored.
DTI-CPG Assistant Secretary and DTI-FTEB Concurrent Director Ronnel O. Abrenica noted that the positive performance of his Bureau is a result of recalibration of resources with the newly formed DTI-FTEB strike teams and redirection of focus on conducting intensified technical regulations enforcement and seizing operations on a regular basis.
"We kicked off the year strong and we will sustain this synergy to foster a heightened consumer protection in the country," DTI-CPG Assistant Secretary and DTI-FTEB Concurrent Director Abrenica added.
To check the list of products that should bear the PS mark and ICC sticker, visit www.bps.dti.gov.ph. Consumers are encouraged to report establishments selling critical products in the market by calling 1-DTI (1-384) or by sending a consumer complaint to consumercare@dti.gov.ph.
NMP kicks off National Women's Month Celebration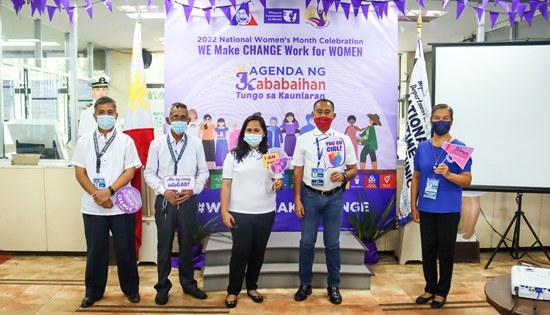 The NMP Key Officials pose with their Agenda ng Kababaihan placard to show their support to women as the NWMC 2022 kicks-off.
By National Maritime Polytechnic
March 15, 2022
TACLOBAN CITY – The National Maritime Polytechnic, a strong advocate of Gender and Development (GAD), opens the National Women's Month Celebration (NWMC) during the flag raising ceremony held on 8 March 2022 in time for the observance of the International Women's Day.
NMP highlights anew women's empowerment and honors the unequivocal contributions of women to societal development, with a set of activities lined up for the month of March focusing on the sub-theme: Agenda ng Kababaihan, Tungo sa Kaunlaran, capping up the six-year recurring theme "We make change work for women." This theme celebrates the dynamic Filipino women, perceptive of their choices, making their voices heard and trailblazers of change.
As part of this month-long observance, NMP put up the NWMC display center featuring Filipino women in "Today's Herstory" and "Juana Says." The activities will also include the Emergency First Aid (EFA) lecture for NMP female employees, women representatives from Barangay Cabalawan (where this office is located) and from the Sailor's Association. The "Serbisyo para kay Juana" program of NMP, offering free training and dormitory fee for female trainees for this month, is likewise reinstituted. Also part of the activities is the distribution of Information/Education/ Communication (IEC) materials and collaterals to be uploaded on the agency's FB page and official website.
In support to the Philippine Commission on Women's (PCW's) campaign to signify support on gender equality and women's empowerment, the employees, guest trainers and trainees were encouraged to participate the Purple Tuesdays or the wearing of any purple every Tuesday of March, and use the hashtag "PurpleTuesdays, #PurpleYourIcon in their social media posts.
"As women, what we can do is limitless, we just have to activate it. We have the power to convert pain into passion to be a successful member of the community." Deputy Executive Director Mayla N. Macadawan said during the opening program. She also enthused women to speak up and let their voices be heard, and that, regardless of status, women's role in complementing with men cannot be belittled. Women should continue to explore and unlock their abilities, as these open opportunities to be better.
DTI Bagsakan and Bahandi jointly celebrate Women's Month in Region 8
By DTI-TPG-Bureau of Domestic Trade Promotion
March 15, 2022
MAKATI CITY – After the success of the recent Bagsakan: Panubli-on in Western Visayas, the DTI Bureau of Domestic Trade Promotion (BDTP) is expanding its reach to more provinces through a collaboration with the DTI Region 8 in the upcoming Bagsakan in Eastern Visayas to be held on March 17 to 20, 2022 at Robinsons Place Tacloban.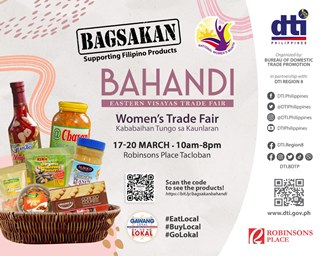 Billed as the Bagsakan Bahandi: Women's Trade Fair in Eastern Visayas, the four-day selling and order-taking activity is aligned with the celebration of the National Women's Month with the theme "Kababaihan Tungo sa Kaunlaran." This special Bagsakan initiative will proudly showcase the wide variety of products manufactured by 65 women-led Micro, Small, and Micro Enterprises (MSMEs) from Biliran, Eastern Samar, Leyte, Northern Samar, and Samar.
Capturing the true essence of "Bahandi," a Cebuano word for wealth or treasures, the Bagsakan will highlight the diverse selections of food products and non-food items that represent the rich heritage and traditions unique in each Eastern Visayas province. Among these cultural treasures are the authentic Eastern Visayas delicacies such as chocolate moron, suman latik, sasema, and binangol which will be available for sale to shoppers and institutional buyers. Various handicrafts, souvenirs, handwoven products, homestyle items and decors, fashion accessories as well as health and wellness products will also be in stock for retail selling and bulk orders during the event.
A special feature of the event is the exhibit of prototypes of newly-developed products and packaging innovations under the One-Town-One-Product (OTOP) Next Gen, DTI Comprehensive Agrarian Reform Program (CARP), and the Rural Agro-Enterprise Partnership for Inclusive Development and Growth (RAPID) Growth Programs.
In launching the event, DTI Regional Operations Group (ROG) Undersecretary Blesila Lantayona will lead the Opening Ceremony with DTI ROG Assistant Secretary Demphna Du-Naga, DTI-Region 8 Regional Director Celerina Bato, BDTP Director Marievic Bonoan, DTI Provincial Officers and representatives from the DTI BDTP. Consumers and institutional buyers who will not be able to attend the physical show can still participate online. A live broadcast of the activities and a video tour of the event and products will be streamed via the BDTP Facebook page: https://www.facebook.com/DTI.BDTP. The DTI has also prepared a digital product catalog with full contact information of participating MSMEs. Download the official event catalog in this link: https://bit.ly/bagsakanbahandi.
The Bagsakan Special Project started out as a crisis response to the pandemic to help farmers, fruit growers MSMEs and social coops sustain their livelihood during the pandemic. This innovation contributed to the "Bayanihan We Heal As One Act" by ensuring the availability of food products while helping MSMEs sell their goods, thus supporting the economy amid the COVID-19 crisis. Since 2020, the project has generated P44.28 Million for 359 farmers and fruit growers associations, MSMEs and social coops from several regions.
To get updates on upcoming Bagsakan events, national fairs and programs for MSMEs, join the DTI-BDTP Community on Viber and follow us on Facebook and Instagram (DTI.BDTP), Twitter (DTI_BDTP), and Tiktok (DTI.BDTP).
Sec. Bello awards over P12-M livelihood, emergency employment assistance in Ormoc City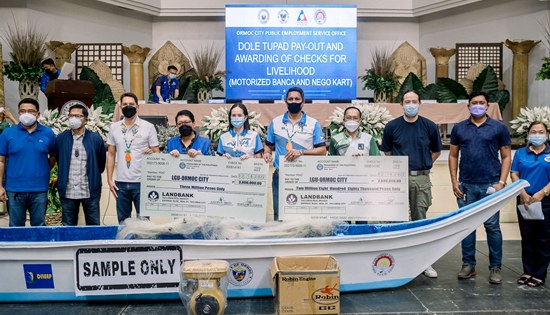 By NORMA RAE S. COSTIMIANO
March 14, 2022
TACLOBAN CITY – More than 2,000 workers from Ormoc City benefitted from the P12,144,250 worth of DOLE livelihood and emergency employment assistance awarded last February 19, 2022 at the Ormoc Superdome.
Secretary Silvestre H. Bello III graced the activity and personally led the awarding of livelihood funds amounting to P3,000,000 for the motorized banca and fishing gear projects of 100 beneficiaries. A livelihood check amounting P2,880,000 was likewise awarded for the Negokart Projects of some 96 beneficiaries.
The labor chief likewise took part in the payout of TUPAD wages of 1,849 workers amounting to P6,009,250.00. Each worker received P3,250 for the ten-day work rendered.
Meanwhile, some 34 overseas Filipino workers (OFWs) and OFW-dependents also received livelihood grants with a total amount of P255,000 under OWWA's programs namely, Tulong Puso, Balik Pinas Balik Hanapbuhay and Educational Livelihood Assistance Program.
Congresswoman Lucy Torres-Gomez and Mayor Richard I. Gomez thanked Secretary Bello and the entire DOLE team composed of Undersecretary Renato L. Ebarle, Usec. Benjosantos M. Benavidez, OWWA Administrator Hans Leo Cacdac, DOLE-NCR Director Sarah Buena S. Mirasol and DOLE-BWSC Director Ma. Karina P. Trayvilla.
Sec. Bello in his message expressed untiring support and commitment to extend assistance as needed by the workers not just in Ormoc but the whole of Region 8.
"I assure you that the DOLE programs will continue to help our needy workers, tuloy-tuloy lang po ang ating serbisyong TUPAD", said Sec. Bello.
Also present during the activity were Regional Director Henry John S. Jalbuena, DOLE-West Leyte Field Office Head Mr. Edgar Tabuyan and DOLE-Technical Support Services Division Head Mr. Norman L. Uyvico.
CMIT celebrates 12th anniversary with innovations to fight poverty
By CARD MRI
March 14, 2022
SAN PABLO CITY – "We won't stop forging onward alongside the fast-paced, fast-changing developments in the world of IT to equip CARD MRI in serving the Filipino poor." These are the words of CARD MRI Information Technology (CMIT) President Edgar V. Cauyan, as the whole CARD MRI community celebrated CMIT's 12th anniversary on March 10, 2022.
To commemorate its historical founding, Cauyan recollected how the institution started and how CMIT is straining forward to lead CARD MRI's digital transformation initiatives.
"The need for CARD Bank to computerize in 1999 was the starting point of the operations of CMIT. I can recall how it was back then, and every time I think about it, the memories make me smile. Because it was the first time CARD MRI had an IT department, everything that has to do with new technology, from printers to air conditioning, is taken care of by its IT department. These were the initial operations of CARD's IT department. Today is different as it became a separate entity in 2010 to advance the technology of the CARD MRI group," Cauyan shared.
Cauyan is talking about the digitalization of CARD MRI in the 21st century, not only to expedite the transactions of CARD MRI clients but also to achieve digital financial inclusion in the country.
Technology-Driven
CMIT continues to support CARD MRI's microfinance institutions (MFIs), including CARD, Inc. (A Microfinance NGO), CARD Bank, CARD SME Bank, and CARD MRI RIZAL BANK, to assist its account officers (AO) and to improve their service delivery to clients.
From the manual application of loans using pen and paper, AOs are now equipped with the loan origination system (LOS). Through the LOS, AOs only need to conduct an interview with clients and input their data on the system installed in their tablets. Once done, the loan application will be sent automatically to the unit manager for approval. Once approved, the loaned amount will be sent to the applying client's savings account.
Having the same concept as LOS, the mobile onboarding digitally records those who want to be clients of CARD for faster and simpler registration.
According to Cauyan, besides these new systems that aim to support both CARD MRI staff and clients in their transactions, CMIT is also hands-on in the continuous upkeep and monitoring of its konek2CARD mobile banking application for CARD MRI clients.
Technology Savvy
"konek2CARD is perhaps our proudest contribution to CARD MRI, and we are thankful to FDS ASYA PHILIPPINES (FDSAP) for working with us hand-in-hand to make this possible. We are also forever grateful to the CARD MRI community, most especially our MFIs and our clients, for making this possible and for absorbing this into their lives," Cauyan shared as he expressed his gratitude for the clients' positive response towards the mobile banking application despite the difficulties they faced in implementing konek2CARD in 2016.
konek2CARD recently reached 2 million registered users in February 2022, a milestone for the CARD community that can be attributed to how the clients recognize the application as a necessity in their lives.
It can be recalled that konek2CARD saw an increase in user registration in 2021 after the "Saya ng Buhay, Level App" campaign that emphasized konek2CARD's role in the lives of CARD clients, especially during the COVID-19 pandemic.
konek2CARD users can skip taking transportation, going to the bank, and waiting in line with the mobile banking application's features that allow clients to do their banking transactions in the comforts of their home. These features allow them to access their savings, to pay their loan amortization and bills, to purchase e-load, and to check their balance and other transactions without going to the bank and putting themselves at risk of contracting the virus.
CARD clients can also be assisted by authorized konek2CARD agents in their neighborhood for their banking transactions and easy access to their savings through cash-in and cash-out.
Cauyan also breached the subject of remittances as CARD MRI also steps up other alternative delivery channels to bring better services to its clients.
"We are also supporting and empowering more Filipinos, not just our clients, with CARD Sulit Padala. Through this local remittance provider, located in our branches and branch-lite units, you can send and receive money from your loved ones anywhere in the Philippines. It's the best alternative for people who are looking for nearby remittance outlets in their neighborhood," Cauyan explained.
Now, CMIT led the conversion of 52 unit offices of CARD, Inc. from the local system to the Core Microfinance System which aims to provide real-time transactions and reports, automatic calculations, and paperless transactions, among others.
Together with FDSAP, CMIT also monitors the migration of 20 remaining CARD Bank branches from the local system to the centralized Core Banking System which enables the clients of CARD's MFIs to make their banking transactions at any of CARD's branches.
Since 2010, CMIT has been developing the technical designs and systems required in the day-to-day activities of CARD MRI. The IT company is at the forefront of CARD MRI's digital transformation in the hopes of eradicating poverty through its technology-driven initiatives.