1st Samar PMFC bags Silver Eagle award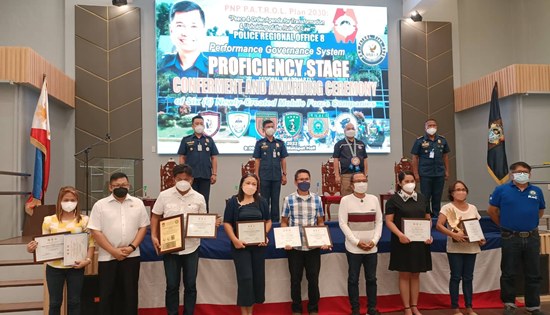 Press Release
March 29, 2022
PALANAS CARA, Calbayog City – A Silver Eagle Award was conferred to First Samar Provincial Mobile Force Company by Police Brigadier General Bernard M Banac, Regional Director, Police Regional Office 8, on March 25, 2022 at Matapat Hall, Police Regional Office 8, Camp Kangleon, Palo, Leyte.
The award was in recognition of 1st SPMFC's outstanding performance in the effective implementation of the PNP P.A.T.R.O.L Plan 2030 during the Proficiency Stage Evaluation in January 18, 2022 at same venue.
The award was received by Police Lieutenant Colonel (PLtCol) Eleazar R Barber Jr., 1st SPMFC Force Commander, with Ms. Leviresa Getigan, member of the unit's advisory group.
PLtCol Barber lauded his men for the displayed commitment, unity and teamwork that yielded to the said award.
He also encouraged his men to continue striving for the best not only for the unit but also for the whole PNP organization.
"Receiving this award represents the unity and teamwork of all the personnel of this unit and with the indispensable contribution of the advisory group in achieving this exceptional feat," PLtCol Barber added.
"We will continue to exercise the tradition of excellence especially that we are now pointing towards the Institutionalization Phase," Barber concluded.
Should you have any queries, please feel free to contact us through Hotline 09564460025, Facebook Account - FirstSamar Pmfc, or e-mail us at firstspmfc.sppo@yahoo.com.
Hijos Tours welcomes back travelers for first in-person tour in 2022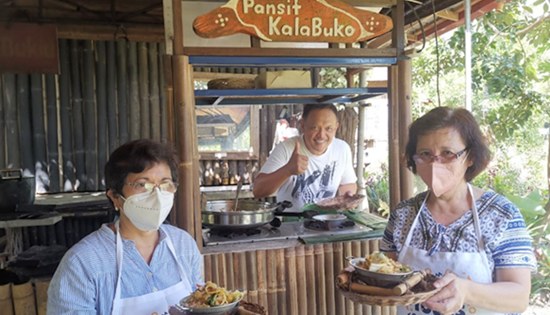 With the help of the Forest Wood Garden owner Mr. Joel Frago, making pansit kalabuko became more convenient and memorable for Nanay Maximina Aima and Nanay Marissa, both CARD MRI clients.
By LYNFA A. TAN
March 29, 2022
SAN PABLO CITY – Despite the many challenges that the tourism industry faced during the COVID-19 pandemic, many tourism-related enterprises are getting back on its feet beginning March of 2022. As Alert Levels have gone down, local travel requirements also eased. The Department of Tourism (DOT) became more optimistic about this progress because this will bring back opportunities for tourism and will gradually help the industry to recover.
CARD MRI Hijos Tours, a tour operator based in San Pablo City, Laguna, and a member of CARD Mutually Reinforcing Institutions, is one of the many tourism companies welcoming back travelers to its in-person tours in response to the simultaneous lowering of alert levels in our country.
On March 19, 2022, Hijos Tours catered to a group of travelers during their very first in-person Cocina de San Pablenos Tour for the year. This tour program is a combination of their heritage tour dubbed as Hijos de Siete Lagos and a culinary tour highlighting the unique dishes in San Pablo City, Laguna.
The tour started with a suman demo that emphasizes the importance of recreating an old handed-down recipe. The travelers also visited Sampaloc Lake where the pre-Hispanic way of life of the San Pableńos was explored. They also stopped by the St. Paul the First Hermit Cathedral, a city landmark in San Pablo. Churches are often linked to community celebrations like fiestas, communions, and weddings.
After that, they visited the Forest Wood Garden, where they enjoyed some of the restaurant's signature dishes such as the Pancit Kalabuko, a stirred fried noodle that only used organic vegetables and the Plantsado lamang lupa, a root crop dessert relative to cassava with its special way of cooking.
"One of the things I will never forget is making Pansit Kalabuko, where it not only taught me how to do it, but it even entices me to appreciate what nature has to offer us, just like growing organic vegetables. Not only is it nutritious, but it also helps our ecosystem," shared Maxima Aima Veridiano, one of the tour participants.
Hijos Tours in the new normal
For other interested travelers, Cocina De San Pablenos is available in three packages. First is the Salig Tour, a half-day tour that can be availed for only P2,949 per pax minimum of five. This guided tour package includes a private van transfer and travel insurance. During the Salig Tour, travelers will experience the cultural and culinary heritage of San Pablo, Laguna. A cooking demo of a San Pableńa suman will be one of their fun activities. In addition, travelers will also explore Sampaloc Lake then a quick visit to San Pablo Cathedral. Their lunch will be at Pandin Lake, which is the most exciting part since travelers will cook their own food by catching and grilling tilapia from the lake and prepare their own ensaladang pako (fern salad). Salig is a Cebuano word that means trust.
Meanwhile, the second tour package is named after another Cebuano word, "Padayon," which means to move forward and never give up. This package is a half-day tour, which can be availed at P2,999 per pax for a minimum of five travelers. This tour also includes a tour guide, private van transfer, and travel insurance. The Padayon Tour will also have a San Pableńa suman cooking demo and a heritage tour to Sampaloc Lake and San Pablo Cathedral. The thrilling part of the Padayon Tour is the farm tour and lunch at the Forest Wood Garden. The travelers of this tour package will cook few signature dishes of Forest Wood Garden such as Pancit Kalabuko and Plantsadong Lamang Lupa where they pick needed ingredients of the dishes right inside the farm.
Last is the Paglaum Tour, a full day tour which can be availed at P4,499 per pax minimum of five people. The tour is a combination of the full experience of both Salig and Padayon Tours. Paglaum is a Cebuano word that stands for hope.
Although Hijos Tours is now accepting in-person tours, they will still accommodate virtual tours for travelers who still want to experience Food tours and Pilgrimage tours that feature various churches in Laguna at the comfort of their homes.
Hijos Tours President and Chairperson Ms. Marilyn M. Manila is optimistic for the good outcome of this new era of tourism, "At Hijos Tours, we are hoping that through our tour programs, we will be able to help our community and the tourism industry to recover from the effects of pandemic. Local communities and their stories are always at the heart of what we do." She concluded that Hijos Tours' will soon accept travelers who are interested in their customizable heritage tours in Samar-Leyte, Baguio City, Iloilo City, Davao City, and Legazpi City.
What's in it for Leyte? Stakeholders question second SMC LNG plant in Visayas
Press Release
March 25, 2022
QUEZON CITY – Church, fisherfolk, and other concerned groups ask for clarity from San Miguel Corporation (SMC) if its proposed liquefied natural gas (LNG) plant will truly be beneficial to locals, amid concerns on implications to largely agricultural and highly climate-vulnerable Leyte and surrounding provinces, and with how little information and education efforts have so far been on issues relevant to the project.
Questions were raised as SMC subsidiary Prestige Power Resources Inc. (PPRI) held a public scoping for the 600 MW project Friday in Brgy. Tugas in Tabango – the second SMC is holding in Visayas in less than two weeks, with Negros Occidental locals also airing worries on the San Carlos LNG project at its own public scoping last week.
"Last January, the Catholic Bishops' Conference of the Philippines released a new Pastoral Statement on Ecology calling for unity and action amid a climate emergency and planetary crisis. Leyte knows firsthand how dire the climate situation is, with the devastation many calamites bring us every year. Humans have played a big role in the degradation of our Common Home – particularly because of the kind of energy we use. We hope to understand why we are looking to have an LNG power plant enter Leyte, knowing that in doing so, we are contributing to a crisis that our people already suffer harshly," said Naval Bishop Rex Ramirez, whose diocese oversees the church in Tabango.
In 2013, Leyte and surrounding provinces were hit hard by Typhoon Yolanda, known as one of the deadliest climate disasters in the world in recent history.
"We do not want another Yolanda. It was a wake up call that the climate crisis is real, and that it is in the best interest communities hard-hit by the typhoon for industries that make the climate situation worse end as soon as possible. This fossil fuel project will not even benefit Leyte directly with the power it will produce, why must they welcome it with open arms?" said Fara Diva Gamalo of Freedom from Debt Coalition - Tacloban and Oriang Tacloban.
The power plant intends to contribute power to the Visayan grid once operational. Meanwhile, key stakeholders also testified to not having been involved in any information and education campaign (IEC) by PPRI-SMC., a requirement for power projects to comprehensively conduct prior to the public scoping.
"Nalaman ko lang na may ganitong proyekto isang araw bago ang public scoping. Balewala ba sa PPRI-SMC kung may mga tanong o hinaing ang mga taga-Tabango? Sana hindi. Marami dito sa amin ang umaasa sa kalikasan para sa pang-araw araw na kabuhayan. Kung makakaapekto sa kanila itong planta ng LNG, dapat maging malinaw 'yon," said Tabango Holy Child Parish Priest Fr. Edgar Dolina.
Clean energy advocates have been raising alarm on the steep rise of new fossil gas and LNG projects planned in Visayas and the rest of the country, as their construction and operation will harm not only host communities, but also climate and energy security and affordability ambitions.
"We wonder if the reason why fossil gas project proponents exert seemingly insufficient IEC efforts is because they are worried stakeholders will come to understand how undesirable it is to have an LNG plant in their shores, or to be forced to pay for the expensive electricity it will produce once it is feeding power into the grid. Local government leaders in Leyte and Visayas would be better off choosing not to entertain new LNG proposals, turning their attention instead to making clean, affordable energy and green jobs from renewables available to their constituents," said Avril De Torres, Deputy Executive Director of energy think-tank Center for Energy, Ecology, and Development (CEED).
DTI helps revive livelihood of typhoon-affected micro entreps in Southern Leyte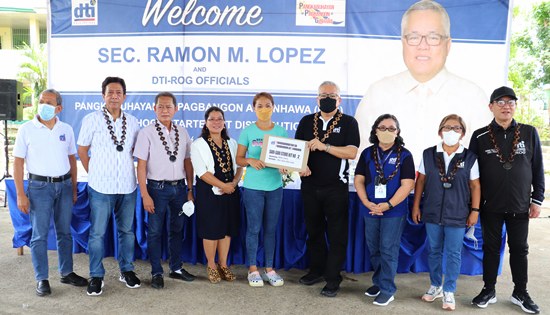 By DTI-Regional Operations Group
March 25, 2022
MAKATI CITY – The Department of Trade and Industry (DTI) initially distributed the first batch of livelihood kits to 412 micro entrepreneurs affected by Typhoon Odette through DTI's Pangkabuhayan sa Pagbangon at Ginhawa (PPG) in Southern Leyte.
Over 2000 micro entrepreneurs were identified by the DTI to be granted with livelihood starter kits in the province. This was the result of the survey conducted last December 2021 to assess the calamity-affected micro, small, and medium enterprises (MSMEs) in the area.
PPG program intends to support communities, especially micro enterprises, to resume their business after devastating incidents and other calamities, including health disasters such as pandemics and armed conflicts. The livelihood kits may be in a form of sari-sari store package, cooking implements for food vending, and barbershop equipment. It is designed according to the needs of the micro entrepreneurs.
According to the Trade Secretary Ramon Lopez, the program was designed to help revive the livelihood of micro entrepreneurs affected by unfortunate incidents and turn them to become successful business people one day.
"Pangarap po ng DTI sa inyo na ang inyong kabuhayan ay maging malaking negosyo, mula micro, small, medium hanggang maging large," said Secretary Lopez.
Further, the trade chief shared the various programs that DTI offers to help develop these micro entrepreneurs. He stressed out the importance of livelihood trainings as well as the loan assistance DTI's financing arm Small Business Corporation extends to MSMEs.
The simultaneous distribution activity benefited all 16 municipalities of Southern Leyte spearheaded by Secretary Lopez together with DTI Regional Operations Group (ROG) Assistant Secretaries Asteria Caberte, Dominic Tolentino, and DTI-8 Regional Director Celerina Bato.
CMDI unlocks first e-Library
By LYNFA A. TAN
March 23, 2022
SAN PABLO CITY – According to a nationwide survey conducted by the Movement for Safe, Equitable, Quality, and Relevant Education (SeQuRe) in March 2021, 53% of Filipino students were not confident if they can be up to par with the requirements in online learning.
The number says three things: distance learning is a struggle for most students in the Philippines. Lack of internet facilities, gadgets, and even access to finances are some of the things that hinder students from experiencing quality education at the comforts of their homes.
Second, distance learning is not for all. The reality is, as much as mothers want to help their children, the times have changed. Lessons have evolved and mothers are left behind by technology.
Lastly, distance learning distances children from school libraries where credible resources are available making them vulnerable to possible wrong information and "fake news" in doing research in the wide world of internet and social media.
While CARD Mutually Reinforcing Institutions (CARD MRI) addresses the first and second points by continuously providing access to cellphone loans and giving online training to mothers and students, CARD-MRI Development Institute, Inc. (CMDI) also does its part in providing access to learning resources by unlocking its first e-Library on February 22, 2022, to cater to its students during the new normal.
Problem Solved
CMDI's electronic-Library or "e-Library" is the first online library of CARD MRI that provides access to relevant reading materials anytime and anywhere using electronic devices and the internet. Catering exclusively to enrolled students of CMDI and its faculty members, the e-Library contains books that are particular to research, thesis, and other academic requirements of both students and staff.
CMDI Senior Executive Vice President Dr. Edzel A. Ramos shared the importance of this digital initiative and its potential to help the students ease the birth pains of distance learning. "By maximizing the use of digital resources, we do our part in freeing our students from the worries associated with the pandemic and letting them achieve their goals and dreams for the future. In line with our mission of eradicating poverty, we give access to quality and affordable education through our senior high school, baccalaureate, and TESDA Programs. Aside from these, we provide free online training and other capacity-building programs to our students as well as to clients of CARD MRI," Dr. Ramos said.
The Modern Library
CMDI Head Librarian Mila M. Ramos also emphasized the significance of the "modern" library during its launching. "While traditional libraries are indeed helpful, we still encounter some challenges with them. Aside from the pandemic that restricts our students from visiting the library, books are also limited. Students cannot borrow the same book at the same time. There are also times that, even if they have a chance to take the book and read it at home, they still need to return the book at a specific time. However, with the e-library, students will no longer have to wait for a book to be available or read it in a rush. It can be accessed anywhere as long as the students have devices connected to the internet. Multiple access is also possible."
Since its inception in 2005, CMDI has served as the training ground for CARD MRI staff and clients alike. The learning institute aims to equip future leaders of the society to create change in their community by empowering socially-and-economically-challenged families through education, in line with CARD MRI's mission of poverty eradication.
Displaced workers in Tacloban find new hope for livelihood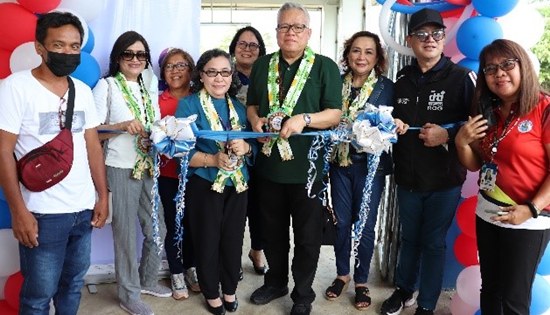 By DTI-Regional Operations Group
March 23, 2022
MAKATI CITY – The Department of Trade and Industry (DTI) brought silver lining to local folks as the agency successfully turned over equipment under the Shared Service Facility (SSF) program providing livelihood support to displaced carpenters, welders, painters, and other skilled workers in the northern barangays of Tacloban City, March 22.
These construction workers once lived in the city proper near the Cancabato Bay who were relocated by the local government to northern barangays after their homes had been devastated by Typhoon Yolanda.
Lack of livelihood is the top challenge faced by these men who had been displaced from their place of work. Some of them are fishermen who, by their current situation, are far off the shore and were forced to shift to the construction industry for employment and income.
The local government of Tacloban saw this opportunity to capacitate these men thru TESDA trainings and provision of equipment via DTI's SSF program. This will help them become productive members of the society.
"Ang role namin ay magbigay ng equipment at magpalakas sa ating mga kababayan. Maaari rin po kayong matulungan ng DTI through our livelihood programs para magkaroon ng tuluy-tuloy na kabuhayan," said Trade Secretary Ramon Lopez.
SSF is one of DTI's programs to address bottlenecks in the value chain of priority industries and enhance productivity of micro, small, and medium enterprises (MSMEs) by providing technical support and processing or manufacturing equipment in a shared system.
The initiative complements the priority program of the LGU to provide livelihoods in the relocated communities of Tacloban. These areas came from hardly-hit barangays of Typhoon Yolanda in 2013 and were displaced from their place of livelihood. The project is expected to gen erate jobs and income for the skilled workers in the relocated sites.
The project amounts to P928,400 for the tools and equipment used for basic construction. The potential beneficiaries are skilled graduates of TESDA NC II and accredited schools for welding, carpentry, and painters.
Secretary Lopez graced the said launching together with DTI Regional Operations Group (ROG) Undersecretary Blesila Lantayona, Assistant Secretaries Asteria Caberte, Demphna Du-Naga, and Dominic Tolentino, and Regional Director Celerina Bato.
DTI encourages the promotion of MSMEs to a higher level where they could tap a better production facility for wider market share and be integrated with the global supply chain.
Trade Chief spearheads distribution of livelihood kits in Bohol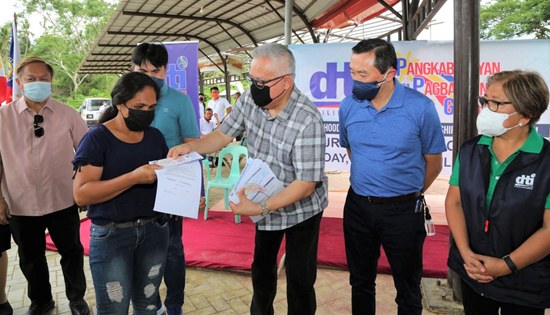 By DTI-Regional Operations Group
March 22, 2022
BOHOL – The Department of Trade and Industry (DTI), through its provincial office in Bohol turned over 430 livelihood kits to the beneficiaries of the Livelihood Seeding Program-Negosyo Serbisyo sa Barangay (LSP-NSB) and the Pangkabuhayan sa Pagbangon at Ginhawa (PPG) on 21 March 2022. The beneficiaries were micro, small, and medium enterprises (MSMEs) from the municipalities of Loay, Sevilla, Loboc, Talibon, Bien Unido, and Trinidad.
In his message, Secretary Lopez expressed high hopes for the beneficiaries of the Livelihood Seeding Program, "Ang pangarap po namin para sa inyo ay maging masagana ang inyong mga kabuhayan at inyong mga negosyo. At itong maliit na puhunan ay para lamang matulungan makabangon ang ating mga kababayan na nasalanta ng bagyong Odette. Ito rin po sana ang susi sa kanila-kanilang tagumpay". Lopez credited President Duterte and Senator Bong Go for facilitating the provision of additional funding to DTI's budget to assist those displaced by calamities.
Bohol Governor Arthur Yap and Mayors from the six municipalities of Bohol delivered their messages of support for the program. Also present during the turnover were DTI Regional Operations Group Assistant Secretaries Asteria Caberte and Dominic Tolentino Jr., DTI-VI Regional Director Maria Elena Arbon, Assistant Regional Director Hope Megar, and the Provincial Directors of DTI Region 7.
This set of beneficiaries is part of over 3,230 recipients of livelihood assistance for the 48 municipalities of Bohol which the DTI initially targets to distribute this year.
The LSP-NSB and LSP-PPG were conducted in partnership with the Local Government Units (LGUs) of the said municipalities and the beneficiaries were profiled by DTI Negosyo Center Business Counsellors prior to the distribution of the livelihood assistance.
Further, these are programs being implemented by DTI to widen the reach of business development assistance by bringing government services closer to the local people through partnerships between relevant local government units and DTI Regional Offices. The LSP-NSB focuses in areas affected by fire incidents and other calamities such as typhoons and health disasters like outbreaks, epidemics, and pandemics such as COVID-19. This livelihood entrepreneurship program aims to provide support to priority sectors and individuals through the provision of training and livelihood starter kits.
CMDI celebrates 22 years of devotion in providing quality education and services to the community
By VICTOR ANGELO U. ARANZA
March 22, 2022
SAN PABLO CITY – Two years defying the pandemic, CARD-MRI Development Institute Inc. (CMDI) continues to "turn challenges into opportunities" as it celebrates its 22nd anniversary on February 14, 2022.
Broadcasted via Zoom and Facebook Live, the learning institute's anniversary celebration began with a Thanksgiving Mass, followed by a series of online activities that commemorated the opportunities, innovation, and achievements born from adapting to the COVID-19 pandemic.
In his welcome remarks, Senior Executive Vice President and Chief Operating Officer Dr. Edzel A. Ramos welcomed the attendees with a Valentine's Day-inspired message. "Today, we are commemorating two of the most anticipated events this February. It is indeed a great day to celebrate not only Hearts' Day but also CMDI's very own 22nd founding anniversary. Looking back, this was also the day when CARD MRI first provided shares of stocks to its clients, proving that CARD MRI's heart belongs to our clients and their family. Through CMDI, we express this love with our efforts to provide education as part of our mission to eradicate poverty," Dr. Ramos said.
CMDI also looked back on the reason for its establishment, including its dedication towards poverty eradication through effective and purposive education, despite the challenges posed by the COVID-19 pandemic.
Seeing how CMDI turned the pandemic into an opportunity, CMDI President Flordeliza L. Sarmiento reminded everyone of the reason why CMDI is still standing today. "Even COVID is not enough to stop CMDI from doing what it desires, and that is to improve our services and to continue our programs for our clients and their family."
The celebration continued with the presentation of CMDI's digital learning progress and testimonials from its students, teachers, and staff. Clients who attended CMDI's training also shared how the learning institute's programs have helped them and their business in the middle of the economic crisis.
John Ivan Bajo from Grade 12 - Vietnam expressed how CMDI's digital learning has benefited him as a senior high school student. "Digital learning is an excellent response to the changing times as it helped me be flexible in my studies, studying on my own time."
When it comes to the digital transformation of CMDI, Senior High School Teacher Laila Dioso shared some of CMDI's initiatives to help its teachers adapt to digital learning together with their students. "CMDI molded teachers to be teachable and equipped with technological advancement through webinars and hands-on training to cope with the challenges in learning."
Commitment to Devotion
Immersed in the spirit of love and devotion, CARD MRI Founder and Chairman Emeritus Dr. Jaime Aristotle B. Alip shared his favorite parable from the Bible to express the sharp difference between devotion and commitment of all staff in the pursuit of nation-building.
"Commitment is a pledge, and therefore, is binding one's self to a commitment to a word. Commitment is a promise which is often made to be broken. On the other hand, devotion means to give one's time to a specific cause, selflessly. It is given out of love. Commitment is 'talk the talk,' while devotion is 'walk the talk.' With devotion, we do things with purpose, out of love. The devotion that emanates from our CMDI staff, most especially during the pandemic, is an act of love, a gift of love from CARD MRI to our clients. This is how we surpass every challenge, and this is how we will go forward at CMDI," Dr. Alip said as he recognized those who have shown devotion in serving the CARD community.
Following Dr. Alip's inspirational message, the students' Capstone Projects were also exhibited in the broadcast. Made by the graduating students from the Information and Communications Technology Department, the Capstone Projects are digital systems aimed to help the school and CARD MRI's clients in the future.
Research publications about the students' works and the clients' stories were also featured. Among these were thesis compilations, scholar stories, and a recipe book that show the students' progress in their digital learning journey. "Katuparan ng mga pangarap" is a compilation of client stories and their success with the help of CMDI.
Dedication to Service
With devotion as its guiding force in helping communities, CMDI also recognized the dedication, impact, and outstanding contributions of Senior Management Adviser Dr. Dolores M. Torres as the outgoing Dean of the Department of Business and Management through an audio-visual presentation by CMDI Vice President for Academic Affairs Glenda M. Lagarile. Dr. Torres was appointed as the Senior Dean of CMDI while Dr. Ramos will assume the deanship of the department.
Continuing the parade of innovations, the students of the CMDI Business Society also presented their Love Month Online Bazaar with the theme "Innovative and Resilient StudEntrepreneurs in COVID Times." These are online food shops where interested customers can message their respective Facebook pages for their orders.
Finally, CARD MRI Managing Director Aristeo A. Dequito congratulated the CMDI family, including its teachers as well as the students and their parents who have all worked together to withstand the pandemic and to continue learning despite it.
"It has been two years since the onset of the pandemic. Despite this, CMDI remained steadfast in helping its students, CARD MRI clients, and staff. This is the fruit of what Dr. Alip described as devotion. With this, we will continue standing our ground until we have turned every challenge into opportunities for growth and success in our mission to fight poverty," Dequito concluded.
Since its inception in 2000, CMDI has served as the training ground for CARD MRI staff and clients alike. The learning institute aims to equip future leaders of the society to create change in their community by empowering socially-and-economically-challenged families through capacity-building programs and quality education, in line with CARD MRI's mission of poverty eradication.