Palm Grass Hotel to mark Leon Kilat birthday and KKK founding with poetry nights
Press Release
June 28, 2018
CEBU CITY – This July 2018, the 126th anniversary of the founding of the Katipunan and Cebu Katipunan leader Leon Kilat's 145th birthday will be celebrated by Palm Grass, the Cebu Heritage Hotel with "BAYAN, BALAK, ALAK", a two-part poetry night.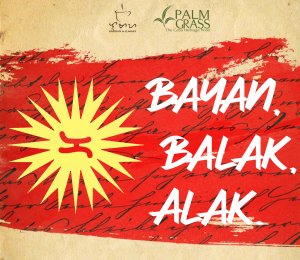 On July 7, from 6PM to 9PM, the founding of the KKK by hero Andres Bonifacio will be commemorated at the hotel's library restaurant, Kapihan ni Lumaya.
The second part of the event will happen on July 31, from 6PM to 9PM, 4 days after Tres de Abril hero Leon Kilat's birthday. It will be at Palm Grass' roofdeck bar Hardin Dagami.
"BAYAN, BALAK, ALAK" is open to both seasoned and contemporary Cebuano poets to share their Filipino or Bisaya poems about our country and society.
On these nights, beer will be 55% off for everyone at the venue, and those who will perform shall be given a free drink.
On the anniversary of the founding of KKK, all dishes and drinks named after Katipuneros will be discounted at 20% off.
Lumaya's most affordable combo meals, the "Kinabaratohang Kaon sa Kapihan" (KKK), offer well-known and loved Cebuano main dishes with side dishes and iced tea, which cost from P79.00 to P99.00 only for the whole year.
As the only heritage hotel in Cebu, Palm Grass pays tribute to the legacy and sacrifice of local heroes by naming floors, rooms, dishes and drinks after them.
The hotel also honors the descendants of Cebuano Katipunero heroes with the Kaliwat Ko'g Katipunero card (KKK) that gives special privileges and special room accommodation rates to members.
The Katipunero descendant must only present a valid ID or any supporting documents that connect the bearer to a Cebuano Katipunero and shall pay an amount of P200.00 for a lifetime membership.
Palm Grass aims to engage all Cebuanos, especially the youth, to learn and explore about Cebu's colorful and valiant heritage.
Battle rages between Army Soldiers and NPA rebels in Ormoc City, Leyte
By 802nd Infantry Brigade
June 27, 2018
ORMOC CITY, Leyte – An encounter with members of the lawless Communist Terrorist Group, locally known as the Front Committee Leyte, New People's Army and units under this command, took place in Brgy Mahayahay, Ormoc City, Leyte wounding one (1) soldier, during the firefight on Tuesday morning June 26, 2018.
First Lieutenant Sheenan D. Kub-Aron, Platoon Leader of the Alpha Company, 93rd Infantry Battalion, operationally under 802nd Brigade Philippine Army under the command of Brigadier General Lope C. Dagoy, Armed Forces of the Philippines.
During the encounter troops of Lieutenant Kub-Aron responded to an information regarding the presence of communist rebels in Brgy Mahayahay, Ormoc City, Leyte.
Around 7 a.m. the NPA members allegedly fired upon the approaching government troops. During the exchange of fire, the communist rebels allegedly detonated an improvised landmine wounding a soldier.
Following are the recovered items during the encounter: One (1) M16A1 Rifle with SN RPA 82287; Three (3) bandoleer; Twenty-eight (28) magazines with ammo; Thirty (30) rounds of Cal .9mm ammo; One (1) Air gun; Four (4) IEDs; Sixteen (16) blasting caps; One (1) laptop computer; Two (2) USB drive; Two (2) card reader; One (1) tablet phone; Fourteen (14) cellular phones; Two (2) transistor radios; One (1) solar charger; One (1) tear gas; One (1) flash light; Five (5) sword (bolo); Three (3) wrist watch; Subversive documents; Personal belongings; Assorted can goods and rice; Two (2) cocking pot.
Medical equipment: 1-stethoscope, 1-blood pressure kit, 14-assorted medicine, 2-dextrose, 1-acupuncture kit.
Discovered enemy encampment with the following description: Sixteen (16) bunkers, One (1) Kitchen, and One (1) Comfort Room.
Ammunition Expenditures: Two thousand six hundred six (2606) rounds caliber 5.56mm ball, Six hundred thirty-seven (637) rounds caliber 5.56mm linked, and Twelve (12) rounds .40mm grenade launcher.
Brigadier General Lope Cellona Dagoy, 802nd Brigade Commander, expressed his concern on the wounded soldier and vowed to continue to pursue the terrorist communist elements in the area, and promise that more intense operations will be conducted until the communist terrorist will vanish in the Leyte and Biliran Islands.
"Meanwhile, we will actively support the program of the government to peacefully resolve all armed conflicts against peace loving people of Leyte and Biliran Let us condemn those who advocate violence and use arms," he said.
Youth groups call PDutz "disengaged from social reality" with his recent anti-tambay crackdown
By Samahan ng Progresibong Kabataan
June 25, 2018
QUEZON CITY – Youth groups says that the verbal order of President Rodrigo Duterte to crackdown on 'tambays' showed that he "disturbingly disengaged from social reality" as he "continues to hallucinate of a vision of a middle-class Philippines" when many remain living below the poverty line.
The Samahan ng Progresibong Kabataan (SPARK) claimed that President Duterte's directive to arrest 'tambays' who are half-naked, loitering and drinking in the streets, "can only be explained by his delusions of grandeur and denial of widespread poverty in the country".
They claim that it is ironic for Duterte to give an arrest order that is blatantly anti-poor when in fact it is his administration and its policies the reason why many of our countrymen have remained poor and are on "stand-by" mode.
"His promise of change has been exposed as an electoral stunt and all he has done is preserve the status quo. No major economic policy reversals has been made to uplift the poor in the past three years. Similar to his predecessors, Duterte has condemned the poor to a neo-liberal economic policies, buried us in foreign debt and bolstered the export-oriented, import-dependent economic framework, explained Jade Mata, spokesperson of SPARK.
"The poor have no manicured gardens or club houses for rest and recreations. So why assail them if their shanties and communities have no air conditioning? The druglords, the gambling syndicates and human traffickers do not live in these places. The real criminals are those who underpay their employees, maintain their contractual work and expose them to the most inhumane working conditions. The vilest criminals wear suits," Mata added.
SPARK challenged Duterte to make his illusions of a middle-class Philippines a reality by repealing the TRAIN Law, instituting price control on all basic commodities, increase wages to measure up to the cost of living and abolish contractualization.
Meanwhile, youth group based in University of the Philippines-Diliman, KAISA UP, connected the issue to the violation of rights and civil liberties of people living in congested areas.
"The crackdown is another blow to our already failing democracy," Zaira Baniaga of KAISA UP said. "The youth and the poor are the most vulnerable with these kinds of attacks on civil liberties. We can't keep turning a blind eye to how this administration maltreats the poor. We call all freedom-loving citizens of the country and democratic groups to condemn this injustice and march as one to confront Duterte's authoritarianism."
KAISA UP fears that many more injustices will follow if the Oplan Tambay remains unscraped.
Last week, Genesis 'Tisoy' Argoncillo of Novaliches was found dead in jail, four days after being arrested half-naked in the streets. The Oplan Tambay started last June 13 and is reported to have arrested an estimate of 7,000 to 10,000 loiterers.
Both SPARK and KAISA UP together with other youth groups are scheduled to mount mass actions in the days to come.
Six cops perish in Sta. Rita, Samar skirmish
By DPAO, 8ID PA
June 25, 2018
CAMP LUKBAN, Catbalogan City – Elements of the 1st Platoon, 805th Company, Regional Mobile Force Battalion 8 of PNP and operating troops from 87th Infantry (Hinirang) Battalion incidentally engaged in a firefight in Sitio Lonoy, Barangay San Roque, Sta Rita, Samar around 09:20 this morning that resulted to the untimely demise of six policemen.
Reports reaching this headquarters said that one platoon minus led by 1Lt Casipit reported that they encountered an armed group at vicinity Sitio Lonoy and the firefight lasted for about 30 minutes. After the skirmishes, 1Lt Casipit and his troops discovered that the unit involved in the encounter belonged to the PNP unit under PCI Suspiñe who also operated on the same location.
Aside from the six fatalities there were nine (9) others Wounded In Action (WIA). There was no casualty reported from 87IB. The wounded PNP personnel were brought to the nearest hospital and dead bodies were recovered jointly by the AFP and PNP.
"A joint, thorough and impartial investigation is being conducted even as we assure the public that your AFP and PNP is fully cooperating to shed light on the incident" said MGen Raul M. Farnacio, Commander of 8ID who directed his ground Commanders to make appropriate actions.
"The whole 8ID family extend our condolences to the bereaved families of those who died in the armed engagement. Rest assured that this unfortunate incident will not hamper the working relation of your Army and PNP in the region." Farnacio added.
Proposed amendments to the Human Security Act of 2007 a license for human rights violations
By KARAPATAN
June 24, 2018
BANGKOK, Thailand – The proposed amendments to the Philippines' Human Security Act of 2007 (HSA) would, if adopted, give government authorities a license to commit human rights violations, said the International Commission of Jurists (ICJ) in its submission today to the House of Representatives. The ICJ strongly urged the House of Representatives to reconsider these proposed amendments and in the interim to allow more time for full consultation and debate on revisions of the law.
In its submission to the House of Representatives' joint Technical Working Group (TWG) of the Committees of Public Order and Safety and National Defense and Security, the ICJ stressed that certain proposed amendments to the HSA are clearly incompatible with international human rights laws and standards that prohibit unfettered surveillance power and arbitrary deprivation of the right to liberty and protect the rights to privacy, information, redress, and freedom of opinion and expression. The ICJ also expressed deep concern that the law also gives military personnel responsibility in countering terrorism, specifically to conduct surveillance on, arrest, and detain persons who are suspected of acts of terrorism.
"The proposed amendments do not address the existing flaws of the HSA. For instance, the definition of acts of terrorism under the HSA is vague and ambiguous and the proposed changes do not in any way remedy that," said Emerlynne Gil, a Senior International Legal Adviser of the ICJ.
The ICJ also pointed out that the proposed amendments are likely to lead to violations of the right to freedom of opinion and expression.
The proposed amendments would also impermissibly lengthen to thirty (30) days the period within which an individual may be detained without judicial warrant. "This is clearly incompatible with the Philippines international legal obligations and constitutes arbitrary deprivation of liberty," said Gil.
The ICJ proposes to reduce the detention period to forty-eight (48) hours or less, in compliance with international human rights laws and standards.
"The Philippine government has the undeniable duty to protect people from acts of terrorism committed by non-State actors, but it cannot use as a pretext the serious nature of terrorist acts to avoid its obligations under international human rights law," said Gil.
Download ICJ PROPOSED AMENDMENTS TO THE HUMAN SECURITY ACT 2007
1 NPA killed in Las Navas, Northern Samar
By DPAO, 8ID PA
June 23, 2018
LAS NAVAS, Northern Samar – One (1) unidentified Communist NPA Terrorist (CNTs) left dead by his comrades after a 10 minutes firefight between elements of 43rd Infantry (WE SEARCH) Battalion and Communist Terrorist Group (CTG) at Brgy McArthur, Las Navas, Northern Samar on June 23, 2018.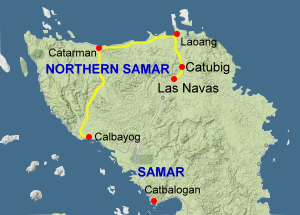 Earlier that morning, government forces responded to an anonymous tip from the residents in the area and immediately deployed 43IB elements to verify the veracity of the report. Few kilometers from the barangay proper, said troops were fired upon by undetermined number of CNTs forcing them to retaliate and firefight erupted. When fires subside, one (1) lifeless CNT armed with his M653 rifle (baby armalite) were found in the encounter site.
Col Ramil M. Bitong, Commander of 803rd Brigade, said that this incident could have been avoided if CNT heed to the call of the government to stop their extortion activity and avail the Enhance Comprehensive Integration Program (E-CLIP).
"This should serve as stern warning to other member of the lawless CTG that the arm of the law can reach you, no matter how long and far you can hide for evil never triumph as long as good men stands for what is right." Col. Bitong added.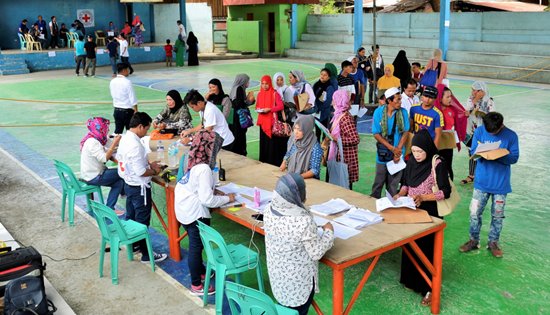 Around 1,000 of the most vulnerable displaced families in five municipalities located in the southeastern part of Lanao del Sur each received P8,000 from the ICRC as livelihood support. (ICRC/Lany dela Cruz)
Marawi: Livelihood support reaches 5,000 displaced people
By ICRC
June 22, 2018
MANILA – Displaced for more than a year since the start of the five-month conflict in Marawi City, many families in south-eastern parts of Lanao del Sur province continue to struggle due to lack of food and other necessities. The absence of a stable income and capital for small businesses has forced many who were traders before the start of the conflict to rely on farming and fishing.
To help 1,007 displaced families in Butig, Lumbayanague, Lumbatan, Masiu and Poona-Bayabao municipalities earn a livelihood, the International Committee of the Red Cross (ICRC) distributed multipurpose cash grants amounting to P8,000 per family from June 20 to June 22.
"Many displaced families gained access to farmlands and basic tools with the help of relatives. But insufficient funds to buy farm supplies forced them to take loans at a higher interest rate," said Dragana Rankovic, who heads the ICRC team on relief and livelihood assistance.
Grants amounting to P8 million were distributed during the three days, aiming to help the most vulnerable displaced families. These included people with no or low income, those in the evacuation centres, those with multiple dependents especially young children, pregnant women, the elderly and the sick.
One of the recipients, Noronsalam Nasser, a mother of six from Datu Sa Dansalan village in the most affected area in Marawi City, said, "When we fled to Lumbatan, we took up fishing to provide for our families but the income was barely enough to sustain us. With the cash grant, I will set up a small business selling shoes and slippers. This cash assistance will also allow us to send our children to school."
Ever since clashes broke out in May 2017, the ICRC, along with the Philippine Red Cross (PRC), has helped hundreds of thousands of people affected by the Marawi crisis. The focus has shifted to the remaining displaced families in Marawi and Lanao del Sur by improving their access to health care and clean water, along with livelihood recovery.
The ICRC, a neutral, impartial and independent humanitarian organization that assists and protects victims of armed conflicts, also financially supported the PRC's livelihood assistance for at least 1,500 conflict-affected families within Marawi City.
Teachers to PDEA Chief: Schools no playground for Tokhang
Press Release
June 21, 2018
QUEZON CITY – Enraged mentors under the Alliance of Concerned Teachers condemned PDEA Chief Aaron Aquino's proposal to subject pupils and teachers to mandatory drug testing, saying that the Duterte regime's drug war has no place in schools.
"The Duterte regime's bloody drug war has gone beyond insane to intimate that any 9-year-old kid could be a drug suspect. We should not permit this to happen. Schools are no playground for Tokhang," Raymond Basilio, ACT Philippines Secretary-General said in reaction to Dir. Gen. Aquino's statement that he would suggest to the Department of Education the mandatory drug-testing of pupils from Grade 4 and up, as well as teachers.
Basilio said the drug-testing will sow terror in schools, will disturbed the students and will destroy the sanctity of schools as safe places for learning. Mandatory drug testing is also a blatant violation of the rights of children and teachers, he explained.
"The cited survey is not enough justification to put the well-being and future of our children in peril," Basilio argued.
Basilio said that the government's line of thinking is very dangerous as apart from the drug test of nine-year-olds, a bill to decrease the age of criminal liability to the same level is pending in Congress.
"The State who has the responsibility to protect our youth apparently wants to make criminals out of them," said Basilio.
Basilio added that PDEA Chief's proposal is a great insult to teachers.
"This government does not run out of ideas to denigrate the integrity of the teaching profession. First it suggested that we are brats for asking for salary increase. Then they painted us as whiners for standing against overwork. Now, they insinuate that we are drug addicts," Basilio said.
"This government should disabuse itself of its belief that we are a nation of drug addicts. What we are is a nation deep in economic crisis. It is where they should focus." Basilio suggested.
Basilio that what the teachers and the people need are the jobs, wage increase, scrapping of regressive taxes and free and quality education and other social services.
"They will be wasting a lot of people's money to test some 20 million pupils and 700,000 teachers for drug use. It should be dedicated instead to uplifting the quality of education and upgrading teachers' salaries," Basilio concluded.
Work from home scheme maybe good to employees but endangers workers' rights to organize and bargain
By Associated Labor Unions
June 21, 2018
QUEZON CITY – The work from home flexible work arrangement may have good benefits to some employees but workers' group Associated Labor Unions-Trade Union Congress of the Philippines (ALU-TUCP) expressed concern that it also threatens to deprive workers' rights to organize and collective bargain for better wages and benefits.
Without diminution of wages and benefits, House Bill 7402 or Telecommuting Act otherwise known as the work from home proposal is attracting many young workers in urbanized cities and municipalities to adopt the arrangement due to the availability of the internet and the hazards caused by traffic congestion and inadequate mass transport infrastructure.
It has passed the third reading in the House of Representatives two weeks ago and now pending in the Senate for its counterpart measure.
"While the flexible work scheme may save urban workers from an average 2 to 4 hours daily agony and disease-causing stress caused by commuting through traffic jams and poor mass transport system, cut fuel, transport and parking expenses and improve work-life balance, the arrangement may also deprive workers of their right to organize themselves as a union and to collective bargain for better wages and benefits," said Gerard Seno, executive vice president of workers' group Associated Labor Unions (ALU).
"It is very important, therefore, for its tripartite-drafted implementing rules and regulation (IRR) to be crafted by the Department of Labor and Employment that guides employees and employers in the application of the scheme at the same time to promote the right to organize and to collectively bargain," Seno said.
Workers' social protection insurance and exposure to occupational safety and health hazard caused overwork and fatigue must also be addressed effectively in the preparation of the IRR, Seno stressed.
Those affected by the measure would be those enterprise-based workers who wanted to perform tasks off-site and those independent or freelance contractors who wanted to work at home.
Workers may also minimize exposure to pollution during commute and hazards caused by floods and typhoons while employers and business owners would be able to reduce overhead and production costs.
More employment opportunities for mothers, differently-abled and persons-with-disability are other positive benefits once the working at home bill is approved into law.
ALU spokesperson Alan Tanjusay, for his part, said the off-site arrangement is not applicable to some industries particularly those jobs that require operating machines, rendering frontline services and doing agricultural work.
However, work from home is applicable to IT, business process management, business process outsourcing, animation, journalist, writers, transcriber, social media management, data entry, customer service, project management, and web designer and developer, Tanjusay said.
Local terrorist dead, pistols recovered in Carigara, Leyte
By DPAO, 8ID PA
June 20, 2018
CAMP LUKBAN, Catbalogan City – A CPP-NPA Terrorist (CNT) cadre was killed in a firefight with troops from 78th Infantry (Warrior) Battalion on Saturday afternoon in Carigara, Leyte.
The end result of information sharing between the communities and authorities on the presence of the terrorists conducting extortion activities, the operation of 78IB led to the demise of the casualty known by his pseudonym, Santoy/Padi was a political instructor and squad leader of Baking Squad, Apoy Platoon of the Front Committee Leyte.
Recovered during the encounter were the following: one cal. 9mm pistol Caspian made loaded with four bullets and one cal. 9mm Colt MK IV cal. loaded with 8 bullets, one fragmentation grenade, subversive documents, medical paraphernalia, half sack of rice and personal belongings of the fleeing terrorists.
Also apprehended was Mrs. Cristita Q. Rendora, owner of the house which was occupied by the CNTs during the firefight. Found in her possession was a fragmentation grenade, thus, she was later turned over to the local PNP for proper disposition and filing of charges.
"We extend our deepest sympathy to the families and friends of the victim. It is tragic that they have taken-up arms against the Filipino nation when the Filipino people understand that only through peace we can achieve development and social justice be attained," Brig. Gen. Lope C. Dagoy, 802nd, Brigade Commander stated.
LGBTQ+ and allies gather for SC oral arguments on marriage equality
Press Release
June 20, 2018
QUEZON CITY – In an historic first, the right to marry of the LGBTQ+ community may finally be recognized by the State, just like all heterosexual couples. Their clamor has reached the chambers of the highest tribunal in the country.
Outside, dozens of gay couples and their supporters gathered and held program in solidarity with the petitioners who spoke in behalf of marriage equality advocates.
The Supreme Court (SC) held today its first oral arguments on the Petition for Certiorari filed by gay lawyer Jesus Falcis III and petitioner-intervenors Reverend Crescencio Agbayani Jr. and his partner, Marlon Felipe and Maria Arlyn Ibanez and partner.
The petition filed three years ago was only scheduled by the high court last March 6.
The petition seeks the SC to nullify Articles 1, and 2 of Executive Order 209 or the 1987 Family Code. Petitioners claim that it deprives homosexuals of their right to due process, equal protection, and the right to decisional and marital privacy.
Consequently, Falcis also petitioned the SC to invalidate portions of Article 46 (4) and 55 (6) of the same Code that cited lesbianism or homosexuality as grounds for annulment and legal separation.
They insists that these provisions of the Family Code as unconstitutional, for defining and limiting marriage as between man and woman contrary to Article XV of the 1987 Constitution.
#WeAreFamilyToo
With the Anti-Discrimination Bill, also known as the SOGIE Equality Bill's legislative status listed as pending for a second committee hearing since December 2016, leaving many among the LGBTQ+ community surprised that the petition has taken the driver seat over the proposed bill.
"This nonetheless strengthened our resolve to keep on pushing what is traditionally accepted and the legal obstacles that hinders us from being accorded the same rights and legal protections heterosexuals enjoy and be recognized as well for our societal contributions wherever the front lines the struggle for equality take us," declared gender activist and former UP student leader, Vince Liban of UP Babaylan.
Celebrities such as Boy Abunda, Sebastian Castro, and Juan Miguel Severo have openly endorsed the petition for marriage equality in their social media accounts.
The petition for marriage equality may have caught the LGBTQ+ community by surprise, leaving many skeptical on whether to support it. But for Liban, he asserted that "this should not hinder both organized and unorganized gays from rallying behind the petition, much more divide us. We are all in this because the community stands to benefit from the nullification of these backward and discriminating laws".
The program of the supporters was highlighted by a mass wedding and renewal of vows of LGBTQ+ couples. The ceremonies were officiated by Metropolitan Community Church.
Among the organizations present were LAGABLAB LGBT Network, Philippine Network of Metropolitan Community Church (other LGBT affirming churches), LGBT student organizations UP Babaylan, PUP Kasarianlan, BulSU Bahaghari, Samahan ng Progresibong Kabataan and Kaisa UP.
A candle-lighting ceremony of rainbow themed candles followed after their program wrapped up as they awaited the oral arguments to conclude by 8pm.
The #WeAreFamilyToo campaign was not only meant to rally support for the petition but to heighten public awareness on the discrimination and bigotry the gay community have endured in asserting their rights to equal protection of laws.