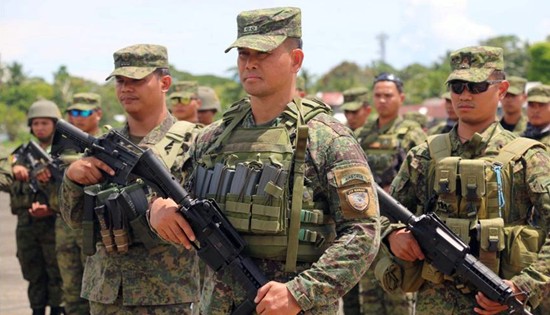 The Innovators led by LtCol. Rizaldo N. Laurena stand at attention as they were accorded a heroes' welcome at Calbayog Airport on July 5, 2018 after two years of deployment in Southern Mindanao, particularly in Jolo and Marawi.
8ID Marawi heroes welcomed back in Samar
By DPAO, 8ID PA
July 6, 2018
CAMP LUKBAN, Catbalogan City – The 8th Infantry (Stormtroopers) Division yesterday, July 5, 2018 welcomed the 63rd Infantry (Innovator) Battalion, one of the Philippine Army's fightingest units during the Marawi Siege at Calbayog Airport at 12:30 P.M.
The Innovators led by Lt. Col. Rizaldo N. Laurena were met with a hero's welcome by the 8ID Command and General Staff, Local Chief Executive, Chief of Police, Calbayog City, comrades, families, and loved ones upon arrival back in Eastern Visayas on board C-130 planes of the Philippine Air Force.
It can be recalled that on August 31, 2016, the Innovators were deployed to Jolo, Sulu to augment the military offensive against the Abu Sayyaf Group and later to Marawi City to help in the fight against the Maute-ISIS extremist group.
On behalf of Commander, 8ID, Brig. Gen. Eliezer L. Losañes, AFP stated, "We are very proud and truly grateful that you have contributed immensely to combat the threat groups in Southern Philippines. The time has come that Eastern Visayas needed her sons to safeguard the peace and tranquility to prepare her for further development in the Region. As the focus of the campaign plan shifts to this Region, your service will have an important role in this quest."
"Ang inyong pagbabalik ay hindi nagpapahiwatig ng pagtatapos ng gulo sa Mindanao o pagdami ng kalaban sa Silangang Kabisayaan. Ngunit ito ay nangangahulugang, kinakailangan kayo para mas maitupad ng maayos ang ating isinusulong para sa ikabubuti ng mga mamayan ng Samar," Losañes added.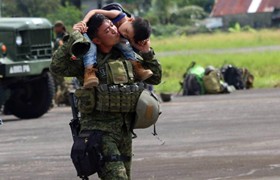 PSA seeks support for the July labor force survey and 2018 family income and expenditure survey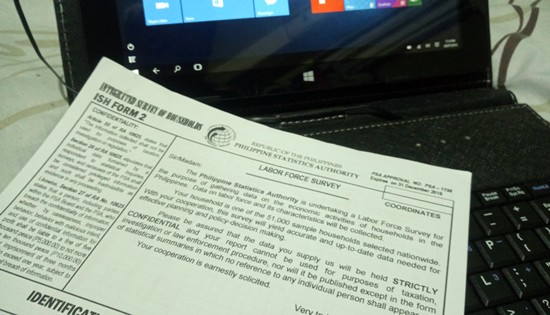 By PSA-8
July 6, 2018
TACLOBAN CITY – The Philippine Statistics Authority (PSA) seeks support for the July Labor Force Survey (LFS) and the 2018 Family Income and Expenditure Survey (FIES) which will be conducted simultaneously starting July 9, 2018.
A total of 10,866 systematically and randomly selected sample households in Region VIII were identified as respondents. Around 427 Hired Statistical Researchers will be deployed across the region to conduct the interviews.
The LFS is a quarterly nationwide survey of households which aims to gather data on the demographic and socio-economic characteristics of the population, and to provide a quantitative framework for the preparation of plans and formulation of policies affecting the labor market.
Specifically, the LFS serves as a tool in measuring the distribution of household population 15 years old and over by employment status – employed, unemployed or underemployed. It is also used to determine various employment characteristics such as industry, class of worker, nature of employment and basis of payment.
The 2018 FIES, meanwhile, is a nationwide survey of households conducted every three years, which aims to gather data on family income and expenditure, to include among others, levels of consumption by item of expenditure as well as sources of income in cash and in kind. The results of FIES provide inputs in the estimation of poverty threshold and incidence. It also determines the levels of living and disparities in income of Filipino families, as well as their spending patterns.
The PSA appeals to the public to cooperate and support the conduct of these surveys. The office also assures that all information gathered will be held strictly confidential and shall not be used as evidence in court for purposes of taxation, regulation or investigation as provided for in RA 10625.Data generated from these surveys will be disseminated in statistical summaries without reference to any individual person or household.
Global peace network seeks continuation of GRP-NDF talks amidst escalating Duterte-Joma word war
Press Release
July 6, 2018
MANILA – "We urge both the GRP and NDF to continue finding constructive ways to work together in order to renew official negotiations and find joint understanding of settling their differences at the table. To achieve this, creating a more positive enabling environment to further the process is essential. Negotiating parties must get over their differences through efficient and programmatic confidence building measures. Previously announced possible ceasefires by the respective parties and amnesty of NDF members are positive signals that need to be built upon."
Thus said, the Global Partnership for the Prevention of Armed Conflict (GPPAC), a worldwide network of global peace advocates after it noted with concern that the talks between the Government of the Republic of the Philippines (GRP) and National Democratic Front (NDF) have again been postponed.
Established in 2003, GPPAC is a global civil society-led network which seeks to build an international consensus on peacebuilding and the prevention of violent conflict. It is composed of fifteen regional networks, each of which has its own Regional Action Agenda and Work Plan and participates in activities at the global level.
GPPAC added, "As a global network of member organisations working on peacebuilding and prevention, we know how conflicts rip apart the social, economic and cultural fabric of people. Our members have first-hand experience of tragedies in Syria, the war in Colombia, widespread violence in Mexico and the fifty year guerilla war in the Philippines. We therefore call on the Government of the Republic of the Philippines and National Democratic Front to return to the negotiating table. The national peace process is still the best option to move forward the quest for just and lasting peace in the Philippines. We were very much encouraged by the announcement of a new round of negotiations that were planned to take place end of June in Norway. Unfortunately those have been postponed again."
According to GPPAC Foundation Manager for Knowledge, Policy and Advocacy Pascal Richard, "In our experience inclusive peace talks bring about more sustainable outcomes as they are then able to consider the needs of a broad population. The input and potential participation of a wider civilian component in the talks could therefore be considered. But for us, as a global peacebuilding network, the first and most important step right now, remains the resumption of the GRP-NDF peace process. To us it provides an essential avenue to build a sustainable future for the Philippines."
What is at stake?
Commenting on the current impasse and the brewing tension between Philippine President Rodrigo Duterte and Jose Maria Sison, the chief political consultant of the National Democratic Front of the Philippines (NDFP), Gus Miclat, the regional initiator of GPPAC in Southeast Asia and the Executive Director of Mindanao-based Initiatives for International Dialogue (IID) said, "What is at stake is a genuinely peaceful, just and democratic future we all desire as a nation. What is most at stake, again, are the lives and security of thousands of affected communities, most of them are non-combatants including thousands of vulnerable women and children."
Miclat stressed, "We urge both parties to live up to their common vision of 'serving the people'; of "getting from the masses and giving back to the masses" by making this peace talks successful. We call upon them to settle their differences at the negotiating table. After all, peace is not exclusive to their respective interests. They are there to represent the best interests of the people and we don't think this prolonged word war between them will help the peace negotiation succeed. Worse, it may jeopardize the previous gains of the talks."
According to GPPAC, instead of engaging in a 'flimsy word war', both panels must invest in "creating an enabling environment allowing all relevant actors, including women and youth, to participate in an unhindered manner including, among others, through the release of political prisoners, avoiding classifying or calling out other parties in a detrimental manner and the full commitment to and upholding of a ceasefire by both parties is needed."
'Invest in Substantive Agenda'
Miclat emphasized, "We are all for principled and healthy debate and the clash of ideas that would make the peace negotiation progress and become more democratic. This can start with an open dialogue on the fundamental roots of the conflict, and how both parties can jointly address them. We note that both parties have started on a friendly, conducive and even intimate note at the start of this administration before the series of setbacks that led to this impasse. They can collectively seek a viable peace formula to address the conflict. Throwing accusations against each other is counter-productive."
The GPPAC-SEA initiator concluded, "The most substantive agenda such as the Comprehensive Agreement on Social and Economic Reforms (CASER) tackles the roots of this armed conflict. We believe that if all prior substantive agreements of the talks will be implemented, this will bring us closer to defeating the real enemy of this protracted war."
The GPPAC call was issued also amidst impending deliberations of the Bangsamoro Basic Law (BBL) at the Congressional bicameral committee of the other peace process between the government and the Moro Islamic Liberation Front (MILF). Philippine GPPAC members have been actively engaging this process.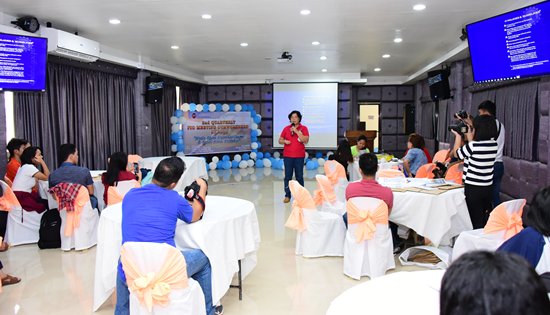 Resource speaker Ms. Ninfa Ilumida B. Quirante, Officer in Charge (OIC) of Public Information Agency (PIA), Eastern Samar Provincial Information Office gives some refresher course on news writing to DPWH public IOs through workshop.
DPWH-Biliran DEO information officers now warriors of fake news
Press Release
July 4, 2018
NAVAL, Biliran – The Public Information Officers (IOs) of Biliran District Engineering Office (DEO) are seriously taking up the challenge of fighting fake news.
Public IOs Ms. Chelsea Q. Salloman, Engr. Gene F. Delfin, and Mr. Penny Lloyd E. Batoto attend Workshop under Communication Development Program (CommDev) of the Department of Public Works and Highways (DPWH) on June 7-8, 2018. The workshop was held during the 2nd Quarterly Meeting of DPWH Region VIII Public IOs at Eastern Samar District Engineering Office (ESDEO), Borongan City, Eastern Samar.
According to District Engineer (DE) Manolo A. Rojas of ESDEO, the DPWH has been allocated by the government with the biggest budget this year.
"With great power comes great responsibility," DE Rojas said quoting the fictional character Spiderman. "This is the reason why all eyes are focusing on our performances," he added during his welcome remarks to public IOs.
"Because of the technology and accessible social media, a lot of information are now displayed on the internet and everything is only one click away, fake news is very rampant," he said.
According to DE Rojas, the public has to know the good news on what the DPWH is doing, that they deserve to know the truth and that they are privileged.
"That is now the work of Public Information Officers, and that is also the reason why you are important," DE Rojas said.
"You are the voice of the department, you are the warrior of fake news, and you are the communicator of good news," he added.
Fake news/ disinformation is an information that is false, and the person disseminating it knows it is not true, therefore it is an intentional lie.
Resource speaker, Ms. Ninfa Ilumida B. Quirante, Officer in Charge (OIC) of Public Information Agency (PIA), Eastern Samar Provincial Information Office gives some refresher course on news writing to DPWH public IOs through workshop.
In fighting fake news, public IOs of Biliran DEO together with other district IOs of DPWH pledged to write only what is the truth, what is verifiable, and what is accurate and timely.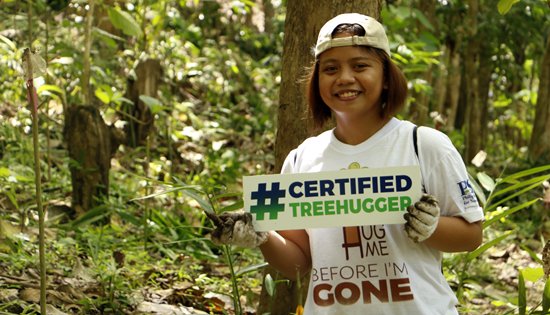 CERTIFIED TREE HUGGER. It was the first time for 16-year-old Angela Anero to support the reforestation caravan with her mother, a PBSP employee.
25,000 seedlings planted as PBSP kicks off Cebu refo caravan
By PBSP
July 4, 2018
CEBU CITY – In an effort to conserve and manage the watersheds of Cebu, over 200 employees from 20 companies and organizations joined Philippine Business for Social Progress (PBSP) and the Department of Environment and Natural Resources (DENR) in kicking off its 27th Cebu Hillylands reforestation caravan recently.
The Cebu Hillyland reforestation caravan supports the rehabilitation of the 29,000-hectare Central Cebu Protected Landscape (CCPL), also called the Cebu Hillylands. As the largest rainforest and only source of potable water in Cebu, CCPL recharges the province's groundwater reservoir and is home to several endemic and indigenous plant and animal species.
Now on its 27th year, PBSP aims to reforest 30 hectares of the Buhisan Watershed and Forest Reserve (BWFR), by bringing the business sector to either adopt a hectare for reforestation or mobilize tree planting volunteers. The annual kickoff also aims to ensure 85 percent survival of the trees by tapping partner communities to establish and maintain the adopted reforestation sites.
For this kickoff, the volunteers planted 25,000 seedlings within 10 hectares of the BWFR, where Cebu's 106-year-old surface water dam is also located.
Certified Tree Huggers
It was the first time for 16-year-old Angela Anero to join the refo caravan kickoff with her mother, who is a PBSP employee. While she is active in doing community service in her school, planting for Cebu's watersheds was a totally different experience for her.
"It is not just planting a tree, but the right ones that will really help protect our water reserves and other life forms. It is exciting when you learn that you are planting for the future of our forest. I also feel proud to be part of the advocacy that my mother's NGO works for," she said.
Ludo & Luym Corporation Production and Operations Manager Nidal Bergado, on the other hand, is no stranger to such activity as he has been volunteering his time as a tree planter (hugger) since he was a child. His father, a school principal, would always remind him on the importance of trees and plants and would often bring him to the outdoors to plant trees. His love for the environment continued as an employee volunteer for the company in PBSP's annual reforestation caravans.
"I always volunteer to plant trees whenever an opportunity arises because I know how important a tree is. Since PBSP's reforestation caravan started in 1992, our company has always been supporting the cause by sending in volunteers. We also adopted a hectare for reforestation," Bergado said.
30 hectares in one year
Since the launch of PBSP's reforestation caravan some 27 years ago, the business-led NGO has planted about 4.1 million tree seedlings in 1,640 hectares with help from 16,361 volunteers. Through this, PBSP has successfully uplifted the lives of more than 200 farmers in CCPL by tapping them as partners of the program.
Participating companies of the kickoff include AAI Worldwide Logistics, Inc., Asalus Corporation (Intellicare), Certa RCube Technologies Corporation, Connected Souls, Funai Electric Co., Ltd., Halsangz Plating Cebu Corporation, Ludo & Luym Corporation, Philpacific Insurance Brokers & Managers, Inc. Cebu (Philinsure), R.A. Mojica and Partners, San Nicolas Elementary School Teachers and Employees Multipurpose Cooperative, St. Theresa's College, Taiyo Yuden Employees Multipurpose Cooperative, TMX Philippines, Inc., Vivant Corporation, and Wellmade Motors and Development Corporation.
The kickoff is also in partnership with the local government unit of Barangay Pamutan, the Emergency Rescue Unit Foundation, Cebu Provincial Disaster Risk Reduction and Management Office, and the Bacsan Sapangdaku Farmers Association.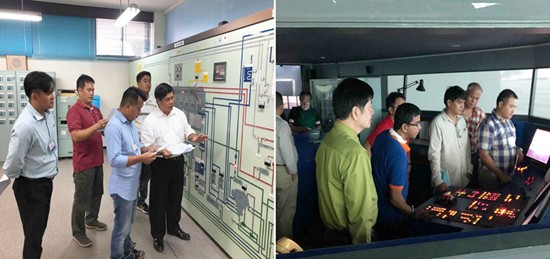 Simulation exercises conducted during the Pilot Class on IMO MC 6.10 at the engine simulator (left picture) and bridge simulator (right picture).
NMP and MARINA conduct pilot class on IMO Model Course 6.10
Press Release
July 2, 2018
TACLOBAN CITY – The National Maritime Polytechnic (NMP) in convergence with the Maritime Industry Authority (MARINA) conducted a Pilot Class on IMO Model Course 6.10 (Train the Simulator Trainer and Assessor) on 18-22 June 2018 at the NMP Training Complex, Tacloban City.
As a preparatory move to influence the desired output based on the required MARINA standards, a series of workshops and conferences were undertaken by the MARINA technical experts together with the different Maritime Training Institutions (MTIs). As an offshoot of the said activity, NMP was assigned as the course in-charge for the IMO Model Course 6.10, tasked to review and validate its course package.
After all the preparatory works and final run through of the documents, the pilot testing was scheduled to: (a) validate the newly revised course which include the course plan and its supporting materials and determine the areas for improvement / refinement; (b) assess the effectiveness and relevance of the newly revised course vis-à-vis the standard format designed by MARINA; and (c) determine the acceptability and marketability of the newly revised course.
The revised course covers a training duration of forty (40) hours, enforcing a deviation from the existing course timetable of thirty-two (32) hours. The duration includes the validation and assessment of the instructors and the course itself.
IMO Model Course 6.10 deals with the relevance of maritime training program associated with the use of simulator. It also involves simulation exercises involving role playing on the effective engine and bridge room procedures, task solving and the conventional teaching and training methods like the compliance with the applicable regulations set out in the relevant provisions of the Standards of Training, Certification, and Watchkeeping for Seafarers (STCW) Convention as amended in 2010.
The course is open to all maritime instructors, faculty members of maritime higher education institutions and merchant marine officers holding IMO Model Course 6.09 and 3.12 certificates.
The pilot class was attended by fourteen (14) participants. Validators include Ms. Presca Lee B. Lugo and Engr. Ronnie D. Gernato of MARINA and Capt. Rodolfo A. Aspillaga of the Master and Mates Association of the Philippines (MMAP).
Meanwhile, those interested in NMP research undertakings may visit the NMP website (www.nm.gov.ph) and access the e-Research Information System Portal which is designed for gathering inputs for NMP's research, dissemination of NMP completed researches and other articles pertaining to maritime research.
For more information about NMP trainings viewers may visit the agency's facebook page (www.facebook.com/nmptrainingcenter) where all related information on NMP trainings are available.
Rotary Club of Calbayog welcomes Rotary New Year with a blast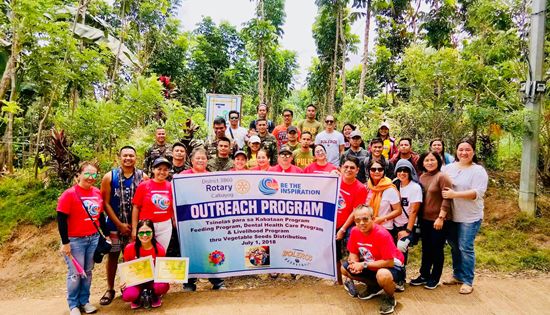 By LEVIRESA GETIGAN-BARNIZO
July 2, 2018
CALBAYOG CITY – The Rotary Club of Calbayog welcomes the district-wide celebration of the Rotary New Year 2018-2019 with a blast by celebrating it with the residents of five barangays namely San Jose, Langoyon, Canjumadac, Canjumadac, Tanval and Gelino, all located in the hinterland parts of Calbayog City, Samar on July 1, 2018. The farthest recipient village amongst is 30.5 kilometers away from Calbayog City proper.
With the Rotary International's Year 2018-2019 theme, Be the Inspiration, and RI District 3860's theme, One Rotary, One District, the Club initiated a "4-in-1" Outreach Program – Dental Health Care Services initiated by Rotarian Dentists, Dr. Ellery Daguman and Dr. Zandro Daguman, Educational Assistance through distribution of 431 pairs of slippers to recipient pupils of elementary schools of the said villages, Livelihood Program from which 400 packs of vegetable seeds (okra and eggplant) are distributed promoting backyard farming to the local farmers, Mother and Child Program headed by Rotarian Midwife Vivian Jumagdao by conducting check-up and providing vitamins to pregnant women and feeding activity to more or less 700 people on site.
RC Calbayog tapped the People's Outreach Program (POP), Kalipayan-Katitirok-Kasangkayan (KKK), and Boleros Basketball Club in implementing the aforementioned programs to promote involvement of other civic and non-profit organizations in the community, inspire people to become ambassadors of goodwill, and enliven the spirit of brotherhood. Present during the activity to provide safety to the partakers are the men in uniform of the Philippine Army (PA) and Philippine National Police (PNP), and some teachers and school heads of the Department of Education -Schools Division of Calbayog City.
Beneficiaries are converged at LSJ Farm and Puno ng Buhay Eco-Farm, Brgy. San Jose, Happy Valley, this city. San Jose is a 14 kilometer-village away from the town.
The activity concluded with the happy smiles of the children and parents as they bid goodbye to the Rotarians and volunteers before they are transported to the farthest concreted road at Sitio Tagungtong which is approximately 2 kilometers away from the venue.
Rotary Club of Calbayog facilitated the said activity to bring its services and programs to the people in the hinterlands of Calbayog City and to inspire them to get involved in the activities that will promote economic development to their respective barangays by transporting their farm produce to the city.
DPWH to complete access roads to Leyte tourism spots
Press Release
June 28, 2018
CARIGARA, Leyte – To preserve tourism activities in Leyte, the Department of Public Works and Highways (DPWH) -Leyte Second District Engineering Office poured out a total of P131 million to complete access roads to tourism spots.
These two major projects are the road leading to Villaconzoilo Agri and Eco Tourism Farm and Silawa Falls in Jaro town worth P85 million, and the road leading to Calabato Hot Spring in La Paz town worth P46 million.
"The road project is vitally important for the dispersal of tourists beyond major gateways and the facilitation of self-drive tourism," District Engineer Carlos G. Veloso said.
Moreover, these tourism spots would benefit tourists not just of their beauty but of the high-value crops of Villaconzoilo and the relaxing views and fresh waters of Silawa Falls and Calabato Hot Spring.
Veloso guarantees the public to implement more infrastructure projects towards tourism and livelihood for the development of the district.
The DPWH has secured to get support from the national government in funding programs on tourism, especially to help local communities, who are dependent on tourism, to promote their livelihood and earn more income.
The construction of these projects started last May 2018 and is expected to be completed later of the same year.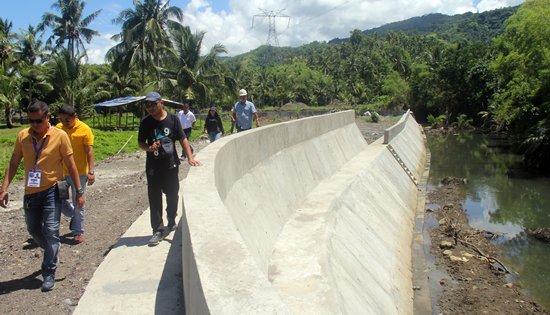 The DPWH-SFDEO Inspectorate Team conducts a final inspection of the flood control structures along Binaliw River, Brgy. Binaliw, Calbayog City.
DPWH constructs P20-M worth of flood control structures in Samar
By MAE ANGELICA R. COMOTA
June 28, 2018
CALBAYOG CITY – The Department of Public Works and Highways (DPWH) -Samar First District Engineering Office (SFDEO) completes two flood control projects in Brgy. Binaliw, Calbayog City and Brgy. Cautod, Sta. Margarita.
The Binaliw flood control project covers the construction of 96 meters of reinforced concrete river protection works on steel sheet piles foundation while the project in Brgy. Cautod covers the construction of 294 meter of flood mitigating structures.
Each have an appropriation of P10 million sourced out from the 2018 General Appropriations Act (GAA) Fund.
"I'd like to extend my warmest thanks to DPWH Calbayog for completing this flood control project. With the rainy season coming up, we no longer have to worry about the river overflowing. I am sure that my property and livestock will be safe during the typhoon season," said Mr. Ricky Calendatas, a chicken farmer living along Binaliw River.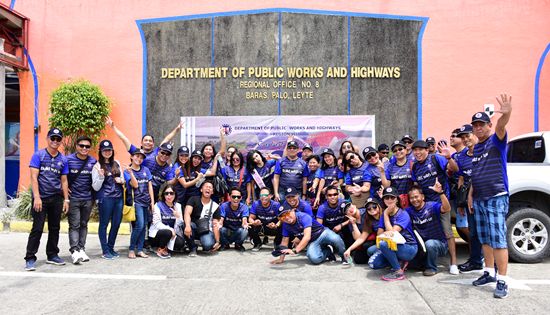 Participants from Biliran District Engineering Office (DEO) are all smile after the parade during the first day celebration of DPWH 120th Anniversary and Sportsfest on June 21, 2018.
Biliran DEO joins DPWH region 8 in celebration of 120th anniversary and sportsfest
Press Release
June 28, 2018
NAVAL, Biliran – The Department of Public Works and Highways (DPWH) Region VIII celebrates 120th anniversary and sportsfest in a two-day event on June 21-22, 2018 simultaneously with other DPWH Offices nationwide.
"For 365 days, let us give these two days for us to celebrate, giving thanks to God, giving thanks to our officials, to ourselves, to each one of us, thank you for your continuous support that is why we existed and it (DPWH) is getting stronger," Edgar B. Tabacon, Regional Director said during his welcome address.
Thirteen District Engineering Offices of the region including Biliran District Engineering Office (DEO) gather for the said occasion to have fun and develop camaraderie and sportsmanship through sports activities.
The activity started with a thanksgiving mass at the open field of the DPWH Regional Office, Baras, Palo, Leyte at 8:00 in the morning officiated by Fr. Norman Abolencia followed by a short parade around the Government Center of Palo.
The competition for the Best in Muse highlights the morning event of the first day of celebration. Photo exhibit contest also opens at the DPWH multipurpose hall displaying completed/proposed high impact projects of the 13 district engineering offices.
The start of the sports activities at 1:00 in the afternoon, signals the commencement of the sportsfest celebration. Sports competition includes basketball, volleyball, badminton, table tennis, dart and chess but the highlight of the celebration is the Search for Mr. DPWH Sportspoof 2018 in the evening. Fourteen straight men candidates representing their engineering offices came out as lovely ladies vying for the title. In the middle of the said competition, there was a Search for DPWH Curatcha King and Queen.
The second day of the celebration starts with the DPWH Unity Fun Run at 5:00 in the morning competing for the 3k, 5k and 10k run. Participants who are not playing any sports competition for this day are enjoying the parlor games prepared by each district offices. The sports championship games also continue on this day.
Due to unfinished game for the sport badminton, Atty. Neil N. Re-oma, President of Rank and File Employees Union (RFEU), Region VIII said that awarding ceremony for the winners of the different competitions will be held during the second Regional Quarters Meeting.
DPWH is celebrating 120 years anniversary with the theme "Bridging Modern Development". The department started as the Department of War and Public Works in 1898 during the revolutionary government under the time of President Emilio Aguinaldo. In 1987, after several revolutions, it became the Department of Public Works and Highways, as it is known today.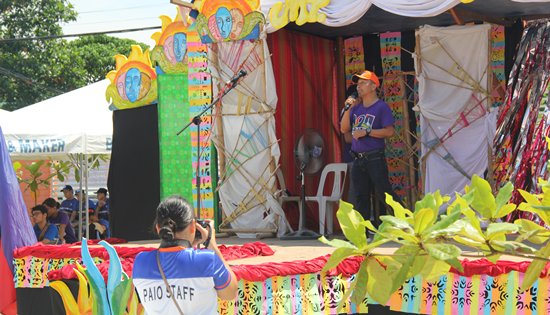 Regional Director Edgar B. Tabacon, CESO IV, officially opens the program for the 120th Anniversary of DPWH.
DPWH celebrates 120 years of bridging modern development
By BON JOSEPH N. ASTILLA
June 28, 2018
CALBAYOG CITY – Department of Public Works and Highways (DPWH) Region VIII kicks-off its 120th anniversary and sportsfest on June 21-22, 2018 at Baras, Palo, Leyte marking another milestone for the main engineering arm of the government.
The festivity gathers more than a hundred employees from different District Engineering Offices (DEOs) regionwide with a civic parade of participants with their muses opening the occasion on its first day.
DEOs are grouped into team clusters namely: Cluster I - Regional Office, Leyte I and Tacloban City DEO; Cluster II - Leyte II, Leyte III and Biliran DEO; Cluster III - Leyte IV, Leyte V and Southern Leyte DEO; Cluster IV - Samar I, Samar II, Northern Samar I, Northern Samar II and Eastern Samar DEO.
A showcase of the different talents and skills of DPWH employees are also evident during the two-day celebration through various ball games and parlor games. Meanwhile, selected male candidates entertain the crowd in the search for Miss DPWH Sports Spoof 2018.
Fierce competition can be seen here and there but as the event concludes and participants return to their respective DEOs, they are instilled with the significance of teamwork. Working together is more productive than working alone.