High ranking NPA leader and 4 others, apprehended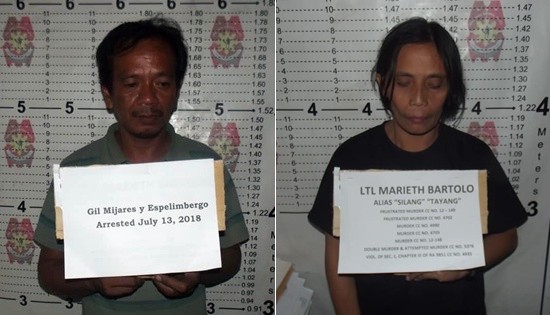 By 803rd Infantry Brigade, 8ID PA
July 14, 2018
CATARMAN, Northern Samar – Inter-agency operation conducted by elements of 803rd Infantry (Peacemaker) Brigade and Northern Samar Provincial Police Office led to the apprehension of Marieta Bartolo aka Tayang and four (4) others on July 13, 2018, 4:30 afternoon at Brgy. Bangkerohan, Catarman, Northern Samar.
Marieta Bartolo is the Front Secretary of Metro 1, SRC Emporium, an NPA unit operating in the municipalities of Pambujan, San Roque, Silvino Lobos, Las Navas, Mondragon and Catarman, all of Northern Samar. They are responsible on the atrocities against the military/police personnel and civilians in the said area.
The four (4) other captured suspects were identified as Ruth Martirez Figueroa, Bayan Muna President-Northern Samar and the incumbent Barangay Chairwoman of UEP Zone 3, Catarman, Northern Samar; Emboy Loberiano aka Bagyo; Danny Basiloy y Pinuton; and Gil Martirez y Espelimbergo.
The inter-agency operation is by virtue of two (2) Warrant of Arrests issued by the Gamay Regional Trial Court Branch Nr 38 for the crime of Murder under case Nr 12-148 and Frustrated Murder under criminal case Nr 12-149 against Marieta Bartolo aka Tayang.
Three (3) Cal 45 pistol, one (1) Cal .38 pistol, one (1) Cal 40 Glock Pistol, and one (1) KG9mm pistol were recovered from the vehicle used by the suspects. Other items recovered were twelve (12) envelops with P30,000.00 each and other subversive documents.
Col Ramil M Bitong, Commander of 803Bde, believes the cash are grease money to support the candidacy of Ruth Martirez Figueroa for ABC President of Catarman, Northern Samar and alarming to this incident is the collaboration of Bartolo and Figueroa, who were identified leader of NPA and Bayan Muna. Bartolo is believed to have raised the funds to ensure the election of Figueroa as ABC President.
"The suspects are now under custody of the Northern Samar Provincial Police Office and criminal charges will be filed against the suspects. Cohorts and other companions who escaped were subject to the man-hunt operation." Col Bitong added.
Defining Filipino in Development:
Empowering young leaders in the Philippine Intercultural Youth Convention 2018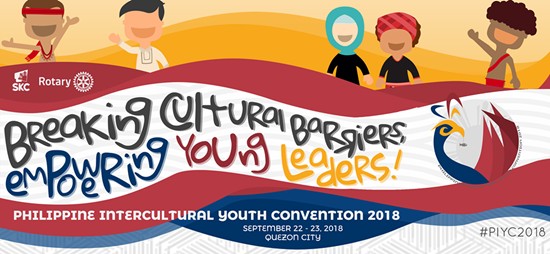 By Sigaw ng Kabataan Coalition
July 14, 2018
MANDALUYONG – In addressing the country's most pressing issues – peace and conflict, indigenous rights, quality education, federalism, among others – comes a crossroad for building the Philippines' path towards achieving the Sustainable Development Goals. It is in this crucial time that youth leaders should play a key role in defining what it means to be a 'Filipino,' and more importantly, how the youth could contribute in this definition.
Sigaw ng Kabataan Coalition together with the Rotary Satellite Club of Fort BGC Titans, and many other Rotary Clubs and partner agencies, will provide an active venue for the youth's exchanges on these issues through the Philippine Intercultural Youth Convention (PIYC) 2018, with the theme "Breaking Cultural Barriers, Empowering Young Leaders," on 22-23 September 2018 in Quezon City.
PIYC 2018 aims to provide the Philippine Cultural experience through segments such as the Cultural Festival, an exhibition of cultures, a cultural networking night, and many other cultural presentations. At the same time, PIYC 2018 also creates a platform for exchanges between the youth and the Philippine government leaders on developmental issues that not only concern the country, but also the generation's future through the Sustainable Development Goals.
Gathering youth leaders from different parts of the Philippines, the conduct of PIYC 2018 will provide young people to personally learn and appreciate the different tribes and ethnolinguistic groups in the Philippines, while providing a dynamic platform for Filipino youth leaders to engage and discuss valuable solutions to the country's issues. The themes of breakout sessions for this discussion are divided in line with the SDGs – Peace in Diversity: Youth as catalyst for peace; Health and Social Welfare: Healthy youth for a healthy tomorrow; Quality and Accessible Education for all: Education as a powerful tool for the youth's future; Climate & Environmental Action: Greener Pasture in the Philippines; Poverty Reduction & Access to Adequate Food: Hungry for change; Decent Jobs and Sustainable Livelihood: What awaits for young people in the world of work?
With culture and sustainable development at the center of discussion, PIYC 2018 unifies the Filipino youth to define its role in building a better future while being rooted in Philippine heritage. #PIYC2018

Around 2,500 people in Pagayawan who remain displaced by the recent fighting received food and essential household items from the ICRC, with the support of the Philippine Red Cross.
Aid for 2,500 people displaced by fighting in Lanao del Sur
By ICRC
July 13, 2018
MANILA – Close to 500 families that found themselves displaced by the recent outbreak of fighting in the southern part of Lanao del Sur province, in Mindanao, received food and other essential supplies provided by the International Committee of the Red Cross (ICRC), with the support of the Philippine Red Cross (PRC).
"These families have been unable to return home due to security concerns," said Meher Khatcherian, who heads the ICRC office covering this area. "Though various government agencies have distributed food among the displaced population, there is a need to extend more help. Our aim is to augment the initial support," he added.
The two-week ration was distributed yesterday among the displaced families in Pagayawan municipality comprising around 2,500 people. Each family received 25 kg of rice, one litre of cooking oil, one kg of sugar, ½ kg of salt, one litre of soy sauce, 12 tins of sardines, as well as two sleeping mats, two blankets, two mosquito nets, kitchen utensils and hygiene items.
More than 14,000 people were initially displaced by the fighting between the Philippine armed forces and alleged members of Islamic State-Ranao that started on June 17 and affected 16 "barangays" (villages) in Pagayawan and Tubaran.
After the clashes ended, an ICRC team assessed the humanitarian situation, including the need to strengthen the protection accorded to civilians by international humanitarian law. While families displaced from Tubaran returned home days after the assessment, those from Pagayawan continue to stay with relatives or in evacuation centres.
"In accordance with our mandate, the ICRC reminds all parties to the conflict to protect civilians, sick and wounded people, and detainees, and to fulfill their obligation to respect international humanitarian law," said Khatcherian.
Keeping in mind the influx of displaced families, the ICRC also donated emergency medical supplies to the Pagayawan rural health unit, which serves 14,500 residents. These items will benefit 1,000 people over the next three months. Just two weeks ago, medicines and medical materials were donated to the Unayan District Hospital in Binidayan town, which provides services to five Lanao del Sur towns, including Pagayawan.
Ever since clashes broke out in Marawi City, also in Lanao del Sur, in May 2017, the ICRC, along with its operational partner, the PRC, has helped hundreds of thousands of people affected by the conflict. The ICRC is a neutral, impartial and independent humanitarian organization whose exclusively humanitarian mission is to protect the lives and dignity of victims of armed conflict and other situations of violence and to provide them with assistance.
DPWH-Biliran DEO proposes P100M worth of flood control projects
Press Release
July 12, 2018
NAVAL, Biliran – The Department of Public Works and Highways (DPWH) -Biliran District Engineering Office (DEO) request an additional P100M worth flood control projects for funding.
According to David P. Adongay Jr., District Engineer, the request is based on the catastrophic results of excessive flood during the occurrence of heavy rains brought about by tropical storm Urduja on December 15-16, 2017 on other rivers of Biliran Province.
"This has caused major damaged to Flood Control structures along our National Roads and Bridges," said Adongay.
Engr. Rosario B. Rosete, Chief of the Planning and Design Section identified five location in the province for the proposed construction of flood control projects.
The proposed projects are the Construction of Mainit Flood Control along Biliran Circumferential Road (BCR), Villa Vicenta, Caibiran, Biliran with proposed budget amount of P20M; Construction of Kaulangohan Bridge along BCR (Phase 3), Kaulangohan, Caibiran, Biliran (P20M); Construction of Cabibihan Flood Control along BCR, Cabibihan, Caibiran, Biliran (P25,000); Construction of Mapula along BCR (Phase 5), Union, Caibiran, Biliran (P15M); and Construction of Ungali Flood Control along BCR (Phase 2), Ungali, Kawayan, Biliran (P20M).
"Advance copy of the said request is already forwarded to DPWH Central Office while the original copy is for submittal to the DPWH Regional Office VIII," said Rosete.
According to Rosete, the realization of these vital infrastructure projects will definitely be of great help for the protection of the National Roads and Bridges along Biliran Circumferential Road as well as the lives and properties of Biliranons.
NMP conducts mid-year performance assessment and re-planning exercise CY 2018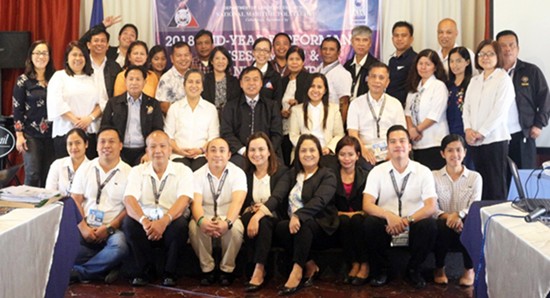 By National Maritime Polytechnic
July 12, 2018
TACLOBAN CITY – The National Maritime Polytechnic (NMP), a premier government-owned maritime training and research institution, conducted its Agency Mid-year Performance Assessment (MYPA) and Re-planning Exercise on 09-10 July 2018 at the Rosvenil Hotel, P Burgos St., Tacloban City.
The Agency's accomplishments for the first semester of CY 2018 were assessed and reviewed vis-à-vis the Agency's Thrusts and Priorities, performance commitments as contained in the 2018 Office Performance Commitment Review (OPCR), Annual Action Plan, and NMP Strategic Plan.
For the past six (6) months, NMP was able to train a total of four thousand four hundred nine (4,409) trainees, comprised of aspiring and active seafarers, maritime instructors, assessors and supervisors and allied workers in the maritime industry. All (100%) trainees were issued with certification within seventy-two (72) hours from successful completion of all course requirements.
The achievement was made possible through the implementation of the twenty-six (26) training courses as well as the establishments of linkages and partnership with different local government units (LGUs), Maritime Industry Authority (MARINA), Philippine Coast Guard (PCG), Masters and Mates Association of the Philippines, Inc. (MMAP), and Seabase Training Center for Watchkeeping, Inc. (STCW INC).
In addition, one thousand four hundred thirty-eight (1,438) trainees-assessed who requested for Training Completion and Record Assessment (TCROA) were issued with TCROA after completion of the assessment.
As part of NMP's commitment to provide timely and relevant researches, there are two (2) on-going studies which are due for completion within the year.
NMP's completed researches in CY 2017, namely: Skills Gaps Analysis of Maritime Faculty in Philippine Maritime Higher Education Institutions (MHEIs); Gender Sensitivity Training for Seafarers (GSTS) Course: A Program Evaluation; and Responding to the Filipino Seafarers' Training Requirements in the STCW 2010 Manila Amendments: Challenges and Opportunities were presented to the maritime stakeholders on 22 March 2018 at The Bayleaf Intramuros, Manila.
Also, the Agency passed the re-certification audit of NMP Quality Management System (QMS) under ISO 9001:2015 Standard held on March 5-6, 2018 conducted by the Anglo Japanese American (AJA) Registrars Inc.
In terms of infrastructures projects, repair and upgrading of the NMP Gymnasium and repair and rehabilitation of Maritime Training Annex Building were completed in March 2018.
"We are a family, driven with one purpose and one passion. We have one common denominator which is commitment to our work, commitment to public service for the betterment of NMP and our clientele – the Filipino seafarers. We are half way of the year and towards the end whatever lapses we have, we will try to talk about it and derive a certain phase where we can achieve it towards the end" said Deputy Executive Director Mayla N. Macadawan during her opening message.
Apart from the reported accomplishments, issues and concerns were discussed and the proposed strategies were identified to effectively improve performance and achieve targets and commitments for the second semester of CY 2018.
"I knew that NMP will be facing a lot of challenges ahead, a challenge to each and everyone of us, a challenge as to whether we are already stepping at the right track. Henceforth, we shall continue to strive, working for the maritime industry" Executive Director Romulo V. Bernardes disclosed in his closing message.
Outputs of the two-day session are the validated NMP MYPA Report CY 2018, Second Semester Action Plan CY 2018 and the Report on Actions Taken on Issues and Concerns Affecting Performance which will be reported during the Cluster and DOLE-Wide MYPA and Re-planning Exercises scheduled on 20-21 July 2018 and 26 July 2018, respectively.
Meanwhile, those interested in NMP research undertakings may visit the NMP website (www.nm.gov.ph) and access the e-Research Information System Portal which is designed for gathering inputs for NMP's research, dissemination of NMP completed researches and other articles pertaining to maritime research.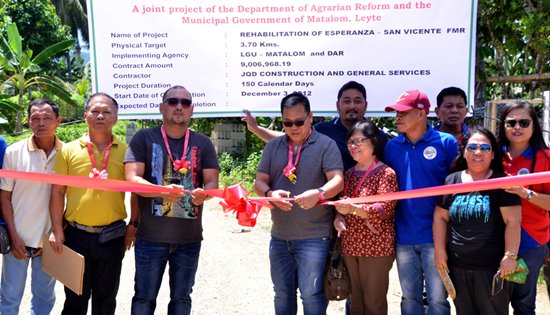 DAR-8 Assistant Regional Director Ismael Aya-ay and Mayor Eric Pajulio (4th and 3rd from left) cut the ceremonial ribbon during the turnover and inauguration rites of two rehabilitated roads in Matalom, Leyte's remote villages.
DAR rehabilitates 2 roads in Matalom's remote villages
By JOSE ALSMITH L. SORIA
July 11, 2018
MATALOM, Leyte – Farmers here see economic opportunities as two remote villages in this third-class municipality can already be penetrated by all types of vehicles after the Department of Agrarian Reform (DAR) rehabilitated the roads in going to Barangays San Vicente and President Garcia.
DAR thru the second phase of the Agrarian Reform Communities Project (ARCP-II) rehabilitated the 3.70-kilometer Esperanza-San Vicente road and the 2.69-kilometer Elevado-President Garcia road.
A double barrel reinforced concrete box culvert and a single barrel, three units reinforced concrete pipe culvert were also constructed along the Esperanza-San Vicente farm-to-market road that would serve as bridge in crossing streams; while in the Elevado-President Garcia farm-to-market road, a single barrel, three units reinforced concrete pipe culvert and slope protection were likewise constructed.
Making sure that travel on both roads will be safe, critical portions were concreted.
Chairman Avelino Acasio of Barangay Esperanza was thankful their road was improved from what used to be a trail where only single motorcycles could pass in going to adjacent Barangay San Vicente. Now, he disclosed that all types of vehicles can already penetrate the area making hauling of farm products for trading fast and easier.
Chairwoman Elda Gato of Barangay President Garcia on the other hand said that with the improvement of the Elevado-President Garcia road, they are now envied by other villages.
Meanwhile, Barangay Elevado Chairman Roselito Palen shared that they find it easy now to travel whether in going to the mountains or in going to the town proper.
About five thousand residents in these areas, wherein more than 900 are agrarian reform beneficiaries (ARBs), are benefited by these projects with a combined cost of P18.6-million shared by the national government thru a loan from the Asian Development Bank (ADB) and the local government unit (LGU).
Thus, Provincial Agrarian Reform Program Officer-I Paulina Canales reminded the recipient barangays during the simultaneous turnover of the said projects recently to maintain the roads in good condition for a period of 10 years, otherwise the loan portion will be shouldered also by the recipient LGUs.
Assistant Regional Director for Program Beneficiaries Development Ismael Aya-ay led the turnover rite and announced on the same occasion other support services DAR is providing particularly to ARB organizations (ARBOs).
In acceptance, Mayor Eric Pajulio thanked DAR for all the assistance it has extended to his town. He likewise encouraged the recipient barangays to allocate funds from their Internal Revenue Allotment (IRA) for the maintenance of the roads.
Further, Vice Mayor Ma. Nicolina Caube suggested not to allow heavy equipment vehicles to pass these routes during rainy days to preserve the good condition of the roads.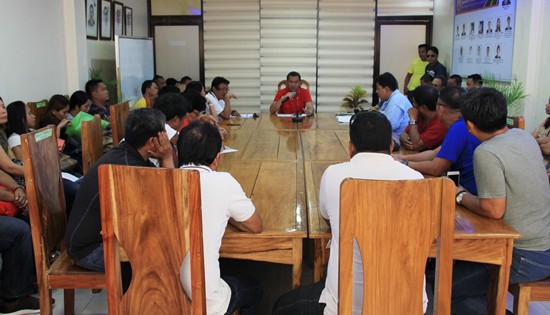 ADE Cagomoc presides over the coordination meeting with contractors at the DPWH Conference Room.
DPWH strongly urges contractors to finish all projects by December 31, 2018
By MAE ANGELICA R. COMOTA
July 11, 2018
CALBAYOG CITY – The Department of Public Works and Highways -Samar First District Engineering Office holds a coordination meeting with contractors on July 6, 2018 to discuss the implications of the present administration's Budget Reform Program of 2019 to the implementation of the District's infrastructure projects.
In the absence of District Engineer Alvin Ignacio, Assistant District Engineer (ADE) Denis Cagomoc meets with the contractors informing them that the District has received instructions from Sec. Villar, ordering contractors to finish all infrastructure projects on or before December 31, 2018.
This is in light of the government's push to shift the budget from an obligation-based system to a cash-based one. With this transition, all remaining funds for the year will expire; giving the District until December 31, 2018 to settle all payables.
There will be a 3-month payment extension period on January to March 2019 but only for projects with 100% accomplishment as of December 31, 2018. Failure to complete the project before year-end will result to rescission of contract and blacklisting of the contractors' license.
"We only have less than 6 months to finish all of our infrastructure projects. If we do not meet this target, all of us will be affected. Our funding may be reduced, hindering the development of the District as a whole. If you have to work day and night, if you have to hire more men, do it. Do whatever is necessary to speed up project implementation," said ADE Cagomoc to the contractors.
PSA enjoins the public to cooperate in the National Migration Survey
By PSA-8
July 9, 2018
TACLOBAN CITY – The Philippine Statistics Authority (PSA) enjoins the public to cooperate in the National Migration Survey (NMS) which will be conducted starting 9 July 2018.
A total of 2,703 systematically and randomly selected sample households in Region VIII were identified as respondents. These households will be visited by hired statistical researchers and will be interviewed using tablets guided by Computer-Assisted Personal Interview (CAPI) System.
The National Migration Survey (NMS) is the first nationwide survey on migration in the Philippines. The survey will be undertaken by the PSA in collaboration with the University of the Philippines System (UP System) through the University of Philippines Population Institute (UPPI).
The NMS aims to provide information on the mobility of Philippine population in order to assist policymakers and program managers in evaluating and designing strategies for improving services and assistance to people going abroad or moving within the country.
Apart from the household questionnaire (NMS Form 1) which gathers information on household members and housing characteristics, the survey will also involve interviewing all household members aged 15 years and over who have ever experienced international or internal migration using the individual questionnaire (NMS Form 2). In addition, one randomly selected member aged 15 years and over without experience of migration will be selected using the Kish Method and will be interviewed using the same form.
The PSA appeals to the public to cooperate and support the conduct of this survey. The office also assures that all information gathered will be held strictly confidential and shall not be used as evidence in court for purposes of taxation, regulation or investigation as provided for in RA 10625. Data generated from this survey will be disseminated in statistical summaries without reference to any individual person or household.
3 CNTs dead in a clash in North Cotabato
By 19th Infantry Battalion, 8ID PA
July 6, 2018
CAMP LUKBAN, Catbalogan City – Three CPP-NPA Terrorists (CNTs) died in a clash against government troops under 19th Infantry (Commando) Battalion earlier today, July 6, 2018 at 6:45 A.M. in Brgy. Panaca, Magpet, North Cotabato.
The encounter between 19IB and 50 CNTs of Pulang Bagani Command 2 (PBC2) of Southern Mindanao Regional Committee lasted for an hour that resulted in the recovery of one M16 rifle and three dead bodies of CNTs.
According to Lt. Col. Ehrlich Noel Paraso, Commanding Officer of 19IB said, "Civilians relayed information to our Community Support Program Team on the presence of armed CNTs in the area that prompted us to launch operations."
In his statement, Maj. Gen. Ronald Villanueva, Commander, 4ID said, "I congratulate the dedication shown by the troops of 19th Infantry Battalion. They came in 4ID's area of responsibility just early this year, yet they manage to contribute to the over-all campaign of the Division. Further, 4th Infantry Division is really serious in going after the NPA terrorists but, we are not closing doors for them. In fact, the government has E-CLIP that NPA surrenderees can avail if they decide to surrender and be a productive member of the society."
"The local government of North Cotabato under Gov. Emmylou Taliño-Mendoza have been very supportive to surrenderees, both 4ID and the Provincial Government of North Cotabato are willing to assist the surrenderees in their reintegration process," Villanueva added.