DPWH-Biliran DEO holds year-end contractors' meeting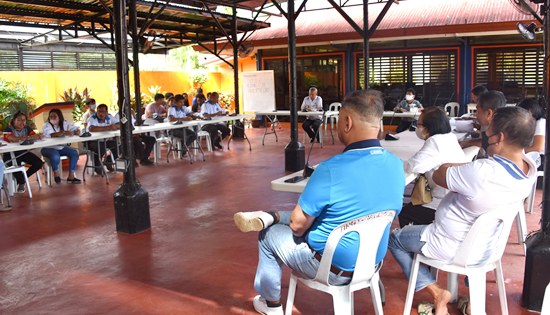 Press Release
November 22, 2022
NAVAL, Biliran – With only a month away before the year ends, the Department of Public Works and Highways (DPWH)- Biliran District Engineering Office (DEO) urged the contractors to fast-track its project implementation in a coordination meeting held on November 16, 2022.
Highlight of the said meeting is the implementation on its Prior Year (PY) projects from 2017-2021 which should have been completed on December 31, 2022.
"We have a problem on our PY projects that is why this meeting is called to address the problem especially that we have limited time before end of the year," said OIC-District Engineer (DE) Alfredo L. Bollido.
OIC-DE Bollido said that the district office failed to meet the 80% target on PY project implementation, with only 44.42% accomplishment as of October 31, 2022.
According to OIC-DE Bollido at least P381.6-M which is composed of 51 projects from year 2017 to 2021 are possible to be reverted to the National Treasury if contractors cannot complete their projects by end of this year.
Engr. Rosario B. Rosete, OIC-Assistant District Engineer (ADE) reported that of the 51 projects, 23 are still on-going on the construction, 25 are already completed but on-going on some minor corrections on the projects while three are now on the process for final billing.
Under Executive Order (E.O) No. 91 series of 2019 or known as Cash-based Budgeting System, contractors have only until a year to complete the construction of their projects with a three-month extended period on the following year to process payment.
According to OIC-DE Bollido, contractors' failure to finish their projects by end of the year will not only loss profit but will also be blacklisted to participate any bidding on DPWH projects nationwide for a year.
"Work double time and avail the good weather condition so that you can complete the projects by December 31, 2022," OIC-DE Bollido said to the contractors.