PH national surfing coaches train young surfers in Borongan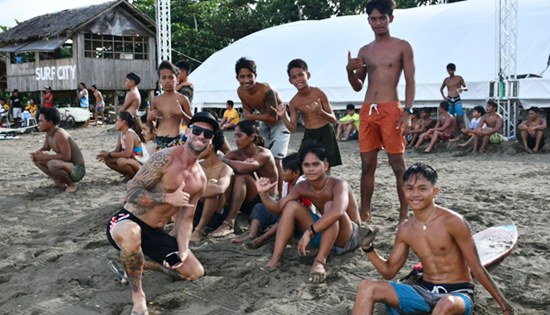 Mike Breuker, Strength and Conditioning Coach of the Philippine National Surfing Team, poses with the 'Groms' during the In and Out of Water Training held in Baybay Boulevard, Borongan City, Eastern Samar. (Photo by Borongan City Information Office)
By VEE TOLENTINO-GUMBAN
November 25, 2022
BORONGAN CITY – Days before the biggest sporting event in Eastern Visayas, Surf in the City 2022, more than sixty (60) local youth participated in the Groms Grassroot Program for young surfers here from November 24-25.
"Malaking tulong ito sa amin para matuto kami ng mga surfing techniques at disiplina sa sarili na rin, tsaka syempre libre na 'to kaya umattend talaga kami," said Kai, a young surfer from Bato, Borongan City. (This is a big help for us to learn about surfing techniques and self-discipline. Of course, we also attended because it's free.)
Though most of the participants will not join in the Surf in the City competition, everyone was all ears as Philippine National Surfing Team Head Coach John Carby encouraged the young surfers to become athletes through discipline, goal planning, and passion.
"Start a small plan and add discipline to your plan. Then use your passion to reach that goal. If you already reach that goal, push it a little bit higher. Let your passion be your flair," stressed Carby during his talk.
Carby also shared that surfing events such as Surf in the City in Borongan is a window of opportunity for aspiring surfers to hone their skills and eventually create a name in the surfing industry.
"You are the future of surfing. You have permission to dream big. You have permission to be who you want to be and to set the limit as high as you can when you want to represent your country in an international competition. You are the next generation of surfing," said Carby.
Mike Breuker, strength and conditioning coach of the Philippine National Surfing Team, then conducted an In and Out of Water Training with the participants. This was followed by a Surfing Techniques and Analysis Training on the second day of the program.
"Kahit hindi kami lahat mag-cocompete, umattend kami para matuto kami kung paano maging mabuting surfer at makatulong sa community na pangalagaan ang karagatan, kasi for awareness din ito," noted one Grom who refused to be named. (Even though we won't be able to compete, we attended to learn how to become good surfers and how to help the community by taking care of the sea. This is also for awareness.)
'Grom' is a shortened form of the slang term 'Grommet' meaning a child. In surfing lingo, grom refers to a child or an adolescent surfer.
The grassroots program of the United Philippine Surfing Association (UPSA) focuses on training youth or people under 18, and educating them on the values of surfing at the grassroots levels, such as a healthy lifestyle, discipline, and techniques or the athletic side of being a surfer for the future of the Philippine National Surfing Team.