8ID reorganizes its Defense Press Corps, cites media role in information dissemination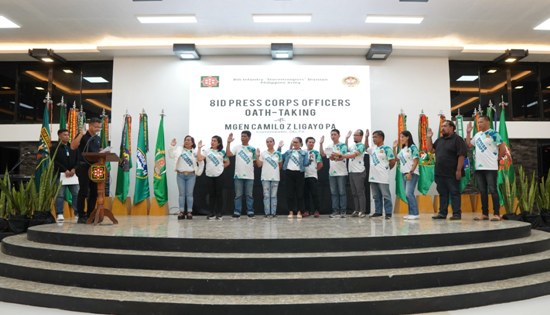 By DPAO, 8ID PA
February 14, 2023
CAMP LUKBAN, Catbalogan City – Major General Camilo Z. Ligayo, Commander of the Philippine Army's 8th Infantry Division (8ID) recognized the contribution of the media practitioners in Eastern Visayas during the reorganization of 8ID press corps on Sunday, February 12, 2023.
In his speech, Maj. Gen. Ligayo cited the journalists' hard work as partners in disseminating accurate and timely information.
"I would like to thank the 8ID press corps for being a reliable partner in our fight of telling the truth to the people of Eastern Visayas. If we work together, we can continue to make difference and indeed we can accomplish our common goal, to serve the people," Maj. Gen. Ligayo said.
The new 8ID press corps officers took their oath of office before Maj. Gen. Ligayo.
Elected as the new President is Miriam T. Desacada of Philippine Star, Vice-President Gina Dean of Kauswagan Radio, Secretary Elmer Recuerdo of Daily Tribune, Treasurer Josie Serseña of Eastern Visayas Mail, Auditor Imelda Baronda of Agence France Press, Sgt at Arms Dan Kerk Riqiez of FMR Tacloban, Leyte Representative Jasmin Bonifacio of Rappler, Southern Leyte Representative Jade Nombrado, Samar Representative Rene Castino of DYMS Catbalogan, Eastern Samar Representative Luisidro Moscosa of GMA 7 Stringer, and Northern Samar Representative Danny Balading.
In her statement, Desacada urged fellow media practitioners to unite and set aside differences.
"We are journalists! And inside the Press Corps, we must have unity, which means we must work together for the common good. There is no other way to merit us to be called journalism professionals, except to show to the 8th ID and the public that we are men and women of integrity and credibility in the profession", said Desacada.
Before the election, the journalists from different media outlets in Eastern Visayas gathered for a two-day activity for team building to strengthen the corps' unity and camaraderie. The reorganization of the press corps aims to facilitate the dissemination of the programs and projects of the 8ID in Region 8.
Among the activities conducted were marksmanship, command briefing, and team building.