8ID renders arrival honor to the Area Police Commander of Visayas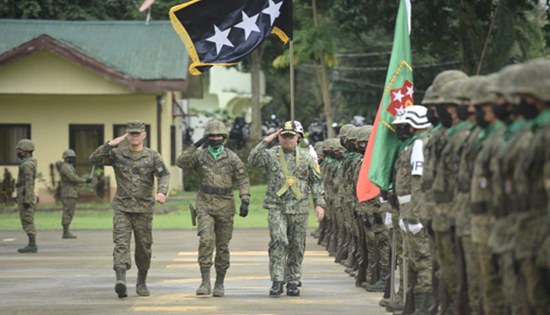 By DPAO, 8ID PA
February 11, 2023
CAMP VICENTE LUKBAN, Catbalogan City – The 8th Infantry "Stormtroopers" Division, Philippine Army, rendered an arrival honor to Police Lieutenant General Patrick T. Villacorte, the new Commander, Area Police Command (APC), Visayas at the 8ID Grandstand on February 10, 2023.
PLt.Gen. Villacorte is a former Director of the Philippine National Police Special Action Force (SAF) and the Commander of APC-Eastern Mindanao. He is a member of Philippine Military Academy (PMA) "Sambisig" Class of 1991.
During the visit, discussion included among others is the interoperability operations between the Philippine Army and the Philippine National Police in Eastern Visayas Region to stop the communist terrorists in their atrocities that affect the socio-economic development in the region.
"We look forward to upcoming collaborative efforts among security forces for us to be effective in our efforts to attain peace, stability, and security in the region," in a statement made by Major General Camilo Z. Ligayo, Commander, 8ID.
PLt. Gen. Villacorte expressed his appreciation for the warm welcome rendered to him during his arrival at the home of the Stormtroopers.