NMP sets sail for a productive 2023: 886 seafarers aboard as of 28 January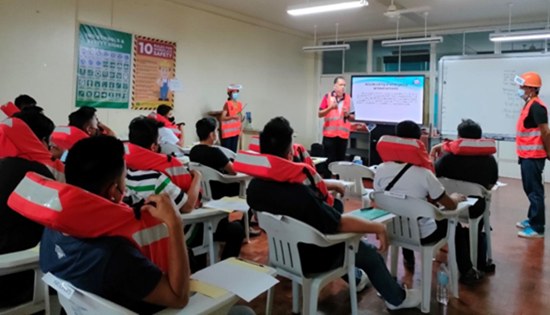 By National Maritime Polytechnic
January 30, 2023
TACLOBAN CITY – The National Maritime Polytechnic (NMP), a premier government-owned maritime training and research institution located at Brgy. Cabalawan, Tacloban City, has set sail for a productive 2023 as it surpasses its monthly target number of trainees for the month of January..
Eight hundred eighty-six (886) maritime trainees were on board NMP as of 28 January 2022 comprised of aspiring and active seafarers, maritime instructors and assessors and supervisors and other maritime allied personnel.
The strong enrollment figure revealed that a substantial 701 (79.12%) took the Basic Courses, 74 (8.35%) enrolled in Specialized Courses, 43 (4.85%) availed of Deck Courses, 35 (4.40%) listed in Engine Courses and the remaining 29 (3.27%) came from Professional Development Courses.
With the said accomplishment, the Agency is off to a strong start as it endeavors to reach its target of ten thousand (10,000) trainees trained in CY 2023.
In the interim, NMP is currently awaiting the result of the MARINA inspection held on 07-11 November 2022, following the rectification of the previously identified deficiencies. Additionally, the Agency is on the process of revising some of its training standards pursuant to MARINA Memorandum Circular No. SC-2022-05 in compliance with the requirement of the Standards of Training, Certification and Watchkeeping Convention (STCW) for Seafarers 1978, as amended.
Meanwhile, in its efforts to contribute in providing employment to Filipino seafarers, NMP continues to improve its facilities and deliver high-quality maritime trainings aligned with the STCW Convention as amended in 2010. These endeavors reflect NMP's dedication to support the employment and professional growth of Filipino seafarers, and strengthen the Philippine maritime industry as a whole.