DAR trains 150 DFs in E. Visayas on community organizing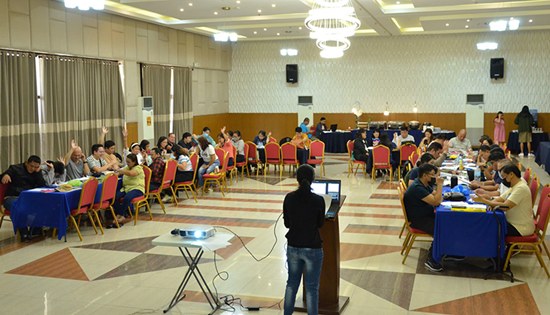 About 150 development facilitators of the Department of Agrarian Reform (DAR) assigned in different parts of Eastern Visayas undergo a five-day training on community organizing with emphasis on developing their social entrepreneurial skills.
By JOSE ALSMITH L. SORIA
March 5, 2023
TACLOBAN CITY – Level of development of agrarian reform beneficiaries (ARBs), agrarian reform beneficiaries organizations (ARBOs) and agrarian reform communities (ARCs) in Eastern Visayas is expected to improve after 150 development facilitators (DFs) of the Department of Agrarian Reform (DAR) in this region underwent extensive training on community organizing.
Divided into three batches, the said DFs were subjected to a five-day training on Enterprise-based Agrarian Reform Community Organizing and Development (E-ARCOD), which gave emphasis on developing the participant's social entrepreneurial skills.
Assistant Regional Director for Agrarian Reform Beneficiaries Development and Sustainability Program (ARBDSP), Ismael Aya-ay, said that E-ARCOD is basically rural development, community organizing, and extension works which is facilitated from production to marketing.
Melecia Ong, chief of the Program Beneficiaries Development Division (PBDD), stressed during the training the need to be innovative in order to adapt to the various factors affecting the growth of an ARB, ARBO and the ARC they serve to be effective social entrepreneurs.
Al Francis Caballero, a DF for almost three years assigned in Ormoc City in the province of Leyte, shared he feels more confident now in discharging his functions as a DF with the learnings he gained in the said training.
According to him, "The knowledge I gained here will enhance my skills in communication, problem solving and critical thinking, which are important in community organizing."
For Betoin Veras, the DF of Pinabacdao, Samar, "This training enables me to be self-aware of the role of a DF." She pointed out the qualities of a good DF, like how to deal with ARBs and how to empower them, which made an impact to her as a community organizer.
DF Mark Kevin Chua of Gandara, Samar, shared that the topics on how to address problems and challenges encountered in the field and how to lead ARBs and ARBOs to be productive and successful entrepreneurs, were among the biggest learnings which he plans to apply when he returns to his area of assignment.
In Mondragon, Northern Samar, DF Marian Marquita shared that she learned and would embrace the qualities and competencies a DF should possess to be effective in her work.
For Aniway Elizan, who had been assigned to several municipalities in Samar on separate occasions during her 19 years as a DF commented that all the learnings shared in this training were applicable not only in her work as DF but to one's personal life as well. Though, she considers the strategic development planning as the most important learning she gained which she could impart to the ARBOs she is assisting.
Meanwhile, Provincial Agrarian Reform Program Officer I (PARPO I) Rosemarie Balanquit of DAR Northern Samar Provincial Office commended in her facebook post the resource speakers for the comprehensive discussions of the different topics which sustained the interest of the participants until the last day of the training.
Aside from Ong, other speakers included PBDD staffs Ronalyn Acol, James Paul Albia, Adriano Badana, Leonard Fulminar and DF Czarina Vanelli Piñon.
Balanquit and the other PARPOs I in the region requested that they be included in the third batch of the said training, which was conducted last week, to be updated of the enhanced modules.