NMP's JICA funded projects undergoes ex-post evaluation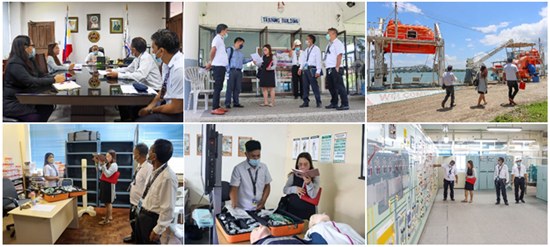 On-site evaluation of various JICA-donated Projects in NMP conducted on 18 April 2022.
By National Maritime Polytechnic
April 19, 2022
TACLOBAN CITY – The National Maritime Polytechnic (NMP), a recipient of the "Programme for Rehabilitation and Recovery from Typhoon Yolanda" of the Japan International Cooperation Agency (JICA), underwent an Ex-post evaluation on 18 April 2022.
The following equipment procured and completed in 2016 under the Project "Rehabilitation of Equipment for National Maritime Polytechnic, namely: fast rescue boat with davit, totally enclosed lifeboat with davit, engine simulator by full mission, the GMDSS (Global Maritime Distress and Safety System) Simulator related device, and various safety equipment were evaluated through on-site inspection by Ms. Jocel Nuique, Local Consultant, Evaluation Team of JICA's Evaluation Department.
As part of the evaluation activity, NMP alumni were interviewed to assess the impact of the trainings they had in NMP which particularly utilized JICA-donated projects. OIC Fidel Lito Caparro and Capt. Gil Tenefrancia, who were interviewed via Zoom, and OIC Nader Lumangco, who responded through a survey questionnaire, provided their feedbacks that the trainings in NMP were up-to-date and very useful in their actual field of work, emphasizing that the facilities and equipment used, especially during Simulation, were updated and are similar to the actual facilities used on-board.
Prior to the on-site visit, concerned NMP personnel led by Deputy Executive Director Mayla N. Macadawan, had a kick-off meeting on 13 April 2022 with Ms. Kieko Asato, appointed External Evaluator, as well as with the local consultant of JICA, to discuss the preparations and clarify matters relevant to the ex-post evaluation.
The ex-post evaluation is implemented on all JICA projects, usually three to four years after the project completion, to assess whether the projects were carried out appropriately to realize development outcomes and review its impact, as well as the current state of operation and maintenance of the completed projects. The data and information gathered from the evaluation will be used for further improvement of projects, and ensure accountability and transparency.
The "Program for Rehabilitation and Recovery from Typhoon Yolanda" of the JICA intends to help in the recovery of public services and strengthen support facilities by constructing various infrastructures & facilities and procuring various equipment particularly for the social and economic sector, which contributes to the restoration and economic revitalization of areas devastated by the Super Typhoon Yolanda.
Meanwhile, NMP continues to pursue its mandate of providing quality service through upgrading and specialized training programs (conducted online, face-to-face and blended) to maritime and allied personnel, and its pool of competent instructors, with advanced and upgraded training facilities and equipment.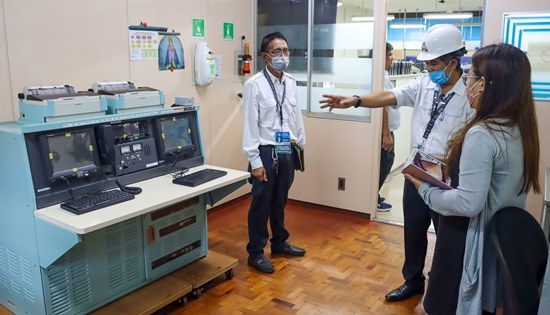 87.6% of surveyed NCR teachers say school internet not strong enough to host their classes
By ACT Philippines
April 18, 2022
QUEZON CITY – In a survey conducted by the ACT NCR Union, 8,106 of the 9,254 teacher-respondents from the region answered no when asked if their school internet can service all teachers who will be conducting simultaneous online classes now that DepEd mandated a 100% workforce reporting on-site. This was the top issue raised by survey participants, followed by health risks in light of the still on-going pandemic, then by transportation concerns.
ACT NCR Union leaders went to the DepEd-NCR office today to demand a dialogue regarding these issues and to register their call for the suspension of the implementation of DepEd memorandum 29, s. 2022, which effected the mandatory physical reporting of all teachers in areas under Alert Level 1.
"It's no secret that our public schools are in dire conditions, especially after being on lockdown for more than two years. Many of our schools don't even have enough supply of clean running water, sapat na internet pa kaya para sa, halimbawa, 100 plus na guro kada eskwelahan? Some of our teachers reported to have had to resort to asynchronous digital classes instead of holding online synchronous classes in order to consume lower internet bandwidths, which was all their school internet can handle.
In other cases, teachers have LGU-provided data allocations which they can use to hold online classes; however, they reported of having 'dead spots' within the school premises, forcing multiple teachers who – all simultaneously holding their own classes – to share small areas with enough cell reception. This is what we mean when we say that the blanket DepEd memo will have counterproductive impacts on the already challenging education delivery amid the pandemic," lamented ACT NCR Union President Vladimer Quetua.
Today is the first day of implementation of DM 29, s.2022 in most schools in the National Capital Region. Last week, the group publicly called for the suspension of the order and instead pushed for a flexible and needs-based and -responsive working arrangements for public school teachers. It argued that the nature of teachers' work vastly differs from that of other government employees – with the former's being closely tied to the presence of students in schools, which is currently still at a minimum due to the slow expansion of limited face-to-face classes. ACT also argued that schools are not ready to host teachers employing distance learning modalities, nor are schools equipped with sufficient health measures to protect employees from the COVID-19 pandemic. In fact, 31.6% of those surveyed said that the school will not provide hygiene kits to teachers, while 36.7% are unsure if the school has any plan to do so.
"Forcing a blanket policy among teachers – and without any prior consultation – unnecessarily puts teachers in more challenging conditions, without any guarantee of support from DepEd, and while further impeding education delivery. The last two years have forced us to adapt to the pandemic: we have procured internet connections at home, we have setup a system for handling multiple learning modalities for our students, only for it to be completely disregarded and disrupted by this new order that was implemented without enough thought and preparation. DepEd officials are terribly blind to our conditions and deaf to our justified calls," Quetua criticized.
ACT NCR Union reiterates its call on the agency to suspend the memorandum's implementation and discuss with its employees' duly recognized representatives a working arrangement that is 'more responsive' to the needs of education and 'less onerous' to public school teachers. ACT is the sole and exclusive negotiating agent for public school teachers in NCR.
"Even prior to this memo, teachers have been coming to school regularly to print, retrieve, and distribute moduels, to prepare their schools for its eventual re-opening, to attend meetings, among others. Teachers have been showing up to respond to the actual needs of education in the midst of the pandemic, despite little to no support from DepEd and the Duterte admin. We have gone above and beyond to ensure learning continuity amid the health and socio-economic crises, often shouldering the massive burden of the state's duty to the youth. It's high time that DepEd officials listen to our demands," concluded Quetua.
3 roads declared as national roads under Samar I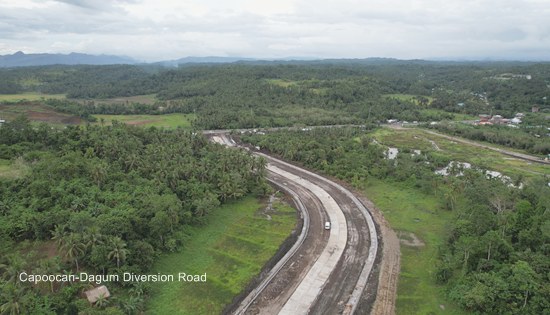 By GISSELLE G. PARUNGAO
April 18, 2022
CALBAYOG CITY – Three (3) roads under the jurisdiction of Samar I has been converted to national roads this year through Memorandum Order No. 42 pursuant to the provision of Executive Order No. 124.
Calbayog City Coastal Road, Rueda Extension Road and Capoocan-Dagum Diversion Road are now considered as national roads that can expect more funds for its maintenance. These roads are still on its ongoing construction through a Multi-Year Contractual Authorities (MYCA) funding.
The coastal road will offer an alternate route since it is situated alongside the main road in the city proper while Rueda Extension is another way to veer away from the city traffic and will exit to the Calbayog Diversion road in Barangay Rizal. On the other hand, Capoocan-Dagum will help the building traffic jam that starts in Barangay Matobato as an alternative way for those going in and out of the city proper.
These roads will offer better economic opportunities in Calbayog City once completed. The City proper is still experiencing heavy traffic bottleneck despite the existence of Calbayog Diversion road as one of its alternate main road for heavy vehicles, buses and other motorists coming from Luzon going to the Southern part of the country or vice versa.
Eastern Visayas' year-on-year total trade drops by -22.25% in December 2021
By PSA-8
April 7, 2022
TACLOBAN CITY – Total trade of goods in Eastern Visayas plunged by -22.25 percent, from the USD 173.05 million total trade of goods reported in December 2020. It went down to USD 134.55 million in December 2021. The decline was attributed to the -26.31 percent drop in exports to USD 110.90 million in December 2021 from USD 150.51 million in December 2020.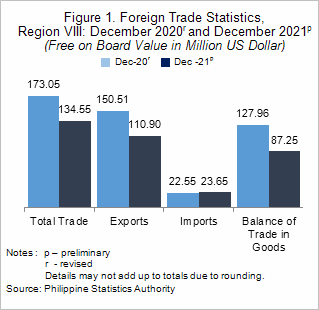 Meanwhile, the total value of imports went up by 4.90 percent to USD 23.65 million in December 2021 from USD 22.55 million in December 2020.
The region's Balance of Trade in Goods (BoT-G) registered a -31.81 percent decline at USD 87.25 million in December 2021, from the USD 127.96 million in December 2020.
The total volume of the region's exports in December 2021 was 73.33 million kilograms. By commodity group, the top export was copper and articles thereof with USD 90.24 million receipts comprising 81.37 percent of the total exports in the region during the month. Exports to People's Republic of China worth USD 40.12 million was the major country of destination of the region's export commodities, representing 36.18 percent of the total exports value in December 2021.
The total volume of the region's imports in December 2021 was 48.03 million kilograms. Imported goods were mostly the commodity group of mineral fuels, mineral oils and products of their distillation; bituminous substances; mineral waxes. This was worth USD 16.46 million or 69.61 percent of the total value of imports during the month. Thailand topped the country of origin of imported goods contributing USD 6.94 million or 29.34 percent to the import value of the region in December 2021.
JTF-Storm, PCG strengthen collab in pursuit of peace and security in EV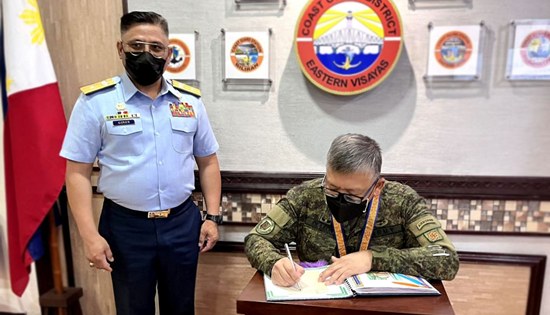 By DPAO, 8ID PA
April 7, 2021
CAMP LUKBAN, Catbalogan City, Samar – The AFP's Joint Task Force (JTF) Storm and the Philippine Coast Guard (PCG) strengthened their collaboration in pursuit of peace and security in the region.
JTF-Storm Commander, Major General Edgardo De Leon, personally visited Coast Guard Commodore Marco Antonio P Gines at their district office at Ormoc City, Leyte on Tuesday. Among the topics discussed were the inclusion of PCG to the Joint Peace and Security Coordinating Center (JPSCC) to enhance coordination and interoperability among law enforcement agencies such as the Philippine National Police (PNP), the PCG, and the AFP. Joint trainings will be conducted to enhance the capabilities of both agencies.
MGen. De Leon emphasized the important role of PCG in maritime law enforcement (MARLEN) in the region specifically in the registration and monitoring of watercraft to prevent and deter crimes.
"We may recall that recently, members of the NPA terrorists belonging to Guerilla Front Damol surrendered and then turned-in unregistered motorized banca which they used as their primary mode of transporting war materials in the coastal towns of the province," De Leon said.
Meanwhile, CG Commodore Gines commits that his unit will actively participate in the programs and projects of the Region 8 Task Force in Ending Local Communist Armed Conflict (RTF8-ELCAC) without directly getting involve in armed conflict. This could be through the conduct of Serbisyo Caravan, particularly the registration and marking of watercrafts for free.
"The PCG of Eastern Visayas will continue to perform our mandate on Maritime Law Enforcement (MARLEN) programs such as the free registration of motorized bancas and the conduct of information and education campaign to increase awareness on maritime environmental protection and enforcement," Gines added.
The PCG is a one of the active member agencies in Peace, Law Enforcement, and Development Support (PLEDS) Cluster of the RTF8-ELCAC in the campaign to end insurgency in Eastern Visayas.
DTI clamps down almost P6M worth of uncertified products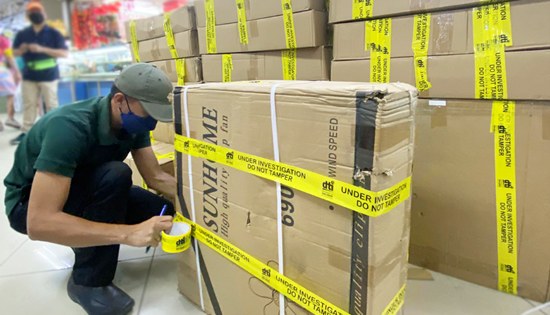 By DTI-CPG-Fair Trade Enforcement Bureau
April 6, 2022
MAKATI CITY – The Department of Trade and Industry-Fair Trade Enforcement Bureau (DTI-FTEB) clamped down P5,895,664.30 worth of uncertified products in the National Capital Region (NCR) and Visayas Region from March 1 to March 30, 2022.
According to the report, a total of 37,870 pieces of uncertified products were confiscated by the DTI-FTEB after conducting its periodic series of random spot-checking activities in 324 local establishments; 175 of which received a Notice of Violation (NOV) for selling consumer products without the quality mark and required markings and labels to attest that the products passed the DTI-Bureau of Philippine Standards (DTI-BPS) product mandatory certification process and is declared safe for use by end consumers.
Included in the seized consumer goods were chemical products, electrical and electronic products, mechanical products, building and construction materials, and other consumer products that are included in the scope of the mandatory product certification scheme of the DTI-BPS.
Products covered by the said mandatory product certification schemes are required to bear the Product Safety (PS) certification mark/logo or the Import Commodity Clearance (ICC) sticker, in accordance with the Department Administrative Order 2:2007 and the Implementing Rules and Regulations of Republic Act 4109, otherwise known as the Product Standards Law. The PS marks/logo and ICC sticker serve as consumers' assurance that the products they buy in the market are conforming to the relevant Philippine National Standards (PNS), which means it's safe for use and will deliver the performance as indicated by its manufacturer.
Failure to comply with the government-mandated markings shall force the DTI to make necessary legal action against the retailers that received NOVs. As such, administration fines and sanctions will be imposed on erring establishments after due process.
"No matter how big or small the number is, as long as there are still uncertified products being sold in the market, our monitoring and enforcement team will always be on-the-run in curbing the proliferation of uncertified goods nationwide," said DTI Consumer Protection Group (CPG) Undersecretary Atty. Ruth B. Castelo.
"DTI-FTEB is not only visible in the NCR but we make it a point to also expand our visibility in the regions especially those areas who were hardly hit by Typhoon Odette which happened last year," DTI-CPG Assistant Secretary Ronnel O. Abrenica underscored.
Further, the DTI encourages and reminds the consuming public to only purchase certified goods with the required and legitimate markings to ensure product quality and safety.
Know the list of products that are covered by the mandatory product certification scheme by visiting www.bps.dti.gov.ph. To report firms that sell critical consumer products in the market, call 1-DTI (1-384) or drop an email to consumercare@dti.gov.ph.
Threat of Magnitsky-style sanctions stings Malacañang
By ICHRP
April 2, 2022
MANILA – "The global civil society coalition ICHRP launched its 'Dirty Dozen' campaign for targeted sanctions against top Philippine government officials on March 29, 2022, and within two days Malacañang Palace has responded with its characteristic allergic reaction to any international criticism," said ICHRP Chairperson Peter Murphy in Sydney today.
"Acting presidential spokesperson Martin Andanar was right to say we are 'naming and shaming' but he has no excuse to claim he is 'baffled' or that we are 'misusing' the available Magnitsky laws," said Mr. Murphy.
"Our 'Dirty Dozen' campaign would never have been necessary if there was any credible judicial action on perpetrators of human rights violations in the Philippines," said Mr. Murphy, "and sadly the Palace claim that these massive violations have never been brought to their attention is just another case of brazen rejection of responsibility for their actions."
Investigate PH's three Reports in 2021 covered more than 50 emblematic cases of human rights violations that occurred largely in 2020 and 2021; ...violations of civil and political rights and IHL (International Humanitarian Law) carried out by the Duterte administration since 2016; and violations of economic, social, cultural and other collective rights. The Reports draw on the testimonies of survivors and witnesses, relatives of victims, human rights advocates with direct knowledge of state violence, and expert witnesses or resource persons working with peasants, trade unions, women, churches, community organizing, economics, political advocacy and peace negotiations.
In June 2020, United Nations High Commissioner for Human Rights Ms Michelle Bachelet reported:
"Persistent impunity for human rights violations is stark and the practical obstacles to accessing justice within the country are almost insurmountable. Human rights advocacy is routinely equated with insurgency and the focus diverted to discrediting the messengers rather than examining the substance of the message...
"Given the widespread and systematic nature of the alleged killings, and the failure of domestic mechanisms to ensure accountability thus far, there have been strong calls for an international accountability mechanism. In June 2019, a group of 11 Special Procedures mandate-holders called on the Human Rights Council to establish an independent investigation. ... The High Commissioner again emphasizes the need for independent, impartial and effective investigations into the killings and stands ready to assist credible efforts towards accountability at the national and international level."
ICHRP points to the decision of the International Criminal Court in September 2021 to investigate Philippine government officials for the crime against humanity of murder. "This demonstrates that nothing has improved, despite the claims of the Acting Presidential Spokesperson," said Mr. Murphy.
"Our 'Dirty Dozen' campaign will mobilize civil society to work with the parliaments and congresses of the USA, Canada, the European Union, UK, Japan and Australia to take action on these grave human rights violations, in parallel with the ICC."
AFP Chief lauds AFP-PNP troops in Region 8 for successful internal security operations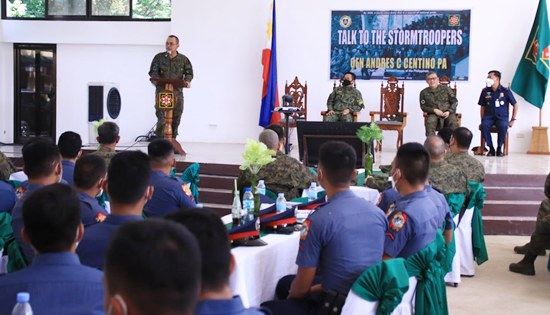 By DPAO, 8ID PA
March 31, 2022
CAMP LUKBAN, Catbalogan City, Samar – The Armed Forces of the Philippines Chief, General Andres C Centino, on Tuesday commended the operating troops of the 8th Infantry Division (8ID) and policemen of Police Regional Office 8 for successful operations that led to the neutralization of a Communist NPA Terrorist (CNT).
Alias Prix, notorious leader of NPA propaganda platoon in Northern Samar who was responsible for the series of attacks to the Army's Community Support Program Teams immersed in barangays of Northern Samar was killed during the encounter with the operating troops of the 20th Infantry Battalion last March 25, 2022. According to locals, the NPA propaganda group is known for its notorious extortion activities among the residents and small business owners. Three M16 assault rifles loaded with magazines and ammunitions were also captured.
General Centino personally congratulated and awarded the Gold Cross Medal to First Lieutenant Adonis Adan Collado, Sergeant Vincent Bulan, Corporal Edwin De Leon, Corporal Ernesto Nunez Jr., Private First Class Bert Bay-an, Private First Class Loige Nocido, Private First Class Jaymark Buctot, Private First Class Ber Flores and Private Nikko Pesidas for their indispensable service rendered during the conduct of the Development Support and Security Operations.
According to Centino, the 8ID troops have constantly been performing well in addressing insurgency in the region. Aside from the combat operations, AFP Chief Centino lauded the success of the localized peace engagements through the Samar Peace Panel which facilitated the surrender of nine NPA members who turned-in 30 high-powered firearms, ammunition, medical supplies, and materials used in making anti-personnel mines. These are clear indications that the Whole-of-Nation program of the NTF-ELCAC is the ultimate solution to attain lasting peace and sustained development.
"May paraan pala para pababain sila (NPA) nang walang buhay ang masasakripisyo and this is through localized peace talks. We will continue immersion at the grassroots to determine their problems and issues so that the government can assess and provide proper intervention", General Centino added.
Lopez: PH as first country in SEA for Elon Musk's SpaceX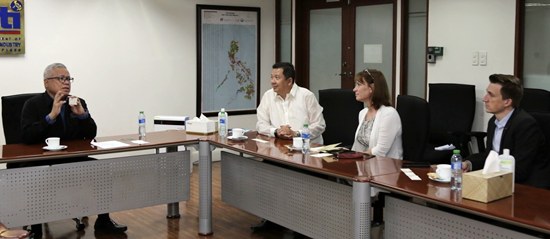 From L to R: DTI Secretary Ramon Lopez, DFNN Executive Chairman Ramon Garcia Jr., SpaceX Senior Manager for Government Affairs Rebecca Hunter, and SpaceX Market Access Director Ryan Goodnight.
By DTI-OSEC-Public Relations Unit
March 31, 2022
MAKATI CITY – Trade Secretary Ramon Lopez committed assistance to the planned establishment of Space Exploration Technologies Corp. (SpaceX) in the country, which will provide internet services in the Philippines using its Low Earth Orbit (LEO) satellite network constellation called Starlink. The constellation consists of over 1,600 satellites in mid-2021, and will eventually comprise of thousands more of mass-produced small satellites in LEO, which communicate with designated ground transceivers.
According to the trade chief, the launch of SpaceX/Starlink in the country will enable a much faster broadband speed, better connectivity, more capacity for telecommunications services and more affordable rates for consumers. Lopez said "Their system will augment as well as complement existing broadband capacities. This will further capacitate micro, small, and medium enterprises (MSMEs), facilitate online learning, e-commerce and fintech."
Preparations are underway for their registration, as discussed in the recent meeting among Secretary Lopez, SpaceX senior executives Rebecca Hunter and Ryan Goodnight, NTC Deputy Commissioner Edgardo Cabarios and DFNN Executive Chairman Ramon Garcia Jr.'s. SpaceX is bullish on the growing consumer base and much-improved investment climate in the country with the current major economic reforms. They noted that the signing of the amended Public Service Act (PSA), which allows up to 100% foreign ownership of public services in the country, was a critical factor in the company's decision to invest, as all its technologies are proprietary.
In a US Investment Mission in November 2021, the Department of Trade and Industry-Board of Investments (DTI-BOI) and SpaceX intently discussed the project's entry timeline and the PRRD Administration's priority legislative reforms. This was followed by a series of online meetings with the company, immediately after the Senate ratification in December last year, an update session in February 2022, and another in early March to discuss further its business plans in the Philippines in line with the amendment to the PSA. At present, their application is being processed and the locations of their gateways are being visited.
SpaceX is a relatively young but fast-growing technology and aerospace company owned by the highly celebrated entrepreneur Elon Musk. The company is currently establishing a local Filipino entity that will be their wholly-owned subsidiary and is targeting to deploy three gateways in the first phase of their launch. The Philippines is set to be the first in Southeast Asia to avail of such technology that will bring high-speed satellite broadband connectivity to customers, particularly to areas where connectivity has been difficult or impossible.
NMP empowers women through Elementary First Aid training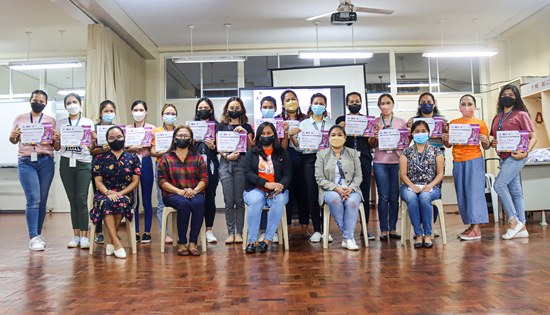 NMP employee-participants of Elementary First Aid Training on 25 March 2022 with DED Mayla N. Macadawan (front row 3rd from left).
By National Maritime Polytechnic
March 30, 2022
TACLOBAN CITY – In line with the nationwide observance of the National Women's Month Celebration (NWMC) anchored on the 6-year theme "We make change work for women" and highlighting this year's sub-theme, "Agenda ng Kababaihan, Tungo sa Kaunlaran," the National Maritime Polytechnic (NMP) conducted a Basic Training on Elementary First Aid (EFA) at the NMP Training Building on 25 March 2022.
This training is part of the "Serbisyo para kay Juana" advocacy of the agency to help empower women by equipping them with knowledge on basic survival skills. Fully aware of the significant contributions of women in nation building, it is equally important that women should likewise be active beneficiaries of the trainings and capacity development. Hence, the training on First Aid, which is considered a life-saving skill, was conducted to help effectuate this cause.
The training, participated by 15 women employees of NMP, composed of regular and Job Order Workers, covered basic emergency principles of first aid, and the appropriate first aid response applicable on each emergency situation. It was facilitated by Ms. Ms. Michelle G. Lutrania, a registered nurse and a Training Specialist I of NMP.
The participants were also asked to do a return demonstration through a practical exercise on the proper Cardiopulmonary resuscitation (CPR) and Artificial Resuscitation (AR), right after the lecture.
NMP's Deputy Executive Director Mayla N. Macadawan, emphasized to the participants during her opening message, the importance of knowing basic survival skills that every person should learn. She also added that the NWMC is not only a celebration but also a call to action, recognize gender equality and highlight the role of every Juana in all aspects of the nation's development.
In addition to this, NMP identified employees and staff likewise participated in a virtual forum entitled "Forum on Women and men in Eastern Visayas cum Appreciation course on Gender Analysis" sponsored by the Philippine Statistics Authority (PSA), conducted on the same day.
DTI Caraga distributes livelihood kits to small stores affected by 'Odette' in Siargao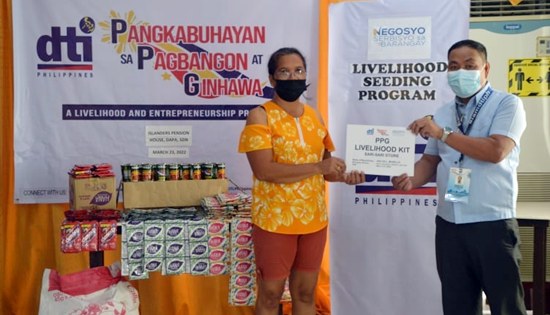 In a separate turn-over ceremony, Provincial Director Arnold Faelnar leads the distribution of livelihood starter kits to 75 MSMEs in Siargao towns Dapa and General Luna.
By DTI-Regional Operations Group
March 29, 2022
MAKATI CITY – Department of Trade and Industry (DTI) Caraga, through its provincial office in Surigao del Norte, distributed livelihood kits on 23 March to eligible micro-entrepreneurs (MEs) affected by Super Typhoon Odette in Siargao Islands.
Odette made landfall in the province, particularly Siargao Island on December 16 that displaced around 48,204 families or 157,052 individuals. This affected not only the tourism industry of the island, but also the agriculture and fishery sectors.
In response, DTI through the Pangkabuhayan sa Pagbangon at Ginhawa (PPG) turned over livelihood kits to a total of 113 MEs in the municipalities of San Isidro, Del Carmen, Sta. Monica, San Benito, Pilar, and Burgos at Surigao State College of Technology (SCCT) - Del Carmen Campus.
These MEs were comprised of 84 sari-sari stores, four water refilling businesses, three dry goods stores, five printing services, three agrivet supply stores, six carenderias, three native delicacies shops, two fish trading, one internet café, one school supply store, and one poultry farm.
Simultaneously, kits were distributed to 75 MEs in the Municipality of Dapa and General Luna headed by Provincial Director Arnold Faelnar.
"It is our hope that this will support the recovery and continuity of the affected people and businesses in the island," said Regional Director Gay Tidalgo who personally led the distribution.
Tidalgo added that after Odette hit Siargao Islands in December last year, the regional office has immediately begun the profiling of affected MEs.
"We have started giving cash cards to affected small businesses before 2021 ended and we are happy that through this small assistance from the Department, we are able to contribute to the recovery of the islands," Tidalgo said.
Tidalgo added that the distribution is set to assist the MEs in the island that incurred damages amounting to P1 billion in the agriculture and fishery sectors, and P20.2 million in tourism facilities because of Odette.
"Dako kog pasalamat kaayo sa gihatag karun sa DTI nga 32 sacks nga semento para sa among hollow blocks business. Dako na kaayo ni nga tabang para maka hinay-hinay tag bangon sa atung negosyo" (I am very grateful for the 32 sacks of cement given by DTI for our hollow blocks business. This is already a great help for us to slowly recover), said Ivan Bret Esparago, a recipient from Dapa.