National Library of the Philippines promotes establishment of Peace Corners in libraries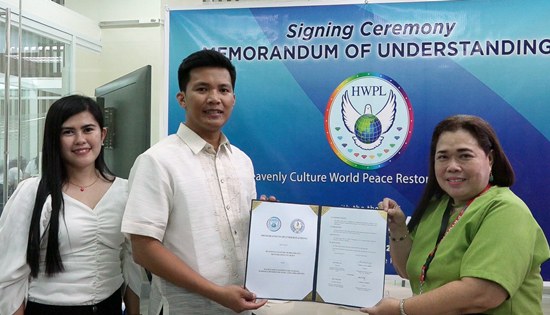 Press Release
May 4, 2022
MANILA – On April 25, 2022, the National Library of the Philippines (NLP), through the Public Libraries Division, held its comprehensive free blended training entitled "Significant Role of Libraries in the Establishment of Peace, Justice, and Strong Institutions" at the NLP Auditorium. With the theme "Aklatan Pangkapayapaan", it was held in partnership with the Philippine branch of Heavenly Culture, World Peace, Restoration of Light (HWPL), an international peace organization associated with the UN ECOSOC and the UN DGC.
The training was attended by over 500 participants onsite and online, including private and public library staff, school librarians, educators, and peace advocates. The training provided learning opportunities about institutionalizing peace in the Philippines and the importance of establishing peace corners in the libraries nationwide.
Commissioner Dr. Ronald L. Adamat of CHED said, "Our libraries shall give prominent places those books and publications about peace where readers could easily access and get their hands. By doing this, our libraries can be of big help to the work of promoting peace to the reading public."
Regarding the role of libraries in line with the UN SDG 16 - Peace, Justice and Strong Institutions, Justice Raoul Victorino said, "In Ukraine, the libraries continue to remain open despite the continuing Russian invasion. Ukraine's libraries are offering bomb shelters and classes are resumed inside the libraries. These heroic stories continue to prove that libraries are our best home for the future."
Mr. Cissette B. Ricardo of Parañaque City Public Library, talked about "Library and Peace" where he shared his experience of having a partnership with HWPL. The first peace corner was established in Paranaque City Public Library and its inauguration was held on February 15, 2019. He said that through the peace corner, the students coming in and out were able to learn and appreciate peace initiatives. He also encouraged all libraries to sign a partnership with HWPL to receive peace-related materials and also put up a peace corner to spread awareness, especially among the students and learners.
Mr. John Rommel Garces, Chief Branch Manager of HWPL Philippines, highlighted the importance of establishing a peace corner in the library, as well as HWPL's peace achievements in the Philippines.
HWPL Philippines aims to establish more peace corners in public and private libraries as well as school libraries all throughout the country to make relevant peace-related materials more accessible to the public especially to the youth and students. After the event, 40 peace corners are expected to be established.
Martial law survivors, activists pay tribute to human rights champion Marie Hilao-Enriquez
By KARAPATAN
May 4, 2022
QUEZON CITY – In a gathering at the Bantayog ng mga Bayani compound in Quezon City, martial law survivors, activists and friends of human rights champion Marie Hilao-Enriquez, chairperson emeritus of Karapatan, paid tribute to her courageous and indefatigable work for the cause of people's rights, justice, and national democracy. On April 24, 2022, Hilao-Enriquez, a stalwart in the anti-Marcos dictatorship struggle and a leading human rights activist, died in the US.
"Today, we extol Marie's life and legacy of service to the Filipino people at the Bantayog ng mga Bayani, before the names of the many martyrs and heroes of martial law – many of them Marie had known, worked and were friends and colleagues with. She now belongs to the nation's pantheon of heroes who have dedicated their lives against the Marcos dictatorship and to the greater cause of social justice and democracy," said Karapatan Secretary General Cristina Palabay.
Andrea, Marie's daughter, in a video message thanking those who delivered and sent messages, stated: "Kaya naman po, para sa amin, ang pinaka-akmang pagpaparangal kay Mama, at sa libu-libong biktima ng martial law ay ang pagpapatuloy ng kanilang adhikain. Nananawagan po kami sa lahat na bumoto nang tama at mariing ireject ang mga Marcos at kanilang mga kampon sa eleksyon na ito at sa mga susunod pang panahon. Never again to the Marcoses, never again to martial law!"
Hilao-Enriquez was Karapatan's founding secretary general and eventually became its chairperson. She worked with several martial law survivors and human rights advocates in the pursuing the landmark class action suit against the estate of the late dictator Ferdinand Marcos Sr. and in the campaign for justice and indemnification of victims of human rights violations under martial law. Her sister, Liliosa, was the first documented victim of extrajudicial killing of an activist under detention after Marcos' martial law was imposed. Marie and several members of her family were detained and tortured as well.
In Karapatan, Marie led campaigns against the extrajudicial killings, torture, enforced disappearance and other gross human rights violations against activists and civilians, particularly during the administrations of former President Gloria Macapagal-Arroyo and Rodrigo Duterte.
In a written tribute read during the gathering, former UN Special Rapporteur Philip Alston said: "Before I visited the Philippines as United Nations Special Rapporteur on extrajudicial executions in February 2007, I was warned that she was a trouble-maker and that I should not trust any information that she provided to me... I soon came to the conclusion that Marie was the 'real deal.' She didn't make empty or careless allegations. Instead, she provided detailed, carefully put together, dossiers on each of the cases of the alleged killings that she presented to me... She stood out as an outstanding example of someone who dedicated her life to human rights. She was indeed a trouble-maker, but in the best sense and in the highest of causes. She loved her people and her country in the best possible way and I mourn her passing."
Marie's colleagues in Karapatan led by its chairperson Tita Lubi and friends during martial law, including those while in detention, rights advocates including Mrs. Edita Burgos, Atty. Edre Olalia, former Secretary Judy Taguiwalo and Bonifacio Ilagan, and several human rights and people's organizations also spoke in the said program.
"Marie dedicated her life in advancing and defending people's rights – and in the face of a massive human rights crisis in the Philippines as well as the threat of a Marcos restoration and Duterte extension, we turn towards Marie's life and legacy as a courageous human rights defender as our guiding light in the continuing struggle against tyranny and fascism. As we approach the upcoming elections, we call on all freedom-loving Filipinos to honor Marie and the many other heroes and martyrs of martial law by fighting for our hard-won rights and freedoms. We are all called to firmly reject the Marcoses and Dutertes in the elections and beyond, and, like Marie, we are compelled to relentlessly pursue justice and to hold them accountable for their crimes against the Filipino people," Palabay concluded.
Temporary hospital at New Bilibid Prison for continued provision of health care to 28,000 detainees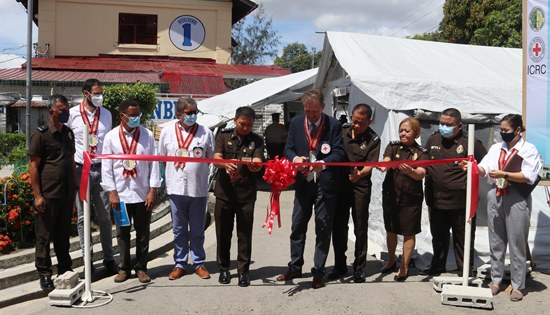 ICRC Head of Delegation Boris Michel (fifth from right) and Assistant Secretary Gabriel Chaclag (fifth from left) during the ribbon cutting ceremony at the hospital's inauguration. Joining them are other ICRC and BuCor officials.
By ICRC
May 2, 2022
MANILA – To ensure the continued provision of basic health-care services for 28,000 detainees in Muntinlupa City's New Bilibid Prison (NBP), a 150-bed temporary hospital was inaugurated today by officials of the Bureau of Corrections (BuCor) and the International Committee of the Red Cross (ICRC).
The 4,000 sq m temporary facility, which was designed and built by the BuCor and the ICRC, has an emergency room, pharmacy, intensive care unit, dental clinic and psychiatric ward. Staffed by 147 workers, it can provide minor surgical services to patients. It also supports the newly built tuberculosis (TB) laboratory inside NBP by serving as an isolation and treatment facility for patients who have tested positive for TB. Some of the medical equipment inside the hospital have been donated by the ICRC.
"We remain committed to support the BuCor to guarantee the detainees' right to adequate health care. The temporary hospital will help improve the quality of medical care for detainees and provide a good working environment for NBP's health workers," says Boris Michel, head of the ICRC's delegation in the Philippines.
With the temporary hospital, detainees will no longer have to be transported to medical facilities outside NBP unless they have major health problems. They will have access to its services while the BuCor builds NBP's 500-bed permanent hospital.
The temporary hospital will also serve as a referral facility for the infirmaries in the minimum and medium security compounds. Prior to its construction, detainees were treated inside medical tents.
The ICRC's support for detainee health care in NBP began in June 2013 with technical assistance through monitoring, supervising and evaluating the implementation of the national TB programme.
According to BuCor, the NBP has a congestion rate of 348 per cent, making its detainees susceptible to communicable diseases such as COVID-19 and TB.
"We commend the ICRC team in the country for its very professional and collaborative approach in the performance of its mission as an impartial, neutral and independent humanitarian organization. Maraming salamat at mabuhay po kayo sa ICRC!" says Assistant Secretary Gabriel P. Chaclag, BuCor's Deputy Director General for Administration.
The ICRC has been supporting the NBP in its COVID-19 response through the provision of equipment and technical support since the start of the pandemic. It has also been assisting the NBP in the vaccination of detainees since 2021.
The ICRC is a strong advocate of the e-dalaw programme and announced today that it would donate equipment that would help NBP detainees keep in touch with their loved ones through voice and video calls.
Since 2007, the ICRC has been working closely with the Philippine authorities to help ease the consequences of extreme overcrowding in jails, focusing particularly on health issues such as TB treatment, and improving living conditions of persons deprived of liberty (PDL).
DTI Chief: US IT firm eyeing high-value BPO presence in PH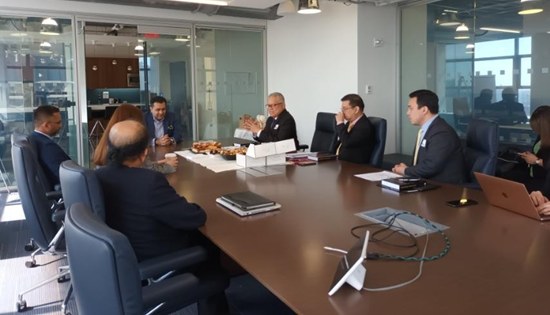 By DTI-OSEC-Public Relations Unit
May 2, 2022
WASHINGTON, DC – Department of Trade and Industry (DTI) Secretary Ramon Lopez met with Mphasis Corporations' CEO Nitin Rakesh and Industry Solutions Group SVP & Global Head Indranil Roy on 22 April 2022 to discuss the company's plans to have its first business process outsourcing (BPO) presence in the Philippines.
The US information technology (IT) company expressed interest in the Philippines as a major investment location for their high-value services with an initial headcount of 1,500 - 2,000 IT-Call Center Jobs.
"Our country is increasing its capacity to become a global player in IT-enabled services through the provision of analytical and AI skills development, competitive enabling environment, and cost efficiencies. This, thereby, ensures that investors can profitably serve international and fast-growing regional markets," Sec. Lopez said.
Meanwhile, Mphasis' Mr. Roy disclosed that a number of their clients, which are major American banks and insurance companies, have advised them to look into the Philippines for their BPM operations highlighting their preference for the Filipino brand of service and skill sets.
As Mphasis prides itself as being known in the industry as a client-centric organization, they are bent to accommodate clients' wishes such as setting-up operations in the Philippines. The company provides IT services to banking and finance, healthcare, telecommunication, logistics and other high-tech industries. They employ around 40,000 employees across the globe such as IT-BPO facilities in India, Mexico, Taiwan, Costa Rica, Germany, and UK. Mphasis is a subsidiary of the New York -based financial giant Blackstone Group.
Secretary Lopez also noted that despite the challenges, the IT-Business Process Management (BPM) sector did not lay off workers during the pandemic. He mentioned how resources would not be a problem as the country has a workforce of 49 million, generates 800,000 graduates annually, with 30% coming from the science, technology, engineering, and mathematics (STEM) field.
Joining them in the discussion, Board of Investments (BOI) Managing Head and Undersecretary Ceferino Rodolfo mentioned that BOI has an MOU with the Commission on Higher Education (CHED) and can also link Mphasis with various education institutions for curriculum customization and talent development. He added that another resource that they can tap into is the returning overseas Filipino workers (OFWs) who have an advantage in terms of experience with their new knowledge and skills acquired from their respective countries. Lastly, USec Rodolfo expounded on the advantages of the Corporate Recovery and Tax Incentives for Enterprises (CREATE) Act.
The Philippine Information Technology and Business Process Management (IT-BPM) industry has contributed a total of USD26.7 billion and USD23.8 billion in service exports in 2020. The Philippines gained 13% of the global market share and is serving North America, APAC, and EU Markets. The industry has contributed 1.3 million direct jobs and 4.5 million jobs with more than 700 BPO companies in the country. The startup ecosystem in the country also has a strong potential to flourish with around 500 start-ups businesses.
"Our continued efforts to upskill our workforce and liberalize our industries through major economic reforms under President Duterte's guidance and leadership, partnered with our strong economic fundamentals, have proven our capability to position the Philippines as an ideal investment hub in Southeast Asia. We look forward to how the next generation of leaders can further build on these successes," Sec. Lopez said.
BJMP, Samar agrarian beneficiaries sign marketing agreement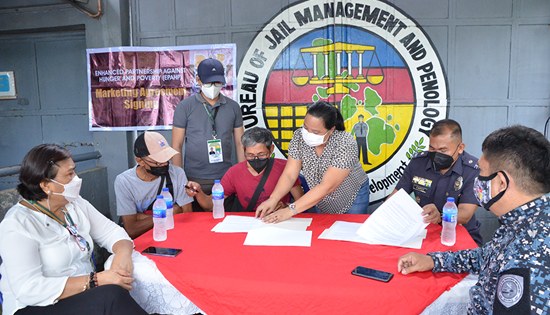 The Hilaba Farmers Association based in Marabut, Samar and the Tacloban City Jail Male Dorm sign a marketing agreement under the Department of Agrarian Reform's (DAR's) Enhanced Partnership Against Hunger and Poverty (EPAHP) program. (Jose Alsmith L. Soria)
Press Release
April 30, 2022
TACLOBAN CITY – A farmer organization based in Marabut, Samar thanked the Department of Agrarian Reform (DAR) for introducing them to institutional buyers as steady markets for their products.
Hipolito Maligmat, Chairman of the Hilaba Farmers Association (HFA), was so happy to tie-up with the Bureau of Jail Management and Penology (BJMP), specifically the Tacloban City Jail Male Dorm, as a sure market for their fresh eggs.
Earlier this month, Maligmat and Jail Chief Inspector Bernardino Edgar Camus signed a marketing agreement where HFA will be the jail's supplier of fresh eggs for the consumption of persons deprived of liberty (PDLs).
The signing was held at the Tacloban City Jail Male Dorm. It was witnessed by Melecia Ong, Chief of the Agrarian Reform Beneficiaries Development Sustainability Program (ARBDSP) Division of the DAR Regional office 8 and SJO3 Ferdinand Ordovez, Chief Operations Officer of the Tacloban City Jail Male Dorm.
Maligmat and Camus agreed that HFA will deliver no less than 24 trays of fresh eggs every month to the said facility and will be paid based on the prevailing market price.
Camus commented, "We hope this will continue so we can help the farmers, while for the Bureau, we can buy cheaper and nutritious food for our PDLs."
The tie-up was facilitated by Salfie Macalde and James Albia of DAR Samar Provincial Office under the Enhanced Partnership Against Hunger and Poverty (EPAHP) program.
HFA is one of the agrarian reform beneficiaries organizations (ARBOs) being assisted by DAR.
According to Maligmat, "Aside from fresh eggs, our organization has sufficient supply of other farm commodities, the most popular of which is lettuce."
Heart Evangelista-Escudero shows love and support for women in livelihood training in Muntinlupa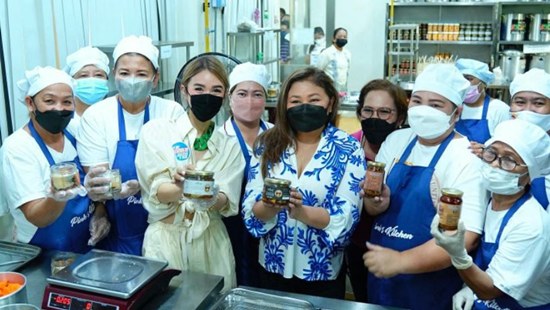 Press Release
April 29, 2022
SORSOGON CITY – Global brand ambassador and social media celebrity Heart Evangelista-Escudero has visited the Muntinlupa Training and Resource Center for Women (MTRCW) to find ways on how to support the community as part of her women empowerment advocacy.
During her visit on Wednesday, the actress and fashion icon learned about the process of making local products that included bottled bangus, gourmet tuyo and tinapa as well as peanut butter.
The 37-year-old GMA Kapuso star, wife of Sorsogon Gov. Francis "Chiz" Escudero who is seeking a return to the Senate, also took time to interact with some 160 women who are undergoing various livelihood trainings to augment the income of their families.
In her brief remarks, Mrs. Escudero urged the ladies to get into small business after finishing their training, which is being provided for free by the city government through the Gender and Development (GAD) Office and the Muntinlupa City Technical Institute (MCTI).
"I am here to just show my support sa lahat ng ginagawang mga programa para sa women empowerment and of course, I am here for the women that have gone very difficult times of their life. Sana makatulong sa inyong makapagnegosyo ang natutunan ninyo dito," Evangelista-Escudero said.
"We, as women, are here to give love, to take care of people and so as we get together, let us empower each other, support each other. Suportahan din po natin ang mga programa na ibinibigay ng city para mas maging maayos ang ating mga buhay at mabigyan natin ng pansin ang mga capacities natin to create wonderful things and create an impact," she added.
The GAD office said in a Facebook post that the actress visited the livelihood training center to help the women promote their products.
"Ang layunin ng kanyang pagbisita ay upang tulungan tayo na maipakilala ang mga produktong gawa ng Muntinlupeño sa iba't ibang lugar sa ating bansa," it said.
GAD Chair Trina Biazon thanked the actress for visiting the center and lauded her for using her celebrity status to advocate women empowerment and champion their rights.
"We are very thankful that Heart accepted our invitation to visit and get to know the women here at the center. Her presence was a big morale booster for all of us," she said.
"Mula sa Muntinlupa Gender and Development Office & MCTI Tesda, Maraming Salamat, Ms. Heart Evangelista-Escudero for visiting the Muntinlupa Training and Resource Center for Women," she added.
DENR, LBP, ROD renew support for DAR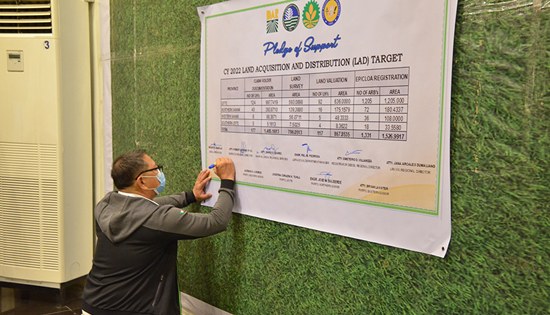 Officials from the Department of Environment and Natural Resources (DENR), Land Bank of the Philippines-Agrarian Operation Center (LBP-AOC), and Registry of Deeds (ROD) sign Pledge of Support for the attainment of the Department of Agrarian Reform's (DAR's) 2022 targets.
Press Release
April 28, 2022
TACLOBAN CITY – Regional Director Atty. Robert Anthony Yu thanked the officials from the Department of Environment and Natural Resources (DENR), Land Bank of the Philippines-Agrarian Operation Center (LBP-AOC) and the Registry of Deeds (ROD) after they expressed renewal of support to DAR's attainment of its targets in Eastern Visayas this year.
The three government offices play vital roles in DAR's accomplishment of targets in the Land Acquisition and Distribution (LAD) component of the Comprehensive Agrarian Reform Program (CARP).
Engr. Ramon Unay, Head of DENR's Surveys and Mapping Division, together with Manager Fiel Pedrosa of the LBP-AOC, and all the Registrars of the different RODs in Eastern Visayas expressed their continued support to the smooth and speedy implementation of CARP in the region during the Synchronized Planning and Problem-Solving Session organized by DAR.
All the officials from the said line agencies signed the Pledge of Support for DAR Eastern Visayas following targets for 2022: Land Survey, 796.0513 hectares; Land Valuation, 117 landholdings covering 867.8535 hectares; and Registration of Emancipation Patents and/or Certificates of Land Ownership Award (EP/CLOA), 1,526.9917 hectares.
Atty. Yu clarified that these are just under DAR's regular targets. There is another set of targets under the Support to Parcelization of Lands for Individual Title (SPLIT), a special project of the agency which seeks to parcelize collective CLOAs previously distributed by the DAR into individual title.
The line agencies and the DAR had lengthy discussions and exchanged views regarding their problems, issues and concerns arising from the implementation of CARP, even resolving problems on land valuation and registration of more than 29 hectares of landholdings.
With the full support of the three line agencies, Atty. Yu anticipates a 100 percent accomplishment for Eastern Visayas by the end of the year.
NMP Tacloban reoffers PDC trainings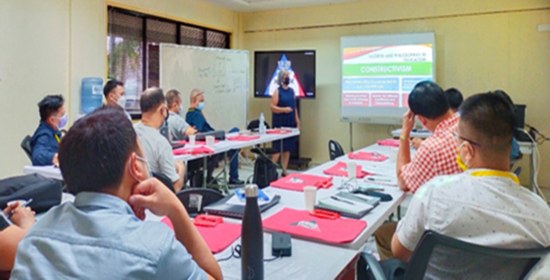 By National Maritime Polytechnic
April 27, 2022
TACLOBAN CITY – The National Maritime Polytechnic (NMP), the only government-owned and operated maritime training and research institution in the country, has reoffered the Professional Development Courses (PDC) in its main office at Brgy. Cabalawan, Tacloban City, commencing with IMO Model Course 6.09 or the Training Course for Instructors and Assessors. This training is the first PDC training offered this year here in Tacloban which will run from 25 April-4 May 2022, with a total of 12 enrolled trainees.
The IMO MC 6.09 is a 10-day course for seafarers/non-seafarers who intends to acquire the necessary knowledge and proficiency to teach in the maritime education in accordance to the International Convention on Standards of Training, Certification and Watchkeeping for Seafarers (STCW), 1978, as amended.
During the opening program conducted to formally start the said training, Executive Director Joel B. Maglunsod emphasized in his message the importance of the course in enhancing the skills of trainers, as a vital factor in the effective delivery of trainings, thus producing competent Filipino seafarers. He also stressed the many challenges the institution faced just to sustain its operations especially the conduct of trainings amidst the COVID-19 pandemic.
Due to the disease outbreak, NMP's training courses were halted along with the offerings of the PDC courses both its main office in Tacloban and in NMP Manila. With the approved post ECQ Protocols of the Maritime Industry Authority (MARINA) NMP was able to revive back its trainings. However, in accordance with the protocols imposed by the Inter-Agency Task Force (IATF) for the Management of Emerging Infectious Diseases and the Local Government Units, class intakes were reduced to 50% and accommodated clients only from within Region VIII. This affected the operation of the PDC's since most takers of the said course are from outside the region. Hence, PDC courses were conducted offsite and in NMP Manila office only.
The PDC is one of flagship trainings of the agency and NMP is also the pioneering institution to offer IMO Model courses. It was developed to provide the maritime industry a pool of competent trainers equipped with appropriate approach and discipline in the delivery of training courses, which, in effect will enhance the skills and capabilities of the Filipino Seafarers.
Sigo Bridge constructed for passing motorists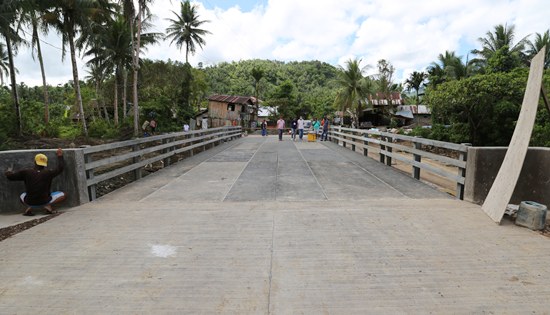 By ROMELLA LALAINE A. GUARDE
April 22, 2022
CALBAYOG CITY – Samar First District Engineering Office constructed a bridge situated in Brgy. Sigo, Calbayog City. The said project has a revised contract amount of P11,146,107.58 million under the "Tulay ng Pangulo Para sa Kaunlarang Pang-Agraryo (TPKP)".
The Sigo Bridge has a total length of 28.80 meters and a width of 10 meters. It is a double-laned bridge and a small riprap was likewise constructed on the side of the bridge where part of the soil foundation is susceptible to erosion.
Initially, a box culvert was built for easy flow of huge amounts of water, and at the same time, it was used as a passage for vehicles. However, due to continuous scouring from flowing of water, it has caused damage to the structure which prompted the DPWH-Samar I to build a bridge instead.
A bridge is usually constructed over a physical obstacle such as a body of water to provide crossing over that obstacle. As a system for transportation, a bridge is built to be strong enough to safely support its own weight as well as the weight of both public and private vehicles traversing thereto.
DTI works on ENDEC, B&V to build RE-enabled hyperscale data centers in PH
By DTI-IDTPG-Bureau of International Trade Relations
April 20, 2022
WASHINGTON, DC – Department of Trade and Industry (DTI) Secretary Ramon Lopez pursued investors that will build hyperscale data centers, with the corresponding renewable energy generation projects that should provide for their power requirements. This was discussed mainly during a meeting with executives from ENDECGROUP Inc. and Black and Veatch (B&V) on 18 April 2022.
The trade chief cited the Duterte administration's major economic reforms and investment promotion activities on high-tech-oriented projects. "Among our priority sectors include those that promote Regional Equity, Digital Infrastructure and Skills Development, and Climate Adaptation, which can potentially be categorized under Tier III of the Strategic Investment Priority Plan (SIPP).
Building more data centers supports our strategy to build the country's digital infrastructure needed for the hyperscalers in this age of growing e-commerce and internet and social media use," Secretary Lopez said.
"The setting-up of renewable energy projects would also benefit from the recent policy move to allow greater foreign equity participation in renewable energy projects. DTI-BOI team has also been pushing for more green metals processing activities or the further processing of nickel, copper and cobalt as new efficient minerals for batteries and battery energy storage for clean energy systems," the Trade Secretary added.
The National Economic and Development Authority (NEDA) has also been pursuing digital transformation as a means to sustain the recovery and enhance the resiliency of the country in 2022 and into the next administration. During the same meeting, NEDA Undersecretary Rose Edillon highlighted digital transformation as one of the priorities of the Task Group on Recovery and one of the focuses of the updated Philippine Development Plan (PDP).
During the meeting, the trade chief likewise mentioned the Philippine Skills Framework (PSF) initiative, which will ensure capacity building and availability of skills in digital technology, and the Center for AI Research, which will encourage more innovation in these new industries.
"These, we see, will further grow the Philippine economy by nurturing higher-value economic activities, bringing in more investments, jobs, and income – which would further fuel consumption spending, as well as attract more investments and expansion activities," Secretary Lopez added.
For his part, B&V Executive Director Mr. Martin Travers took note of the Philippine policies on electric vehicles (EVs), renewable energy, and data centers which align with the priorities and strategic direction of the US firm. B&V is among the top 10 employee-owned companies in the US, with experience in deploying a network of EV charging stations. It is also among the top data center developers in the world and a leader in climate-friendly data centers.
Meanwhile, ENDECGROUP Chairman and CEO Mr. Bill Johnson highlighted the country's strategic location in the Asia Pacific region, existing infrastructure in telecommunications and submarine cables, strong business process outsourcing (BPO) hub, and ability to develop renewable energy to power data infrastructure as some of the reasons for considering the Philippines as an ideal location for their investments.
"With the sound economic policies and reforms already set in place, we are confident and optimistic that the next leaders in government will be able to build upon the successes and continue the gains of the Duterte administration," Secretary Lopez said.
Last 4 April, ENDEC together with its US partner, Diode Ventures LCC, met with Board of Investments (BOI) Managing Head and Undersecretary Ceferino Rodolfo to discuss further its serious and substantial business plans in the Philippines. In the same meeting, ENDEC CEO Mr. William Johnson recognized BOI's efficiency in assisting the group in moving forward with their business plans in the Philippines.
DTI, ENDEC, and B&V are committed to working together in accelerating this project.