ASEAN Economic Ministers form united position on trade issues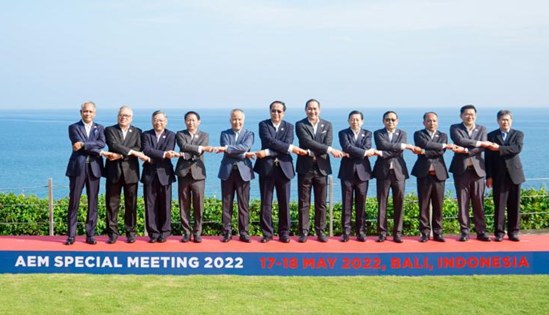 By DTI-IDTPG-Bureau of International Trade Relations
May 19, 2022
BALI, Indonesia – ASEAN Economic Ministers (AEM) convened a face-to-face special meeting, a first since COVID-19 lockdowns started two years ago, to tackle key trade concerns of ASEAN Member States (AMS). They had extensive discussions on challenges faced by the region and that of individual countries brought about by global developments such as the COVID-19 lock downs in China and the Russia invasion of Ukraine.
"We should focus on enhancing international cooperation, going beyond trade and pursuing other initiatives such as boosting investment, and strengthening the rules based multilateral trading system. On the first, it is important that we [ASEAN] strengthen economic cooperation efforts and bring about real, and honest to goodness integration," the trade chief challenged.
"Most importantly at this time, we need to ensure that there are no restrictions on trade so as to allow the unhampered flow of goods, especially essential food, fuel, medicines, and medical equipment," he added.
The DTI Secretary raised this in line with concerns among AMS on recent export bans implemented in the region such as on rice, coal and palm oil. He highlighted the Philippine policy during the pandemic where even the export of face masks was not banned. This led to good outcomes for the Philippines as manufacturing capacity for medical-grade, internationally-certified face masks expanded multiple times and equally important, it encouraged investment in a very critical melt-blown filter facility. He also acknowledged efforts by other countries that have eventually removed such measures and called for the remaining bans to be lifted.
"I thank Indonesia for lifting the export ban on coal and studying the issue on palm oil, including the possibility of lifting the export ban by as early as the end of the month. We are one ASEAN, one family. We must care and support each other as our economies and peoples become even more closely linked," he said.
The Ministers also agreed to deepen economic relations with external partners such as the US and EU. A key topic discussed was the Indo-Pacific Economic Framework of the US (IPEF). It is the proposed vehicle for strengthened US economic engagement in the Indo-Pacific region, seeking to operationalize shared objectives around trade facilitation, standards for the digital economy and technology, supply chain resiliency, decarbonization and clean energy, infrastructure, worker standards, and other areas of shared interest.
The IPEF is set to be launched by the Leaders of participating countries when US President Biden visits the region next week. It is viewed that the objectives of the said initiative are worth pursuing especially since it addresses inclusive growth, supply chain resilience, and digital trade, among others, which are key elements in crafting new generation economic partnership.
Similar with some other ASEAN member states (AMS), the Philippines confirmed that it will join the discussion in IPEF, "We will continue to champion more inclusive and diverse participation from other interested countries in the region especially the ASEAN Member States," the DTI Secretary said. "Further, as we move forward with our existing and new external engagements, we should adopt an 'ASEAN as one' framework where we champion the ASEAN Community's priorities and interests in these other partnerships," he added.
Ministers also exchanged views on emerging unilateral actions related to the environment and climate change that may potentially affect trade activities in the region.
The trade chief shared the experience of the Philippines, "Our President Duterte raised concerns on efforts of some countries in applying trade and environment requirements across the board. There has to be considerations and more discussions on how these are to be implemented as developing countries such as ourselves are not the cause of climate change. We should be careful in applying these to developing economies as they are precisely still undergoing development and will need all the support. They also usually lack the capacity to immediately meet climate change requirements. Let us utilize our dialogue mechanisms with external partners to get support on this front, especially for MSMEs, as well as call on them to avoid applying trade measures that act as barriers against developing economies."
Lastly, the AEM revisited the implementation of ASEAN Industrial Projects (AIP) from the early days of the regional grouping. The AIP was part of ASEAN's regional industrialization efforts that entailed resource-pooling, market-sharing, networking, and complementation. These industrial development projects primarily aimed to promote sharing of the region's vast resources and capitalize on each AMS's comparative advantage in order to achieve economic growth and development at both the national and regional levels.
"We support revisiting this program but the private sector, particularly the leading companies in major sector should drive this. It should follow the principle of developing an ASEAN value-chain so that various stages of production can be distributed to several member-states to spread the benefits of industry development. We may consider tapping the ASEAN Business Advisory Council to look into possible projects in critical sectors such as food, health infrastructure, climate sustainability, and clean energy. Then let us approach this along the lines of public-private sector partnership, with the government responsible for providing the right business environment." The DTI Secretary shared. Recent legislative reforms of the Philippines, namely, the Corporate Recovery and Tax Incentives for Enterprises Act (CREATE Act), and amendments to the Retail Trade Liberalization Act (RTLA), Foreign Investments Act (FIA) and Public Service Act (PSA) are expected to put the Philippines at the forefront of investors' interest for AIPs.
On the WTO, the Philippines forwarded the view that other rules-based mechanisms must be allowed to function including allowing for majority decision-making subject to a certain floor threshold, instead of always requiring a consensus. This may assist in solving long-standing issues like the impasse on the selection process for the Appellate Body.
Altogether, the Ministers acknowledged that there would need to be concrete steps taken on the outcomes of the discussions at the Special Meeting, and the next steps should be pursued with haste as all these initiatives will support post-pandemic recovery efforts across the ASEAN community. They tasked senior officials to continue the work inter-sessionally, in preparation for the 54th ASEAN Economic Ministers Meeting and Related Meetings to be hosted in September 2022 by this year's Chair, Cambodia.
Built reservoirs supply water to residents of Matuguinao
By GISSELLE G.PARUNGAO
May 19, 2022
CALBAYOG CITY – Two (2) barangays benefit from the reservoirs built with a total revised contract amount of P22.51 million drawn from the General Appropriations Act (GAA) of 2021.
Barangays Mabuligon and Maduruto enjoy the five water tanks including its main tank built within the vicinity where most houses are located. The water source comes from the spring in Barangay Bag-otan where its main tank is also located.
There are two (2) sub tanks that are mounted in both barangays stated above. A total of 1,157 meters of six-inches pipes are used from the source to the main tank. Another 5,157 meters of 4-inch pipes are also used from the main tank to the sub tanks, then, 1,092 meters of 2-inch pipes are installed from the sub tanks to the nearest households.
These far-flung areas in the Municipality of Matuguinao is experiencing scarcity of clean and fresh water thus, building these concrete tanks will be more affordable, durable and healthy than any other types such as plastic or metal. Aside from that, continuous and constant water supply is most needed by these localities.
Philippine Elections: A Past Revisited
Press Release
May 19, 2022
MANILA – The International Coalition for Human Rights in the Philippines began monitoring the recent Philippine election from the kick-off of the campaign in February 2022. The Philippine Election 2022 International Observer Mission (IOM) was recommended by the Independent International Investigation into Human Rights Violations in the Philippines (INVESTIGATE PH). The IOM placed observers on the ground from the first week of April. They meticulously documented the unfolding campaign, the vote and the aftermath in Central Luzon, National Capital Region (NCR), Southern Luzon, Central Visayas, Western Visayas, and Mindanao.
IOM Commissioner and Belgian Parliamentarian Séverine De Laveleye said, "These elections are extremely important to both the international community and the Filipino people, but sadly the outcome suggests a continued drift towards repression, state impunity and state terror".
"These Philippine National Elections 2022 were not free and fair. They were marred by a higher level of failure of the electronic voting system than ever before, along with rampant vote-buying, disturbing levels of state and military orchestrated red-tagging of candidates and parties including numerous incidents of deadly violence," said Ms De Laveleye.
IOM Bulletins recorded that the main opposition candidate Leni Robredo was strenuously red-tagged. Another Presidential Candidate Leody De Guzman was the victim of a strafing attack at a campaign rally in Mindanao. Many campaign activists were arrested on false charges. Large numbers of voters were unable to cast their ballots. Vote-buying was widespread. Many found their names were no longer on the voter roll, and many had to trust that election officials would later put their marked ballot paper through a Vote Counting Machine (VCM) because of the breakdown of the voting machines.
The May 9 election did not meet the standard of "free and fair" because voters were denied access to reliable information, access to the voting places without intimidation, and a credible vote counting system. The IOM reported election-related violations of human rights from March 15, noting the first political killings related to the elections took place in Sorsogon, Bicol Region, on January 15.
The elections took place in the most repressive atmosphere seen since the time of dictator Ferdinand Marcos. The Duterte government has orchestrated state terror, marshalling the entire machinery of the state, including the judiciary, the military and police, the departments of education, social welfare and local government, in a war on dissent which continued through the entirety of the election campaign.
The results of the election are a worst-case scenario for the Filipino people and for the international community. The President-elect, Ferdinand "Bongbong" Marcos Jr., says that his father's legacy of dictatorship were "golden years". Marcos Sr.'s 14-year military dictatorship ended in the 1986 People Power uprising. The Marcos family is estimated to have stolen more than US$10 billion from the Philippines of which only a small portion was ever recovered. Bongbong and running mate, Vice President-elect Sara Duterte, represent a political marriage of the families of the worst human rights violators in Philippine history.
"Our concern is that the declared Marcos-Duterte victory will continue to provide legal and legislative cover for past and future human rights violations, economic plunder and crimes against humanity," said IOM Commissioner Rev Dr Prof Chris Ferguson.
"The election is both a tragedy and farce of epic Shakespearean proportions, a farce in that the electoral charade was based on a sea of disinformation, disenfranchisement and intimidation of large swathes of the voting public; at the same time a tragedy in that the former dictator's son and entire family fortune is based on his parents' theft of billions of dollars from the Filipino people, and this is seen as the solution as opposed to the problem for a country mired in poverty and decades of brutal military control," said Rev Ferguson.
"The priority now for the international community should be intensified international efforts to hold the outgoing Duterte team accountable for its abysmal human rights record, and to increase monitoring of the incoming Marcos administration. This work is underway at the International Criminal Court, and in the United Nations Human Rights Council processes, and can be pursued in national jurisdictions with Magnitsky-style laws. There should be no hint of a blind-eye for continued human rights violations under Marcos Jr.," concluded Rev Ferguson.
See the Interim Report of the Philippine Elections 2022
SND Lorenzana lauds THE AFP JTF-Storm for the SAFE May 2022 polls in EV
By DPAO, 8ID PA
May 14, 2022
CAMP LUKBAN, Catbalogan City, Samar – The National Defense Secretary Delfin Lorenzana lauded and congratulated the members of the AFP JTF-Storm for ensuring a Secure, Accurate, Fair, Elections (SAFE) National and Local Elections 2022 in Eastern Visayas during his visit to the 8th Infantry Division, Philippine Army on May 12, 2022.
Despite the threats posed by the CPP-NPA-NDF of sabotaging and disenfranchising the polls in Eastern Visayas, the security forces were able to thwart the attacks and successfully perform its mandate for SAFE NLE 2022.
National Defense Secretary Lorenzana recognized the vital role and commended the efforts of the troops during the conduct of the polls.
"We (Department) foremost give thanks and commendations to the 8th Infantry "Stormtroopers" Division for the Honest, Orderly, Peaceful Elections in Samar and Leyte islands. Talagang maganda ang performance natin jointly with AFP forces pati na ang pulis at coast gurad, sama-sama tayo. The cooperation of the two security agencies in an inter-agency engagement ay very good, tuwang-tuwa sa atin ang COMELEC nagtetext ang mga Commissioner for the good result that we had in the election," Secretary Lorenzana said.
Meanwhile, JTF-Storm Commander, Major General Edgardo De Leon expressed his appreciation with the result of the elections in the region.
"I am happy sa resulta ng election dito sa region 8 napatunayan na fair, ang objective, safe, accurate fair election 2022. I think na-achieve natin ang purpose...malaki ang efforts natin na pagdeter sa mga threats na gumawa ng kaguluhan," De Leon said.
De Leon added that based on their inter-agency assessment, the May 9, 2022 election is the most peaceful in Eastern Visayas due to the collaborative efforts of the security forces in the region.
With the said accomplishment, Secretary Lorenzana awarded the Election Streamer Award for Election duties to 801st Brigade, 802nd Brigade, 803rd Brigade, and the Tactical Operations Group (TOG) 8 of the Philippine Air Force.
Moreover, Lorenzana commended the troops for being professional with their firm stand of remaining apolitical and non-partisan. He also encouraged the troops to be good public servants and be role models in serving the people and the country.
In a separate ceremony, AFP JTF Storm Commander, MajGen De Leon, aboard the Navy vessel BRP Enrique Jurado (PC 371) whose crew supported the AFP JTF Storm's election mandates in Eastern Visayas presented the Election Streamer Award 2022.
Molding a brighter future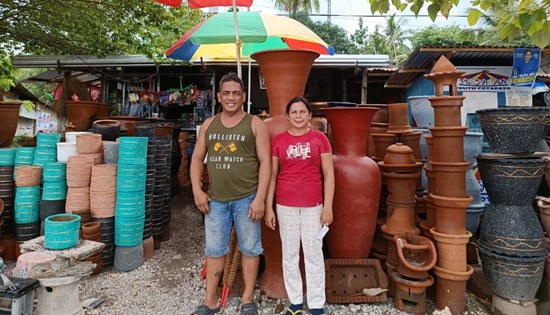 Felix and Catherine believe that trust and perseverance are keys to success in marriage, life and business.
By LYNFA A. TAN
May 10, 2022
SAN PABLO CITY – Naturally creative and artistic, Filipinos started to make ceramic pottery 3,500 years ago. The artistry of molding pots into household wares and masterpieces were handed down from one generation to another, varying from different raw materials such as clay, cement, and metal, among others.
Felix Lumahan and his wife, Catherine, are makers of clay and cement pots from San Felipe, Koronadal City. They started their pottery business 15 years ago with only P1,000 pesos. At first, it was not easy for the couple. Because of their limited capital, they could not afford to buy raw materials in bulk from factories. They instead bought factory defect clay pots and repaired it with cement then painted it with bright colors to create new designs. Their unique pots attracted buyers in their area.
Unlike other businesses that struggled during the pandemic, their pottery business thrived. The number of people who made planting their hobby increased during the implementation of lockdowns and work-from-home arrangements. Due to a higher demand in their pots, they needed an increase in capital.
This is where CARD, Inc. entered the picture. Felix and Catherine availed business loans from CARD, Inc. to fund their enterprise. They also opened a sari-sari store to augment their income. With the support of the institution, the couple also learned the importance of saving and the proper use of loans.
Felix also noted how CARD, Inc. advocates for gender equality in their provision of services, "Ang CARD ay hindi na lamang ngayon para sa mga kababaihan, kundi ito ay para na sa lahat, sa kahit sino na gustong makaahon sa kahirapan, (CARD is no longer just for women, but it is for everyone, anyone who wants to get out of poverty,)" Felix shared. CARD, Inc. initially offered its services to landless agricultural workers but then shifted its focus to women entrepreneurs for several decades. Now, CARD, Inc. welcomes both men and women entrepreneurs.
Although the couple experienced tons of hardship as a family and with their business, their repurposed pots serve as their inspiration in their outlook in life: broken pots can be fixed into a new and useful one.
CARD, Inc. (A Microfinance NGO), is one of the social development institutions of CARD MRI, which provides financial assistance through its microfinance services. To know about their loan and service, visit their Facebook page @CARDIncOfficial.
Massive blood donation drive by over 18,000 church members in South Korea
Press Release
May 8, 2022
MANILA – In order to resolve the national blood shortage, the Shincheonji Church of Jesus, Temple of the Tabernacle of the Testimony conducted a massive blood donation drive in two weeks from April 18 to May 1. A total of 18,478 church members were able to donate exceeding the original estimate of 6,000.
According to the Blood Management Center of the Korean Red Cross, the blood donations equate to 3.5 days' blood supply (1 day's blood supply is equivalent to 5,029 blood donations). Due to the voluntary blood donation from the church members, the national blood supply shortage that has been ongoing since the beginning of this year due to the Omicron variant has been resolved at once.
Prior to this, domestic blood reserves were only a little over three days' supply which was greatly insufficient compared to the proper reserve of five days' supply and the blood supply was in a state of emergency. As of the first day that Shincheonji Church of Jesus completed the group blood donation, the amount of blood in Korea has risen sharply to 5.9 days.
During the early days of COVID-19 in 2020, 6,000 church members also participated in the donation of plasma for the development of a treatment for COVID-19 over the course of three sessions at the request of the Korea Centers for Disease Control and Prevention. At that time, there was no vaccine or treatment available. While suffering the aftereffects of COVID-19 and mental health difficulties, all the members of the church took steps to overcome the national crisis and received attention not only at home but also abroad.
There are 16 members who donated blood more than 100 times and the most number of blood donations came from a member named Choi Byung-hyuk from Ulsan who has participated 538 times so far and was inducted into the Hall of Fame of the Blood Management Center. In addition, many young men and women in their 20s participated in blood donation for the first time in their lives after hearing the news of a national crisis.
All blood donations and blood donation rights collected will be turned over to the Korean Red Cross on May 9. Blood donation rights is a policy being promoted by the Korean Red Cross wherein a donor can donate the amount of blood instead of receiving a souvenir after donating. Shincheonji Church of Jesus allowed the members who participated in the blood donation to make the choice for themselves and the donation rights that have been collected so far are equivalent to 100 million won.
An official from the Blood Center said, "Many members of the Shincheonji Church of Jesus are participating to fill up the blood supply shortage. We are reaching our daily average target well enough, and there is no organization that does this. What was particularly impressive was how they were trying to gather twice as many people as eligible, considering that there will be unqualified people among blood donation applicants. It felt like they were working with us. Thank you very much," he said.
An official of Shincheonji Church of Jesus said, "It was even more meaningful because it was a blood donation in which all the members participated with one heart. We would like to express our gratitude to the [members] who came running right away when they heard that the nation is suffering from a blood shortage, and we will diligently play the role of light and salt and live a faith life that gives glory to God."
The Philippine Branch of the church will also hold a blood donation drive this month of May in collaboration with the Philippine Red Cross in Silang, Cavite.
Passage of EVIDA to make PH more attractive for hi-tech investments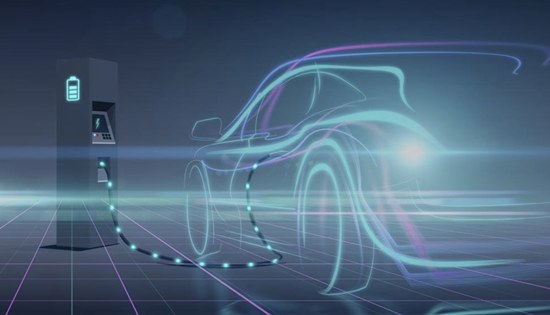 By DTI-Competitiveness and Innovation Group
May 8, 2022
MANILA – The Department of Trade and Industry (DTI) welcomes the enactment of Republic Act No. 11697 otherwise known as the Electric Vehicle Industry Development Act (EVIDA), which provides for a national policy framework to develop the electric vehicle industry in the Philippines.
Trade Secretary Ramon Lopez expressed his gratitude to President Duterte and the lawmakers for the passage of this very significant legislation.
"With EVIDA, the Philippines is now in a stronger position to further attract hi-tech investments and create high-value jobs in the country by taking advantage of the ongoing global shift to EVs through strong national policy support," he said.
Secretary Lopez also considers this measure a move towards lessening direct usage of oil products in transport, thus, signifying reducing air and noise pollution in urban areas. This will also reduce the transportation sector's direct dependence on oil, especially amidst rising fuel prices affecting both businesses and consumers.
EVIDA aims to promote innovation in the field of clean energy and sustainable transportation while developing a sunrise industry in the country and generating more employment. It sets clear policy directions for the government to raise EV awareness, streamline regulations, boost local demand that should attract EV production, and build a robust EV charging infrastructure. The law also mandates the crafting of a Comprehensive Roadmap for the Electric Vehicle Industry (CREVI), which will be a national development plan for the EV industry to accelerate the development, commercialization, and utilization of EVs.
EVIDA will also serve as a blueprint for a comprehensive and coordinated policy direction among national government agencies in terms of promoting EV to ensure investors' confidence and attract EV-related investments.
As provided by the law, the Board of Investments (BOI) is tasked to craft an Electric Vehicle Incentive Strategy (EVIS) similar to the Comprehensive Automotive Resurgence Strategy Program (CARS Program) which shall provide fiscal and non-fiscal incentives to narrow the production cost gap between EVs and traditional vehicles and achieve local EV production targets by 2030.
DTI Competitiveness and Innovation Group Undersecretary Rafaelita Aldaba emphasized the importance of EVIDA for the Philippines amidst the rising competition in ASEAN to attract EV manufacturing investments.
"The EVIS will allow the government to provide competitive and industry-specific fiscal and non-fiscal support to attract private sector investments in strategic EV segments, especially manufacturing, which is a crucial step in deepening our participation in the regional automotive value chain", she mentioned.
EVIDA is among DTI's priority legislative agenda for the 18th Congress. This, together with the passage of other economic bills supported by DTI, will strengthen the Philippine government's efforts to accelerate industrial recovery and enhance the country's national competitiveness.
85 HOTS in Labor Day Job fair in Eastern Visayas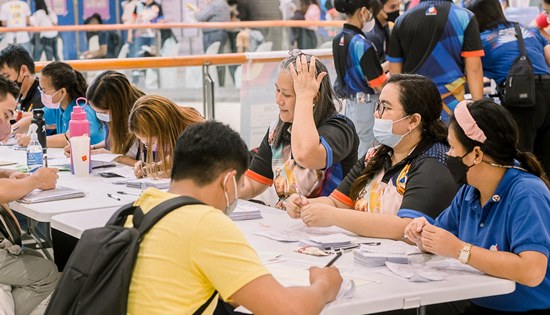 By NORMA RAE S. COSTIMIANO
May 6, 2022
TACLOBAN CITY – A total of 85 jobseekers were hired-on-the spot (HOTS) out of the 1,081 applicants who registered in the Trabaho Negosyo Kabuhayan (TNK) Job and Business Fairs conducted in Tacloban and Ormoc on May 1, 2022.
Among the HOTS jobs were accounting staff, production crew, nurse, information technologist, cashier, HR staff, supervisor, management trainee, sales associate, utility worker and data encoder.
This year's labor day celebration, with the theme, "Matatag na Manggagawa, Matatag na Bansa", offered more than 3,000 local and overseas jobs from over 80 employers for the hopeful jobseekers of Eastern Visayas.
A simple yet meaningful program was held in Robinsons North Tacloban prior the most awaited job fair to commemorate the special day for the working class. It was graced with the presence of representatives from the labor and management representatives in the persons of Atty. Miguel T. Tezon and Mr. Eugene A. Tan, respectively.
Atty. Tezon, in his message, underscored tripartism as a key so that no sector will be left behind. "Wala dapat pro-work or pro-management, that's why we have tripartite council so that lahat maisama at walang maiwan", he said.
Mr. Tan, President of the Philippine Chamber of Commerce and Industry-Tacloban-Leyte Chapter, thanked the Department of Labor and Employment (DOLE) for spearheading the conduct of face-to-face job fair.
"We recognize DOLE for this face-to-face TNK Job Fair program. After the long period of anxiety due to the pandemic, we badly need this kind of intervention to help our economy bounce back to recovery", Mr. Tan said.
Meanwhile, Regional Director Henry John S. Jalbuena acknowledged all the government agencies and partner employers for their usual support. He likewise urged all jobseekers to be more patient and strategic in their journey towards employment.
"Maximize this job fair to your advantage and apply in as many employers as your qualifications merit. Like what the famous line says, the more entries you have, the more chances of winning", said Jalbuena.
Also in attendance during the program was DTI Regional Director Celerina T. Bato, who as well delivered a message being DOLE's partner in the conduct of TNK.
The DOLE-8 likewise awarded the program the regional winners of the 2022 Search for Best DOLE-Assisted Livelihood Projects for individual and group categories. Winners for individual category were Videography Project of Mr. Roy C. Valera from Balangkayan, Eastern Samar and Burger Vending Business of Mr. Jiwarren Lantape from Maasin City. The Egg Production of Lanawan Farmer's Association (LAFA) in MacArthur, Leyte and Community Store of Cervantes Integrated Organic Farmers Association (CIOFA) from Catarman, Northern Samar dominated the group category.
Conducted simultaneous with the TNK job fair was the livelihood exhibit wherein different locally-produced items such as assorted native delicacies and woven banig were made available for the public.
Various government agencies such as SSS, Pag-ibig, PSA, DFA and Philhealth were also present during the celebration to offer frontline programs and services for the benefit and convenience of the jobseekers.
Some 146 jobseekers were tagged as Near Hires during the recently concluded job fairs and will undergo further interviews or examinations, depending on the hiring company's requirement.
Also present during the celebration were DOLE-8 OIC-Assistant Regional Director Atty. Cecilio I. Baleña, Police Colonel Edwin Portillo, National Maritime Polytechnic Executive Director Joel B. Maglunsod and other members of the DOLE-Regional Coordinating Committee (RCC).
Chiz urges college students in private schools to get subsidy
Press Release
May 6, 2022
SORSOGON CITY – Senatorial aspirant and Sorsogon Gov. Chiz Escudero is urging college students to avail of the tertiary education subsidy (TES) which gives around P60,000 tuition subsidy and allowances to those enrolled in private colleges and universities.
He said this provision in Republic Act 10931 or the Universal Access to Quality Tertiary Education Act has not been well promoted and therefore not accessed by its intended beneficiaries.
"Merong probisyon ang batas na yan na TES – Tertiary Education Subsidy – ibig sabihin hindi lang limitado sa nag-aaral sa state universities and colleges ang libre. Kung nag-aaral ka sa isang private university, pwede kang mag-apply para sa TES Scholarship kung saan nagbibigay sila ng P60,000 pang-tuition fee mo plus allowances pa," said Escudero, a staunch supporter of free education when he was a senator.
He said this was in recognition of the fact that not all courses are available in state universities and colleges (SUCs) and that not all municipalities have SUCs so some students are compelled to study in private schools, despite the heavy financial burden.
"Gusto namin ipakita at patunayan na hindi lang pang-mayaman ang mga private universities and colleges. Dapat may oportunidad din ang bawat Pilipino kahit hindi ipinanganak na mayaman na makapag-aral sa mga unibersidad na yan," said Escudero.
He said students should first make sure that their schools are accredited by the Commission on Higher Education (CHED) so they can apply with the CHED for the subsidy and allowance under the TES. He pointed out that the TES does not have a grade requirement.
"Hindi namin inilagay iyon basta pumapasa ka. Huwag ka namang bumagsak. Hindi kinakailangan maging honor, ang importante pumasa at makapagtapos sa kolehiyo," he said.
In 2019, only 33% of Filipinos, or 3 out of 10 were enrolled in higher education institutions, much lower than Thailand's 43% and Malaysia's 44%, according to CHED. In 2010, the Philippine Statistics Authority (PSA) found that only 36.3% of Filipinos 17 to 24 years old had post-secondary and college education.
Escudero, former chair of the Senate Committee on Education, said the TES was meant to support college students, whether in public or private schools.
"Titingnan ng CHED 'yung kalagayan economically ng pamilya niyo para malaman kung magkano, sakto ba ang ibibigay na tulong para makapag-aral at makapagtapos ka sa ano mang kursong pinili mo sa isang pribadong eskwelahan," Escudero said.