Project Angel Tree brings joy to 50 child laborers in Tacloban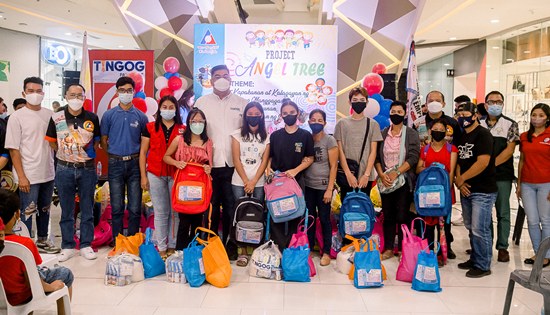 By NORMA RAE S. COSTIMIANO
June 17, 2022
TACLOBAN CITY – The Department of Labor and Employment Regional Office No. 8, through its North Leyte Field Office, conducted a Project Angel Tree activity on June 12, 2022 at the Robinsons North in Abucay, Tacloban City.
The activity held in celebration of the World Day Against Child Labor with the theme, "Kapakanan at Kalagayan ng Batang Manggagawa, Sagipin, Tugunan at Protektahan ng Bayan", brought immense joy to fifty (50) profiled child laborers of Tacloban City.
In coordination with the Eastern Visayas Regional Council Against Child Labor and through the support of the benefactors, the children together with their parents and guardians, benefitted from the gift-giving activity and received food, grocery packs, school bags with educational supplies, vitamins, and toys.
Tingog Partylist Representative, Hon. Philip Jude Acidre graced the activity together with Regional Director Henry John S. Jalbuena and OIC-ARD Atty. Cecilio. I. Baleña.
Director Jalbuena thanked all the benefactors or 'angels' who donated for the said event to be realized.
"On behalf of DOLE-8, I would like to thank our benefactors or "angels" as we call them, for their generosity and usual support to our program, for without them this activity will not be realized", said Jalbuena.
Jalbuena likewise left a very important message to the child laborers during the activity.
"Para sa ating mga kabataan, trabahuin ninyo ang katuparan ng inyong mga pangarap", Jalbuena ended.
Meanwhile, Hon. Acidre expressed his thanks and appreciation to DOLE-8 for all its laudable efforts in ending child labor in the region.
"I want to congratulate DOLE for all its initiatives and steadfast commitment to prevent and eliminate child labor", Acidre said.
Aside from the gifts, the children likewise had more fun because of the exciting games and raffles facilitated by the Junior Chamber International in Eastern Visayas Chapter.
The Project Angel Tree is a component of the Child Labor Prevention and Elimination Program of the department which aims to improve economic and social conditions of the child laborer through provision of social services that range from food, clothing, educational supplies and even work and training opportunities.
Air Force' Black Hawk helis airlifts vax to isolated Eastern Visayas islands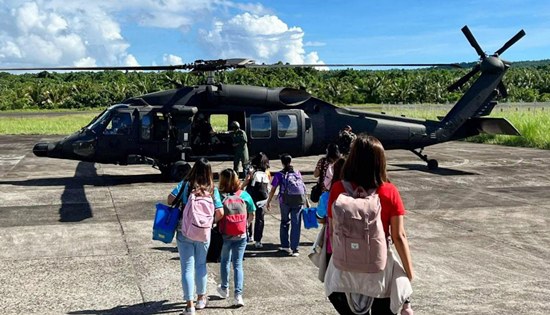 By DPAO, 8ID PA
June 17, 2022
BORONGAN CITY – Philippine Air Force S70i Black Hawk #118 helicopter delivered Covid 19 vaccines to Suluan and Homonhon Islands in Guiuan, Eastern Samar on June 16, 2022.
The Department of Health (DOH) Region VIII requested the trip to administer booster shots to the residents of two historical islands.
The helicopter left Tactical Operations Group (TOG) Headquarters in Tacloban City at 7:50 AM for Guiuan Airport. It briefly touched down at Guiuan at 8:12 AM to pick up the vaccines and the DOH personnel.
The first destination was on the easternmost island, the Suluan Island, Eastern Visayas. Suluan Island was the first island the team of European explorer Ferdinand set foot on in 1521. The helicopter landed at 8:34 AM on the scrappy landing zone prepared by the islanders and immediately unloaded the vaccines.
The second destination was Homonhon Island vaccines arrived at 8:46 AM. The island has several barangays and is dominated by the mining of nickel.
Suluan is two hours from Guiuan by boat while Homonhon is one hour. Sea travel is rough, especially in the afternoon.
AFP's Joint Task Force Storm and 8th Infantry Division Commander Major General Edgardo De Leon commended the Officers and personnel of Tactical Operations Group 8 Magellan for being reliable and steadfast in support of the JTF Storm's cause.
"TOG 8 has always been a dependable partner. In our campaign against terrorism, in times of disaster, and even in our fight against this pandemic. We also take this opportunity to thank President Duterte for modernizing the AFP. It helped us better defend and serve our people," De Leon said.
The mission of TOG 8 ended at 9:26 AM.
26 hired on Independence Day job fair in Tacloban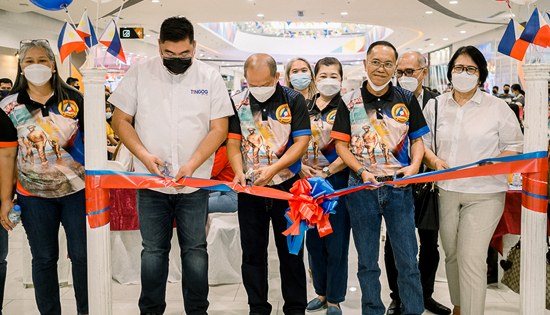 By NORMA RAE S. COSTIMIANO
June 14, 2022
TACLOBAN CITY – At least 26 applicants were hired-on-the-spot (HOTS) during the Independence Day Job and Business Fair spearheaded by the DOLE Regional Office 8 at the Robinson North Tacloban on June 12, 2022.
Among the jobs that were hired on June 12 were as follows: call center agents, clerk, cashier, production crew, driver, accounting staff, sales personnel, bagger, office staff, and customer sales representative.
Delyn Escobilla, who travelled from Southern Leyte just to join the job fair, is one of the HOTS who expressed her delight and sincere thanks.
"Natutuwa po ako kasi sulit talaga yung travel ko papunta dito. Maraming salamat po sa DOLE dahil may ganitong job fair na nagbigay daan para magkaroon ako ng trabaho", said Escobilla.
Meanwhile, 57 jobseekers were tagged as Near Hires by 19 establishments and will undergo further interviews and/or examinations, depending on the hiring company's requirement.
Regional Director Henry John S. Jalbuena said the near hires will be duly monitored whether they were eventually absorbed or not.
39 local and overseas employers participated in the job fair and offered 2,524 job vacancies. A total of 1,039 jobseekers from different parts of the region registered during the one-day job fair.
The activity, held in commemoration of the 124th Philippine Independence Day, was graced with the presence of Hon. Philip Jude A. Acidre of the Tingog Partylist, Ms. Araceli Larraga, Provincial Director of the Department of Trade and Industry and Mr. Eudoxio Ocampos, of the Eastern Visayas Network of Career Guidance Advocates (EVNCGA).
DTI urges e-commerce platforms to adopt online discount guidelines for senior citizens and persons with disabilities
By DTI-CPG-Consumer Policy and Advocacy Bureau
June 8, 2022
MAKATI CITY – Following the release of the Joint Memorandum Circular (JMC) No. 01, series of 2022, entitled "Guidelines on the Provision of the Mandatory Statutory Benefits and Privileges of the Senior Citizens and Persons with Disabilities on their Purchases through Online (e-commerce) and Phone Call/SMS", the Department of Trade and Industry (DTI) urges e-commerce platforms to honor the privileges granted to Senior Citizens and Persons with Disabilities (PWD) by adopting the guidelines and improving their existing system to ensure that the mandatory discounts are given whenever they purchase goods or services, whether in online, telephone or mobile transactions.
Senior Citizens and PWDs are entitled to avail of the 20% discount, with 12% VAT exemption on their purchase of specific goods and services under RA 9257 and RA 9442 as amended; and 5% special discount for basic necessities and prime commodities, for their exclusive use and enjoyment. Under the 5% discount, senior citizens and persons with disabilities have a maximum purchase amount of P1,300.00 a week for both online and offline transactions, without carryover of the unused amount. The amount shall be spent for the personal and exclusive consumption of the Senior Citizen and the PWD, and must be spent on at least four (4) kinds of items of basic goods and prime commodities.
Moreover, the Circular specifies that establishments are encouraged to redesign their business and website system/websites/applications to accommodate the provision of discounts for senior citizens and persons with disabilities. The redesign may include the establishment's acceptance of the Senior Citizen or PWD's submission of his or her ID; and the use of discount vouchers or codes, whether physical or electronic, reflecting the applicable discount that may be granted, provided that the discount shall not be lower than what is prescribed under the guidelines, or any applicable law.
DTI Secretary Ramon M. Lopez emphasizes, "Online shopping platforms need to reprogram their offering to incorporate a feature that allows discounts for persons with disabilities and senior citizens."
To receive the discount, one must declare to the merchant prior to placing orders that he or she is a Senior Citizen or a PWD and submit supporting documents, such as a scanned copy or screenshot of ID, as well as the front and last pages of the purchase booklet. The same proof of discount entitlement should be presented upon the delivery of goods and orders.
DTI-Consumer Protection Group Undersecretary, Atty. Ruth B. Castelo, underscores, "The Department reminds senior citizens and persons with disabilities to only purchase from verified online platforms to avoid having their personal details used for other purposes".
JMC No. 01, series of 2022, was jointly issued by the Department of Social Welfare and Development (DSWD), DTI, National Commission of Senior Citizens, National Council on Disability Affairs, Department of Health, Department of the Interior and Local Government (DILG) and Bureau of Internal Revenue (BIR).
Agrarian beneficiary gets back land sold to another by former owner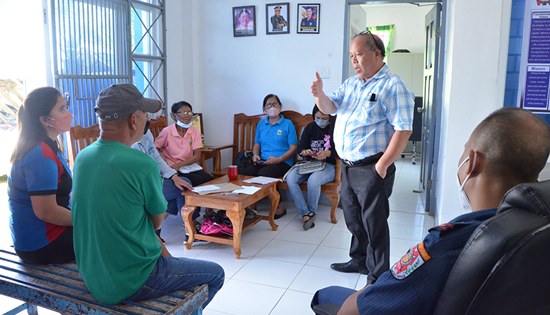 Personnel from the Department of Agrarian Reform (DAR) in coordination with the Philippine National Police (PNP) hold dialogue with opposing parties to resolve agrarian conflict in Pambujan, Northern Samar.
By JOSE ALSMITH L. SORIA
June 3, 2022
PAMBUJAN, Northern Samar – After eight years of having been deprived her awarded land, an agrarian reform beneficiary from a remote village in this town regains her farm lot and is excited to start tilling again this month of June.
Although she has not completely recovered the entire 2.7-hectare riceland awarded to her in 2003 under the Comprehensive Agrarian Reform Program (CARP), Lilia Galupo expressed her gratitude to the Department of Agrarian Reform (DAR) for helping her get back at least half of the contested land, for now.
According to Galupo, a 65-year-old widow, the former owner of the said land, Eufemio dela Cruz, told her that the Certificate of Land Ownership Award (CLOA) in her possession was "fake."
Due to ignorance, Galupo believed dela Cruz and surrendered the land, which the latter allegedly sold to Ben Revilles in 2014 in the amount of One Hundred Thousand Pesos.
Only recently, Galupo's son, Alberto, inquired with the DAR Central Office if the CLOA in their possession is indeed "fake." It was only then that the Galupos realized that their CLOA was authentic and that they were deceived by dela Cruz.
DAR Central Office then ordered the DAR Regional Office to settle the issue. The Regional Quick Response Officer, Felix Dante Espina, immediately summoned Galupo, dela Cruz and Revilles.
According to Espina, during the dialogue, Revilles agreed to return to the Galupos the land allegedly sold to him by dela Cruz, subject to a refund of the compensation paid.
He added that during the said confrontation, Consuelo dela Cruz, niece of the former owner of the contested land, said that they will pay Revilles in installment for a period of two years, which Revilles approved. But when the Galupos were about to start cultivating their awarded lot, Lilia again complained that they are being harassed by Revilles.
Revilles this time insisted that he be fully refunded first of the amount he paid to dela Cruz before he surrenders the land.
During the second round of dialogue, Espina said the two parties agreed to share the contested land by temporarily dividing it equally until the issue on payment is resolved.
With joy and excitement that they could finally restart cultivating her awarded land, Lilia repeatedly uttered the word "Salamat!" to the DAR personnel who hiked about two kilometers to conduct an ocular inspection of the contested property in Barangay San Ramon just to resolve the issue.
Meanwhile, Revilles commented "It is hard for me. But for the sake of peaceful resolution, and for your (referring to the DAR personnel) effort who still came from Tacloban City just to resolve this issue, I accept the decision."
AFP's The Inspector General lauds 8ID's accomplishments
By DPAO, 8ID PA
May 27, 2022
CAMP LUKBAN, Catbalogan City – The Inspector General of the Armed Forces of the Philippines (TIG, AFP), Lieutenant General William M Gonzales visited the AFP's JTF STORM here at the Headquarters of the 8th Infantry 'Stormtroopers' Division, Philippine Army for the conduct of the Annual General Inspection (AGI) 2022 on May 27, 2022.
The AGI Team looked into the JTF Storm (8ID)'s adherence to AFP guidance and policies on operational readiness, mission accomplishment, utilization of resources and the Command's overall proficiency, efficiency and effectiveness. The AGI Team also looked into the discipline, law and order, morale, and welfare of the troops.
According to Lieutenant General Gonzales, "This is an important forum, so that we will know about your current situation and operational requirements here in JTF STORM (8ID). Lahat ng inyong issues and concerns will be addressed accordingly. At the end of the day, we will study and make recommendations to support your operational requirements and for the improvement of the organization."
The TIG, AFP cited the steadfast mission accomplishment of the JTF Storm and the Stormtroopers Division stating, "I would like to congratulate the Stormtroopers for a job well-done, the significant contribution in the accomplishment in our campaign. In terms of mission accomplishment, Visayas Command and the two joint task forces here, the JTF-Storm and JTF-Spear excel in the area of mission accomplishments."
Lieutenant General Gonzales also recognized the significant role and contribution of JTF-Storm to the Joint, Inter-Agency Engagement and collaboration during the Humanitarian Assistance and Disaster Relief (HADR) efforts with the onslaught of Typhoons "Odette" and "Agaton" in Region 8 particularly in the provinces of Leyte and Southern Leyte.
Joint Task Force Storm or JTF Storm is the AFP's air-land-sea component which is also under the command of Army's 8th Infantry Division Commander, Major General Edgardo De Leon.
CARD MBA opens 81st PO in El Nido, Palawan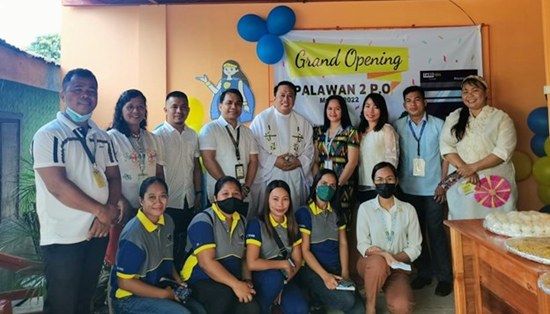 In the photos are (L to R): Unit Manager Dencio Cabanes, Microinsuranse Supervisor Marilyn Antioquia, Unit Manager Francisco Silo, Senior Operations Director Oliver Reyes, Father Jose Eddie Peñafel, Provincial Manager Eunice Grace Quiocson, Unit Manager Marjorie Bernal, Senior Regional Director Jowie Guevarra, Provincial Manager Jonah Mosqueda, with MBA coordinators Chona Ponce de Leon, Coro Marie Garcia, Mary Grace Gabuco, Rosela Martinito and Claims Officer Caroline Nagal.
By VICTOR ANGELO U. ARANZA
May 27, 2022
SAN PABLO CITY – To further extend the reach of affordable microinsurance in the country, CARD Mutual Benefit Association (CARD MBA) opens its 81st Provincial Office in El Nido, Palawan on May 2, 2022.
CARD MBA CEO Jocelyn D. Dequito attended the office's opening via Zoom. During her speech, she mentioned looking forward to what potential members from El Nido, Palawan can experience as part of the Association. "With our 81st PO established; we are giving more than 40,000 members the access to affordable insurance products. Combine that with our 8-24 strategy that aims to release their claims withing 8 to 24 hours of application, our members will be able to feel the security of microinsurance that they deserve," she said.
Located at Sitio Pasto, Brgy. Villa Libertad, the office is now opened to cater to CARD MRI's members, clients, and staff, to accommodate their transactions. CARD MBA Coordinators, members of CARD MRI who help CARD MBA with the insurance of their co-members, can submit filed insurance claims validated claims to the office to improve the claims' processing.
Members may also head to the provincial office to get their claims. Here, they can also ask and avail other insurance products that fit their financial plans. Products such as the Basic Life Insurance and Retirement Fund are available for members of CARD MRI.
CARD MBA's Palawan 2 P.O is the third provincial office opened for 2022 and will primarily serve the 41,883 clients of the Center for Agriculture and Rural Development (CARD), Inc. (A Microfinance NGO). To know more about CARD MBA and their products and services, visit their website at www.cardmba.com or their official Facebook page, @CARDMBAOfficial.
Catchwalls built along access road to Bangon Falls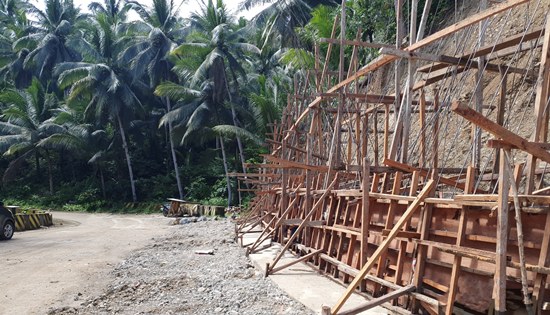 By ROMELLA LALAINE
May 25, 2022
CALBAYOG CITY – Samar First District Engineering Office is currently constructing the component catchwall of the access road from Brgy. Tinaplacan, Calbayog City, Samar leading to Bangon Falls which is situated in the said barangay. It has a total contract amount of P37 million funded under the General Appropriations Act (GAA) of 2022.
This sturdy catchwall along the access road that is being built, will be constructed intermittently which will span to a total length of 314.8 linear meters and a height of four (4) meters.
Concrete catchwalls are designed to arrest errant boulders that have broken off from the rock outcrop as well as prevent loose soil from spilling over onto the roads. This is due to the mountainous structure surrounding the access road.
Through this project, DPWH-SFDEO hopes that tourism in the district will be promoted and subsequently prosper, specifically in Brgy. Tinaplacan where the majestic Bangon Falls is located. Bangon Falls is one of the prides of Calbayog City, Samar which is coined as the "City of Waterfalls." Moreover, economic success will be achieved as this will provide opportunities to the local dwellers of Brgy. Tinaplacan who will serve as guides to visiting tourists.
Calbayog coast guard sub-station will soon rise in Calbayog City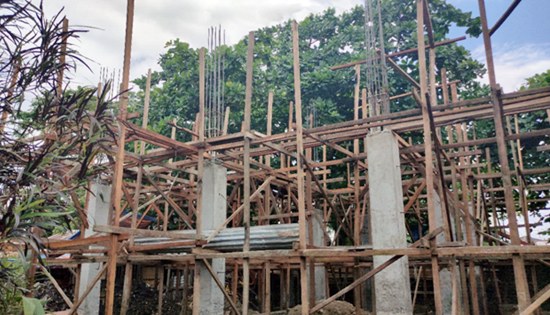 By ROMELLA LALAINE A. GUARDE
May 25, 2022
CALBAYOG CITY – Samar I establishes a coast guard sub-station building located in Brgy. Aguit-itan, Calbayog City, Samar. It has a contract amount of P11.5 million drawn from the General Appropriations Act (GAA) of 2022.
The said construction will be a three-storey building, with a total area of 120 square meters. The first floor will consist of a mess hall, a ward room, an administrative office, a conference room, a kitchen, chief's office, chief's quarter, and three (3) comfort rooms. Additionally, the second floor will include a male barracks, a female barracks, deputy's office, officer's quarter, as well as four (4) comfort rooms. The third floor is also intended as the roof deck. As of April 2022, the actual accomplishment is already at 30.09% based on the office's Monitoring Report.
The Calbayog Coast Guard specifically requested for the implementation of this sub-station building since they do not have an office of their own and were only previously accommodated in a small, house-like structure.
Through the construction of this sub-station, the Calbayog Coast Guard will now be able to provide better services through efficient maritime law enforcement, maritime security, maritime safety, maritime search and rescue, and marine environmental protection in the vicinity waters of Calbayog City.
Land valuation soon be based on DAR's report
By JOSE ALSMITH L. SORIA
May 25, 2022
TACLOBAN CITY – The Department of Agrarian Reform (DAR) in Eastern Visayas starts training its personnel for the preparation of a field investigation report (FIR) which serves as basis for the computation of land valuation of private landholdings covered under the Comprehensive Agrarian Reform Program (CARP).
Though there is no approved policy issued yet, Assistant Regional Director for Operations, Renato Badilla, said that DAR wants to be proactive, thus, the Municipal Agrarian Reform Program Officers (MARPOs) and the Geodetic Engineers (GEs) are being prepared for their supposed new task this early.
Originally, FIR forms are filled out by a certified appraiser from the Land Bank of the Philippines-Agrarian Operation Center (LBP-AOC) during joint field investigations. But because of this upcoming DAR policy, LBP-AOC Manager Fiel Pedrosa emphasized during last week's two-day orientation-workshop that preparation of the FIR will now be the DAR's responsibility, while LBP will focus on the computation of the land valuation.
Pedrosa stressed to the participants, which included the Provincial Agrarian Reform Program Officers II (PARPO II), Chiefs of the different Land Tenure Improvement Divisions (LTID) throughout the region, selected MARPOs, GEs and claim folder processors, the accuracy of the entries in the FIR. According to him, "Land Bank's computation of land valuation will be based on what you have inputted in the FIR."
Badilla commented on this new development, "The intertwined role of DAR and LBP in the accomplishment of mandated targets for land acquisition and distribution has always been crucial."
"That role is enhanced in the new policy as newly acquired learnings from this orientation-workshop will enhance the capabilities of DAR field personnel in the successful conduct of the field investigation without the drawback of conflicting schedules as the programming for the schedules are now in-house," he added.
Meanwhile, MARPO Thelma Alba exclaimed this will be another exhilarating job for the field personnel.
For deeper understanding and appreciation of the lectures, the participants, accompanied by LBP certified appraiser and one of the resource persons in this orientation-workshop, Engr. Clodualdo Marcellana, went to Barangay San Diego in Alangalang, Leyte on the second day for the actual conduct of field investigation in a CARP-covered landholding.
NMP inks partnership with ESSU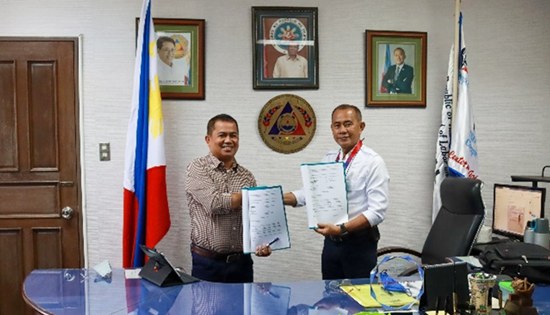 By National Maritime Polytechnic
May 23, 2022
TACLOBAN CITY – Signifying its commitment to help produce globally competitive seafarers, the National Maritime Polytechnic (NMP), an ISO Certified government-owned maritime training and research center, signed a Memorandum of Agreement (MOA) with Eastern Samar State University (ESSU) on 18 May 2022 held at NMP Training Complex in Cabalawan.
To comply with the requirements of the Joint CHED-MARINA Memorandum Circular No. 1, series of 2019, Policies, Standards and Guidelines for the Bachelor of Science in Marine Transportation (BSMT) and Bachelor of Science in Marine Engineering Programs, ESSU, a Chartered State University in Borongan City, Eastern Samar, will be collaborating with NMP to avail of its training services, including the use of the facilities and equipment for the students BSMT, which ESSU intends to offer.
Present during the MOA signing were NMP Executive Director Joel B. Maglunsod together with Deputy Executive Director Mayla N. Macadawan, ESSU President Dr. Andres C. Pagatpat, Jr., Campus Administrator Jared Harem Q. Celis, and other personnel of both parties.
Prior to the MOA signing, a consultation between NMP and ESSU was conducted on 10 March 2022, where DED Macadawan and Capt. Chito A. Go, Head of the Curriculum Development Section (CDS) and Maritime Training Section (MTS) of NMP were invited to ESSU together with representatives from the Maritime Industry Authority (MARINA).
DPWH-BDEO district engineer conducts inspection of Naval-Caibiran cross country road projects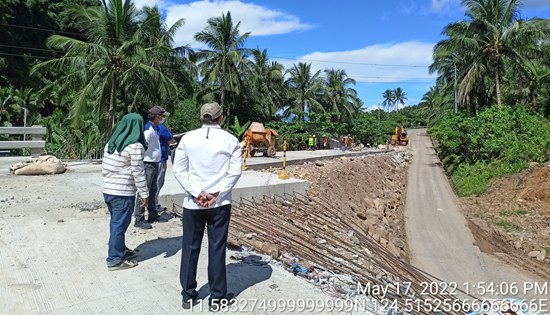 District Engineer Ferdinand A. Briones together with Engr. Luisito Filemon A. Abad, Chief of Construction Section with its technical team inspect the on-going construction of Macalpe Bridge along Naval-Caibiran Cross Country Road (NCCCR) on May 17, 2022.
By Biliran DEO
May 20, 2022
NAVAL, Biliran – The dynamic District Engineer of Biliran District Engineering Office (DPWH-BDEO), Engr. Ferdinand A. Briones, conducted his routine inspection on some of the department's ongoing projects on Tuesday, May 17. He was accompanied with a six-man team from the Construction Section and the respective contractor representatives to assist in the evaluation and assessment of the projects.
During the said inspection, the team visited four major bridges along the Naval-Caibiran Cross Country Road (NCCCR) comprising of the Cabadiangan Bridge and Alawihaw Bridge at Brgy. Lucsoon, Naval, Biliran, Gueron Bridge at Brgy. Villaconsuelo, Naval, Biliran, and Macalpe Bridge at Brgy. Cabibihan, Biliran. The team also visited the ongoing slope protection project at Brgy. Looc, Cabucgayan, Biliran and the ongoing construction of the new DPWH-BDEO building at Brgy. Larrazabal, Naval, Biliran.
The recently inspected bridges are currently undergoing major upgrades in connection to future developments targeted for the NCCCR network. The bridges of Cabadiangan, Alawihaw and Gueron are currently in their early stage of widening and retrofitting works while the Macalpe Bridge, a new addition to the road system, is now nearing project completion.
The slope protection project at Brgy. Looc, Cabucgayan is also at its early stage of construction projected to be completed by December this year.
The inspection is part of a series of routine site visits by the District Engineer and his team to ensure optimum and quality delivery of public works, assess actual status of ongoing projects, and to address project planning and implementation issues/challenges along the way. These site visits proved important with the vibrant activities and projects that the department is handling and actively engaging with in the current years for the province of Biliran.