Yu returns as DAR Eastern Visayas head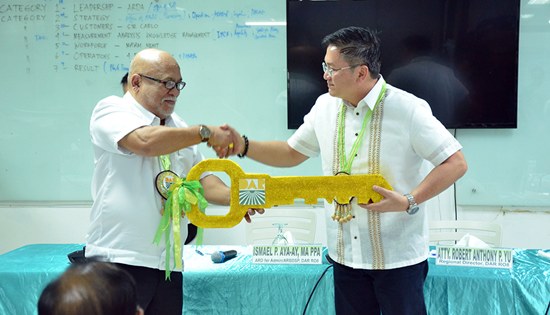 Department of Agrarian Reform (DAR) Eastern Visayas Regional Director Reynaldo Anfone (left) formally turns over his post to returning Regional Director Robert Anthony Yu (right).
By JOSE ALSMITH L. SORIA
December 2, 2022
TACLOBAN CITY – Lawyer Robert Anthony Yu assumed office on Friday as returning Regional Director of the Department of Agrarian Reform (DAR) in Eastern Visayas after Engineer Reynaldo Anfone formally relinquished his post.
Yu's reassignment to Region-8 was based on Special Order No. 682, series of 2022, issued by Agrarian Reform Secretary Conrado Estrella III on November 15 this year.
Prior to his new assignment, Yu had already served this region from August 2021 to July this year, when he was recalled to DAR Central Office to serve as the Director of the Bureau of Agrarian Legal Assistance (BALA).
Meanwhile, under the same document, Anfone, who assumed office here on October 18 this year only, is transferred to central office as Deputy Project Director for Operations of the Support to Parcelization of Lands for Individual Titling (SPLIT) project.