Surf in the City 2022 pushes for gender equality in male-dominated surfing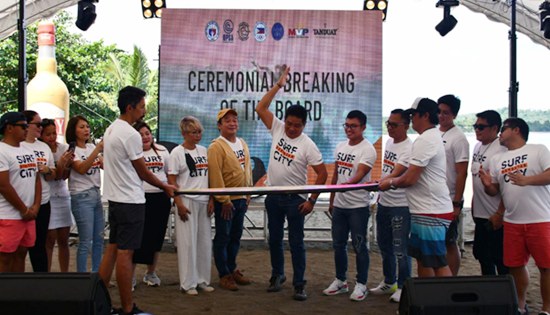 Borongan City Mayor Jose Ivan 'Dayan' Agda leads the breaking of the ceremonial surfboard to officially signify the start of the Surf in the City 2022. With him are Surf in the City Chairman Rupert Ambil, UPSA representative Ralph Tecson, Congresswoman Fe Abunda's representative Cora Basada, Governor Ben Evardone's representative and Eastern Samar Board member Atty. PJ Evardone, Surfrider's Club of Eastern Samar President Atty. Bryan Lassiter, and the Borongan City Councilors. (Photo by BCIO)
By VEE TOLENTINO-GUMBAN
November 26, 2022
BORONGAN CITY – Though sports have contributed significantly towards unifying different races and nations in events like the Olympics, gender inequality remains one of the most hotly-debated issues. Surfing, for example, is still mostly dominated by men.
Surf in the City 2022 in Borongan City, Eastern Samar has been making waves not only because it will award the biggest prize money in surfing competition history in the Philippines amounting to P1.1 million, but also for its aim to close the gap between the prize money in the Men's and Women's Division. The competition will award the same amount to winners from both categories.
In a press conference after the opening ceremony, Surf in the City Chairperson Rupert Ambil announced that more women athletes joined this year's competition. The equal prize money opportunity encourages these females to further develop in the sport.
"If hindi mo kayang i-explain kung bakit mas malaki ang prize money ng lalaki sa babae, eh, fundamentally, mali iyon. Tayo dito naniniwala sa strength ng all genders. It's really a statement from all of us, not only the surfing community but as representatives of Borongan City, Eastern Samar," Ambil said, citing gender equality and LGBTQ rights as "values that a Boronganon respects." (If you can't explain why the prize money for men is higher than for women, then there's something fundamentally wrong there. Here in Borongan, we believe in the strength of all genders. It's a statement from all of us, not only as a surfing community but as representatives of Borongan City, Eastern Samar.)
Meanwhile, John Carby disclosed that the United Philippine Surfing Association (UPSA) will not sanction a competition unless there is a counterpart male and female in both categories. The organization is also trying to include more women in their judging programs.
"We have a minimum standard set for our prize ranges. Borongan has gone beyond that, and also included an initiative to include equal opportunity for men and women. We celebrate, acknowledge, and applaud the initiative Borongan has done that nobody else has done. At this point, we hope other regions see it and increase it and put it into practice," Carby noted.
Surf in the City 2022 officially opens
This is the third time that Borongan City is hosting the event, which brings surfers from across the Philippines to the capital of Eastern Samar. Almost 250 participants from the provinces of Siargao, La Union, Ilocos Sur, Cebu, Eastern, Aurora, Sorsogon, Cebu, Catanduanes, Zambales, Camarines Norte, Leyte, Northern Samar, and Eastern Samar are registered to compete in this year's Surf in the City.
During the opening ceremony on Saturday, Borongan City Mayor Jose Ivan Dayan Agda said the city plans to institutionalize the event, as part of the local government's bigger goals of raising local surf athlete champions.
"The City Government will not just abandon this program. We intend to institutionalize this. Yes, we will come in sponsorship but we will see to it that the spirit of hosting the Surf in the City will not be compromised. That's the very purpose why we are holding a Sports Summit next year - because we intend to institutionalize everything," Mayor Agda said.
He added: "If there is really cooperation and unity politically, progress is what we can expect. There is no division among us. That is the Estehanon way and that is the Boronganon culture, we are united as one."
Gender-sensitive city
For women athletes participating in the competition, the equal prize money is a welcome development in the sport.
"Happy ako, excited, kasi hindi na bias. 'Yung galing ng isang surfer hindi naka-base sa gender, kumbaga pareho na yung tingin both male and female kasi same prize na eh," said Jessa Jundarino, a 21-year-old surfer from Borongan. (I'm happy and excited because it's not biased anymore. A surfer's skills are not based on their gender and it's good that the prize money now acknowledges this.)
The local government of Borongan has also implemented other initiatives to make the city more gender inclusive. It recently created several gender-sensitive comfort rooms along Baybay Boulevard, where the surfing competition is taking place.
The comfort rooms cover four cubicles designated for males, females, gender-neutral, and Persons with Disability (PWDs). Beach showers were also constructed for locals and visitors who engage in water and beach sports activities in the area.