5 flood control structures in Dagami nears completion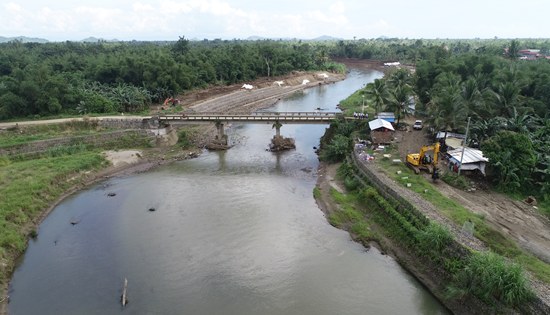 By DPWH 2nd LED
December 23, 2022
DAGAMI, Leyte – Ensuring protection against possible flooding, the Leyte Second District Engineering Office (L2DEO) of the Department of Public Works and Highways (DPWH) is now on its final phase for the construction of the Binahaan Flood Control Structure and Drainage System along the portion of the Binahaan River Basin in Dagami, Leyte.
For the current year, L2DEO has implemented five (5) flood control structure projects stretching the Binahaan River Basin, located in the barangays of Balilit (upstream and downstream), Cansamada, Digahungan, and Abre.
According to District Engineer Leo Edward Oppura, the flood control structure being built in Cansamada and upstream and downstream of Balilit will not only reduce flooding but will also protect the Balilit bridge from ravaging water surges as the river passes through the bridge.
Meanwhile, 440-linear meters of revetment wall are constructed for the Digahungan flood control and 328 linear meters of gabions are also installed located in Barangay Abre as protection against strong currents and to prevent riverbank erosion.
Flood control structures, such as gabion barriers, are necessary for communities near the Binahaan River to reduce erosion and scouring on river banks during floods and high-velocity river streams, as well as to avoid further damage to water-logged areas.
River banks will not be compromised during sudden occurrence of rains and tropical storms, thereby protecting the lives and property of those living nearby.
This project will ensure safety and protect residents' livelihoods and properties once it is fully completed in the first quarter of next year.
With funding sourced from the General Appropriations Act (GAA) of 2022, these five (5) flood control structures along the Binahaan River in Dagami town cost a total of P235.05 Million.